Marketing automation improved business efficiency and productivity. It's a tool that eliminates complex and repetitive tasks within an organization. Gone are the days when businesses rely on manual processes to contact customers, and keeping them in the loop is one of the most difficult tasks. There's almost an automatic way to process tasks now ever than before. With a washing machine, you don't have to wash clothes manually again. You must load the machine with dirty clothes, water, and soap and set the timer. The machine will get the job done while you focus on a more productive and creative job.
Marketing Automation software simplifies how you work and automates every repetitive task so that you can achieve your goals and grow faster. There are many marketing automation tools in the market, such as Marketo, Mailchimp, Hubspot, etc. These tools are paid for and can be too expensive for a start-up business. But today, we will not talk about these paid marketing automation tools. I want to tell you about a marketing automation platform that is free of cost and can deliver maximum results for any business. Mautic is the most advanced free marketing automation tool that enables businesses and marketers to create fierce and holistic marketing campaigns that enhance the customer experience across all digital properties.
Today, businesses face many challenges, and one of the challenges is performing complex tasks repeatedly. Performing repetitive tasks in any industry is stressful, demanding, and time-consuming. No business should be doing that anymore. To eliminate repetitive tasks, you need a cost-effective tool to help you automate tasks and save the cost and time spent and repetitive tasks.
Before diving into the Mautic marketing automation system, what it can do for your business, and how to use it, we must first understand marketing automation and its importance.
Mautic: The Best Free Marketing Automation Software in 2023
Click To Tweet
What is Marketing Automation?
Marketing automation is leveraging smart software to boost and automate business workflows and productivity to provide a better prospect and customer experience. Marketing automation helps businesses to have a clear picture of the prospect activities, identify and prioritize the hottest leads, and deliver a personalized customer experience to generate more sales. With marketing automation software, marketers and businesses can create and automate marketing activities such as email campaigns, social media, paid digital advertising, leads generation, and SEO audits, among many others, to increase user experiences and improve business productivity. Marketing automation eliminates repetitive organizational tasks to provide greater personalization, improve efficiency, increase key performance indicators, and drive more leads and greater revenue for the business.
Marketing automation is a set of software designed to automate and simplify some of the most time-consuming tasks in an organization. Marketing automation automates every aspect of marketing strategies, such as:
Collecting customer data such as names and email addresses based on their activities on your website and sending targeted content and messages
Managing and segmenting customers' data based on their demography and interests on your website.
Sending personalized messages and content to existing and potential customers.
Sending weekly or monthly newsletters to your contacts based on set rules.
Retargeting customers who abandon carts on your website.
Sending your existing customers coupon codes, discounts, and free stuff to keep them engaged with your products or services.
Scheduling and posting content on social media to keep fans and followers engaged.
And many more time-consuming tasks in an organization to improve customers' experience, help prospective customers navigate their sales process, and increase business productivity. The main benefit of marketing automation is to help businesses reduce time and cost and be more productive.
Read: Benefits of Marketing Automation in Digital Marketing
Why Do You Need Marketing Automation in Your Business?
With the right technology, getting things done at home or the office becomes less time and energy-consuming. It's easier to send information to anyone worldwide using emails than sending letters via poster services. With marketing automation tools, businesses can execute holistic marketing strategies and reach far beyond what email marketing alone can do.
Executing marketing activities manually now is like going to a gunfight with a knife. It's impossible to win such a fight. When marketers can create unique types of automated marketing campaigns for each of their target audiences, Marketing automation eliminates the need for repetitive tasks in an organization and increases the company's chance of reaching and nurturing wider customers while having more time to develop more creative marketing approaches. Marketing automation helps marketers to keep their customers more engaged and motivated through their buying journey.
Marketing automation is a win-win process; businesses provide holistic and excellent experiences to their customer while driving more engagement to their website, generating more leads and revenue. Here are some of the reasons you need marketing automation in your business.
Improved Data and Decision-Making
According to a survey on Statista, 43 percent of respondents said that improving customer experience was the most important advantage gained from marketing automation. Enabling staff to make better use of their time was cited by 38 percent of respondents, while 35 percent said marketing automation improved data and decision-making.
Efficient and Effective Marketing Campaigns
Marketing automation helps businesses to deliver the right message to the right customer at the right time. Before marketing automation, marketers relied heavily on a trial-and-error approach to their campaigns, often leaving them frustrated. Successful marketing campaigns rely on highly targeted marketing which most marketing automation platforms offer. With marketing automation, businesses can easily identify their web visitors and turn them into known leads. And guide them along the customer journey with a highly personalized message and content based on their interests.
Saves Time and Resources
Marketing automation software saves businesses and marketers time and resources. Marketing automation helps businesses to know the exact content and message prospects and customers want and deliver consistent marketing assets and campaigns while using personalized messages for each audience segment. With marketing automation, businesses can create streamlined and repeatable processes and assets, which allows them to spend less time developing campaign materials and focus their energy on more profitable and creative content.
Enhance Customer Experience
Since the goal of using marketing automation software is to make more sales. Marketing automation software allows businesses to personalize customer outreach by creating buyer personas and customizing sent emails based on customer interests. Also, with marketing automation, tracking a customer's journey and consolidating all the channels via which a customer interacts with the company is easy.
Increase Sales Efficiency
With marketing automation platforms like Mautic, businesses can drive more sales; after all, marketing automation tool aims to increase sales. By enhancing customer experience, businesses will enhance customer retention, which will help businesses make more sales
Now that you understand how marketing automation can help you deliver a holistic customer experience, increase your sales and improve decision-making. Let's look at Mautic, the free and open-source marketing automation software, and how it can help your business generate leads and automate marketing strategies.
What is Mautic
Mautic – is a robust open-source marketing automation software that gives you complete control over your marketing emails, landing pages, workflows, and the measures for your marketing activities. It automates getting and supporting leads from landing pages, forms, and contacts. It sends workflow emails, instant messages, notifications, and social network tracking and integrates with your website, CRM, and all the popular social media.
With Mautic, you can create intuitive workflows for customer experiences, with capabilities to track your marketing activities. Mautic help automates the process of getting and nurturing leads generated from landing pages and forms, segments contacts, handles and sends workflow email, text messages, web notifications, and social media monitoring, and integrates with most CRM solution and CMS such as WordPress. Mautic helps online businesses automate repetitive marketing tasks such as lead generation, contact segmentation, marketing campaigns, lead scoring, etc.
Why Is Mautic So Popular?
With over 200,000 businesses and organizations using Mautic to automate their business and marketing activities, Mautic is the most advanced and robust open-source marketing automation platform. Mautic is popular among marketers and organizations that wish to take email marketing experience to the next level. With Mautic, businesses can automate every marketing process and track the entire digital experience of their customers.
In addition, Mautic integrates seamlessly with all major existing CMS like WordPress and Drupal, CRM, websites, and social media platforms without problems. With Mautic, tracking customers' journeys on your website or social media platform is a workover. Mautic helps businesses streamline their digital campaigns, minimize work time, and increase productivity while strengthening customer relationships. And with all these advanced features of Mautic, such as easy-to-build email campaigns, personalized messages, A/B testing, abandoned cart recovery, tracking, and measuring results., it is completely free, and businesses don't have to spend money to use it.
How Is Mautic Different from other Marketing Automation Software?
Mautic is a cutting-edge email marketing and automation solution that helps in lead management and generation; it will help you nurture your leads and analyze their behaviour for targeting. Mautic helps you create a strong marketing strategy for your business. With Mautic, you can constantly connect with your contacts using Emails, Text Messages, social media, and Focus Items. You can Segment your contacts based on business requirements and personalize your marketing strategy for each segment. Create effective personalized campaigns to engage with your audience. You can also measure the efficiency of your marketing strategy across all platforms.
Mautic, as a marketing automation software with its functions, is completely free to you use by anyone and will be free forever. It is a free marketing automation solution businesses can use to automate every repetitive organizational task. It is an advanced automation software that enables marketers and businesses to eliminate every time-consuming marketing task.
Mautic is self-hosted email marketing and automation software that gives you greater control over who can see your information and email list. With self-hosted Mautic, you install the software on your server, like WordPress, giving you full control of your data without any third monitoring or spying on your data.
Mautic was developed on an open-source platform with an incredibly large community of programmers. Mautic's community continues to grow and guide its capabilities, features, and integrations based on user needs. It is always updated with support from online forums. The community behind Mautic keeps working hard to improve its core, make it work seamlessly, and integrate with almost any app.
Learn: Advantages Of Using Open-Source Software to Power Your Business
Mautic is a robust automation platform that helps you easily identify your website visitors without knowing them. It's so robust that it identifies your website visitors by IP address, location, and device. It will keep their information for you and monitor their activities on your website until they take action. Once an action is taken, Mautic will use their name or email address to identify them.
With Mautic, there is no language limitation; Mautic is available in more than 35 international Languages. It's a marketing and automation software that's been translated into many languages so everyone can use it to power and automate business processes. The founders believe businesses must automate most repetitive tasks to compete in this ever-changing digital world.
15 Unique Features that make Mautic the Best Open-Source Marketing Automation Software
With Mautic, you can access a higher level of marketing automation with audience intelligence, allowing your business to personalize its customer experience through personalized emails, unique workflows, and landing pages while keeping track of your customer's activity on your website. Here are some unique features that set Mautic apart from the rest of the automation system.
Lead Generation and Contact Scoring
Lead generation is one of the most crucial aspects of marketing. Who would you target or persuade to buy your product if you don't have leads? Generating leads is a must in every business, no matter how unique and pretty your products are; if no one knows or buys the product, such a product is a just design to the owner. You are said to generate leads when you attract prospective clients and convert them into someone interested in your company's online products and services.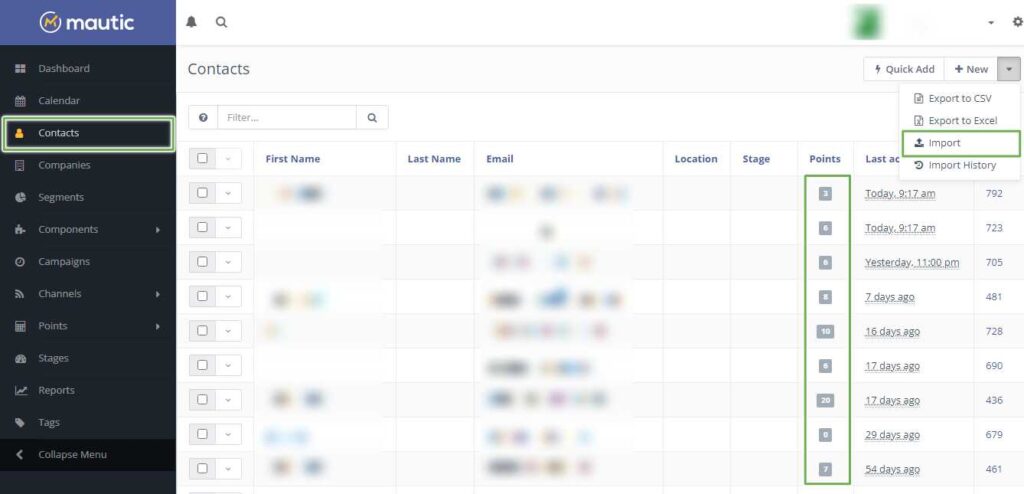 And that's where Mautic's lead generation and contact scoring features come into play. With Mautic, you can use forms, focus items, and tracking scripts to generate leads and assign scores to your contact. With Mautic, you can assign scores for your contact based on their behaviour and actions on your website or email, such as: visiting a page, clicks links, opens an email, submit a form, downloading an asset, reply an email, etc.
Assigning scores to the leads generated will enable you to segregate them into different segments and reach them with content and marketing campaigns suitable to each segment.
Campaign Building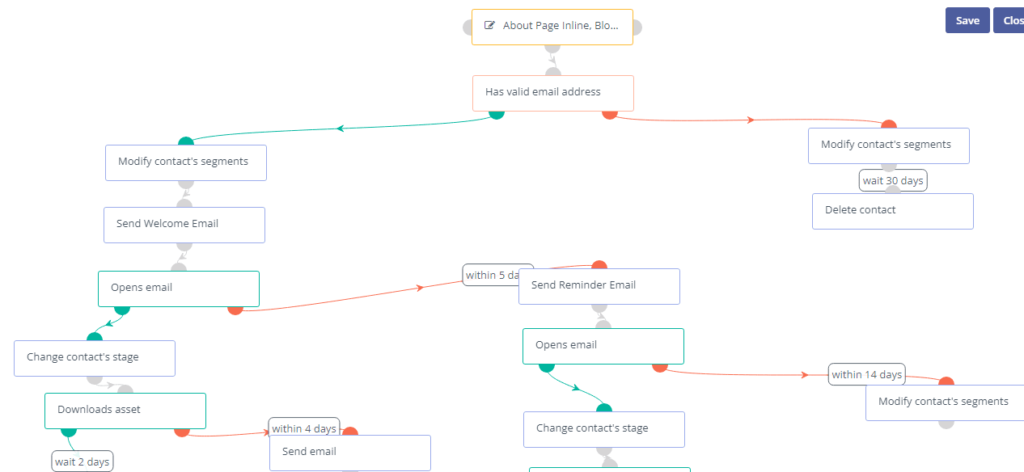 Mautic has a powerful and robust drag-and-drop campaign builder that allows you to select and add conditions, actions, and decisions to run an automated marketing campaign. Mautic campaign builder helps marketers automate contact nurturing and allows business owners to create marketing campaigns and workflows with several decisions, conditions, and actions, which automate every part of the campaigns and eliminate the repetitive task of entering contact or sending emails manually. The Mautic campaign builder feature is easy to understand and use and can be set up quickly. With Mautic, you can create a campaign on anything.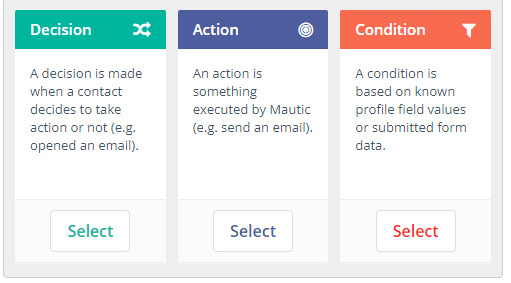 For instance, using a form to collect emails on your website. You can create a campaign to add the new subscriber to your email list by verifying the validity of the email address and sending them a welcome email if the email address is valid. Then you can add a condition such as when they open the welcome email, check if they click the link within it, or visit the landing page. If yes, send them a free ebook in a few days. When they download the free ebook, move them from the new subscriber list to a potential customer list of who will buy a paid course.
Contact Segmentation
Mautic contact segmentation allows you to divide your contacts into smaller groups or segments based on shared information or specific characteristics such as age, gender, location, company, content interest, etc. If you have several contacts with different interests, you can segment them based on their interest and get the right message to the right segment at the right time.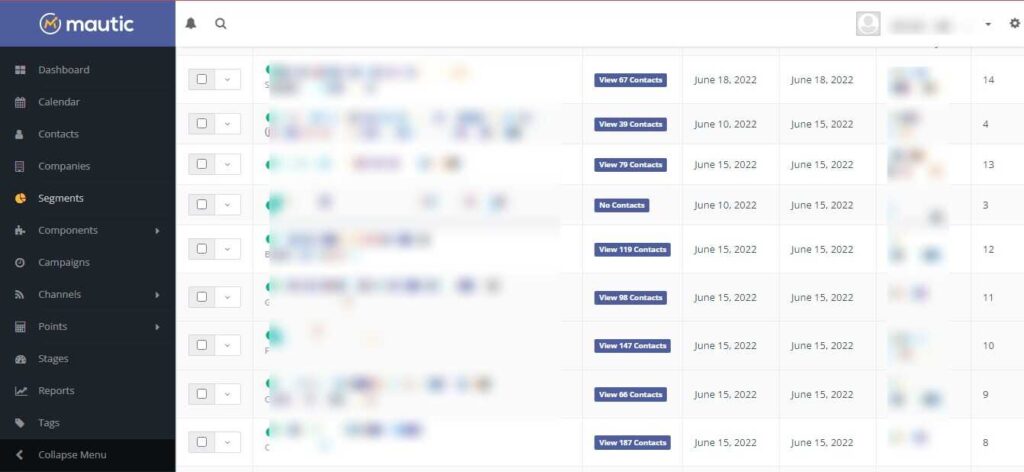 Segmenting your contacts into smaller groups with similar demographics or interests will enable you to send more targeted emails and improve your open and click rates. Mautic contact segmentation improves your email engagement and click rate. The Mautic contact segmentation feature helps you break your audience into smaller groups to send more targeted messages to the contacts who find them the most interesting. When your contacts are segmented, you can send more targeted email content to the right audience and expect your email open and click rate to increase.
Focus Items
Mautic Focus Items is another good feature you hardly find in many other marketing automation software; this feature helps website owners and businesses capture more leads, promote products or services and increase their traffic on a specific page. With Mautic Focus Items, you can display any information on your website without hindering the user experience. You can use the focus items to collect data, display a notice, or suggest a product or link to the website visitor.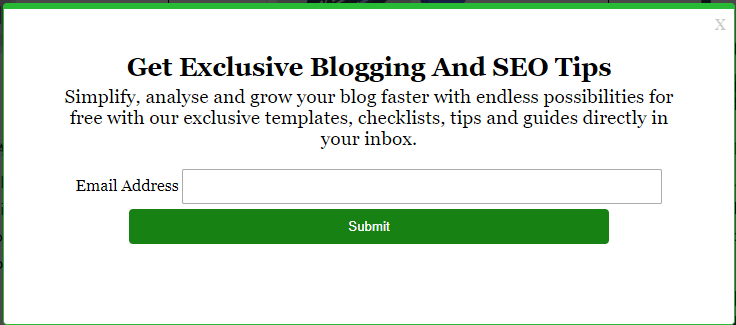 Mautic Focus Items can help inform your esteemed customers of the upcoming website maintenance. You can also use the focus items to display sign-up forms or redirect visitors to a specific landing page on your website. With the focus items in use, you can determine when and how the focus items should engage visitors on your website; you can set the time the focus items should pop up.
Email Builder
Email is the most cost-effective way of engaging customers and one of the preferred means of communication in business. Email helps businesses constantly stay in touch with their customers. With an email, businesses can update their customers on their latest discoveries and products and keep them informed with the latest articles.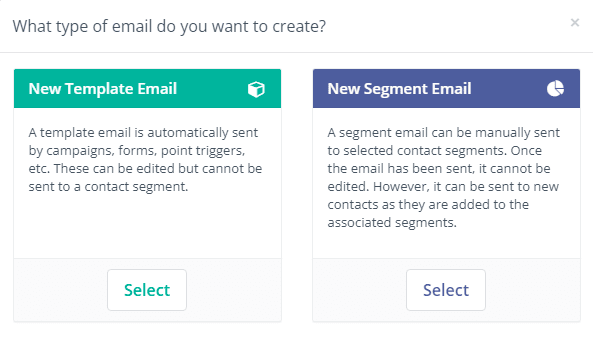 The Mautic email-builder feature helps you build attractive and eye-catching emails to increase your open and click-through rates. A drag-and-drop email builder enables you to build a responsive email for your marketing campaigns. With Mautic email builder, you can design dynamic email content based on your needs.
Landing Page Builder
The landing page builder is one of the unique features of Mautic marketing automation. The page builder comes with a set of built-in blocks that helps you to build your landing pages faster, such as offers, promotions, programs, and campaigns. You can always add custom blocks if the default setting isn't enough. Mautic page builder lets you create landing pages for your offers, promotions, programs, and campaigns. With Mautic drag-and-drop page builder, you can quickly build responsive landing pages. Mautic page builder also helps you to run A/B tests on these landing pages and add forms to capture leads. You can quickly add a form to your landing pages to collect, organize, and analyze data and customer behaviour.
Lead Nurturing
Lead nurturing is growing leads that are not yet ready to buy from you. Successful lead nurturing anticipates the buyer's needs based on who they are (using profile characteristics, such as title, role, industry, and so on) and where they are in the buying process. According to Adobe business, about 96% of visitors who visit your website are not ready to buy — but they may be willing to provide contact information in exchange for valuable content. So, you need to nurture your leads to convert them into loyal customers.
Lead nurturing is essential for every business. It is a process of turning your prospects into loyal customers and turning loyal customers into brand advocates. And this is where Mautic comes in to automate the lead nurturing process. Mautic email campaigns help you to nurture your leads, engage them, and move them forward in your marketing funnel. Mautic campaign will enable you to deliver personalized content that resonates with your audience at every stage in their buying process.
A/B Testing
A/B testing is a process of split testing a campaign in marketing to know which campaign performs better and resonates well with your audience. A/B testing eliminates all the guesswork of your email or marketing campaign. It enables you to make data-backed decisions to help you optimize your email or marketing campaign to increase business ROI.
If you want to test two campaign variations, landing pages or email to know which performs better. Mautic A/B testing can help you determine your business's best online and automated marketing strategies. You can use Mautic's A/B testing to assess which one of two automated marketing campaigns is more effective regarding CTR or page conversion rates. Mautic allows you to test many elements to determine which content engages your target audience. It can be an email subject line, email body, or an active CTA. In an A/B test, you can set up two variations of the single campaign and send them a part of your total recipients to know which one is most accepted.
User Activity Tracking
One of the fantastic features of the Mautic automation system is the ability to track and monitor users on your website. You can track the user's activities on your website to identify their interests. Mautic provides you with a tracking code you can add to your website to track every website visit automatically. With the Mautic tracking code, you can track each page a customer visits, the link he clicks, and what he intends to buy on your website. The tracking feature helps you understand your website visitors better and know what interests them most so that you can create more content and products around their interests.
Dynamic Content for Personalization
Relationship building is the lifeblood of email marketing. Personalization shifts the balance of power by giving consumers a voice and making them feel important for being addressed personally rather than generically addressing them. Email personalization helps you engage your target audience better than typical, one-size-fits-all emails. When the users receive emails that address them with their name, it establishes an emotional connection with your audience and increases engagement with your emails.
If you want your readers to open and engage with your emails, you need to call them by their names. Email personalization helps you connect with your audience emotionally and build brand loyalty by creating a sense of caring and belonging in your readers' minds. And this is where Mautic comes in. Mautic allows dynamic customization in emails, forms, and landing pages for specific customer segments, groups of leads, and prospects. With Mautic, you can personalize every aspect of your marketing campaign and landing pages and make your customers and subscribers feel you know them better.
Customer Retention
Customer retention is the rate customers stay with a business for a given period. It's one thing to acquire customers; it's another thing to retain them. Mautic marketing automation system is capable of boosting your customer retention.
With Mautic, you can automatically trigger messages and emails to keep your customer glued to your business. You can trigger personalized messages at any stage of their journey, asking for testimonials, product reviews, and feedback. You can also send coupon codes, rewards, and incentives to keep them always with your business. This process keeps your customers engaged and increases your chances of retaining them. Customer retention is one of the most valuable strategies in marketing, and every business needs to know how to retain customers. With Mautic, you can acquire leads, nurture them, and retain them with the right retention strategies.
Responsive Forms to Capture Leads
Forms are an essential feature of any marketing and automation platform. Forms let you collect user data; with a form, you can collect data such as name, email address, file, phone number, and many more. With Mautic form, you create any form to collect user data on your website and landing pages. Mautic has two types of forms:
Campaign Form
Standalone Form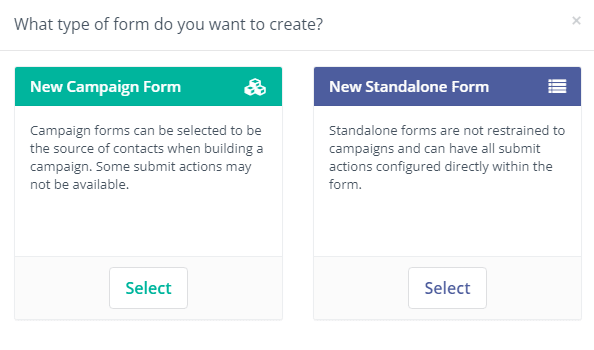 A campaign form is the type of form you use within your campaign. You can add a contact directly to your marketing campaign with a campaign form. At the same time, a standalone form is not restricted to a campaign and can be used to collect visitor data on your website and add a contact to a segment.
Cross-Platform Integration
Mautic can be integrated with your existing website builder and CRM platforms. Mautic API and Webhook allow you to connect your existing platforms, apps, and plugins to your Mautic instance seamlessly integration. Mautic integrates well with almost all known CMS like WordPress, Drupal, and WooCommerce. There are many third-party integrations; you can integrate Mautic with all social media platforms like Facebook and Twitter to monitor your users' social activities.

Advanced-Data Reporting and Analytics
When you run marketing campaigns and send emails to your contact, you will want to know how the campaign and emails perform to determine the campaign's success. Mautic provides advanced reporting features to measure the success of all your campaign and landing page visits.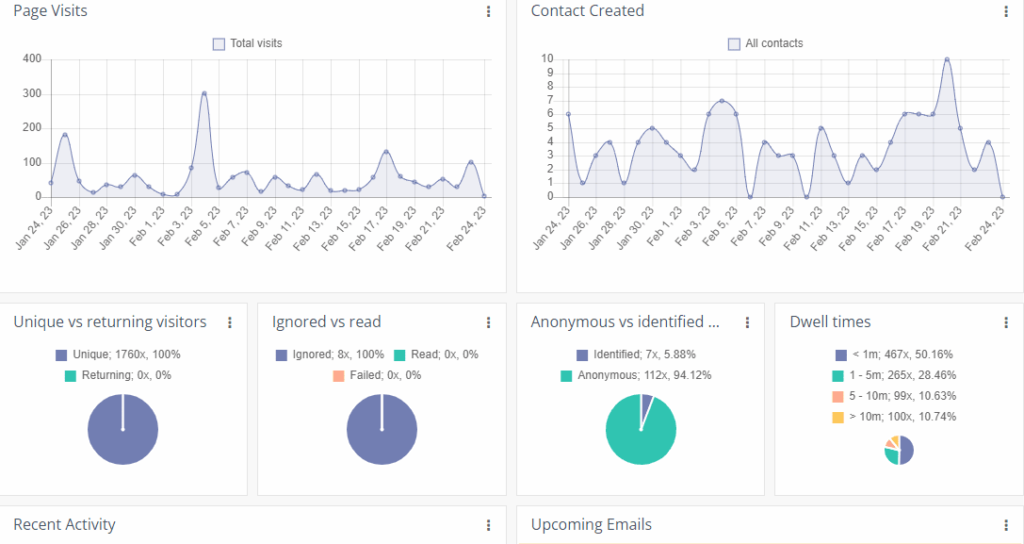 When you start a campaign or send marketing emails to your contact in Mautic, you'll start seeing your campaign results quickly. Mautic reporting and analytics features help businesses to determine if the campaign is effective and how well the customer relates to the email. The Mautic reporting feature will allow you to see the number of emails sent out, the number of emails that failed to deliver, the exact number of read emails, bounced, and the number of emails clicked. This will allow you how to adjust your marketing strategies and what your contact relates with.
Completely Automated
Mautic is the most advanced email marketing and automation free open-source software. And it works completely automated; it runs and works even when you are sleeping, allowing you to focus your time and resources on more profitable tasks within your organization. With Mautic, you can automate emails, campaigns, focus items, contact segmentation, forms, or social media tracking. You don't have to worry about your marketing campaign once you set it up correctly; Mautic takes care of them automatically.
Final Thoughts on Mautic Marketing Automation
Mautic is a cutting-edge email marketing and automation solution that helps in lead management and generation; it will help you nurture your leads and analyze their behaviour for targeting. Mautic helps you create a strong marketing strategy for your business. With Mautic, you can constantly connect with your contacts using Emails, Text Messages, social media, and Focus Items. You can Segment your contacts based on business requirements and personalize your marketing strategy for each segment. Create effective personalized campaigns to engage with your audience. You can also measure the efficiency of your marketing strategy across all platforms.
If you want an in-house email list and a self-hosted marketing automation solution, then Mautic is the perfect solution. With Mautic, you can quickly track your contact and provide them with interests-based content. Mautic is a robust marketing automation software that allows marketers to send email and SMS marketing and monitors users across multiple platforms.
With Mautic on your table, you can automate getting and supporting leads from landing pages, forms, and contacts. Sends workflow emails, instant messages, notifications, and social network tracking and integrates with your website, CRM, and all the popular social media. Mautic comes with cutting-edge features required from world-class marketing software like lead generation, campaign building, contact segmentation, email builder, A/B testing, page builder, lead nurturing, and more. With Mautic, you can easily boost your company sales, improve customer retention, and track all your business marketing activities.
If you have used Mautic to automate your business before or plan to get up and running on your server, tell us about your experience with Mautic. However, if you need Mautic to power your business automation process, you can contact us or visit our service page to request a Mautic instance setup on your server.