Email is still the most cost-effective method of communication between customers and businesses in today's world. Customers use email to voice their concerns or complaints about products and services. Businesses and enterprises can also use email to market and sell their products to potential customers and to resolve customer issues. Therefore, email marketing software is essential to maximize the use of all resources, especially email as a point of contact. In this article, I will highlight the best free and self-hosted email marketing software.
Although email remains the main contact point for businesses, it can be expensive to use any paid email marketing solutions on the internet because the more contact you have and the more email you send, the more money you pay. But with open-source and self-hosted email marketing software, you can maintain contact with your subscribers and customers without breaking the bank monthly. In addition, you can easily send emails to your clients, segment your list accordingly, automate the workflow, and make your data safe from intruders.
What is Email Marketing?
Email marketing is a type of marketing where you can send an electronic message to your audience about your brands, services, and products. Email Marketing is usually done using online email marketing software. To engage in email marketing, you can be someone other than an expert in digital marketing. Good email marketing software can do the heavy lifting if you already have email lists. Here is a comprehensive article on email marketing and how to get started
Why is Email Marketing Important?
You may be unable to reach out to everyone on social media because of limited resources. Still, you can reach out to all the contacts in your email list and personalize your message since everyone has an email address. This is why email marketing is so important. As a marketer, entrepreneur, or business owner, your email list is an asset you can take with you. It's a portable asset that allows you to communicate with your audience in real without spending much.
Many digital marketing channels can change dramatically or fade out. Google and Facebook are free to change their rules at any time. Different social networks may expand or contract at will. People hardly update or change their email addresses. It is not a social media channel; it is a web protocol. When you do email marketing, you use the SMTP protocol. You are not violating Facebook's or Google's terms and conditions. Email marketing is the most cost-effective way to reach out to your audience.
Related: How to Build an Email List: 16 Effective Strategies
What's Self-hosted Email Marketing?
Self-hosted email marketing is installing email marketing software on your server, though the server is accessed via the Internet instead of residing at your physical premises. Self-hosted email marketing allows you to automate your email marketing campaigns from start to finish. For example, you can create email campaigns by setting up different triggers, such as subscriptions or email clicks.
It allows you to track parameters of email campaigns like bounce rate, open rate, clicks, and invalid emails. Self-hosted email marketing software is an excellent way for your email list to be safe from data miners. In addition, self-hosted email marketing software gives you greater control over who can see your information and email list.
The Benefits of Self-Hosted Email Marketing Software
All email communications can be kept private with a self-hosted mail server. It's impossible to fall for third-party spying or share your personal information with advertisers.
You can access these email clients over the Internet or local networks if they are integrated with third-party email services.
Open-source email servers allow you to create unlimited aliases, and you don't have to pay anything extra. These servers will enable you to send unlimited emails at will.
You also have complete control over all settings and mailboxes. You can set policies and create settings that suit your organization's needs.
Which one is best for you? First, choose the best self-hosted email marketing software for your business needs. In this article, I handpicked and reviewed the best self-hosted email marketing and automation software with their popular features, benefits, and website links to download any one of them to help you get started building your email marketing business. This list contains both Open Source (Free) and Commercial (Paid) self-hosted email marketing software.
Best free and Self-hosted Email Marketing Software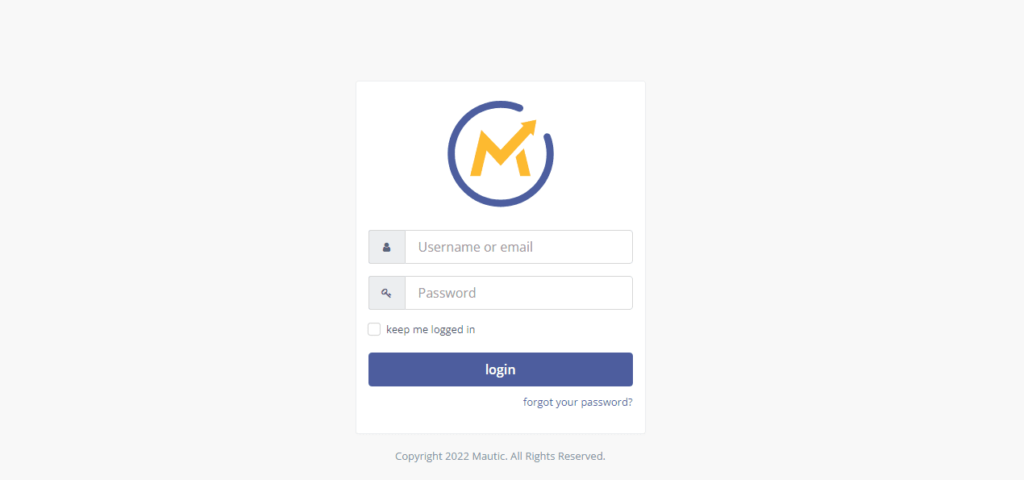 Are you looking for email Marketing and Automation software to save from repetitive time marketing tasks, eliminate errors, and improve efficiency for a wide range of marketing tasks across multiple channels? Then Mautic is your go-to software. Mautic automates getting and nurturing leads generated from landing pages and forms, segments contacts, handles and sends workflow emails, text messages, web notifications, and social media monitoring, and integrates with any website, CRM, and other technologies.
Mautic source code was written in PHP and released under the GNU General Public License. Mautic allows sales and marketing experts to integrate their digital properties seamlessly. Mautic will enable marketers to create more effective campaigns and content and give them enormous power to create a more personalized experience for audiences across all digital platforms and channels. Mautic is a free, open-source software available for download on their website. It is the most flexible, versatile, and advanced marketing automation software built to help marketers reach their goals.
Related: Mautic: The Best Free Marketing Automation Software
Features
Here are some of the features that make Mautic one of the most Advanced open-source marketing automation software in the world.
Lead Generation and Contact Scoring
Campaign Building
Contact Segmentation
Focus Items
Email Builder
Page Builder
Lead Nurturing
A/B Testing
User Activity Tracking
Dynamic Content for Personalization
Customer Retention
Crucial Campaign Run
Saves Time
Works Even When You Sleep
The key Benefits of Mautic
Send ad-hoc emails to large groups and create multi-touch automated email campaigns by segmenting with Mautic's visual campaign builder.
Trigger communications are based on various contact data and activities to guide customers through each stage of the buying process.
Get data insights and learn which channel is best to connect with customers and prospects.
Create mobile-friendly landing pages with customized content for any initiative, including offers, campaigns, or programs. Full tracking capability is available to track conversions.
Mautic was developed on an open-source platform. This means it has a community that continues to grow and guide its capabilities, features, and integrations based on user needs.
Mautic is a free, secure, and robust marketing automation tool that offers a different level of open-source marketing automation which enhances the overall customer experience. This advanced marketing software comprises enormous features like lead management, website tracking, drip flow, progressive profiling, contact management, social media monitoring, landing pages, and more for high-performance marketing campaigns, content and results. If you want to get serious about email marketing and automation Mautic is a must-use software.

Sendy is one of the leading self-hosted email newsletter and campaign management software; Sendy ensures quick delivery of emails and constantly upgrades its security systems to provide all of your emails and your customer's information is always secure. In addition, Sendy integration with third-party SMPT gateways like Amazon SES makes a reliable combination such that the emails you need to send out in bulk arrive to every person just as you intended.
Sendy is a self-hosted email and campaign management software that lets website owners and marketers send trackable emails via an SMTP gateway like Amazon Simple Email Service (SES). Combining Sendy with Amazon SES makes it possible to send authenticated bulk emails at an insanely low price without sacrificing deliverability.
Sendy is built-in PHP/MySQL and is available for download at a one-time payment of $69.
Features
Here are some of the features that make Sendy stand out as one of the popular open-source email and campaign management software.
Email list – easily add/remove users. It has CSV import and useful cleaning functions.
Custom fields – for other helpful info about the subscribers you wish to track.
Reports – see how many opened, clicked, etc.
White-label client accounts – to manage multiple brands yourself and allow clients to send on behalf of their accounts.
Autoresponders –
3rd-party integration – Sendy has been around long enough to integrate with other software.
List Segmentation
List and Subscriber Management
Bounce, complaint & unsubscribe handling
The key Benefits of Sendy
With Sendy, you can send multi-threaded emails fast using Amazon SES at only $1 per 10,000 emails.
Sendy allows you to automate your marketing by setting up a series of emails in drip campaigns to automatically follow up with your subscribers at time intervals you set.
Sendy enables you to create segments for any list based on your defined conditions.
Sendy allows you to keep your mailing lists clean effortlessly, as bounces, complaints, and unsubscribes are automatically handled in real time once your newsletter is sent.
With Sendy, you can mass import/delete subscribers, custom fields, single/double opt-in, custom subscribe/unsubscribe confirmation pages, and thank you and goodbye emails.
With Sendy, you can manage different website newsletters under one installation.
Sendy is a self-hosted email newsletter software that lets you send bulk emails to subscribers without paying any monthly fees. Instead, you only pay for what you send. Sendy is an excellent software for email marketing. If you are serious about email marketing and want to share valuable content with your subscribers, then Sendy will take care of all your needs. To install Sendy on your server, it will cost you a one-time fee of $69 and you will be paying Amazon SES $1 for every 10,000 emails you send. That's ridiculously cheap!

With MailWizz, you will not only be able to effectively manage the marketing of your emails for your own goals, but you also have the option to be an Email Service Provider to your clients. Since MailWizz is compatible with payment gateways such as Paypal and offers the necessary tools to develop pricing plans and promotional codes to handle transactions and orders your customers have created.
It is possible to send an unlimited amount of emails (newsletters) to any number of lists that can accommodate an unlimited number of subscribers. For example, if you manage newsletters for several websites, you can consider them customers with unlimited subscribers!
MailWizz is a complete self-hosted email marketing system written in PHP with MySQL as its database and can be used in any web hosting account. MailWizz makes email marketing as easy as possible for everyone. Both beginners and experts can use it.
Features
Here are some of the features of MailWizz
Email blacklist
Email templates
Campaigns management
Email lists management
Email templates
The key Benefits of MailWizz
You can add as many accounts to your account as you want in one installation
Set up autoresponders or regular campaigns.
Send campaigns that are based on JSON or RSS feeds from outside sources
You can get detailed reports on your campaigns, and you can share them with anyone
Send emails to any SMTP server or an established solution like Amazon SES, SendGrid, and MailGun.
Import subscribers from CSV or text.
You can create as many custom fields for your subscribers as you like
Segment your list using custom fields to target the right segments
MailWizz is a complete self-hosted email marketing software you can rely on to take your email marketing business to the level. With multiple payment options, you can turn the software into SAAS and start making money online by charging your customer for sending emails to their subscribers through your MailWizz platform.
Mailtrain is a powerful tool that automates and analyzes large mailing lists with millions of subscribers. It is an open-source, self-hosted newsletter application that allows you to manage your subscriber lists, even with many subscribers.
Mailtrain is a feature-rich self-hosted email marketing software that is great for sending emails to millions of subscribers. Mailtrain provides superb features such as campaign automation with analytics.
Mailtrain allows marketers to add large email lists manually or import them from a CSV file. All lists come with custom field support and even combined tags. You can add different resources, such as custom fields, including text fields, numbers, drop downs & checkboxes, via the merge tags. Then, send messages to list subscribers that fit preset segmentation rules.
Mailtrain is built on Node.js, and MySQL/MariaDB. This open-source newsletter software license is GPL-3.0 (GNU General Public License v3.0
Features
Here are some of the features that stand Mailtrain out as one of the popular open-source email and campaign management software.
Subscriber list management
List segmentation
Custom fields
Email templates
Large CSV list import files
RSS Campaigns
GPG Encryption
Statistics
Template Editors
Automation
Send via Multiple Providers
The key Benefits of Mailtrain
You have two options: manually add your subscribers' mail addresses or import them from CSV
You can add different tools, such as text fields, numbers, and drop-downs, to merge tags.
You can filter your subscriber list to send emails to subscribers who match the segmentation rules you have predefined
You can create landing pages to perform actions such as unsubscribing.
You can also self-host using services such as Amazon Simple Email Service, (SES), SparkPost, and SendGrid that support SMTP protocol.
Mailtrain is an open-source Email Marketing tool that provides users with various features like List Management, Template Editors, List Segmentation, RSS Campaigns, and much more. Mailtrain can be used with virtually any email provider, such as Amazon SES, and you can as well connect with a self-hosted SMTP server. The good thing is that with all these powerful features, Mailtrain is totally free.
NuevoMailer is a self-hosted email marketing software that allows you to create and manage newsletters. It also lets you keep subscribers ' lists and follow up on your campaigns. With NuevoMailer, you can gather and import contacts to manage your lists, make custom newsletters, access reports filters, and segments, and follow up and schedule your campaigns as you desire.
NuevoMailer is an advanced email marketing tool suitable for small and medium-sized companies because it was created and designed to be easy to use.
Furthermore, NuevoMailer has several helpful features, including HTML Editor, Google Analytics campaign tracking capabilities, real-time reports, anti-spam support autoresponders, email triggers, RSS feeds into emails, Smtp rotation, and load balance.
Features
Here are some of the NuevoMailer features:
Newsletter management
Email list management
Email campaigns
Email autoresponders & triggers
Email campaign reporting
Mailing list segmentation
Processing bounced emails
The key Benefits of NuevoMailer
Unlimited subscribers and mailing lists can be managed
You can delete inactive subscribers or dormant subscribers
NuevoMailer supports drip campaigns, single and recurring emails, triggers, and drip campaigns.
You can create landing pages and build forms, and track your progress with real-time reports.
NuevoMailer can be used quickly and is simple to learn
NeuvoMailer, a self-hosted newsletter and email management system that includes autoresponder software, is feature-rich. In addition, NuevoMailer allows you to access all its features for a single lifetime fee of $49. As a result, this tool is cost-effective and primarily targeted at small- and medium-sized businesses.
Dada Mail is an open-source email marketing platform that helps you manage an email mailing list, offering complete support for safe, closed-loop opt-in subscriptions. It allows the user to send out mass mailings and enables you to share messages in lots of neat ways.
Hosting Dada Mail on your web server gives you complete control over your valuable mailing lists. Dada Mail is designed with small businesses in mind to provide a highly flexible and pocket-friendly solution to reach out to your customers. You can install Dada Mail on most basic web hosting accounts and start sending emails to your subscribers immediately. You can also connect Dada Mail with third-party SMTP providers like Amazon SES for an excellent delivery experience.
Features
Here are the top features of Dada mail
Email Analytics
Mass Mailing
Mail Sending
Mass Mailing Monitor
Archiving & Retention
Email Monitoring
The key Benefits of Dada Mail
Dada Mail runs browser-based so the main program works as a CGI script and not as a daemon process. This improves security overall.
Each subscriber can modify their profile based on their preferences
Emails can be sent in batches so that the host isn't overwhelmed by too many emails
You can also create form fields to collect additional information such as first and last names, cities, etc.
You can also capture URL content and send it to subscribers.
Dada Mail is a contemporary mailing list application that enables you to quickly run a verified mailing list that your subscribers can trust – on your website! With Dada mail, you have complete control over your valuable mailing lists without paying an expensive monthly bill to send emails to your readers or customers. Furthermore, with self-hosted email marketing software like Dada Mail, you can reach your customers via email and keep them connected with your special offer.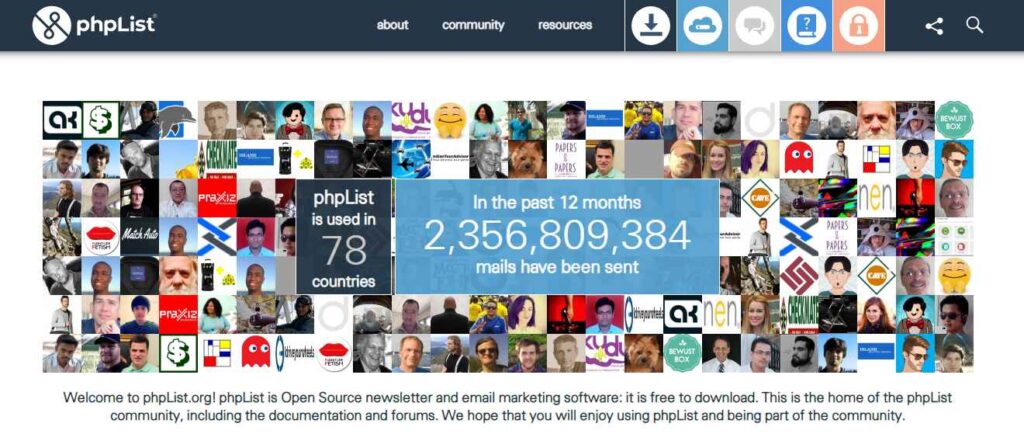 Another highly effective open-source and self-hosted email marketing tool is the phpList. 75,000 businesses trust it across 35 countries. PHPList is a robust email marketing software that can take your business to the desired level.
It's easy and fast to install since it comes with packages for every modern operating system. In addition, PHPList provides a simple user interface and features like making emails, sending, integrating, and analyzing email marketing campaigns and newsletters, and much more. Therefore, making it one of the most intuitive email marketing software.
phpList is written in PHP and is licensed under the AGPL-3.0 license. The software is well-supported and continuously updated, and there are a lot of plugins to expand its functionality that the parent company provides as a free and open-source tool.
Features
Here are the top features of PhpList email marketing software
A/B Testing
Auto-Responders
CAN SPAM Compliance
Mass Texting
Dynamic Content
Event Triggered Email
Landing Pages/Web Forms
Subcontractor Management
Subscriber Management
PHPList is 100% Open-Source software for sending emails, newsletters, and marketing campaigns. With Phplist, you can send marketing emails to millions of subscribers. You can organize your subscribers into lists and import existing email addresses. You can also import attribute data, for example, subscriber name, city, or shoe size.
OpenEMM is a professional, web-based open-source software for email marketing and marketing automation. With OpenEMM, you can create and send newsletters and service emails (e.g., transactional and action- or data-driven emails).
The OpenEMM has all the features you expect in top-of-the-line email marketing software. VirtualBox makes it available for Linux and Windows as well as macOS. This tool is built on an open-source software stack that has been extensively tested. OpenEMM can be installed on any server, including a low-cost Linux server. In addition, OpenEMM features a very beautifully designed web interface for interacting with the system. Through it, you can get more features than commercial solutions, such as a campaign Manager, GDPR compliance, extensive search functions and filter options, unlimited user profiles, and recipients.
Features
Here are the top features of OpenEMM web-based enterprise email marketing software
Campaign Management
Sending & Publishing Communications,
Lead Management
Marketing Automation
Data Security
Mail Transmission
E-Mail
User Generated Content
The key Benefits of OpenEMM
It offers a modern web-based graphical user interface.
The tool offers powerful features for targeting.
It provides real-time statistics with bar charts for quick comprehension
Easy to extend and customize via plugins for your individual needs.
As you can see, OpenEMM is a web-based open-source enterprise software for email and marketing automation. With OpenEMM, you can create and send unlimited marketing and transactional emails. In addition, the software allows the users to organize and control lead management, and you can customize the tool further to fit into any solution via plugins.
What is the Best Self-Hosted Email Marketing Software?
Based on usage, experience, and support, here are our recommended self-hosted email marketing and automation software in this list. With these tools, you can monitor your customers' activities from the initial to the final stage. In addition, these tools will enable you to turn any lead into a loyal customer.
Mautic
MailWizz
phplist
OpenEMM
Final Note on Self-hosted Email Marketing Software
Through the years, email marketing has evolved and has found its uses in advertising and marketing. However, it remains the most cost-effective way for businesses and organizations to instantly reach out to their customers. Email is an essential point of contact between customers and businesses, which remains the same for a while, maybe until another technology can beat it.
Email Marketing Software is vital for business owners in the Internet age because keeping regular contact with customers is essential for any business's growth. All the email marketing software mentioned in this article is equipped with the right solution to handle all your email marketing and save your business from paying huge recurring fees. The good thing is that most of the tools mentioned here are free and open-source, making them highly customizable and adaptable according to your business needs. So whether you run a small or mid-size business, these email marketing tools have all the requirements to help boost your email marketing business.
You can share your thought about using open-source email marketing software to run your business in the comment section.
Are you ready to take your email marketing strategy to the next level and generate leads with Mautic? We specialise in Mautic installation and configuration, and we can help you install and configure this incredible marketing automation tool to build your business. You don't have to waste time struggling with the complex installations and configurations of Mautic. Let us customise your Mautic instance to align perfectly with your business goals and immediately automate various aspects of your marketing efforts.
You can visit our services page to select the right tools, and we will set it up for you.
Frequently Asked Questions
Here are answers to some frequently asked questions about self-hosted email marketing:
What is self-hosted email marketing software? 

Self-hosted email marketing software is an email marketing solution that allows you to run and manage your email marketing campaigns on your server infrastructure. Unlike cloud-based email marketing services like Mailchimp, self-hosted software gives you full control over your email campaigns, data, and deliverability, as it's installed and maintained on your own servers or hosting environment. It's a practice of hosting and managing your email marketing solution on your own servers or hosting environment rather than using a third-party email marketing service.
Why should I consider self-hosted email marketing software? 

Self-hosted email marketing software offers greater control, customization, and data privacy. It's ideal for businesses with specific compliance requirements, the need for advanced customization, or those who prefer to manage their infrastructure. Hosting your email marketing system gives you complete control over your subscriber data and campaign performance. You are not reliant on a third-party service, and you can ensure the security and privacy of your data.
With self-hosted email marketing, you can scale your infrastructure based on your needs. You can add more servers or resources as your subscriber base grows to ensure optimal performance and deliverability instead of paying for third-party email marketing solutions.
What are the benefits of self-hosted email marketing?

The benefits of self-hosted email marketing include:

Cost-effectiveness: Hosting your email is generally more cost-effective than professional email services, especially if you have large email lists. Most professional email services charge on a per-account basis, while hosting your emails means paying a single flat rate and partitioning it between as many users as you want.

Control: One of the most significant advantages of self-hosted email marketing is that you have complete control over your email list. Since you own the data, you can customise your email marketing campaigns to suit your needs.

Data privacy: If you're concerned about the data privacy of your leads, then you can self-host your email marketing platform. When you host your email, you know that your leads' data is safe with you. With a self-hosted email marketing solution, no one can use your data for advertisement or other commercial purposes.

Customisation: Some self-hosted email marketing applications include the source code, allowing the application to be completely customised to suit your needs.

No monthly charges: Self-hosted and open-source email marketing solutions are usually free or purchased as a one-time payment, and there are no monthly charges, per-contact fees, or per-email fees. You can grow your email lists as big as you like without incurring higher costs.
Is self-hosted email marketing software more secure than cloud-based solutions? 

Security largely depends on how well the software is configured and maintained. Self-hosted solutions provide more control over security settings, making it possible to enhance security if managed correctly. Most open-source email marketing software like Mautic are well coded with security in mind; you can be assured that your data and that of your subscribers are secure. However, you are responsible for security measures like server maintenance and updates.
What are the key features of self-hosted email marketing software?

Self-hosted email marketing software features often include list management, email template creation, automation, tracking and reporting, segmentation, A/B testing, and integration options. With these features, you can effectively create, send, and analyse email campaigns.