Email marketing is a powerful digital marketing strategy that revolves around using email marketing platform to send personalised emails to a targeted audience. It continues to be a highly cost-effective communication tool for businesses and organisations to connect with their customers, promote products or services, build brand awareness, and drive traffic to their websites. Email marketing allows for personalised and direct communication, making it an invaluable channel for nurturing customer relationships and achieving various marketing goals. This article provides you with the best email marketing services you can use for effective communication and promotion of your products and services.
Email marketing consistently delivers one of the highest ROIs among digital marketing channels. With the right strategy, you can achieve a significant return on your investment in email marketing services.
What is an Email Marketing Platform?
An email marketing platform, often called an Email Service Provider (ESP), is a specialised platform that helps simplify your email marketing efforts. It facilitates the creation, management, and execution of email marketing campaigns. These services are designed to simplify and streamline the entire email marketing process, from building email lists to sending out emails and analysing campaign performance.
Why is an Email Marketing Service Important?
An email marketing service is important for several reasons, especially if you want to effectively reach and engage with your target audience. Email marketing services offer automation features allowing you to schedule and send emails at specific times or trigger them based on user actions. These services also enable you to segment your email list based on various criteria like demographics, behaviour, purchase history, and more to ensure that you send relevant content to different groups of subscribers, increasing the chances of engagement and conversion. It's a platform that allows you to build a communication bridge between your business and customers.
Email marketing services also make personalising emails with the recipient's name, location, and other relevant information easy. You can track open, click-through, conversion, and unsubscribe rates. These insights help you understand what works and what doesn't to optimise your email campaigns. Reputable email marketing services have established relationships with email providers like Gmail and Yahoo. They can help ensure that your emails are delivered to recipients' inboxes rather than in spam folders. You also enjoy A/B testing. Many email marketing platforms offer A/B testing capabilities, allowing you to test different subject lines, email content, and send times to determine what resonates best with your audience.
Not to mention, email templates and integration with other tools in your tech stack, such as customer relationship management (CRM) systems, e-commerce platforms, and analytics tools, streamline your marketing efforts. An email marketing service is essential for businesses and organisations looking to efficiently and effectively communicate with their audience, nurture leads, drive sales, and build long-term relationships. It provides the tools and capabilities to optimise email campaigns and measure their success.
Is Email Marketing Effective?
Yes, email marketing is still an effective marketing strategy, it's the most cost-effective marketing strategy to communicate with your audience, promote your products and services. Email marketing is a highly effective form of direct and digital marketing strategy. Whether you use email marketing as your main marketing tool or supplement other forms of direct marketing, it remains a cost-effective strategy that can help drive sales beyond measure. Here are some reasons why email marketing is still relevant:
Stability, Control, and Affordability
Email marketing remains one of the top marketing channels because of the stability, control, and affordability it offers businesses. As an owned media channel, email marketing gives you more control over your messaging and the scope of its reach. With 347. 3 billion emails sent daily globally, email marketing provides more opportunities to connect and engage with customers at a lower cost.
Email marketing has continued to deliver one of the highest ROIs of all marketing channels, and modern automation abilities have made creating email campaigns easier and more effective.
Email marketing allows businesses to reach a more targeted audience, giving them more control over what content is delivered to whom.
Email marketing is a great way to build relationships with customers and prospects over time by providing useful information about products or services, exclusive deals, rebates, and coupons.
Streamlining Marketing Channels
Email marketing can promote other marketing channels, such as social media platforms, making it easier for customers to get all the information about a business in one place.
What to Look for in an Email Marketing Platform
Choosing the right email marketing service is crucial for the success of your email marketing campaigns. Many options are available, each with its features and pricing. Here are some important factors to consider when looking for an email marketing service to power your email campaign:
Look for a user-friendly platform, especially if you're new to email marketing. The dashboard and interface should be intuitive and have a drag-and-drop feature for creating and sending emails, managing contacts, and tracking performance. A good email marketing service should offer a variety of professionally designed email templates that are responsive and customisable. This will save you time and help maintain a consistent brand image.
Effective list management is crucial; before you choose any email marketing service, ensure the service allows you to easily import, segment, and organise your email list. You should be able to add and remove subscribers easily and manage their preferences.
Automation and Autoresponders
Automation features are essential for sending targeted and timely messages. Look for automated features to create automated workflows, triggered sends, and scheduled emails; you should be able to easily set up automatic email sequences, such as welcome emails, abandoned cart reminders, and birthday greetings.
The service should allow you to personalise your emails by including the recipient's name, location, and other relevant information. Personalised emails perform better and make your recipients feel they belong to your company.
Comprehensive analytics and reporting tools are essential for tracking the success of your campaigns. Look for features like open rates, click-through rates, conversion tracking, and A/B testing.
Consider how well the email marketing service integrates with other tools and platforms you use, such as CRM software, e-commerce platforms, and social media. Integration can streamline your marketing efforts, and a good email marketing provider should integrate easily with many other tools your business uses.
Good customer support is important, especially if you encounter issues or have questions. Look for a service that offers various support channels, including email, chat, and phone support.
Go for a service that can grow with your business. As your email list and marketing needs expand, the service you choose should be able to accommodate your growth without a steep increase in costs.
Email marketing services handle sensitive subscriber data. Ensure the service takes data security seriously, with features like encryption and robust security protocols like DMARC email authentication standards.
The best email marketing service for your business will depend on your business needs, goals, and budget. Take the time to research and compare different options to find the one that aligns with your objectives and provides the tools necessary to execute successful email marketing campaigns. Now, let's look at the best email marketing platforms on our list.
Best Email Marketing Platforms
These platforms offer a variety of features, including email creation and design, email sending, email automation, email analytics, and more. To choose the best email marketing platform for your business, you need to consider your specific needs and requirements.
Mailchimp
Known for its user-friendly interface, extensive automation features and robust ecosystem.


Mailchimp is a widely recognise and user-friendly marketing automation platform that empowers businesses of all sizes to create, manage, and optimise email marketing campaigns. Since its inception in 2001, Mailchimp has evolved from a simple email marketing tool into a comprehensive marketing automation platform offering a range of features and capabilities to help you connect with your audience and drive growth.
Mailchimp Features
Mailchimp includes robust email marketing features like email templates, email scheduling, A/B testing, automated customer journeys, and list segmentation in all its paid plans. It also offers marketing automation tools that allow users to create targeted campaigns based on customer behaviour, preferences, and previous interactions with your brand. With Mailchimp, you can create and schedule social media posts across multiple platforms. Mailchimp also provides users with customisable landing page templates to help them create effective landing pages for their campaigns, and you enjoy detailed reporting and analytics tools that allow you to track the success of your campaigns and make data-driven decisions.
Mailchimp Price
Mailchimp has four plans, "Free, Essentials, Standards and Premium." The free plan includes up to 500 contacts and 1,000 monthly sends, with a daily limit of 500. Essentials Plan starts at $13 per month and has all the basics needed to start marketing, such as email templates, marketing automation, and landing pages. Standard Plan starts at $20 per month and includes additional features such as A/B testing, custom branding, and retargeting ads. The Premium Plan includes Mailchimp's most advanced tools, unlimited contacts, and priority support built for teams. Depending on your plan, your monthly payment increases as your contact numbers increase.
Constant Contact


Constant Contact is an email and online marketing platform designed to help businesses and organisations connect with their customers and build lasting relationships through email campaigns, social media marketing, and more. It offers a range of features and pricing options to accommodate businesses of various sizes and needs.
Constant Contact Features
Constant Contact provides a user-friendly email marketing platform that allows you to create and customise professional-looking emails using drag-and-drop editors. To help you save time and ensure timely communication with your audience, it offers automation tools that enable you to set up email sequences, welcome emails, and trigger emails based on your subscriber actions. In addition to automated email campaigns, you are provided with segmentation tools to target specific groups within your audience, ensuring your messages are relevant and engaging.
Constant Contact also allows you to create surveys and polls to gather valuable feedback from your audience, helping you make data-driven decisions. You can seamlessly integrate your email marketing with social media campaigns. You can easily share your emails and newsletters on social media platforms to expand your reach. If you're hosting events, Constant Contact offers tools to promote and manage your events online, including registration and ticketing features.
Constant Contact Pricing
Constant Contact offers a tiered pricing structure based on the number of contacts you have and the features you need. The price starts at $12 to $85 per month to send 500 emails monthly.
AWeber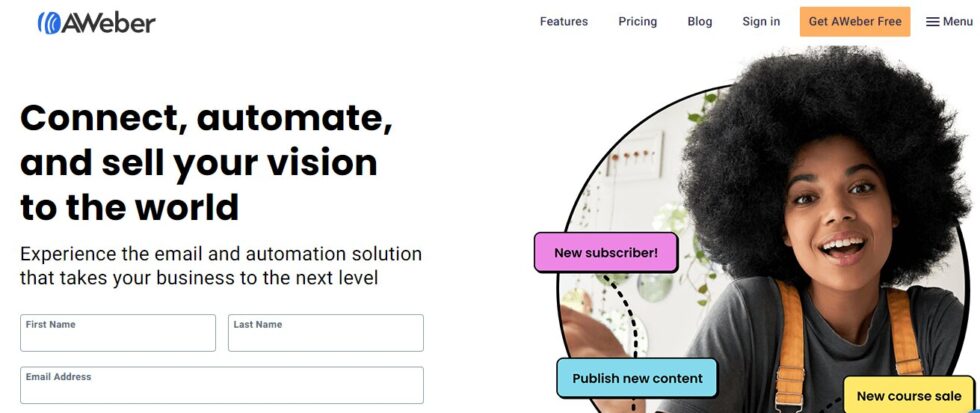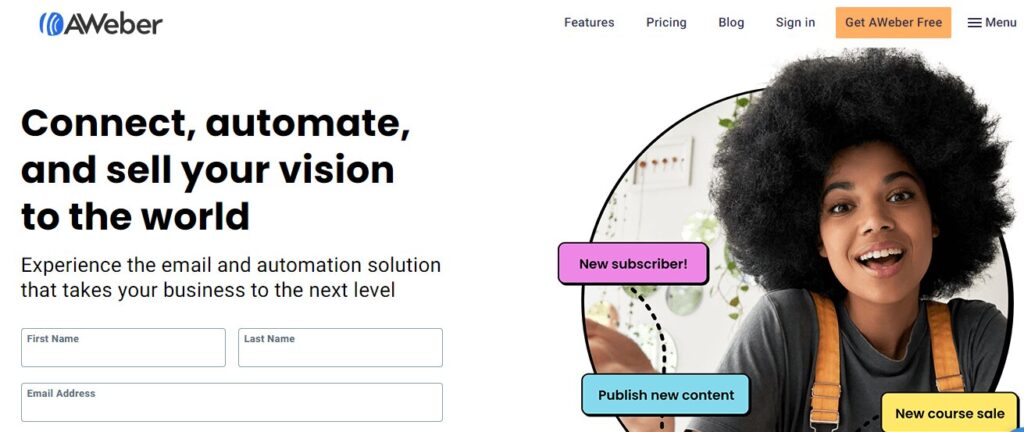 AWeber is a popular email marketing platform that helps businesses of all sizes connect with their customers and grow beyond measure. It is a popular choice for most email marketers because it's easy to use and offers various features any business can benefit from. Its feature set is designed to streamline the email marketing process and enhance engagement with subscribers.
AWeber Features
AWeber, a versatile email marketing platform, offers various features to simplify and enhance the email marketing experience. With AWeber, you can automate your email campaigns, making it easier to engage with your audience effectively. The platform provides a selection of professionally designed email templates that can be customised to align with your brand's identity, ensuring your emails are impactful and visually appealing.
With AWeber, subscriber management is made straightforward, allowing you to segment your email lists based on various criteria to ensure your emails reach the right audience. AWeber integrates seamlessly with various third-party applications and services, enabling you to incorporate the platform into your existing tech stack. Its A/B testing capabilities empower you to optimise your email content, subject lines, and send times for maximum engagement.
AWeber Price
AWeber offers a free plan that gives users with small lists access to many key features. The paid plans include Plus, Lite, and Pro, with pricing changing as the number of subscribers increases.
GetResponse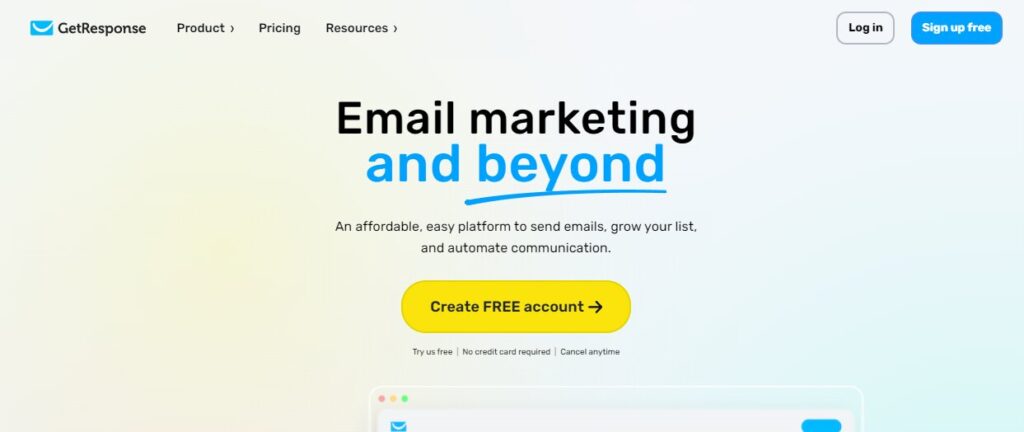 GetResponse is an email marketing platform that caters to the strategic needs of online entrepreneurs and business owners. It is the world's leading email marketing software for businesses, big and small. It is a reliable email marketing platform that offers a wide range of features to help you promote and sell products online, build your lists of contacts, and more.
GetResponse Features
GetResponse offers many features if you're looking to enhance your email marketing and automation efforts. Its features include tools for email marketing, marketing automation, landing page creation, webinar hosting, customer relationship management (CRM), autoresponders, e-commerce integration, A/B testing, analytics and reporting, seamless integrations with other apps, advanced segmentation, social media integration, marketing funnel creation, surveys and forms, and much more. These features empower you to engage with your audience effectively, automate marketing processes, and optimise your marketing strategies for better results.
GetResponse Price
GetResponse offers four pricing plans to suit different business needs and budgets, with discounts available for long-term commitments and non-profit organisations.
Campaign Monitor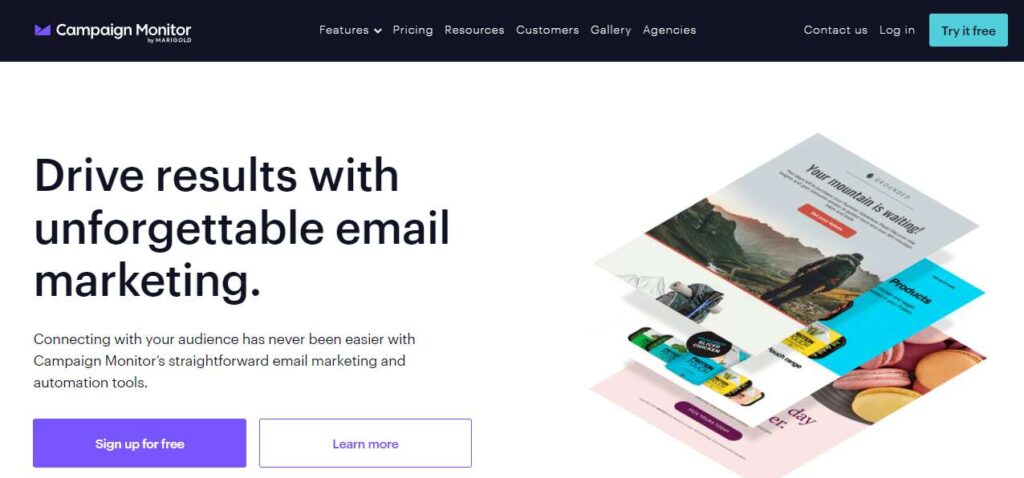 Campaign Monitor is an email marketing platform that provides you with everything you need to run professional email marketing campaigns to grow your business. Various businesses, from small startups to large enterprises, and across various industries use Campaign Monitor. Its user-friendly interface and robust features make it a valuable tool for marketers looking to connect with their audience through email. Whether you're looking to send promotional emails, newsletters, or transactional messages, Campaign Monitor provides the tools and insights to help you achieve your email marketing goals.
Campaign Monitor Features
Campaign Monitor provides a full analytics suite that gives you an aggregate view of the overall performance of your emails, including geography, acquisition, and engagement per campaign. You can get actionable insights to help improve your strategy and prove the return on your email investment. You can trigger automatic emails based on your audience's interactions with your business, like an online purchase or donation.
Campaign Monitor offers great data segmentation options, allowing you to send to or exclude multiple segments and lists in mailouts. It also seamlessly connects to hundreds of pre-built apps and integrations to link your e-commerce platform, CRM, or website to the platform.
Campaign Monitor Price
Campaign Monitor offers three pricing tiers to fit different business needs and budgets. The pricing is based on a combination of the number of subscribers and the features included in each plan.
Brevo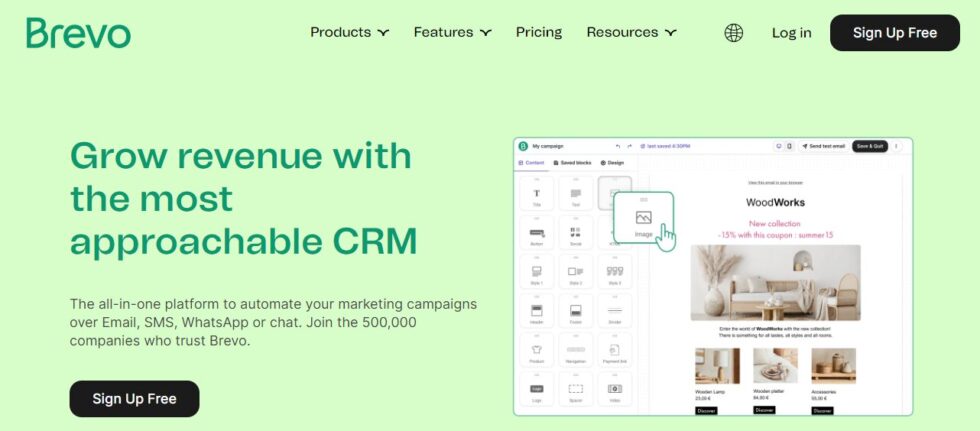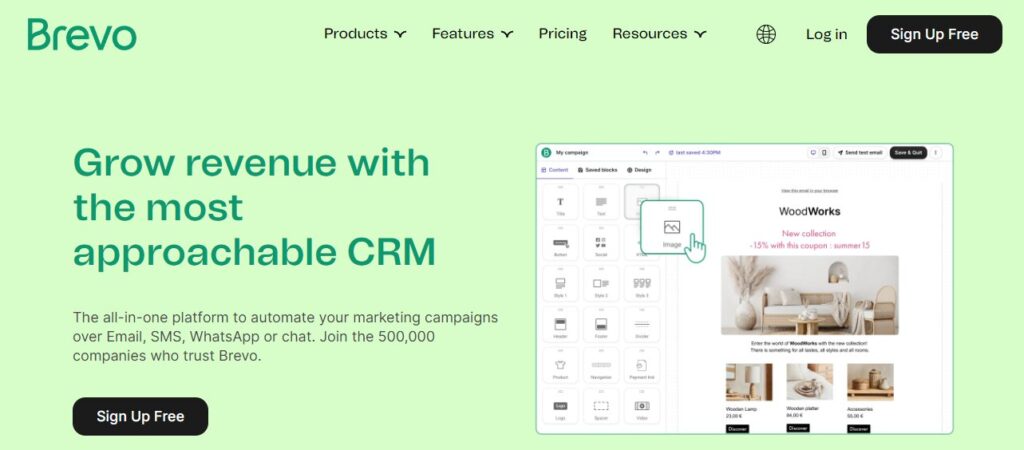 Brevo is a great email marketing software that offers an affordable all-in-one marketing and CRM stack to help businesses grow their revenue. Its intuitive interface and easy-to-use features make it a great choice for beginners.
Brevo Features
Brevo as a marketing platform, offers various features to help you create and manage email and SMS marketing campaigns, automate tasks, and manage your mailing lists. Brevo lets you personalise your emails with contact attributes such as first name, last name, and email address. The platform offers a drag-and-drop editor to create text, links, images, buttons, and more content blocks. It also provides a range of marketing automation features, including SEO, bulk SMS, templates, budgeting, reporting, and automation. With Brevo's list management features, you can split up your contact list based on customer data points to target a particular segment of contacts.
Brevo Price
Brevo has four main plans, one of which is free, two range in price between $25 and $65 per month, and the Bravo enterprise plan requires you to get a customised quote. Bravo plans vary in cost based on the number of emails sent daily/ month.
HubSpot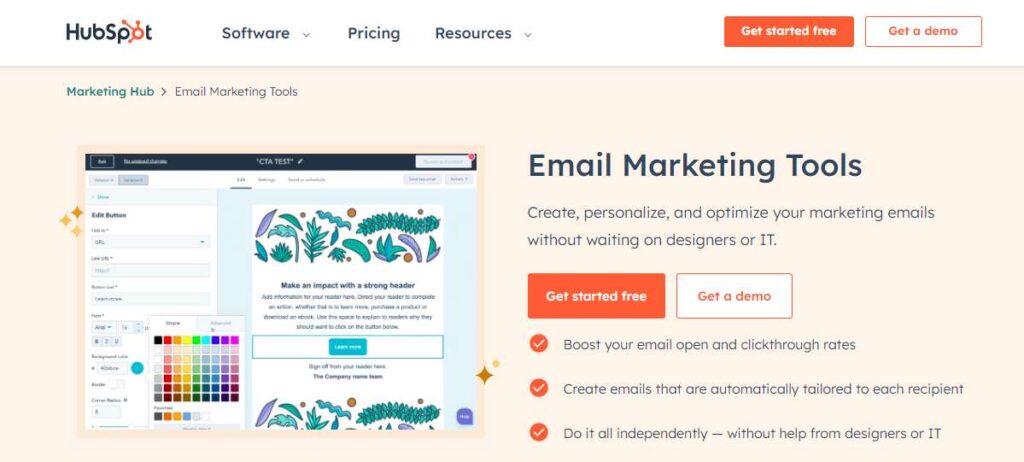 HubSpot offers a suite of email marketing tools allowing marketers to create, personalise, and optimise marketing emails that feel and look professional without technical knowledge.
HubSpot Feature
HubSpot Email Marketing Software offers a robust suite of features designed to help you streamline email marketing campaigns, engage subscribers, and drive results. HubSpot provides a user-friendly drag-and-drop email builder that allows you to create visually appealing and responsive email campaigns without any coding skills. You can also personalise emails using recipient data, such as name, location, or past interactions.
Users can also split-test different elements of your emails, such as subject lines, content, and send times, to determine what resonates best with your audience and optimise campaign performance. HubSpot allows for advanced segmentation based on various criteria, including demographics, behaviour, and engagement history. It also allows you to set up automated email workflows triggered by specific actions or events, ensuring timely and personalised communication with your subscribers.
HubSpot Price
HubSpot offers email marketing tools as part of its Marketing Hub product. The pricing for Marketing Hub varies based on the selected plan; there's a free plan, while the starter plan starts at $20 monthly for 1,000 contacts and the Professional plan ranges from $890 per month for 2,000 contacts.
ActiveCampaign


ActiveCampaign is a robust email marketing and automation platform offering various features, including email marketing, marketing automation, sales automation, and CRM functionality. It provides businesses with personalisation and automation tools to drive high-quality leads, increase customer engagement, and unify data to sharpen marketing efforts within a centralised platform. It's a robust platform that integrates with over 900 applications, including Salesforce, WordPress, Shopify, PayPal, Stripe, Gmail, Facebook, and WooCommerce.
ActiveCampaign Features
It is known for its user-friendly interface and powerful automation capabilities. Its CRM feature helps you manage and track interactions with your leads and customers. You can personalise emails and content based on customer data to increase the relevance and effectiveness of your marketing campaigns. In addition to its email marketing features, it offers SMS marketing capabilities, allowing you to reach your audience through text messages.
ActiveCampaign Price
ActiveCampaign offers several pricing tiers based on the number of contacts you have and the features you need. Pricing can vary depending on your chosen plan and your contact number. 1000 contacts on the LITE plan cost $29/ month.
Drip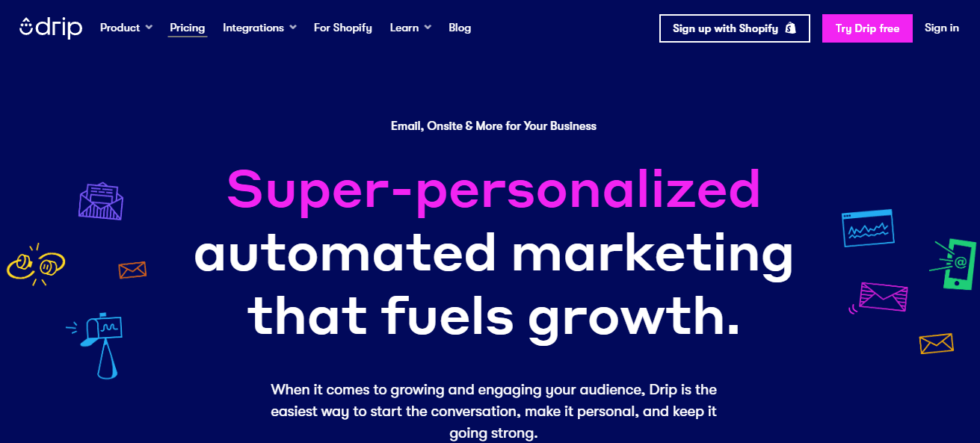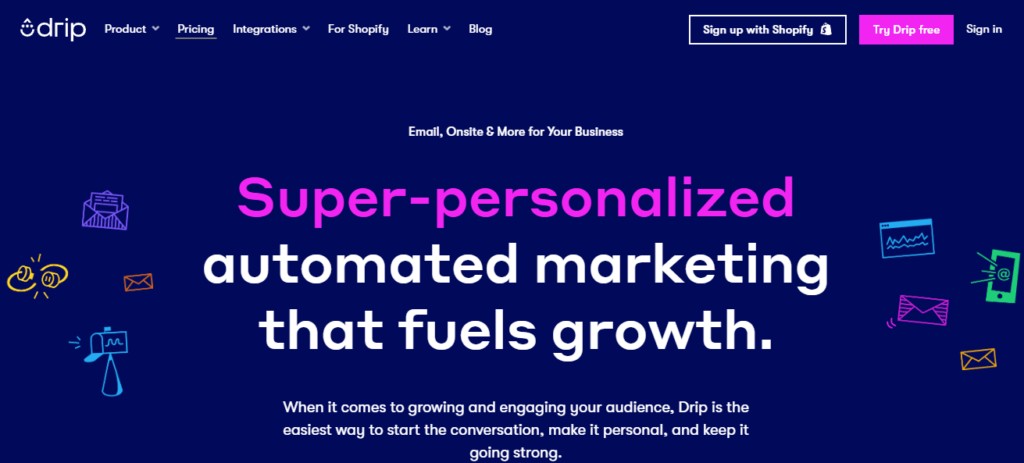 Drip is an email marketing automation platform designed to help businesses, especially e-commerce owners, engage with customers through personalised and targeted email campaigns. It offers a range of features to streamline your email marketing process and nurture leads into loyal customers.
Drip Features
Drip excels in automation capabilities; it offers a visual workflow builder where you can create complex automation sequences based on customer behaviour, such as email opens, clicks, and purchases. It also integrates seamlessly with e-commerce platforms like Shopify, WooCommerce, Magento and hundreds of other platforms. Its e-commerce integration allows you to track your customer activity, abandoned carts, and sales data to send targeted emails and recover lost revenue. You can also engage with your audience through SMS marketing and social media advertising, providing a more holistic approach to communicating with your customers.
Drip Price
Drip offers a tiered pricing model based on your email list size and email send volume. Up to 2,500 email contacts and unlimited email send only cost $39 per month.
Moosend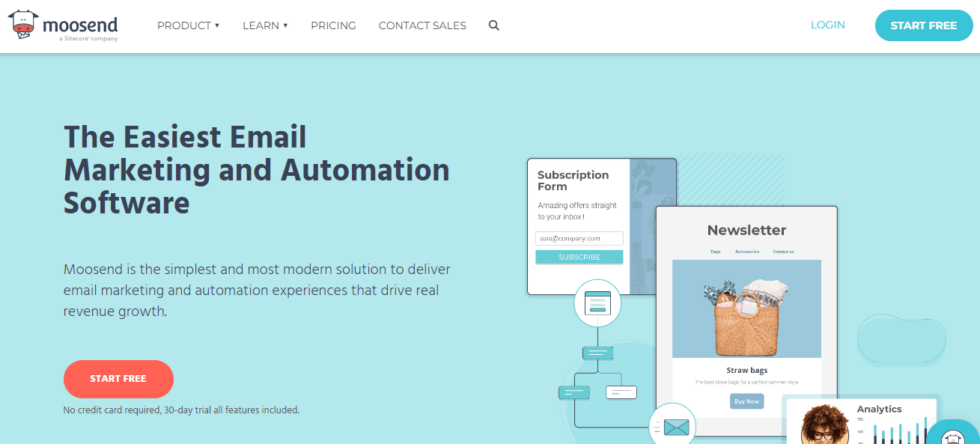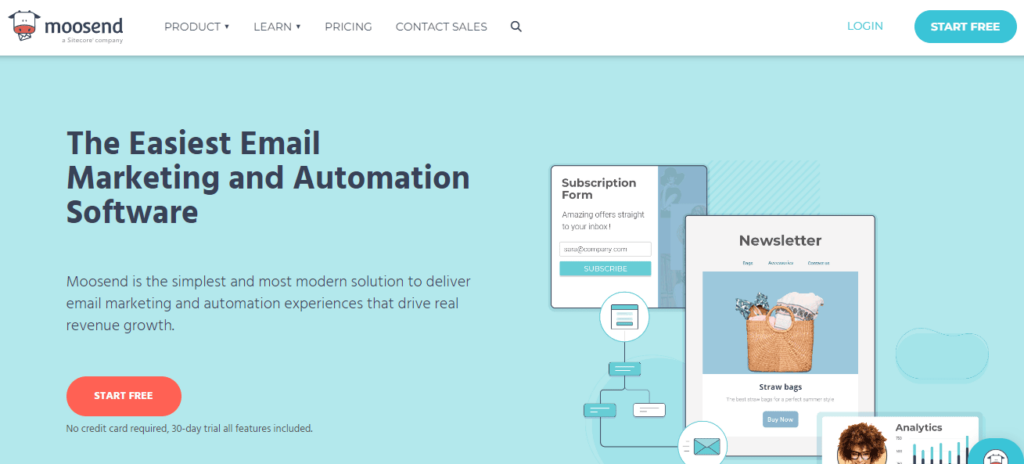 Moosend is a cloud-based email marketing platform offering various features to help businesses grow their email marketing campaigns.
Moosend Features
Moosend offers a user-friendly drag-and-drop email editor that allows you to create visually appealing and responsive email campaigns quickly. You can also schedule email sends, track opens and clicks, and analyse campaign performance. It also provides marketing automation tools that enable you to create automated workflows based on user behaviour. Moosend analytics and reporting features offer detailed analytics and reporting tools to track the performance of your email campaigns. You can measure key metrics like open rates, click-through rates, conversion rates, and more.
Moosend Price
Moosend offers a tiered pricing model based on the number of subscribers in your email list and the features you need. Its free plan allows you to send emails to a limited number of subscribers with basic features, while Moosend Pro plan starts at $9 per month, with the plan, you can send unlimited emails, create automation workflows, forms, and landing pages, and also send transactional campaigns to up to 500 contacts.
Zoho Campaigns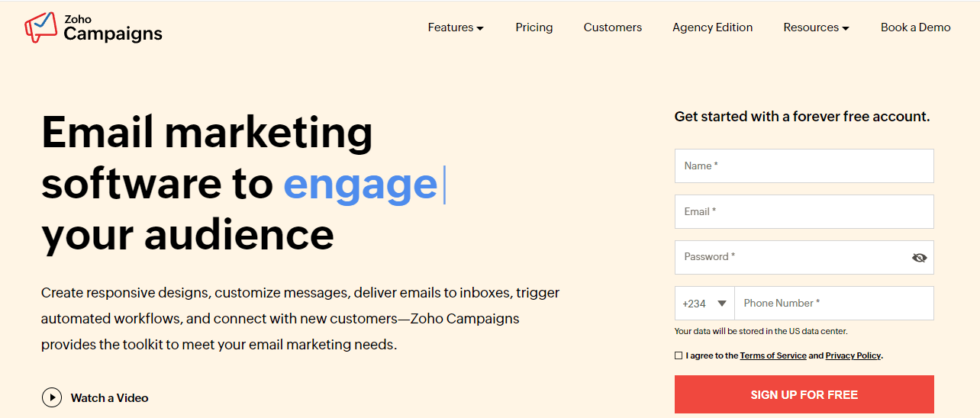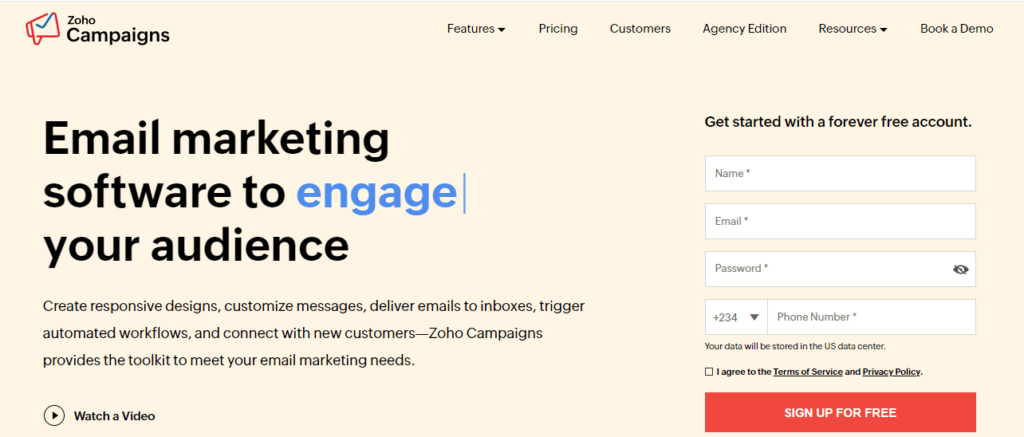 Zoho Campaigns is an email marketing and marketing automation platform offered by Zoho Corporation. It is designed to help businesses create, send, and track email campaigns and engage with their audience effectively. It provides you with the toolkit to meet your email marketing campaign needs. With Zoho campaigns, you can create responsive email designs, customise your messages, deliver emails to inboxes, trigger automated workflows, and connect with your new customers.
Zoho Campaigns Features
Zoho campaigns lets you import subscribers from multiple sources, including Zoho CRM, Google, and Office365. It also allows you to map existing fields from CRM and create custom fields to add more information about your contacts. Zoho Campaigns also handles invalid/spam/unsubscribed email addresses automatically. It also offers customisable layouts and templates to create professional-looking emails. Its automation features let you trigger messages based on your recipients' interactions with your campaigns. You can manage your online store's communication within Zoho Campaigns by setting up automated sales and promotional emails, purchase follow-ups, feedback messages, abandoned cart triggers, and more.
Zoho Campaigns Price
Zoho Campaigns offers a range of pricing plans to suit your business needs. Zoho Campaigns free Plan is free of charge and lets you have up to 2,000 emails and send up to 6,000 emails per month, while the standard plan starts at $3 for up to 500 contacts.
Benchmark Email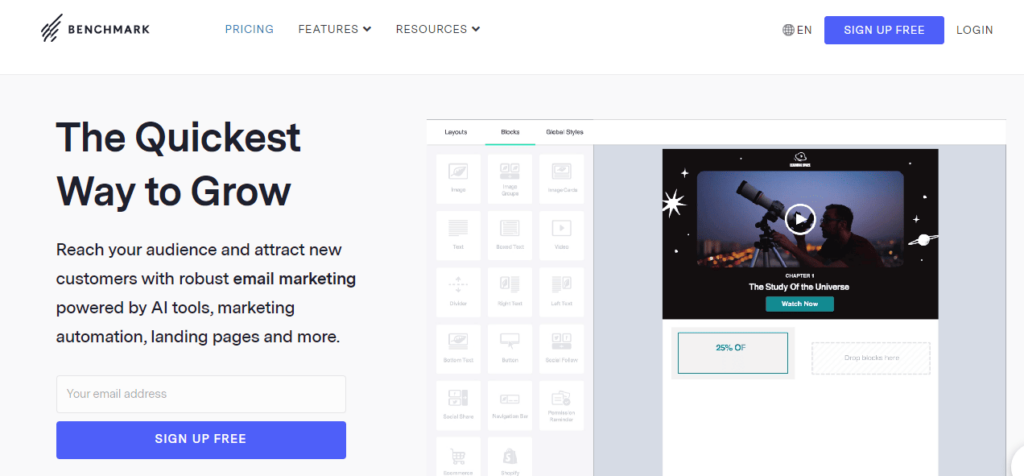 Benchmark Email is another popular email marketing platform offering various features for businesses and organisations looking to engage with their customers and subscribers through email campaigns. It offers email templates for different occasions and events.
Benchmark Email Features
Benchmark Email's intuitive block design and previews make it easy to create email campaigns, even for a novice. It is also empowered by an AI copywriting tool to get your email content ready with a click. It provides a large collection of email templates for any industry; with over 200 templates available, including templates in multiple languages, you can quickly get your stunning emails ready to be sent to your list.
Benchmark Email Price
Benchmark Email offer a free plan that allows you to send 3,500 emails to 500 contacts; its free plan is a great option for you to get started with email marketing. The pro plan is a perfect fit for anyone who needs to send more emails and create landing pages. The pro plan starts at $8 for 500 contacts.
MailerLite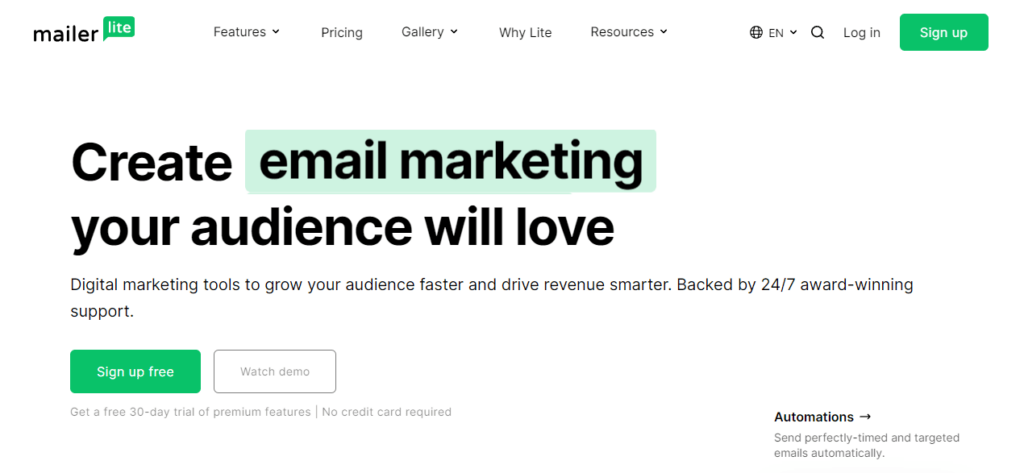 This is another affordable email marketing platform with automation and landing pages. MailerLite is an email marketing platform with various features designed to help you create, send, and track effective email campaigns. It's known for its user-friendly interface, affordability, and a robust set of tools for email marketing.
MailerLite Features
MailerLite allows you to create visually appealing and responsive email campaigns using a drag-and-drop editor. You can customise templates and add images, videos, and other content for engaging emails. You can Automate your email marketing efforts with workflows and autoresponders. You can send automated emails based on subscriber actions or set up drip campaigns to nurture leads and customers over time. You can also automatically send emails to your subscribers when you publish new blog posts or content through the RSS-to-email feature and track the performance of your email campaigns with detailed reports.
MailerLite Price
MailerLite offers a straightforward and transparent pricing structure. They have free and paid plans based on the number of subscribers in your email list. The free plan allows you to send up to 12,000 emails per month to 1,000 subscribers. MailerLite's paid plans start at a reasonable monthly fee, and the price increases as your subscriber list grows.
Sender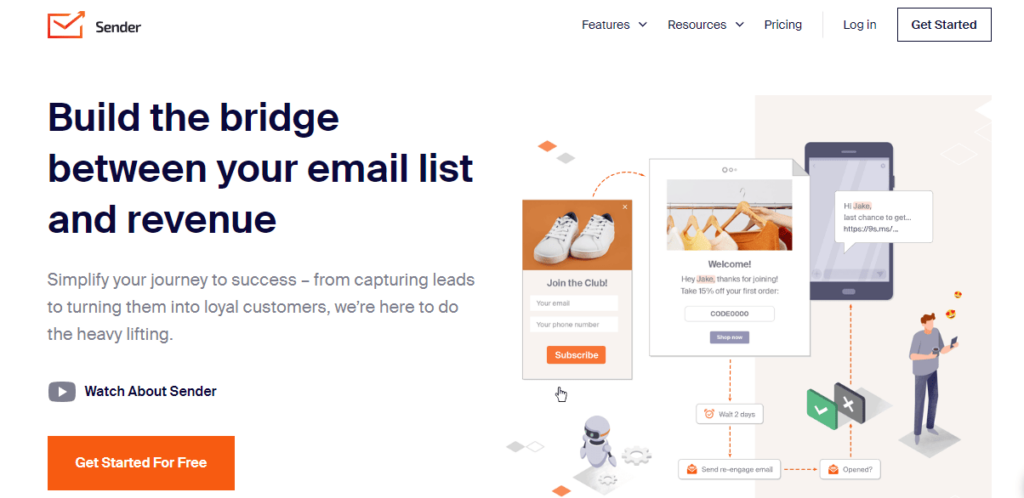 Sender is another very affordable email marketing platform tailored for e-commerce and small business marketing and is highly focused on user-friendly experience and interface. It is a good email marketing platform if you want to send marketing emails and drive more revenue.
Sender Features
Some of the features of Sender include advanced email analytics, customisable email templates, and integrations with other software. It offers a user-friendly drag-and-drop email builder that allows users to create visually appealing and responsive email campaigns without extensive coding knowledge. In addition to marketing emails, you enjoy the capability to send transactional emails, such as order confirmations and password reset emails. You can also sync your emails and SMS marketing as immediate, one-off broadcasts or schedule them for the future with just a few clicks.
Sender Price
Sender's pricing plans are very affordable; their Free Forever plan comes with all the top premium features, including automation and segmentation. The free plan allows you to have 2,500 contacts, and you can send up to 15,000 emails monthly. Their paid plans start at just $10 per month, with the ability to send up to 12,000 emails to a maximum of 1,000 contacts. And you can also subscribe to their pay-as-you-go plan, which starts at $29 for 5,000 emails instead of paying for a monthly subscription.
Sender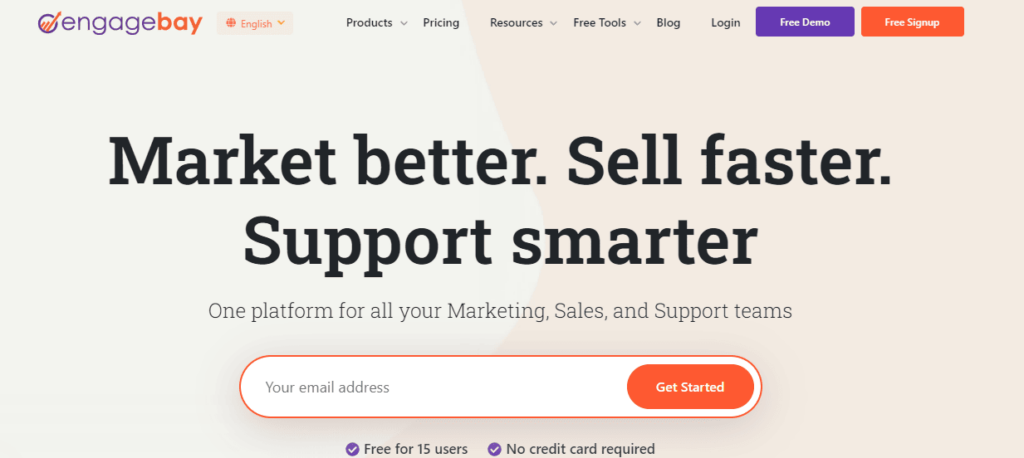 EngageBay is an all-in-one marketing automation and CRM (Customer Relationship Management) platform designed to help you effortlessly streamline your marketing, sales, and customer service processes. It offers a range of features and tools to assist you in effectively managing customer relationships, automating marketing campaigns, and improving overall operational efficiency.
EngageBay Features
EngageBay provides a comprehensive CRM system that enables you to track and manage customer interactions, store contact information, manage leads, and view a detailed history of your customer interactions. Its robust marketing automation tools allow you to create and automate email marketing campaigns, segment your audience, and track campaign performance. EngageBay offers a user-friendly email marketing platform to create and send targeted email campaigns. It supports personalisation, email tracking, and analytics to measure the effectiveness of email marketing efforts. You can also capture leads through customisable web forms, pop-ups, and landing pages. These tools allow you to easily convert your website visitors into potential customers.
EngageBay Price
EngageBay offers a free plan with features like Email Marketing, Autoresponders, Email Broadcast, Lead Grabbers, Landing Pages and CRM for up to 250 contacts. You can upgrade to the pro plan for unlimited contacts and emails for businesses with more extensive needs.
Choosing the Best Email Marketing Platform
Email marketing platforms allow you to build a communication bridge between your business and customers, and each email marketing platform mentioned has its own strengths and weaknesses. Choosing the right platform can take time and effort, but finding one that suits your needs is important. To choose the best email marketing platform for your business, you will need to assess your goals and requirements. Some email marketing platforms excel at automation and segmentation, while others prioritise ease of use and templates. Factors like deliverability rates, scalability, customer support, and pricing should also be carefully considered. In actuality, the best email marketing platform for your business is the one that aligns most closely with your objectives and resources.
If you are just getting started with email marketing and are on a budget, you can check this well-curated article on the best free and open-source email marketing solutions you can self-host on your server to help your email marketing strategy.
Frequently Asked Questions
What is an Email Marketing Platform?
An Email Marketing Platform is a software or service that allows businesses and individuals to create, send, and manage email marketing campaigns. These platforms provide tools for designing emails, managing subscriber lists, tracking campaign performance, and more.
Why is Email Marketing important?
Email marketing is important because it is a highly effective way to reach and engage your audience. It can help you promote your products, build customer relationships, drive website traffic, and increase sales.
What features should I look for in an Email Marketing Platform?
The features you should look for depend on your specific needs, but common features include email templates, list management, automation, analytics, A/B testing, and integration with other marketing tools and platforms.
How do I choose the right Email Marketing Platform for my business?
To choose the right email marketing platform, consider factors such as your budget, the size of your email list, the level of automation you need, and any specific integrations you require. 
What is the difference between a marketing email and a transactional email?
Marketing emails are used for promotional purposes, such as newsletters, product announcements, and sales offers. Transactional emails, on the other hand, are triggered by specific actions or events, like order confirmations, password resets, and account notifications.
How can I grow my email subscriber list?
You can grow your email list by offering valuable content and incentives (such as discounts or freebies), using signup forms on your website and social media, hosting webinars or events, and collaborating with other businesses for cross-promotions.
What is email deliverability, and why is it important?
Email deliverability refers to the ability of your emails to reach the recipients' inboxes without being marked as spam. It's crucial because if your emails end up in spam folders, your open rates and engagement will suffer. Factors affecting deliverability include email content, sender reputation, and list quality.
How can I measure the success of my email marketing campaigns?
You can measure the success of your campaigns by tracking metrics such as open rates, click-through rates, conversion rates, unsubscribe rates, and revenue generated. Most Email Marketing Platforms provide analytics tools to monitor these metrics.
What are some best practices for email marketing?
Best practices include segmenting your email list, personalising content, sending relevant and valuable emails, optimising for mobile devices, testing different subject lines and content, and maintaining a clean and engaged subscriber list.