Running email marketing campaigns is one of the highly effective ways to engage your audience and achieve your marketing goals. People run marketing campaigns to sell products, advertise services, get customers' attention and engagement, generate leads and increase sales. According to data prepared by Statista, about 319.6 billion emails are sent and received daily worldwide; this figure points to one clear fact, there is a lot of competition in sending marketing emails to clients globally. People's inboxes are filled with different emails, and businesses are now competing to get customers' attention using email marketing campaigns.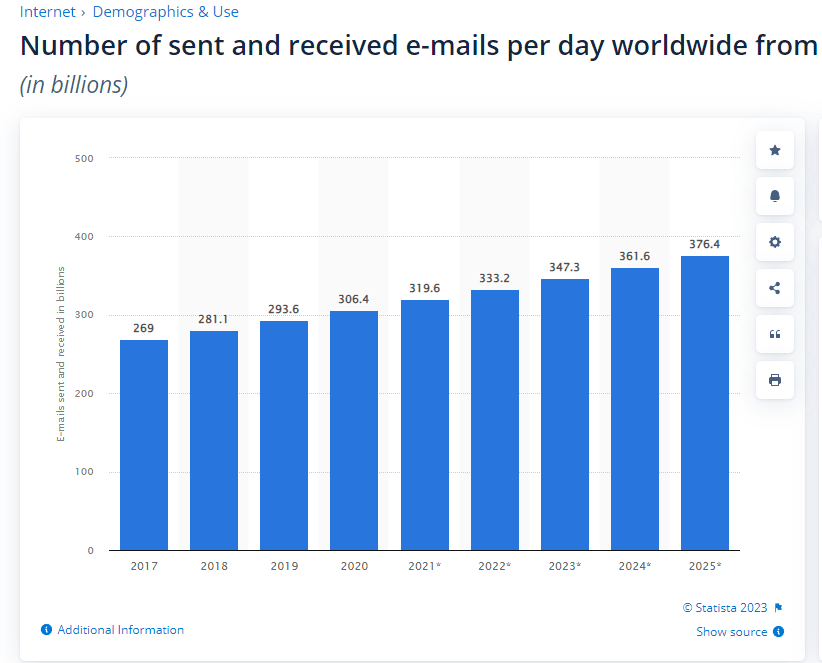 The big question here is, are your email marketing campaigns delivering? Are you doing it the right way? Don't worry; even if you have been getting negative results and your open and click-through rates are extremely low, this article will show you steps-by steps guide to running successful email marketing campaigns that reach your target audience and give you desired interest.
Email marketing campaigns allow you to reach and engage with your audience, provide updates or news about your business, or invite the audience to take a certain action, such as purchasing, watching videos, or filling out a survey.
Click To Tweet
What Is an Email Marketing Campaign?
An email marketing campaign is marketing strategy businesses employ to send commercial emails to one or multiple customers at a time. Email marketing campaigns are created and sent to promote a product or service, build brand awareness, or nurture relationships with existing or potential customers. Email marketing campaigns typically involve creating and sending emails to the audience who willingly gave you their email addresses.

You can use these emails to share information, offer promotions or discounts, provide updates or news about a product or service, or invite your contact to take a specific action, such as purchasing, watching videos, downloading content, or filling out a survey. An email marketing campaign is an effective and less expensive way to reach and engage with large audiences regardless of the distance. When email marketing campaigns are done well, businesses can communicate directly with their audience and build relationships with them over time. It allows you to target specific segments of your audience with personalized and relevant content based on interests. With email marketing campaigns, you can increase users' engagement on your website, drive sales, and build loyalty.
Tips to Run a Successful Email Marketing Campaign
Here are some tips to help you create and run a successful email marketing campaign:
Build a Targeted Email List
The most effective email marketing campaigns begin with a list of qualified and engaged leads interested in your business. Email lists help you turn an email subscriber into a loyal customer; with an email list, you can use your emails to attract customers. Converting your website visitors into subscribers is the most effective way to build a targeted email list. Building email lists help you increase customer retention and build effective long-term relationships to increase revenue and sustainable growth. But it's not always easy to build an email list from scratch, especially when you are new to email list building. You can easily build an email list without stress with the following tips. 
You can use an exit-intent popup to collect an email list and convert your website visitors who intend to exit your website into subscribers and customers. Exit-intent popups automatically detect user behaviour on your website and prompt them with a targeted campaign just before they exit your site. You can collect and significantly increase your email lists with an exit-intent popup. If your website is built on WordPress, you can use Thrive leads plugin, Optinmonster, or create a beautiful exit-intent plugin to collect email addresses of visitors who intend to leave your website without taking action.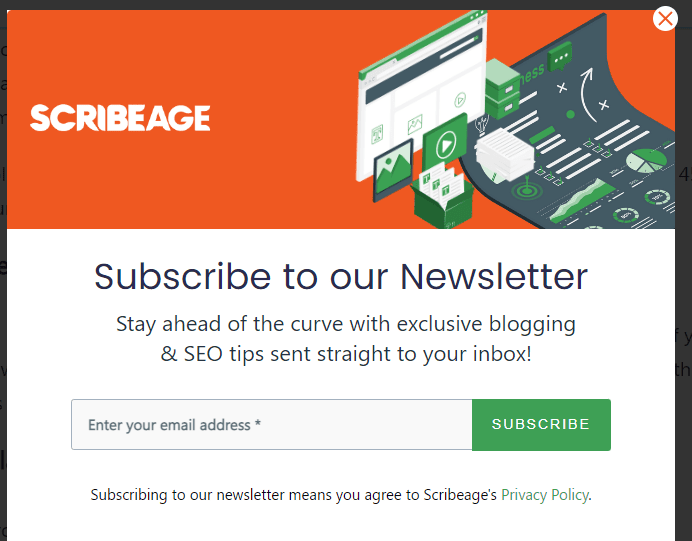 Use a pop-up or slide-in form
Pop-up or slide-in forms are designed to pop-up or slide-in over your website to collect users' information when visitors spend a certain amount of time on your website. One of the ways to collect visitor information and build an email list is to use a pop-up or slide-in form; the form will enable you to send personalized content based on visitors' behaviour. As you can see in the image below, Optinmonster uses a clean pop-up form to offer meaningful content to its website visitors. With an impressive pop-up or slide-in form, you can offer compelling content to your website's visitors while you collect email addresses in exchange.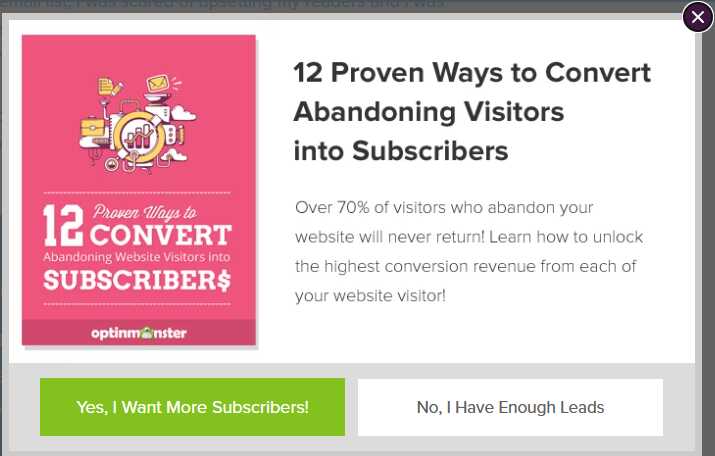 Here are some tips to make popups or slide-in forms attractive to your visitors
Make it easy for visitors to close the window when it opens.
Don't bombard your visitor with popups; only show the popup once in a while
Set parameters, such as allowing your visitor to stroll on a page or a certain time before the popup shows.
Stop showing a popup once the form converts the customer. 
Not all website visitors will subscribe to your mailing list when they visit your website. For all your website visitors to become subscribers, you have to bribe them into subscribing to your list, and that's where you need a lead magnet. A lead magnet is an incentive or bribes you give to potential customers to convince them to give you their email addresses so you can market your products to them and ultimately convert them into buying and loyal customers. A lead magnet is the most effective way to build an active and engaged email list. A lead magnet helps you offer freebies to your website visitors in exchange for their names and email addresses.
You need a quality email list to run a successful email marketing campaign. You can build your list through lead magnets, opt-in forms, and by offering incentives to your audience.
Define your Goals
Before creating your email marketing campaign, it is essential to define your goals. What do you want to achieve with the marketing campaign? Before you can say your email marketing campaign is successful, it must have achieved the goals set before running it. So, decide what you wish to achieve with your campaign. People create email marketing campaigns for many reasons, some to drive sales, generate leads, increase video watch hours, increase website traffic, or improve customer engagement. Your goals for an email marketing campaign can be to:
Welcome your new subscribers: Welcome email allows you to thank your new subscriber for subscribing to your list, introduce your products and services, and tell them what stands to gain in building a relationship with your business. 
Increase engagement: This email campaign lets you promote your products or services to increase users' engagement.
Nurture existing subscribers: With this email campaign, you can provide valuable content that keeps your leads glued to your business.
Re-engage your inactive subscribers: This lets you email those subscribers who haven't been active with your content. Such as subscribers, who haven't opened your email, click your links. Etc.
Increase Website Traffic: This email campaign is sent with links to your landing pages, product pages, or blog posts to increase your website traffic.
Segment your Contact
Breaking your list into smaller groups is a good starting point for running successful email marketing campaigns. Grouping your email list will allow you to send targeted messages to each group based on their interests. You can group your email list based on demographics, interests, and past actions on your website. You don't have to send all your contacts a generic email because they don't share the same thing. This process will allow you to send personalized content based on their interests and behaviour on your website.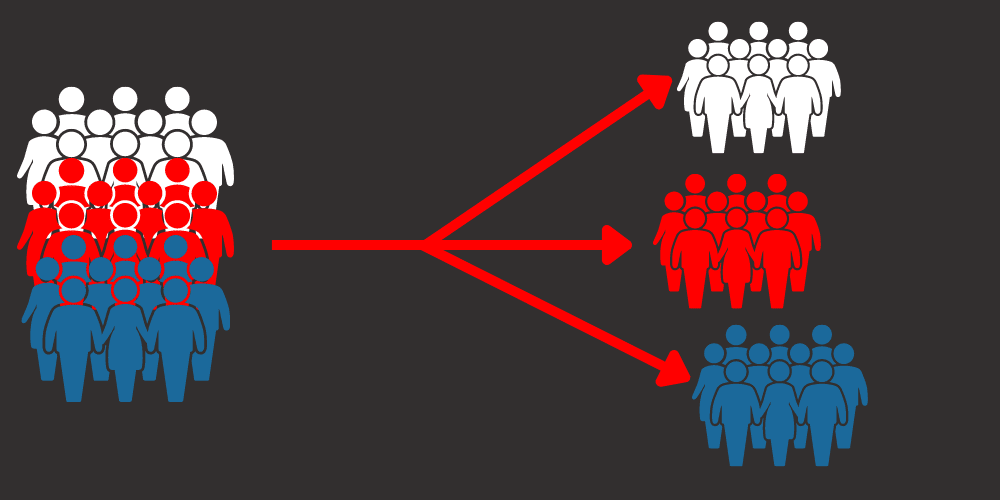 Segmenting your list will let you know your contact and what they want, who they are, and where they are located. You can use data collected from your email marketing automation software's dashboard, Google Analytics, or Social media such as Facebook Insights to know more about your subscribers. The data collected from these sources will give you first-hand details on demographics, location, interests, and other metrics on your audiences.

Make use of the right Email Marketing Software
One of the criteria for running successful email campaigns is to use the best email marketing and automation platform. There are many email marketing platforms out there; some are free and open-source, while some are paid with a free entry plan. You can run smooth and successful email marketing campaigns using the best email marketing platform for your email marketing campaign.
A good email marketing software should include features that will allow you to easily:
Create email campaigns and automate your marketing workflows.
Integrate with all your existing systems and website, such as WordPress.
Allow you to segment your contacts as you want.
View an in-depth analysis of your email marketing campaign performance.
Good and robust email marketing software like Mailchimp, Get Response, ActiveCampaign, Mautic, and HubSpot will help you create, schedule, and send transactional and marketing emails with a feature-rich analytics dashboard.
Craft Eye-Catching Your Subject Line
Your email subject line determines if readers would open your email, just like the headline on your blog post, which must draw attention so that people want to read on. The subject line is a good starting point for any successful email marketing campaign; your subject line is critical in getting people to open and click on your emails. You have fewer words in your email subject line, so you must make it count; your subject lines range from 41 to 50 characters and lesser on mobile. So, take time to craft something catchy and worthy of reading.  
Write Compelling Content
The next thing to do is craft compelling content for your email marketing campaign. Your email content should be engaging, informative, and relevant to your audience. Use attention-grabbing headlines, clear and concise language, and a compelling call to action button. To compel people to read and engage with your email, you will want to keep email content short and offer something valuable to your readers. Your email copy should be useful, informative, and resourceful to the recipient. Make it clear how this will help them. You can use images, a poll, a survey, a GIF, a video, and any other visual to engage your readers more.
Personalize your Emails
Personalization is key to the success of email marketing campaigns. Use the recipient's name and dynamic content to personalize your emails based on the recipient's interests and past behaviour. Calling the recipient by name within the subject line and including their first or last name at the header of your email increases the open rate and builds an emotional connection with your audience. It improves your engagement rate and makes the recipient feel part of your business; who would not like to be called by names when addressing them?
Optimize for Mobile
About 68% of email campaigns are opened on a mobile device; email with a mobile-friendly design is no longer just nice. According to Statista, about 41% of Smartphone users prefer to receive business marketing communication via email. Mailchimp, in their report, said creating a mobile-responsive email can increase unique mobile clicks by 15%. More than half of all emails are opened on mobile devices, so make sure your emails are mobile-friendly. Use responsive design and test your emails on different devices to ensure they look good on all screens. If you don't optimize your emails for mobile, no one will engage with your marketing campaign.
Since most of your audience will check their emails on mobile devices, optimizing your emails for mobile viewing is important. Use a responsive design and a clear and simple layout, and ensure your email's text fonts are easy to read on small screens.
Test and Measure
Testing and measuring your email marketing campaign is essential to improving its performance. Use A/B testing to test different subject lines, content, and CTAs. Track your open, click-through, and conversion rates to see what's working and what's not. Gathering data about your campaign is important to improve what is not working.
You can use the A/B testing method to test your email design, layout, subject lines, and calls to action to know what resonates well with your audience. Measuring your campaign will allow you to see how sending reputation is, how many people unsubscribe from your list, how many of your campaigns delivered, and how many were opened. These and many more metrics will enable you to rate the success of your campaign.
Final Note
Now that you have all the tips to make you run a successful marketing campaign that beats your imagination.  If you follow these tips, you can create and run a successful email marketing campaign that drives engagement, increases sales, nurtures leads, and achieves your business marketing goals.