The recent changes in the algorithm of most search engines make your online content harder to find online. Also, the ads you pay for on Google are getting more expensive, and your ads on Facebook aren't bringing in as many potential customers as before. You're also worried that Twitter might have some problems soon. When you rely on platforms you don't control (like social media), things can change unexpectedly. This is where email marketing can help.
The good news is that many free email marketing tools come with all the features you need to create and send emails to your customers. We looked into and tried out many free email marketing apps to find the best ones for different businesses. Here are the top seven free email newsletter services.
What Makes the Best Free Email Marketing Service?
You don't have to pay for good email marketing tools. There are free options that work well for small businesses. If you're just starting out or want to try before paying, you have many choices. Before I recommend any email marketing service, I looked at the following:
A good email marketing service should be user-friendly, with an intuitive interface that makes it easy for anyone to create, send, and manage email campaigns.
How Many People You Can Email
Some free services let you email many people for free, while others have small limits. This matters.
You shouldn't have to design your emails from scratch. The best free tools give you pre-made templates to start your emails. Before picking any email marketing services, you must look for a service that offers a variety of professionally designed email templates. Customisation options are also essential to match your brand's look and feel.
It's important to send the right emails to the right people. Free email tools should let you organise your audience. With a good email marketing service, you should be able to easily import and manage your email list. Ensure the service allows you to segment your list for targeted campaigns.
Businesses need to send automated emails sometimes. Good free email tools let you do this as your business grows. Automation features like autoresponders, drip campaigns, and workflows can save time and increase the effectiveness of your email marketing efforts.
Growing with Your Business
Even if you start for free, your business might grow. Good free tools can grow with you, adding more features as needed.
I focused on tools that can handle all your email marketing needs, not just one type of email.
Best Free Email Marketing Service for Growing Email Marketing Programs
Mailchimp
Mailchimp is an email marketing platform that allows you to create, send, and manage email campaigns. It offers a range of features, including email templates, audience segmentation, automation, and analytics to help you effectively reach your subscribers and track the performance of your email marketing efforts. Mailchimp also provides tools for managing subscriber lists and integrating with other marketing platforms. It's a popular choice for businesses looking to engage with their customers through email marketing and has been used for various marketing purposes, from newsletters to promotional emails.


Here are the pros and cons of Mailchimp
Mailchimp Pros:
Mailchimp is simple to use and gives you tips on how to do things well.
It lets you do things like planning the path your customers take, segmenting your email list into groups, testing different emails, and more.
You can start for free, and as your email marketing grows, you can pay more.
Mailchimp Cons:
Not the best email designs:
The email template might not serve your purpose.
If you want to send emails automatically for free, you can't do that with the Mailchimp free plan.
Mailchimp is a very popular tool because it's easy to use and has a friendly style. It's good if you want to make your email marketing bigger quickly. It has various features like making web pages, planning your customer's journey, and testing different emails, even in the free version. The tool is easy to understand and gives tips on how to do things right. For example, when you make an email subject, it reminds you about how long the subject should be and uses emojis.
If you decide to do even more with your email marketing and are willing to pay, Mailchimp has three different options. It can handle emails for small and big businesses, so you won't have to switch to another tool as you grow. Mailchimp can also work with other tools like WordPress and Mautic, which can help you add new email subscribers automatically from forms or spreadsheets.
Best Free Email Marketing Service for Segmentation
HubSpot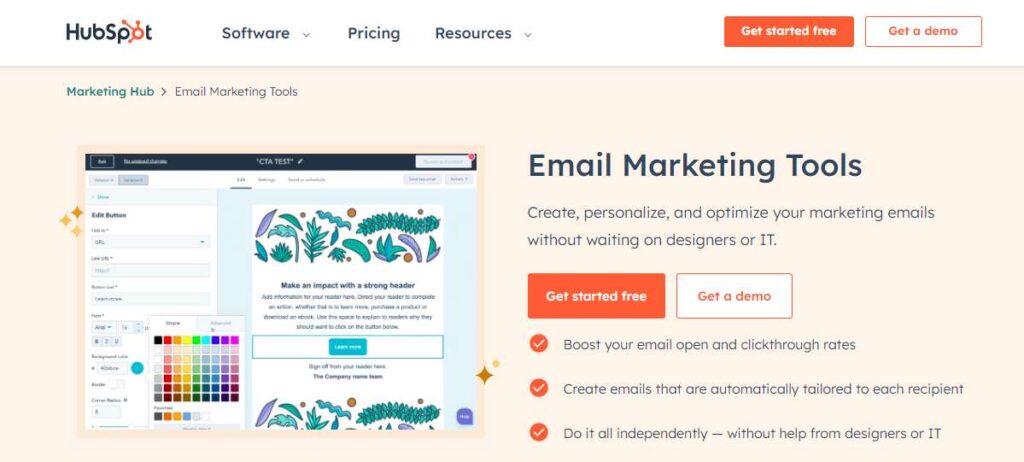 HubSpot is a leading customer relationship management (CRM) and inbound marketing software platform designed to help businesses attract, engage, and delight customers. It offers a suite of marketing, sales, and customer service tools, all integrated into a single platform. HubSpot is known for its user-friendly interface and focus on inbound marketing strategies, which involve creating valuable content to attract and engage potential customers.
HubSpot is good for a few reasons:
Free Plan: They offer a nice free plan.
Segmentation: It's great for organising contacts with HubSpot's CRM features.
However, there are some downsides:
Email Templates: The email templates are not that great.
Costly Upgrades: If you want more features, it can get expensive. Plus, it might be overwhelming to use everything.
HubSpot has all the tools you need in one place. You can use their email marketing for free, sending up to 2,000 emails a month and organising over 100 contact lists. When your business grows, you can add more HubSpot tools for managing customer relationships, marketing, customer service, and sales. The email tool makes it easy to start creating emails right after you sign up. If you're new to HubSpot or email marketing, a user guide explains how to make effective email campaigns.
You can create different contact lists, including 100 static lists and 5 "active" lists that help you quickly group contacts, like people who never receive your emails or those who open them but don't click within your email content.
Best Free Email Marketing Software for Advanced Email Marketers
MailerLite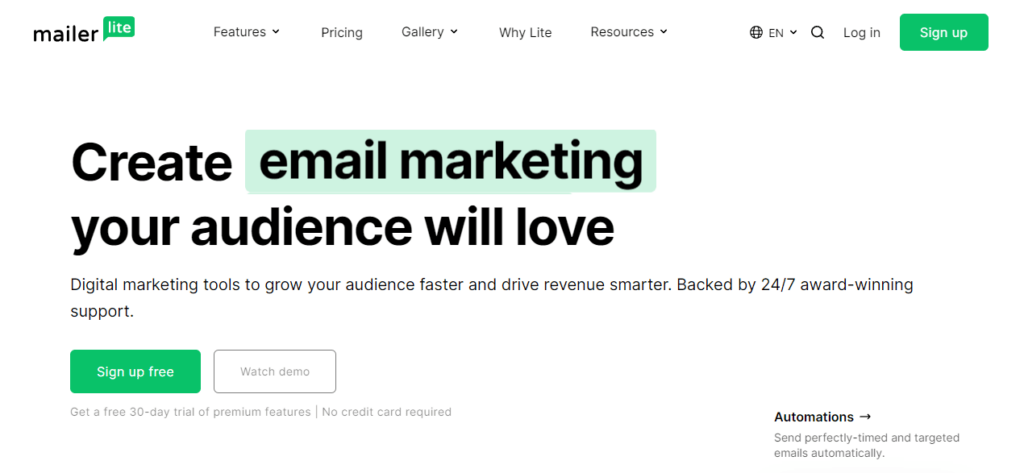 MailerLite is an email marketing and automation platform that provides tools for businesses and individuals to create, send, and manage email campaigns. It is designed to help users build and grow their email marketing lists, engage with their subscribers, and automate various marketing efforts.
MailerLite Pros:
Quick and easy email creation with pre-made content blocks.
You can group your email recipients differently and set up automatic actions.
It's affordable if you have multiple users in your team to manage your email list.
MailerLite Cons:
It doesn't have ready-made email designs.
But you can still make good-looking emails using the content blocks.
You can do more than just send plain text and pictures. Add a countdown timer, product info, videos, and other cool stuff to your emails.
In addition to making emails, MailerLite also lets you set up automatic actions and organise your email list in different groups. It's easy to use and gives you info about how your emails are doing.
Best Free Email Marketing Tool for eCommerce Businesses
Omnisend

Omnisend is an e-commerce marketing automation platform specialising in email and omnichannel marketing for online retailers and e-commerce businesses. Omnisend helps you to create and automate your marketing campaigns, primarily focusing on email marketing, SMS marketing, and other channels like push notifications and social media advertising.
Omnisend is a helpful tool for sending emails and messages to online shoppers. Here are its good and not-so-good points:
Pros of Omnisend:
It's made especially for online stores.
It has features for creating SMS and push notification campaigns.
Cons of Omnisend:
It limits the number of people you can send messages to and how many messages you can send.
After the free plan, it can get expensive.
Omnisend is one of the best free email marketing tools for online stores. The free plan has some limits on how many people you can send messages to and how often, but it gives you access to almost all the features that are great for online stores. When you connect your online store to Omnisend, you have many options for email marketing. You can group your customers based on how they shop and what they buy. For example, you can find people who are likely to buy a lot, people who have looked at a specific product, and more.
If you want to set up automated messages (like welcoming new customers or reminding them about items in their cart), Omnisend has ready-made options for you to choose from. When creating emails, you can use the easy drag-and-drop editor. You can start with templates made for online stores or make your own. You can add blocks for showing your products, offering discounts, suggesting products, and more. Omnisend also lets you send SMS and push notifications, and you can test which messages work best.
Best Email Marketing Tool for Free Email Automation
Brevo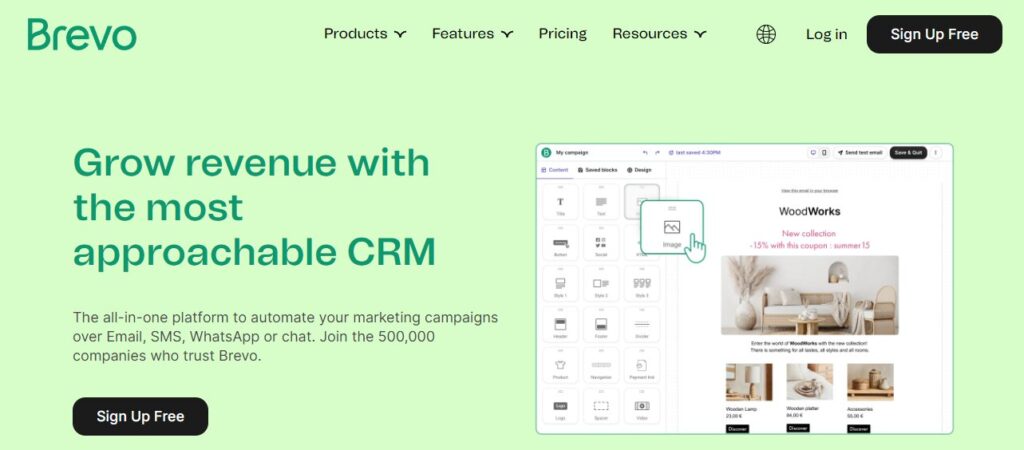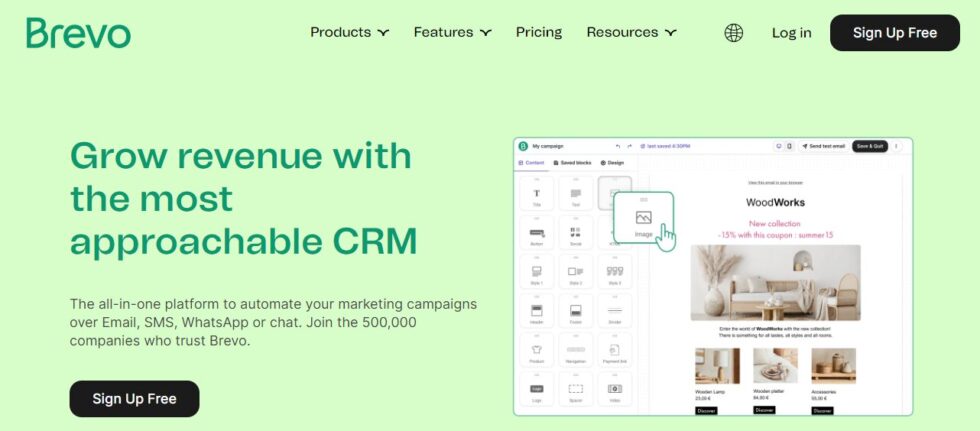 Brevo (formerly known as Sendinblue) is an all-in-one marketing platform offering various tools and services for businesses and organisations to manage their marketing and communication efforts. It is known for its email marketing and marketing automation capabilities, but it also provides features for SMS marketing, transactional email, and more. Brevo aims to help businesses, from small startups to larger enterprises, efficiently create and manage their marketing campaigns.
Advantages of using Brevo:
It comes with ready-made email automation that focuses on specific goals.
The free plan allows you to use automation quite a lot.
You can send transactional emails, SMS, and WhatsApp messages.
Disadvantage of Brevo:
There is a strict limit to sending only 300 emails daily.
When you use an email marketing tool often, you'll want to use automation to make things easier. Brevo is one of the few options that provide some free automation features. They have ready-made automation setups for different purposes like engaging people, getting more website visitors, making more money, or building connections. Even though their automation is quite advanced, it's simple to get started. You can set up your account quickly and create emails in just a few clicks. You can use their ready-to-use email templates and a drag-and-drop editor to design your emails. After that, you can send them as newsletters or use Brevo's automation to send them at specific times.
The only limitation is that you can't send as many emails at one time as some other free email tools. However, you can manage more contacts and organise them into different groups. If you need to send more emails than the daily limit, you can also buy prepaid credits from Brevo.
Best Free Email Marketing Software with An Affordable Upgrade
Zoho Campaign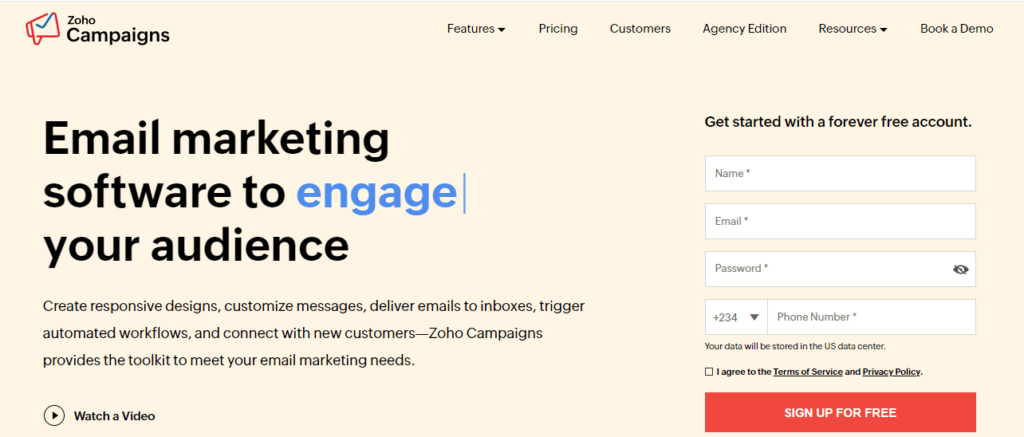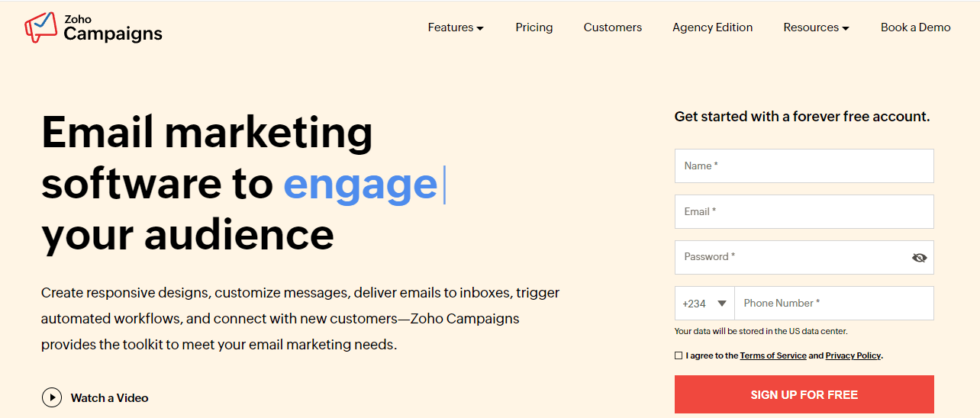 Zoho Campaigns is an email marketing and marketing automation platform offered by Zoho Corporation, which is known for providing a wide range of cloud-based software and services for businesses. Zoho Campaigns is designed to help you create, send, and track email marketing campaigns and automate various marketing processes.
Pros Zoho Campaigns:
You can have a lot of contacts, users, and messages.
When you need more, it's not too expensive to upgrade.
You can send text messages and use social media for your campaigns.
Cons Zoho Campaigns:
There are strict limits on what you can do for free, like using certain templates, automation, and sorting your audience.
Zoho Campaigns' free plan is pretty good. You can start with it and make it bigger later. You can have up to 2,000 contacts, send 6,000 messages monthly, and have 5 users. You can also organise your audience well and use social media and text messages in your campaigns. Zoho campaign editor is easy to use, and you can personalise your content. You can also make automatic responses or create full automation plans. They give you some templates to make it faster. There are templates for welcoming new subscribers, helping them get started, re-engaging them, keeping existing customers, doing e-commerce, and making special plans based on conditions.
You can upgrade to a paid plan when you're ready for more features, like automation, organising your audience, or sending more messages than the free plan allows. It starts at just $3 per month.
Best Free AI Email Marketing Software
Benchmark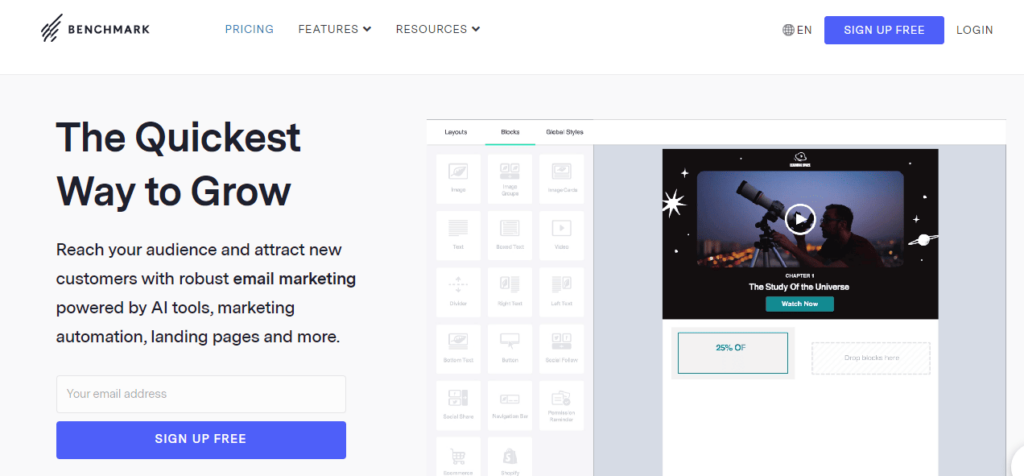 Benchmark Email is an email marketing platform offering various services and tools to help businesses create and send compelling email campaigns, engage subscribers, nurture leads, and track results.
Benchmark Pros:
They have AI features that make your email marketing easier and more efficient.
They offer lots of ready-made templates for free.
They have automation sequences that help you achieve your goals.
Benchmark Cons:
The free plan only lets you have up to 500 subscribers.
You need to upgrade to the more expensive Enterprise plan to access some important features.
Benchmark is a great option because it lets you use fancy AI features for free. With their free plan, you get 25 credits to use the "Smart Content" feature, which uses AI to write your email content. To use it, go to the email editor, click on Smart Content, enter some basic details for your email, and it will generate the content for you.
The free plan also gives you access to Smart Sending, which uses AI to make your emails more engaging and improve your chances of delivering them to your audience. This feature is automatically turned on for every account, so you don't have to do anything to use it. Apart from the AI stuff, Benchmark is a good all-around app. The free plan includes lots of nice email templates, easy-to-use automation, and basic segmentation, and you can choose to edit your emails using drag-and-drop, code, or plain text.
Final Thoughts
Choosing the best email marketing services to start with email marketing may be confusing as you have multiple choices, but your unique needs and preferences may guide you. Look for a user-friendly service offering various email templates, efficient list management and automation features, and comprehensive analytics. Pay attention to compliance with email marketing regulations and the ability to integrate with other tools you use. Free plans often come with limitations, but it's a good way to get started with email marketing, as you can upgrade as your email marketing efforts grow. The best email marketing service should align with your needs and goals, making connecting with your audience and achieving your marketing objectives easier.
Email Marketing Services FAQ
Do you have some questions about choosing the right email marketing service? Here are some common questions people have about how to pick the right email marketing and automation service.
What makes a good free email marketing software?
Different platforms work better for different purposes. When choosing the right platform, look for features like email templates, audience sorting (segmentation), automation, growing ability, and how many people you can email for free.
Why use an email marketing software?
Email marketing software helps you send emails to many people easily and effectively. It allows you to create and send emails, track their success, and manage your email lists. This can be very useful for businesses and organisations to reach and connect with their customers or audience. Email marketing software helps you streamline your entire marketing process, ensuring you're getting the most out of the time you put into it.
Can I start email marketing for free?
Absolutely. You can start email marketing for free. Email marketing platforms listed in this article offer free plans with certain limitations, like a cap on the number of subscribers or emails you can send. While these free plans have restrictions, they are a good way to get started and explore email marketing without incurring immediate costs. You can consider upgrading to a paid plan with more features and capacity as your needs grow.