According to an official statement from Google, by 1st July 2023 Google Analytics 4 will replace the standard universal analytics. Google Analytics 4 is Google's next-generation measurement property to measure and track all of your important website data and use the data to make proper marketing decisions. With Google Analytics 4 you can measure your website stream, Apps download and so many more in one place. With the news of Google's discontinuation of her standard universal analytics properties, it's expected of every webmaster to switch over to the new Google Analytics 4 since the existing Universal Analytics properties will no longer be available very soon.
Google analytics track all the activities on your website; it enables you to know who your audiences are and how they interact with your website, Where they spent most of their time on your website and the actions they took while on your website. Google Analytics is an essential part of every website especially for small business enterprises because it gives in-depth insights into your site as well as helps in Search Engine Optimization and marketing purposes.
What Is Google Analytics 4 (GA4)?
Google Analytics 4 is a free data collection and web analytics service from Google launched in 2020 that provides statistics and basic analytical tools for Search Engine Optimization (SEO) and marketing purposes. This tool is free and available for use on any website with a single Google account. Google Analytics 4 allows website owners and SEO experts to measure advertising ROI as well as track every event on a website such as videos, and social networking sites and applications.
Google Analytics 4 was designed with business owners and entrepreneurs in mind, it enables online business owners and website administrators to learn more about their customers and activities going on their websites.
Should You Start Using Google Analytics 4 On Your Website Right Away?
The simple answer is: YES.
Since Google doesn't have the intention of keeping the standard universal analytics any longer, according to a statement on the Google website, by July 1st 2023 the standard Universal Analytics will be faced out and will no longer be collecting data for any website still using it. So it is time for you to switch over to Google Analytics 4 and start using it for a new model of analytics experience.

The data collection of GA4 is superb and strengthening for easy marketing decision making and analysis. One of the most significant advantages of using Google Analytics 4 is that the GA4 comes with a machine learning module and predictive analytics in collecting data and this feature gives business owners greater insights into their customer behaviour. Google Analytics 4 also permits you to track both the web and mobile applications on the same property something that is missing in the standard Universal Analytics. Google Analytics 4 properties give website owners a better understanding of the full customer behaviour on both web and mobile applications and allow you to make proper marketing decisions based on your customers' behaviour.
Google Analytics 4 also comes with an incredible new feature that allows website owners and SEO experts to customize events and easily implement cross-domain measurement without the need to manually edit a website's code.
How To Set Up Google Analytic 4
Setting up Google Analytics 4 is very easy and can be done with a few clicks.
If you are new to Google Analytics and you don't have Universal Analytics installed on your website before then you can follow these steps to create Google Analytics 4 and have it installed on your website.
Step 1: To set up Google Analytics 4 on your website visits the Google Analytics website to begin and that will take you to the Google Analytics website. Click on the "start measuring" button as seen in the image below to get started.

Step 2: In this step, you will need to create an account name in the box provided. You can use any name as an account name but it's better if you use your website name. Once you've done that, click the next "button" to go to the next step.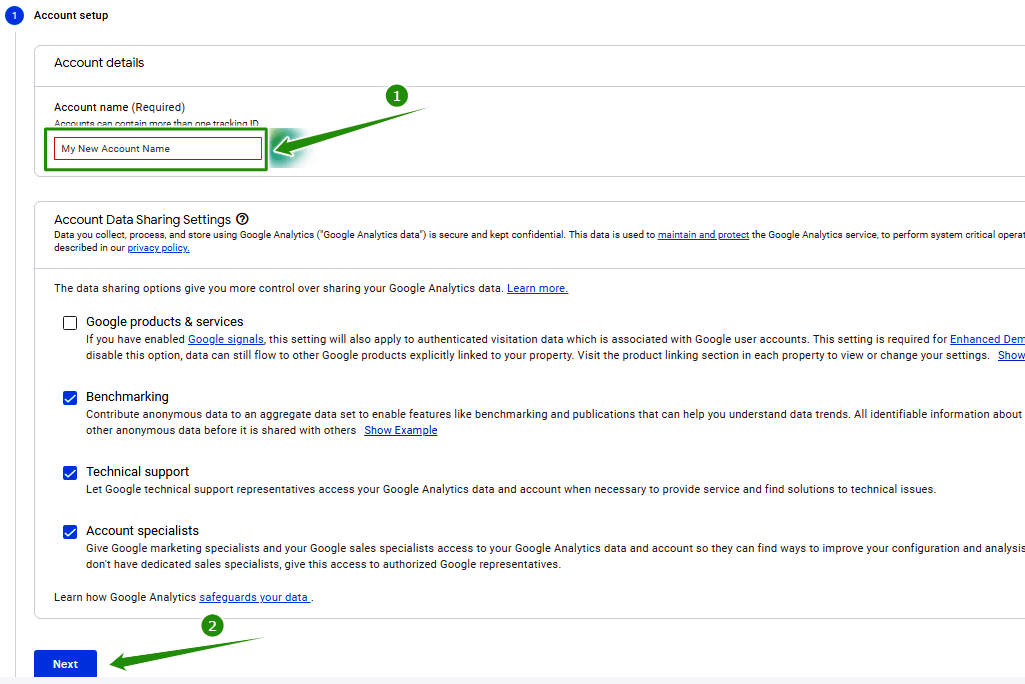 Step 3: Create a property name for your Google Analytics 4 property; you can use your website name here too. Select your reporting country and time zone, it's better to choose the country you reside in as a reporting country and your time zone. Also, select the currency you want Google to calculate your earnings with. You can also leave it at default.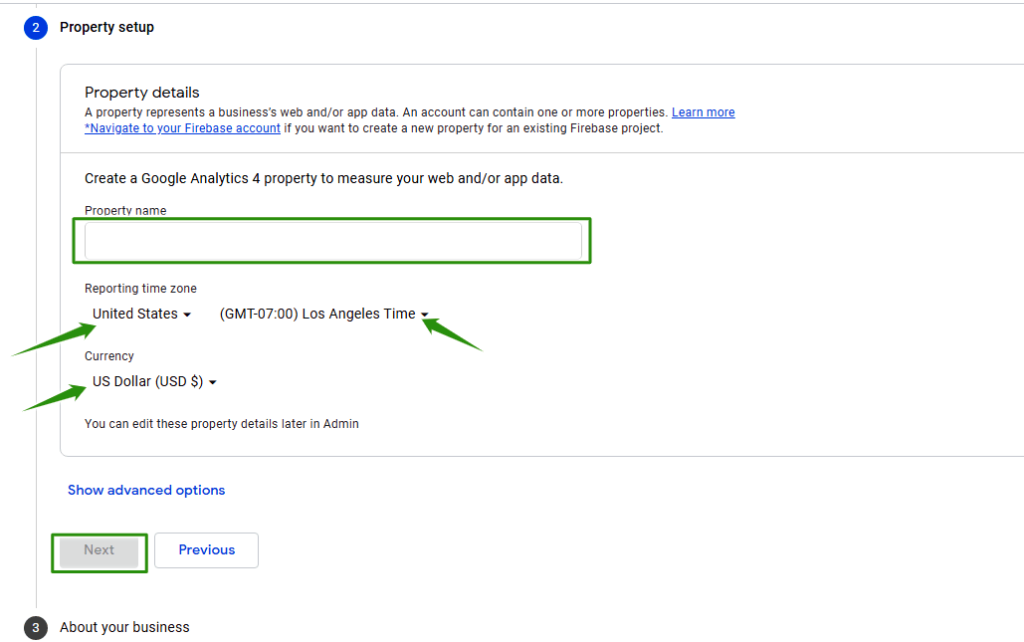 Step 4: In this step, you will have to enter basic information about your business. You need to select the category your business or website falls into, if your website category is not included you can select others as your preferred category. Select the size of your business under the business size and check how you intend to use Google Analytics with your business, you can check all that apply to your business. Once you're done click the create button.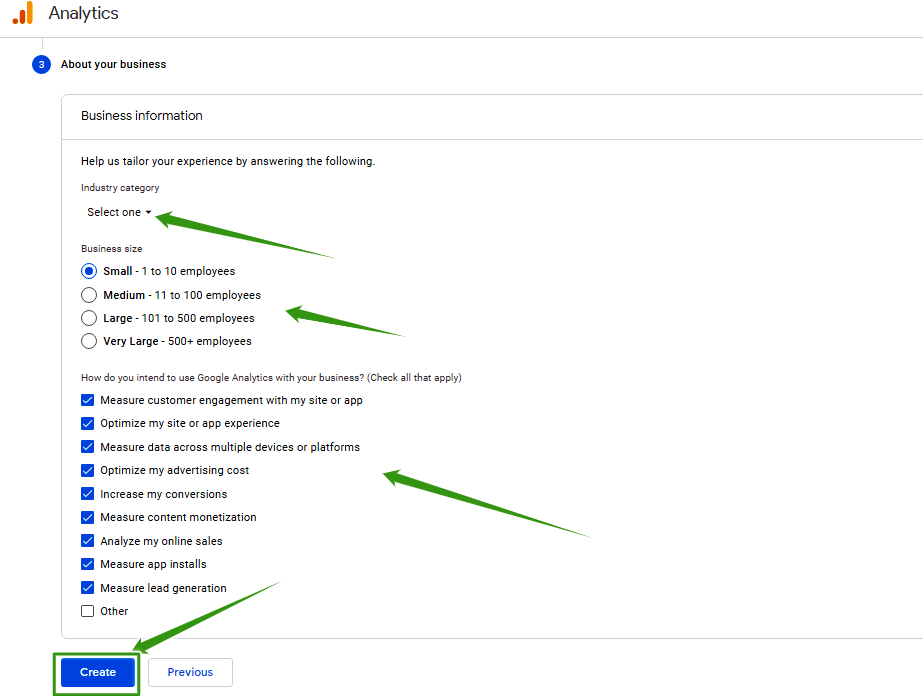 Step 5: Click the check box to agree to Google Analytics 4 terms of use, then click the "I Accept" button to continue.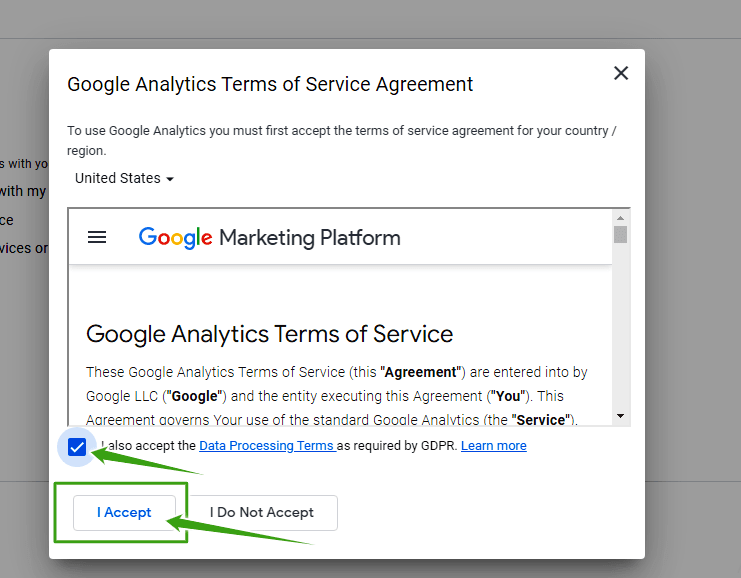 Step 6: In this step, you don't need to check any box except you want Google to be sending you occasional messages. Just click the "Save" button to continue.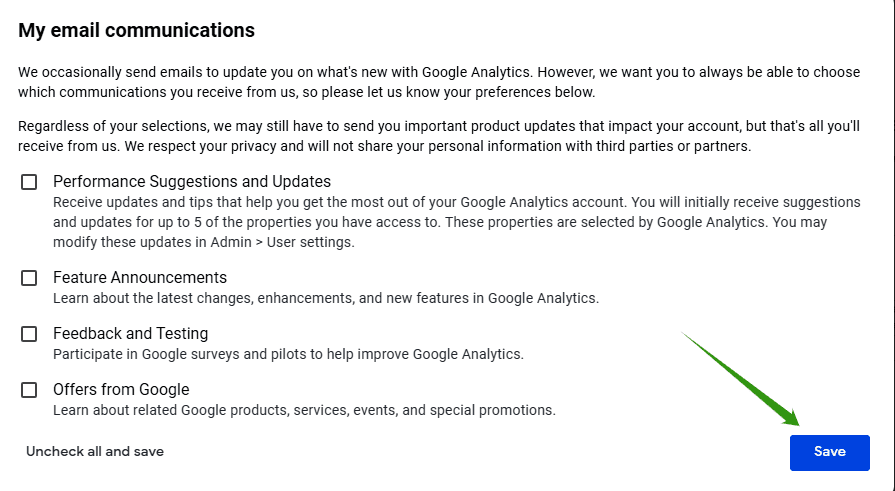 Step 7: In this step, you need to set up the data stream to start collecting data by choosing the platform you wish to use Google Analytics 4 to track. If you want to track your website alone simply select the Web link.


Step 8: You need to create a stream by supplying your website URL and website name in the box provided and clicking the "Create stream" button as seen in the image below.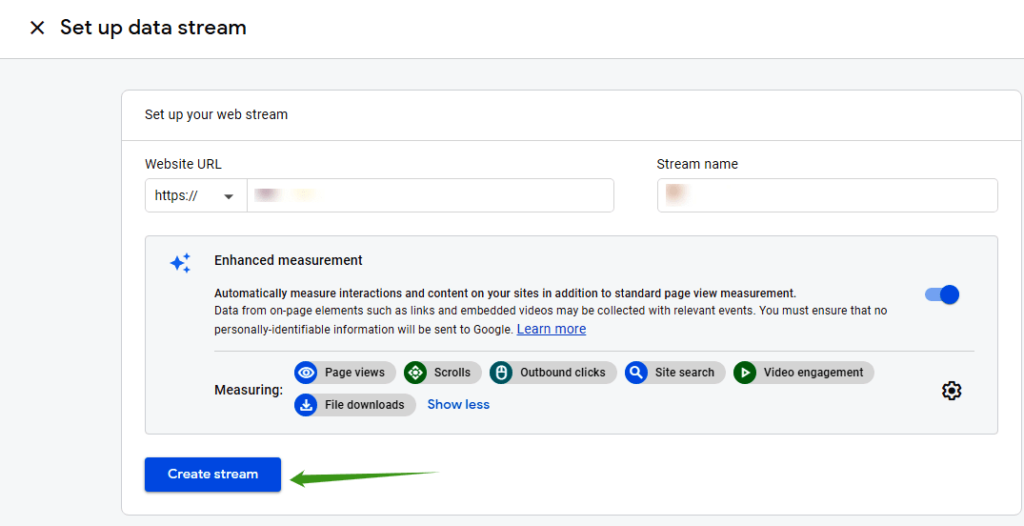 Step 9: In this step, Google will provide you with your measurement ID as seen in the image below. Keep it safe, though you can always get it back from GA4 property.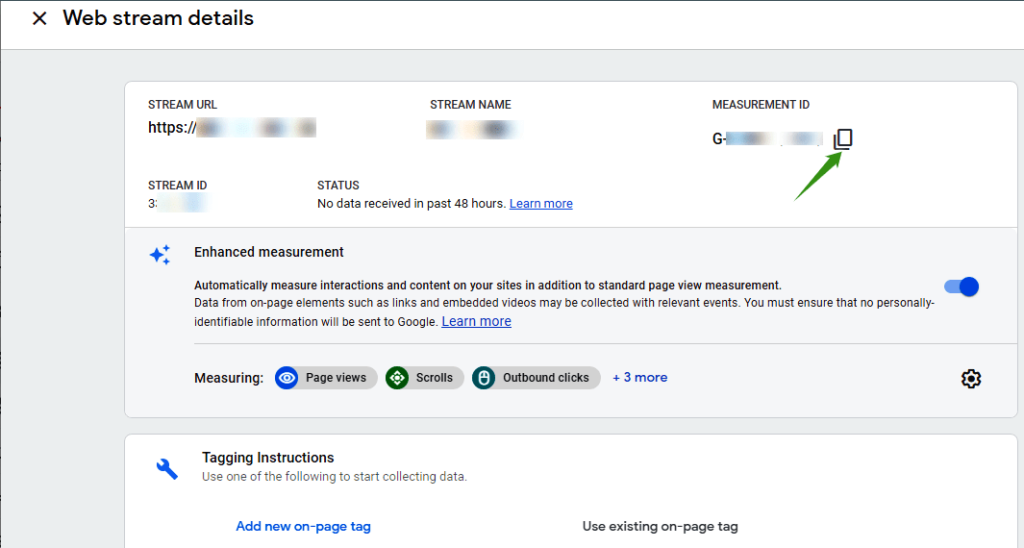 Step 10: In this step stroll down a little from the above step to locate your Google site tag. This is the tag you will put in the <head></head> section of your website to enable you to begin to see data from your website in Google Analytics 4 property.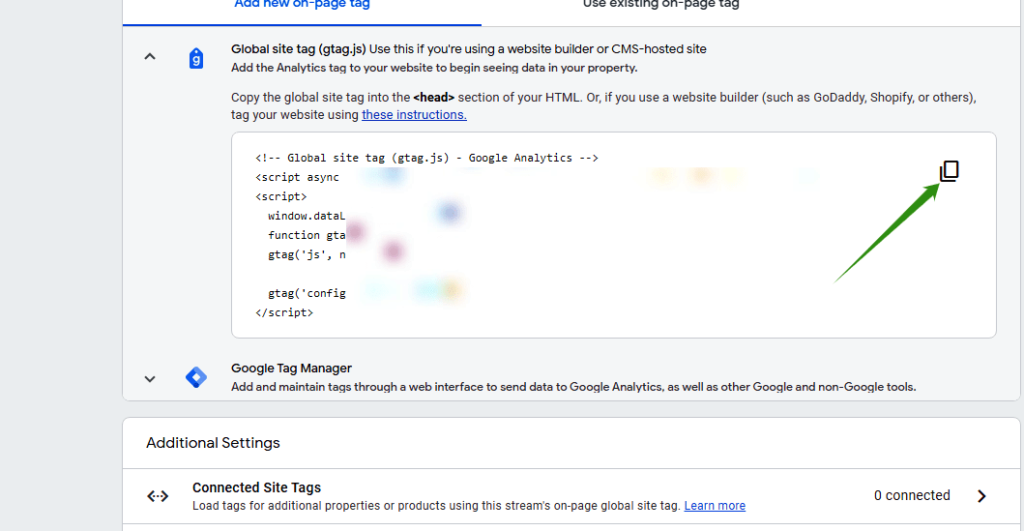 How To Embed Google Analytics 4 Code To A WordPress Website
Now that Google has assigned a tracking code to you, this tracking code will be used to track events and report every activity on your website. It may take up to 24 hours before you start seeing reports on your property after you embed the tracking code on your website. There are different methods to embed this code to your website depending on the type of script or CMS used to build your website. But I am going to show you different ways you can use to embed the code to your WordPress website. You may need to keep the Analytics code page open as you will need the code shortly.
Method 1: Using A Plugin called MonsterInsights
MonsterInsights is a freemium WordPress plugin that allows you to embed Google Analytics 4 tracking code into your WordPress website without touching a single line of code. To use the MonsterInsights plugin to embed your Google Analytics 4 to your WordPress Website, log in to your WordPress dashboard and click on Plugins then click on Add New button, search for MonsterInsights from the search bar at the top right-hand side. It has over 3 million active installs.


Install the MonsterInsights plugin and activate it. Follow the wizard setup to connect your Google Analytics code to your WordPress. After the setup is complete, you can simply look for the report under Insights at the left-hand side of your dashboard to see details of how visitors are performing on your website. You can check real-time user live from your WordPress dashboard.
Method 2: Using a header and footer plugin


Insert headers and footers is a very simple but powerful plugin by people at WPBeginner. This plugin allows you to insert code like Google Analytics, Facebook Pixel, and any extra code to your WordPress website header and footer without touching the core of your WordPress Theme. No need to edit your theme files! With this plugin, you can embed Google Analytics to your WordPress site. Though, with this method, you won't be able to track your website traffic from the WordPress dashboard like the first method. You have to be logging into your Google Analytics 4 property to see your data.
Once you installed and activated the plugin, go to settings you will see the "insert header and footer" click and paste the code inside the header section, stroll down and click save. After that, you have to log in to your Google Analytics property to see how your website is performing.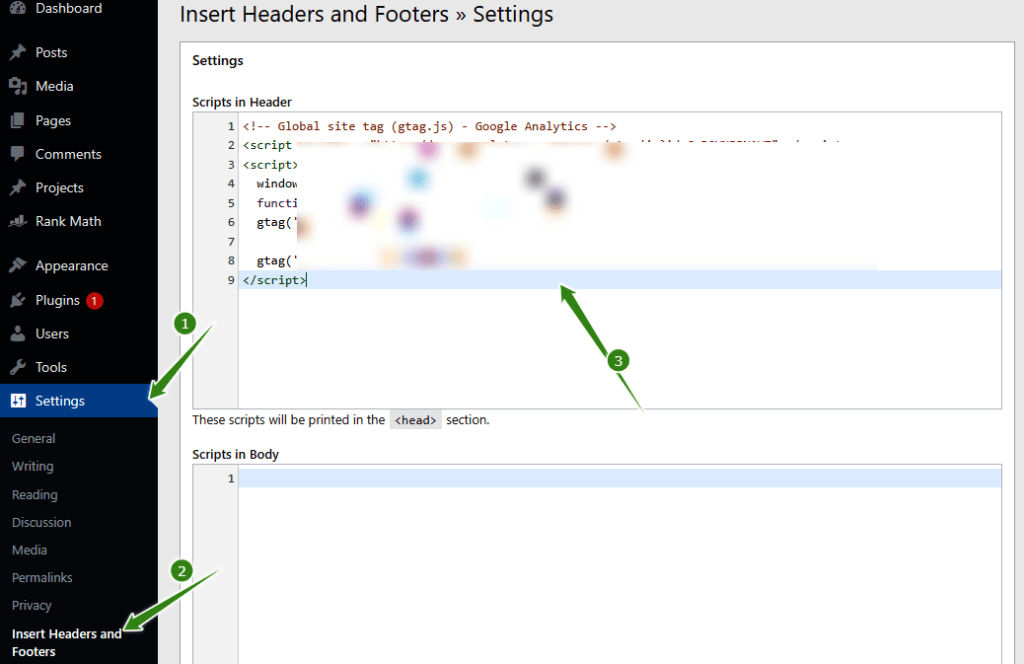 Method 3: Placing the code in header.php of your theme
Note: This method is only suitable for those who are used to coding and for professionals who understand how WordPress theme is structured. Another thing is that this method is only viable if you're using a child theme if not the code will be lost each time you update your WordPress theme. So, to avoid losing your Analytics code each time you update your WordPress theme, you need to install a child theme before using this method.
If you want to use this method follow the following steps
Install a child theme and activate the child theme.
Click the Appearance from your WordPress dashboard and select theme editor at the bottom of the dropdown list.
Once you are in the editor page, locate the header.php file, click it and carefully copy the Google Analytics code and insert it within the <header> Paste your Google Analytics 4 code just before head closing tag</header> tag.
Once you're done click the "Update File" button to save the file.


Getting To Know Google Analytics 4 Report
To enjoy the report of Google Analytics 4, you must first log in to the GA4 property and you will be greeted with the recent summary of all traffic, conversions, and revenue on your website. Once you see that, you will know that everything is working fine as expected. Your Google Analytics 4 property home page should look similar to the image below.
Your home page report will quickly answer:
The whole users on your site
New users on your site
Average engagement time on your site?
Total revenue on your site.
FAQ About Google Analytics 4
How can I connect Google Search Console with GA4?

Can you connect Google Search Yes, you can. Google Search console can be linked with your Google Analytics 4 property for an in-depth report and data analysis of every event on your website. If you want to connect your Google Search Console with your Google Analytics 4 property refer to How to Connect Google Search Console with Google Analytics 4
What are the benefits of using Google Analytics 4?

Google Analytics 4 allows you to track how a user interacts with your website across platforms more easily than Universal Analytics. Here are some of the benefits of using GA4:

Improved Customer Journey Tracking.
Improved user engagement analysis.
More powerful audiences for your ad campaigns.
It gives both users and website owner more intelligent and precise control over what data is collected.
It simplified the way you setup goals and events.
It enhances data visualisations and reporting.
Is Google Analytics 4 replacing Universal Analytics?

In a simple term Yes: Google Analytics 4 will be replacing the standard Universal Analytics by July 2023. Currently, Google Analytics 4 is the default Analytics property on the Google Analytics website even though you can still use and set up Universal analytics for now.
Does my website support Google Analytics 4?

Yes, You can place Google Analytics code on any kind of website regardless of the type of scripts or CMS used in building such a website. It was designed to support every script and website builder, You can easily embed the code in your website using gtag. js or Google Tag Manager.
Final Thought About Google Analytics 4
Google Analytics 4 is a powerful tool that gives website owners an edge in their marketing decision making which in return yields profits beyond measure. It is a tool that enables you to adjust the way you interact with your customers based on the action they take on your site. It's a tool that gives you more control over how you track important metrics like conversions, organic traffic, returning visitors, revenues and lots more on your site.
And you take this powerful tool to the next level by connecting Google Search Console with your Google Analytics 4 property to give an unstoppable analysis of what's happening on your website.