Converting a website to a mobile app free is possible; the process is straightforward as it requires no coding experience at all. A toddler can quickly get up and run without stress whatsoever. This process applies to all types of websites, whether hand-coded, landing pages, or WordPress.
You might be wondering what you need a mobile app for. After all, my website or blog is doing well and giving me desired result. That could be true, but what if I tell you that with a mobile app, you can double or triple your traffic with the help of a native app. Aside from boosting your website traffic, a mobile app is a step further to scaling your business faster. Mobile app today has become a business development idea every website owner tends to adopt to expand.
How To Convert A Website To A Mobile App For Free
Click To Tweet
How Mobile Apps can help boost your website
With a mobile app version of your business website or blog, you can reach a new audience category, and getting in touch with your existing customer becomes relatively easy.  
Direct access to your website
Anyone with the mobile app version of your business website will no longer need a web browser to access your website's products, services, and content. With this fantastic advantage, your audience and customers can connect with your website on the go.
This mobile app has a push notification option that lets you send a direct message to everyone who has your app installed on their mobile phone.
Mobile app push notifications are clickable pop-up messages that appear on your users' mobile phones. They are the quickest way to convey your business messages, offers, or other information to your customers. These notifications will drop just like notifications from various social media apps; you can quickly draw your audience's attention to your new offers, products, posts, and much more. 
Someone said, "the best place for every business to be is on the people's minds."
With a version of your website on a person's phone, they get reminded of your business each time they see the app. Isn't that what social media ad platforms charge you for? IMPRESSION.
With a mobile app version of your business website, you are assured of getting this advertisement for free. 
Instant online and offline access
You can set your application in a way that users can still use the app in an offline mode without necessarily having access to the internet. This method is one of the smartest moves for keeping in touch with customers on the go.
Customers can quickly see whatever they want on your website at all times. Without moving a finger, your website becomes easily visible.
Mobile apps are considerably quicker than mobile web pages. Even a structured and optimized, responsive mobile website cannot equal the speed of an app. Businesses are all about offering the service as soon as feasible today. A minor latency or delay in loading your website information might cause enormous loss, leading to customer displeasure.
The practical benefit of mobile applications is their capacity to store data locally and promptly get the appropriate dataset. Unlike applications, mobile websites need to get the data remotely from the servers and the latency time delays their performance.
Customers engage with notifications from mobile apps more than they use call-to-action buttons on a website. Mobile app notifications are personalized; this makes every receiver feels the message is meant for them alone.
The list is long, but I will have to truncate it before I deviate from the primary purpose of this article. Which is to show you how to convert a website to a mobile app for free.
How to Convert a Website to a Mobile App
Before you kick start, you must ensure your website has an active and valid SSL certificate; once your website SSL certificate is active, you can proceed. There are many ways you can convert your website into a mobile app, but in this guide, the recommended platform to convert your website to a mobile application for free is appcreator24
With appcreator24, you can create different kinds of mobile apps with a series of functionalities. You can make a chat app, forum, video sharing app, blog, music, radio, games app, and more. Each type of app has different procedures and design patterns.
Step 1
Visit the appcreator24 website to sign up for free.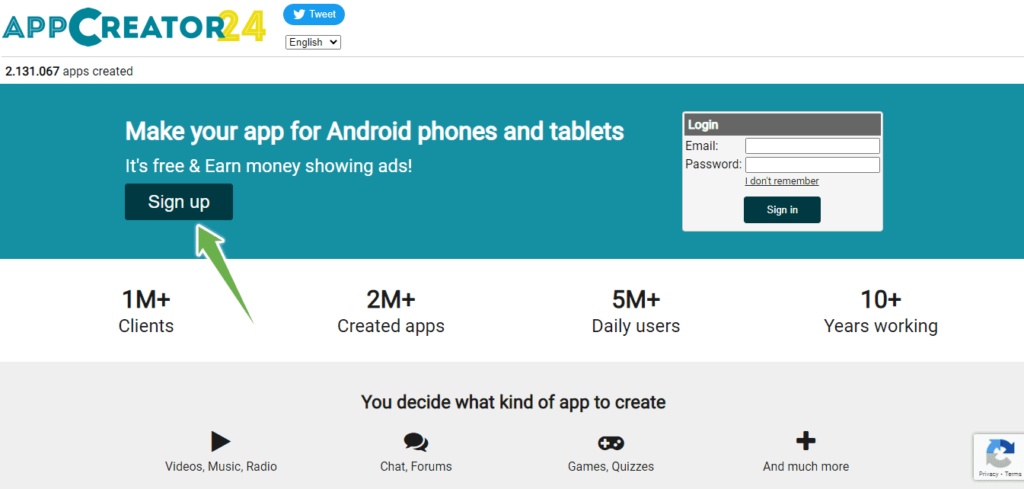 Step 2
Sign up on appcreator24 with your full details, and confirm your email by clicking the confirmation button; once your email is verified, you will be redirected to the homepage; the next thing is to start creating your new mobile app.

Step 3
Click on the create app button, and enter the general information about the app: app name, logo, choose your preferred language, and a short description of your app.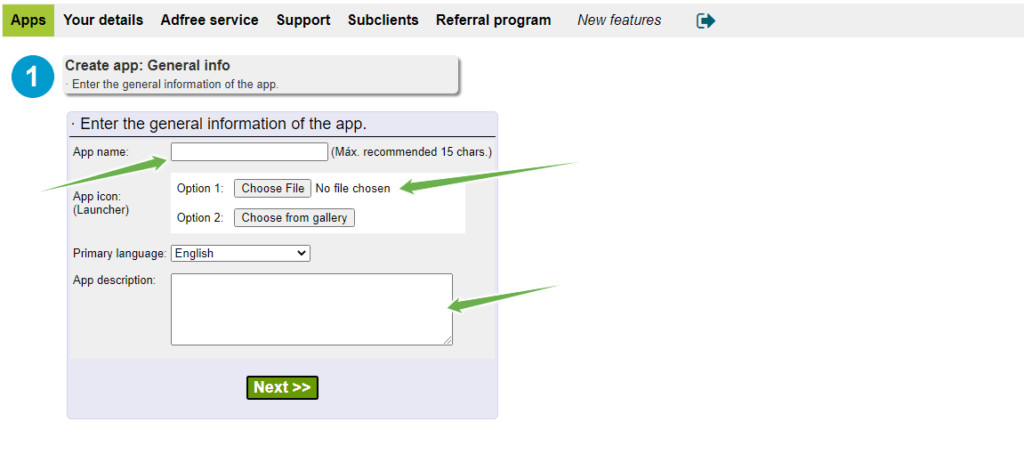 Step 4
Choose your preferred app style by selecting the preferred color scheme for your app; you can change this color scheme later.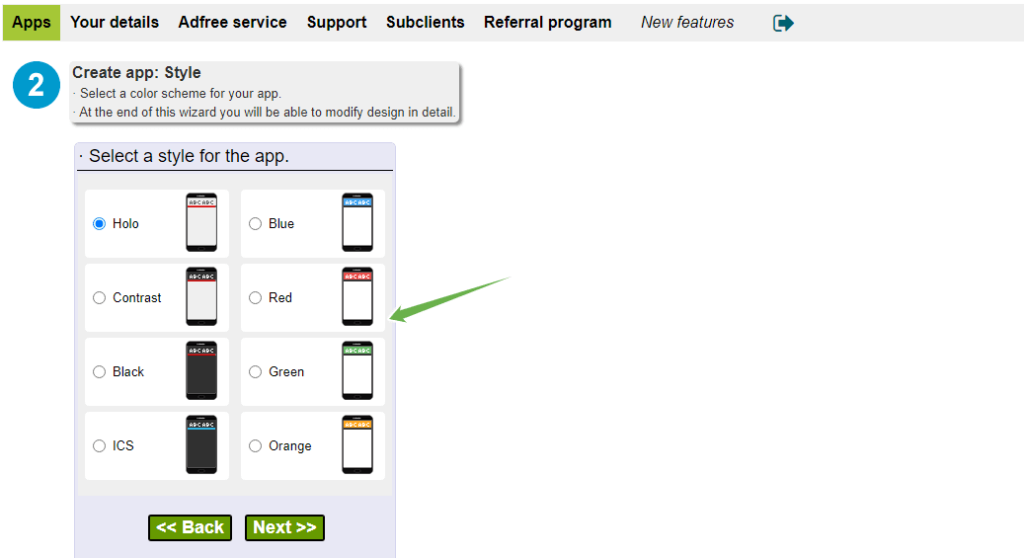 Step 5
In this stage, you need to pick the type of app you intend to create; you can choose from different kinds of apps available on the website. If you want to make a chat or social network app, you need to click the chat/social network link. There is an option to create a different app, but we are looking at converting your website to an app.
Click the WEB APP option.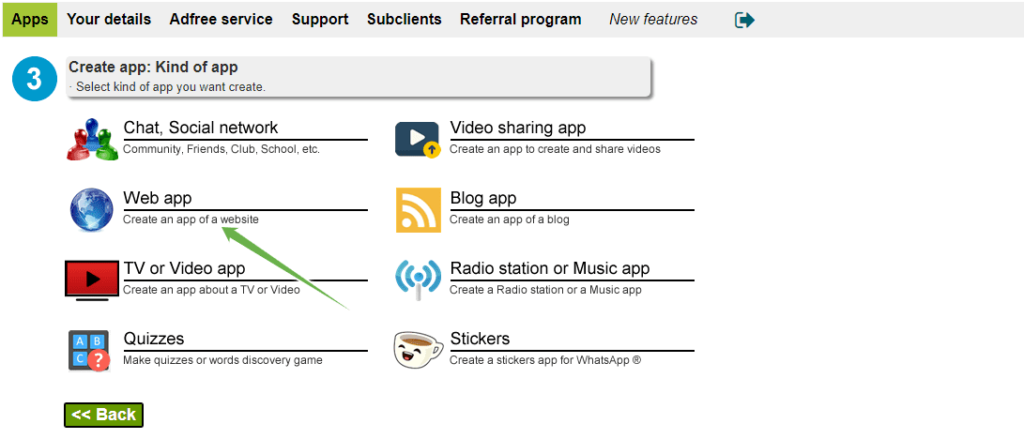 Step 6
In this step, you will need to enter your website title, and in the following box, type in the URL of the website or page you want visitors to see once they open your app.

After this session, the system will create your app, and you can go ahead to manage or download your app. Click the "go-to app manager" button in the image below.  

You can now edit the app to your preference; you can change the menu type, top bar icon, color, button, and background image, and you can as well add a new section to the app.
You can also add new products to your app and display ads on the app. there are many options to customize your new app to your satisfaction. Once satisfied with the design, scroll to the last option to download your app.
You will need to download the app on Andriod's mobile phone to see how your newly created app is displayed. You can share your newly created app with your friends and family before uploading it to any app store. 
Conclusion
You can now see how you can easily convert your website to a mobile app for absolutely free. Converting the app is as easy as I have explained above; there are no hiding steps.
If you intend to scale and expand further in business and beat your competitors, converting your website to a mobile app is one of the significant options. The best part is the push notification option that will help you send a direct message to every app user with a single click. You can imagine what reaching thousands of audiences will do to your business.
What are you waiting for? Start now. Do you have any suggestions or questions about converting your website to a mobile app? Drop your question in the comment sections.