Every online business and blog owners desire huge traffic to their website because the more traffic, the higher the conversion and money you make on your online. But getting traffic is not easy to come by because the internet is crowded, and that's why investing in the best PPC traffic networks (pay-per-click) ads is a must now.
PPC is an advertising method that allows businesses to pay a certain amount each time a person clicks his advertisement. The advertiser must bid for the placement of his ad at first in the search results so that it is visible when someone searches for the appropriate keyword used. The cost per click for ads is different and varies based on the specific business niche. Anyone can lower the cost of advertising by creating quality ads and setting the correct choices for the campaign.
Google Ads and Facebook are two of the most popular networks for advertising businesses. There are a few reasons why this is so. The Global State of Digital 2022 report shows that the average Facebook user will spend 19.6 hours a month on the platform by 2021. But savvy moneymakers and savvy marketers know that the "biggest" doesn't always translate into "the best and most profitable." It is why they both diversify their sources of profit. How do they diversify their earnings? What display advertising networks do they switch to? Continue reading to learn more! We have selected the top networks that advertisers can choose from in 2023.
Here are the list of the best PPC traffic networks
Google ads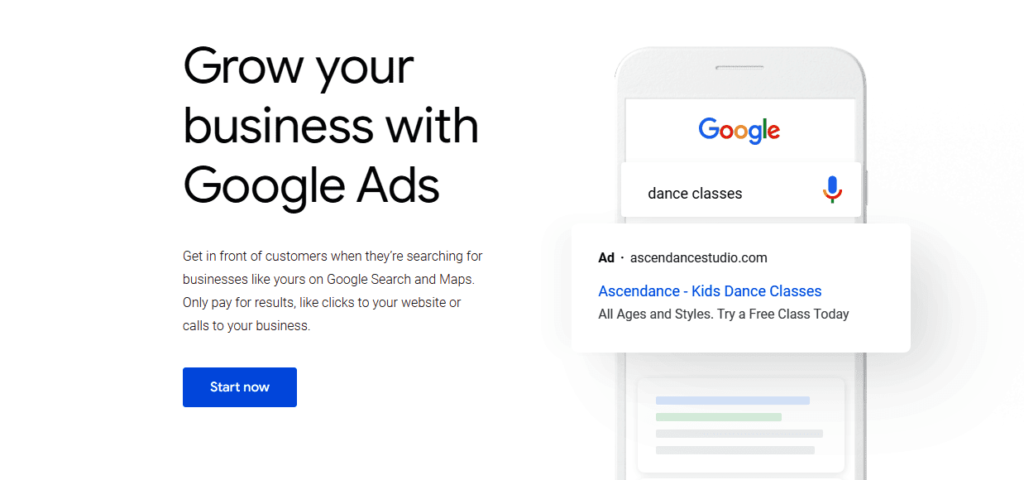 It is no secret that Google is number one on Android devices in many areas. One of these is user retention. Google holds the #1 spot for all app types. But it is primarily driven by game apps. Most of this growth is from emerging Android-dominated countries such as India, Latin America, Singapore, Malaysia, Indonesia, etc.
Google has been at the top for many years because of two key factors: machine learning and a focus on video creatives for app campaigns. Google Ads campaigns are automated. You must manually pick out the campaign goal and upload visual and textual resources. Your ads campaign is now complete. Google then takes over the reins. It generates your ad assets into most-performing combinations and then displays them throughout its properties.
Pros Of Google ads
Target customers based on their location, search terms, or time of visit.
You can check the mobile traffic volume.
High-quality traffic
Cons of google ads
They are so many restrictions and unclear rules
It requires you to have a good amount of traffic
Facebook Ads
Facebook ads are essential for advanced PPC traffic arbitrage. It's remarkable because of its many targeting options and precise targeting settings (demographics/interest, behavior, etc.
The network supports video ads and images at the recommended resolution of 1,080×1,080 pixels. You can also place interactive images (panoramas and 360 photos), custom catalogs (collections), lead-generation ads, carousels, slideshows, and event responses.
You must spend at least $1-$5 to qualify, and the minimum CPC is $0.01.
Pros of Facebook ads
You can reach nearly everyone with a global audience
It has a very much straightforward interface
You can Optimize Budget
Cons of Facebook ads
Facebook Cost-per-action is more costly.
Sometimes Facebook ads don't give accurate results or clear statistics.
Bing Ads
Bing ads (a Microsoft product). are a top source of PPC traffic. It is helpful to drive traffic to your website, LP, and raise money. The USA, Canada, and Great Britain are the top destinations for high-quality traffic. Its partners include Yahoo, Amazon, and Apple. This network is valuable for Apple apps as 70% of Bing Ads queries come from iOS platforms. It is second only to Google AdWords in price, and the network is quite expensive. It is still cheaper than Google AdWords and provides traffic that is often even more valuable than Google Ads. Its minimum CPC cost is $0.05
Pros of Bing ads
AdWords allow you to use a lot of things you already know
Great customer service
Can increase website Roi and web traffic
Cons of Bing ads
Can be complicated for newbies
Propeller Ads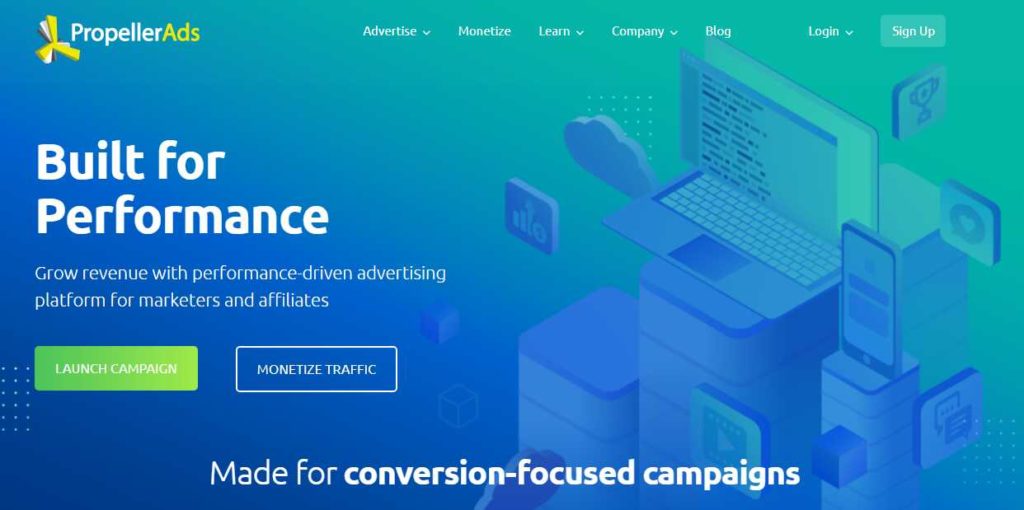 Targeting: Platform, Operating Systems, Device types, Connection types, Zone limitation, Dayparting (including timezone), Frequency cap, Browsers. Browser's language. Anti-AdBlock zone, Slice limits (only CPA campaigns), User activity. Broker traffic. PropellerAds can be an excellent choice for both novice and experienced affiliates. You can target your campaigns with many targeting options. It also has an intelligent robot to help you find the most effective ads for your push campaigns. It saves you a lot of time and is easy to use.
Ad Formats: Push, Pop, Native, Interstitial.
Bidding Model CPM and CPV
Pros of Propeller ads
It lets you select an ad format which it pushads format has high conversion
It a good choice for novice and experienced advertisers
Easy to use
Cons of propeller ads
The minimum deposit amount is high especially for novice
Poor user experience
No PayPal option thus making it difficult to fund user dashboard
Taboola
Taboola, a New York-based local publicizing ad network, is in New York. It provides "suggested content" on various news sites and spaces. Taboola Ads is most popular with mid-sized businesses (51 to 1,000 employees) and the Marketing & Advertising sector. Exclusive partnerships have been made with top publishers around the globe, including USA Today, NBC and MSN, Bloomberg, Business Insider, Bloomberg, and Business Insider. Taboola can help you achieve your marketing goals and generate leads.
TikTok
TikTok now has more than 1,000,000 users. TikTok ads can directly reach an estimated adult audience of 825 million users worldwide. There are many types of ads on the platform, including image, video, spark, and carousel ads. TikTok provides a 4-step process for advertisers to post an ad on its platform. You will need to choose your goal and select your audience. Budget how much you will use in running your advert. Make your ad after that. Then your advertisement is ready.
Telegram
To target their ads on any public telegram channel that has more than 1000 members, advertisers can use Telegram Ads. They currently have over 500 million users and 500 billion page views per month on multiple channels. Once they are ready to go, and Telegram can pay its basic expenses, they'll start offering promotion income to the owners of public channels in which messages are displayed.
Media.net
Media.net, is a worldwide leader in promoting innovation, has one of the best arrangements for publicizing it across all platforms. The platform builds top-level items across multiple sections of any advertisement technology and web-based ads. It allows clients to meet their needs without interacting with various sellers. It will enable you to combine different vendors' solutions into one platform, making it easier to manage the ads.
Plugrush
Targeting Audience: (adult & main), Delivery, Languages, Orientation and Browser, Country, Languages, Delivery, Orientation, Browser, OS, Browser. Connection type, Frequency limit, Time of Day, Whitelists or blacklists PlugRush ad traffic exchange webmasters and adult associates will love. You can optimize your campaign with advanced filters and automated rules and then watch the traffic roll in.
Ad Formats – Pop. Display. Native
Bidding Model: CPC Minimum Deposit: $10
SXM Media
SXM Media has the largest podcast advertising network in America. Let's say your target audience listens to different podcast genres. It is the ideal ad network company to promote your product as it allows you to target almost 55 million podcast listeners.
Many adoptions are available on their platforms, such as video streaming, audio dynamic, and audio sequential. The best part is the last. Podcast Advertising offers audience-based buying, Contextual alignment, and Branded Content SXM Media exclusive show opportunities and various other services.
Tips to Choose the Best PPC Traffic Networks
Everyone needs low-cost PPC traffic to increase their revenue. However, the ideal model is magical. Selecting the best PPC traffic networks for your app, goals, and budget is crucial. First, the platform's billions in ad impressions are a significant reason to choose it. Next, you must consider the type of app you want to monetize. These are essential points to remember:
Traffic price
Traffic available
Traffic quality
Options for targeting
Audience's particularities and segments
It is a great way to increase your revenue by testing different networks, then creating a comparison chart to help you choose the best platform. It would also be sensible to focus on the terms and restrictions of a particular network.