Social media network is one of our generation's most influential and sophisticated technologies. It can connect like-minded people regardless of location, race, and culture. Social media is technology powerful enough to create unending wealth; nations depend on it to communicate and mediate with their people, and companies leverage its enormous users to sell products. There are countless social media on the internet, each with its core purpose and area of specialisation. Today I will talk about TikTok, one of the most popular and growing social media.
What is TikTok
TikTok is a social media networking app for making and sharing short videos. It has attracted an incredible over 1 billion monthly users since its global launch in 2017 because of its emphasis on creativity and following current trends. TikTok is a robust and sophisticated app for businesses, brands, and individual content creators to reach an international audience in a fun and engaging way.
Most videos uploaded to TikTok are music-related, and creators utilize the vast library of music, sound effects clips, and filters to create videos of their dancers and lip-syncing. However, there's an endless number of videos available on different subjects. There are craft and DIY videos, comedy, sketches, motivations, and more. If TikTok is familiar, it's because other similar apps preceded it, such as Vine and Dubsmash.
TikTok also had a predecessor named Musical.ly that Chinese businessmen Alex Zhu and Luyu Yang introduced in 2014. ByteDance bought Musical.ly in 2017, and then, a year after, the company merged Musical.ly with TikTok. In 2022, TikTok became the world's most downloaded social media app. TikTok has surpassed over 3.5 billion downloads, making it the most downloaded app above Instagram since 2018. 
How TikTok Became Popular
TikTok's popularity has skyrocketed since the app's 2018 introduction to users worldwide. It topped the charts as the most downloaded app on the play store in September of 2022. It is estimated that more than 1 billion people use the app monthly, with the United States accounting for more than 80 million of those downloads.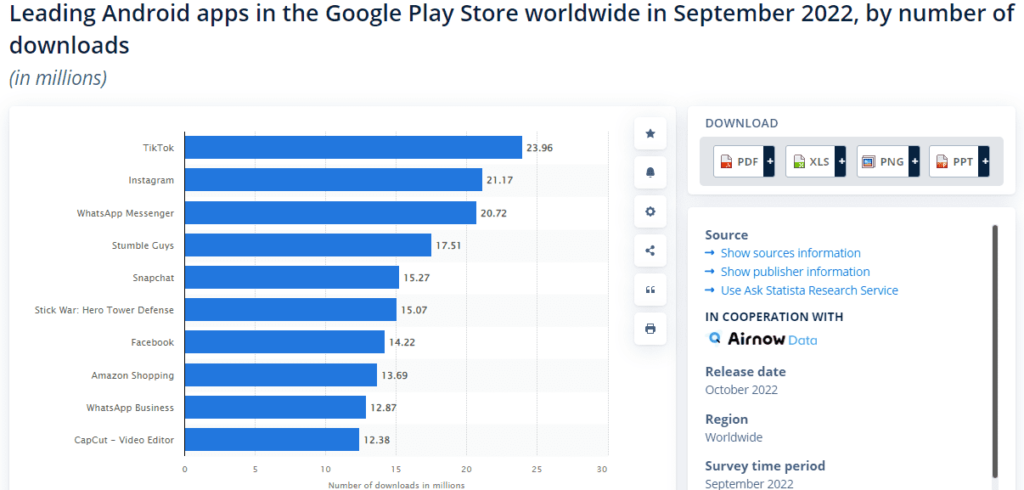 The meteoric rise in popularity of the TikTok app can be attributed to a few main factors:
Several celebrities, including Jimmy Fallon, are fans of and users of TikTok. Some prominent people from all over the world have signed on as paid brand ambassadors for the app. TikTok's approach to expanding into new markets has relied heavily on collaborations with celebrities in the entertainment industry. To increase app awareness and inspire users to share material, the developers have enlisted the help of celebrities and influential users. These celebrities post content on TikTok and promote TikTok on other social media channels.
Another important factor behind the TikTok app's success is its focus on local content despite being a global app. It frequently hosts local competitions and contests and also tracks local trends by making use of hashtags that are localized. The app also uses hashtags trending locally to suggest content creation to its users. This strategy lets the app make the most of local trends and generate viral content for the platform. For example, "The Milk Crate Challenge" involved dangerous acts of balancing over a tower of empty milk crates arranged in the form of a staircase. Tens of thousands of TikTokers globally participate in the challenge.
Easy Content Creation, Sharing, and Viewing
The TikTok application has made the process of creating and sharing videos and has taken it to the highest level. All users need to do is take a video of every aspect of their routines and then share it immediately. Because of the compact format, neither the recording nor the process of watching takes long or is time-consuming.
In addition, this video content plays as soon as you stroll to each video on the timeline. Each video starts playing, and the viewer has swept away in the sea of fun, engaging, addicting video content. Due to the intoxicating nature of the content, it's very easy for viewers to watch random videos for long periods.
How to Use TikTok
Start by signing up for an account with your email address or connecting to a third-party app like Gmail or Facebook. If you don't create an account, you cannot post any content; you can only watch. When watching the video, the app is divided into two main streams. The first feed is For You, an algorithmically created streaming of video clips that the system think will appeal to you. If you swipe left, you'll see the second option – following, which includes uploads from the people you select to follow. Do you want to see a different type of TikTok in your feed? Press hard at the bottom of the screen to show the Not Interested button.
Now, if you want to create and upload content yourself, here's how you do it:
​​Tap + at the bottom of the screen.
Upload content from your device or use the TikTok camera.
Add sounds, effects, filters, or other features.
Start your video by pressing the record button.
Record your content.
Tap the checkmark.
Make additional edits.
Post your video!
With the TikTok app, you can upload up to 15 seconds long videos or connect multiple video clips for up to ten minutes. But you can upload longer videos recorded outside the TikTok app.
How to Leverage TikTok in Business?
TikTok is one of the most potential marketing channels you can rely on to leverage your business growth and reach an unprecedented number of potential consumers. Several brands have utilized techniques like TikTok challenges and contests to get users to generate brand-related content. Brands also leverage hashtags, similar to other social media platforms, to promote their TikTok marketing campaigns.
Your brand can leverage the power TikTok marketplace to partner with influencers and TikTokers with massive followers to promote your brand with just a 15-second TikTok video format. You can also create a branded #hashtag or challenge and invite every TikToker in your location to participate in promoting your brand for a prize. Will give your brand a voice in the crowded market and establishes your brand #hashtag. 
How to Duet on TikTok
TikTok comes with various posting features such as the "Duet feature". Duet is the process of making a video that plays simultaneously beside another user's post. Now that you are TikTok, you can duet with another user. Duetting on TikTok means the screen will get split in half and let you simultaneously use the same sound as another creator. To make a duet follow these simple steps:
How to Duet on TikTok
Find the post you want to Duet.
Click the "Share" button, which is the pink arrow below the bookmark icon on the bottom right of the screen.
Click the "Duet" button.
Note: Sometimes, users may not allow Duets on their posts, which looks like a greyed-out Duet button.
Press and hold the pink button until you are done recording. You can change the video speed and add filters/effects.
Click the pink check mark at the bottom.
Add optional embellishments to your video. Such as text, stickers, and other effects, you can also change privacy settings, and adjust the volume.
When finished, click "Next."
Add your caption, and location, and adjust the video settings.
When satisfied with your choice, click "Post" and your Duet is done.
How to Go Live on TikTok
Going Live on TikTok has many advantages for social media content creators. It's a great way to get more people to follow you and engage with your content, and it may also help you to generate money on TikTok. To go live on TikTok, simply follow these steps:
Before you can step on the big stage of going LIVE on TikTok, you must meet these two requirements:
You must be at least 16 years of age
you must have at least 1,000 followers
Going LIVE on TikTok
If you meet the above requirement and are ready to live-stream your content, follow these easy steps to jump onto the TikTok Live video feature.
Open your TikTok app.
Tap the plus sign (the Create button) at the bottom of the screen.
At the bottom, swipe to LIVE.
Select an image and enter a title for your live stream.
When you're ready, hit the GO LIVE button.
Once you finish your TikTok Live Video, tap the power button at the bottom of the menu to end your live stream. The live stream will disappear as soon as you're finished.
Tips for better viewers' engagement during live video
Title your live video
Turn comments on so that your viewers can participate
Add effects or filters to your live video
Choose a charity to support your content
Share your live video through connected social media platforms or a messaging service.
Best Time to Post Content on TikTok
"The best time to post on TikTok is between 6 am to 10 am and 7 pm to 11 pm, whereas the best days to post on TikTok are Tuesday, Thursday, and Friday". According to a study by a social media marketing platform Socialpilot.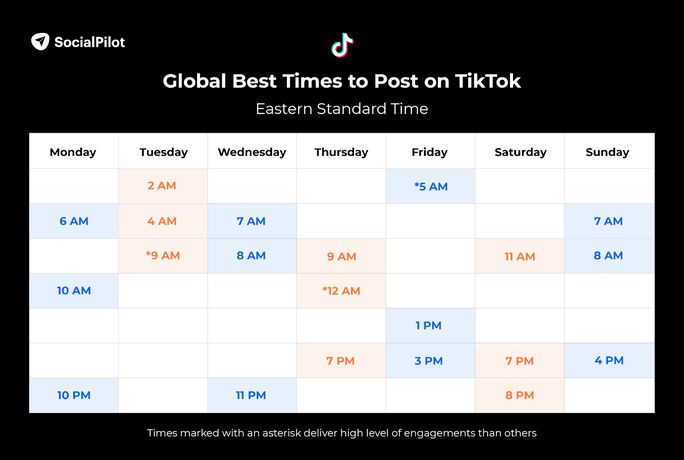 Final Thoughts
TikTok is an entertaining, engaging, enjoyable, and addictive short video app that has increased in popularity over the past few months. The TikTok app also has the potential to be the following major social media and marketing platform. You are missing if you are a content creator or lover of fun videos and have yet to be on this jet engine social media app.