Digital marketing, such as email and social media marketing, are apt tools that help businesses reach new audiences, increase brand visibility, and increase revenue. Email marketing is a cost-effective way to stay connected and better for building relationships with your current customers, while social media marketing helps expose your business and products to potential customers. Choosing the right marketing strategy to reach and engage your customers can help you build a more effective brand and increase revenue.
This article will look at email marketing vs. social media marketing, cover the core benefits of email and social media marketing and provide tips for choosing the best marketing strategy to connect with your customers and grow your business.
Before we start, let's look at some takeaways point and how each of the marketing strategies helps in shaping the way you relate with your existing and new customers.
Key takeaways:
Email marketing lets you stay in touch, communicate with existing customers, and reach new ones., while social media marketing helps you build better brand recognition and reach new potential customers.
Email marketing campaigns have a very high return on investment and higher conversion rate, while social media marketing offers better brand awareness and customer service functions.
Social media marketing is a great way to expand your brand exposure and connect with your audience
Email marketing is a more cost-effective way to stay connected with your audience than social media marketing.
What is Email Marketing?
In simple terms: Email marketing is a method of using email blasts to reach, connect and communicate with your target audience.
Email marketing is a powerful and the most cost-effective digital marketing strategy that involves sending out promotional materials, content and news about your business, products, services and brands through emails to a group of people known as email subscribers. It is a direct and personalised way you communicate with your audience, build relationships, and promote your products, services, or events. We are in an era where every company rely on email marketing to stay connected and communicate with their audience. If you must break through in this digital world, you must use email marketing as part of your digital marketing strategy to communicate with your audience.
With email marketing, you can send relevant and valuable content such as promotional offers, newsletters, updates, announcements, educational content, and more to your subscribers' inboxes. You use Email marketing to engage recipients, nurture leads, and encourage specific actions, such as making a purchase, signing up for an event, or visiting a page on your website. If you run an online business or own an online store, you can leverage the power of email marketing to promote your products and stay connected with your email subscribers. We will look into the benefits of email marketing as we go along; before then, let's look into what social media marketing is.
Social media marketing is a marketing strategy where brands and businesses use social media platforms to engage audiences, promote products, services, and brands, or send messages to a target audience. It's a marketing tactic that leverages social media platforms' reach, interactivity, and engagement to create meaningful connections, build relationships, and achieve marketing goals. In social media marketing, businesses use social media posts to engage their audience to take actions such as clicking business website links, informing them of promotions and earning consumer loyalty with useful or edutaining content.
Social media marketing has become integral to modern marketing strategies because it can reach vast audiences, foster engagement, and facilitate direct communication between businesses and potential customers. However, social media marketing effectiveness relies on a well-defined strategy, compelling content, consistent engagement, and a deep understanding of the target audience's preferences and behaviours.
Benefits of Email Marketing
You need to adopt email marketing as the best marketing strategy for your business for many reasons. It's a cost-effective way to communicate with your customers, draw attention to your business, and stay connected with your customers. Email marketing allows you to send various marketing emails, such as promotional, transactional, and informational emails, and stay on top of your game with your customers.
Statista says we have over 4 billion email users worldwide in 2023, so email is a better and cost-effective way to reach your target audience and turn them into loyal customers.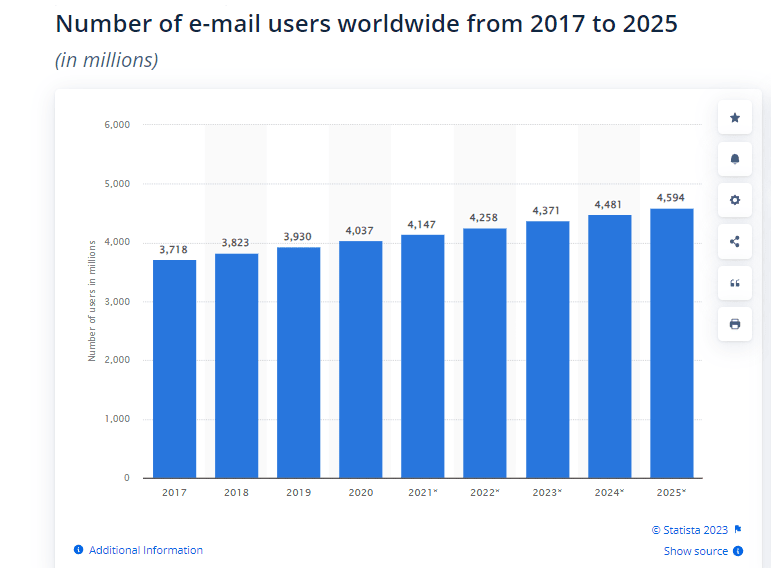 The following are the benefits of sending email marketing to your business.
Direct and Personalised Content
Email marketing lets you communicate directly with your audience in their inbox. This provides a sense of personal connection and allows you to tailor your messages to specific segments of your audience based on their preferences and behaviours. People love to read an email sent to them on a personal note, and thanks to email marketing, you can create and send personalised emails to your lists based on their actions on your website; by creating and sending personalised emails, you're creating more value for your customers and helping them feel connected to your brand.
Email marketing campaign enables you to create and send content relevant to your subscribers based on their interests and encourages them to keep reading. Personalised content may include:
Calling your subscribers by their first name in the email.
Sending them messages on their special occasions like birthdays.
Sending content relevant to their interest.
These and many other personalisation will make them feel connected to your business. It will make them feel like part of your brand.
Cost-Effective
Email marketing is the way to go if you're looking for a low-cost marketing strategy that brings in major results. Email marketing is more cost-effective than other digital marketing methods, including social media marketing. With email marketing, you can reach a large audience with minimal expenses, as the costs mainly involve email marketing service providers and content creation. In some cases, you can send email marketing campaigns entirely free of charge if your contacts are small and only pay when you start sending large volume emails to thousands of contacts. So, email marketing is a great way to reach a large group of people with your business information with little budget compared to other traditional and digital marketing strategies.
High Return On Investment (ROI)
Email marketing is a leader in ROI generation; it has a higher ROI than any other marketing strategy you can think of. A survey by Litmus shows that for every $1 spent on email marketing, you will get $42 as a return on investment. That's about 4,200% on ROI! And could go higher depending on your industry. Email marketing delivers a high return on investment (ROI) due to its low cost and the ability to target specific audiences who are ready to buy your products. Email marketing is the best marketing strategy to grow your business without spending a lot of money because well-crafted email campaigns can drive significant revenue and conversions.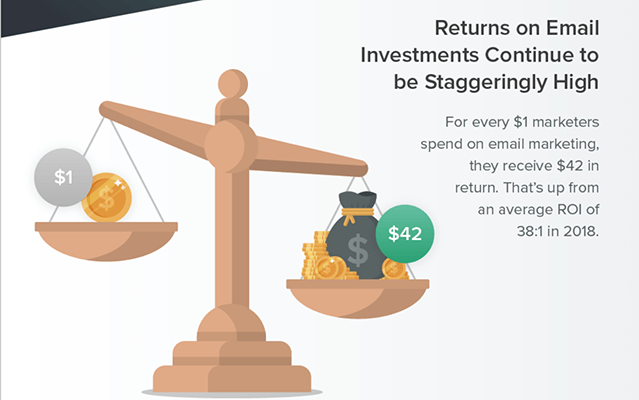 Related: Top Digital Marketing Strategies to Grow Your Business
Higher Conversion Rates
Email marketing drives higher conversion rates than many other marketing channels. When done right, well-timed and targeted emails can encourage recipients to take desired actions, such as purchasing, signing up for an event, or downloading content. One thing that sets email marketing apart from other marketing strategies like social media marketing is that email marketing produces immediate results.
Increases Brand Awareness
One way to increase your brand awareness is to stay in front of your customers constantly; email marketing gives you that privilege. Email marketing lets you communicate with your customers regularly to increase your brand awareness. You want to stay in their minds and constantly inform them about your business and products.
By sending regular emails to your contact list, you're helping increase brand awareness. You can send out email campaigns to current and potential customers and get them interested in your business. Many email marketing and automation platforms like Mailchimp and Mautic come with automation that lets you send out automated emails to your customers to get them engaged and in the loop while you focus on other things to grow your business.
Related: How to Generate More Leads and Build Brand Recognition
Automation and Scalability
No matter the size of your business, you're likely sending out many emails at once. Mass emails can be time-consuming, especially if you're creating personalised emails. However, Email marketing platforms offer automation features that allow you to schedule and send emails based on triggers or user actions on your website. This method makes it easy to scale your campaigns, increase productivity and nurture leads without constant manual intervention. With marketing automation, you can automate your email-sending process, increase brand recognition, and improve ROI.
Easy to Track Data and Analytics
Email marketing platforms provide detailed insights into campaign performance; for you to know that your email campaigns are performing well, you need to be able to track important KPIs, like bounce rate, open rates, click-through rates, conversion rates, and more. This data helps you refine your strategies and make informed decisions. Unlike some other marketing channels, email marketing is highly trackable. You can monitor the success of your campaigns in real time, enabling you to adjust your approach and optimise your content for better results.
Engagement and Relationship Building
Email provides a platform for ongoing engagement and relationship-building with your audience. Consistent communication helps establish trust and keeps your brand top of mind. With email marketing, you can improve communication with potential customers and strengthen relationships with existing customers. People tend to relate well with brands that think about them, so sending targeted emails regularly to your audience is one of the best ways to keep them in the loop. With email marketing, you can build customer loyalty without breaking the bank.
Integration with Other Channels
Email marketing can complement other marketing channels. You can use email marketing campaigns to promote your social media presence, website content, or upcoming events, creating a cohesive and multi-channel marketing strategy and driving traffic to your online platforms. Email marketing integrates well with other marketing channels to create a cohesive and effective omnichannel marketing strategy. For example, you can include social media buttons and links in your email campaigns to encourage subscribers to follow your social profiles, share your content, or participate in social media contests that can reinforce the way you communicate with your followers.
Email marketing lets you distribute and promote your content, such as blog posts, whitepapers, eBooks, or videos which can help drive traffic to your website and nurture leads. With email marketing, you can create a seamless and interconnected experience, enhance engagement, build stronger relationships, and drive better results across other marketing channels.
Social media marketing offers many benefits for businesses and organizations looking to establish a strong online presence and connect with their target audience. Some of the key benefits of social media marketing include the following:
Brand Awareness and Exposure
For companies that want to raise brand awareness, social media marketing is a reliable marketing strategy to raise the bar.
One of the major strengths of social media marketing is its ability to introduce people to new brands they might enjoy and want to know more about. Unlike email marketing, which allows email marketers to gather email addresses from individuals who already know about the company, limiting the number of new customers email marketing can reach. Social media platforms such as Facebook, X (formerly known as Twitter), LinkedIn, and Instagram provide a vast and highly engaged audience, allowing you to showcase your brand identity and increase your brand's visibility, products, and services. Regular posting and interactions with people on social media platforms help keep your brand top of mind.
Audience Engagement
Social media encourages direct interactions with your audience through likes, comments, shares, and messages. This engagement fosters community and helps build loyal relationships with your followers. Social media marketing is a better marketing strategy to engage potential customers directly. Companies now use social media to handle queries and support by contacting the audience through DMs or comments reply.
SEO and Website Traffic
Sharing your website content on social media can drive traffic and improve your website's search engine ranking. Social signals (likes, comments, and shares) can also positively influence your business's SEO efforts. Your website traffic will increase when you share engaging content on your social media handle with a link to your website; a larger percentage of your followers will click the links to learn more about the products or services you are talking about, increasing your website traffic.
Related: 29 Brilliant Ways to Increase Your Website Traffic
Global Reach
Social media defy borderlines and transcend geographical boundaries; social media marketing enables you to reach a global audience without extensive resources. A social media account of a European business can have millions of followers across all continents, even when they do not have any physical office in each continent. Social media bridges the gap, brings total strangers together, and makes them feel they belong even when they have never met.
Customer Service and Support
With Social media marketing, brands now use social media like X (formerly known as Twitter) to address customer inquiries, resolve issues, and provide support. This method helps companies and consumers resolve problems and foster better relationships and positive customer experiences.
Email and social media marketing are two distinct digital marketing strategies, each with its characteristics and benefits. Here are some key differences between the two:
Email Marketing involves sending targeted messages directly to your subscribers' email inboxes, making it a more personal and private communication channel to engage customers who already know about your business and products. While Social Media Marketing employs social media platforms to reach and engage with a broader audience through public posts, comments, likes, and shares because social media is a more public and interactive communication channel you can use to reach potential customers.
Email Marketing targets a specific list of subscribers who have opted in to receive emails from you, making a better marketing channel to reach people who already know your brands and are willing to buy from you. Social Media Marketing, however, can help you reach larger and more diverse prospects, including followers, fans, and users who discover your business through sharing or hashtags.
Engagement and Interaction
Email Marketing encourages one-on-one interaction between the sender and the recipient, making both replies and interactions private even when the recipients give negative reviews when unsatisfied with the product. However, Social Media Marketing encourages public interactions, allowing users to engage with your content and communicate with your brand openly. This method can impact your business negatively when you receive negative reviews because other followers will see the reviews.
In Email Marketing, messages are sent directly to subscribers' inboxes and can be accessed at their convenience; recipients can archive the message for future reference and share or print the content on paper. Emails can stay in recipients' inboxes longer; subscribers often refer back to them. On the other hand, Social Media Marketing content is displayed on users' feeds, which may not always be seen due to platform algorithms or the timing of their activity. Millions of content are posted per minute, and most social media algorithms are designed to display the latest posts.
Only 1% of your followers will be notified that you posted something new, so your followers may not see your content when published. Content on social media platforms is more fleeting, as feeds move quickly and older posts are pushed down.
Segmentation and Targeting
Segmenting your audience into smaller groups successfully allows you to tailor your marketing efforts to each customer based on their interests. You can segment your audience in both email and social media marketing but in different ways.
With email marketing, you can target your subscriber based on data available and interests, allowing you to send personalised messages to each segmented group. Social Media Marketing enables you to segment and target your audience based on demographics, interests, behaviours, groups they join online, and location. But email segmentation and targeting may be more specific and accurate than social media segmentation.
Email Marketing platform allows you to automate most of your sending process; you can automate your email campaigns based on user actions on your website, emails, or predefined schedules. While you will need third-party tools to really enjoy post automation in Social Media Marketing, as most social media platforms are limited in delivering automation, social media automation tools can schedule your posts in advance, but you will need real-time engagement and responses for proper interaction.
Related: Automating Business Operations with Free and Open-Source Tools
Choosing the right marketing strategy between email and social media depends on your specific goals, target audience, resources, and the nature of your business. The right marketing strategy might involve a mix of both email and social media marketing, leveraging the strengths of each channel to achieve your overall marketing goals.
Here are some tips to help you make an informed decision:
Determine Your Audience
Determining where your target audience spends their time is the key to choosing the right marketing strategy. Are they more active on social media platforms, or do you already have them on your list? Although some general trends favour email marketing over social media marketing, or vice versa, something other than these trends might apply to your audience. For instance, if your business target Gen-Z, you might need to use your social media marketing to get them to engage with your business rather than focusing on email marketing which might produce a different result than what was intended.
Researching your audience is something you can do even after selecting a marketing approach. If you go for social media marketing, you must pick the best social media that best fits your business and audience.
Understand Your Goals
Defining and clarifying your marketing objectives is another factor determining the ideal marketing strategy. For instance, social media marketing might be the best for your business if you want more brand exposure and awareness, while email marketing might be your best bet to increase sales and ROI with little budget. So, if you wish to generate or nurture leads or promote specific products/services, your goals will guide your choice of marketing strategy.
Consider Content Types
Another tip is to evaluate the types of content you want to share. Social media might be a better marketing strategy if your content is more visual (e.g., images, videos). While email could be more suitable if your content is information-heavy or requires a longer format text.
Consider Hybrid Approach
Since you are not limited to choosing only one marketing strategy, a hybrid approach combining email and social media marketing elements can provide a well-rounded marketing strategy. Social media can be better for engagement, fostering conversations between you and your customers, and building a community of loyal followers. While email marketing is more effective for direct conversions and driving specific actions. Integrating email and social media marketing can create a holistic marketing approach that reaches your audience through multiple touchpoints.
Related: 8 Best Free and Self-hosted Email Marketing Software
Social media marketing is a great way to expand your brand exposure and connect with your audience, even though email marketing is a more effective marketing strategy to increase sales and nurture leads with higher conversion rates. But combining both social media and email marketing in business is like going to war with a two-edged sword.
For example, you can include social media buttons in your marketing emails to make sharing your marketing content easy for your audience. Email campaigns may indeed have a higher ROI and have more reliable results than social media, but combining these approaches can help you effectively engage your audience, drive conversions, and achieve your marketing goals easily.
So, you need to define your business goals, understand your marketing requirements and objectives and weigh your budget before choosing one over the other. But you can generate better results with both marketing strategies in place because they complement each other in a well-rounded marketing strategy.
Which is more effective, social media marketing or email marketing?

Email marketing has a much higher conversion rate than social media marketing; email marketing is 40 times more effective than social media outreach. However, both email and social media marketing have their strengths and weaknesses.
Should I buy an email list to start with email marketing?

No, buying an email list to start email marketing is a wasteful effort. It is important to build an email list organically to ensure that the subscribers are interested in your content and are more likely to engage with your emails. Buying email lists will only waste your money and put your business in danger; you can create a lead magnet to build a massive email list.
Is email marketing still relevant in 2023?

Yes, email marketing is still relevant in 2023. Email marketing is still the preferred method for promotions and generates a staggering 4200% return on investment. It's the most cost-effective way to stay connected with your customers and increase sales.
What are the strengths and weaknesses of email marketing and social media marketing?

Email marketing's strengths include higher conversion rates, personalised messages, and targeted campaigns. Its weaknesses are that your emails can be marked as spam, and your subscribers can unsubscribe from your list anytime. Social media marketing's strengths include reaching a large audience, building brand recognition, and engaging with customers. Its weaknesses include the potential for low engagement rates and the need to create new content every day.
How can you combine email marketing and social media marketing?

Combining email and social media marketing can help you boost engagement and build your subscriber list. Some of the ways you can combine the two marketing strategies include promoting your lead magnet on social media to grow your email list, sharing email content on social media, and putting your social media page link within your email campaigns.
Which is better for building customer relationships, email marketing or social media marketing?

Email marketing is better for building customer relationships since the customers already know about your business; it's easy to use email campaigns to create personalised messages and targeted campaigns based on their interests and previous knowledge you know about them.
What are the advantages of email marketing over social media marketing?

The advantages of email marketing over social media marketing include higher conversion rates, personalised messages, and targeted campaigns. Additionally, email marketing allows for direct communication with subscribers and is not subject to the algorithms of social media platforms.
Final Thoughts
Choosing between email and social media marketing depends on your unique goals, audience, and budget. Although, Email marketing offers personalised communication, precise targeting, and high conversion potential, making it ideal for nurturing leads and driving direct actions. While social media marketing provides broad audience reach, engagement, and brand visibility, making it an effective marketing strategy for building social communities and fostering interactions between you and your followers. But a successful marketing strategy should involve the combination of both approaches. If you harness the strengths of email's direct communication and social media's widespread engagement, you will create a comprehensive and impactful brand presence online.
Email marketing is a better choice to consider in terms of ROI, but combining email marketing with social media marketing will bring the best out of your business. And in this digital world, you don't have to choose between the two; it is always wise to integrate them as they can easily complement each other.
What are your thoughts about email and social media marketing working together to build an irresistible marketing strategy? Let's know in the comment section. And if you enjoy this article, kindly share it on social media with your friends.
If you need an email marketing platform for your business, we believe in using open-source software like Mautic; we can help you set one up in no time so that you can send thousands of email campaigns and automation at no cost for life. Visit our service page for an open-source email and marketing automation platform that fits your needs.