One of the ways a company can fail to deliver in this ever-changing digital world is to rely on a manual process to attend to customers' needs. Marketing automation systems like Mautic help your business to streamline all kinds of marketing-related tasks and eliminate every routine and repetitive within the business so that business owners can dedicate themselves to more strategic and core responsibilities of the company. With marketing automation, marketers and business owners can spend more time strategizing new sales than spending valuable time sending marketing campaigns manually. The marketing world is packed with different automation software, but in this article, you will learn reasons Mautic is the best marketing automation software for your business.
Any business or marketer not using marketing automation software like Mautic to handle tedious, repetitive tasks will soon burn out, waste valuable time and resources, and ultimately lose most customers to competitors. It is almost impossible for businesses to send marketing campaigns and keep in touch with their customers manually when the business grows, and the mailing list is huge. Sending promotional messages and helping customers in their buying journey with a manual process will be impossible. But with the right marketing automation system like Mautic, it's easy for businesses to segment contacts, automate every marketing process, and promote the company's products without wasting time.
Mautic is the most advanced open-source marketing automation platform trusted by over 200,000 businesses. With Mautic, you can boost your sales, create email campaigns, generate and nurture leads, automate repetitive tasks, track your customers across many digital platforms and social media, and strengthen your users' experience on your website. As a business owner, spending a huge amount on recurring payments for SAAS marketing automation platforms like MailChimp may hurt your business. The cost of setting up a robust marketing automation system to eliminate your business's tedious and repetitive tasks should be $0. There's no point spending hefty monthly on some tools when you can use a cost-effective marketing automation solution like Mautic to automate every aspect of your business.
Read: Benefits of Marketing Automation in Digital Marketing
Mautic, as a free and open-source marketing automation tool, is a cutting-edge automation technology packed with several unique features that most paid SAAS marketing platforms don't have. Mautic features include easy-to-build email campaigns, personalized messages, A/B testing, abandoned cart recovery, tracking, an advanced tracking and reporting system, and many more unique features all in one place. Before we learn why you need Mautic for your business, let's first understand Mautic.
What is Mautic?
Mautic is a robust marketing automation platform founded in 2015 by David Hurley with a mission to empower businesses and organizations to deliver fully integrated marketing campaigns by providing powerful, world-class open-source marketing automation software supported by a thriving, worldwide community of passionate contributors. With Mautic, you can collect leads with forms on your website, track visitors across all platforms, create landing pages, create and send personalized marketing campaigns, segment your contact, set up focus items, monitors your contact across social media, and automate all your marketing process.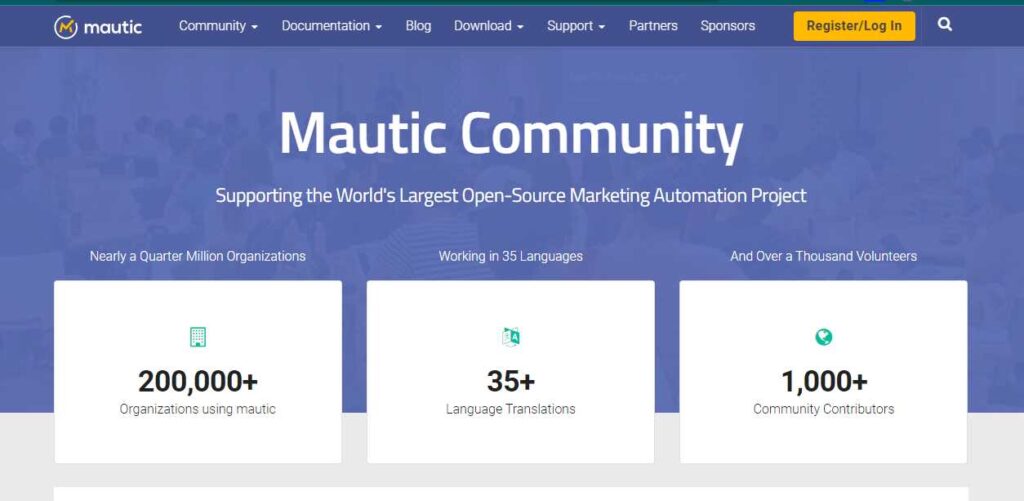 Mautic is a free, robust cross-channel marketing automation and campaign management software that will help you nurture quality leads, build email, personalize messages, execute A/B tests, and measure real-time results. With Mautic marketing automation, you can generate and manage leads, send personalized campaigns, build responsive landing pages, create registration forms, and create emails.
Why Mautic?
The marketing world is packed with different automation software promising to help your business. Some of these tools might be great, but there's a reason Mautic is the most advanced open-source marketing automation out there. The main job of marketing automation software is to attract, capture, track, and close qualified leads as they move from awareness to purchase, and Mautic lets you do all these for free. Mautic allows you to streamline lead qualification, nurturing, and subsequent handoff of leads from marketing to sales for engagement.
Learn: Mautic: The Best Free Marketing Automation Software in 2023
Here are the reasons Mautic is the Best Marketing Automation Software you need for your business
Choose Your Preferred Email Delivery Platform
With Mautic, you can use your preferred SMTP server, like Amazon SES, Postal, Gsuite, PowerMTA, and others, to send unlimited transactional and marketing emails to your contacts. With Mautic, you can use any SMTP of your choice. You can use a self-hosted SMTP or paid one; the choice is yours. It is easy to link Mautic with the SMTP of your choice.
You can Host Mautic on Almost any Server
Mautic is free and open-source software you can install on any server. You can host Mautic on any Cloud, VPS, and dedicated Server you choose. Mautic maintains the latest and stable source code on GitHub with easy-to-execute instructions for hosting. Mautic allows you to host your marketing campaign on your server to protect customer privacy.
Easy and Effective Email Marketing
Most online businesses employ email marketing to reach out to customers. Mautic will help you to automate your marketing strategy to make it easier for your team to send the right emails to customers. With Mautic, you can build and manage email lists for every step of the customer journey. Mautic help you to send coupon code, download links, and special offer to your new customers on your website and send emails like reward points or products and after support to the existing customers. You can automate every stage of your marketing process with Mautic.
Create Campaigns with Endless Parameters
Mautic allows you to create unlimited campaigns to reach your customers at any stage of their journey. In Mautic, you can create simple to complex campaigns using endless parameters, including different conditions and decisions. Mautic campaigns are easy to build; you don't need any coding knowledge; the system comes with a powerful drag-and-drop campaign builder that allows you to add conditions, decisions, and actions to trigger your campaign at every stage you desire. With Mautic, it is easy to design your campaign, set up rules, and automate your email marketing campaign.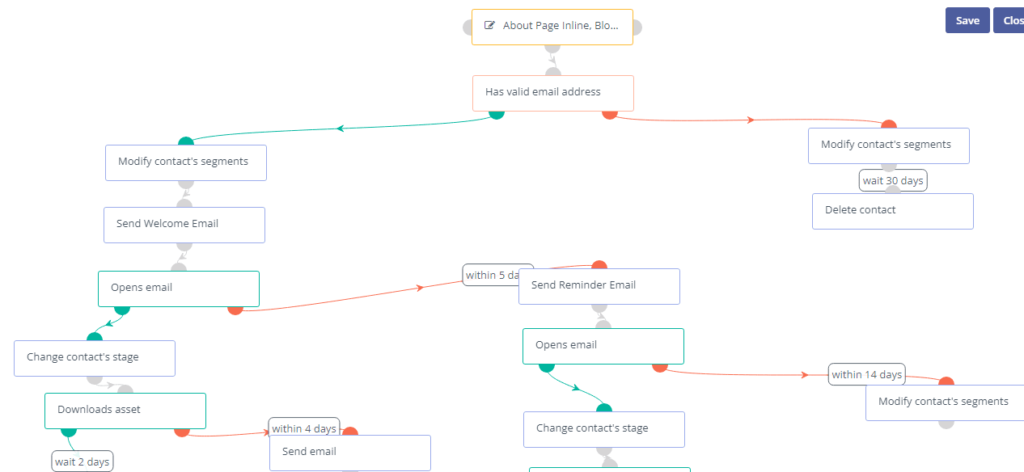 Track Social Activity
Like email marketing, social media marketing is also essential for your business. And this is where Mautic comes in because, with Mautic, it is easier to engage your target audience and keep track of their social activity. It allows knowing what your audiences say on their social media account so that you can tailor the right content based on their needs.
Cross-Platform Integration
You can combine Mautic with existing websites, CRM, and apps for a more complete, efficient, and profitable approach. Integrating Mautic with your website, CRM, and social media enables you to automate your business marketing strategies and attract and nurture potential and current customers.
Create Landing Pages
In Mautic, you can create responsive landing pages to inform prospects about your products and services. With Mautic landing pages, you can increase your conversion rate, actively encourage your website visitors to engage with your business, and sign up to hear more from you. Mautic advanced reporting features enable you to analyze every page of your website, tracking landing page views, bounce rate, click rate, average time spent on a page, and conversion rates, to know more about your customers' interest in your website.
List Segmentation
In Mautic, you can group contacts into smaller groups based on similar interests and actions taken on your website. Segmenting contacts into smaller groups will allow you to send personalized content to each group based on their interests. Each segment can also be updated automatically once a users reach certain criteria – and in turn, these contacts will be automatically enrolled into relevant workflows with tailored content sent to them on an ongoing basis.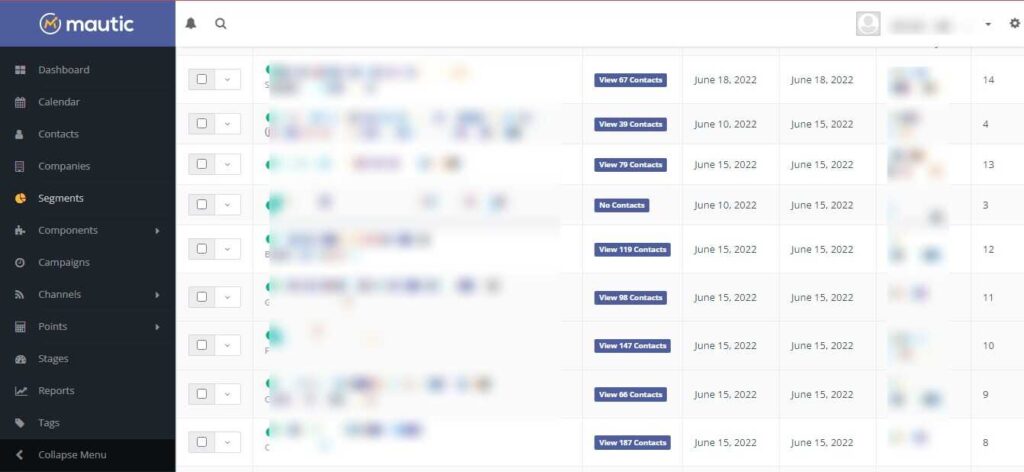 Full Control Over Pricing and Expense.
SAAS marketing automation solutions like Marketo don't give you control over pricing; the more your list grows, the more you pay. But with Mautic, no surprise expenses and no changes in pricing because it's completely free. Mautic gives you full ownership and control over every aspect of your Mautic instance. Unlike SaaS automation software that adds new features to their higher package to milk you, Mautic comes with every feature out of the box; everything is included for free. You're not forced to scale up to the next and more expensive package to have fully featured software. Mautic is free even if you have billions of contacts.
Your software, Your rules!
Because you control all aspects of your Mautic instance, you don't have to negotiate or abide by the rules or regulations imposed by any company. With Mautic, you're not at the mercy of any legal department, which can change the contract rules anytime with a notification on their login page or an email. With Mautic: 
No contracts are needed
No SLAs required
Confidentiality agreements are unnecessary
You own your marketing automation software, and you set rules for your software.
Final Thoughts
Mautic allows you to host your email and marketing campaign on your server. You have many reasons to choose Mautic as your marketing automation platform. It's a completely free platform to implement a million-dollar marketing strategy. With Mautic, you can focus on increasing your sales while Mautic takes care of your automation process. Using Mautic in your business will help your company generate more leads, nurture them, create unlimited campaigns, send transactional and marketing emails, track your visitors across all digital platforms, and enhance your business customers' experience.
Are you interested in building an email and marketing automation platform using Mautic? Let's install and configure the Mautic instance for you! You can visit our services page to select the right tools, and we will set it up for you for a token.