It's undeniable that technological advancements have improved our quality of life and the efficiency of our workplaces. Time management strategies have shifted as a result of technological advancements. Thanks to automation, we can do more activities in the same amount of time, and many businesses have found fruitful methods to put their spare time to use with the help of marketing automation software. The benefits of marketing automation in the world of digital marketing today are endless.
The goal of automating a process is to reduce human effort and eliminate tedious, repetitive tasks. Businesses around the globe are striving to grow at a higher rate and generate higher ROI by reducing operational expenses and adopting technological means to process and automate every business activity. Many companies, especially start-ups, need to connect and integrate technology into their business processes to accomplish greater results in a limited time.
There is a need for automating business processes to accelerate and create smooth marketing campaigns and simplify business and marketing processes. The advantages of automation in digital marketing are enormous, and we are going to look at them in this article as you follow along. But before we dive in, let's first understand what marketing automation is and how it will help improve working processes.
What is Marketing Automation?
The term "marketing automation" refers to a method that manages marketing operations automatically and multi-purpose campaigns that span a variety of channels. It utilizes technology to control marketing processes and multifunctional campaigns to automatize routine marketing procedures.
Marketing automation lets marketers automate routine and repetitive tasks such as email marketing and posting to social media or ad campaigns. Marketers employ automated systems to personalize their messages and the content they email to potential customers. It is possible to program the messages to respond to them via automated responses. Companies use marketing automation to send automated messages through social media, email, SMS, and videos. In addition, when it comes to monitoring leads and helping prospective customers navigate their sales process, automated marketing could help marketers to reduce time and cost.
These tools significantly increase the effectiveness of marketing and sales teams at companies with massive databases of clients and provide the most personalized experience to their customers. Email marketing and automation system are often used together with Customer Relationship Management (CRM) to facilitate most automation in marketing. Correct implementation of marketing automation will allow you to efficiently and effectively generate leads and nurture prospects at every stage of the customer journey, driving more revenue and maximizing ROI – without sacrificing the quality of your work. Streamlining your business workflows with marketing automation can help you achieve faster and automate every business process without burning your employees out.
Note: Marketing automation does not replace business skills or human efforts. It is a process that enhances your existing productivity in marketing and enables you to achieve more while you spend less. 
Benefits of Marketing Automation in Digital Marketing
Marketing automation is the most advanced and cost-effective way to generate leads, conversions, and sales with less work. Most companies relevant in business today uses marketing automation technology to boost revenue and consumer engagement. One of the benefits of marketing automation in today's world is to help businesses maximize their full capacity in engaging customers.
Without marketing automation tools such as Hubspot, Marketo, Mautic, and others that offer an exciting opportunity for cost reduction and an enhanced customer experience, embarking on a marketing automation journey would have been tedious and intimidating for digital marketers. Using the right marketing automation in your business will improve the way you do business with a better Return on Investment ROI. Below are some benefits of marketing automation tools in your business and marketing efforts.
Higher Revenue Generating
With marketing automation, you will enjoy higher ROI in your business. Since marketing automation tools like Hubspot and Mautic enable you to create and execute campaigns, target leads, qualify leads, and automate every part of your marketing process from cross-sells, up-sells, and follow-ups with customers. Automating generating leads from landing pages, forms, and contacts. Sending workflow emails, instant messages, notifications, and sales processes will likely result in more return on investment.
Saving Time on Repetitive Tasks
Time-saving from repetitive tasks is one of the benefits of marketing automation. Marketing automation facilitates the lead generation and management; it's also a cost-effective way for customer follow-up, up-selling, and cross-selling. With marketing automation, it is easy for businesses to duplicate a marketing asset. This method help reduces repetitive task in marketing and saves companies countless hours to focus on other valuable business strategies.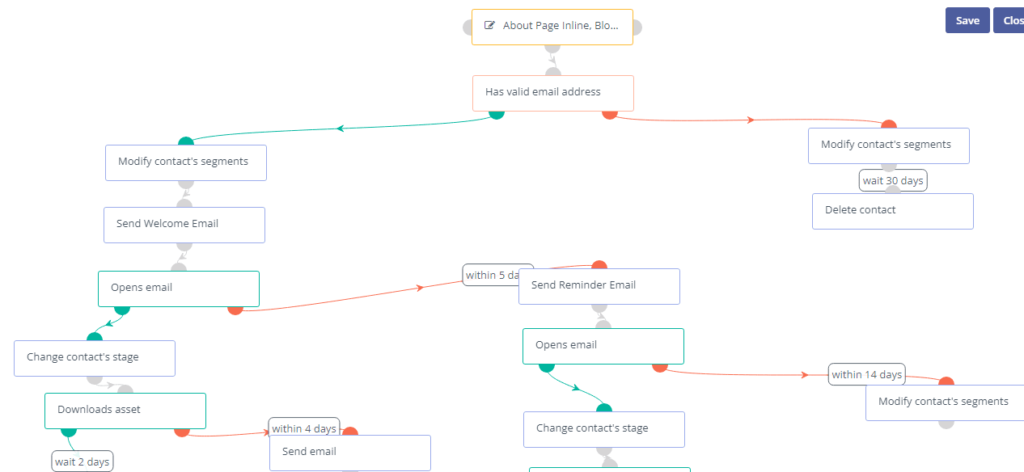 Testing and Optimization
Another benefit of marketing automation is the ability to test and optimize. Testing and optimization allow companies and marketers with significant marketing assets to test and optimize each marketing method for continuous improvement. A company with different methods or versions of engaging clients can easily do A/B testing to see which strategy performs better with its customers. A/B testing means having a core version and another version with only change and seeing which one performs better.
You can use an open-source marketing and automation system like Mautic to perform A/B testing over time and then choose the winner. A/B testing is a better way of knowing what your customers want; instead of using assumptions to force your choice on them.
Eliminate Manual Data Entry
Marketing automation tools allow you and your team to be more creative in handling customers' data. Marketing automation eliminates the need for spreadsheets or manual data entry because the system will automatically collect the data and update contacts. There is no need to add the email addresses of people no more. With the help of API technology, you can access your customers' details since they will need to fill out a form on your website to access whatever information they need from you. You may also integrate social media APIs like Twitter and Facebook to improve your contact information and monitor their activities on your social media pages.
Marketing Automation Streamlines the Marketing Process
Marketing Automation connects your entire business by implementing efficient processes which put your customer needs first. It assists in creating processes that various functional teams can utilize to reduce customer efforts at every stage. Successful marketing automation does not need complicated hand-off procedures since everything is stored in the central database. Internal workflows can assist you in determining the essential tasks as required. You can cut up divisions and join forces to provide a consistent customer experience from the first contact point to the final purchase.
Increasing Up-selling and Cross-selling Potential
Marketing automation lets you figure out behavioral triggers that can result in more sales from your existing customers. With a marketing automation system, you can track every user on your website and understand what triggers them to move on and buy more from you. This action allows you to optimize your sales funnel.
Reduce Staffing Expenses
When you automate leads nurturing and marketing tasks with preset parameters, your business can send thousands of personalized automated emails daily, reducing the heavy cost incurred in human resources and staff costs performing the same task. With marketing automation, you only need a few workforces to automate all your business and marketing processes in digital marketing.
Customizing and Personalizing
Marketing automation lets you personalize and customize everything that concerns your customers and make them feel like part of your organization. With customizing and personalizing features, you can achieve the following.
Names personalization: Marketing automation allows you to call your customers by their first or last name in your emails and on your website. So, they feel special knowing the email or message is meant for them directly and not just random messages.
Identifying customers' location: Marketing automation allows you to identify your customers' location and provide content or information relevant to their location.
Identifying browser language: With marketing automation, you can quickly identify your potential customers' browser language and serve them up with content in that language.
Identifying marketing lifecycle stage: With marketing automation, you can know a customer's lifecycle stage and craft something appropriate for them. For instance, If the customer has already done a free trial, run a demo, or downloaded a free guide from your website, you can change the marketing strategy to make the customer buy from you.
Your imagination limits you with marketing automation; there's absolutely nothing impossible to achieve with any robust marketing automation system.
Cross-departmental Collaboration
With a proper marketing automation tool, there would be better collaboration between your sales and marketing teams. In recent years, there has been an enormous amount of overlap between the sales and marketing departments, especially in emerging fields like social selling. Marketers may improve their lead-nurturing efforts with customized campaigns, content, and communications using the sales enablement features offered by marketing automation software.
Monitor and Target Audiences
A solid marketing automation platform will give you the power to precisely monitor and target your audience. Marketing automation systems armed with advanced technology can track real-time data or monitor engagement and behaviors with minimal human input. In doing so, creating more targeted, personalized communications across channels is possible when specific audience segments are likely to engage the most.
Consistence in Branding
You will become less recognizable to prospective customers without consistent branding across channels. Strong branding is one of the cornerstones of marketing success, and by using marketing automation to your advantage, you will remain consistent across the board. Marketing automation tools are effective at retaining a specific style with visuals, content, and communications across all key marketing channels, which, in turn, will help you boost your brand reputation in a saturated digital space.
Marketing Automation Platforms
Now that you have seen some benefits of automating the marketing process in your digital marketing effort, let's look at some incredible marketing automation platforms you can rely on to power your digital marketing process in business. Some marketing automation platforms are free of cost and can deliver maximum results for your business, while some are paid. But the good thing is that they are designed to help companies to drive insight and efficiency.
Mautic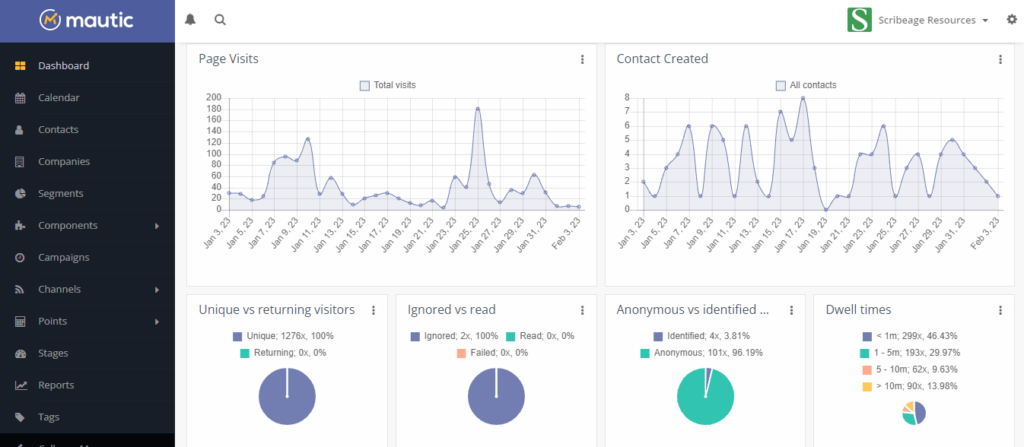 Mautic is an Open Source and advanced email and marketing automation system developed by a community of developers. Mautic is a robust cross-channel marketing automation and campaign management system designed to help businesses and marketers build email, nurture campaigns, personalize messages, execute A/B tests, and measure real-time results. The system has all the essential features of an automation system, like lead management, campaign management, contacts, email, responsive landing page, registration form, and email creation.
With Mautic, businesses will save time in repetitive tasks and gain time with processes and fluidity in workflows. It integrates with almost all your existing applications, making it easy to track any leads from onboarding to the last stage of the marketing cycle. Mautic is available in more than 35+ languages, with no language barrier in using the system.
If you are looking for a robust marketing automation tool to help you automate your business processes. You may be looking for Mautic. With Mautic, you can streamline, automate, and measure your workflows to achieve your business goals and grow faster. It is an advanced automation tool that enables you to create proactive and multi-channel marketing campaigns to provide personalized user experience across all digital properties.
Mautic is 100% free to use; it can be tailored according to your business needs. If you need help getting started or setting up a Mautic instance, you can visit this page for help.
MailChimp


MailChimp is the most popular and affordable among the paid email and marketing automation platforms. Mailchimp has robust features that most businesses need without being overly complicated or confusing. With Mailchimp, you can schedule campaigns, perform A/B tests, and get reports that include open rates, click-through rates, unsubscribe rates, and more.
MailChimp has perfected its email strategy to minor details. If you're starting with email marketing and automation with a few email lists and need automation processes to handle your campaign, Mailchimp is your ideal tool. MailChimp has a complete set of tools for automation that function well and seamlessly integrate into other systems. The free plan includes templates for newsletters with analytics tools, integrated sign-up forms, and many more. The most significant part is that you can access most of its tools at no cost.
You can customize Mailchimp email with the quick email editor and bug-free email templates. Another great advantage of using Mailchimp as a marketing automation system is that it integrates with a wide array of online software and web application like Salesforce (CRM), Pipedrive (CRM), SugarCRM, Facebook, Twitter, WordPress (CMS), Magento (CMS), and lots more.
Get Response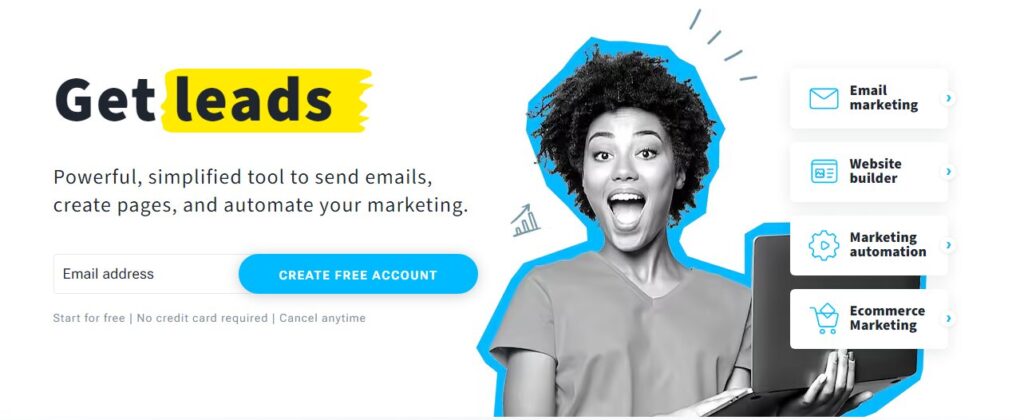 Get Response is a robust marketing automation platform with cutting-edge technology initially focused on email marketing that now entirely grew into advanced marketing automation. Get Response allows you to organize workflows with an intuitive drag-and-drop menu based on conditions, actions, and filter parameters. Aside from being an email marketing tool, Get Response comes with a simple landing page builder, a built-in CRM, and advanced automation features that businesses seamlessly scale and automate every marketing process. This all-in-one marketing platform is compatible with e-commerce with features that make sales easy.
The complete email and marketing automation package of Get Response starts at $48 per month if you pay for one year. However, they do have a free forever entry-level plan where you can send about 2,500 newsletters per month.
HubSpot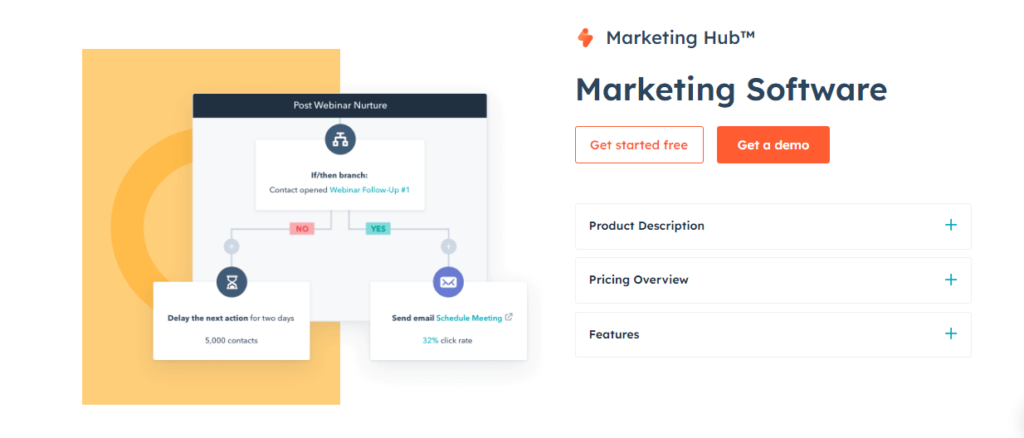 Hubspot is an advanced CRM, email, and marketing automation system. Hubspot helps businesses handle everything from emails, social media posts, and blog publishing, making it the top platform for an all-in-one marketing solution. It is one of the best all-in-one marketing platforms in the market, with robust tools and reporting systems for all marketing campaigns across various channels (website, social, email marketing, and more).
Hubspot comes with full marketing automation features from CRM, social media, blogging, and email marketing capabilities. With Hubspot, you can track leads from the initial buying stage to the final marketing stage. Hubspot is a robust system that combines all your marketing activities in one place to have a centralized view of how contacts interact with your website, Google ads, social media, and email marketing. It provides insights into the buyer's journey, helping businesses achieve success in their marketing effort.
ActiveCampaign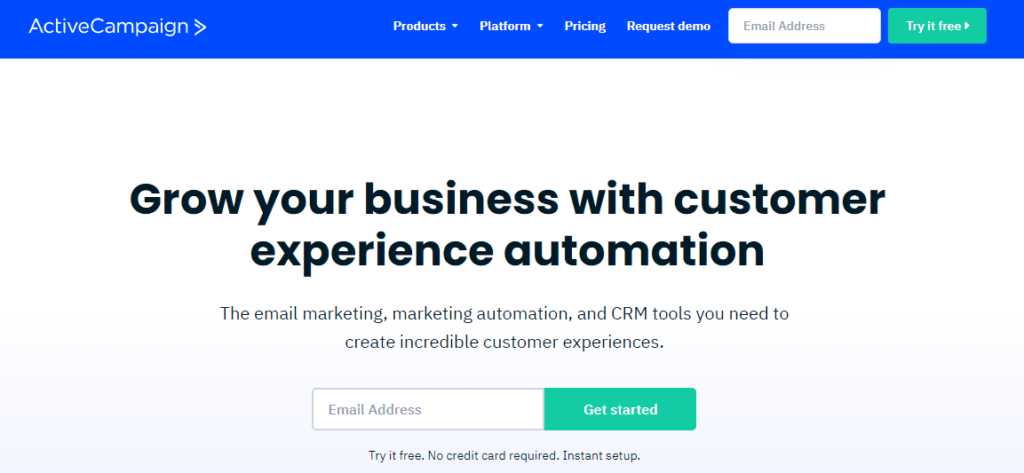 ActiveCampaign is a cloud-based marketing and sales automation system powered with email marketing, lead scoring, web analytics, a CRM platform, and a live chat messaging platform called Conversations. ActiveCampaign is among the best email and marketing automation platforms, with hundreds of pre-built automation that help businesses personalize campaigns and automate their marketing processes.
ActiveCampaign is easy to use and intuitive, with marketing automation and sales processes that help business owners generate more sales and revenue. With ActiveCampaign, businesses can build custom marketing automation to increase sales, generate and nurture leads, and engage and monitors customers intent.
How to Implement Effective Marketing Automation
Implementing effective marketing automation and a well-established organizational workflow requires some essential steps. These steps will allow your business to prepare for new processes and ensure that automation yields the best-desired results. There are four key steps to implementing effective marketing automation
Identify the right tasks to automate
To get the best out of automation, business owners need to identify the business's most time-consuming marketing task and channel the automation system to such tasks to eliminate repetition and manual data entry. Make a list of all of your existing time-consuming marketing tasks, like sending and replying to emails, collecting customers' details, and scheduling calendars for meetings. Automate them to reduce the burden on your staff so they can focus on something more substantial.
Pick the right automation platform for your business
Although we have countless marketing automation platforms out there, finding the best for your business can be difficult initially. But the good news is that there will always be one automation system that can handle all your marketing processes and increase your ROI. Most marketing automation platforms in the market have a free plan to enable you to test and see if it fits into your industry. Try different platforms to see which will serve you before you commit resources. But if you want a self-hosted marketing automation system, Mautic is there for business. This website (Scribeage) uses Mautic for every marketing and automation process, so evaluate and pick the right platform that fits your industry.
Although automation improves marketing efficiency immediately, the implementation of a new solution in any business necessitates an investment in training for relevant people. Team members must understand how automation fits into their daily activities and how their position may be refocused. Highlight the benefits and allow employees to thoroughly evaluate the new marketing and automation system while admitting any reservations they may have.
Perform Constant Evaluation of the System
A marketing and automation system is not enough to solve your business's digital marketing processes. You must be committed to regularly evaluating and reviewing the system to know which part of the marketing processes works and which needs improvement. Knowing what works and what does not will help your business and marketers make the necessary adjustments at the appropriate time.
Tips on using Marketing Automation Effectively
Maximizing marketing automation to its full strength requires some strategies and dedication. We will look at some helpful tips to optimize your marketing automation to its full potential for your business.
One of the primary strategies in marketing automation is identifying your audience. You must know who your audience is; determine your audience demographic profile, geographical location preferences, interests, and other behaviors. What content do they prefer to get from you? Creating the customer persona will help you reach your target customers in a meaningful manner and enable you to craft content suitable for their needs.
Let there be human touch in your messages before you send them out, be creative and talk to your audience like a human; don't let them feel a machine generates the message.
Stay away from routine content! If people see the same thing every week, they'll be less interested in the company. Change types, refresh your images, make sure you are distinct and bold, and, most importantly, give your customers an incentive to keep engaging with your brand.
They are not permanent. If you can embrace them at the right moment, they can help you get noticed by potential customers. Be shrewd when approaching your business; you do not have to be a guru on every trend, only those relevant to your business.
Your company is likely performing the A/B test in the assessment of marketing campaigns; however, automating the process can be highly advantageous. Along with time savings, A/B testing that is automated provides immediate data on the effectiveness of your marketing material and allows you to make swift adjustments as needed.
Communication and training are essential to the success of the marketing automation process. Instead of being something to be avoided, think of automation as a method to embrace and use tools that enable your team to concentrate less on the unnecessary instead, focusing on the strengths that you have hired them for.
The focus should be on customer experience
Ultimately, the effectiveness of automation will depend on how your customers respond to the automation. Find relevant information through the course of the procedure, including the mapping of customer experiences to gather feedback at critical interactions. This lets you modify your strategy and incorporate new automation when they are helpful. It's crucial to remember that automation only benefits if you see positive results for the end user and the bottom line. Mix things up a bit if you're not getting the data you want.
Wish to Set up your Own Marketing Automation System?
If you find this article helpful and are ready to step up your own business marketing automation to enjoy these benefits of marketing automation in your business and save costs. Why not allow our team set up a complete digital marketing and automation system for your business with Mautic?