"How to increase your email click-through rates?" It was one of the most asked questions by digital marketers and website owners. Email marketers have spent a lot of time optimizing delivery and open rates to get clicks and conversions with little or no results. Many experts have come up with different factors that may affect the click-through rates of your email campaign, even though it's a bit tricky to understand things like engagement, send time, and frequency at the subscriber level. But besides the click rates, several factors may determine your aggregate email click-through rate.
Such as:
How engaged is your list?
How frequently do you send emails to that list?
What time of day are you sending the email?
In this article, you will learn the secret to increasing your email click-through rates because we will take you through each step and factor that will enhance your email delivery and open rate. To improve email click-through rates, focus on the key factors explained below. But before we dive deep into the matter, let's first understand what Email Click-Through Rate is, why it is important in marketing, and know how to calculate the CTR.
What is Email Click-Through Rate?
Email Click-through rate measures how many recipients clicked any link, such as a hyperlink, CTA, or image within a particular email you sent. It is a process of knowing the percentage of email subscribers who clicked on one or more links in your email.
The Click-through rate of an email is the percentage of recipients who interacted with the sent email by clicking a link, CTA, or image within your email. It's a method for calculating how many of your email recipients went through with your called-to-action and clicked on one of your email's embedded links.
Why is Click-Through Rate (CTR) Important?
Click-Through Rate is an important metric in marketing because it helps you understand your customers and shows you what works and doesn't in your marketing campaign. The Click-Through Rate is an indicator of success or failure in marketing campaigns. It reveals the strength (or weaknesses) and quality of your marketing efforts. If your click-through rate is low, it could be because you are targeting the wrong audience, or your content needs to be more compelling to make your recipients take action.
Now that you understand what a click-through rate is and why it's so important in your marketing efforts, how do you calculate email CTR?
How to Calculate Email CTR
Here is the formula to calculate CTR:
Email Click-Through Rate = Number Link Clicked / Number of Emails Delivered Successfully x 100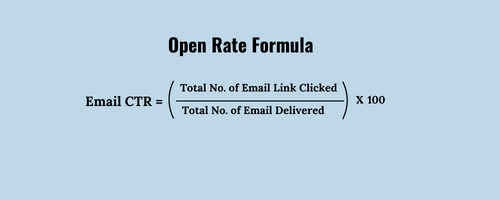 For instance, if you sent an email campaign with 1000 delivered emails. And out of 1000, 200 of them clicked on your link. Your email campaign click-through rate will be 20%! 
Proven Techniques for Improving Your Email Click-Through Rate (CTR)
A CTA is a pronounced button or hyperlink that prompts your email recipients to action; the action might be to direct a user to a landing or sales page. The point of a CTA is to drive consumers to act. If you want people to click links in your emails, you must give them a good reason. More than anything else in your email, you should make your call-to-action pronounced and easy for your recipient to find. A Call-to-action button makes your marketing email campaign interactive and acts as a point of contact.
Whether you are sending out a newsletter, thanking your customer for a purchase, or reminding a potential customer about an abandoned cart, your email campaign should include at least one beautiful CTA button.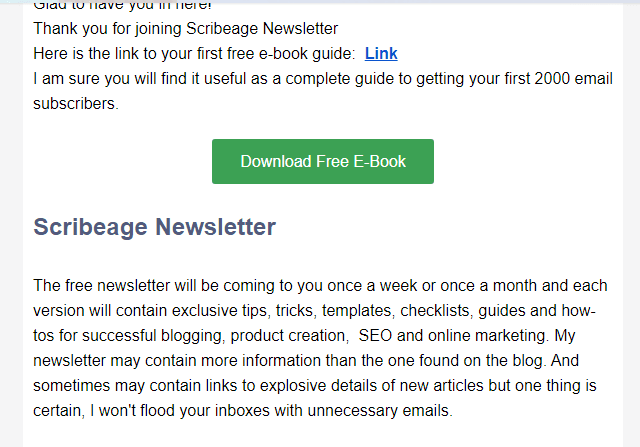 Your CTA text should be compelling to make your readers take action. It could be any of these words:
Shop now
Download for free
Get 50% off.
See our latest collection
Buy now
Get this for free
Yes! I want one.
Order now
Claim your coupon
Reveal my mystery coupon
Start saving today
Learn More
Read More
Sign Up for Free
Watch Now
Register For Free
Follow us
Download Now
Your recipients will take action if you offer them something worthwhile, but they can only take action if you give them a chance to. Your email CTAs may be clickable buttons, images, or links within emails that lead your recipient to your offer. If you are serious about increasing your click-through rate, include your CTA in your first paragraph. Many of your readers often won't stroll to the bottom of your email to click a button, especially when the email is longer. So, to improve your click-through rate ensure your button appears once the email is open. The closer your CTAs are to the first paragraph of your email, the more likely they get clicked.
Craft Something Fascinating in Your Subject Line
Want to increase the success of your email open and click-through rate? Then write a fascinating subject line. Successful email communication often begins with a well-written subject line. A fascinating subject line can impact your email open and click-through rates; let your email subject line evoke anticipation, curiosity, and excitement that will compel your recipient to read and take action. The content of your email subject line will prompt people to decide whether to open the email and engage with its contents.
Most of your recipients rely on mobile devices to read your email, so it's important to have a subject line they can quickly scan. Presenting them with an enticing subject line may make them open the email to know more. After all, you can't get a high click-through rate if no one opens your email. So, in your next email campaign, craft something enticing and motivating to compel your readers to open and interact with your email and effectively increase your CTR. 
Tips to improve your email subject line 
Consider the length
Be specific
Be mindful of the preview length
Use emojis and symbols wisely
Avoid sounding like spam
Include your recipient's name
Use questions
Share value
Offer Value with Your Email
Now that you have your call-to-action and a good subject line to help people open your email, you need to give them a good reason to click links within your email. One way to propel recipients to click email links is to provide value. You know your audience better than anyone else, and you know what they need per time; include links to what they need in your emails and watch your CTR increase.
Giving readers the best of what they signed up for will compel them to click and take your desired action. Remember, each reader's needs and wants are different, and they signed up on your website for different reasons and purposes. You need to segment them to attend to their diverse needs; I will talk about the need for subscriber segmentation shortly. You can also segment your email list based on age, gender, interests, etc., which helps deliver relevant content. Know that the more relevant your content is, the higher the open and click-through rates!
Segment Your Email List
Segmentation is the division of email subscribers into smaller groups based on set criteria such as age, interests, demography, and much more. Segmentation is used as a proper way to deliver relevant emails to subscribers based on their interests. You need to segment your email list to cater to each segment's needs based on their interests rather than creating one mass message for all.
Segmenting your email list into different groups can help you provide the right content to each group because the needs of every customer are different. Instead of sending every offer or email to all your subscribers, find their interests and create segments based on their interests so that you can send relevant emails to each segment.
You can't be sending generic emails to your subscribers and expect your CTR to increase. They gave their email address for a different purpose; find their interest, send them something worth opening, and you will see your CTR grow. However, crafting various email campaigns for different groups is stressful, but it is worth the stress if it will increase your sales.
Personalize Your Email
Relationship building is the lifeblood of email marketing. Personalization shifts the balance of power by giving consumers a voice and making them feel important for being addressed personally rather than generically addressing them. After segmenting your email list into smaller groups, you need to address your subscriber with the information you know about them, such as first name, last name, company or business information, or any other information you know them with. Email personalization helps you engage your target audience better than typical, one-size-fits-all emails. When the users receive emails using their name, it establishes an emotional connection with your audience and increases engagement with your emails.
Email Personalization is one way of increasing your email open rate and CTR. If you want your readers to open and engage with your emails, you need to call them by their names. Email personalization helps you connect with your audience emotionally and build brand loyalty by creating a sense of caring and belonging in your readers' minds.
Personalizing your email is not just addressing your subscribers by their first name but also studying their behaviour and discovering their interests.
You can consider the following in personalizing your email: 
Relevancy of the email – One of the most important parts of email personalization is that the content of your email should be very relevant. Having a subject line with the recipient's name is not enough. You need to gather important data or information about the user to personalize further the message that grabs his attention. If your email doesn't directly impact users, your marketing efforts are most likely to go down the drain.
Timing of your email – It is important to track when subscribers open your previous email and use that timing to send emails to improve the CTR.
Send from a person, not an organization – It can be a great strategy to personalize your emails to increase your open rate and CTR; send your email from a person, not the organization. Your recipient will trust and engage your email more if it was sent by a person and not by an organization. 
Keep It Simple and Friendly
The simpler your email content is, the better; no one reads complicated emails full of jargon. The content of your email is the medium of connection with your readers. Instead of writing complex emails with serious tones, the body of your email should be less formal. Make your email more friendly and warm, and stay clear of jargon. Humor is one of the best methods of breaking of making people feel comfortable. Even in emails, humor can make your emails seem like they are coming from a friend, not a professional.
Let your subscribers feel comfortable with the content of your emails to create a tight connection that can increase your CTR.
Run Split Testing
Split testing helps you improve and adjust your email marketing campaign. Split testing A/B testing gives you a complete analysis of your email campaign. With A/B or split testing, you can analyze the results directly from your audience. Based on your audience's reaction, you can adjust your email campaigns. You can analyze unsubscribe, open, and click-through rates with split testing. The results of this test can help you determine what is working or what can be improved upon in your marketing campaign.
I love how socialchimp defines split testing
A/B testing is one of the simplest methods for gathering empirical data. Essentially, you test something one way (A), then you change one element of it and see how the results differ (B).

-Socialchimp Importance of A/B Testing In Email Campaigns 
For instance, if you have two subject lines and need to know which one to use? You can do a split test by sending the first subject line to 25% of your email list and the second subject line to another 25% of your list. Once you have analyzed the most open subject line, you can send the subject line with the most opens to the remaining 50% of your list.
Optimize Your Email
If you want more people to interact with your email marketing efforts, you must consider optimizing your emails for mobile devices. More than half of all emails are now opened on a mobile device, and 80% of receivers delete messages that aren't mobile-friendly.
In 2023, if you want more people to interact with your emails, you need to be able to design them for mobile consumption. If you want your marketing effort to succeed, you should format your emails in a way accessible on mobile devices. We recommend a concise and engaging subject line to optimize your email campaign for mobile. Recipients should be able to tell what the email is about within the first few seconds.
Perfect the Timing
Technically, there is no magic to knowing the best time to send your email. You need to determine the ideal time to send your email based on factors such as your audience's demography and previous engagement with your emails. If you send too many emails to your subscribers, they might be in the spam folder. If you send it at the wrong time of the day, they may get lost in the crowd due to the multitude of emails your readers receive.
Similar to how you test various subject lines to determine the best, you need to try different times and days when sending your emails. Test weekends, weekdays mornings, afternoons, evenings, or perhaps late-night messages. Gather the data and analyze it to decide which days and times are best for your clients, as there is no one-size-fits-all approach to email frequency and timing.
Test and Retest
One of the finest and worst aspects of email marketing is that your data will change over time. Your audience will expand, and their interests will shift, requiring you to adjust how you send your marketing emails. Stay on top of your metrics by evaluating subject lines, layouts, content, timing, and design to ensure you always have good CTRs. Learn how to leverage the results of A/B tests to your advantage.
Once your CTR change or is low, you should know your message is no longer relevant to your subscribers' interests, and it is time to change the tactics.
Clean Your Email List Frequently
To increase your email click-through rates, your subscribers must first open your email, and email can't be opened when you have so dead or abandoned email addresses in your list. You need to clean your email list once in a while to eliminate many unused email addresses. Many subscribers might have left their email addresses or changed their jobs. If email accounts are no longer in use, remove them from your list, delete the duplicate email addresses, and remove any spammy email addresses. Let go of unsubscribed people from your list and check for email addresses with typo errors.
Final Thoughts on How to Increase Your Email CTR
Email marketing is the most cost-effective way to reach your audience and connect with them as friends do. But without proper analysis, email marketing may be an effort in futility. Getting your email always open with fantastic click-through rates is the desire of every marketer. With email marketing tips and techniques for improving your email click-through rates mentioned in this post, you should be able to try new things and get your desired results. Remember, there are no experts in email marketing; we only have better email marketers.
When sending your next email campaign, try as many techniques as possible, and remember to try new strategies because the field changes and the interests of subscribers change over time.