Email marketing is one of the most cost-effective and efficient ways to grow your business online. Email marketing is old but not going away anytime soon; as long there's the internet sending emails as means of communication and marketing will remain. Having an online business without leveraging the power of email marketing is like building a castle in the air, as a matter of fact, your marketing strategy is a total hoax with email marketing. How would reach remind your customers of your new products? How will you stay in front of potential buyers? How do you plan to keep your clients engaged without email? How do you increase your lead generation and traffic?
In this article, I will highlight 9 ways email marketing can help you grow your business. You don't have to implement all these email marketing strategies at once to be successful. You will see positive results in your business growth if you only implement a few suggestions. These strategies are not ranked in order of importance. While some methods may apply to specific companies, others may not apply to your particular business model. You have to find your business model's most relevant email marketing strategies.
Email marketing is one of the most cost-efficient ways to grow a business. It offers limitless opportunities to generate leads and build better brand recognition.
Click To Tweet
Here are 9 cost-effective ways to grow your business with Email Marketing
Promote New Products and Services
The best advertising method is sending an email campaign to promote new services or products. Your email should include the benefits of your product; your new products' benefits will have more impact if your readers understand "what's in the deal for them," and this will make them take action.
You can offer a discount coupon that expires to get your contacts to act. Ensure you don't add too many call-to-action buttons in one email. Don't crowd the email campaign with too many products; ideally, you should only present one new product/service with one offer. For Example, you can include a 40% off coupon code on your latest product in your store and a "Shop Now" button within your email campaign.
Increase Traffic to Your Website by Sharing New Content
If you frequently send emails to your clients, ensure that you include at minimum one call to action. Think about what links you could add to bring them back to your site. Email is the ideal way to drive users back to your website. You've already figured out that they're curious about the content you've got to share. It's now the right time for you to feed that beast of content and provide them with hyperlinks that lead back to your site.
A large part of this is your ability to create fresh and relevant content that your subscribers long for. It doesn't matter if it's a blog post or a video; give them reasons to go through more than just what's included in your newsletter.
Sending a monthly newsletter is one of the most effective ways to generate traffic to your website. Whether you have an online store or offer services or a blog post, an email campaign is a must to do and a cost-effective way to educate your clients by directing them to your website to take necessary action. But always ensure the content of your email campaign is relevant to your readers.
Build Customer Loyalty
Aside from using email to gain new customers and generate more revenue, you can effectively use it to establish brand loyalty. Sharing customer success stories or highlighting user-generated content such as photos and social posts are great ways to reinforce the importance of your fans individually. If you note what your fans have to say about your company on social media channels such as Facebook and Twitter, look for possibilities where you may be able to share the most popular content.
You can also browse through reviews from your customers to know which one to share, but before you share their feedback online, ensure you have their approval. Email is one of the surest ways to build a long-term relationship with your existing and prospective customers. Here are some examples of personalized emails you can send to your clients to foster the relationship between them and your business:
Greeting Cards: If you know your customer's birthday, send them a heartfelt birthday message with a discount coupon code as a birthday gift.
We Miss You Message: Send a reminder email to subscribers who have not purchased from you in a long time. And don't forget to add a discount coupon to seal the deal.
National Days Celebrations Message: Celebrate your customers' country's national day by slashing your price with a coupon code gift.
Monthly Newsletter: Send your customers the latest, fresh, and relevant content regularly to keep them informed about your business's trending and latest events. 
Educate Your Customers
Email Marketing is a great way to educate and connect with customers about your service. It's all about your industry and the direction you'd like to go. It could all begin at the beginning of the funnel. When someone signs up to your website for a sales phone call or to get more information, you may send them an indoctrination sequence. You could break it down into several emails, which include the introduction of your business as well as free e-books and videos with relevant information (basically an informational piece that teaches them about the information they requested for.
For Example, if you're into real estate, send an e-book of the top 10 questions people ask before they buy a property or email them what they need to know before investing in real estate. An essential part of this is to let them know you'll be sending them emails before they submit a form on your website.
If you already have an email list, you could begin by educating your customers with valuable content every quarter or month. You can also share company news and discuss the latest products or new services (and offer them the option to buy your products with a discount code.). If you post content that isn't relevant to your audience, this could be an inadequate representation of your business. Your email doesn't need to be too long; keep it short, simple, and relevant.
Automate your Flow of Communication
As a business owner that wants things to run flawlessly within the company, you can use email to automate the flow of events between your business and customers. Instead of sending information to your prospective client manually, you could automate the process in minutes with email marketing.
Many email marketing service providers like Mailchimp will allow you to automate the process of sending marketing and transactional emails to your clients. With email automation, you could send welcome messages or provide tips, and marketing automation can automate the process once an action is taken on your website. With email, you can automate the process and flow of communication between you and your clients while you focus your attention on something else.
Turn your Website Visitors to Real Customers
Launching a website is an enormous accomplishment for any aspiring small-business owner or entrepreneur. All the work that goes into creating a site to draw new customers is much more challenging than you thought. Even if you receive several hundred visitors daily, you may find it difficult to turn them into buyers.
This is where email marketing comes in; if you've signup for an email marketing service like Mailchimp or Sendinblue to collect email lists, it is possible to create a signup page on your blog or website's homepage to collect your readers' email addresses. If you can convey the importance of your company over time through the emails you send to them; you'll be capable of maintaining those relationships. When people are ready to purchase something and are looking for a supplier, they will come to you rather than going to your competitors because you have served them for free over time.
Build and Increase Brand Recognition
People love to share unique content with their friends, family, and colleagues when they believe they'll gain from it. Email is another fantastic source of sharing content. If you are committed to providing important information to your customers, there will be times when your customers want to share it with others who may also be interested. To encourage readers to share your emails, you can include a call-to-action that asks users to forward your email to friends and family; this will increase shareability and put your brand's name out to new audiences and prospective customers.
The Internet is a highly competitive marketplace where it's pretty easy to become lost forever. Smaller businesses may find it challenging to be recognised and remembered in this crowded digital marketplace, and that's why email marketing should be an integral part of every business. By creating customised and personalised emails for your customers, you may attract more customers and create a unique voice that is easily recognised regardless of the crowd.
Customer Engagement
Email Marketing allows you to spread the good work of your business and request feedback and reviews from your clients. Encouraging your customers to voice their opinions about your business will give a sense of belonging and partnership in your business, making them feel valued and heard.
Furthermore, if you build a relationship with your customer base, your efforts will result in people recommending your business to their family, friends, and colleagues.
Maintain Communication with Customers
Staying in contact with your clients and keeping them informed of the latest news from your company (good or bad) is an excellent method to show that you are concerned about the people who patronize your products and services. Constantly updating your customers on the latest events in your company fosters good communication and improves your brand's credibility.
You can also create curiosity by informing customers of forthcoming product updates and asking them to share your content with others. This method also boosts and increases your online exposure.
Email Marketing Tips to Grow Your Business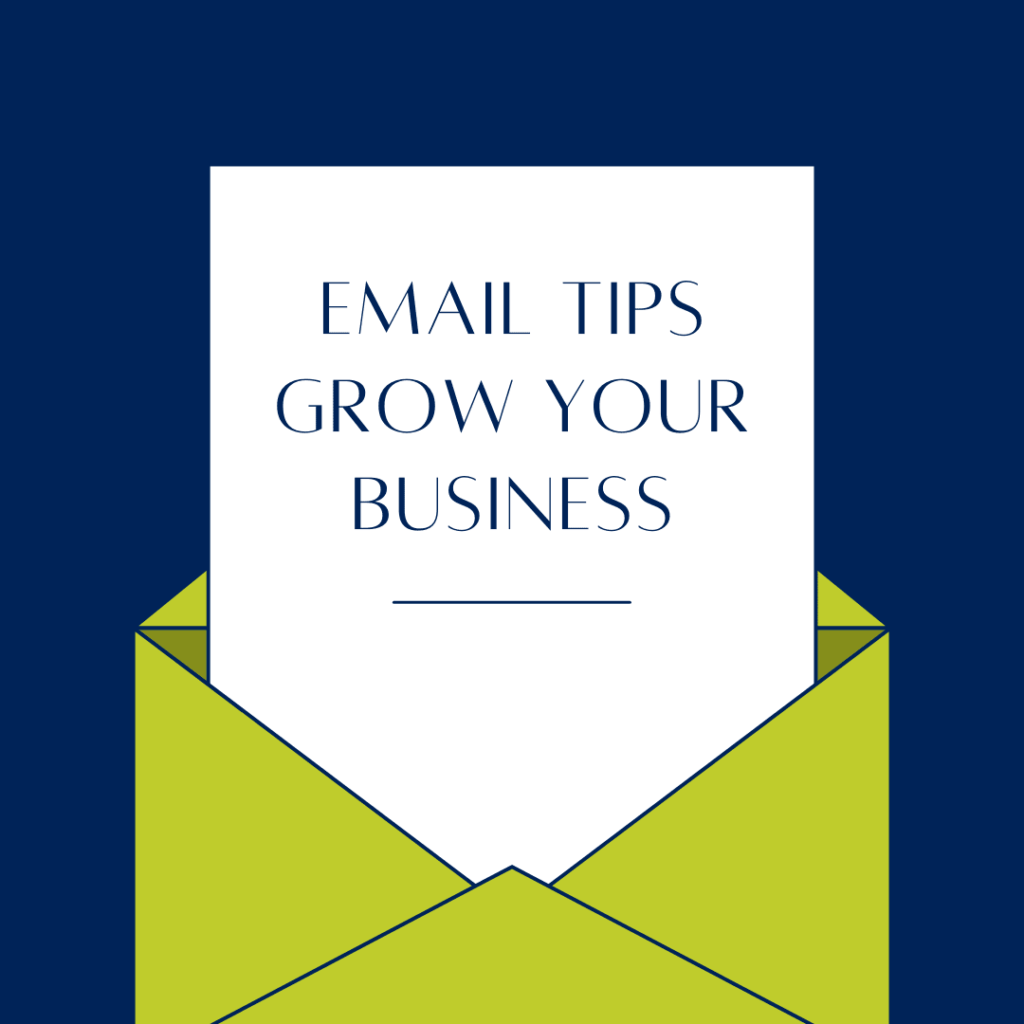 Of course, email marketing is one of the best cost-effective ways to spread a message about your business and start engaging with your customers. But you need to master it to use email marketing to grow your business effectively.
Here are what to do before you can use email marketing to grow your business.
Define your Email Marketing Goals
Begin by analysing your weak points and figuring out how you can expand your small business. Knowing what must be accomplished is essential. Do you need to increase the number of customer inquiries, or do little inquiries make it into the sales funnel, resulting in sales? Perhaps you're just trying to find the most effective way to reach customers and get their feedback.
Every marketing strategy must have a clear goal to achieve. If you can't measure it, you can't improve it.
Start Building Your Email List.
Once you've defined your email marketing goals, it's time to build and segment your email list. Your email marketing goal will make it much easier to determine the segment a customer should be on your list. This will allow you to create an impressive, top-quality email list of the individuals for whom your email contents will be pertinent as well as informative and helpful. There is no limitation to the ways you can segment your lists. For instance:
You can organize an online webinar and gather attendees' email addresses in one list. You can call the list (Webinar).
You can segment all the visitors who signup for your newsletter on your blog on one list. 
You can organize a contest online and put all the participants on one list.
You can provide a free ebook in exchange for an email address and segment every person that downloads your ebook into a list.
Once you've got an address list of recipients and addresses, you're ready to move on to the next stage.
Map out your Email Marketing Funnel
Once you have your list in place with the people who genuinely gave you their email addresses with permission to receive messages from you occasionally, now it is time to determine which stage of the marketing funnel they're currently in.
When it comes to marketing funnels, there are five major stages that every consumer fit to:
Awareness. Are the consumers aware of potential solutions?
Consideration. Are the buyers ready to buy or still searching for options?
Conversion. Has the customer made a choice and selected a particular product?
Loyalty. Are the customers happy with their purchase and wish to keep using the product?
Advocacy. Will the customers recommend the products to someone else?
Naturally, each step of the funnel needs a different approach because each has its requirements.
Create Compelling Email Content
Once you've reached this email marketing stage, it is time to craft compelling text and stunning images. Every email you send out acts as your business card; you should use this advantage to tell the good story of your business in your email and project the excellent value of your company.
To enable a higher open and click rate in your email, ensure you do the following:
Ensure that your emails are concise and clear
Personalize your emails. Address the recipient by name whenever possible
Your email subject matter should be relevant to the content of the email.
Always use readable fonts.
Make your email responsive because over 80% of your recipients will open your email using their phones.
Track Your Email results and improve where necessary
You need to track the following key factors in your marketing email and adjust where necessary:
open rate
click-to-open-rate
bounce rate
You don't expect perfection when you first start; improving on the results will get you there over time. Since you are not limited, you can explore more and try a few things to see if they will work.
Conclusion on Ways to Grow Business with Email Marketing
Email marketing is one of the most cost-efficient ways to grow a business in this digital world. It offers limitless opportunities to generate leads and build better brand recognition. Email marketing will help you stay in touch with existing customers and attract new users, establish direct communication, engage clients, and build trust and a unique brand image in the long run.
The above are just a few benefits of email marketing in business. Email marketing allows you to take your business to the height you dream of and compete with big corporations; email marketing accords small business owners the opportunity to compete in the crowded market and stay relevant every time.
With all the ways to grow business with email marketing discussed in this article, do you have one thing you'd like to see from email marketing that I did not mention? If yes, I'd love to hear your thoughts in the comment section!
You can take your knowledge of email marketing to a new level by checking out this ultimate guide to starting email marketing.