How would you define email marketing? Simply put, it's the art of persuading potential customers to buy your products or services through email messaging. Most businesses know that email marketing is an effective strategy for lead generation and customer retention, but why exactly does it work so well? This article will explore seven reasons email marketing deserves a prominent place in your business communication strategy.
What Is Email Marketing
Email marketing is a form of direct marketing that uses electronic mail to communicate business messages to an audience. In short form, any email sent to a potential or existing customer is considered email marketing.
However, the term is usually used to refer to:
Sending emails with the purpose of enhancing the relationship of a merchant with its current or previous customers.
Sending emails to acquire new customers or convincing current customers to purchase something immediately.
Adding advertisements to emails sent by other companies to their customers.
This form of advertising is usually automated, where subscribers receive periodic emails based on their activity. Subscribers may or may not have a profile on a website or social media page belonging to a company. You can tailor content based on past purchases, website activity, or social media sites like Facebook and Twitter. Companies with e-newsletters usually use announcements (new products and services) as content to catch readers' attention. To entice them to read further, descriptions of why they should care about these updates are included in e-newsletters.
Since no Internet access is required to receive e-newsletters, and it is easier to write emails than to write letters, most companies use email marketing as a cost-effective way of communicating with customers. It has also become one of their primary sources of direct marketing data. By analyzing e-newsletter data such as open rate and click-through rate, companies can pinpoint which products or services consumers are most interested in their product or service offerings. This data will allow them to focus on target groups and develop ads that resonate more with a specific audience.
The Importance of Email Marketing in Business
Creating a solid email marketing strategy can help you connect with your intended audience more personally and boost sales at a low cost. Like other media platforms have evolved, email marketing tools allow your company to connect with customers more efficiently than ever before.
You can customize marketing emails more than any other marketing strategy out there.
Another benefit is that email marketing costs significantly less than other channels, especially considering how many people you can reach.
The conversion rates of email marketing are superb, and this is one reason why email marketing is an excellent choice for small-sized businesses.
Marketing email is so effective and profitable that it allows you to access your target audience's email inboxes directly and individually.
The figure below will blow your mind and make you see the reasons why email marketing is the most effective method of making sales on the internet.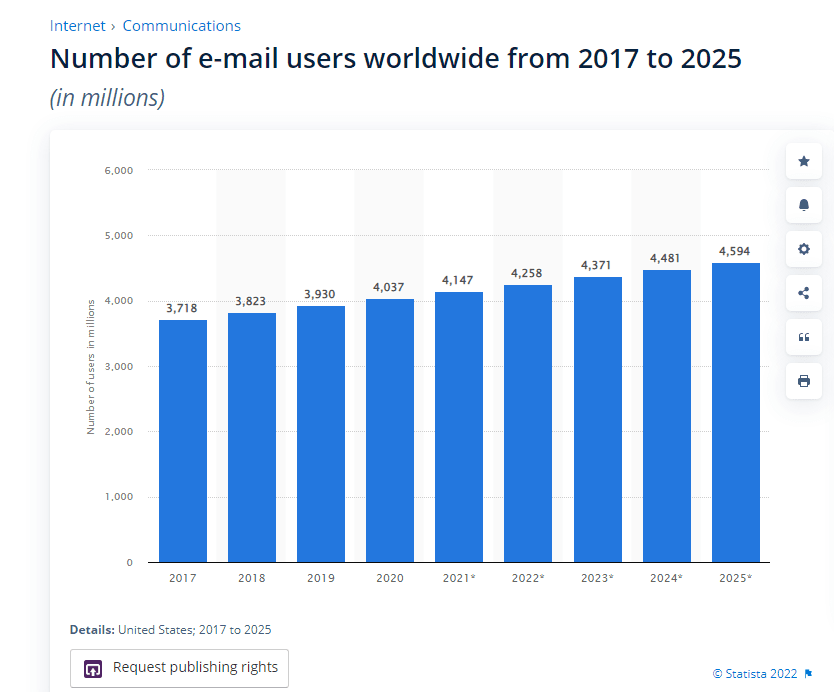 Based on the available data, not having an email marketing strategy is losing sales opportunities and the opportunity to develop lasting relationships with your customers.
The Benefit of Email Marketing
Stay in Touch with your Audience
Emails can keep your customers updated. Marketing emails can give your customers the impression that you're thinking about them. It could be as straightforward as telling them: "Hi, you're on our mind. Here is a special offer!" or "Here is an update on what has been going on here in recent weeks." The people in the email newsletter have signed up to receive these messages. Therefore, they will likely enjoy the messages (as you provide them with something worthwhile to read) and improve your customers' engagement.
Brand Awareness
The great thing about email marketing is it allows you to contact people directly. It's one-to-one communication that is at its very best. People don't just let anyone access their inboxes anymore. Inbox is a sacred space curated for publications and brands you love.
When your email shows up in your subscribers' inboxes, it helps keep your brand and business name up-to-date in the minds of your subscribers. An email personalized for marketing purposes will be more memorable than a tweet if you aren't sure someone has read your message. One of the main benefits that email marketing offers are capacity to scale. It means emails can be delivered to many recipients and remain affordable (compared with other marketing channels).
Conversions
Are you planning to announce a sale or promotion? Sending your customers an email marketing campaign is a unique and sure way to boost sales. Additionally, you can try these methods of marketing email to increase conversion rates:
Personalized coupons or special offers for subscribers birthdays/anniversaries, in welcome emails, and as a way to re-engage your audience.
Cart abandonment emails are sent out when someone adds an item to their cart but doesn't go to check out.
It is Timely
One benefit of email marketing is selling your products at the right time. Sending customers a special offer on your company's anniversary, letting them know their favourite products are half off, is much more effective than simply sending them a random message. This email marketing strategy also can incorporate seasonal offers, allowing you to promote a holiday special or an annual sale.
It is Affordable
Some Email service providers charge as low as 0.0006 cents per message. While some email services provider allows you to send like MailChimp allows you to send up to 12,000 marketing emails a month for free. That's huge! Isn't it? And if you don't want to pay anything for your email marketing effort, you can self-host your email services. Email marketing is the most affordable and cost-effective marketing channel.
Increase other Marketing Channels
Email allows you to connect your marketing channels and send traffic to other customer interactions, including landing pages, social media, blogs, and in-person events. For example, you could request new customers to leave their feedback on your Facebook page or launch the Instagram challenge and invite your followers to join in.
Increase Website Traffic
Email is a fantastic way to bring more visitors to your site. It is possible to share short excerpts from recent posts and invite readers interested to read complete versions of your site's content. Add calls to action in your emails to promote your business. These will send subscribers to your website landing pages or sales web pages where they can learn more about your services.
Type of Email Marketing
Marketing emails may be informational, promotional, transactional, or even serve a specific reason in the subscriber's life.
Transactional Email
Transactional emails are automated emails sent after a customer completes an action, like making a purchase or signing up for a newsletter. They help keep your customers informed and can even help increase sales by cross-selling or upselling products. This type of marketing email has high open and click-through rates. In fact, according to Mailgun, transactional emails have an open rate of about 80-85% and a click-through rate of around 15%. That's much higher than the average open rate of about 20-25% and click-through rate of about 2% for other types of marketing emails.
Promotional Emails
The promotional email refers to a commercial email broadcast, which usually includes incentives to increase sales and revenue for a company. The principal objective of this kind of marketing through email is to persuade customers to purchase.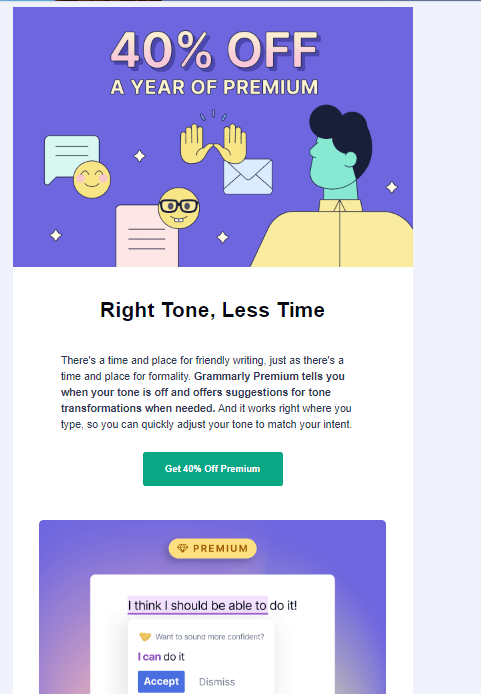 The promotional emails should include short calls to take actions that get consumers to purchase the product. You could also use promotional emails to encourage customers to download, sign up or sign up for an item or service. If executed properly, this type of marketing could assist a business in increasing not just its revenue but also improving retention of customers as well as engagement. The message and style of an email that promotes a product must be focused on convincing recipients to act within a time frame.
Informational Emails
Informational emails are mass emails you can send to your subscribers to inform them regarding your latest content, product announcements, and more. Informational emails provide up-to-date information regarding your company's products and services.
Informational emails include:
Announcement Email: To inform your customers or users of your new product releases or changes in your service.
Newsletter: To share the latest insights, thoughts, and tips — whatever brings the most value to your audience.
Re-engagement Emails
These emails are created to woo inactive customers on your website and make them interested in your services. It is called a win-back email.
How to Get Started with Email Marketing
If you're just starting with email marketing, it's easy to become overwhelmed by all the possibilities it offers. In actuality, it isn't that complicated as long as you know the purpose of your email marketing campaign and adheres to a systematic approach to designing your emails.
Here are five easy steps to build your email marketing campaigns from scratch.
Choose a Good Email Service Provider
With countless marketing automation platforms and email marketing service providers on the market, it will be tricky and confusing to pick the right email marketing service provider for your business.
Some popular options include Systeme, Mailchimp, Constant Contact, Convertkit, Sendinblue, Mailerlite, and HubSpot.
Here are some tips to help you make the right choices:
What is your budget? If your budget is minimal and you're looking for a low-cost marketing email service provider, Mailchimp is an excellent place to get started, as they offer a free tier with 2000 contact.
What kind of email will you be sending, and how often? You need to check if you need a platform that supports transactional and marketing emails. This will give you an idea of your desired number of emails (i.e. the number of emails sent).
How many contacts do you have now? If you've got the list of contacts, who have opted-in, how many of them are there?
How skilled are you in creating emails? You'll require a drag and drops email editor if you're just a beginner. Does the email marketing service provider support a drags and drops editor?
Do you have plans to automate your email workflows? Check out what ESP provides in terms of the automation of email marketing. Certain ESPs only provide primary autoresponders.
Segmentation; Do email marketing service providers support contact segmentation? If yes, at what capacity?
It would be best to think about your marketing campaign's future before picking an email service provider. You need to choose a platform that got you covered in case your email list grows beyond what it is now.
Decide the Goal your Email Campaign
Before you begin thinking about creating your email marketing campaign, you must be aware of the reason you're doing it in the first place. What do you want to accomplish by sending this email? What actions do you wish your readers to take after opening the email?
Here are some objectives you can establish for your email marketing campaigns:
Brand recognition
Traffic on websites
Revenue generation
Lead generation and nurturing
Surveys and feedback
Understanding the goals of your campaign can give the campaign direction and aid in ensuring that you achieve the desired results. Ensure your email campaign goals align with your company's overall objectives and impact your financial results.
Define your Target Audience
No matter your business or the size, your company will likely have a range of clients with particular, distinct characteristics, demands and interests. To increase conversion rates, segment your customers for every campaign. Subscribers can be segmented by various elements ranging from age, gender and even location to their interests and level of engagement, preferences, and even online activity. This process will enable you to send the appropriate message to each segment, thereby increasing the opening and click rates.
Choose the right Email Campaign at the right time
There are a variety of emails that companies send out to meet specific objectives. The kind you select will be based on your goals and the audience you want to reach.
Here are some of the most popular email campaigns you can send to your audience:
Welcome Email Campaign
Cart abandonment campaigns
Newsletters
Re-engagement emails
Other Email Campaign types
Depending on your unique business goals, you can send your subscribers dozens of other email types.
Announcement emails: These email campaigns announce new products, sales, events, holidays, and anniversaries to subscribers.
Holiday emails: These emails are sent out during the holidays to profit from the increase in shopping. Company and business owners can offer discounts for the holidays, flash sales, bundles, and many more to encourage purchases and increase the value of an order.
Invitation emails: The company can email subscribers about upcoming events such as webinars, conferences, and training to gather more registrations and attendees.
Promotional campaigns: They are used to promote your products and services, for example, by highlighting features of your products, customers' reviews and testimonials, or by adding CTAs to buy or find out more.
Seasonal campaigns: These emails are sent at a specific time of the year. For example, an electronics store can promote a 50% price off their latest electronics collection during the black Friday sales.
Triggered email series: These emails are triggered based on your customers' specific actions on your website.
Post-purchase drip: These emails are sent after customers buy from your online store to maximize their experience and increase your revenue. For example, you can offer customers a discount on their next order or ask for a review of the products they just bought.
Connect-via-social campaigns: These emails enable subscribers to join your brand's page on social media. It is possible to reward the process by offering them reward points or free credit by following your social media accounts.
Testimonial request emails: The emails collect feedback and reviews from current customers about their experience with your business. It is possible to ask customers to leave reviews on your site or social media or provide stars on a review site.
Choose the Appropriate time to Send your Email
The timing of your emails is vital in the case of successful email marketing.
If you send out an email blast at 12 am, when the majority of your readers are asleep, the message is likely to be lost in the number of other emails which will arrive in the inboxes of your subscribers when they awake the following morning.
To ensure maximum engagement in the emails you send out, ensure that you send them to the right people at the right time, which includes the day and hour of the week.
Let's look at the most effective days and times to send your email:
The best days to send emails are mid-week, like Tuesday, Wednesday, and Thursday.
The most effective time to send an email varies depending on your customers' demographic, which is why it is better to know your audience. That being said, you will agree with me that it's a lot easier for people to check their inbox during active hours of the day. So, for your email to enjoy a reasonable open rate, it's better to send it between 8 am and 4 pm.
How to Grow Email Lists for Marketing
You can't send out marketing emails without having an email list. To be able to send a marketing email, you must first build an email list; people must have willingly given you their email addresses. By law, every person on your email list should have given you their email addresses.
What I mean by law is that each person on your email list willingly inputs their email address in an email signup form on your website, blog or landing pages, and social media sites and consents to be notified by email. Having people's permission to send marketing emails to them is a must-do, and it will increase your click rates instead of them reporting your emails as spam.
Here are some tried and tested ways to grow the email lists of your subscribers:
Add Signup Forms to your Website.
Place your email subscription form in prominent places where your site visitors can quickly see it. Unique places to place opt-in forms on the website include blog posts, the homepage, and the contact page. Make your signup form unique on the website, like your call-to-action button. A pop-up or user exit opt-in form on your website can be an added advantage. Just ensure it does disrupt the user experience of your website. The image below shows an opt-in form on this blog page.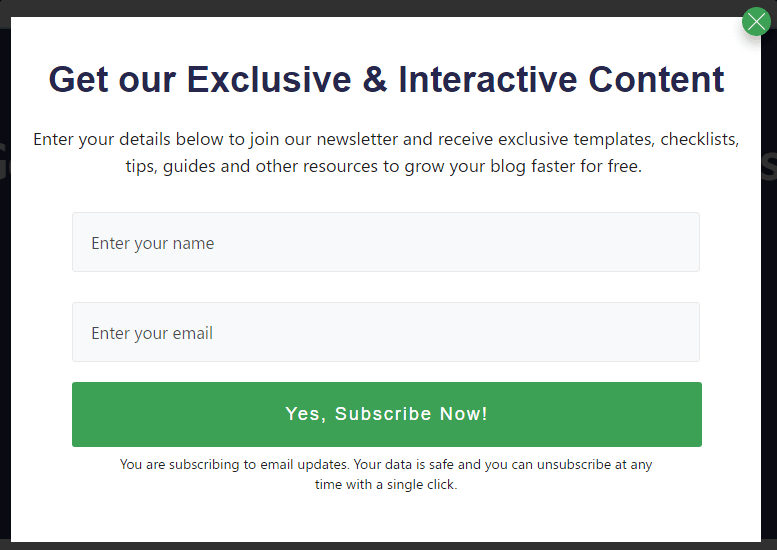 You can integrate your opt-in form into your social media account; that way, your social media follower can sign up to grow your email list.
Use Lead Magnets
Nothing can make a list expand more quickly than high-quality content. Protected content such as checklists, ebooks, reports, and infographics are fantastic ways to increase your contacts list. The readers will get helpful information in exchange for signing up for your newsletter subscribers list. This method is a win-win method! You give your valuable content for free in exchange for their email addresses.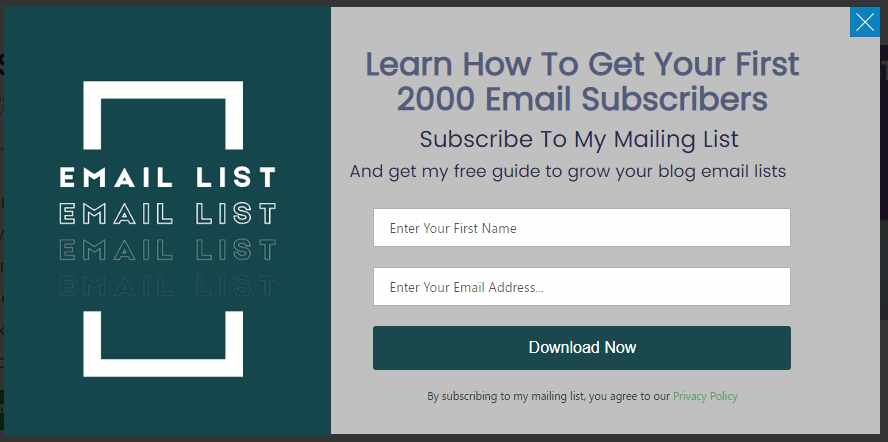 Discounts and special offers are also excellent ways to grow your email list.
Understanding Open rates, Click rates, and Deliverability
Email marketing can seem a little mysterious. Why use email marketing? Why is email marketing important? What's a reasonable open rate? What's a good click rate? How do I improve my deliverability? Let's look at these questions so you can start using email marketing to grow your business.
You'll find that an open rate of 25% or higher is considered good, although I've seen some companies as high as 50%+. As a rule of thumb, every 10-15 points you add to your open rate will correspond to a 1% increase in revenue. Let's say you get your open rate from 10% to 15%. That means you'll likely see a 1.5% increase in revenue. And if you get it up from 20% to 25%, that could mean an extra 2.5%. Not bad!
For deliverability, what matters most are your IP reputation and past sending habits.
Another great way to gauge whether your email marketing efforts are paying off is to conduct a traffic or sales analysis before and after implementing your email campaigns. You can use Google Analytics or another tool to compare traffic and sales for your website in a specific period (such as 30 days) with those from another period.
This should help you get some quick data on how effective your email marketing efforts have been so far. In addition, it'll show you whether you should make any changes to how often you send emails, how many emails you send, what links you're sending people to, etc. Just be sure not to make any drastic changes until more data has been collected!
How to Send Better Emails
Here are some tips and tricks for getting started with sending better emails:
Personalize each message – start with a friendly greeting that includes their name if possible.
Keep it brief – use a conversational tone and keep your sentences short and to the point so readers can get through them quickly without feeling like they have to work too hard.
Include compelling information – make sure your subject line sounds exciting and relevant to your target audience, especially regarding lead generation or direct marketing messages
Create a consistent brand – use your logo, colours and fonts throughout your emails to look like they come from you.
Don't overdo it – make sure you don't bombard customers with irrelevant or overwhelming messages that may cause them to unsubscribe.
Include a call-to-action – provide readers with information about purchasing your products or services and include links to relevant landing pages where they can learn more about what you offer and how to get in touch with you if necessary.
Follow up – if you haven't heard back from someone after a week, email them to check in and see if they need more information about your products or services.
Have fun with it! One of the best things about email marketing is that you can inject some personality into your messages and make them more engaging.
When (and when not) to Personalize your Messages
Personalization can be a great way to make your customers feel special and build relationships with them. However, it would be best to keep a few things in mind before sending a mass email:
Make sure your list is clean and up-to-date.
Segment your list, so you're only sending relevant information to those who want it.
Test, test, test!
Try different subject lines, send times, and days of the week to see what works best for your audience.
Segmenting your list is integral to email marketing because it allows you to determine who will receive each message. There are several different ways to segment a list, but one of the easiest and most effective options is through behavioural data. Using tools like Google Analytics, you can look at pages visitors have visited and links they've clicked on as well as events that have occurred on your site. Use these insights to create email lists based on groups of people with similar interests and needs. This way, when you send out emails, everyone gets something relevant to them without having their inbox bombarded with irrelevant information or seeing irrelevant offers appear in their inboxes.
Don't be afraid to test different variables in your emails. Subject lines, call-to-action buttons, offer copy. Many little things can significantly affect whether or not people click through and read your email. Testing which headlines resonate with customers and lead to better open rates can help optimize your message and boost performance. Plus, when you send emails regularly (and segment properly), you'll gain valuable insight into what your audience wants and when they want it. This way, when you get an idea for a great offer or promotion that might go unnoticed by a broader group of subscribers, you can immediately reach out to those who would be interested!
While personalization can be a great way to stand out and create a connection with your audience, there are times when it's not appropriate. Personalization isn't necessary for transactional messages, like those containing order confirmations or product updates.
The message should include information everyone will need to complete their purchase (like order tracking numbers), but personalizing these emails makes them look sloppy and unprofessional. For instance, if you're sending an order confirmation email, there's no need to mention how many times someone has ordered from you or what they bought last time. That information doesn't help complete order and distracts from what people need to know.
Tips to Boost Response Rates
Keep your emails short and to the point: No one wants to read a novel in their inbox.
Get straight to the point in your subject line: Include a call-to-action that tells the reader what you want them to do, such as Signing up for our newsletter today!
Personalize your emails as much as possible: Add the recipient's name in the subject line and throughout the email body for a more personal touch.
Make sure your email list is up-to-date and clean: The last thing you want is to send an email to a bunch of people who don't even want it in the first place.
Send out emails consistently: This will help you build your business's reputation and keep your brand in front of potential customers' eyes.
Use some psychology to your advantage: People are more likely to respond to an email sent on Monday than any other day of the week.
Connect with people personally: Be friendly and approachable in your emails, but don't be overly familiar, or you risk losing credibility. Instead, stick to something like Hi (first name), how are you today?
Make it easy to unsubscribe: Many people get emails they don't want because they signed up by accident or never use your services. Whatever the reason, you need to give them a way out! The best way to do that is to make an unsubscribe link clear and easy to find at all times.
Include Images: When people open your email, you only have seconds to catch their attention before they hit delete. Make sure they know what it's about and what you want them to do next at a glance! An excellent way to do that is to include an image or visual that gets their attention immediately.
Include a call-to-action with every email you send: Tell recipients what you want them to do, such as visiting your website or downloading a PDF. This way, they know exactly what to expect from your email and are more likely to respond.
Use your signature to promote your business: The signature at the bottom of every email you send out is a great way to remind people who you are and what you do. Include a link connecting with your website or social media accounts and contact information so recipients can get in touch if they need more information or want to purchase.
Think about automation: Suppose you have an email list of thousands of people. In that case, it might be worth getting an autoresponder service, which can be set up to automatically send emails in response to a specific trigger—such as when someone signs up or buys something from your store. These services are often included with paid email marketing platforms, such as AWeber or MailChimp.
Conclusion
Email marketing can be crucial in your marketing strategy, whether you're a small business or a large corporation. It allows you to reach a broad audience with minimal effort and costs, connect with customers and prospects, promote your brand, increase sales, and drive traffic to your website.
In every of your business journey, you need email marketing because it is an essential ingredient to the growth of your business in this ever-growing digital age. Here are some of the things you can achieve with email marketing:
Email marketing is cost-effective.
You can reach a large audience with minimal effort.
It allows you to connect with customers and prospects.
You can promote your brand effectively.
It can help increase sales and drive traffic to your website.
It's easy to set up and maintain.
It's more trustworthy than social media and other platforms.
Need more to take your business to the next level? Check out The Ultimate Guide To Marketing Strategy. And if you're ready to grow your email list right away and get your first 2000 subscribers for free, download this free ebook on how to get your first 2000 subscribers.