If you're having trouble connecting with the people you want to reach, don't worry; there's still a way to fix it. Learning about email marketing can help. It's a bit different from the usual way companies try to sell things. If you know how email marketing works, you can quickly communicate and connect with your audience in their inboxes. In the past, you could buy lists of email addresses, similar to getting phone numbers from a phone book. But that doesn't work well anymore. Nowadays, smart marketers ask people if they want to share their email addresses. This makes the relationship between you and the person you're trying to reach clearer and more honest.
If you haven't started using email marketing, now is a good time to begin. Whether you send a simple text email or learn how to make fancier ones with pictures and links (HTML emails), it's one of the easiest and cheapest ways to market your stuff. Setting up requires little time or effort, so you should try it.
What Is Email Marketing?
Email marketing is a digital marketing strategy that involves sending emails to a group of people or subscribers to promote products and services, build brand awareness, and engage with the audience. It is a powerful and cost-effective method of communicating with customers and prospects. Email marketing can take various forms and serve different purposes, including:
These emails are designed to promote products or services. They may include special offers, discounts, or announcements about new products.
These are automated emails triggered by a specific action, such as a purchase confirmation, shipping updates, password resets, and more. They serve to provide information and build trust.
Newsletters provide subscribers with regular updates, news, tips, and valuable content related to a particular industry, brand, or topic. They can help build brand loyalty and keep subscribers informed.
Drip campaigns are a series of automated emails sent over time to nurture leads or guide subscribers through a specific customer journey. For example, an onboarding email series for new customers.
Personalisation is a key aspect of effective email marketing. Emails can be customised with the recipient's name, tailored product recommendations, and content based on the recipient's preferences and behaviour.
These emails focus on educating subscribers rather than directly selling products. They might contain how-to guides, tips, and other educational content that provides value to the recipient.
Email marketing offers several advantages, such as the ability to reach a large audience at a relatively low cost, the potential for highly targeted messaging, and the ability to track and analyse the performance of email campaigns. Successful email marketing requires careful planning, building and maintaining a quality email list, creating engaging content, and adhering to best practices to avoid spamming. It's important to note that while email marketing can be highly effective, it also requires respect for the privacy and preferences of your subscribers. 
Why Is Email Marketing Effective?
Email marketing is an effective digital marketing strategy that allows businesses to reach and connect with their target audience in a personalised way, leading to increased sales at an affordable cost.
Cost 
Email marketing is one of the most cost-effective marketing strategies. You can reach a large number of people with relatively low costs compared to traditional marketing methods. You can send emails to people without spending any money. All you need is a free email account and a way to gather email addresses on your website.
You can use email services to make your email marketing more effective and get more value. Some of these services have free versions of their tools, and you can go for an open-source email marketing automation system like Mautic. You might need to pay a small fee as your email contacts grow, but having more contacts can lead to more sales. The only thing you have to invest in email marketing is time. It's a good choice, especially if you don't have a lot of money to spend on marketing.
You Own Your Channel
Most digital marketing platforms you can use to reach and engage your audience are owned by different companies with their own rules and regulations. They control what you do and how you do it; for instance, Meta owns Facebook. They can change the rules for how you use them without telling you, which can mess up your marketing plans.
Email is not like that. You get to decide what you send in emails, how often you send them, and the rules you follow. Nobody else tells you how to use email to talk to those who subscribe to your list. And the good thing is no one can take email marketing away from you. Other third-party digital marketing channels, like social media platforms, may decide to close down their various platforms, but your email marketing is still under your control.
Email Lets You Get Personal
Email allows for highly personalised content. You can segment your email list based on various factors, such as demographics, purchase history, or behaviour. This enables you to send relevant content to different groups, which can significantly increase engagement and conversions. It creates a sense of intimacy between your brand and your readers. Each recipient feels like you're talking directly to them. The intimacy between your business and the audience increases when you personalise emails.
Email Marketing Has Higher ROI
Because of its cost-effectiveness and ability to drive conversions, email marketing typically offers a high return on investment (ROI). You can expect a significant return for every dollar spent on email marketing. Email marketing is relatively easier and cheaper to maintain than other marketing strategies. According to a report by Copyblogger, email marketing offers a high return on investment (ROI), with an average ROI of $44 on each $1 spent on email marketing.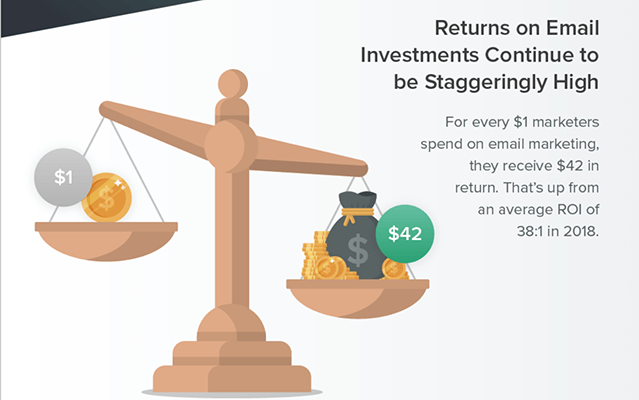 Measurable Results
Email marketing provides detailed analytics to track open rates, click-through rates, conversion rates, and other important metrics. This data allows you to continuously refine your email campaigns for better performance. Data is the most valuable asset in your business; it enables you to make the necessary adjustments. Email marketing provides businesses with useful metrics and insights to measure the success of their campaigns and make data-driven decisions.
Direct Communication
Email allows businesses to communicate directly with their target audience. When people sign up for your email list, they give you permission to contact them, which means you have a more receptive audience. Email marketing provides you the most direct line of communication with your audience. That makes it crucial for converting prospects into sales, and that's why it remains one of the most valuable communication channels in business today. 
How Email Marketing Works?
Email marketing is a digital marketing strategy that involves sending emails to recipients to promote products or services, build relationships with customers, or achieve other business objectives. You can collect email addresses in several ways.
Use a form to invite prospects to subscribe to your email list. Explain what they'll get in return, such as special coupons or exclusive content they can't get anywhere else for free.
You can quickly gather thousands of email addresses if you could offer something valuable to your subscriber in exchange for their email address. The freebie could be a bribe for them to give you their email address. 
Ask your subscribers to forward the message to others at the end of your emails. If their friends and family members find your email compelling, they could sign up for your email list.
Here's how email marketing works:
Building an Email List
The first step in email marketing is building your email subscriber list. You can collect email addresses through various methods, such as website sign-up forms, social media, contests, or in-person events. Obtaining explicit consent from individuals before adding them to your email list is essential to comply with anti-spam laws.
Never buy an email list from any source or add emails without the owner's permission; buying an email list can tarnish your business.
Segmentation
Once you have a list of email subscribers, it's often beneficial to segment your list. Segmentation involves dividing your email subscribers into groups based on different factors such as demographics, purchase history, or engagement level. This allows you to send more targeted and relevant emails to different segments. With segmentation, you will be able to define different types of customers on your list.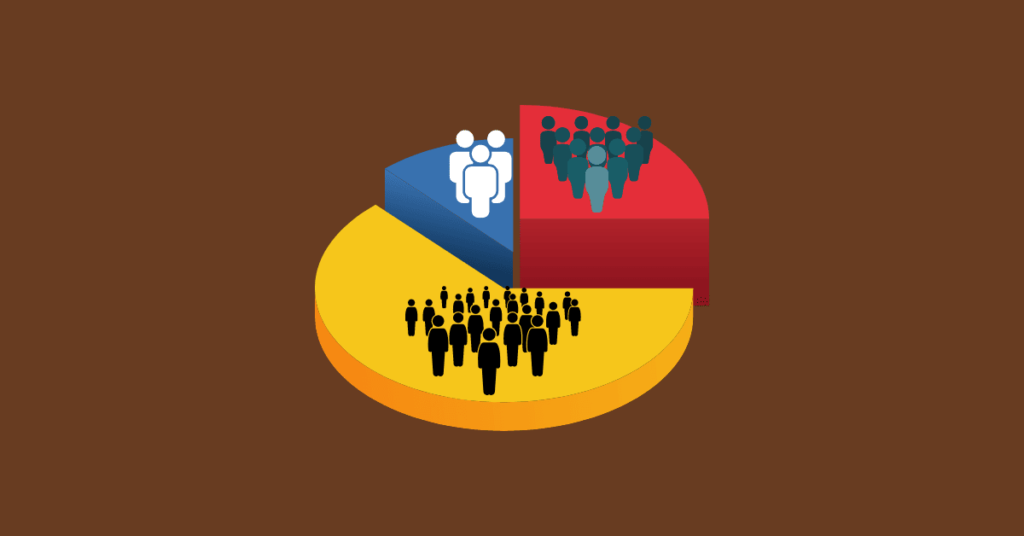 Send Relevant Content and Offers 
The content of your email is crucial. You need to create engaging and valuable content that resonates with your audience. Emails can take various forms, such as newsletters, promotional offers, educational content, event invitations, etc. The design and layout should be visually appealing and mobile-friendly.
If you're sending a special offer, tell the reader how to get it.
Click here to take advantage of this opportunity!
Don't miss your chance to save 20 per cent on your order.
If you act today, you get our special introductory pricing.
Automation
Email marketing can be highly automated. You can set up automated email sequences like welcome emails, abandoned cart reminders, or birthday greetings. Automation allows you to deliver personalised content and responses at scale. You can use a marketing automation feature to send an email to a prospect based on his or her behaviour with your content. You can automate the sales cycle and maintain contact with your leads.
For instance, send your new subscriber a "Welcome" or "Thank You" message. You can also use marketing automation to reconnect with a prospect. For instance, if anyone bought an item from you, you could automate a follow-up email highlighting other products that might interest them.
Tracking and Analytics
Email marketing platforms provide detailed analytics to help you track the performance of your campaigns. You can monitor metrics like open rates, click-through rates, conversion rates, and unsubscribe rates. These insights allow you to refine your email strategy over time. Analytics enable you to measure your email marketing campaign's success and metrics.
Compliance with Regulations
Complying with email marketing regulations, such as the CAN-SPAM Act in the United States or the General Data Protection Regulation (GDPR) in Europe, is essential. These regulations govern how you collect, store, and use email addresses and allow recipients to opt out of your emails.
Optimisation and Iteration
Email marketing is an iterative process. You should continually analyse the data and feedback from your campaigns and make improvements based on what works and what doesn't. This may involve refining your content, adjusting your sending frequency, or tweaking your segmentation strategy.
Conversion and Goal Achievement
The ultimate goal of email marketing can vary, whether it's driving sales, increasing website traffic, fostering customer loyalty, or achieving other business objectives. You should track how well your emails contribute to these goals and make adjustments as necessary.
Key Factors of Successful Email Marketing Service
Know Your Audience
It is important to know your audience and send them relevant content. This includes understanding their interests, preferences, and behaviours. Sending your campaign to the right audience at the right time is crucial for email marketing. If this is not planned in such a way, the likelihood of the campaign becoming vain is higher. Many email campaigns are non-segmented during an email blast service. Analysing and understanding your audience would help in proper segmentation, which would help improve the campaign results and eventually reduce subscriptions.
Content
Quality content is key to engaging your audience and driving conversions. This includes personalised messaging, clear calls to action, and visually appealing design. When sending emails to your lists, creating high-quality email content is important. This is a part of email marketing, and it's about creating valuable information for the people you're emailing.
Think of the content as how your email looks and your words. You want to ensure it's interesting and useful to the people getting your emails. To do this:
Understand who you're emailing and send them stuff they care about.
Keep the look of your emails consistent.
Personalise your messages to make people more likely to open your emails.
Always include a link to your privacy policy in your emails.
Try to make your subscribers happy and excited about what you send in your emails.
Subject Line
The subject line is the first thing your audience sees, so it needs to be attention-grabbing and relevant to the content of the email. Ensure your subject line is appropriate and optimised to capture your subscribers' attention to open and read more. Adding a personalised touch to the subject line, including the recipient's name or company name, would make your subscribers feel appealing and urge them to open the email.
Personalised Content
Sending personalised emails means making emails just right for those receiving them. It shows that you understand your readers. Personalising isn't just about using their name; you can also use details like age or things they've done. Be creative and make them feel like you're talking just to them.
A/B Testing
This is the best method to determine which works well for your audience and to make changes based on the results. Aimless testing will not bring you impactful insights, making it difficult to determine the changes to make your email campaign valuable. Ensure to test the functionality that would give conclusive results so that you can make changes accordingly.
Incentives 
Your incentives don't have to be big, but they should increase engagement. You can increase your leads and build brand recognition even with small incentives. You can use incentives to entice prospects to sign up for your email list or to drive engagement.
Your incentives could be promotions, special offers, and coupon codes. However, other incentives include.
Free content: Offer a white paper, e-book, article, or video for free. Your readers love to learn, so satisfy them with high-quality free content.
Webinars: Invite your subscribers to engage with you in a webinar. You're giving away your time and your experience, which adds value.
Email series: Advertise an email series that promises to answer questions and provide insight.
Deliverables: Templates, charts, graphs, and other deliverables can increase engagement. They take little time to prepare but deliver high ROI in email marketing.
Blueprints: Help your audience achieve their goals by providing a digital blueprint. It's a guide that breaks down complex subjects into simpler, easily digestible chunks, usually using fill-in-the-blank lines or questionnaires.
Case study: Show how your product or service directly benefited a customer or client. People love to read others' success stories.
Timing
The timing of your email campaigns can impact their effectiveness. This includes sending emails at the right time and day of the week and considering the timing of events or promotions. The time you send your email campaign can significantly impact open and click-through rates. Experiment with different send times and frequencies to find what works best for your audience. Consider time zones and customer preferences.
Measurement
Measuring the success of your email campaigns is crucial for understanding what works and what doesn't. This includes tracking metrics such as open, click-through, and conversion rates. Measurement helps you evaluate what is working and what is not in your email blast. Monitor your email metric to assess the reputation of your emails and find out if any red flags could stop your emails from reaching the subscribers' inboxes. You can keep your campaign on track by measuring and monitoring your emails. It also helps segment active and inactive subscribers, which is more efficient when trying for lead nurturing.
Final Thoughts
Email marketing is a powerful and cost-effective method to connect with your audience, build relationships, and drive results. It involves creating compelling email campaigns, segmenting your audience, and analysing performance metrics to continuously refine and improve your customer communication strategy. By delivering relevant content to the right recipients at the right time, email marketing can help you increase brand awareness, boost customer engagement, and ultimately achieve your marketing goals. It remains a fundamental tool in the digital marketing toolkit, offering a direct and personalised channel to reach and resonate with your customers.