Email marketing has been around for decades, but it remains one of the most effective and affordable ways to reach and engage with your audience. However, sending out a mass email blast is not enough to drive desired results. To succeed with email marketing, you need a well-planned and executed campaign strategy. This article will explore the essential elements and best practices for running successful email marketing campaigns that captivate your audience and drive conversions. So, if you are just starting email marketing and need something unique to boost your growth, read on to discover the secrets to creating email campaigns that get results.
Guide to Run Successful Email Marketing Campaigns
Click To Tweet
Why Run Email Marketing Campaigns?
There are many reasons why email marketing campaigns are still one of the most popular and effective forms of digital marketing. According to Statista, "With the internet becoming increasingly accessible, the number of emails sent and received globally has increased each year since 2017. In 2021, an estimated 319.6 billion emails were sent and received daily worldwide. This figure is projected to increase to 376.4 billion daily emails by 2025."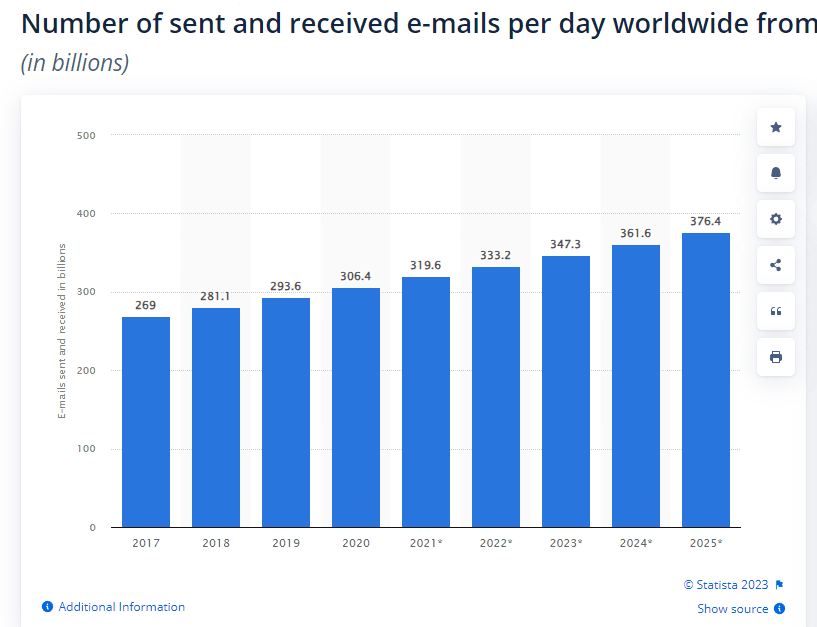 Email is a direct and personal way to communicate with your audience. Unlike social media or other advertising channels, email allows you to reach people in their inboxes, where they are likely to be more receptive to your message.
Another reason why email marketing is so powerful is because it allows you to segment your audience and send personalised message. You can increase engagement and conversions by sending targeted and relevant content to your subscribers based on their interests, behaviours, or demographics.
Moreover, email marketing is highly measurable, which means you can track and analyse the performance of your campaigns and optimise them for better results. You can track metrics like open rates, click-through rates, and conversion rates to see what's working and what's not and make data-driven decisions.
For instance, if you run a fashion store with new collections that feature sustainable and eco-friendly fashion. You can send an email campaign to your subscribers with the subject line "Green is the new black" and include a call-to-action to shop your new collection. You will be surprised at the result the email campaign will generate. Your campaign could achieve a 78% higher open rate and a 30% higher click-through rate than what any social media campaigns will give you. If you send a personalised and timely message that resonates with your audience, it could result in higher engagement and sales for you.
Email marketing campaigns can help you reach your audience directly, personalised your message, and measure your results. You can create email campaigns that drive engagement, conversions, and loyalty with the right strategy and tactics. A study by Mckinsey shows that email is 40 times as effective as Twitter and Facebook combined at acquiring new customers. The Americangenius shows that 4.24% of email traffic leads to purchases, whereas only 2.49% of search traffic and 0.59% of social traffic does the same.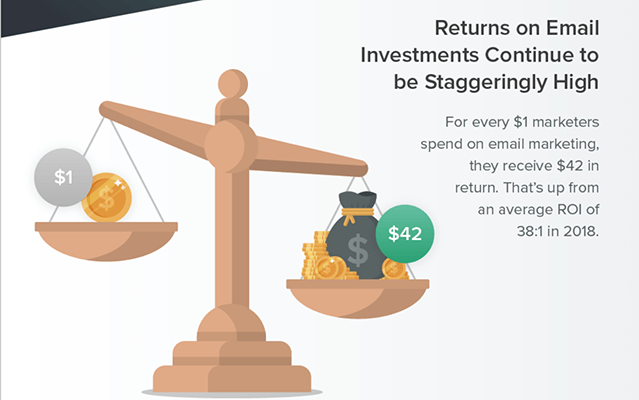 The Ultimate Step-By-Step Guide to Email Marketing Campaigns
Email marketing campaigns are a powerful way to reach your audience and drive results. But with so many different elements to consider, it can take time to figure out where to start. This step-by-step guide will walk you through the essential elements and best practices for creating successful email marketing campaigns.
Step 1: Define Your Goals and Target Audience
The first step in creating any successful email marketing campaign is to define your goals and target audience. Ask yourself, what do you want to achieve with your email campaign? Who is your target audience, and what are their interests and behaviours? Once you clearly understand your objectives and audience, you can tailor your message and content accordingly. When it comes to marketing, setting clear goals is essential, and email marketing is no exception. Before planning and executing your campaign, you must identify your goals and what you intend to achieve.
Here are some examples to get you started in defining your goals:
Boosting engagement with your brand could involve inviting subscribers to attend a webinar or encouraging them to follow you on social media. The goal here is to build a stronger relationship with your subscribers and keep them engaged with your brand.
You should nurture leads by delivering high-value content that helps move them further along the customer journey. This could involve sending educational content, offering exclusive discounts, or sharing product reviews and testimonials.
Re-engage subscribers that haven't been active recently. This could involve sending a targeted re-engagement campaign that reminds them of the value of your brand and encourages them to take action.
Segmenting your subscribers based on their interests, behaviours, and demographics can help you send more targeted campaigns in the future. By sending more personalized content, you can increase engagement and conversions.
Email marketing can be a powerful tool for driving sales. Whether you're promoting a new product, offering a limited-time discount, or showcasing customer success stories, email campaigns can help you drive revenue and achieve your sales goals.
Setting clear goals is the first step in creating successful email marketing campaigns. By defining your objectives and tailoring your message and content accordingly, you can increase engagement, nurture leads, re-engage inactive subscribers, and drive sales.
Step 2: Know your Audience
While you may have a general understanding of your target audience, more than a vague idea will be necessary when creating successful email marketing campaigns that can help you achieve your desired goals. That's where segmentation comes into play. By segmenting your audience into distinct groups based on their demographics, behaviours, and where they are in the customer journey, you can deliver more personalised content that resonates with them. You can leverage insights from past campaigns, analytics, social media, and even third-party data sources to refine your segmentation further. This method will help you improve the accuracy of your segmentation and create campaigns that truly speak to your audience's interests and needs.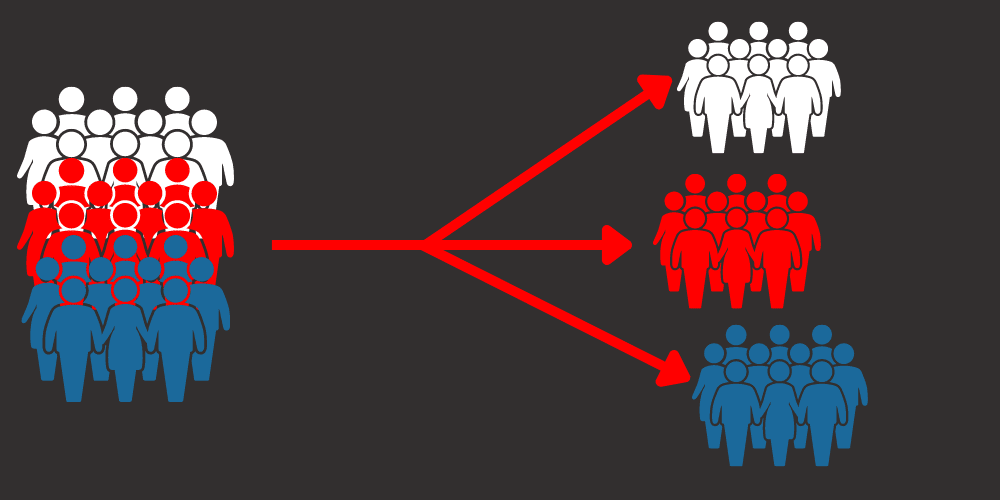 Step 3: Determine the Email Type
Now that you've established your goals and identified your target audience, choosing an email type that aligns with your goals and target audience is essential. This will ensure that your emails effectively meet your objectives while catering to your subscribers' needs and preferences.
To help you get started, here are some of the most common types of emails you can choose from:
Promotional Emails
These emails are used to promote sales, special offers, new products, events, and other company-related news.
Relational Emails
These emails aim to provide your subscribers with what you've promised, such as monthly newsletters, exclusive discount codes, conversational emails, or relevant information that they've requested.
Transactional Emails
These emails are typically sent based on an action taken on your website and may include signup confirmations, welcome messages, acknowledgement of changes to account or subscriber information, as well as purchase and shipping confirmations.
By selecting the appropriate email type for your campaign, you can effectively engage your subscribers, build relationships, and ultimately achieve your desired outcomes.
Step 4: Choose an Email Marketing Platform
There are many email marketing platforms, each with its features, limitations and pricing plans. Consider your budget, the size of your email list, and the features you need, such as automation, segmentation, and analytics. Pricing plans shouldn't stop you from choosing a befitting email marketing platform for your business, as we have many open-source email marketing platforms like Mautic that you can install on your server and serve you very well, just like any paid email marketing platform out there.
Step 5: Craft Your Email Content
Your email content should be engaging, relevant, and valuable to your audience. Consider using personalization and segmentation to tailor your message to each subscriber based on their previous actions on your website. Use attention-grabbing subject lines, clear and concise copy, and visually appealing designs.
When crafting effective emails, there are three essential components to keep in mind: the subject line, body content, and visual design. I will explain each component of the email for proper understanding.
Subject line:
The subject line is crucial because it's the first thing your subscribers will see when opening your email. It's important to make sure that it resonates with them and captures their attention. One of the keys to getting your email open is to use a short, intriguing subject line that accurately reflects your email's content.
Body content:
While the length of your email is less important than the content itself, ensuring that the content of your email is valuable and aligns with your brand's voice is important. Addressing the reader by name and including a clear call to action can improve your email's engagement.
Design:
The design of your email should be visually appealing and consistent with your brand. It's crucial to ensure your email is readable and looks good on mobile devices, as many subscribers will read their emails on their smartphones.
A well-crafted email should contain a captivating subject line, valuable body content, and a visually appealing design. By focusing on these three components, you can create emails that capture your subscribers' attention, provide value, and ultimately increase your open and click-through rates.
Step 6: Test and Optimize Your Email Campaigns
Testing and optimization are critical to the success of your email campaigns. Test different subject lines, copy, and designs to see what resonates with your audience. Use A/B testing to compare different versions of your campaigns and make data-driven decisions.
Step 7: Monitor Your Email Metrics
Tracking and analysing your email metrics will help you understand how your campaigns are performing and identify areas for improvement. Monitor your open, click-through, and conversion rates to see what's working and what's not.
Step 8: Continuously Improve Your Email Campaigns
Email marketing is repetitive, and there's always room for improvement. Use the insights from your metrics to optimize your campaigns, and keep testing and experimenting with new ideas. You may need to test everything from the subject line to the design and layout. Ensure you monitor your analytics, too, including the number of people that unsubscribe from your lists.
Running successful email marketing campaigns requires careful planning, execution, and optimization. Following this step-by-step guide, you can create email campaigns that resonate with your audience, drive engagement, and deliver results.
The Keys to Successful Email Marketing
Email marketing has long been an effective way to connect with customers, generate leads, and drive sales. However, like any other marketing strategy, the success of your email campaigns relies on several key factors.
Here are some of the essential keys to successful email marketing:
List Building
Building an email list is one of the first steps to ensure a successful email marketing campaign. As a business owner, let me state that on no account should you buy email lists. There are countless sites or scripts you can use to scrap emails on the internet, but if you use any of them, you are simply doing your business a disservice. You need to build your email list from scratch, but how can you build an email list?
Here are a few tips to get started in building an email list
Make your sign-up form visible everywhere
You can include it on your website's home page and every other page, on your social media platforms, in-store (if you have a physical store), and at events.
Provide an incentive for signing up
Offer something valuable, such as an eBook, a coupon, or any other incentive to encourage visitors to sign up for your email list. This method is called a lead magnet; it's a method of giving out valuable content to grow your email list.
Only ask for what you need, as this will make the process fast and easy for visitors. Consider asking for only the name and email address; you can always request additional information later.
Ensure the sign-up form doesn't interfere with the user experience
Avoid using pop-ups that block content until the visitor signs up or exits. Instead, consider using a small banner at the bottom of the screen or a pop-up that appears as the visitor starts to leave your site.
Include social sharing and forwarding options in your emails
This method is an excellent way to expand your list, as subscribers can easily share your content with friends and family.
Clear and Concise Objectives
It's important to have clear and concise objectives before launching your email campaign; you must understand what you intend to achieve with the campaign, whether it's driving sales, building brand awareness, or nurturing leads.
Relevant and Segmented Audience
Segmentation is critical to ensuring that your emails are relevant to your subscribers. Segment your audience based on demographics, behaviours, and customer journey stages to provide personalised content and improve engagement.
Compelling Content
Your emails must offer valuable, engaging content that aligns with your audience's interests and needs. Like blogging or marketing, content is everything; you must ensure you give your email content the attention it needs.
Use persuasive language, appealing visuals, and clear calls to action to encourage subscribers to take the desired action.
Effective email marketing hinges on crafting a message that resonates with your audience.
Your content, including text and images, should be visually appealing and engaging; utilising white space and a touch of humour can also give your email an edge to get opened.
The goal is to make the email feel like a personalised conversation with a friend. To achieve this, go beyond simply using the subscriber's name and tailor the content to their interests and preferences. Avoid wasting their time with irrelevant information; get straight to the point and provide clear calls to action. Additionally, including links for more information can be helpful for readers who want to learn more about your products or services.
Optimise for Mobile
According to Adobe, "81% of users use smartphones to access email." With more and more people accessing their emails on mobile devices, optimising your email design and content for mobile viewing is crucial. Ensure your emails are mobile-friendly, with a clear and concise subject line, readable text, and visually appealing design. (Making your content mobile-friendly is a key to successful email marketing. According to Easysend, "Nearly 1.7 billion users check emails on their mobile phones, which has royally outnumbered the data for desktop, which is around 0.9 billion users." Ensure your emails are responsive enough to be viewed regardless of the device used by the recipient.
Consistency and Frequency
Consistency and frequency are critical to keeping your subscribers engaged and interested. Stick to a regular email schedule and ensure your content is consistent with your brand's voice and messaging. It's important to strike a balance with your email frequency. You don't want to bombard your readers with too many emails, but you want to use email marketing to build a strong connection with your audience. It can be challenging to find the right balance. However, there is yet to be a universal answer to how frequently you should send emails. Your analytics can help you determine what works best. If your open rates decrease or you receive complaints or a surge of unsubscribes, you're probably sending too many emails.
On the other hand, if you're not receiving complaints or unsubscribes, then you could potentially send more frequent emails. The most important thing is to send emails when you have something valuable to share with your audience. Don't send emails just for the sake of it; make sure there's a reason behind each email you send.
Analyse and Optimise
Analysing the success of your email campaigns is essential to optimize future campaigns. Use analytics tools to track email open rates, click-through rates, and other key metrics. Use this data to improve your segmentation, content, and email strategy.
Analyising your email campaign can help you measure a lot of metrics, such as
It helps you know the number of new subscribers and those unsubscribed from your list.
Know how your email performs and how many people open and click on links within your emails. Most email marketing and automation platforms come with these features. We use Mautic here at scribeage, and Mautic as an automation platform comes with robust features that allow us to determine how our campaigns perform. With Mautic, you can know how many emails are open and how many clicks and determine if your campaign objectives are met.
Choose the right Marketing Automation
Marketing automation is sometimes misunderstood because the term implies a robotic approach to email marketing. However, the opposite is true. Marketing automation tools such as Salesforce, HubSpot, Mautic and others are crucial for sending the right content to the right people at the right time. To use a marketing automation tool effectively, keeping your subscriber information up-to-date is essential. This method ensures that the content your subscribers receive is relevant and targeted to their interests, customer journey stage, and other important factors, such as gender.
Customer Focus
You need more than sending out emails; you must create emails that generate leads, sales pipeline, and new customer sales revenue. Email marketing can still be effective even with the flood of emails people receive daily.
Here are some tips to make your email marketing successful, along with some metrics to back them up:
Keep your email simple and concise. Avoid cramming in too many value propositions and jargon that may decrease your response rate. Start with a compelling statement, followed by a few bullet points, and end with an action button at the bottom.
Make sure your message is compelling and direct. Don't use generic information or industry jargon. Grab the prospect's attention by explaining why they should read on and click the action button.
Ensure that your call-to-action (CTA) is specific. The entire purpose of the email is to get prospects to click that action button, so make it clear what they will receive once they do. Use a compelling tactic like a demo, free trial, or free study instead of a bland "white paper."
Your landing page should provide more information about your services and include assets that may interest the prospect. People are willing to spend more time on a landing page, so use this opportunity to give them the "wow factor."
Follow up within 24 hours. While some experts believe that the value degrades after 48 hours, immediate contact is necessary to achieve optimal results. Create a process that allows for a response to all prospects that opened or clicked through the email within hours and technology that showcases their activity on your landing page so you can direct the follow-up call to their specific interest.
As you can see, successful email marketing campaigns requires building an email list, a clear understanding of your objectives, a relevant and segmented audience, compelling content, mobile optimization, consistency and frequency, and ongoing analysis and optimization. By focusing on these key factors, you can create effective email campaigns that engage your subscribers, build relationships, and drive business growth.
It's Time to Run Successful Email Marketing Campaigns
Running successful email marketing campaigns requires a combination of strategies such as creativity and continuous optimisation. Every campaign aspect should focus on delivering value to your subscribers, from building active and engaged email lists to crafting engaging content, personalising messages, and analysing metrics. Following the tips outlined in this guide, you can create email campaigns that drive leads, sales, and revenue while building lasting relationships with your target audience. So, don't wait any longer; start implementing these strategies and watch your email marketing campaigns soar to new heights of success!
What are you waiting for? It's time to create your successful email marketing campaigns now! Email is the most important customer acquisition and retention channel. According to Mckinsey, "Email is 40x more effective than social media for customer acquisition." It's time to dust up your email marketing strategy.
Frequently Asked Questions
Is email marketing still relevant? 
Yes! Email marketing is still relevant and one of the most effective ways to reach customers directly. It's permission-based, customisable, measurable, and has the most significant reach compared to other marketing strategies.
Should I buy an email database to start with email marketing?
No, it's not advisable to buy an email database when starting with email marketing. You lose credibility in the eyes of your customers, and you will not even get quality emails. The people on the email lists you bought don't know anything about your business or products.
What's the best way to grow my email lists?
One of the best ways to grow your email list is by making it easy to sign up. This can be a simple opt-in form on your homepage that asks for their name and email. Another way to grow your list is to offer valuable content to your audience in exchange for their email addresses.
What are the types of email campaigns?
There are several types of email campaigns, including welcome emails, promotional emails, newsletters, and re-engagement emails.
What should I include in my email campaigns? 
Your email campaigns should include a clear and concise subject line, a personalized greeting, a compelling message, a call to action, and a signature. All these will improve your open rate and compel people to read more emails from you.
How do I measure the success of my email campaigns?
You can measure the success of your email campaigns by tracking metrics such as open rates, click-through rates, conversion rates, and unsubscribe rates. Most email marketing services provide you with a robust analytics dashboard to view how your marketing campaign is performing.