In today's fast-paced digital landscape, nurturing leads is vital to any successful marketing strategy. And when it comes to automating this crucial process in marketing, Mautic is a game-changing ally for businesses and marketers alike. In this guide, I will show how to nurture leads with Mautic—a strategy that can transform your casual website visitors into loyal and paying customers.
Lets unravel the art of lead nurturing and break down how Mautic, a powerful marketing automation tool, can streamline this process. Whether you're a seasoned marketer or just beginning your journey into the world of lead generation, you will learn how to effectively nurture your leads with Mautic and drive increased conversions and revenue. With Mautic, you have the tools you need to create personalised, targeted, and automated campaigns that foster stronger relationships with your leads, making them more likely to choose your products or services.
What is Mautic?
Mautic is a free and open-source marketing tool that helps businesses attract and nurture potential customers. It lets you create automated workflows, organise your contacts, watch what people do on your website, send personalised emails, and improve your marketing overall ROI. Mautic offers various features to help you maximise your marketing efficiency with lead generation and customer engagement activities.
Mautic has four main parts: it tracks what happens on your website, helps you manage your contacts, sends emails, and gives you information about how your marketing campaign is doing. With Mautic, you have full control over your leads' journey as they move through the sales funnel from initial contact all the way down to the conversion stage. Mautic still allows you to monitor how customers interact with your content so you can send customised and personalised messages based on user behaviour and preferences. You can use Mautic's powerful toolsets to drive better results from each stage of the lead nurture process.
Related: Revolutionise Your Marketing Automation with Mautic.
How to Nurture Leads with Mautic
Nurturing leads with Mautic is a robust and flexible approach that empowers businesses to build meaningful relationships with their prospects. By segmenting, personalising content, automating processes, and monitoring engagement, Mautic can help organisations convert leads into customers and drive growth more efficiently and effectively.
Building Your Customer Pipeline
Capturing leads is the first crucial step toward building lasting customer relationships. Mautic provides you with the tool to effortlessly gather valuable lead information and kickstart your journey towards nurturing prospects into loyal customers. Mautic's user-friendly interface empowers you to create captivating forms and landing pages to engage and convert your website visitors. With these, you can collect essential contact details, such as email addresses, names, and more, enabling you to establish a direct line of communication with your audience.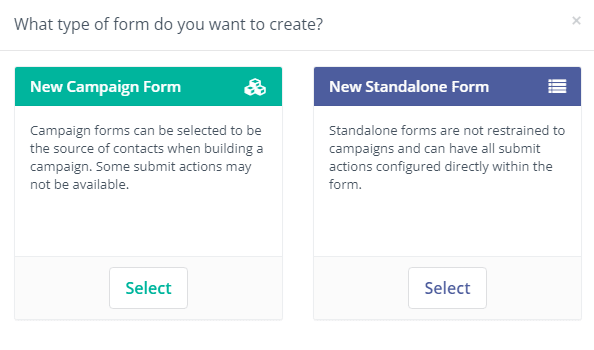 Offer incentives and valuable content to entice your audience to share their information. Mautic allows you to offer incentives or exclusive content, such as e-books, webinars, or discounts in exchange for lead details. This exchange of value builds trust and encourages lead capture. As leads interact with your forms and landing pages, Mautic records their actions, giving you insights into their preferences and behaviour. This information becomes invaluable when you want to personalise your marketing efforts.
Mautic Forms allows you to create a robust customer pipeline, by employing enticing incentives and data-driven insights; you'll not only accumulate leads but also lay the foundation for successful lead nurturing, conversion, and long-term customer satisfaction. You can read our step-by-step guide to create and style forms in Mautic here.
Define Your Buyer Personas
Mautic's Lead Nurturing feature allows you to create campaigns that target your specific contacts based on their behaviours and activities with your content. You can create campaigns to engage your leads and deliver relevant content at the right time. To nurture leads with Mautic, you will need to create buyer personas to understand the needs and preferences of your target audience; you need to define your goals. You should group and select which contacts should be included in your campaign to develop an automated workflow for emails or messages, choose when the notifications should be sent out, and track performance metrics.
To ensure the successful delivery of your lead nurturing campaign, you should segment your leads based on their demographics, behaviour, and interests. You must also consider trigger-based automation rules, email sequence cadence (frequency), personalisation strategies per contact type/segment, A/B testing opportunities for subject lines or copy elements, and engagement measurement tactics. By defining your buyer personas, you can optimise your campaigns for maximum effectiveness and achieve desired results.
Score Your Leads
Not all leads are created equal; some are more interested in your products or services than others. This is where "lead scoring" comes in, and Mautic makes it easy. Scoring your leads helps you figure out which leads are most likely to become your customers. Lead scoring is like giving points to your leads based on their actions and behaviour. The more interested a lead is, the more points they get. For example, when a lead visits your website, opens your emails or downloads your content, they earn points.
Scoring your leads helps you focus your efforts on the leads that matter the most. Leads with lots of points are like gold—they're more likely to buy from you. So, you can spend your time and energy on the leads that are ready to become your customers, rather than those who need more time. With Mautic, you can set up lead-scoring rules; based on their actions on your website and email campaign. For instance, you might decide that a lead gets 10 points for visiting your pricing page and 5 points for opening an email.
Once a lead has earned enough points, you can reach out and have a conversation because they're more likely to become a paying customer. Mautic's lead scoring feature is like having a helpful scoreboard to track who is becoming your next paying customer.
Engage and Convert Leads with Automated Email Sequences
Email marketing is a cornerstone of effective communication with your audience; email remains a powerful channel for engaging and converting leads. Mautic empowers you to deliver personalised, relevant content, automate your communication, and gain insights into your email campaigns' effectiveness. With Mautic, your email marketing efforts can reach new heights, nurturing leads and driving conversions in a more targeted and efficient way. Once your leads are segmented and scored according to their activities on your website, you need to craft messages that speak directly to your recipients, making them feel like valued individuals, not just another email campaign.
With the Mautic drag-and-drop editor, you can customise emails for each of your segments; you can also schedule your messages, set up triggers for different types of interactions such as clicks or page views, and even personalise subject lines. You can do all these within the same interface, giving you control over your campaigns. With these, you can deliver the right content at the right time, ensuring that leads receive information that aligns with their position in the sales funnel. The success of your email campaign often hinges on small details like subject lines, images, or call-to-action buttons. With Mautic A/B testing, you can experiment with different elements of your emails to determine which combinations generate the best results.
With Mautic robust analytics, you can track the performance of your email campaigns. Measure open, click-through, and conversion rates to understand what works and the one what needs improvement.
Personalise Your Messages
One of the strengths of Mautic is its ability to personalise your nurturing process. You can tailor the content and timing of messages based on a lead's behaviour and interests. This makes your communication more relevant and engaging. Mautic lets you personalise your messages with dynamic content. This allows you to send personalised emails based on your recipient's interests and needs. You can also use dynamic content blocks within Mautic to easily switch out images, text, or other elements based on specific criteria such as location or industry.
As leads move through your nurturing workflows, Mautic tracks their actions, which helps you understand where they are in their buying journey. You can adjust the content and pace of your messages accordingly, gently guiding your leads closer to a purchase decision. You can also set conditions for your workflows, for example, if a contact opens a particular email but doesn't click on the link; you can automatically send a follow-up email with more information. You also integrate lead scoring into your nurturing workflows; this means you can automatically move highly engaged contacts to the sales team when they reach a predefined score, ensuring that your hottest prospects get immediate attention.
Nurturing workflows can help bridge the gap between your customer and sales teams, notifying your sales team when a lead is ready for a sales conversation ensuring a coordinated and efficient approach.
Use Multi-Channel Approach
Lead nurturing doesn't happen in one place anymore; your potential customers are everywhere, from email to social media and even SMS. Mautic helps you stay connected with leads on all these different channels, making it easy to nurture them effectively. With Mautic, you can connect your social media accounts and engage with your leads on platforms like Facebook, X (Twitter), and LinkedIn. Share valuable content with them, monitor their tweets and hashtags, answer questions, and stay on their radar.

Sometimes, a quick text message is the best way to reach your leads. With Mautic, you can send personalised SMS messages, helping you keep your audience informed and engaged, especially for time-sensitive promotions or reminders. Mautic ensures a consistent experience across all channels. Whether a lead interacts with your brand through email, social media, or SMS, they'll receive your message through their preferred channels. You can also simplify multi-channel nurturing with automation; you can set up rules and triggers so that when a lead takes action on one channel, Mautic responds across others. For instance, if a lead clicks a link in an email, Mautic can automatically send them a related social media post.
Mautic also provides insights into how leads engage with your brand on various channels; this data is gold for refining your multi-channel strategy. Since your leads are scatter across different platforms and communication channels, Mautic helps you stay connected and relevant, ensuring you don't miss out on valuable opportunities. Using a multi-channel lead nurturing strategy is like being in several places at once, offering your leads the information and support they need, no matter where they are. So, whether your leads prefer email, social media, SMS, or a combination, Mautic simplifies multi-channel lead nurturing, ensuring your business is always within reach.
Related: Email Marketing vs. Social Media Marketing: Which One is Better?
Qualify your Leads and Hand them Over
In your marketing journey, not every lead will be your paying customer right away. Mautic can help you figure out when a lead is all set for a sales conversation and ensure that your sales team is informed at the right moment. You can qualify leads and do a smart handing over to your sales teams with the following method:

During the lead scoring stage above, remember those points we give to leads based on their actions and interests? Mautic uses those points to inform you when a lead is getting "ready to buy." When a lead's score reaches a certain level you predefined, it's like a signal saying, "Hey, this lead is really interested in your products or services and ready to buy!"
That leads us to the second step.
With Mautic, transiting a lead from marketing to sales is seamless. In your campaign setup, you can instruct Mautic to automatically notify your sales team when a lead reaches the desired score. So, your team will know it's time to reach out with a coupon code to slash your price so the lead can buy.
With the Mautic automated handover process, leads don't get lost in the shuffle. When a lead reaches a predefined score and engagement level, Mautic hands them over to your sales team with appropriate lead information. So that your sales team can quickly follow up with the warmest leads, increasing the chances of closing deals. It's like a relay race where Mautic passes the baton to your sales team when the lead is in the prime position to become a customer. This makes sure that no potential sale slips through the cracks. Mautic's lead qualification and handover features ensure that your sales team is always in the right place at the right time, ready to convert warm leads into satisfied customers.
Analyse your Marketing Performance and Make Adjustments
Email Marketing is like a game, and to win you need to keep track of your performance. Mautic helps you do just that by keeping an eye on how well your marketing efforts are performing. Mautic collects lots of information about what's happening with your marketing. It measures how many people open your emails, click on your links, or visit your website. Mautic turns these data into understandable reports. These reports tell you which of your marketing strategies are hitting the mark and which ones need a little boost. When you look at these reports, you can make better decisions.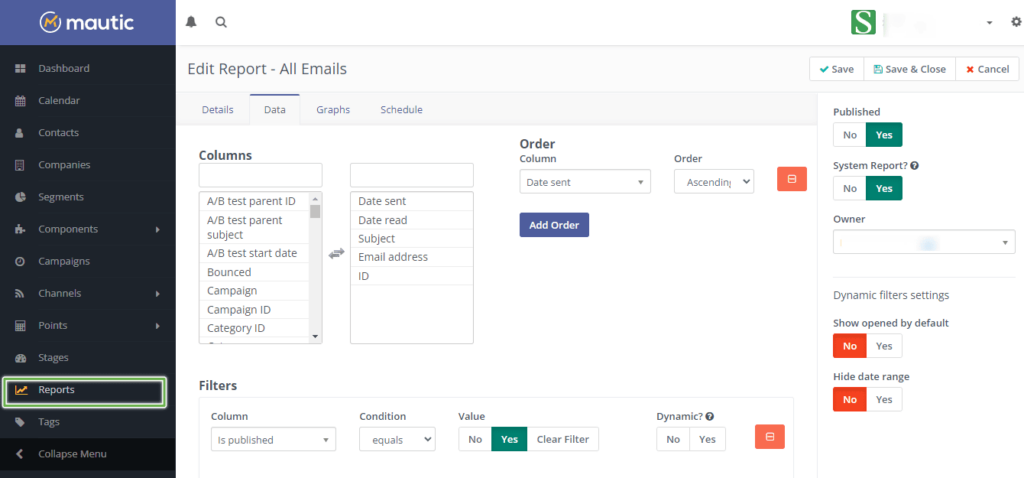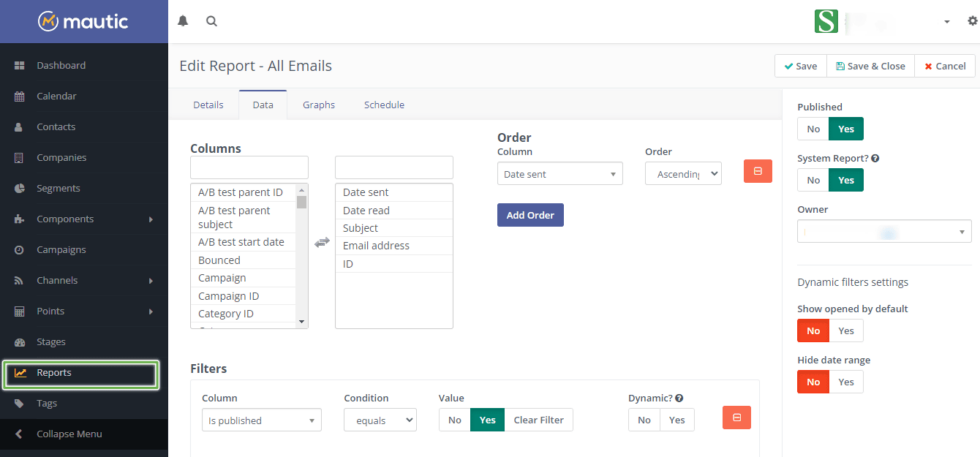 If you see that a particular email or campaign is really popular, you might want to do more of that. And if something isn't working, you can adjust or try something different. It is crucial to monitor these metrics regularly in order to identify areas for improvement, adjust timing or content accordingly, and ensure that leads are receiving relevant messages. Mautic analytic and reporting feature makes it easy to track campaign performance. With Mautic analytics, you can quickly assess which customer segments are responding best to the message content, determine where you need to make changes or improvements and optimise your strategies based on past results.
Analysing your marketing campaigns helps you target customers more effectively while keeping costs down by avoiding wasted efforts on ineffective campaigns. With the Mautic reporting feature, you can monitor your lead nurturing activities and enjoy better ROI. Lead nurturing isn't a one-time thing; it's a continuous process. With Mautic's insights, you can improve your marketing campaign over time. Picture Mautic reporting and analytics features as your professional marketing coach, showing you the scores of your marketing efforts and giving you tips to improve your game. With Mautic insights, you can refine your marketing strategies and keep moving closer to your goals.
Final Thoughts on Nurturing Leads with Mautic
Nurturing leads with Mautic is more than just a marketing strategy; it's a dynamic process that can transform your website visitors into loyal and paying customers. You have seen how to use Mautic to nurture leads from the top of the sales funnel to the final stage. From capturing leads with compelling content and forms to personalising messages and automating engagement, Mautic simplifies the lead nurturing process. It helps you identify the most promising prospects through lead scoring and guides them through carefully designed workflows.
Mautic's multi-channel engagement capabilities ensure that you stay connected with leads wherever they are, whether email, social media, web notification or even SMS. While the automated handover of leads to your sales team ensures that the right leads receive timely attention, increasing your chances of conversion. Mautic's robust tracking and analytics also provide you with insights to measure your marketing efforts' success and make data-driven decisions for continuous improvement.
In a world where personalisation and timely communication are crucial, Mautic is a powerful weapon in your marketing arsenal to nurture leads effectively, especially when you are a startup business owner, on a budget or need total control over your marketing campaign data. It empowers you to build stronger customer relationships, boost conversion rates, and create a marketing strategy that adapts and evolves with your audience's needs. So, whether you're new to marketing or a seasoned pro, Mautic's user-friendly features, data-driven insights, and flexibility make it an essential tool for nurturing leads into paying customers. With Mautic, you're not just nurturing leads; you're improving your business's growth and success.
Are you new to marketing automation? Let's get you started with Mautic.
Frequently Asked Questions
What is Mautic, and how can it help with lead nurturing?

Mautic is an open-source marketing automation platform that helps businesses automate and personalize their marketing efforts. It can assist with lead nurturing by enabling you to create automated workflows, segment your leads, and deliver personalized content and messages to guide leads through the sales funnel.
What is lead scoring, and why is it important in nurturing lead with Mautic?

Lead scoring is a system that assigns numerical values to leads based on their interactions and engagement with your marketing content. It's important for lead nurturing because it helps you identify which leads are most likely to convert. Mautic uses lead scoring to automate the process of handing over highly engaged leads to your sales team.
How can I personalise lead nurturing with Mautic?

With Mautic, you can personalise lead nurturing by segmenting your leads and sending targeted content to them based on their interests and behaviour. You can send different messages and offers to different segments of your audience to ensure your communication is relevant and engaging.
What are lead nurturing workflows in Mautic, and how do they work?

Lead nurturing workflows in Mautic are automated sequences of actions and messages designed to guide leads through the customer journey. Workflows use triggers and conditions to send the right content at the right time based on lead behaviour. You can customise your workflows to match your specific sales funnel and goals.
Can I nurture leads on multiple channels with Mautic?

Yes, you can use a multi-channel approach to nurture leads with Mautic. Mautic supports multi-channel such as email marketing, social media engagement, web notification, and even SMS marketing. This multi-channel approach lets you connect with leads wherever they prefer to interact, creating a unified customer experience.

How does Mautic handle lead qualification and handover to the sales team?

Mautic uses lead scoring to determine when a lead is "sales-qualified." When a lead's score reaches a predefined threshold, Mautic can automatically notify your sales team, allowing them to follow up with the most promising leads. This automated handover process ensures that the sales department focuses on the leads that are most likely to convert.
How can I track the success of my lead nurturing efforts in Mautic?

Mautic provides robust tracking and analytics tools to monitor metrics such as email open rates, click-through rates, conversion rates, and more to understand how your lead nurturing campaigns are performing. These insights help you make data-driven decisions to improve your strategies continually.