Personalising your marketing campaigns is not just a trend anymore, it's a necessity. Your audience expects personalised content and experiences that resonate with their unique preferences and needs; you need innovative solutions to enhance your marketing strategies to meet their expectations. One solution to take care of your need is to integrate Mautic with Facebook. Integrating Facebook with Mautic will take your marketing efforts to new heights and help you deliver highly personalised content and targeted campaigns that engage and convert your audience effectively.
In this article, you will learn how to integrate Facebook with Mautic to automatically add your Facebook leads to your Mautic instance, to keep your leads updated about your products and services.
Benefits of Mautic-Facebook Integration
Integrating Facebook with Mautic can offer various benefits that can significantly enhance your marketing efforts. Mautic is a free marketing automation platform that gives you control over all your marketing efforts. Mautic Facebook integration allows you to add news leads from Facebook to your Mautic instance. Integrating Facebook with Mautic will allow you to add contacts from your Facebook campaign to Mautic automatically.
When Facebook and Mautic are connected, you can sync valuable data between the two platforms effortlessly; this includes user details, interactions, demographics, and engagement metrics. This data forms the foundation for creating highly personalised and targeted marketing campaigns.
Integrating Facebook data with Mautic allows you to build comprehensive customer profiles. You can gain insights into your audience's interests, behaviours, and preferences on the social media platform, which you can use to craft more personalised and relevant content.
By integrating Facebook, you can create a seamless omnichannel marketing strategy. Your messages can be coordinated across Facebook, email, SMS, and other communication channels, creating a consistent and engaging brand experience for your audience.
Integration with Mautic enables you to track the ROI of your Facebook advertising efforts more effectively. You can measure the impact of your Facebook ads on lead generation, conversion, and revenue, making it easier to refine your campaigns for better results. Keep your branding consistent across Facebook and other channels. With Mautic's integration, you can ensure that the right message is delivered to the right audience, enhancing brand consistency and recognition.
Integrating Facebook with Mautic is a strategic move to elevate your marketing efforts. It allows you to harness the wealth of data and engagement opportunities on Facebook, combining them with Mautic's automation and personalisation capabilities to deliver more targeted, effective, and efficient marketing campaigns. This synergy can ultimately lead to increased engagement, higher conversion rates, and a better return on investment for your marketing efforts.
How To Setup Mautic – Facebook Integration
Integrating Facebook with Mautic will allow you to automatically fetch your Facebook leads to Mautic, segment the leads and send targeted content and campaigns to the leads.
Let's see how you can integrate Mautic with Facebook. 
Configure Facebook Developer Account
To set up Mautic-Facebook integration you will need to create and configure a Facebook developer account. To get started 

Login to your Facebook account
To register a new Facebook developer account, go to https://developers.facebook.com/ and click on "Get Started" from the top right corner.
After that, select your Facebook account and hit "Continue".
Then from the popup window, select the "Developer" button and click the complete registration button to continue.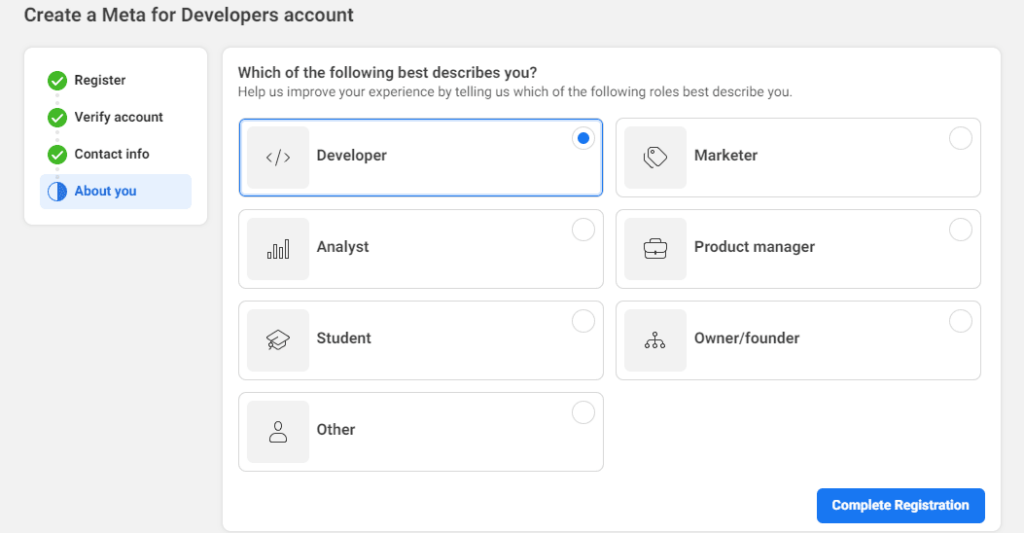 Configure Facebook Developer's App
Once, you've registered your developer account and verified your details.
Click on "Create App" to create an app for the Mautic integration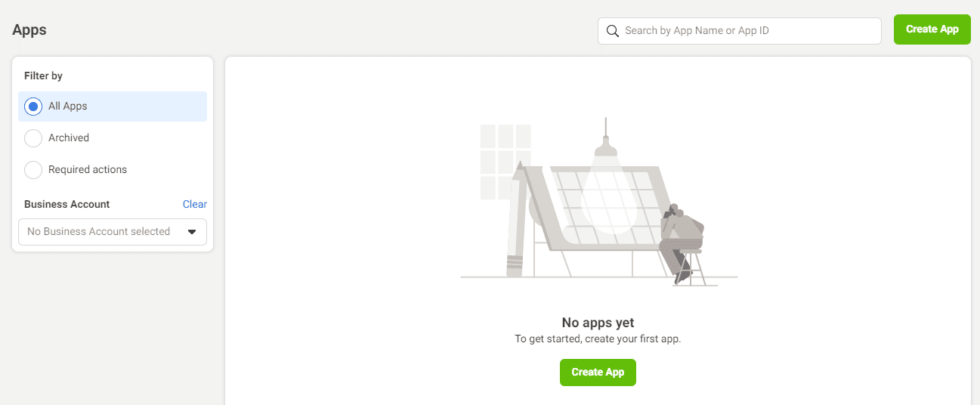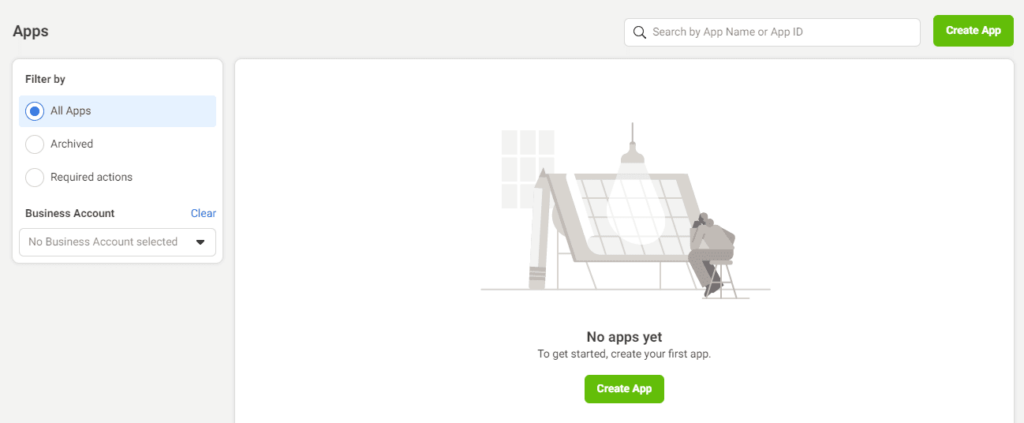 Select others from the pop-up window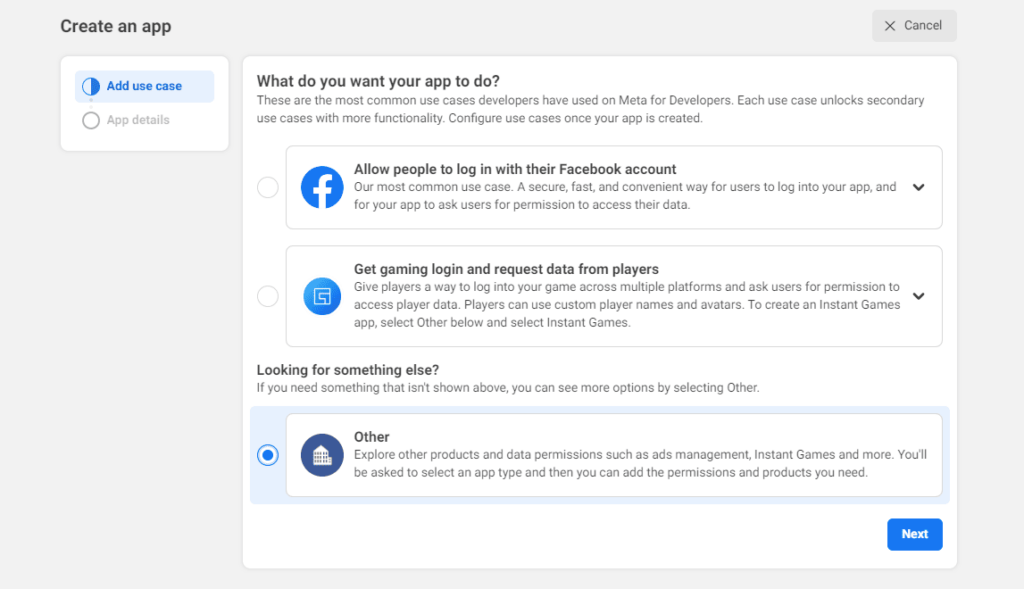 Then, click on "Business" to manage the integration and hit "Continue".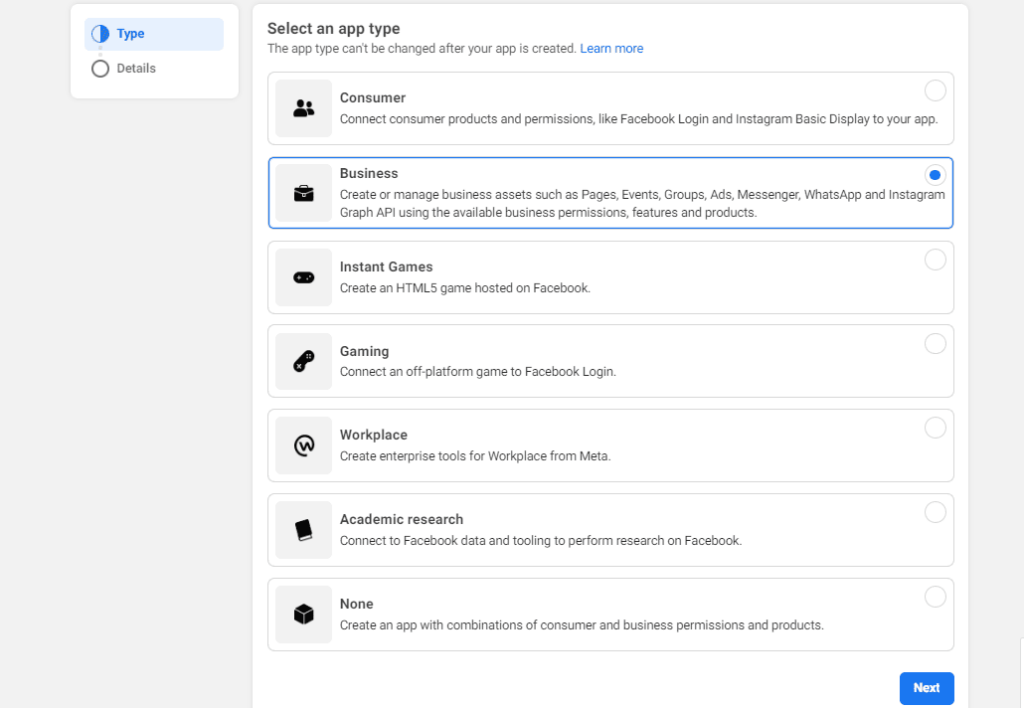 In the next window, enter the app name, you can name your app anything. Click on the "Create App" button.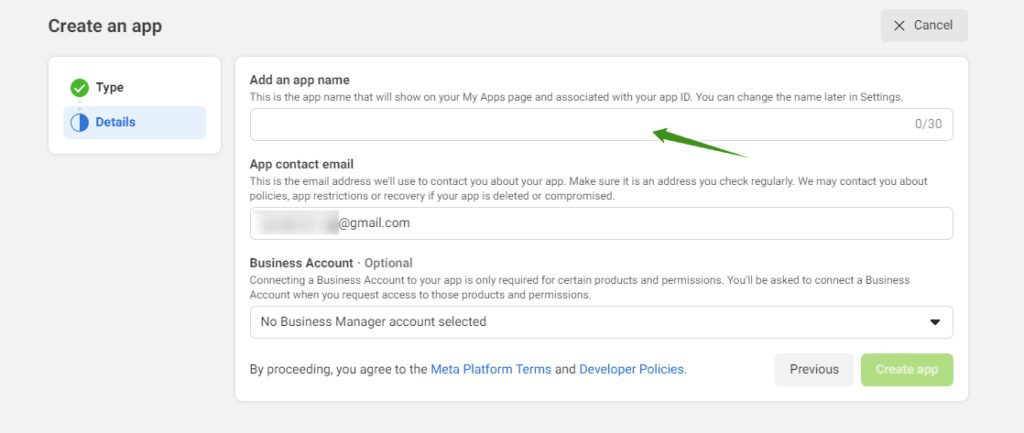 The next step is to set up Facebook Login. From the Products page, click on the "Set up" button under the "Facebook Login" box.


Enter your Mautic Facebook plugin return URL. You can get that from your Mautic instance.
It's something like this: https://yourmauticurl.com/plugins/integrations/authcallback/Facebook
Set "Client OAuth Login" and "Web OAuth Login" to "Yes".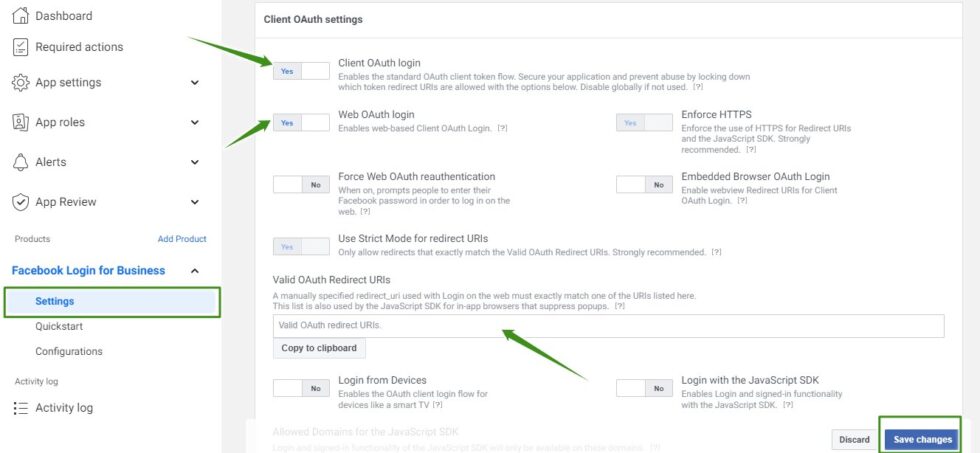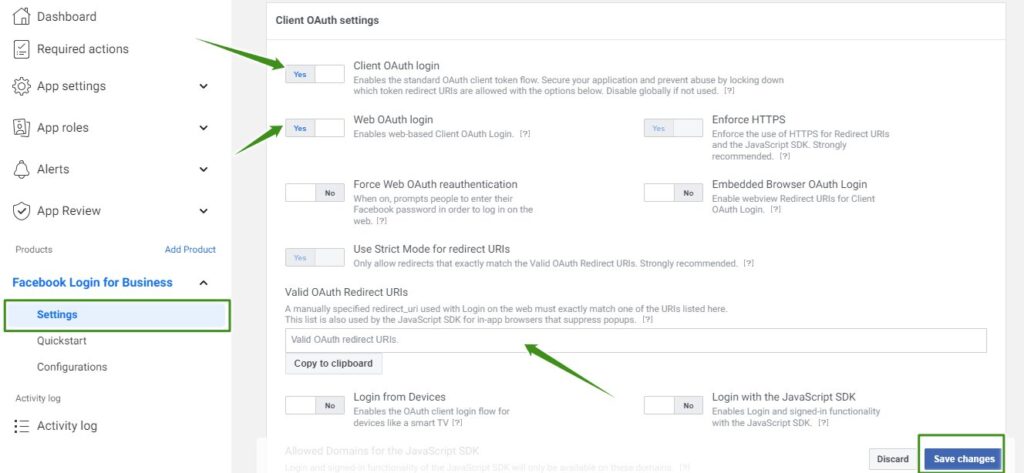 Now go to Settings -> Basic Settings. Stroll to the bottom of the page, and click the "+ Add Platform" button. After that, a popup window will open. Select the website as your platform, click next, and Enter your website URL and save the changes.

Mautic Facebook Plugin Configuration
It's time to configure the Facebook plugin in your Mautic instance.
Login to your Mautic dashboard.
Then click "Settings" from the top right corner.
Click on "Plugins".
After that, click on the "Facebook" plugin to set it up.
Then enter the client ID and client secret. Get these keys from the Facebook developers app that you just created following the above steps.

Once you have copied the Client ID and client secret from the Facebook app you just created. Click the "Authorize App" button.
If everything is done correctly, a new Facebook authorisation window will open. Follow the prompts to complete app authorisation.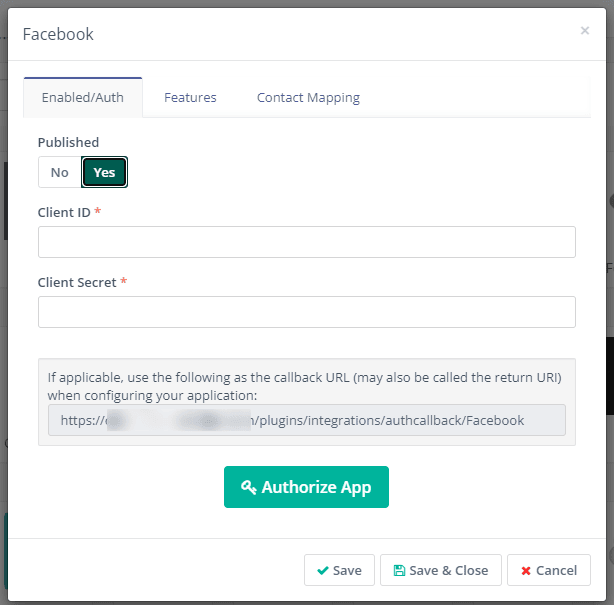 After successful authorisation, move to the "Contact Mapping" tab from Mautic's Facebook plugin.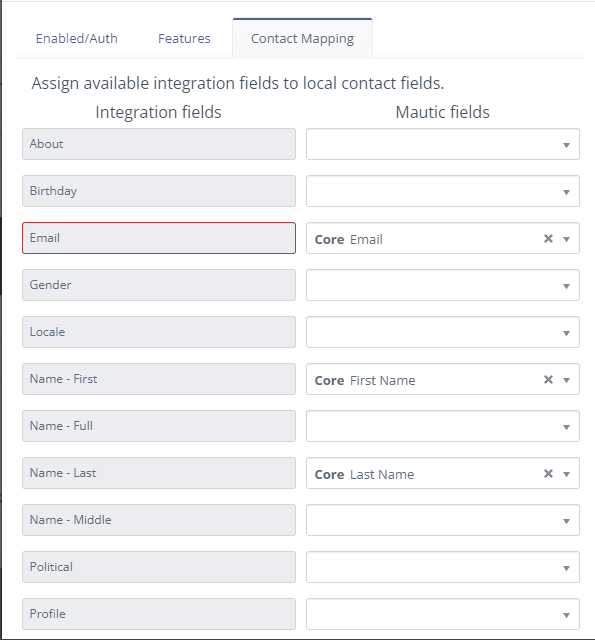 Here you can assign Facebook available integration fields to your Mautic contact fields, such as mapping Facebook users' email addresses to your Mautic email.
Once you map your contact, you can click and save and close button to save your Mautic-Facebook integration.
Final Thoughts
Integrating Mautic with Facebook lets you create highly personalised, targeted, and efficient marketing campaigns that engage your audience like never before. The Mautic-Facebook integration empowers you to better understand your customers, automate marketing workflows, and maintain consistency in branding and messaging across various channels. It also facilitates the tracking of ROI, enabling you to refine your strategies for optimal results.
Integrating the two platform together allow you to stay ahead of the competition, build stronger customer relationships, and synchronise Facebook leads into your Mautic instance. So, don't just install Mautic, integrate it with your social media to unlock the full potential of your marketing strategy.
New to marketing automation? Let's get you started with Mautic.