Welcome to the exciting world of how to increase lead generation with Mautic's advanced features! Increasing lead generation is all about looking for innovative and efficient ways to find potential customers or clients for your business. Think of it as upgrading your lead generation efforts with super tools like Mautic to help you find and nurture leads like a pro. Imagine having a key to create an unbreakable sales pipeline and unlock a continuous stream of interested buyers eager for your product or service. Lead generation is an essential part of any business, and technology has made it easier than ever to generate leads. Mautic is a powerful marketing automation platform that can help you supercharge your lead-generation efforts.
With Mautic's advanced features, you can create laser-focused prospecting efforts that always hit the bullseye. In business, generating leads is like opening doors to potential customers or clients interested in your offer. Imagine taking this process to the next level, where you find more leads and do it faster and more efficiently. That's exactly what increasing your lead generation is all about. It's like boosting your lead generation efforts, using strategies, tools, and techniques that make your efforts more effective and results-driven. Whether you are a beginner or an experienced marketer, this article will provide valuable insights into how you can increase your leads using Mautic.
What is Lead Generation
Lead generation is the process of finding and attracting potential customers for your business. It involves various methods like creating helpful content, using social media, and advertising to get people interested in your business. Once you get their attention, you collect their contact information, like names and email addresses; then, you nurture these leads by providing more information and building trust until they become your paying customers. Lead generation is crucial to growing your business because it helps you find and convert people who might be interested in what you sell.
The ultimate goal of lead generation is to convert your leads into paying customers. It's a crucial process for businesses of all sizes and industries because it helps them build a customer base, increase sales, and grow their revenue. Once leads are generated, you must send them into the sales funnel and nurture and guide them through various stages until they become paying customers. Lead nurturing involves providing additional information, addressing questions or concerns, and maintaining regular communication with your leads to build trust and encourage them to buy from you. Lead generation is a continuous and ongoing process, and you must constantly seek to attract and convert new customers to sustain and grow your business.
Related: How to Generate More Leads and Build Brand Recognition
Why is Lead Generation Important
Lead generation is crucial for businesses because it forms the foundation of their customer acquisition and revenue growth strategies. Lead generation is important because it helps you identify potential customers, drive revenue, save costs, collect valuable data, ensure sustainability, and gain a competitive advantage in the crowded market. It's a fundamental component of successful sales and marketing strategies.
Lead generation helps you identify potential customers (leads) who are more likely to become your paying customers, making it an essential step in acquiring new clients. More leads often lead to more sales opportunities; by generating high-quality leads, you can increase your chances of converting leads into customers, ultimately driving revenue growth. Lead generation is a cost-effective approach that allows you to target specific demographics or individuals who are more likely to convert to paying customers, reducing wasted resources on uninterested prospects.
What is Mautic
Mautic is an open-source marketing automation software that helps businesses and marketers generate, nurture, and analyse leads. It is a platform for saving time, eliminating errors, and improving efficiency for various marketing tasks across different channels. Mautic uses forms to capture leads, emails to nurture them, and reports to analyse their behaviour. With Mautic, you save time on redundant marketing tasks, manage and generate leads, and segment contacts; it's focused on helping you increase revenue by building your presence in the potential target market.
Mautic allows you to create automated marketing campaigns. You can set up workflows to trigger specific actions based on lead behaviour, such as sending personalised emails, scoring leads, or moving them through the sales funnel. It provides you with tools to manage and track leads; you can capture lead information through web forms and landing pages, segment leads based on criteria like demographics or behaviour, and assign lead scores to prioritise follow-up efforts. You can also create and send emails, set up drip campaigns, perform A/B testing to optimise email content and track email engagement metrics like open and click-through rates.
Benefits of Using Mautic for Lead Generation
Using Mautic for lead generation offers you several benefits to help you streamline your marketing efforts and achieve better results. Here are some key benefits of using Mautic as your lead generation tool.
Cost-Effective 
Mautic is open-source software, which means it's free to use. This can significantly reduce marketing automation costs compared to proprietary solutions, making it accessible to businesses with limited budgets.
Customisation
Mautic is highly customisable. You can tailor it to your lead generation needs, create personalised campaigns, and design landing pages and forms that align with your branding and messaging. You can easily customise Mautic to fit any business needs, including education and e-commerce.
Lead Tracking
Mautic allows you to track user behaviour across any digital channel. With Mautic, you can monitor website visits, email opens click-through rates, and other interactions to gain insights into lead engagement and adjust your strategies accordingly when necessary.
Lead Scoring
Implement lead scoring to prioritise leads based on their behaviour and engagement. This will help your sales teams focus on the most promising prospects, improving conversion rates and efficiency. With Mautic, you can identify high-priority leads by assigning scores based on how well they interact with your content. You can score leads based on the user behaviour on your website, such as who has visited a page, clicked a link, downloaded assets, etc., to find your most interested prospects and keep your funnel fresh with negative points for unsubscribes, contact inactivity, and other actions.
Segmentation
With Mautic, you can segment leads into distinct groups based on criteria like demographics, behaviour, location, and more. Segmenting contacts enables you to send highly targeted, relevant and personalised messages to your subscribers, increasing the likelihood of converting them into paying customers.
Email Marketing
Mautic provides robust email marketing capabilities, including automation, A/B testing, and drip campaigns. You can nurture leads with personalised email sequences, increasing engagement and conversion rates.
Lead Nurturing Workflows
Create automated lead nurturing workflows to guide leads through the sales funnel. You can build trust and credibility with leads by providing relevant content and messaging at each stage, ultimately driving conversions.
Integration
Mautic integrates with various marketing and CRM tools, such as WooCommerce, Zapier, Drupal, Typo3, Concrete5, Salesforce, MailChimp, SendGrid, Mandrill, Microsoft Dynamics, SugarCRM, vTiger, Cobalt, AWS, allowing you to synchronise lead data across your tech stack. Mautic understands the importance of integration, ensuring a seamless information flow and enhancing your ability to engage leads effectively no matter what's on your tech stack.
Analytics and Reporting
Mautic provides detailed analytics and reporting features that allow you to measure the performance of your lead-generation campaigns. You can track key metrics, such as conversion rates, ROI, and engagement, to make data-driven decisions and optimise your strategies.
Scalability
As your business grows, Mautic can scale with you. It can handle a growing database of leads and adapt to your evolving marketing needs.
Community Support
Mautic has an active and supportive community of users and developers. This means you can access resources, plugins, and extensions and seek help and guidance when needed.
Related: 10 Reasons Mautic is the Best Marketing Automation Software for Your Business
How to Increase Lead Generation with Mautic
Increasing lead generation with Mautic can be a powerful strategy to automate and optimise your lead generation efforts. Lead generation is a continuous process that requires constant optimisation and adaptation, but with Mautic's flexibility and automation capabilities, you can significantly boost your lead generation efforts. Here's a step-by-step guide on how to increase your lead generation with Mautic.
Contact Management
Contacts are very important in Mautic, like any other marketing automation platform; there are two types of contacts in Mautic: anonymous and standard contacts. Standard contacts are preferred in Mautic because they provide additional information such as a name, email address, social network handle, or other identifying characteristics about a lead. Mautic allows you to build rich, active and functional contacts to create automatic campaigns based on the information provided and the contact's behaviour on your website.
You can add custom fields to your contacts on Mautic, such as birthdate, meeting date, job information, and any other information you want for your automated campaigns to help you know every aspect of your contacts. With Mautic, you can import your existing contacts or accept new contacts through Mautic forms when leads subscribe to your lists.
Here is how you can manage your contacts in Mautic to increase your lead generation.
Segment Your Contacts for Better Targeting
One of the ways to increase lead generation with Mautic is to segment your contact effectively. With Mautic, you can easily segment your leads based on location, language, sex, company, age, interest or any other parameter to build effective lists for your business. Use your segments to target better and organise automated campaigns, events, follow-up contacts, and more.
Segmenting contacts in Mautic allows you to organise your contacts and target them with more relevant and personalised marketing messages. To segment contacts in Mautic, you can follow these steps:
Navigate to the "Segments" section in Mautic.
Click on "New" to create a new segment.
Choose the criteria for your segment. You can segment contacts based on any combination of contact properties in your Mautic database.
Save your segment.
Once you have created your segments, you can add contacts to them manually or automatically based on their behaviour on your website or emails. To add contacts manually, follow these steps: Open the contact page in Mautic.
Click on "Preferences" from the top right corner.
Select the segment you want to add the contact to.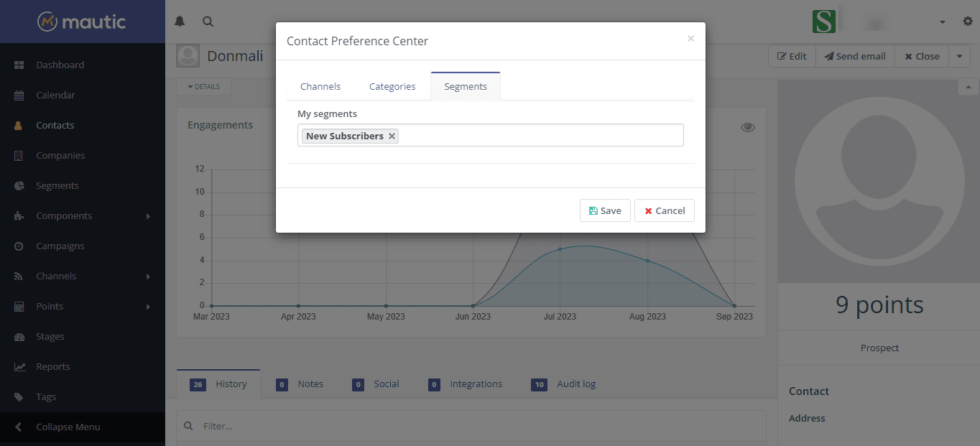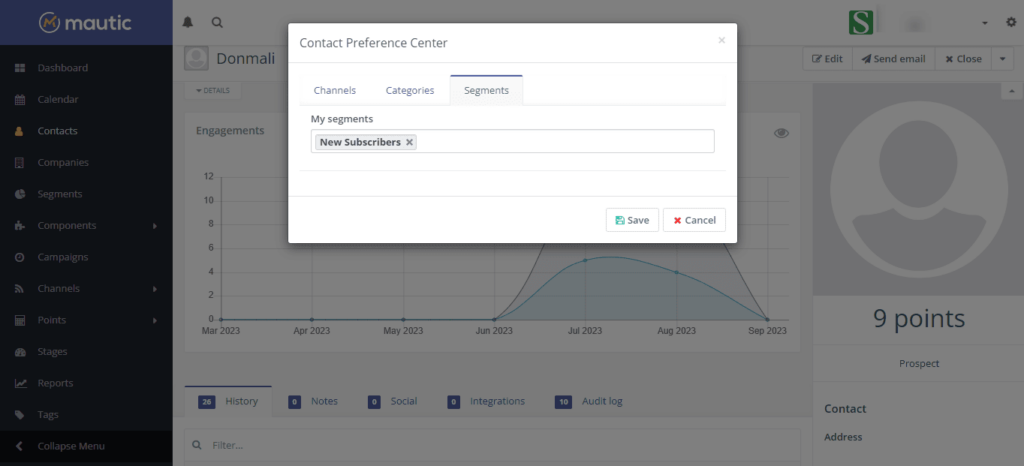 You can also segment your contacts automatically based on their behaviour on your website; for example, you can create a segment for contacts who have opened a specific email or visited a particular page. To do this, you can set up a campaign in Mautic that adds contacts to the segment based on their behaviour.
Track Your Lead Lifecycle
You can track leads and manage various aspects of your marketing campaigns to increase lead generation with Mautic. Tracking leads in Mautic involves setting up campaigns, forms, and tracking mechanisms to gather information about your leads' interactions with your website and marketing content. You can track your contacts as they move through the funnel to get more visibility on your conversion success; Mautic let you use filters and campaigns to automatically populate contacts into the correct stage, such as prospects, paid members, loyal members, etc.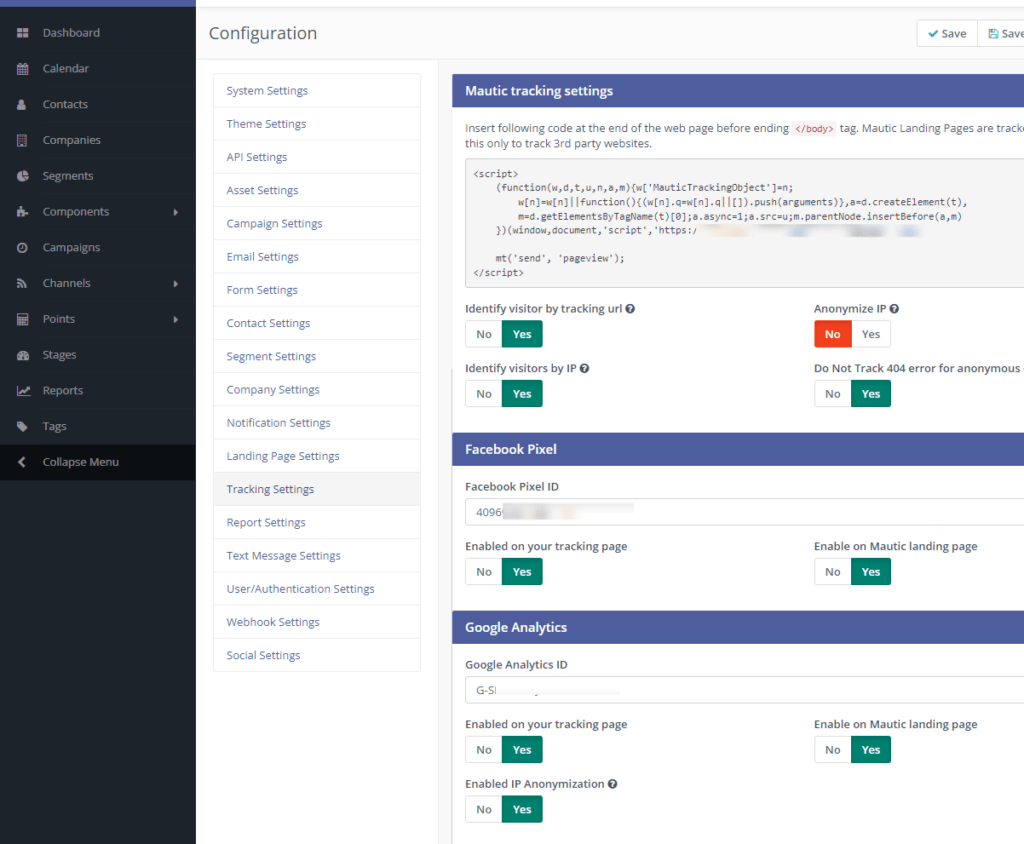 To track leads in Mautic, you must add the Mautic JS tracking code to the <body/> tag of the website you want to track. The tracking code will let you automatically track/tag the contact source based on the first browser referral seen, based on some ideas and feature requests. You must create web forms using Mautic's form builder to capture lead information. Embed these forms on your website's landing pages, blog posts, or other relevant pages. When visitors fill out these forms, their information will be collected and associated with the campaign.
Design Lead Scoring System
You can also increase lead generation with Mautic by implementing a lead scoring system to prioritise and identify high-quality leads. You can assign scores to your leads based on their actions and interactions with your content. For example, email opening might add points, while unsubscribing might deduct points. By managing points in Mautic, you can assign scores to your contacts based on their behaviour and interactions with your website, emails, and other marketing campaigns. This will help you identify the most engaged and interested leads and prioritise them for further nurturing and follow-up.
To manage points in Mautic, you can follow these steps:
Go to Point in your left-hand side of the dashboard> Manage Actions and define the conditions and points. Once done, apply save and close.
Mautic Points have both triggers and actions.
Manage Actions
Manage actions points are when a contact receives a change in their point total. These actions can be either positive or negative point changes and are based on a particular action as you determine.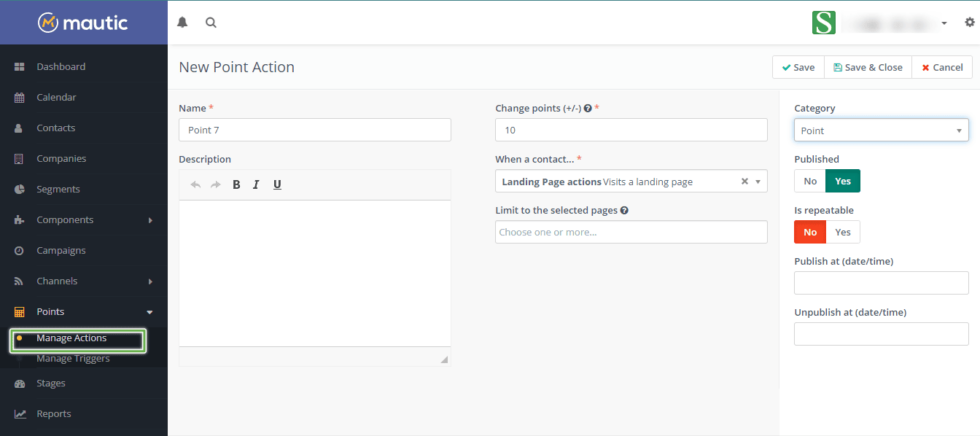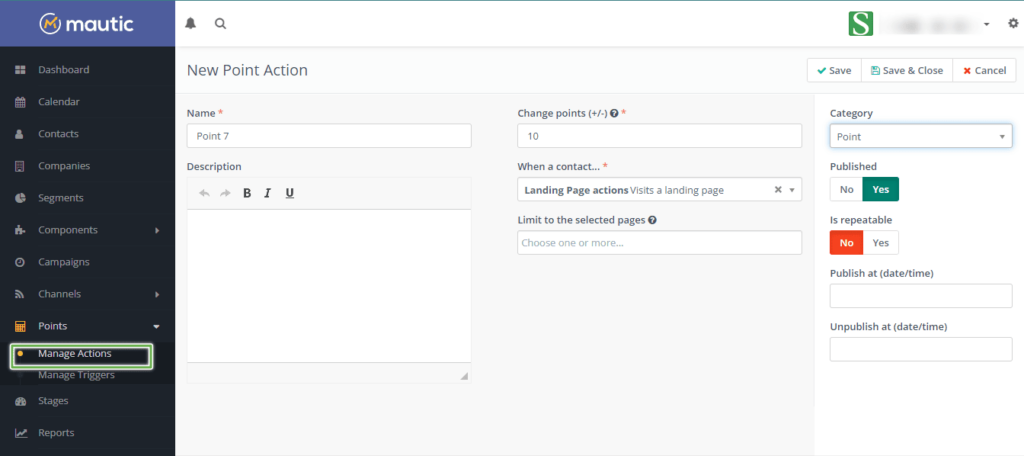 Manage Triggers
This type of lead scoring can be used to trigger actions when a certain point is reached by your contact; when a contact reaches a minimum number of points, the point trigger is fired, and an action is performed, such as pushing the contact to integration, send emails or modify your contact's segment.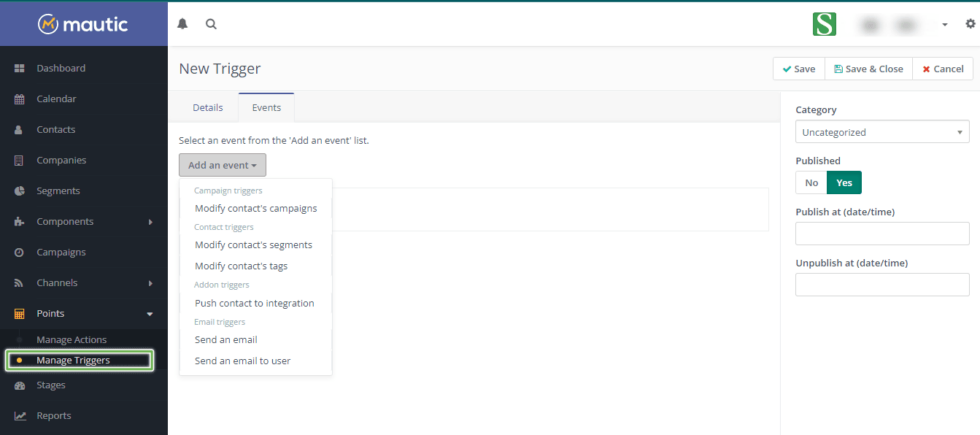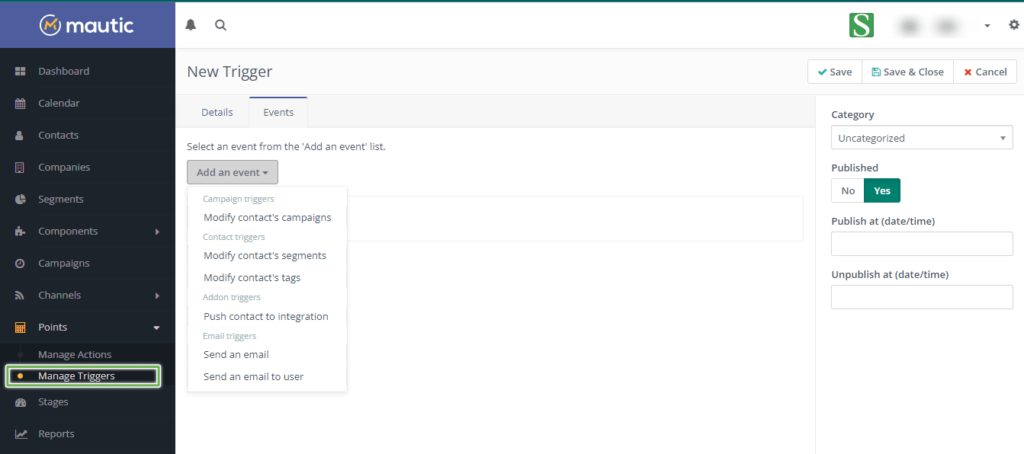 Mautic lead scoring features help you identify high-priority leads by assigning scores based on how well they fit your target profiles. You can use the behavioural scoring method to find your most interested prospects and keep your funnel fresh with negative points for unsubscribes, inactive contact, and other actions.
Channels
Mautic offers you various channels to communicate with your audience, manage and automate your marketing efforts. Mautic channels allow you to keep in touch with your customers through different mediums; you can create content and send it through multiple channels such as email, SMS, browser notification, mobile notification, tweets, and more. You can use the Mautic channel to send the right message to the right target audience when they are searching for it based on their buying journey on your website. You can use one or more channels depending on your needs and the type of content you want to publish.
Here are some of the key channels you can use in Mautic to enhance your lead generation:
Marketing Messages
Another Mautic's advanced features you can use to increase your leads is marketing messages. Mautic Marketing Messages allows your audience to choose their preferred communication channels and receive messages in the format they want, i.e. your contacts can choose which channel of communication they want to receive your content. For example, if someone prefers text messages over other forms of communication and you have created an email and text message to use in a campaign, then Mautic will ignore the email and send a text message.
Creating Marketing Messages in Mautic
To set up a marketing message, go to the Channel section at the left side of the dashboard, click Marketing Message and then +New.
Set a name and description, select the channels you want to include and enable the available channel. By default, you will only see Email and Web Push Notification; you may need to enable tweets and SMS on the configuration page before they become available.
Then, select the item content you have created from the dropdown menu. If you haven't created any content, create a new one from the dropdown. Once you've configured the messages, click save and close.
So now, when you include the marketing message, Mautic will send the message type specified by each contact.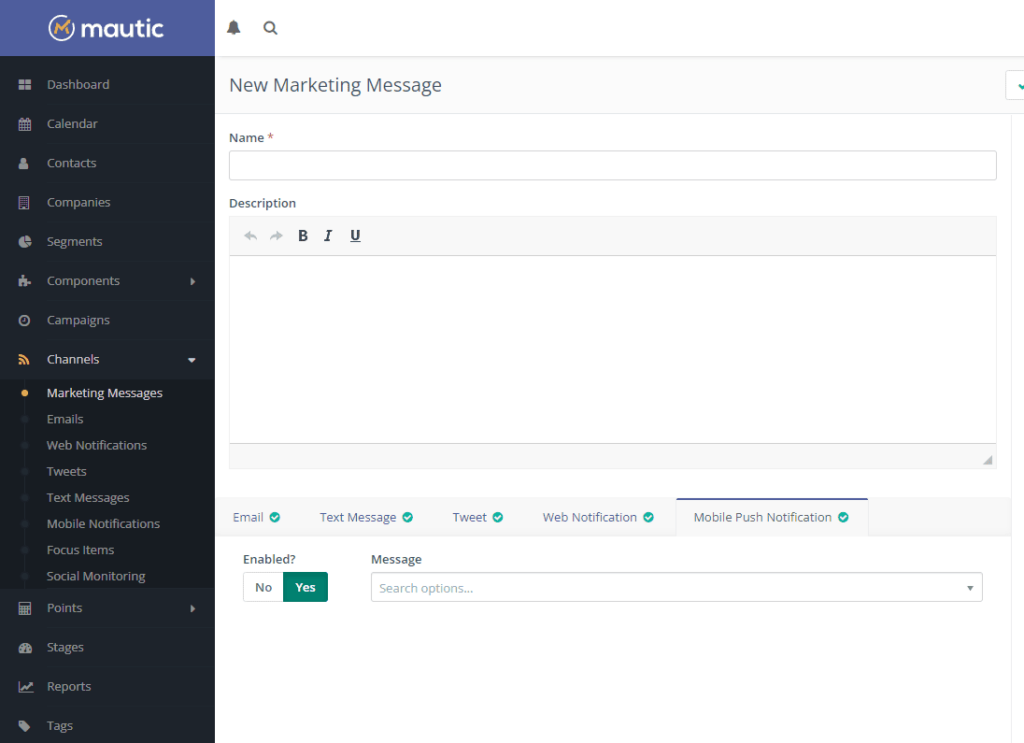 Email
Emails can increase lead generation by facilitating communication, engagement, and nurturing relationships with prospects. Email marketing is a versatile and powerful tool for lead generation due to its cost-effectiveness, ability to target specific audiences, automation capabilities, and the potential for building strong relationships with your customers. When used correctly, Mautic email features can significantly increase lead generation and ultimately lead to increased sales and revenue. Mautic provides a robust email marketing system that allows you to create, send, and track email campaigns.
You can use email templates, segment your audience, schedule emails, and automate follow-up messages based on your audience's behaviour. With Mautic's intuitive email template builder, you can create automated and manual mail templates and customise your emails' design, copy, and content.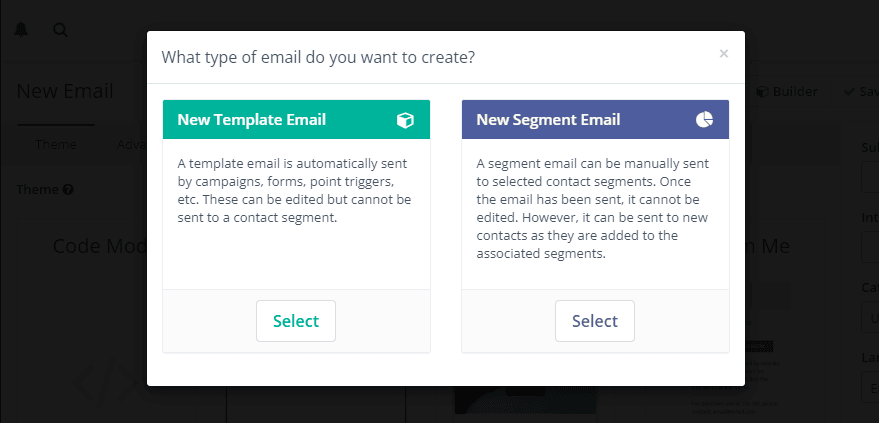 Related: Email Marketing vs. Social Media Marketing: Which One is Better?
Text Messages
You can also increase lead generation with Mautic because SMS is a marketing strategy you can use to attract and nurture your potential customers. Mautic supports SMS (Short Message Service) marketing, enabling you to send text messages to your contacts. This channel can effectively send your audience time-sensitive promotions, alerts, and reminders. With your Mautic instance, you can instantly send SMS templates to your prospects, create text content for your automated campaigns, and receive instant notifications when a prospect replies.
To create SMS messages in Mautic, you can follow these steps:
You will need to Get an account at a messaging provider such as Twilio before you can send text messages in Mautic.
Configure Mautic with the messaging provider's Account SID, Auth Token, and sending phone number.
Go to the 'Channels' tab on the left-hand sidebar, then click 'Text Messages.
Create a new template or segment text message by going to campaigns, editing an existing campaign, creating a new one, and then opening the Campaign Builder. Add a Send Text Message action to the campaign.
Customise the text message with the desired content and recipients.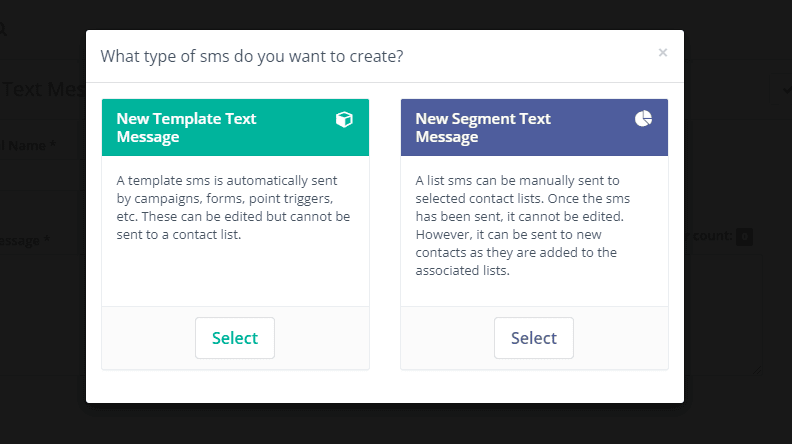 Focus Items
Another way to increase your lead generation with Mautic is to use the Focus items to engage your website users. Mautic Focus items allow you to engage users on your website through bars, modals, notifications, and full-page takeovers. You can initiate your focus items at different times to build pop-up forms, notices, and links for your website visitors. You can use it to generate more leads, promote special offers, or draw your audience's attention to important information.
To create a focus item in Mautic, follow these steps.
From the left-hand side of your Mautic dashboard
Go to channels and select Focus Items.
Click on +New to create a new focus item.
Choose the focus item you want to create (bar, modal, notification, or full-page takeover).
Customise the focus item by adding text, images, and forms.
Set the display rules for the focus item, such as when it should appear and to whom.
Save the focus item and add the code generated to your website.

Social Monitoring
Social monitoring in Mautic can play a significant role in increasing lead generation by helping you listen to and engage with your audience on social media. You can keep your followers on social media close by tracking any hashtags related to your business or knowing when your business is mentioned on X, formerly known as (Twitter). Social monitoring in Mautic will greatly help you in lead generation because it allows you to record and monitor mentions and hashtags added by Twitter users about your brand in their tweets.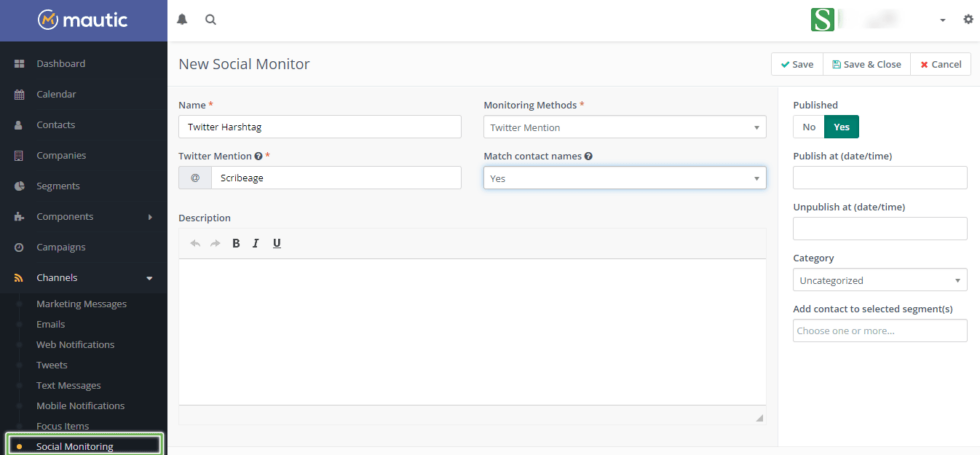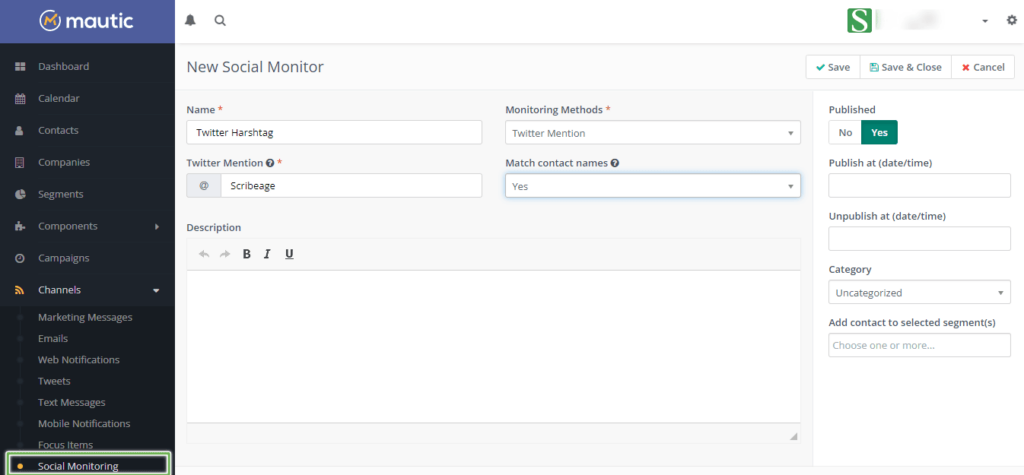 Campaigns
Mautic Campaigns allows you to create detailed automated workflows to trigger your marketing and follow-up activities, assign tasks, manage your team's workload, or do anything else to automate your marketing efforts. You can use Mautic campaigns for contact management, marketing operations, and sales enablement. With a campaign, you can send tailored messages to all contacts in a segment or a subset of contacts you specify. You can set the campaign schedule to send the message once or at an interval, such as once a week. One of the main benefits of the campaign workflow process is the ability to predefine these workflows and have them respond automatically to your contacts and timelines.
You can manage your Mautic campaigns from the campaigns overview page and use the campaign builder to create your workflow by dragging and dropping various decisions, conditions, and actions based on how you want your campaign to perform.
Automated Campaigns
Another way to increase lead generation is by creating automated email and SMS campaigns to send personalised communications to your contacts based on your users' interests. In Mautic, campaigns can trigger various actions, including sending messages to your contact or automating operational tasks to keep your marketing running. A single campaign can include more than one action; when you create a campaign, you can perform these actions below to begin your workflow in Mautic.
Add Do Not Contact: You can add a user to the Do Not Contact (DNC) list.
Change campaigns: Removes a contact from the existing campaign, moves them into another campaign, restarts the current campaign, or a combination of these. You must remove a contact from a campaign before restarting the campaign.
Change contact's stage: You can move a contact to the specified stage.
Send email: You can send an email to your contact.
Send SMS: You can send an SMS message to the contact.
Send push notification: Sends a push notification to the contact.
Send tweet: You can also send a tweet to the contact.
Send webhook: Sends a webhook to the specified URL.
Add points: You can add points to the contact's score.
Add to segment: You can add any contact to a specific segment. And you can remove contact from a segment.
Push to integration: Pushes the contact into an integration into a CRM or other systems.
Delete contact: You can delete invalid contacts from the Mautic database.
These actions can be added to your campaign using the Mautic campaign drag-and-drop builder to create decisions, conditions, and actions for your automated campaigns.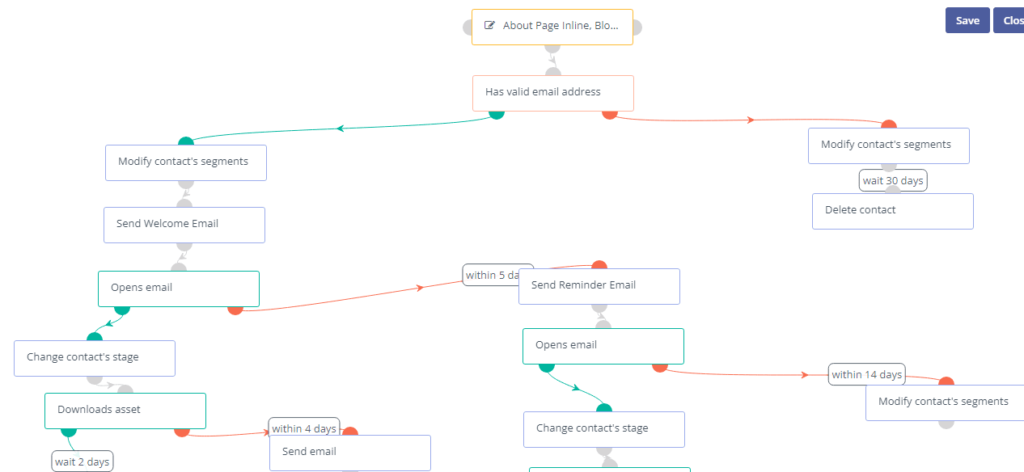 Components
Mautic component items allow you to create and manage various types of content that you will use for your marketing campaigns to engage your contacts.
Assets
You can increase your leads with Mautic assets by providing your prospects with valuable resources. When you offer assets as incentives to complete a form on your website, they can help increase the number of form submissions and ultimately generate more leads for you. With Mautic assets, you provide prospects with useful resources such as white papers, infographics, eBooks, videos, audiobooks, and other downloadable files. Mautic allows you to upload and manage assets and track metrics around each resource.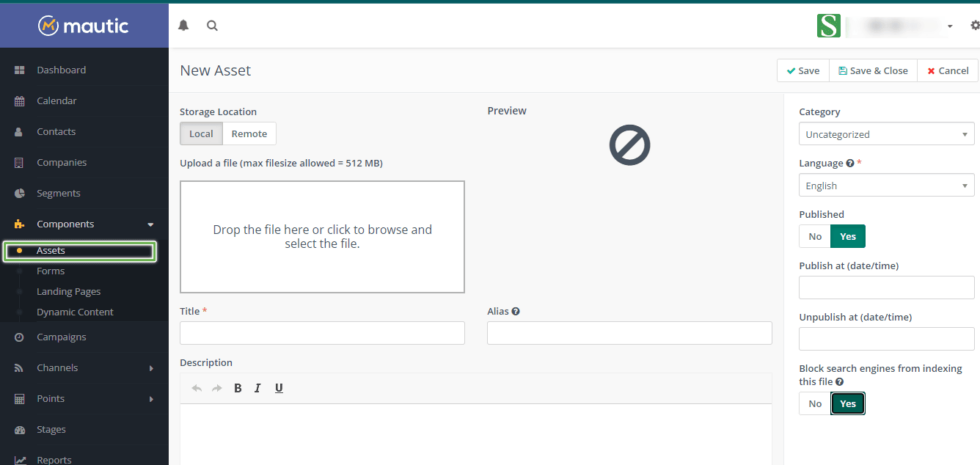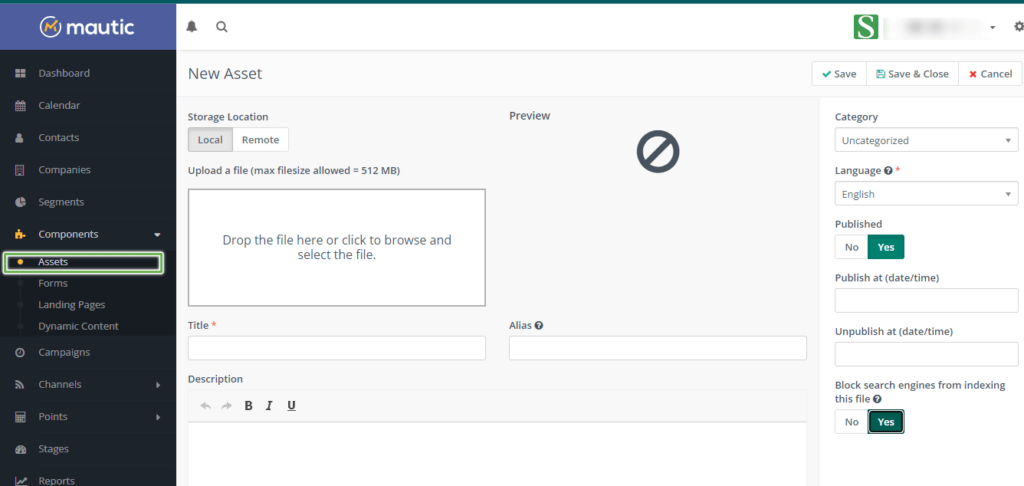 Your uploaded assets can be added to emails through a file attachment or embed code, making sharing resources with prospects easy. By incorporating assets into your email campaigns, you can provide your audience with valuable resources that can help you generate more leads.
Forms
Another way to increase your leads is to use the Mautic form to capture details of your new audience. Mautic form is a valuable tool you can use to collect information from your audience while providing them access to a download, an event registration, or an email newsletter. There are two kinds of forms in Mautic: Campaign and Standalone forms. Campaign forms can push a contact directly into a campaign, but all actions are performed in the Campaign Builder. Standalone forms are used to collect data without the need for a campaign.
Landing Pages
Landing pages are a valuable tool for lead generation; they aid you in increasing your leads. They are separate pages laser-focused on a particular offer or incentive and deliver a clear and concise message to your visitors. Mautic landing pages help increase your lead generation by targeting specific audiences, collecting personal information, establishing contact points, increasing conversion rates, tracking effectiveness, boosting SEO, and learning more about your target audience demographics.
With Mautic landing pages, you can create an A/B testing environment, create multilingual pages and have a variety of pre-defined professional templates to choose from. Allowing you to build and publish landing pages for your ad campaigns easily, events, and offers to boost your leads.
Dynamic Content
Mautic dynamic content is a powerful tool for increasing your lead generation. Mautic dynamic content allows you to create personalisation tokens, smart Calls to Action, and other dynamic content to personalise your content to leads depending on their profiles. Mautic dynamic content feature allows you to personalise the web experience for your contacts; you can use it to display different content to different people on a specific page of your website. You can create personalised experiences for website visitors and email recipients with dynamic content.
Personalisation enables you to build trust and rapport with potential leads, making them more likely to engage with your brand and increase your leads.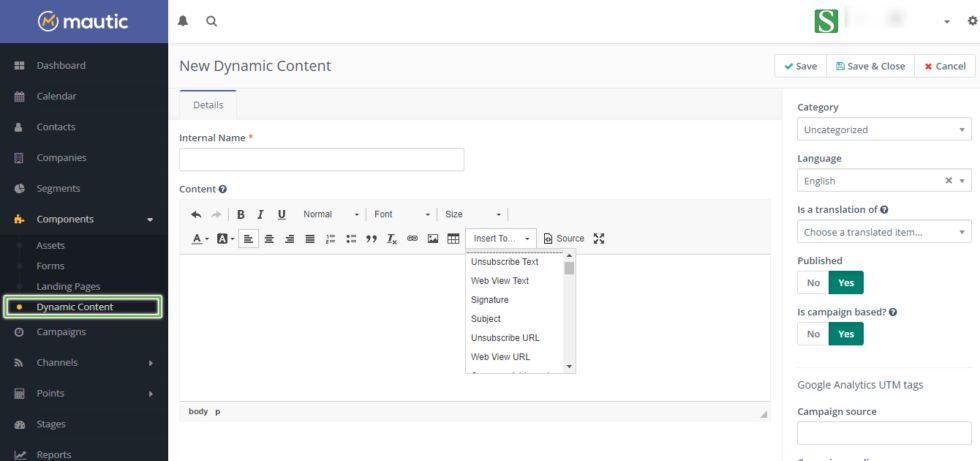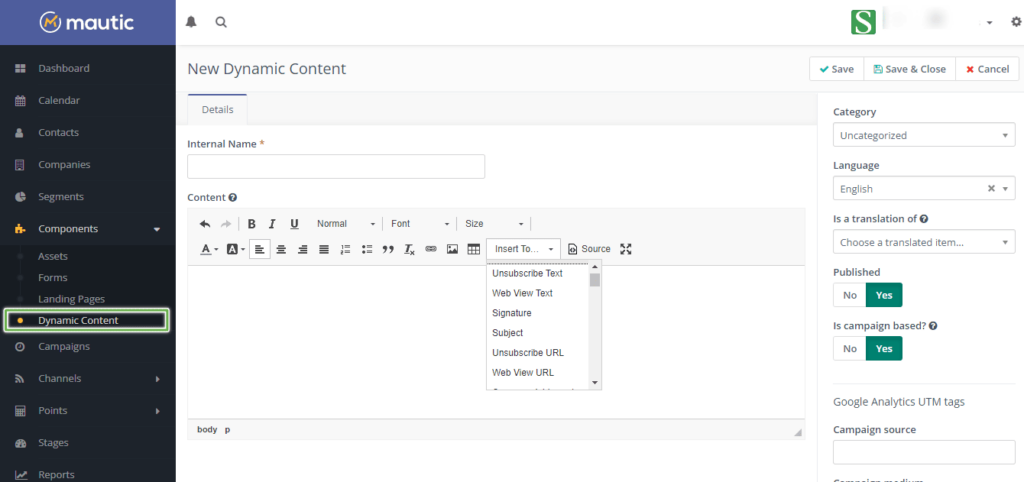 You can create a highly engaged experience for your potential leads or customers with dynamic content. By tailoring content to the individual, you can increase the chances of them taking action, such as filling out a form or clicking on a call-to-action. Dynamic content and personas allow you to personalise lead generation and CRM content better. Once you understand your target audience and create content that speaks to their needs and pain points, you can increase the chances of converting them into leads.
Related: The Benefits of Mautic: How it Can Grow and Transform Your Business Marketing Strategy
Reporting
Reporting is a crucial aspect of any marketing automation as it allows you to track the performance of your marketing efforts and gain insights into your campaigns' effectiveness. Mautic reporting feature is a valuable tool in your lead generation process, as it provides insights into the effectiveness of your lead generation efforts. Mautic reporting is a useful tool to measure the effectiveness of your marketing Campaigns, Emails, Forms, or page hits; it allows you to troubleshoot or workaround areas of improvement to enhance your marketing strategy.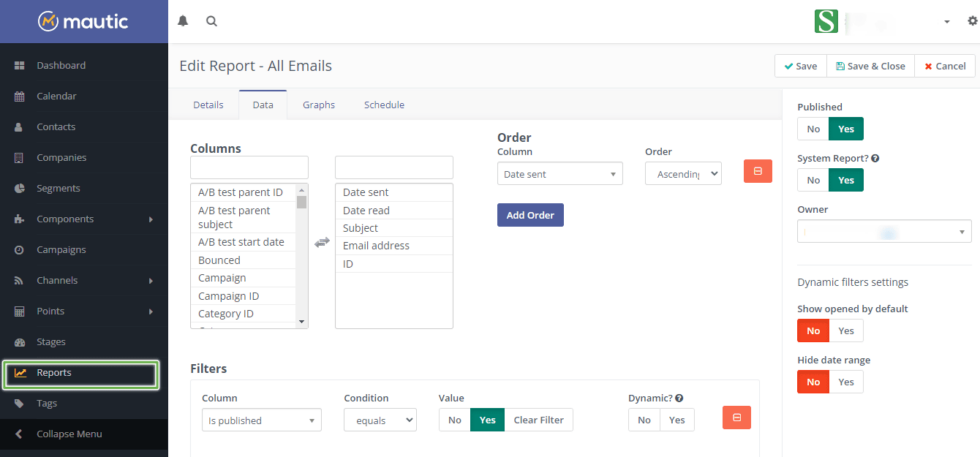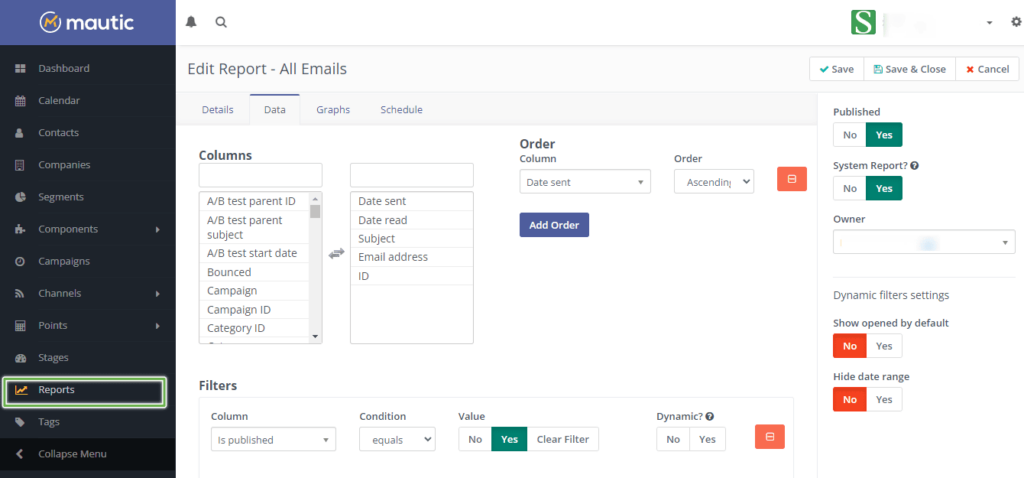 Mautic report analyses your business's leads, including the number of leads generated during a set period and how those leads were generated. Reporting helps determine the effectiveness of lead generation forms by analysing the percentage of form submissions that result in leads; it also provides total visibility of your marketing leads, including channel-level reports for search, social, email, and more. Mautic comprehensive lead generation reports can show you the total activity of your campaign or page level, providing a clear overview of your lead generation efforts so that you can know what works and how to adjust where necessary.
Frequently Asked Questions
Before we wrap this up, let's answer some of your frequently asked questions about generating leads with Mautic.  
What is Mautic, and how can it help generate leads? 

Mautic is an open-source marketing automation platform that allows you to automate all your marketing tasks, including lead generation. It helps generate leads by enabling you to create and manage marketing campaigns, capture leads through forms and landing pages, and nurture them through personalised email and SMS marketing.
How can I capture leads using Mautic?

You can capture leads in Mautic by creating custom forms and embedding the code on your website or landing pages. Mautic provides form-building tools that allow you to collect information from visitors, such as their names, email addresses, and more. When visitors fill out these forms, their information is stored in Mautic as leads.
What are landing pages, and how can Mautic assist with them?

Landing pages are dedicated web pages that convert visitors into leads or customers. Mautic enables you to create and host landing pages within the platform. You can customise Mautic landing pages to match your branding, add forms to collect lead information, and track your visitors to measure conversion rates.
Can Mautic automate lead nurturing? 

Yes, Mautic excels at lead nurturing. It allows you to set up automated email marketing campaigns with personalised messages; you can also segment your leads based on their behaviour and interests, sending them relevant content and offers to move them through the sales funnel.
How does Mautic handle lead segmentation? 

Lead segmentation helps you send personalised and relevant content to specific groups of leads, and Mautic provides powerful segmentation capabilities. You can segment leads based on criteria such as demographics, behaviour, lead source, and engagement levels. 
Is Mautic suitable for small businesses or only for larger enterprises? 

Mautic is suitable for businesses of all sizes. Small businesses without extensive resources can benefit from its lead generation and marketing automation capabilities. Mautic is used by businesses and individuals who want to automate their marketing processes and generate leads. 
What integrations are available with Mautic for lead generation?

 

Mautic offers various integrations with popular CRM systems, email marketing platforms, and other marketing tools. These integrations can help you streamline your lead-generation efforts by connecting Mautic with your existing tools. Examples include Salesforce, HubSpot, WooCommerce, Mailchimp, etc.
Final Thoughts
With Mautic as your lead generation and marketing automation platform, you can expand your customer base, drive growth and increase sales. Lead generation requires a strategic approach combining data analysis, personalised communication, and continuous content optimisation based on your users' interests. With Mautic's advanced features, you can understand your target audience, create compelling content, and automate relevant and repetitive marketing tasks. By harnessing the full potential of Mautic's advanced features, you can increase lead generation, nurture valuable leads, and ultimately grow your customer base.
Are you ready to take your email marketing strategy to the next level and generate leads with Mautic? We specialise in Mautic installation and configuration, and we can help you install and configure this incredible marketing automation tool to build your business. You don't have to waste time struggling with the complex installations and configurations of Mautic. Let us customise your Mautic instance to align perfectly with your business goals and immediately automate various aspects of your marketing efforts.
You can visit our services page to select the right tools, and we will set it up for you.