It's not difficult to see how the Internet has impacted almost every aspect of life for good. The Internet is now as important to humans as the oxygen we breathe; there's no aspect of human endeavour that does not require the Internet to function correctly. With the help of the Internet, businesses can connect with consumers anywhere they hang out; it's now more accessible than ever to reach out to consumers with your products and services even when they have not heard about you. "Google" is now the new word and digital library most people turn to when searching for products or needing to learn new things. You will hear them saying, "Google it."
What is this going to mean to you and your business this 2023? This analysis means creating and promoting content to grow and showcase your business to potential consumers in search engines has never been more essential. Digital marketing is a highly efficient method to connect with customers and fans. Implementing a well-thought-out digital marketing strategy is crucial in helping your business increase its profits. Creating an online presence to communicate with today's consumers is more critical than ever.
There will be more competition in business than ever before in 2023. Improving your digital marketing strategy is essential if you want to remain competitive and satisfy your customers. This article covers 6 top digital marketing strategies to grow your business, improve online visibility, boost website traffic, forge deeper connections with customers, and boost conversion rates. First, you need to grasp who you're trying to reach because that demographic is constantly shifting.
Here are the Top Digital Marketing Strategies to Grow Your Business.
Understand Your Changing Audience
We are in a dynamic digital world where things can change overnight without prior notice. Audiences' interest is constantly evolving; your audience may stop loving what they used to love again. You should learn to adapt to your audience's interests as it changes to stay caught up with them. Many things have changed in the past years in the digital world; your audience has changed, too, and they will continue to change their interests and needs while the market adjusts to an anticipated recession.
It can be helpful to re-think your audience every few months to see what has changed regarding your audience's needs, interests, and other considerations. Understanding the changes in the interests and needs of your audience will help you know how to meet their current needs and interests and look for a better way to feed their needs with your products and services.
Social media is one of the most effective marketing strategies in today's world. It is unquestionably an essential marketing tool that any business must not ignore, regardless of size. Numerous companies have grown their customer base and generated millions of leads purely via social media networks such as Facebook, Instagram, TikTok, LinkedIn, and many other social media networks. Engaging customers on social media may seem ineffective but establishing an engaged following is essential in today's society. Social media allows you to reach out to millions of customers across the globe without leaving the comfort of your office.
Social Media also gives you valuable customer feedback and allows direct lines to communicate with your potential customers. Facebook, Instagram, Twitter, and others will enable you to communicate directly with your customers and other businesses. One method to increase popularity and reap more benefits through social media is to use influencers, as it takes time, energy, and creativity to create a loyal audience on social media. If you're starting on social media, using influencers is one of the easy ways to grow your social media followers. All you have to do is to find influencers that your prospective customers follow.
Another way is to promote your brands through different social media ads manager; with ads, your brand and products will be placed constantly in front of your potential customers. If you conduct your research, you can look for influencers with few followers. Micro-influencers can be the best way to connect with your most desirable customers and offer them content worth sharing.
Create a Blog and Publish Helpful Content Frequently
One digital marketing strategy that is constantly overlooked and undervalued is the blog. Many small businesses feel that blogs are outdated and should not be taken seriously again, but in reality, a blog is a powerful marketing strategy that grows any business beyond measure. The blog can be the ideal way to connect with and grow your following on the internet. A blog is a perfect platform to publish content relevant to your products, business, and industry. A well-thought-out blog won't just attract prospective customers but will help build your brand's image. When your company produces quality content, it will attract new readers and keep the existing ones coming back to your website.
The key to a successful blog is quality content. When building your blog, you should think of ways to increase the value of your readers. Don't be shy about sharing your blog's insider secrets so that readers can recognize your blog as an authority figure. Blogs are an excellent tool to get you that top-ranking position on search engines by effectively using keywords and topics that draw the reader's eye. As you create a catalogue of blog posts and build a reputation for blog posts of high quality linking to your website, you will begin to rank higher on SERPs, and your site will benefit from effective search engine optimization.
Learn: How To Start A Blog: The Ultimate Guide To Start Blogging
It is important to remember that a blog comprises more than just publishing articles. Ensure you have an effective marketing strategy for your social media channels for every blog article. It is important to remember that each new blog post adds a new page to your website and keeps your website fresh. Note that for your website to experience greater SEO and achieve those higher rankings in SERPs, you need to provide high-quality blog content addressing a hot topic and include the necessary keywords.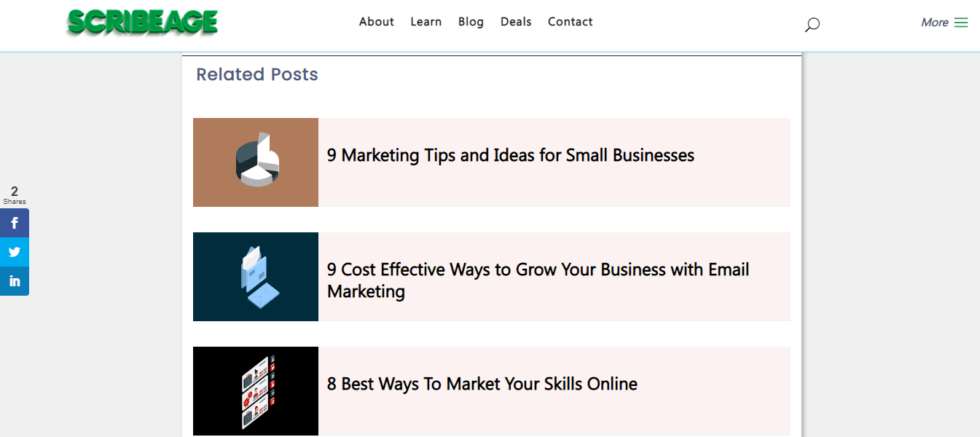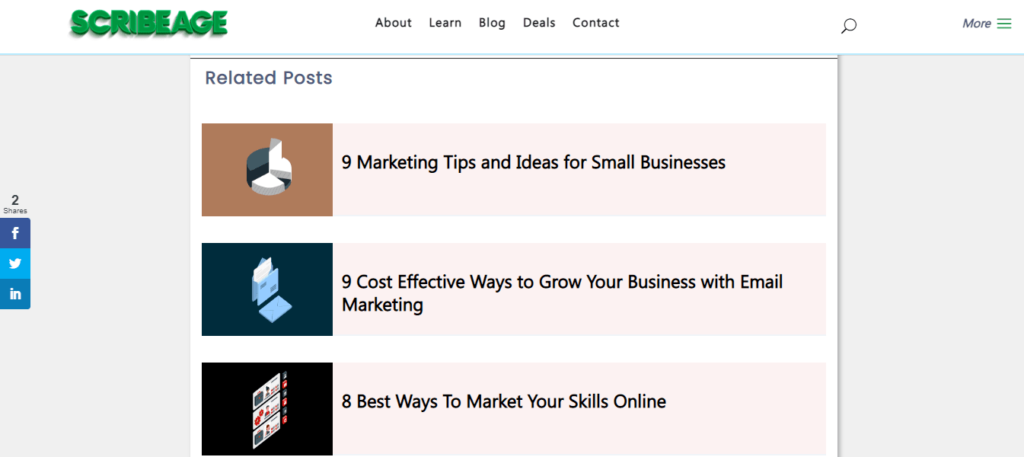 How To Create a Successful Blog
Now that you know how constant blogging can help grow your business and rank you higher on search engines. How do you effectively use a blog as part of your digital marketing strategy to grow your business?
Create valuable blog content – Providing high-quality content is one of the keys to attracting the audience, ranking higher on search engines, and keeping your website content fresh. Ensure your blog posts provide solutions to a search query, and make your blog titles and keywords align with the content in your blog.
Balance Content-Length – You must be able to keep your audience engaged while providing helpful information. The goal is to provide enough information without being so long as to bore the reader.
Choose Topics Wisely – You should choose topics with audience interest and your area of expertise and relevance to your industry. To summarize, find out what problem your readers are facing and are looking for a solution to, then start writing!
Be Consistent – Once people discover the quality of your content, they will become attached to it and want more from you. You need to focus and be consistent with your blog posts. Consistency is crucial in ranking on search engines and getting your content engaged by the audience.
Leverage the Power of Search Engine Optimization
Regarding digital marketing, SEO is still a must-have for a successful online operation. As part of improving your website's visibility in search engines like Google, search engine optimization (SEO) involves making changes to individual pages of your site. Attributes such as alternative text, meta keywords, and meta descriptions can improve a website's search engine rankings. Google's Helpful Content Algorithm update in Q3 of 2022 highlighted the importance of search engine optimization. Then the Helpful Content Algorithm's purpose is to prioritize content that users will find valuable. As a result, following accepted SEO procedures can propel your content to previously unimaginable heights.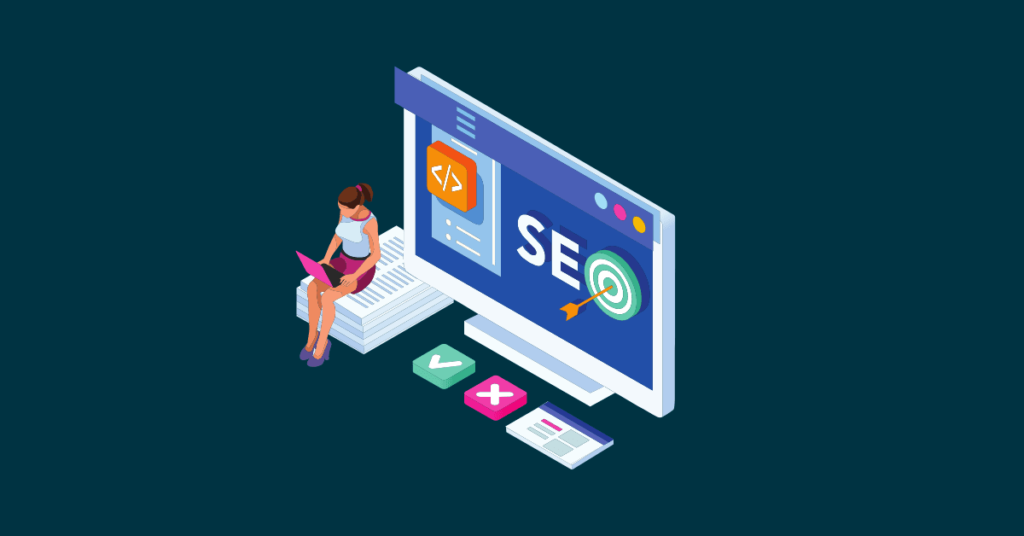 You can take all the time and resources to maintain a functional and polished website, but potential customers may never see it without a strong SEO strategy. Optimizing your content will ensure your website is on Google's first search results page and beyond. SEO is one of the most effective long-term strategies for generating highly-targeted traffic. Maintaining the first page of search results on Google will increase your website traffic and ultimately grow your business, so brush up your SEO strategy and give it all the effort required.
SEO is the most powerful strategy to increase traffic and generate sales if you leverage its potential power in your marketing effort. As you work on your SEO, pay attention to creating unique, insightful, and engaging content for humans. Start by researching the most highly-searched keywords in your industry and write several in-depth blog posts that add value to these topics.
With an effective SEO strategy in your marketing effort, users are more likely to visit your website than your competitors, as SEO will place your website at the top of the search engine result page (SERP).
Leveraging SEO in your marketing effort, you will enjoy the following:
Developing authority and credibility.
Increasing visibility for a broad audience and more.
Types of SEO You should do
SEO is not an easy task; it needs a lot of learning and experience to master it. Here are the types of SEO that you need to focus on specifically.
On-page SEO refers to internal site practices that help improve ranking and visibility. Keep the following crucial things in mind while improving On-Page SEO: keyword research, pictures, meta description, title tags, etc.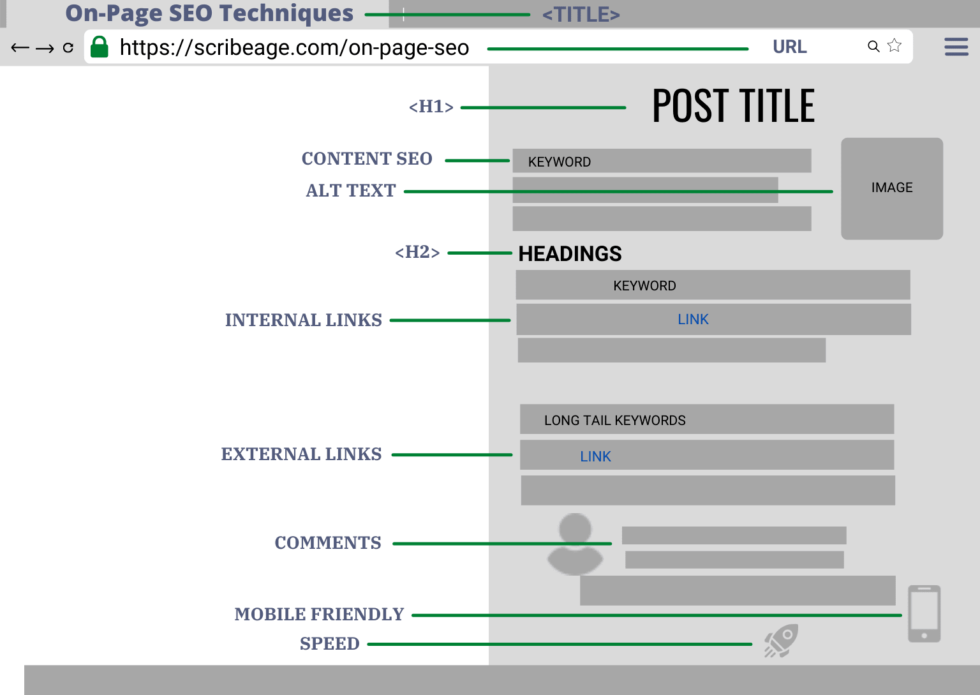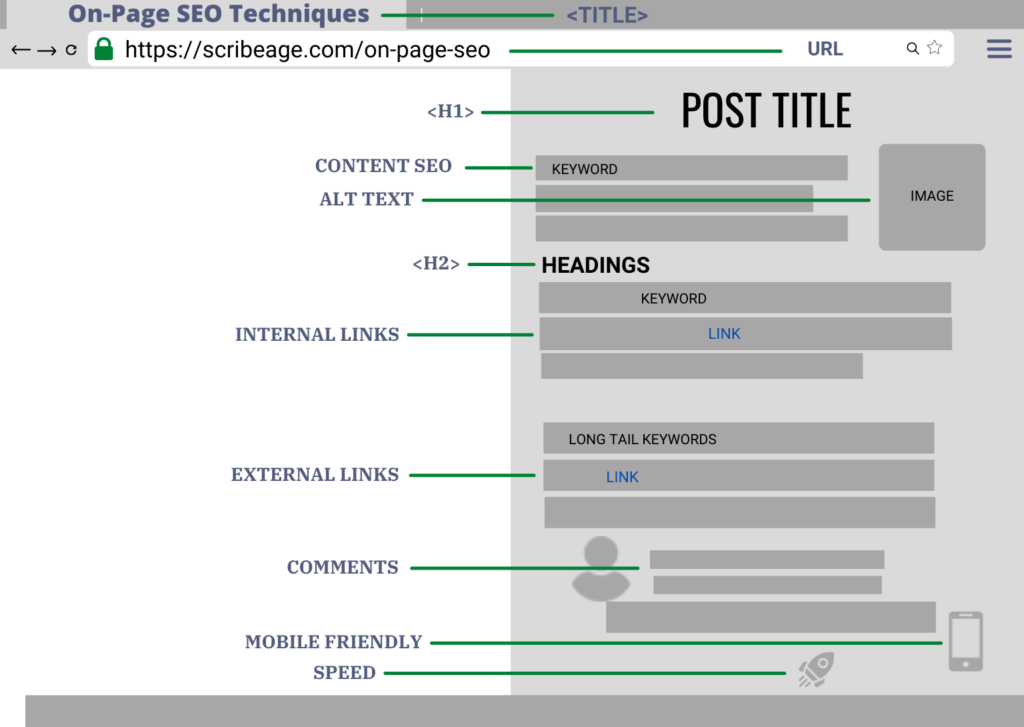 Off-page SEO, also known as external practice, takes effort outside your website to improve search engine results pages (SERPs). Build backlinks from other websites to inform search engines that your website is of higher quality and more critical in off-page SEO.
The last kind is Technical SEO which may help you optimize your site's indexing, crawl pages, site performance, security, interpretation, website layout, and so on. It plays the most critical role in improving the visibility of the site.
Learn: 14 Essential SEO Tips for Beginners To Boost Site Ranking
Create Effective Lead Magnet
Lead magnet allows you to collect your readers' email addresses and other contact details by offering them something of value in exchange for their contact details. Lead magnet allows the readers to get helpful information in exchange for signing up for your newsletter subscribers list or downloading helpful resources. This method is a win-win method! You give your valuable content for free in exchange for their email addresses. In addition to being completely cost-free, this perk offers instant value to prospective clients. Everybody love gift, and when people see the benefit to themselves, they are more likely to share their details with you.
Success is guaranteed by providing a lead magnet that appeals to your ideal customer or client. One of the most effective methods for creating high-quality lead magnets is to learn about the problems faced by your ideal clients and then offer a straightforward, effective solution. Use the incentive you're extending to get additional specifics about your intended audience and bring them further in your sales process.
Your marketing funnel is the series of actions prospective customers take to get from knowing nothing about your brand to being a paying customer. A lead magnet's foundation is communication. Gather contact details from potential customers before allowing them to download any free resource (whitepaper, ebook, video, checklist, cheat sheet, etc.) from your website.
Build and Nurture an Email List
Your marketing strategies are only complete with active and engaged large email subscribers. Your company's revenue depends on how extensive and healthy your email list is. Active Email subscribers can bring you massive website traffic and unprecedented fortune if you know how to carry them along. On the other hand, your efforts to approach customers will be useless if your contacts aren't relevant, the email addresses are inactive, or you don't have them. as you activate your digital marketing strategy, you must focus on growing and engaging your email subscribers.
An active and engaging email list lets you reach your target demographic and potential buyers/customers directly. No matter how many people you have following you on social media, not all will see your updates. Even worse, the algorithms used by social media websites are constantly evolving and allow a few segments of your followers to receive your update. But with your email list, you can control the content sent to your subscribers, and you are sure the email will be delivered to their email inboxes. Email marketing is a crucial part of any successful sales funnel, and your marketing efforts are only complete with leveraging email marketing.
Email marketing allows you to create a more meaningful connection with your clients by utilizing your list. Authentic, heartfelt material will resonate with your audience, so send that. You can use any email marketing platforms, such as MailChimp and Constant Contact, to send automated emails to subscribers or self-host your marketing email solution. Whichever one you choose; the most important thing is to gather an email list and constantly engage them. If someone reads your email, for instance, it means they're interested in what you have to offer. There is a more significant probability of interest if the person clicks on a link.
How to Nurture Email List
Nurturing your email list is crucial in maintaining active and engaging email subscribers. Your plan isn't just to have an email list; it's to have engaging email subscribers who know you, trust you, and ultimately buy from you.
Here are some of the unique ways you can nurture your email lists.
Send a Welcome Email to New Subscribers: The first impression they say lasts forever! Start your first email by welcoming them, showing them who you are, what your website is all about, and that you're committed to building a relationship with them.
Pop Up on the Regular: One of the ways to nurture your subscribers is by sending them valuable content regularly. Learn to deliver awesome content to your audience's email inbox regularly.
Don't Over Push them: No one wants to be sold to all the time. While your ultimate goal is to turn your subscribers into paying customers, sending them sales pitches can always be a turn-off and make them unsubscribe from your list.
Send only valuable content: Maintain regular connections with your email list if you want to keep them forever. You can't only talk to people when you want something from them; you need to consistently provide value to their lives.
Segment your List: Segmentation is another way to nurture your email subscribers. Segmentation will allow you to send hyper-focused messaging to specific groups of people on your contact list since each audience has its preferences.
Final Thoughts
Effective digital marketing strategies are affordable ways to stand out from the crowd, increase brand visibility and generate more sales. Growing your company requires a strong digital marketing strategy, and carrying out the digital marketing strategies mentioned will aid in reaching your objective. All the strategies mentioned in this article are low-cost strategies that any business can do without breaking the bank—above all, you'll soon see your sales improve, and your customers engage more with you and your products if you improve your marketing strategy and implement the above strategies.
Digital marketing is ever-changing. Your business will be left behind without implementing different marketing strategies. It is time to open up your business to different marketing innovations rather than focusing on one channel and expecting your brands to grow.