Google is an international technology company that specializes in Internet-related services and products, which include online advertising technologies, search engines, cloud computing, web-based software, and hardware products. Google is regarded as the engine room and the heartbeat of the internet. I know you are familiar with Google, you use Google daily to search for information online but there are many Google tools and services you don't know exist. But there are tons of free Google tools you don't know exist.
Google offer several free tools that will easily improve how you work, collaborate and interact with your associate online. Whatever your online activities are, Google has tons of free tools that will take care of things for you without stress and the good thing is that all of these tools are free from Google and can be accessed using one single account.
I will introduce you to some free brilliant tools from Google that will help increase the way you work, relate and collaborate with other businesses online, these tools will boost your website traffic, increases your sales and help you to be more productive in your day to day activities.
19+ Free Google Tools That Will Improve Your Online Business Activities
Click To Tweet
Free Google Tools For Business And SEO


Google business profile formally known as Google My Business is a free and easy-to-use listing tool for businesses and organizations to manage their online presence. By verifying and editing your business information on Google's business profile you're qualified to provide details and photos of your business, including your location, services, and products so that your customers can easily find your business and product online. Creating a profile on this free business listing helps business owners to increase their business visibility across Google services. Your business information listed on your Google business profile may appear on Google Search, Google Maps, and Google Shopping.
Using this free Google tool for business will help you to build better brand visibility on Google Maps and Google Search in your local area and help you out-ranked your competitors even without a physical office. Currently, most people search for products and businesses on Google Search, especially when searching for local businesses and services, being found on relevant terms for those services is important for your business growth. No matter what's your business goal whether it's foot traffic or web traffic, Google is the ultimate search referrer.
A Google Business Profile will help potential customers find your business when looking for products and services related to yours in their local area. All you need to do is enter all information about your business, such as business name, address, phone number, business hours, images and boom you're ready to connect with customers all over the internet
Google Business Profile is a great business listing no business owners should miss; it's a great way to position your business as a leader in your business niche in a particular location. It instantly connects you with customers across Google Search and Maps. Allows you to post photos and offers to your profile to show what makes your business unique, and give customers reasons to choose your business over others. Your customers can connect with you by calling, messaging or leaving reviews. There is no greater way to connect with customers in your locality than using Google Business Profile.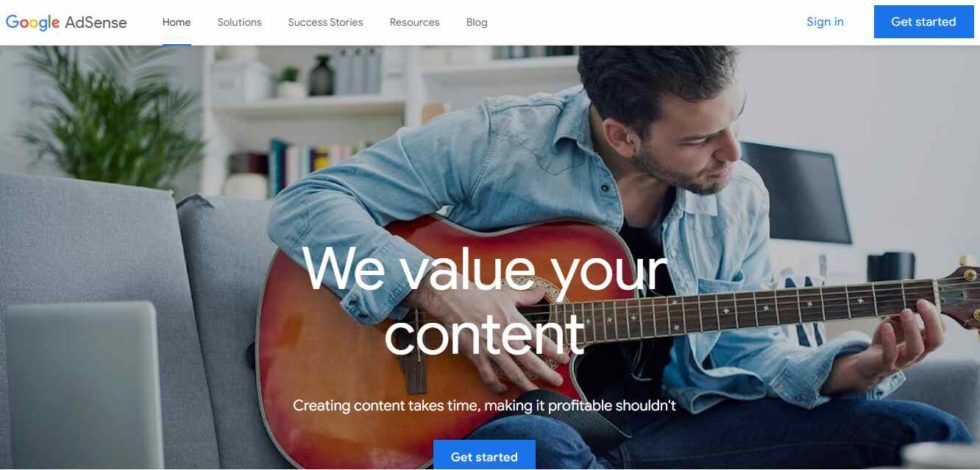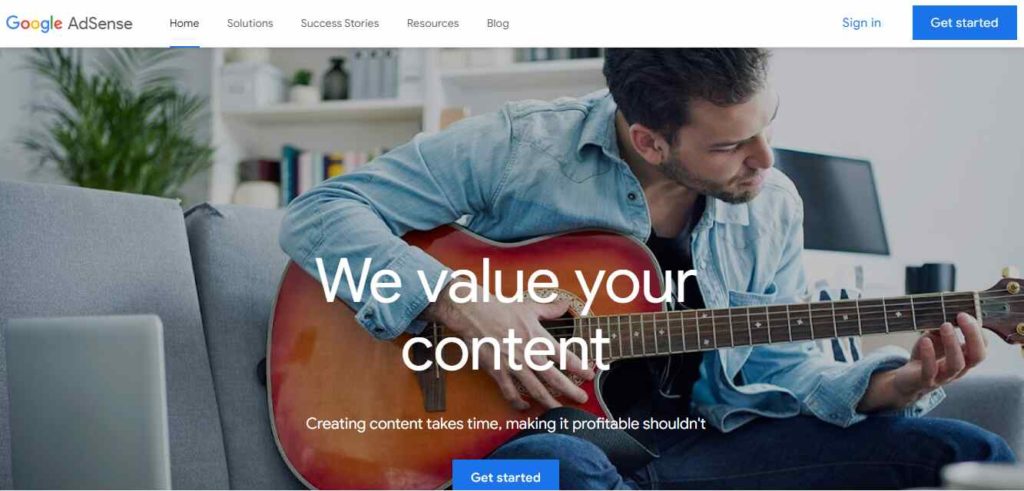 Google AdSense is a web-based application that allows website publishers in the network of content sites to place automatic targeted text, image, video, or interactive media advertisements on their website pages based on website content and audience and earn money per click or view. Google AdSense is one of the most popular advertising platforms that allow publishers and bloggers to earn money by displaying ads on your website based on your content and visitors. These ads are created and paid for by advertisers who want to promote their products.
If your website or blog has high-quality and sufficient content and gets moderate traffic, you can apply for Google AdSense to earn money on such a website. Simply register the website and place some ad code given to you by Google in the header, footer, content, and sidebar of the website, you can earn some passive income. Though, the amount you will earn varies because advertisers pay different prices for different ad so your website niche and the amount of traffics it receives determines how much you earn.
How Does Google AdSense Work? (click to expand)

Google AdSense works by making your website available for ads by simply applying for the program and placing the code on your website where you want the ads to appear. Advertisers will display their ad on your website to your visitors, then Google will pay you for the number of ads clicks you have on your site.

Google Analytics is a free web analytics and data collections service that tracks, reports and analyzes website traffic and user engagement on a site. It helps you to have in-depth insights and understand how your visitors and website users find and use your website. With Google Analytics you can track your website performance and collect visitors' insights to improve your marketing decision making. This free analytical tool will help websites' owners, businesses and organizations determine sources of website traffic gauge the success of their marketing activities and campaigns, track goal completions such as purchases, adding products to carts discover patterns and trends in user engagement and obtain other visitor information such as demographics, the technology used and lots more.
You can use Google Analytics to scrutinize and sort your visitors with dozens of dimensions. It was designed with business owners and entrepreneurs in mind; it enables online businesses and organizations to learn more about their customers' activities on their websites.
How does Google Analytics work? (Click to expand)

Google Analytics collects information about website visitors from website traffic sources to the number of hits on a website per month. It collects website users' data and behaviour using a JavaScript tracking code that's placed at the head section of each page of the website. This code runs in the web browser each time anyone visits any page of the website, collects the necessary data and sends the collected data to Google's data collection servers. The data collected will be used to display the reports of the users' activities on the website such as the number of users, bounce rates, average session durations, sessions by channel, page views, goal completions and more to the website owner.
By using Google Analytics on your website, you can have access to the following information about your website users.
Demographics: It helps you to know who your audiences are, including their location and language.
Technology Used: You find out what browsers, operating systems, and networks your visitors are using to view your website.
Mobile Information: It allows you to find out how many of your visitors are using mobile technology.
Traffic Sources – Analyze what websites, keywords, search engines, and other referrers send traffic to your website.
Top Content – Get a handle on how effective your content is by seeing your top entry and exit pages.
Here are some of the other benefits of using Google Analytics on your website as a business owner
Improved Customer Journey Tracking.
Improved user engagement analysis.
More powerful audiences for your ad campaigns.
It gives both users and website owners more intelligent and precise control over what data is collected.
It simplified the way you set up goals and events.
It enhances data visualizations and reporting.
Honestly, there is no reason your website should not use this powerful free Google tool for SEO especially if you are into marketing. A marketing business without any data analytics tool embedded in its website is like a ship without a rudder. You can simply follow this step-by-step guide to get started with Google Analytics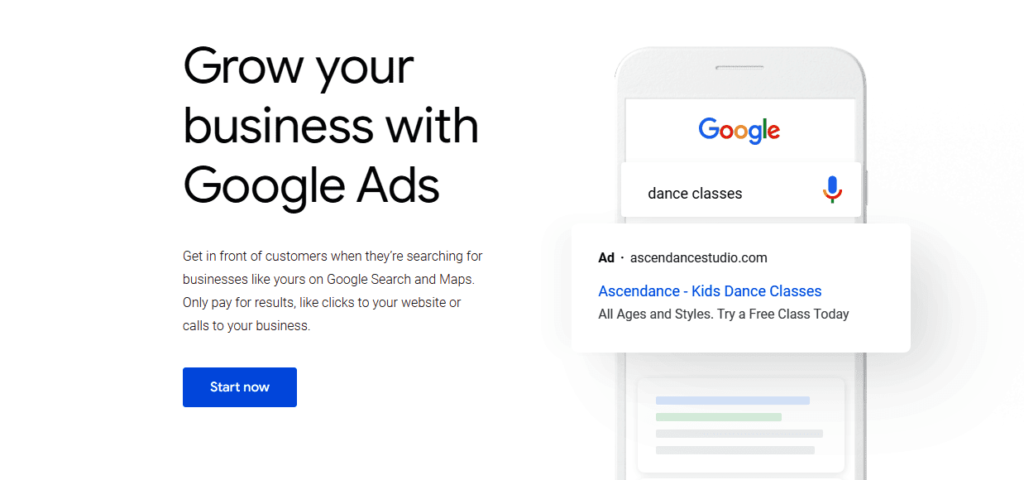 Google AdWords is a powerful online advertising service developed by Google, where advertisers pay to display brief advertising copy, product listings, and video content within the Google ad network to web users. This incredible tool helps you to place your business in front of potential customers when they're searching for businesses like yours on Google Search and Google Maps. And it's so affordable that you only pay for what use, you will only be charged when someone clicks links to your website or place a call to your business.
How Does Google AdWords benefit your business?
As a business owner using Google AdWords to advertise your business will help drive quality traffic to your website, increase physical store visits and thereby grow your sales. It also helps to improve your brand awareness to the general public. AdWords also identifies who is searching for your products and places your products in front of them always.
As a marketer or business owner, you can use this wonderful paid advertising platform if you want to drive enough organic traffic to your website or want to turn searchers into loyal customers as a marketer. If you use the right keywords, you can gain a significant amount of organic traffic and the conversions always exceed the value of money you pay to advertise your brand. It is a platform that gives you control over your budget, you have options to choose how much you wish to spend over time, you as well set your target audience's location, browser, mobile and many incredible features to make your ads reach relevant customer all within your budget.


This is another superb free service from Google to keep business owners in touch with events as it is happening online. Google Alerts is a content change detection and notification service, which sends emails to the user when it finds new results such as web pages, newspaper articles, blogs, or scientific research that match the user's search term or when your business name is being mentioned online.
If your business is into PR, marketing, business strategy, market and competitive intelligence, and other business roles that track specific keywords such as names of brands, people, topics, and competitive market analysis then Google Alerts was made for you.
If you want to be in the know when someone mentioned your business name online or keep in touch with the latest news, or findings on Google. All you need is to set up Google Alerts. To get started with Google Alerts is simple, just log on to Google Alerts and enter the keyword you wish to track in the search bar and create an alert. Boom Google will start sending you emails whenever it finds updates that match your keywords online.
You have the option to set when and how often you want to have them delivered to your email inbox. This tool can help you keep up with your competitors, what they do and when they get mentioned on Google searches.


Google Mobile-Friendly Test is an online service that allows website owners and businesses to find how responsive (mobile-friendly) their website is. With Google's latest Core Web Vitals website mobile-friendliness is a ranking factor in the Google search algorithm. A mobile-friendly website is a website that loads, display properly and look good on all devices regardless the size.
According to recent stats, on average, about 54.4% of Google searches come from mobile devices users. That's a huge percentage; too huge to be ignored by any business owner, so, the responsiveness of your websites is not optional, it is very compulsory since it is an SEO performance metric and a ranking signal for both Google and Binge. You can take the mobile-friendly test here.

Google Drive is a cloud storage service, and like any cloud storage service, its main purpose is to expand your ability to store files beyond the limits of your hard drive. Google Drive allows users to store files in the cloud, synchronize the files across multiple devices, can share files with friends, family or collaborate with team members. Google Drive integrates well with other Google services like Docs, Sheets, and Slides, cloud-native collaboration apps, this integration will enable team members to create content and collaborate more effectively in real-time regardless of their location or device used. It also integrates fully well with third-party tools like slack, salesforce, adobe and many others.
Wish to share large files online with friends and associates or collaborate with your team member remotely? Then give Google Drive a try. Google offers you free 15GB on Google drive and it can be accessed anywhere even on the smallest smartphone, that's a lot of free space to store your files. For small businesses, there may be no need to increase the storage since you don't upload too many files. Should you require more space on Google Drive, you can opt-in for the business standard plan of 2TB/month but it comes with a price of $12/month which allows you to record the Meet video conferencing to the Drive.
With Google Drive, there is no limitation to your collaboration or file sharing with your team and associate regardless of their location.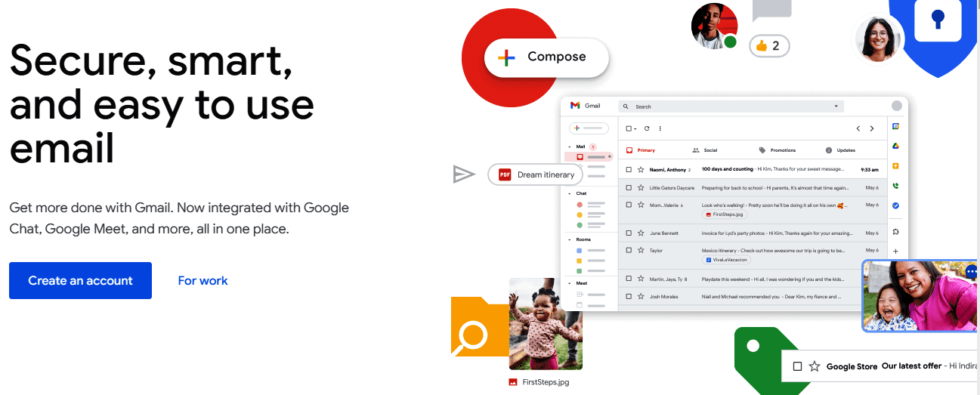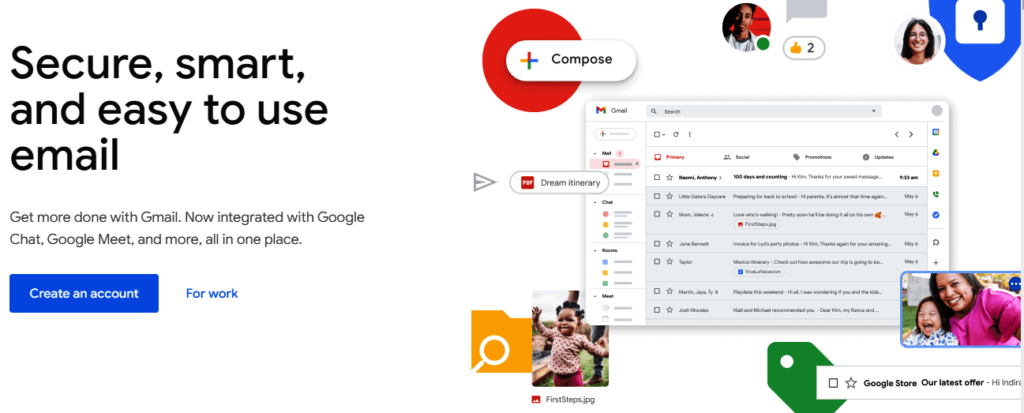 Gmail is a free Web-based e-mail service from Google that provides users with the ability to send and receive messages from any email address and store messages for as long as they want. This e-mail service automatically organizes successively related emails into a conversational thread with the ability to search for specific messages.
Gmail is currently the most reliable and popular free web-based email service in the market. According to a 2019 report by Wikipedia, there are about 1.5 billion Gmail users in the world; users can access Gmail on the web, tablets and smartphones. It comes with a cutting-edge filtering system that enables you to separate different incoming mail into different inboxes; this can make you keep your primary inbox clean.
Gmail for business known as Workspace is a way to go if you require more space for your inbox; it cost $6 per month. Google Workspace allows you to create a professional email address with your domain name in a more secure environment with no ads in your inbox.


Google Calendar is a free time-management and scheduling tool from Google. This great tool from Google can help you to keep up with important events in your daily schedule. With Google Calendar, you can schedule business meetings and events and get reminders about upcoming activities, so that you don't miss any important activities in your business. Calendar is designed for teams; you can share any created calendar with other users or even to the public and also embed it into your website. You can set up appointment slots, reminders, and events, all on one calendar.
You can as well set reminder alerts to be sent as a popup when you're logged in to your Google account or via email. You can use it to set reminders for your advertising, rent expiration dates and a lot more. You can create multiple calendars that you and your team can use together. You can share created events in your calendar with your editorial staff and organize your content marketing system. Google Calendar is a great tool that can help save time and streamline your day to day activities.
What are the benefits of Google Calendar to your business?
Streamlined meeting planning: With Google Calendar, businesses can share schedules with other businesses or individuals. You can also invite other people within or outside your organization to meetings while auto-generating video conferencing links. You can as well display your working hours and meeting availability to improve your meeting planning.
Meeting reminders: With Google Calendar, there is no way you can forget an event or miss a meeting because Google Calendar will send you notifications to prevent any chance of forgetting meetings. We all do forget things but Google Calendar don't.
Daily agendas: If you set Google Calendar to send you daily agenda, it will automatically email you a daily agenda at the start of every workday. This will enable you to start the day knowing exactly what's on your table and get them done without any further delay.
Task scheduling: Through the Tasks function, you can use Google Calendar as a task management tool.
Google Calendar is a highly and robust time-management tool for planning meetings, events and set reminders for every situation in an organization. If you want to keep up with every event in your business, you need to make use of Google Calendar.
Google Trends is a public web facility, based on Google Search that shows you how popular a particular search term is across various regions of the world, and in various languages. The free trendy service from Google allows you to know if a particular search query is on the rise or declining. You can also find demographic insights, related topics, and related queries to help you understand what's trending in your area.
This unique tool Google Trends gives an in-depth insight into the latest trends, data and visualization of a variety of information. If you are a blogger, marketer, or e-commerce owner you can use Google Trends to explore the latest trending in your niches, which can help you choose the right keyword, right products to sell and know who needs your products per time. You can search trends for a popular keyword, or topic in any industry as well as for a website with high traffic.


Gone are the days when languages used to be a barrier in business transactions and communication, with Google Translate you can communicate and transact business with anyone all over the world without you learning their language first. Google Translate is a free multilingual machine translation service. That allows you to translate text, documents, speech and websites from one language into over 100 other languages.
Sometimes as a blogger or marketer you may run into an email, blog comments, or webpage written in a language you don't understand. If that happens, you can quickly use Google Translate to translate it into your own language. You may not know the original language of such email, blog comments or webpage, just use the auto-detect language features. Another great thing about it is that you can improve the language if the translation is not to your taste or not too correct.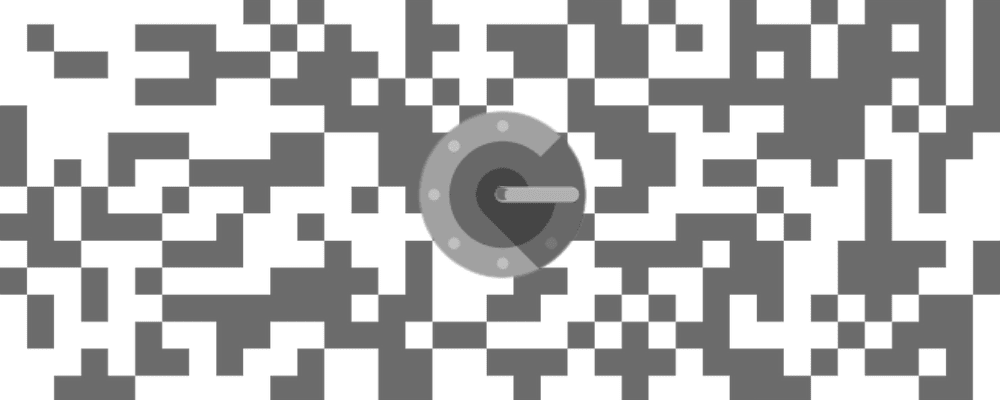 Want to secure and protect your password online from being stolen? Or protect your popular websites' accounts from being hacked? Then Google Authenticator is the one-stop app you need to install into IOS or Android smartphones. Google Authenticator is a free security mobile app powered by Google used as a 2-step authenticator (2FA) to protect your accounts on websites like Gmail, Facebook, Twitter, and Instagram against password theft and account hacking.
This security app randomly generates a six-digit code to authenticate your identity when you're logging with a new device into any of your accounts that require authentication, this method provides you with an extra level of security that makes it very difficult for hackers to hack. With the Google Authenticator app linked to your online account, you simply eliminate the possibility of your social media accounts or other websites accounts being hacked.
Google Classroom is a free learning platform service developed by Google for schools and educational institutions that aims to simplify creating, distributing and grading assignments in a paperless way. Google Classroom is a learning platform that streamlines the process of sharing files between tutors and students. Students can be invited to join a class through a private code, or be automatically imported from a school domain.
Google Classroom makes learning easy and fun by bringing every educational tool together to be managed in a central place. It integrates well with Google Meet for easy face-to-face connection between Students and teachers. And can be accessed on any device from all around the world bridging the gap in the learning environment. With Google Classroom, schools and educational institutions can streamlines assignments, boost collaboration, and fosters seamless communication to make teaching more productive and meaningful. This great tool helps classes communicate effectively, save time and stay organized. If you're a school owner or run an educational service, Google Classroom can connect your tutor and students together in a way you never thought possible.

Google Search Console is a free web service and reporting tool that allow webmasters to confirm if their website is found and crawled by Google. Helps website owners to fix indexing problems and request re-indexing of new or updated content on their website. Enables webmaster to view Google Search traffic data for their site: how often the website appears in Google Search, which searches queries display their site, how often searchers click through for those queries, and many more. If you want your website to show up in relevant search results, then you need to use this tool to submit your sitemap to Google. A sitemap is basically like a road map for your website.
Goggle search Console enables you to have full access to the following and more.
Site Configuration – This section checks your website's settings on the web, including preferred domain canonicalization, site links, URL parameters, change of address, and users who have access.
Site Health – This section includes crawl errors, stats, blocked URLs, and malware alerts.
Site Traffic – This section includes search queries and audience demographics.
Site Links – This section shows the number of an internal and external link on your website and how many websites links to your website.
Google Search Console is a powerful tool in the hand of webmasters and when connected with Google Analytics, the amount of data you have about how your website behaves online is unimaginable.

Google Forms is a free web application form builder that enables users to collect contact information, and create surveys and questionnaires online in order to collect and organize information. Simple or complex can be created and the created forms can be used to plan events, manage registrations, set up a poll, collect contact information, create a pop quiz and more and the collected information can be sent to a Google spreadsheet for further analysis.
Google Form allows you to create a new survey on your own or with others at the same time. Choose from a variety of beautiful, pre-made themes or create your own. You can use Google Forms to collect sales leads, collect survey responses, conduct interview tests, give your students a quiz, or collect feedback from customers. You can use this free powerful tool to manage event registrations, and even collect email addresses for a newsletter and a lot more. It's so flexible and easy to use and you can easily share the form you created on social media or link to your website.
As a business owner looking for ways to collect data from your customers and do a survey without paying anything in return For my digital marketing agency, I have to collect data from the audiences. So, I was looking for a solution that will let me do that without going through a steep learning curve.
Google Docs is a free Web-based application in which documents and spreadsheets can be created, edited and stored online. Files can be accessed from any computer with an Internet connection and a full-featured Web browser and mobile app. With Google Docs, you can write, edit and collaborate on the go free of charge with smart editing and styling tools to help you format text and paragraphs easily. You can also choose from hundreds of fonts, you can also add links, images and drawings to your document without paying a dime.
Are you the go and Microsoft Office is not installed on your computer? No hassle! Google Docs got you covered. With Google Docs you can write reports, create joint project proposals, keep track of meeting notes and access your document on any device of your choice. You can also create and edit text documents right in your web browser—no special software is required. Even better, multiple people can work at the same time; you can see people's changes as they make them, and every change is saved automatically. What more are you looking for?
Google Docs is more than just letters and words editors, you can format text, and paragraphs and also chose from several pre-made templates without any stress. With Google Docs you can access, create and edit your documents and even use revision history to see old versions of the document you're editing on the go. And you can do all these from your phone, or tablet even when there's no Internet connection if you have the app installed.
Think with Google is one of my best to go Google App in this list as it gives insights into the latest marketing strategy and trends. This super cool web application from Google is a tool to uncover the latest marketing research and digital trends with data reports, guides, Infographics, and articles. It's simply a digital cheat sheet from Google.
If data matters to you as a marketer "Think with Google" is a one-stop-shop for understanding the latest industry trends, consumers' behaviour, marketing insight and lots more. Since Google is the heartbeat of the internet and has so much data at its disposal about what people search for online, it is wise as a marketer to use think with Google before boosting any ads and displaying your products to consumers.
Think with Google is a fantastic free web application suitable for digital marketers, job seekers, start-ups and bloggers, this free tool can help you get insight into content, marketing strategy, consumers' behaviour online and so much more. You can make use of this informational centre to draw inspiration, consumer insights, industry viewpoints and in-depth information on anything.

Google Books is a digital library service powered by Google that searches the full text of books and magazines that Google has scanned, converted to text using optical character recognition, and stored in its vast digital database. Google Books is a digital library that empowers you to search, buy and read your favourite books online and offline.
With Google Books you can do more than just read a book, you can buy books read your purchased books on your computer, smartphone, or digital reading device, it gives you the opportunity to switch from one reading device to another without losing your place, you can also manage your digital book collection on your digital bookshelf and write reviews on books you have read for other readers to see.
If you love reading, then this digital library is a good place to find books online in all fields, some of which you can read for free. And if you are a writer that wants to make money by selling your books to a very larger audience, Google Books is the place to go.


YouTube is a free video-sharing website that makes it easy for users to create, upload, watch and share videos online in almost every area of life. YouTube is the second most popular website on the web behind Google.com, with visitors watching around 6 billion hours of video every month. If you have ever watched video online chances are it's a YouTube video
If you are into video content and really want to dominate the video market, or want to learn new skills online then YouTube is the place to be, it has over 13.34 Billion monthly visits you can rest assured that your videos will get across to millions of viewers.
YouTube can be a great space for your business to showcase your hacks and skills to the world since billions of people troop to YouTube to watch music videos, comedy shows, movies, how-to guides, recipes, hacks and more. It's also a place where people follow their favourite video creators, artists and celebrities and subscribe to their channels. Uploading your videos on YouTube can also help get you ranked high in search engines even when your website is not yet on the first page of Google. YouTube still offers you an avenue to generate wealth by placing Ads on your YouTube Channel.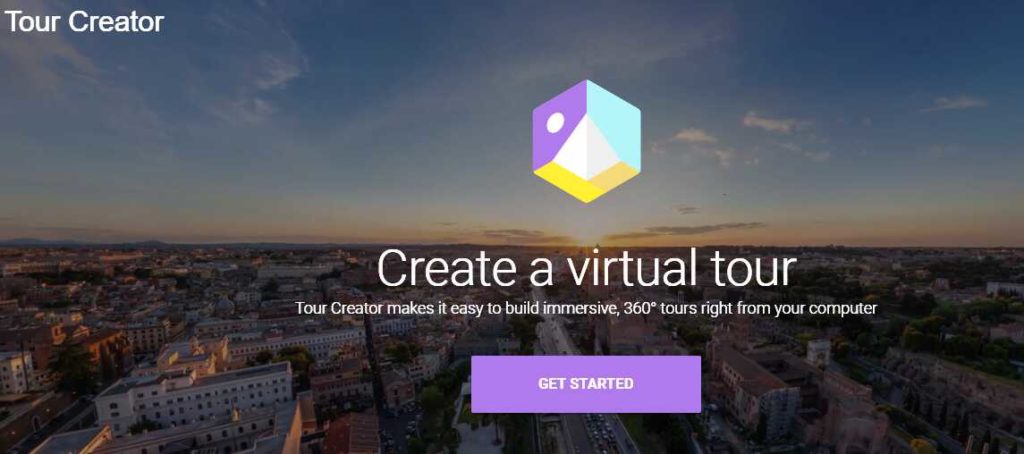 Google Virtual Tour is an online virtual interactive technology with a street View experience. Google Virtual Tour allows visitors to experience a 360-degree virtual tour inside and outside of your business building. You can enhance your business listing on the map with a more enjoyable visitors experience using this free Google tool. Though Google Virtual tour connected 360 images are completed by a Trusted Google Photographer or Google Trusted partner. Enhance your digital presence on search engines with Google virtual tour. Your business building 360-degree virtual tour will help your business stand out from the competition and showcase your business to the world in a unique and interactive way.
Statistics show that when searching for businesses online 44% of consumers use mapping products, which means listing your business with photos and virtual tours is twice likely to generate interest, increase click-through rate, and increase your sales and time visitors spent on your website. This tool is a must-use tool for any Hotel and Restaurant business owner because most of the time many people would like to see what your hotel or restaurant looks like before booking a reservation and making an order online.
Final Thoughts About Free Google Tools
Google is not just a search engine; they offer more than enough powerful web, mobile and desktop applications and services to make your day to day personal and business activities online easy and smooth. One unique thing about is the fact that with a single account you can access all of their tools free of charge.
Which of the Google tools and services in this article is your favourite? Let me know in the comment section below.