Google AdSense is one of the ways a beginner can make money from blogging; AdSense allows you to place code on your website and have other people's products and services displayed on your website for your readers to click. Once your readers click any ads on your website, Google will pay you; it's that simple. I have seen many new bloggers asking this question "How To Get Google AdSense Approval for a New Website Quickly"
As a beginner blogger, you want to make money from your blog to keep the spirit going and pay some bills. Everyone does, too; blogging is profitable only if you know the right thing to do. If you want to make money from your new blog, then Google AdSense is the #1 ad network you can use to monetize your blog.
The Google AdSense Strict policies make it hard for many blog owners to monetize their blogs with AdSense. Some even go as far as buying an existing blog with AdSense and end up spending more fortune than expected. In this article, I will show you what you need to do to get your new blog approved by Google AdSense within a week. If you follow the basic rules in this article and treat your blog like a business from the start, you'll get Google AdSense approval with your new blog.
In this post, I'll show you some Google AdSense approval tricks and the Eight steps you should take before you apply for Google AdSense.
How To Get Google AdSense Approval for a New Website Quickly
Click To Tweet
Disclosure: Please note that some of the links below are affiliate links, and at no additional cost, I'll earn a commission when you purchase a product or service using my affiliate link. I'm compensated, which helps me make content like this free. I only recommend products and services I've personally used and stand behind.
How Much Traffic do you need for AdSense Approval?
Having huge traffic is good in blogging because most of the time amount of traffic you have determines how much money you make, but there is no actual traffic amount needed to apply for Google AdSense. Unlike most other ad networks, you don't need much traffic to apply for AdSense. Traffic is not a factor for Google AdSense approval; Google does not specify the traffic threshold you must have before applying for AdSense. 
That being said, there may not be any specific traffic to apply for AdSense. Still, I think you need the traffic to enjoy AdSense, as you can't make money with AdSense without enough traffic. I think traffic matters because if you don't have a decent amount of traffic, you won't make much money from your blog. So, if you're a beginner blogger, I suggest you work on your On-Page SEO and research Keywords to get free organic traffic from Google.
Learn: 29 Brilliant Ways to Increase Your Website Traffic
Now let's dive into how to get Google AdSense approval for a new website quickly
What You Must Do Before Applying for Google AdSense
Write Unique and High-Quality Content
Content is everything in blogging; what Oxygen is to life, what good and high-quality content are to blogging. Content is blogging; you can't have a blog without content. Your blog content is what brings people to your blog. Your blog must be filled with good and original content to get Google AdSense approval. Don't fill your blog with copied or plagiarised content. Write some unique, valuable, compelling, engaging, and high-quality content for your targeted audience.
Your blog posts should be a minimum of 1000 words long and optimized; according to Google, your blog content must not promote illegal activity or infringes on the legal rights of others. If your blog content is filled with hate speeches or promotes inhuman activities like bullying, Google will reject your application. 
So, before you apply for Google AdSense, ensure your blog has unique and high-quality content. 
Make Your Blog Posts SEO Friendly
Still, on content, it is recommended to improve the quality of your blog posts with on-Page SEO and use your primary keyword in your headline, preferably within the first 10% of your article. Your keyword should also appear in the slug and at least one subheading, meta description, and title tag.
Google AdSense may use its crawler bots for checking your site's entirety since it's impossible for their AdSense team to examine and inspect hundreds of sites that have applied in the past for AdSense acceptance. If your blog runs on WordPress, you can install a free On-page SEO plugin like RankMath or Yoast SEO to optimize your blog's content to be search engine friendly. 
Optimizing your blog posts to be SEO-friendly; by placing your primary and related keywords in your posts' heading, meta description, and image alt text will enable Google to understand what you blog about, improve your ranking on search engines and get your AdSense application to be approved on time.
Have Sufficient Blog Posts
Although there's no threshold for the number of blog posts, you need to have to be your blog approved by Google AdSense. In my experience, having 15-20 high-quality blog posts on your blog is advised before applying for AdSense. The quantity of the posts does not count; what count is the uniqueness and quality of your content.
So, to avoid rejection by Google AdSense, ensure you have at least 15 unique and high-quality blog posts on your website before applying for Google AdSense.
Create Must-Have Pages
Before Google AdSense considers your application, there are some pages your blog must have. These pages are mandatory and must be on every website that collects users' personal information.
These pages include the About page, Privacy Policy page, Contact page, and Terms of Use page. These pages are important because they allow your website users to know more about you, how to contact you, and what information you're collecting from using your website. 
Having all these pages in place is necessary if you use Google AdSense ads on your blog, especially a Privacy Policy page. You can use many privacy policy page generators online to generate your blog privacy policy page; you can use a tool like Termify to generate your Privacy Policy page. You can also hire someone to write it for you or modify the one you get online to fit your website.
Make Sure You are 18 or Above
According to Google AdSense Terms and Conditions, you must be 18 years old or over before applying for AdSense. Any blogger below 18 years can ask parents or guardians to sign up for AdSense using their information.
Avoid the Use Copyrighted Materials
If your blog contains copyrighted content like images, Google AdSense will reject your application. Pictures are good on blogs, they beautify blog posts and help with SEO, but you should avoid using copyrighted images. If you must use copyrighted content on your blog, ensure you attribute the source appropriately. Copyrighted content is harmful to your online content, it's illegal, and Google doesn't encourage it in any way.
There are many websites online where you can get free stock images without any license you can use on your blog. You can use photos on Pixabay, Pexels, and many other free stock images online. So, ensure you don't have copyrighted content on your blog before applying for Google AdSense.
Make sure your blog is User-Friendly
We currently have billions of websites on the internet, and as such, people and search engines love websites that are responsive and user-friendly. Ensure your website design is user-friendly, easy to navigate, and responsive regardless of the device.
You can hire a professional designer to design your blog, and if you want to create your blog yourself, ensure you follow the standard. If your blog runs on WordPress or you want to create a new blog using WordPress, you can consider any of these WordPress Themes to have a professional-looking, mobile and user-friendly website.
Blog Domain Name Should be At least Six-Month-Old
Although there is no documented domain age to apply for AdSense, some people with good content get approval within two months of their blog coming online. In some areas, Google specifies a minimum of six months before they can apply for AdSense. So, to be safer, you can leave your blog for six months with good content before applying for Google AdSense. But you can get approved within the first 30 days of your blog with credible content and massive traffic.
Applying for Google AdSense
Once you consider the above pro tips and adjust your blog appropriately, you can apply for Google AdSense and quickly get AdSense approval for your new blog.
To apply for AdSense, visit the Google AdSense page to create an account and correctly enter your website and contact information. If you enter false information, you may have a problem processing your payment when it's time for Google to pay you.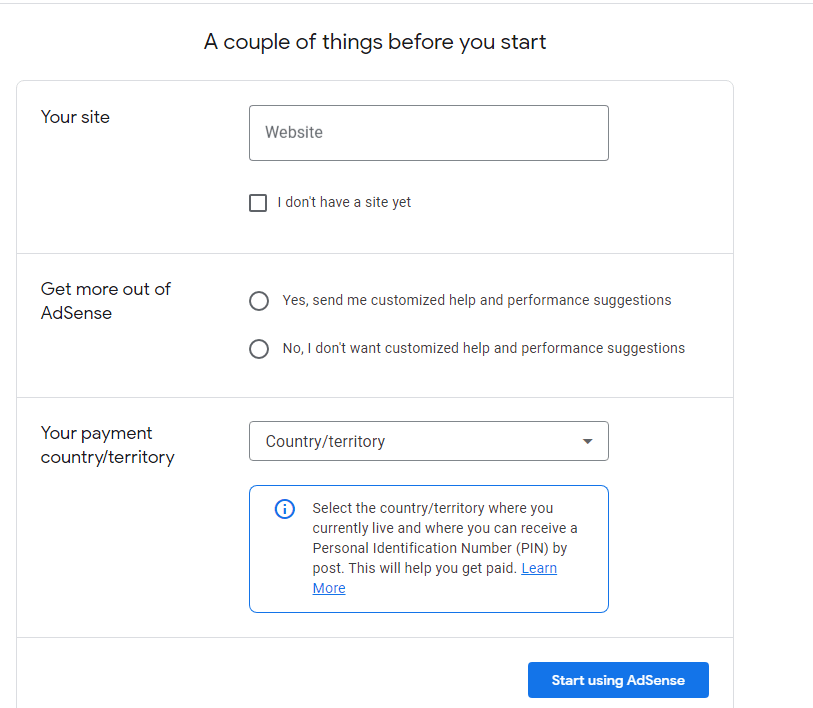 So, during your application process, remember to use your real name, address, and country.
Google AdSense Approval Process
Once you have signed up for Google AdSense, you will be given an AdSense code to add to your blog's head section. Ads will not show on your blog until Google AdSense approves your website for AdSense. The verification process may take up to 1 or 2 weeks, sometimes longer.
After the final AdSense approval, you will get a confirmation email that "yoursitename.com" is now ready to show AdSense ads, like the one in the image below.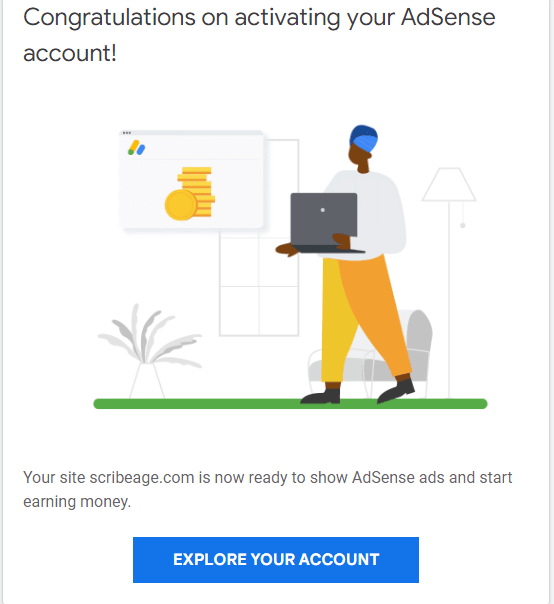 Once you receive the approval email, you can log in to your AdSense dashboard, copy the AdSense code, and add them to every page you want to display ads on your website. Within a few hours, your blog will show relevant ads, and you can start earning money from your AdSense-approved blog.
Once your earnings reach $10, Google AdSense will send you an email to verify your identity by providing some documents and details about the blog and who will receive payment. This verification process prevents fraud; the verification process may take a few days to complete.
Once you completed all the steps of the Google AdSense approval process. There is nothing more to do than work on your website traffic to increase your earnings; once your earnings reach $100, Google will wire transfer your payments to your bank account. Wao Congratulations! That's how you make your first $100 using Google AdSense.
What Are You Waiting For?
I hope you enjoyed this Google AdSense approval guide. If you follow all the pro tips mentioned above, Google AdSense will have no option but to approve your request approval. It's your turn to apply for Google AdSense and make some extra cash on your blog.
Keep the following in mind before you apply:
You should have at least 15 pieces of high-quality content on your blog that follows AdSense Policy.
You must have unique content free from plagiarism, from images to your blog posts.
Each of your articles should be at least 1000 words long.
You need good organic traffic on your blog to make money from Google AdSense.
It would help if you had a straightforward Privacy Policy, about page, and contact page on your website before you apply.
If your application is denied for unknown reasons, you can apply again.
Work on your blog On-Page SEO to benefit from organic traffic.
Have you got any questions concerning Google AdSense approval? Please let me know in the comments section below. And if you liked and enjoyed this article and think it will benefit your friends and other bloggers, kindly share it with them.