AdSense is one of the most popular and widely used advertising programs for bloggers and website owners. It is an excellent way to monetize your website and earn revenue from your traffic. However, certain rules and guidelines must be followed to maintain your AdSense account's integrity and prevent it from being banned. In this article, I will show you how to prevent your AdSense account from getting banned. I will explore the various AdSense policies and guidelines you must adhere to and provide tips on avoiding common mistakes that could lead to account suspension or termination. With these best practices, you can ensure that your AdSense account remains in good standing and continues generating revenue for your blog.
Many publishers got their AdSense accounts banned recently due to copyright violations and low-quality pages. Another major reason for the AdSense ban is an invalid click; these and many more mistakes many AdSense publishers should avoid from getting their account banned shall be discussed in this post.
Understand AdSense TOS and Ways to Stop Violating AdSense Policies
AdSense is a popular advertising program that allows website owners to monetize their traffic by displaying ads on their sites. However, to participate in the AdSense program, website owners must adhere to Google's Terms of Service (TOS) and Policies.
To ensure that you understand AdSense's Terms of Services and policies, you should review them carefully before applying for an AdSense account. Some of the key AdSense policies that you must know and follow include the following:
Prohibited Content
AdSense prohibits website owners from displaying ads on pages that contain prohibited content, such as adult content, copyrighted material, and illegal content. If you published prohibited content on your AdSense enabled blog, you may have your account banned or terminated
Invalid Clicks
AdSense prohibits website owners from engaging in activities that generate invalid clicks, such as clicking ads themselves or using automated tools to click ads on their websites.
Ad Placement
AdSense has strict guidelines on where ads can be placed on a website. For example, ads cannot be placed on pages that contain pop-ups or other intrusive ads.
Traffic Sources
AdSense prohibits website owners from using certain traffic sources to generate clicks, such as paid-to-click programs.
To stop violating AdSense policies, you should regularly review your website to ensure it complies with AdSense policies. Here are the Google AdSense Policies you should avoid if you don't want your AdSense account banned
How to Prevent Your AdSense Account from Getting Banned
Here are what you to take into consideration when you apply to join the AdSense program as a publisher to prevent your account from getting banned.
Invalid Clicks and Impressions
Many AdSense accounts end up in the danger zone due to prohibited activities carried out by publishers. When starting with AdSense, many publishers ask their friends to click on ads or even to click on their ads from different IP addresses. AdSense strictly forbids such actions and can result in the suspension or complete termination of your AdSense account. Google AdSense take this measure because the AdSense team is responsible for protecting their advertisers' interests and maintaining their program's integrity.
Furthermore, new publishers sometimes encourage their readers to click on ads, which violates AdSense's program policies. This is because it creates an artificial click activity that misrepresents user interest in the advertised content. AdSense program policies strictly prohibit any form of invalid click activity that is designed to manipulate the program's revenue-sharing model. Therefore, publishers must understand and comply with the program policies to ensure a successful and sustainable partnership with AdSense.
Using AdSense on an Unsupported Language Blog
Currently, Google's AdSense program doesn't support all the languages worldwide, which means some languages may not meet the program's eligibility criteria if you have an approved AdSense account and are displaying ads on a blog that uses a language that doesn't meet the AdSense terms of service. It's important to make the necessary changes immediately. Adding a multilingual feature to your blog to serve ads may be viewed as a violation of AdSense policies.
Sending Ads on Email
Many publishers have initiated the practice of including AdSense ads in emails, which sometimes becomes popular and spreads rapidly. However, this practice violates Google's AdSense program policies. Below is the excerpt from the Google AdSense support center
"We understand that publishers are always looking for new ways to boost traffic to their websites. However, it is a violation of our program policies to promote websites that are displaying Google ads through unsolicited emails. Please also note that publishers are not permitted to place AdSense ads in emails."

Google AdSense
Advertisement Label
Google AdSense uses an "Advertisement" or "Ad" label on any ads served through the platform. But several publishers have resorted to using misleading phrases such as "Click here" or "Click to download" to entice readers to click on AdSense ads, which is a practice that encourages invalid clicks. Such actions go against the program policies of AdSense. 
In addition, the use of pop-up scripts to display AdSense in pop-ups where readers must click on the ads to access the content is strictly prohibited by AdSense. This practice also falls under invalid clicks and can result in account suspension or termination.
Competitive Contextual Advertisement
It's important to exclusively use Google AdSense as your contextual advertisement program without incorporating any other ad network. However, you can use several other ad networks that comply with AdSense's terms of service for monetization purposes, such as Ezoic.
Publishing Copyrighted Content
You are highly likely to face an immediate ban if you have AdSense ads on a website that shares copyrighted content such as movies, songs, or other files. This is because AdSense does not permit placing ads on websites that distribute copyrighted material. But if you have the legal right to display such content on your website, you can simply apply for certification to have such content alongside your AdSense. 
Linking to the Site that Distributes Illegal and Copyright Content
If your website includes links to illegal or pirated software, keygen sites, or streaming movie sites, AdSense may disable ad serving for that specific site. Additionally, other types of prohibited content are not allowed on AdSense sites, such as pornographic or violent content, racially sensitive material, hacking or cracking content, and gambling or casino content. Pages that sell drugs, alcohol, weapons, and ammunition or distribute coursework, such as student essays, are also prohibited. As a publisher must respect the intellectual property rights of others and only display the content, you have the right to use. This includes avoiding the use of copyrighted images or text without permission.
Google AdSense strictly prohibits displaying content related to drugs or illegal activities on any website that participates in its advertising program. This prohibition includes content related to the sale, use, or abuse of drugs and any illegal activities or products.
Content related to hacking, cracking, or any other activity that may be considered illegal or unethical is also prohibited. Failure to comply with these policies could result in having your AdSense account suspended or banned for life.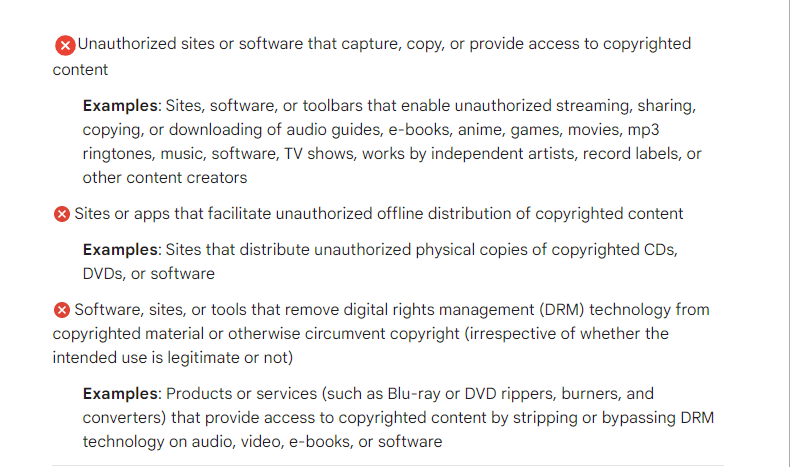 Paid Traffic
It's important to note that buying traffic for your website that has AdSense enabled is not permitted according to AdSense's terms of service. Additionally, you should familiarize yourself with AdSense's landing page quality guidelines to ensure that your website meets Google's expectations. To keep your AdSense account active, you must not artificially inflate your website traffic or engage in any practices that may artificially increase ad clicks or impressions. This includes practices such as click fraud, incentivizing clicks (paying people to click for you), or using bots or other automated tools to generate traffic.
However, promoting your content on social media or buying traffic from high-quality websites like Facebook is not considered a violation.

Your Ad Placement
AdSense has specific guidelines for where ads can be placed on your website. If you want to avoid being banned from using AdSense, there are places where you should not display ads on your website. For example, ads should not be displayed on pages with little or no content and must not be placed in deceptive or misleading locations. You must have at least 300-600 words on a page before displaying ads on such a page.
As a publisher, you must follow all of the program policies set forth by AdSense, which may change from time to time. Failure to comply with these policies could result in your account suspension or termination. So, you must regularly review the Google AdSense policies and keep up-to-date with any changes to ensure continued compliance.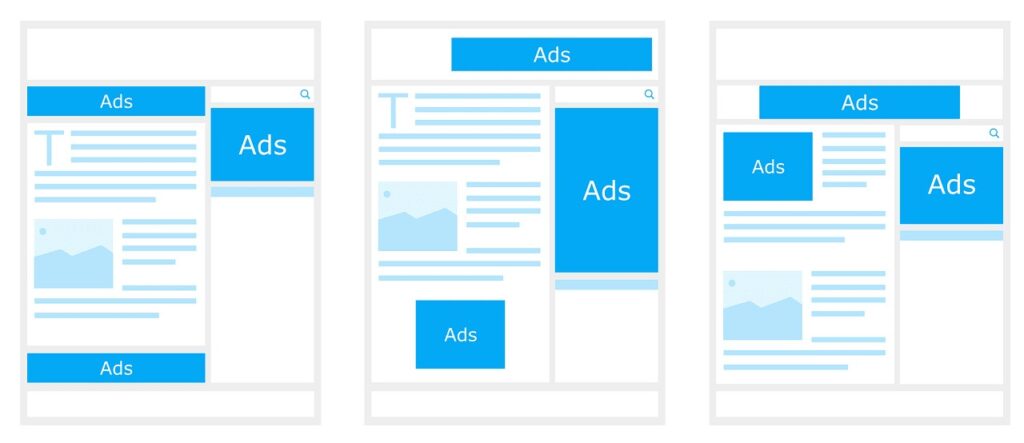 Altering the AdSense Code
Publishers must not alter the behavior of ads in any way, such as by manipulating the ad code, modifying the ad unit, or obscuring the ad. Ads must be displayed exactly as provided by AdSense. Many publishers who are comfortable with code always think of a way to alter Google AdSense code to increase clicks and impressions. Such action is totally against AdSense Policies and terms of service.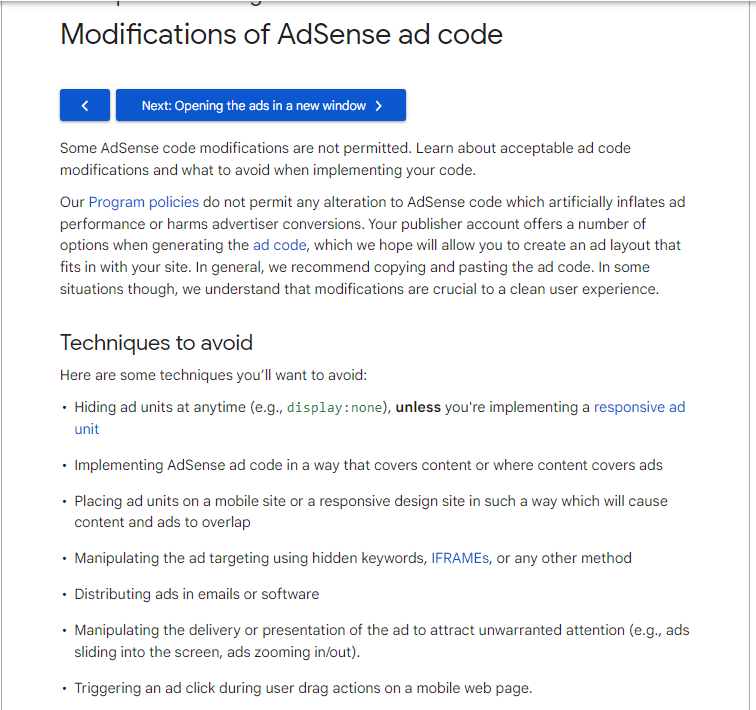 Misleading Website Visitors
Don't mislead your website visitors by tricking them into clicking on your ads, as it can lead to your AdSense account suspension.
Here are a few things you should not do to mislead your website visitors:
Auto redirects: Many sites use auto redirects where the ads or content elements get auto-redirected to another page without any action from website visitors. Avoid it!
Fake messages: Don't use fake messages, dialogue boxes, or other notifications that lead to clicking ads on your site, as it misleads your website visitors.
Browser history manipulation: This is another technique that few people use to generate more clicks on their AdSense ads, which can also lead to suspending your account. This feature prevents the normal function of the "back" button by keeping your website visitors from returning to the previous destination. For example, the site adds a page to the browser history, simply manipulating your site's user behavior.
Final Thoughts on How to Prevent your AdSense Account from Getting Banned.
In conclusion, following AdSense's terms of service guidelines is crucial to avoid getting your account banned. By avoiding click fraud, keeping your website content in line with AdSense policies, not using pop-up ads or promoting ad clicks, and exclusively using AdSense as your contextual advertisement program, you can safeguard your account from being disabled. Additionally, staying informed about any updates or changes in AdSense's policies and guidelines is essential to ensure your continued compliance. By adhering to these tips, you can maintain a healthy AdSense account and monetize your website without disruptions.
And if you already suffer an AdSense account ban, there are other AdSense alternative programs you can use to monetize and increase your blog revenue. If you enjoy this article, kindly share it with your friends on social media. And if you have experienced your AdSense being banned before, kindly share your experience with us in the comment section.