In today's digital age, the internet offers countless opportunities to turn your spare time and skills into a source of income. Whether you're looking to escape the daily grind of a traditional 9-to-5 job or simply want to supplement your earnings, making money online has become an increasingly popular and accessible option. The beauty of online income generation is that it can be as flexible as you need it to be, catering to various interests and skill sets. From freelancing to e-commerce, the online world has various options you can explore. You can turn your hobbies, skills, or spare time into cash, and it's easier than you might think.
Today, I'll delve into the top seven ways you can make money online; these methods are beginner-friendly and perfect for anyone looking to dip their toes into earning money online. Whether you're a creative artist, a tech-savvy entrepreneur, or someone looking to leverage your expertise, these methods offer diverse paths to financial success in the digital realm. So, if you're new to making money online, keep reading. I'll break down these simple and reliable ways to make money online, so you can start your journey to financial freedom from your computer or smartphone.
7 Best Ways to Make Money Online
The internet has opened up a world of opportunities for you to make money online. While there is no one-size-fits-all approach to online income generation, here are 7 top ways and strategies that can help you achieve financial success.
Affiliate Marketing
Affiliate marketing is a lucrative online business model that allows individuals and businesses to earn money by promoting products or services of other companies. It is a way to make money online by promoting products or services created by others. When you recommend these products, and someone makes a purchase through your unique affiliate link, you earn a commission. It's like getting a reward for helping companies sell their products online.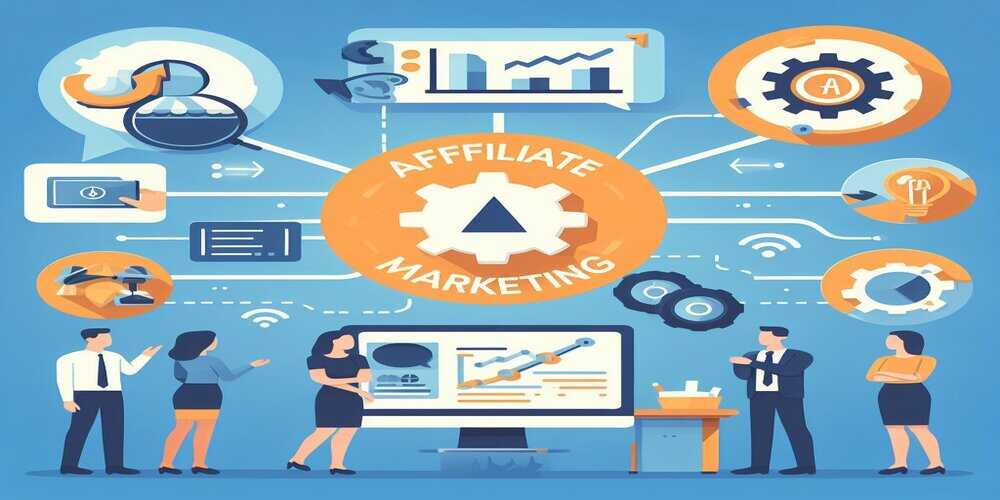 Affiliate marketing is a performance-based marketing model that allows you (affiliates) to earn commissions by promoting products or services of other companies (merchants or advertisers). It's a mutually beneficial relationship where the affiliate (you) earns a commission, and the merchant gains more exposure and sales without upfront advertising costs. Here's a detailed how you can make money online with affiliate marketing:
Owning an Online Platform
To promote affiliate marketing, you'll need a web presence: you must own a blog, social media platforms, landing pages, sales pages, banner ads, or an e-commerce site. But instead of selling your products, you sell the products or services of other companies. You can combine different platforms to reach a wider audience to promote your affiliate products.
You must choose affiliate products or services your niche can easily relate to. If you talk about bicycles and riding in your blog, it will be wise to promote bicycles and their accessories in your affiliate. Choosing an affiliate marketing in your niche or industry is the foundation for your marketing efforts. This will allow you to craft content around the products you are promoting to convince your reader to make a purchase.
Joining Affiliate Programs
Affiliates sign up for affiliate programs, often managed by affiliate networks or individual companies. These programs provide access to products or services for promotion. There are many affiliate programs to join, such as CJ, Amazon, ShareaShare, Impact and the rest. You can also apply directly to the company's affiliate program. Most companies place links to their affiliate program in the footer of their website.
Once accepted into an affiliate program of your choice, you will be given a unique affiliate link and promotional banners; you can then use this link and banners to promote the merchant's products and services within your content, email campaigns and social media posts. As an affiliate, you can create content and marketing strategies to promote the products or services. Your content and marketing strategies may include:
Content Marketing: Writing blog posts, articles, reviews, or creating videos about the products.
Search Engine Optimisation (SEO): Optimising your content to rank higher in search engines.
Email Marketing: Promoting the merchant's products to your email list through the monthly newsletter.
Social Media Marketing: Sharing affiliate links on social platforms.
Influencer Marketing: Collaborating with influencers in your niche to promote your affiliate products and services.
Once a potential customer you promote the products to clicks on the affiliate's unique link in your content, emails or social media, a tracking cookie is placed on their device. This cookie is used to track the user's activity, and if the user makes a purchase within a specified time frame (usually within the cookie's duration), you will be credited with the sale, and you will earn the commission.
With Affiliate marketing, you don't have to own a product or worry about inventory, you just need to drive the traffic to your blog or social media account and get people to click over to the companies you are promoting as an affiliate and if sales are made you get a commission for referring that sale. Isn't that a simple way to make money online?
Selling on Amazon, eBay, Etsy, and Craigslist
Another way to make money online is to begin selling things online by using big websites like Amazon, eBay, Etsy, and Craigslist. These websites have earned the trust of millions of users overtime, and millions of people shop on them, and more people are joining every day.
You can easily set up your own little shop on these websites without worry about creating your own online shop. People can search for your products on these websites, and they can put things they want to buy in a virtual cart.
Amazon
Amazon is a well-known and trusted e-commerce platform with millions of active customers who visit the site regularly to make purchases; this provides you with a vast potential customer base, increasing the chances of your products getting noticed. Many customers feel confident making purchases on Amazon due to the reputation for quality and reliable customer service. Amazon handles the storage, packaging, and shipping of your products, which saves you time and resources in managing the logistics of your business.
Amazon also operates in multiple countries, allowing you to reach customers worldwide. You can expand your business internationally with Amazon's global presence rather than selling products on your own website.
eBay
Setting up an eBay store is relatively simple, and you can start selling within minutes. You don't need to invest in building a separate website or worry about complex e-commerce infrastructure. eBay has a massive and diverse customer base, giving you access to millions of potential buyers, which can help you reach a wider audience, domestically and internationally. If you sell special items, such as collectables, vintage items, and unique or hard-to-find products you can find your customers on eBay. eBay is an excellent platform for selling rare or specialised products. You can even set up auctions for your items, where people bid and raise the price.
Etsy
Etsy's primary audience consists of people looking for handmade, unique, or vintage items; this makes it an ideal platform if your products fall into these categories, as you'll be reaching a niche market that's interested in what you have to offer. Setting up an Etsy shop is relatively straightforward; you can have your products listed and start selling quickly without the need for advanced web development or e-commerce skills. Etsy provides you access to a global customer base. Your products can be discovered and purchased by people from around the world, which can significantly expand your market reach.
Craigslist
The platform is straightforward and easy to use; you can post a listing quickly without the complexity of setting up an e-commerce store. Craigslist listing is organised based on cities and regions, which allows you to target a local audience. Craigslist is a valuable platform for selling items locally, especially if you're looking for a no-frills, cost-effective way to connect with buyers in your area.
These websites are a simple way to start selling online and make money, but you may have to pay small fees for each item you list, like $0.99 on Amazon, $0.10 on eBay, or $0.20 on Etsy.
Blogging
Blogging is one of the oldest and best ways to make money online; it is a straightforward and popular method for you to earn income by sharing your thoughts, expertise, and interests on the internet. First, you need to create a blog, which is like an online journal or website where you can write high-quality articles or posts about topics that interest you. Creating your own blog is so easy now, you don't need a coding skills to start blogging. You start blogging by using free blogging platforms like blogger or Medium, but if you want total control of your content and monetisation strategy, you need to use self-hosted platforms like WordPress to start your blog.
Here is my step-by-step guide to start your own blog with WordPress; if you follow the steps, you can set up your blog under 30 minutes. You only need a reliable hosting plan, and you can use any of these free WordPress themes to customise the look of your blog Decide what topics or subjects you're passionate about; it could be anything from cooking, travel, fitness, personal finance, technology, or even niche topics like antique book collecting.
Once you've chosen your niche, start writing high-quality, engaging, and informative blog posts. These should be valuable to your target audience. Regularly update your blog with new content. To make money blogging, you need to drive sizeable traffic to your blog by promoting your blog through social media, search engine optimisation (SEO), and other methods.
Here are several ways to make money from your blog:
You can display ads on your blog through platforms like Google AdSense. You earn money when people click on these ads on your website. Here is a guide to help you get your new website approved by Google AdSense.
You can promote products or services related to your niche and earn a commission for every sale made through your unique affiliate link. Here is a better guide to get you started with Affiliate marketing.
You can also partner with companies to write a post promoting their product or service on your blog. You can work with brands and make money online by promoting sponsored posts.
Create and sell e-books, online courses, or other digital products that cater to your audience's interests on your blog.
Subscription or Membership Models:
Offer premium content to subscribers or members who pay a fee to access exclusive information or services on your blog.
Some bloggers also rely on donations from their readers, using platforms like Patreon and buy me a coffee.
Blogging is a flexible and potentially rewarding way to make money online, but success typically requires dedication and a commitment to producing valuable and high-quality content for your readers.
Start a Niche E-commerce
Starting a niche e-commerce business is like opening a specialized online store to sell products that cater to a specific, smaller group of people who share a common interest or need. As a startup business owner, you can start a niche e-commerce store to sell a particular category of products to a dedicated target audience; this could be anything from organic body cream to pet supplies to vintage comic books. You are not competing with big names in the e-commerce industry. You only cater for the needs of a particular group of people in your locality.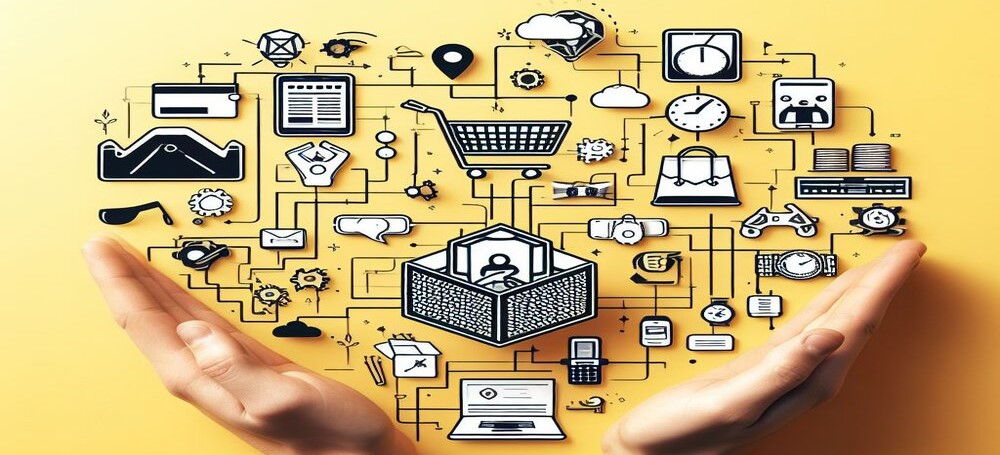 You only need to research your chosen niche to understand the demand, competition, and potential customer base. Look for gaps or underserved areas within the niche; find reliable suppliers or manufacturers who offer the products you want to sell in your online store. You can either dropship products, purchase in bulk, or create your own if you have the skills and resources to do so.
Create a user-friendly e-commerce website using platforms like Shopify or WooCommerce; ensure that your website design is visually appealing and easy to navigate. List your selected products with high-quality images and detailed descriptions. You can use AI content writing tools like Writesonic and Jasper to craft an irresistible product description.
Start Your Own YouTube Channel
Opportunities to make money online are more accessible than ever before, and one of the most popular and engaging ways to make money online is to start your own YouTube channel. YouTube, the world's second-largest search engine, is a platform where people from all walks of life can turn their passions, talents, and interests into a profitable online ventures. Whether you're a budding filmmaker, a gamer, a cooking enthusiast, or just someone with a story to tell, creating your YouTube channel can open doors to financial independence and creative expression.
Here are some profitable niches on YouTube include:
Note: While these niches have the potential to be profitable, your success on YouTube depends on your unique approach, content quality, and how well you engage with your audience.
Gaming channels have a massive following. You can create walkthroughs, reviews, tips, or just playthroughs of popular games.
Makeup tutorials, skincare routines, fashion hauls, and product reviews are popular in this niche.
You can review and demonstrate the latest gadgets, software, and tech-related topics to attract a tech-savvy audience.
If you are a fitness enthusiasts, you can share workout routines, healthy recipes, and wellness advice on YouTube.
You can also help people manage their money, invest, or achieve financial independence on YouTube.
You can also share your adventures, travel tips, and cultural experiences on YouTube to make money.
Creating cooking tutorials, food reviews, and sharing recipes is another way to make money on YouTube.
One great thing about YouTube is that you don't have to get in front of a camera to make it big on YouTube. There are millions of YouTubers who never show their face on YouTube, you can use screen recorder tools like ActivePresenter to capture screens while you teach your followers how to get something done in their systems, phones or online. It's not necessary to be behind the camera before you can make money on a YouTube channel.
Related: Blog versus YouTube Channel: Which one should you Start in 2023?
Selling E-books
Another flexible way to make money online is by sharing your knowledge or storytelling skills through e-books. E-books are electronic books or books in digital format, much like the traditional books you find in a library or bookstore. They can cover a wide range of topics, from fiction and non-fiction to how-to guides, self-help, tech, educational materials, and more. The concept of selling eBooks is simple: you create eBooks on subjects that interest potential readers and you make them available for purchase or download online.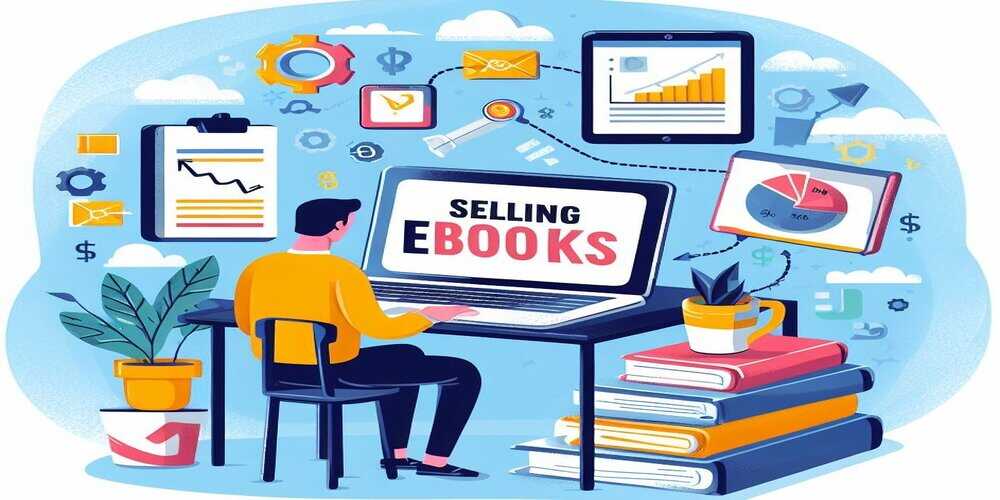 The good news is you don't have to be a publisher to create and sell eBooks. As an expert in a chosen field, you can create and sell eBooks through your website or e-commerce platforms like Amazon Kindle Direct Publishing and other marketplaces and digital storefronts.
Develop Apps
Nowadays, it seems there's an app for everything, but that's not true. If you have an idea to address people's particular needs in your area, then creating a mobile to solve those problems might be a way to make money online. Your idea could be a new way people can relate, sell products interact in society.
Did I hear you say, "I am not a programmer; how do I develop an app"? You don't necessarily have to be a programmer to turn your idea into a mobile app. You can hire a professional app developer or a development team to bring your idea to life. You'll need to outline your app's requirements and work closely with the developer(s) to ensure you achieve your vision. With the availability of programmers available at reasonable rates, you can hire professional developers on sites like Lemon, Authentic Jobs, Gun, and many other remote jobs websites.
Final Thoughts
Opportunities to make money online continue to expand, offering you a chance to diversify your income streams and achieve financial independence. From blogging and e-commerce to affiliate marketing and selling eBooks, the possibilities are endless and accessible to anyone with a computer and an internet connection. The key to making enough money online lies in your creativity, determination, and willingness to adapt to changing trends. Success won't come overnight; it often takes time and persistence to see substantial results.