Artificial Intelligence (AI) has rapidly transformed from a futuristic concept into a powerful tool reshaping how we communicate and do business. AI also offers limitless opportunities to make money regardless of your chosen career. In this post, I will explain some of the best ways to make money with AI, covering diverse avenues that entrepreneurs, developers, designers, copywriters and businesses can explore.
Making money with AI is an exciting opportunity in today's tech-driven world. AI technologies are here to stay, and it's not just changing how we live and work; it's also opening up numerous opportunities for us to make money. Regardless of your profession, whether you're a developer, entrepreneur, or business owner, all you need is to identify a niche that aligns with your skills and interests.
AI gives people unprecedented power and enhances productivity; imagine possessing the ability to think like a computer, make decisions, and even predict the future. That's the magic of Artificial Intelligence. But guess what? AI isn't like any other technology – it's a real game-changer, helping people to be more productive in business and make money without much effort. In this article, we're diving into the coolest and easiest ways to make money with AI—no fancy tech jargon, just straight to the point. So, keep reading if you're curious about how you can make money with AI. Whether you're a tech whiz or just starting, there's always something you can use AI for and turn into money.
Ways to Make Money with AI
When done right and you armed yourself with the right AI tools, you can make thousands of dollars running an AI business monthly. One good thing is that using these AI tools costs just a little money. Let me walk you through these AI tools and see how you can make your first dollar with AI. And if you don't want to make money with AI, you can also learn to use AI tools to enhance and automate your business.
Become a Freelance Blogs Writer
One of the ways you can make money with AI is to become a freelance blogger. Almost all digital marketing strategies rely on content creation; you must create high-quality content to get noticed in the crowded digital world. Naturally, content creation is time-consuming as it requires a lot of work, from brainstorming and researching to drafting, editing, and publishing. The process of crafting content manually can take hours or days, depending on the topic's complexity and the content's length.
AI content writing tools like Jasper, Hoppycopy, and Writesonic can handle everything from blog posts and social media updates to long-form articles and reports. This opens many lucrative opportunities for content creators and digital marketers to come up with large volumes of content within minutes. Businesses are constantly looking for new, engaging content to help them climb the search engine rankings, captivate their audience, and establish their authority in their industry. You can help people write content with the help of AI and get paid.
Writing content for businesses can be a profitable career or a better way to make money on the side. You can make money writing quickly if you constantly improve, use AI wisely, and are easy to work with. With the help of tools like Jasper AI and Writesonic, Hoppycopy, and Copy.ai, you can be a versatile copywriter and earn money online writing content for businesses and individuals.
Create and Sell AI-generated Artwork
Another unique way to make money with AI is to create and sell AI artwork, you can use AI to create unique and innovative artworks and sell them on your website or e-commerce website like Etsy. With the help of AI art generators, you can produce digital art pieces that can be sold online or licensed to individuals or companies.
Artificial intelligence art generators are making waves, creating new opportunities and marketplaces in the art industry. Before now, creating a single piece of artwork by any artist is a time-consuming effort that can take as long as one month. The process takes longer because the artist must develop a concept for the artwork, create it, and finally find a way to sell it. But that day is long gone, as we have numerous AI design tools that simplify creating artwork.
AI art generators like Fotor, Photosonic, MidJourney, and Bing Image Creator can help you quickly create unique and innovative art pieces. These AI art generators allow you to create perfect images for any purpose. If you know the best prompt hack to get the AI to create unique and perfect graphics images for you in a certain niche, you can sell these images online on your personal website or a third-party marketplace like Etsy.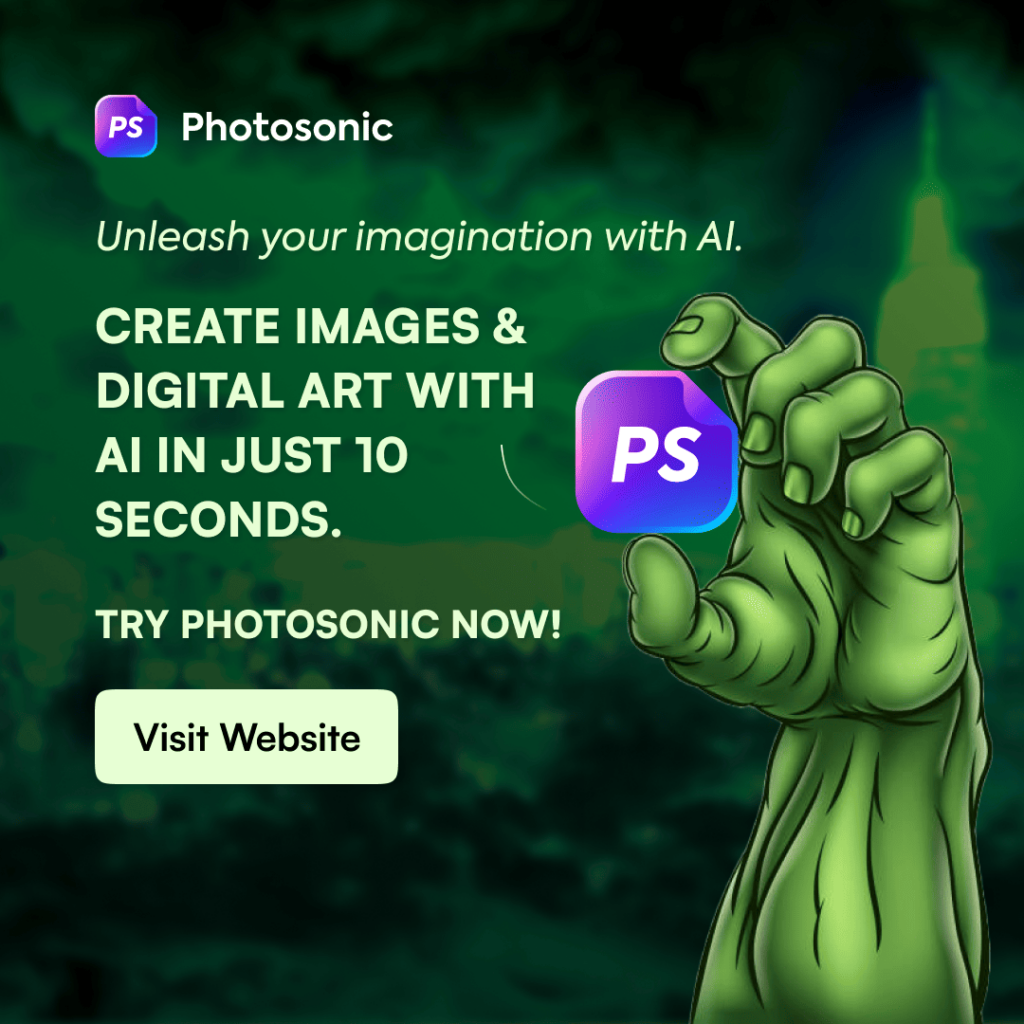 Use AI for Web Design
We are in a digital age, where every business needs a website, as no one will take any business without an online presence seriously now. There is a higher demand for website design now as every business needs a website to succeed online. Because websites draw in more visitors, keep them longer, and turn them into paying customers. Even if conventional web design repulses you, there is still room for AI web design, which constantly improves. You can create beautiful and interactive websites and landing pages for clients and make money with AI, and you can create any type of website from scratch with the help of AI.
AI website builder makes website creation and management simple. Many website builders now integrate AI-powered tools, making building a site much easier. You can use AI tools like 10webs to create any kind of website. And even if you create websites with WordPress, you can rely on WordPress website builders with AI, such as Elementor AI and Divi AI, to craft stunning WordPress websites for your clients. With these AI tools, you can design stunning and visually interactive websites.
Another AI website builder to try out is Hostinger AI Website Builder, which can generate a fully functional website by filling out a few form fields telling the AI builder what you need in a website. If you have little knowledge about coding and would like to code your website with a little tweaking, you can use ChatGPT and Bard AI tools to code any website. You can use these tools to generate codes that can be deployed and functional with just minor tweaks.
Freelance as a Digital Marketer
If you're a digital marketer, you can leverage AI tools to deliver better client results in less time. AI-powered marketing automation tools can help optimise marketing campaigns, target specific audiences, and improve customer engagement. By leveraging AI in marketing strategies for clients, you can potentially increase revenue and generate income for any business that hires you. Digital marketing is a profitable business because companies are constantly looking for ways to reach their target audience and increase their sales. Most small business owners can't hire an in-house digital marketer; they always need someone to help them with their digital marketing efforts.
You can use digital marketing AI like Lately, Pictory AI, Ocoya, Growthbarseo and Adzooma to quickly create marketing content like blog posts, videos, social media posts, images, and online courses that you can sell to companies or through online platforms to generate income. AI marketing tools can help you automate every marketing strategy; you can use them to develop marketing campaigns, analyse your results, and optimise your strategy based on predictive analytics.
Pro tips: You need a variety of skills to be called a digital marketer and must discover various AI tools you need in the digital marketing field. For content creation, Jasper and Writesonic, you can use Pictory to create videos and Ocoya to create and schedule social media posts.
Start an AI-powered Blog
Another way to make money with AI is to start your own blog leveraging the smartness of AI writing tools. With AI content writing tools like Jasper and Writesonic, you can create content for your blog faster and more efficiently than if you employ many content writers. With AI tools, you can create more content daily and rank your website on the search engines. Starting a blog is one of the best ways to make money online with AI tools because blogging is the best way to build and generate passive income online.
Starting a blog is more than just churning out dozens of awesome content every month. You need a strategy. Before you create your AI-powered blog, research and find a profitable blog niche. You must consider the following when choosing your AI-powered blog niche.
Choose a less competitive blog niche with considerable keywords or topics with low to medium search volumes.
Pick a niche that AI tools can create content around for years to come without struggle.
Pick a niche that is less scientific or technical. You may spend days trying to finetune technical content for human consumption.
With keyword research tools like Semrush, you can research trending keywords and use AI to create content on the trending keywords on your blog. If you can create and publish 2-5 content daily for six months with AI tools, you can monetize your blog with Google AdSense or sign up for an affiliate program within your blog niche and promote affiliate marketing products.
Related: How To Start A Blog: The Ultimate Guide To Start Blogging
Configure and Deploy AI Chatbots for Businesses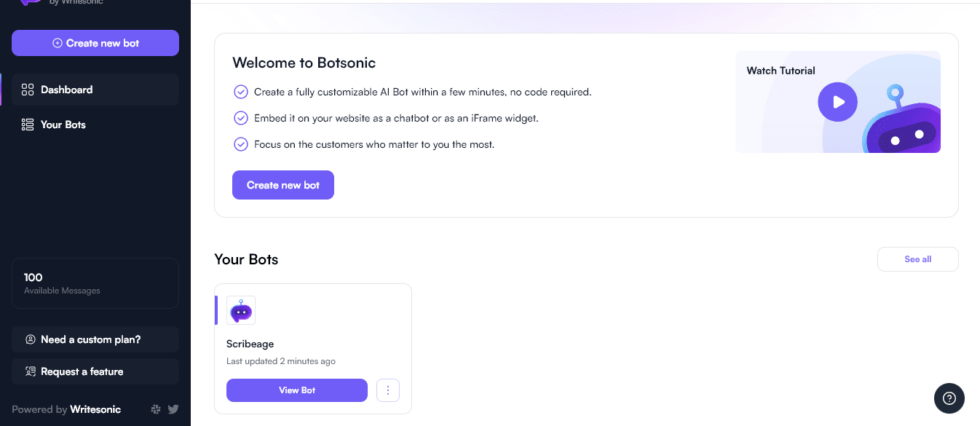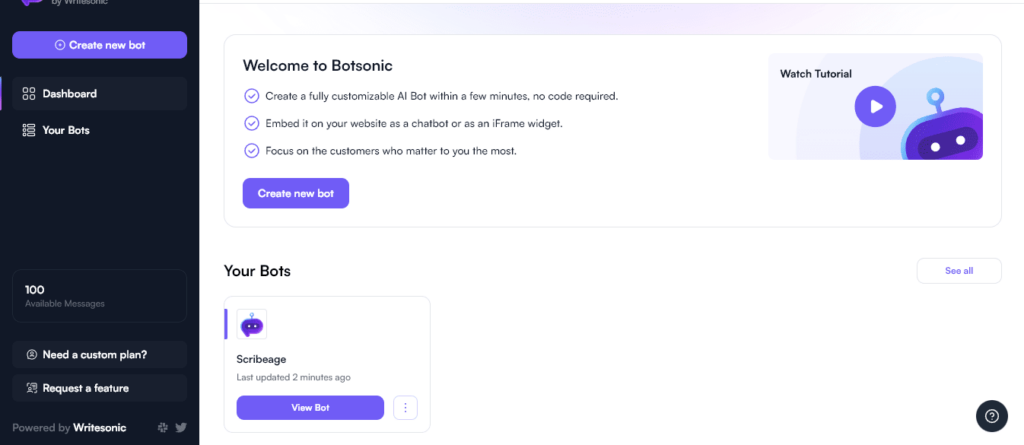 This is another way to make money with AI because businesses always seek ways to improve customer service and increase efficiency. You can offer AI chatbot configuration if you're a new developer or don't mind learning conversational AI technology. You can set up and train AI chatbots with a knowledge base and any internal documents of any company and integrate them with the company website for a fixed fee. If you have programming skills and knowledge of AI algorithms, you can develop and deploy AI chatbots and sell them to businesses or individuals. This could include creating AI-powered software, chatbots, or virtual assistants.
Customer services have become integral to any organisation, but dealing with customer inquiries can be time-consuming and expensive for most small business owners, and this is where your artificial intelligence chatbots come in. You can help businesses create AI website chatbots with tools like Botsonic and Chatbase that can handle client enquiries 24/7, giving their clients immediate responses and saving up time for their team to focus on more productive duties while at work. You can use AI tools to develop and deploy AI chatbots to help companies answer frequently asked questions, walk users through onboarding processes, and even help with sales and reservations.
If you have little knowledge of programming and or are willing to learn AI chatbots to solve business problems, you can use AI tools such as Chatbase and Botsonic to create AI chatbots and virtual assistance for businesses in your locality.
Create and Edit Social Media Video
Another way to make money with AI is to use AI video editing tools to help businesses create stunning social media videos and, significantly, help businesses streamline their workflow and help them create engaging and professional-looking social media content. It's no news that captivating social media videos is one of the social media strategies to increase and engage followers. However, not everyone can edit video content; given its dual requirements of software proficiency and artistic finesse, trimming clips, incorporating effects, seamless transitions, and audio synchronization can prove challenging. So, most business outsource their video editing jobs to experts in the field.
With AI-driven video editing tools, you can transform any image and video footage into stunning and top-tier social media videos that will go viral. These tools can automate a substantial portion of the editing process. Through their adeptness at scrutinizing footage, identifying prime segments, and integrating effects and transitions, they usher in the prospect of generating top-tier social media videos within a mere fraction of the typical timeframe. AI tools like Flexclip and Invideo can simplify your video editing and creation steps. These AI editing tools use AI algorithms to analyse your footage and automatically generate a polished video. They can also select the best clips, arrange them coherently, and apply transitions and effects.
You can automatically create text overlays, captions, and subtitles based on the content of your video. This is particularly useful for enhancing accessibility and engagement. With AI editing tools, you can improve audio quality by reducing background noise and enhancing voice clarity.
Create YouTube Videos with AI
With AI tools, you can become a sought-after YouTuber, create a YouTube channel, and use AI to generate video ideas and promote or sell a product or service. You can use AI tools like ChatGPT to generate video ideas and scripts and AI programs like Synthesia or Invideo to create videos to upload on YouTube. With a YouTube channel, you can monetise your video content with ads by joining the YouTube partner program and promoting affiliate links or sponsored content.
With AI tools, making money on YouTube can be a seamless experience. YouTube is the largest video-sharing platform in the world, with billions of active users and millions of hours of content uploaded daily. You can become a YouTuber, upload engaging videos and build subscribers on the platform with the help of AI. The good thing is that you need to be a video editor to do that; you only need to create video content and use these AI editing platforms to turn your text ideas into stunning videos for your YouTube channel.
Related: How to Make Money on YouTube
Become an AI-Powered Affiliate Marketer
Affiliate marketing is a performance-based marketing strategy where you earn commissions by promoting someone else's products or services. It is an advertising model in which a company compensates you (an affiliate) to generate traffic or leads to the company's products or services. With the fundamentals of affiliate marketing, AI can enhance various aspects of your affiliate marketing strategy. Affiliate marketing is highly competitive, and breaking through can be challenging, and that's where AI comes into play; with AI tools, you can transform your affiliate marketing strategy and earn money online. AI tools can help you with good products and services to promote, help with content and video creation or email marketing campaigns.
AI tools like Writesonic, Jasper, Lately, Ocoya, Growthbar, and SurferSEO can aid in data analysis, audience segmentation, content creation, and personalized recommendations. You can also use them to analyse data from various sources, including user behaviour and market trends- these insights refine your marketing approach and target audience. They also help you craft content to promote products or services through various channels, such as websites, blogs, social media, email marketing, and video marketing. This helps maintain a consistent flow of high-quality content to attract and retain your audience.
Become AI-powered Social Media Manager
Social media management is a tedious task for most, but with the help of AI tools, you can simplify your work, save time, and enhance your social media presence. Business owners don't have time to constantly create social media content; they want to spend their days on other productive aspects of their business. In most cases, they outsource their social media pages to a manager who understands each platform, content creation, and community management.
You can use AI tools to increase your productivity and attract more followers to the social media pages of your clients. AI can help analyse social media audiences, segment them based on region and interests, and help create valuable content that gets people's attention. AI tools such as Ocoya and Adzooma can assist you in managing various social media accounts more efficiently, automate repetitive tasks, provide data insights, and help with content creation and scheduling.
You can use AI to automate tasks like scheduling and publishing content, analysing metrics, generating ideas, and predicting the outcome of your social media posts.
Pro tips: You must balance social media automation and personalisation when using AI for content creation. Ensure that the content you produce is efficient and effective for your clients. You should see AI as a valuable tool that enhances your work and productivity rather than replacing you as a social media manager.
Invest in AI Companies
Another profitable way to make money with AI is to invest in companies at the forefront of AI technology. As AI advances and becomes more integrated into various industries, investing in AI stocks can provide long-term financial gains. You don't have to be tech-savvy before making money from the industrial revolution of AI.
There are new AI Startups each day with different AI solutions; you can invest in their shares or partner with them as a co-owner. You will know the future of AI is bright when you see tech giants like Google, Amazon, and Microsoft investing heavily in AI. Every investment is a risk, but investing in AI is a risk worth taking. But before you invest your hard-earned money, it's crucial to keep an eye on industry trends and perform due diligence to make informed investment decisions.
Create and Sell AI-generated Digital Visual Products
With AI tools, you can turn your creative ideas into stunning visuals that captivate audiences and drive sales. With AI-driven tools at your fingertips, digital visual product creation has taken a thrilling leap forward. AI brings your visions to life and helps in crafting graphics, animations, and visually appealing and irresistible designs. You can use AI to generate digital visual content, like digital ads for websites, business logos, and marketing materials. You can elevate your visuals' quality with AI's magic touch, from enhancing images to creating intricate animations.
You can Set up an online shop and offer your AI-enhanced visual products. Whether logos, mockups, or eye-catching videos, your creations hold immense value for businesses and individuals. You can tap into a market hungry for fresh, unique content by selling digital visual products infused with AI's innovation.
With AI tools like AdCreative, you can blend your artistic flair with AI's cutting-edge capabilities, watch your creativity take on new dimensions, and your income potential grows. AI tools help to amplify your imagination and your income potential. Combining your visual ideas with AI's brilliance will set new monetary standards in your life, as there's always a demand for digital visual products.
Develop AI-driven Healthcare Solution
AI is changing every sector in our society, including the healthcare industry, by improving diagnostics, drug discovery, and patient care. You can develop AI solutions if you are an expert in AI development and healthcare systems. You can develop AI tools that can revolutionise how healthcare is delivered, improving patient outcomes and enhancing the efficiency of healthcare systems. Your AI healthcare tools can also help medical experts gain key insights into new viruses or diseases, improve health outcomes, or enhance the efficiency of our healthcare systems. Or AI tools to diagnose and manage kidney disease, Leukemia, Cancer and HIV, or improve diagnostics and analysis of patient data and provide more personalised care.
Create Audio, Music, and Background Tracks


Another way to make money with AI is by creating audio, music and background soundtrack. With AI sound effects generators like Soundful, Mubert, Beatbot, and Soundraw, you can create unique, realistic and high-quality royalty-free background music for your videos, streams, podcasts, and more. These AI platforms allow you to select your desired mood, genre, and length and customize the tracks to your taste; they use AI algorithms to generate melodies, harmonies, and rhythms based on your input, allowing you to create custom tracks quickly.
You can sell your AI-generated tracks on various online platforms like AudioJungle, Epidemic Sound, and Shutterstock. These platforms allow you to monetize your unique soundtracks by selling them to content creators, businesses, and agencies who need them in their content. Using AI-music generator tools, you can also offer custom music production services to clients on Fiverr and Upwork. You can create high-quality music tracks for videos and games quickly and efficiently, allowing you to make money with AI.
Offer AI + Human Translation Services
We now live in an interconnected world where we need each other to transact business and communicate effectively. Because of the need for humans to communicate and interact with each other without any language barrier, translation services are in high demand as businesses expand globally. However, human translation can be time-consuming and expensive, especially for large text libraries. And that's where you can use AI tools to help businesses and organisations translate one language to another for effective customer communication. AI translation can save time and money, improve translation accuracy, and you can help businesses and individuals communicate more effectively across language barriers.
Ready to Make Money with AI?
AI is a potent instrument in the hands of any creative person; it's a game changer and a multiplier of force. It can make us work faster, smarter, and more efficiently. It's not a quick-rich plan. It is not a method of defrauding people of their hard-earned money. AI can be a powerful tool for improving productivity and efficiency in various industries. It can automate repetitive tasks, analyse large datasets quickly, and assist in decision-making processes. AI can solve complex problems that may be difficult or time-consuming for humans. AI landscape is evolving, and so will the opportunities that come with it. So keep learning, stay curious, and seize the opportunities that come your way.
Frequently Asked Questions (FAQs)
Before we wrap this article up, here are answers to some of your most common questions regarding making money with AI. Did we miss any way to make money with AI? You can comment in the comment section, and we will respond! If you enjoy the article, kindly share it with your friends on social media to benefit from AI.
What is AI, and how can I make money with it? 

AI stands for Artificial Intelligence, which involves creating computer systems that can perform tasks that typically require human intelligence, such as problem-solving, speech recognition, and decision-making. You can make money with AI by leveraging it in various ways beyond your imagination. If you have legitimate and creative skill, you can integrate AI and start making money online.
Do I need a technical background to make money with AI? 

While technical knowledge can be an added advantage, it's not always necessary. Many AI-related opportunities involve using AI tools and platforms rather than building AI algorithms from scratch. You can learn the basics of AI and collaborate with experts or hire technical talent if needed.
What are some advanced methods of making money with AI?

As an experts you can make money with AI by developing more complex AI systems, such as predictive analytics models or natural language processing algorithms. They can also offer specialised AI consulting services, such as helping businesses optimise their supply chains or improve their cybersecurity using AI.
Can AI make you rich?

While AI has the potential to generate significant income, it is not a guaranteed path to riches. Success with AI requires combining technical expertise in AI with your creativity and skills.
What is the most profitable way to use AI?

There are many ways to use AI to make money, but some of the most profitable include the following:

Content creation: AI can help you create content more efficiently if you enjoy writing, graphic design, or photo and video editing.

Affiliate marketing: You can use AI to build websites and generate income through affiliate marketing, Google AdWords, or subscriptions.

App development: Developing AI-powered apps can be a profitable way to make money.

Use AI to grow your business: AI can help companies to automate processes, improve customer service, and optimise supply chains, among other things.

Use AI in eCommerce: You can use AI to help businesses personalise their marketing efforts and improve their product recommendations.

Develop chatbots: If you have experience in natural language programming and machine learning, you can develop a chatbot and sell it to companies.

Use AI art generators: AI art generators can help you create and sell digital art.

Data sales: You can sell data collected and analysed using AI.

Develop predictive analytics models: If you are familiar with machine learning, you can make money by developing predictive analytics models to help businesses make better decisions.
What are some examples of AI-powered content creation tools?

Surfer: Surfer is an AI content creation tool that combines keyword research, content editing, domain analysis, and SERP analysis with content.

Simplified AI: A content creation platform that uses advanced algorithms to generate content for various marketing and promotional materials such as blogs, articles, social media posts, etc.

Copysmith: An AI content creation software tool for eCommerce and enterprises that allows businesses to scale the creation of marketing-related content.

Copy.ai: It's a well-rounded tool that allows content teams to 10x their output without sacrificing quality by providing users with various content creation options.

Jasper: An AI-powered writing assistant that helps you write better content by providing grammar, tone, and style suggestions.

Writesonic: Writesonic is an AI writing assistant that helps you write better content by providing suggestions for grammar, tone, and style.

Grammarly: An AI-powered writing assistant that helps you write better content by providing suggestions for grammar, tone, and style