In the ever-evolving landscape of technology, artificial intelligence has emerged as a transformative force, reshaping how we work, communicate, and create content. Human creativity and AI innovation have given birth to an extraordinary collection of AI writing tools that are revolutionary and indispensable. These tools are more than tools for writing content; they are the architects of eloquence, the wizards of storytelling, and the champions of productivity.
In this article, I will unveil the best AI writing tools to redefine how you create content. Whether you are a writer seeking inspiration, a marketer aiming to craft compelling copy, or a student striving for academic excellence, this curated list of AI writing tools will be your compass in navigating the seas of words, ideas, and innovation. From AI-powered content generators that can conjure up captivating articles in the blink of an eye to grammar wizards that ensure impeccable prose, and from creative collaborators that co-author with you to AI-driven SEO experts that optimise your content for the digital world, these tools are poised to change the way you approach writing forever.
So, fasten your seatbelts as we dive into the future of writing with the 24+ Best AI Writing Tools, each a testament to the remarkable marriage between human ingenuity and artificial intelligence.
Disclosure: Please note that some of the links below are affiliate links, and at no additional cost to you, I'll earn a commission when you purchase a product or service using my affiliate link; I'm compensated, which helps make content like this free of charge to you. I only recommend products and services I've used, tested, trusted, and believe will enhance your productivity and growth.
What is an AI Writing Tool?
An AI writing tool is a software application that uses artificial intelligence and natural language processing to generate text based on user input. These tools can help with everything from grammar and spelling to style and tone, and they are excellent at creating and conducting content marketing. They can generate human-like text content with the power of AI technology and are available in various forms, including general AI writing tools, AI-powered writing assistants, and AI-powered content writing tools. These tools help marketers, content writers, and businesses create various written content more efficiently and effectively.
Related: How to Make Money with AI
Best AI Writing Tools to Enhance Your Content Writing
Here are some of the best AI writing tools available today; you can use these tools to enhance your content writing productivity and create marketing copy for your clients without wasting much time thinking about the best approach. These AI writing tools can save you time, improve the quality of your written content, and assist you in various writing tasks. They are useful tools for businesses and individuals who need to produce a significant amount of content or want to enhance their written communication's effectiveness.
Grammarly is the most versatile and indispensable writing assistance tool that has become a household name for anyone who values clear, concise, and error-free communication. With its AI-powered capabilities, Grammarly goes beyond basic spell-check and grammar correction. It acts as your virtual writing assistant, helping you craft polished and professional documents across various platforms, from emails and essays to social media posts and professional reports.
Key features of Grammarly include the following:
Grammar and Spelling Checks: Grammarly scans your text for grammatical errors, spelling mistakes, and punctuation issues, offering real-time suggestions for corrections.
Style and Clarity Enhancements: It provides insights into sentence structure, word choice, and writing style, helping you convey your ideas more effectively.
Plagiarism Checker: Grammarly can detect potential plagiarism, ensuring your work is original and properly cited.
Customizable Writing Goals: You can set writing goals, such as tone, audience, and intent, to receive tailored recommendations that align with your objectives.
Integration: Grammarly seamlessly integrates with popular writing platforms like Microsoft Word, Google Docs, and web browsers and even offers browser extensions.
Mobile Accessibility: It's available on mobile devices, allowing you to maintain consistency and quality in your writing wherever you go.
Whether you're a student striving for academic excellence, a professional aiming to make a lasting impression, or anyone who values clear and effective communication, Grammarly is a valuable tool that helps you put your best words forward. It's an essential companion if you enjoy delivering error-free content. 
Jasper AI is one of the most popular and advanced AI writing tools that helps content creators, marketers, and businesses craft high-quality content, such as websites, blogs, emails, social media, etc.
Here are some key features and why you need Jasper in your content writing tools.
Jasper AI uses artificial intelligence to generate original, high-quality content.
Offers hundreds of templates to choose from
Responds to many scenarios, such as writing long-form articles from start to finish
It can be used to develop various content, including blog posts, product descriptions, marketing copy, and more
Offers a Chrome extension that directly brings the power of its AI writing assistant to your browser.
Jasper AI is a valuable tool if you are looking to streamline your content creation process and produce high-quality and non-plagiarised content.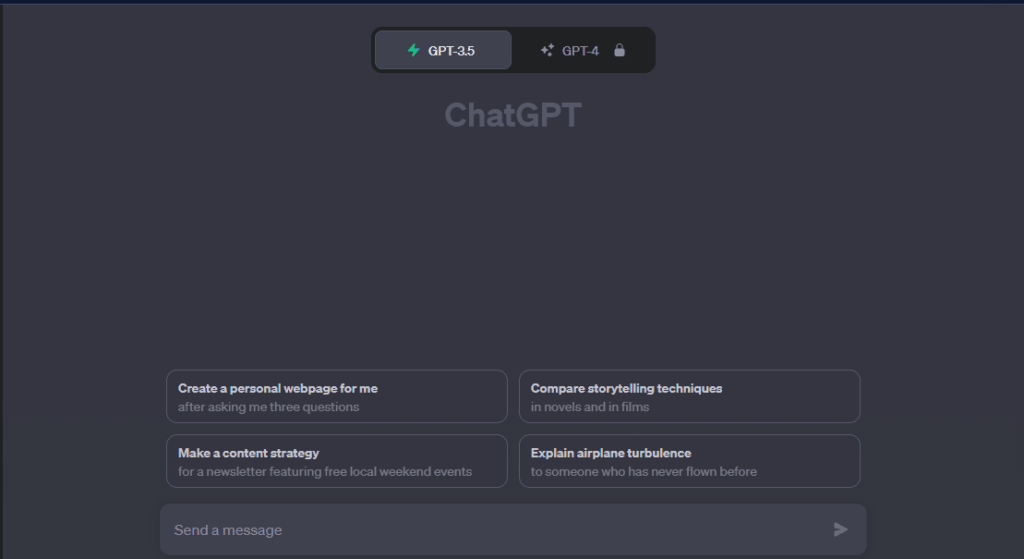 GPT-4 creates text resembling human writing, becoming a potent asset for writers. Many top AI writing tools are enhancing their software by incorporating GPT-4 technology. ChatGPT-4 represents the cutting edge of conversational AI technology, building upon the successes of its predecessors GPT-3.5. ChatGPT-4 has a deeper understanding of context, making it better at maintaining coherent and contextually relevant conversations. It can comprehend nuances in user input and respond more intelligently. ChatGPT-4 is designed to handle both text and image inputs, allowing it to respond to a wider range of information and queries.
ChatGPT-4 represents a significant stride forward in the development of conversational AI. Its ability to engage in more context-aware, coherent, and personalised conversations makes it a versatile tool for businesses, educators, developers, and individuals seeking AI-driven solutions for various tasks. 
SEO.ai leverages advanced AI tech to analyse keywords, create search intent-based articles, and enhance content for faster, superior search engine outcomes. SEO.ai can help you improve your website's organic performance by assisting you in unearthing trending keywords and topics, better understanding customers' buying patterns and behaviours, and targeting markets in a fraction of the time. It can also lift website rankings by enabling you to discover and use the keywords, topics, and content your audience is searching for.
SEO.ai can generate entire blog posts, including formatting, bullet points, and pull quotes, provide keyword research with advanced AI options and insights, customise the tone of voice, target audience, and language for each project, and offer AI-based suggestions and optimisation options for headlines and titles. With SEO.ai, you can get more ranking content with less work, uncover valuable keywords, and produce optimised content; you can update and refresh articles at least five times faster and much better thanks to its built-in semantic keyword tool and SEO quality score function.
Growthbar is an ideal tool for creating optimise SEO blog content. Growthbar is an all-in-one SEO optimisation and AI writing tool that help you research, write, and optimise long-form blog content 10 times faster. Growthbar is a valuable tool to improve your SEO, save content creation and optimisation time, and track your growth.
Writesonic allows users to generate high-quality articles, blog posts, and more. It can write content in most popular languages, like English, Spanish, French, etc. Writesonic is a versatile AI writing tool that empowers you to create high-quality content effortlessly; it harnesses the capabilities of artificial intelligence to assist you with various writing tasks, from generating marketing copy and blog posts to crafting compelling product descriptions and more.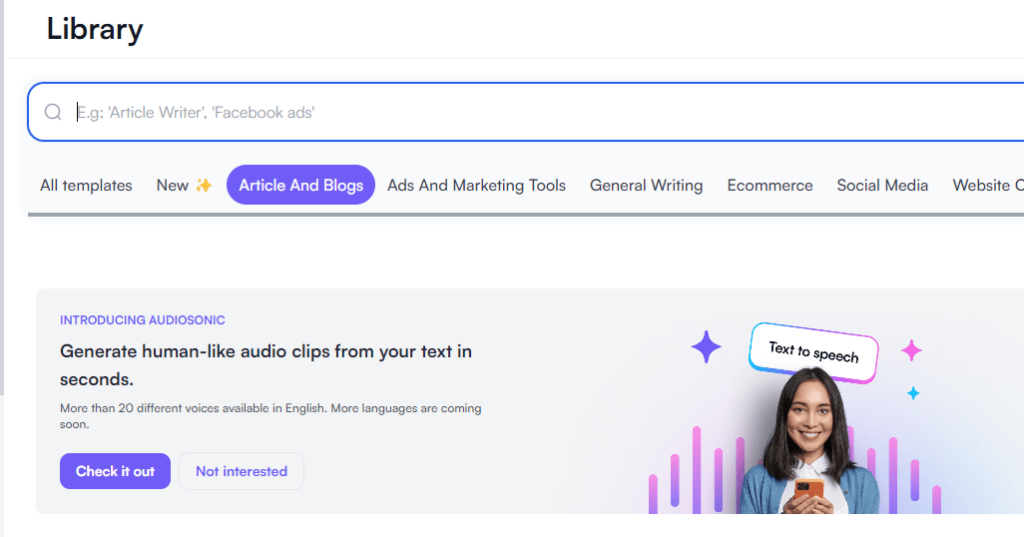 With Writesonic, you can access a range of writing templates and tools that facilitate the generation of written content for different purposes. The platform's intuitive interface allows writers, marketers, and businesses to produce engaging, well-structured text efficiently. Whether you need help brainstorming ideas, expanding on a topic, or polishing your prose, Writesonic is a valuable resource for enhancing your writing productivity and quality.
This AI writing tool can be used for various tasks – writing blog posts, social media content, creating presentations, writing books, etc. With Closerscopy, AI text generator, you can create high-quality, SEO-optimized content quickly and easily. 
Articleforge is a powerful AI copywriting tool that uses a proprietary AI to help write effective sales copy, blog posts, and more. It provides you with endless relevant examples and allows you to create high-converting sales copy much faster and easier. Articleforge can produce and write content for sales letters, business websites, advertisements, email marketing, or social media. It has helped many people create content faster than ever and is considered one of the best AI writing tools. 

Swiftbrief is a comprehensive tool for crafting top-quality briefs to guide content writers. Swiftbrief is a software tool that helps users create high-quality content briefs in a short amount of time. Swiftbrief guides you through creating briefs for your content, making it an all-in-one brief generation tool. It can help you scale your content marketing efforts by generating brief outlines combining keywords and other relevant information in seconds. Swiftbrief is an efficient and comprehensive brief generation tool that helps to scale content production processes quickly and easily. With Swiftbrief, you can create high-quality content briefs much faster. 
Paragraph AI is an AI writing app for iOS, Android, and Chrome that helps users write emails and articles better and faster. The app enables you to generate high-quality, well-researched, and plagiarism-free content tailored to a specific topic, making it useful for writing essays, articles, and other types of content. 
Scalenut is a powerful AI content research and copywriting platform that offers a range of features to help users with their content marketing needs. Scalenut offers an end-to-end content research and writing tool called SEO Assistant, which covers all the ranking factors and provides actionable insights with real-time tracking of SEO parameters. The platform also features a long and short-form AI writer, a keyword planner, and SEO scores to enhance content.
Copy AI is a cutting-edge artificial intelligence platform that generates high-quality, human-like text. Copy AI has revolutionised content creation, making creating any kind of content easier and more efficient. Whether crafting engaging marketing copy, writing informative blog posts, or even generating creative fiction, Copy AI is a versatile tool that empowers users to easily produce compelling written content. Its intuitive interface and ability to adapt to various writing styles and tones make it a valuable tool for anyone looking to streamline their content creation process and elevate the quality of their written content. 
Frase helps users attract and convert more customers from organic search. Frase is an AI-powered content tool that helps SEO and content teams research, write, and optimise better SEO content faster. It offers a range of features to enhance content creation, including an AI writer, keyword planner, and SEO scores. Frase is excellent for short-form content snippets, and the short content developed by Frase comes error-free and in decent grammatical shape.
Rytr is a versatile and innovative AI-powered writing tool that has recently gained significant popularity. Rytr is designed to assist users in generating high-quality written content for various purposes; it uses advanced natural language processing technology to understand user input and produce coherent and contextually relevant text. Whether you're a professional content creator, a business owner in need of marketing materials, or a student working on an assignment, Rytr offers valuable assistance in crafting well-structured and engaging content. With Rytr, you can create blog posts, articles, social media posts, emails, and more. It provides suggestions, revisions, and content expansion to help you refine your writing and achieve your specific goals.
Simplified AI is an AI-powered tool that allows users to create content, collaborate, and scale marketing efforts all in one place. It offers a variety of features, including AI-assisted writing, design, and video creation. With Simplified AI, you can generate high-quality content for blogs, articles, product descriptions, websites, social media, and letters. It also allows you to rewrite content multiple ways, generate images using natural language, and translate content into 30+ languages. With Simplified AI, you can effortlessly plan, publish and analyse all your social media in one place. It is an AI that gives everything you need to create, collaborate and scale your social media content efficiently.
Anyword AI is an AI writing tool you can use to generate high-quality content and copy, including long-form articles, blog posts, ad copy, social media posts, and more. Anyword's AI writer technology analyses which writing styles and messages have resonated with certain audiences, applying artificial intelligence to review the conversion rates of different keywords. Anyword's data-driven authoring tools help create top-notch content for various platforms and formats. The platform's predictive copywriting model can help you increase conversion rates and attract more customers. Anyword is one of the best AI writing tools for copywriters, as it writes engaging short-form content fast; compared to other tools, Anyword is more intuitive and easier to use, with scoring and integrated SEO tools. 
WordAI is an artificial intelligence-driven content generation tool designed to assist writers, marketers, and content creators in producing high-quality written content. With its advanced natural language processing (NLP) techniques, WordAI can generate human-like text that is contextually relevant and coherent. It offers customisation options for style and tone, supports multiple languages, and includes a plagiarism checker to ensure the originality of the generated content. 
Quillbot is an online writing and editing tool powered by artificial intelligence and natural language processing that assists users in improving the quality of their written content. It can paraphrase sentences and paragraphs, correct grammar and spelling errors, suggest better word choices, and even provide summaries of longer texts. Quillbot is used by students, professionals, and writers to enhance their writing skills and produce more polished and error-free content.
Hoppycopy is a copywriting tool that allows SEO marketers to create powerful and effective email marketing campaigns, newsletters, and more. Hoppy Copy is an AI-powered email marketing copywriting platform that uses artificial intelligence to generate high-quality email marketing copy, unique campaign ideas, and more. It is designed specifically for email marketers and is the only AI tool that is trained to write email marketing copy. 
NeuralText is an all-in-one AI writing assistant software that offers a range of functionalities to assist content creators in creating high-quality SEO content in half the time. Some features of NeuralText include sentence rephrasing, engagement metrics, sentence formatting, tone checker, grammar check, and autocorrect. It is designed to help overcome writer's block and save time, effort, and energy by automating content creation and optimisation. NeuralText can be used to write articles, blog posts, marketing copy, Facebook ads, newsletter emails, landing pages, and more.
Perplexity AI is a chatbot that uses machine learning and natural language processing (NLP) to respond to user questions. Perplexity AI acts as an extremely powerful search engine. When a user inputs a query, the model digs into the internet to give an accurate answer while also displaying the source of the information it provides. Perplexity AI can be used for research, summarising articles, books, and other sources, answering questions in a clear and straightforward manner, and finding opening hours, weather forecasts, and more. 
GetGenie is an AI writing tool that can be used as an AI blog writer, AI article writer, and AI copywriter. It is available as a WordPress plugin and a SaaS solution for your web browser. GetGenie can generate high-quality content with in-depth information and provides a wide range of SEO support to optimise your content. It has over 30 templates for your content, covering nearly every scope, from ad copy to Meta descriptions to WooCommerce product pages.
GetGenie also provides competitor and SERP analysis data for SEO guidance. With its quick SEO check, it can find trending and high search volume long-tail SEO keywords. The tool is user-friendly and easy to install and use. GetGenie can be used by anyone looking for a fantastic AI writer for WordPress and beyond.
ProWritingAid is a grammar checker and style editor that helps you eliminate errors, optimise word choice, and edit grammar and punctuation faster. It is suitable for non-fiction and fiction writers and doesn't require a download. ProWritingAid can be used to check for incorrect spelling and grammar, sticky and run-on sentences, poor word choice, including vague, abstract and duplicated words, inconsistent tenses, and poor readability. It also offers over 20 writing reports beyond grammar, including the Homonym Report, Acronym Report, Pacing Report, Plagiarism Report, House Report, Consistency Report, and Sensory Report.
ProWritingAid delivers thousands of grammar and style improvements with the touch of a button and provides expert writing advice customised to what you're writing and where and when you need it. 
Wordtune is an AI-powered writing assistant that helps you improve the quality of your content; it can rewrite, rephrase, and edit writing, and it can be used as a standalone editor or added as an extension for the Chrome browser. Wordtune can improve writing across emails, blogs, ads, and more. It can help you with various writing tasks, including creating social media posts, summarising research, and generating original content. Wordtune also has advanced features that increase productivity and writing speed, such as the Rewrite feature, which offers alternative ways to phrase text. Wordtune is easy to use and works on many websites like Facebook, X, Gmail, and LinkedIn. 
Related: How to Make Money with AI Copywriting
Frequently Asked Questions
What are AI writing tools?

AI writing tools are software programs powered by artificial intelligence (AI) and natural language processing (NLP) technologies. They assist users in generating and improving written content, such as articles, blog posts, emails, and more. These tools can suggest text, correct grammar and spelling errors, and even provide content ideas.
How do AI writing tools work? 

AI writing tools analyse large text datasets to learn patterns and language structures. They use this knowledge to generate text that mimics human writing. Some AI writing tools also employ machine learning algorithms to improve over time based on user interactions and feedback.
What can I use AI writing tools for? 

AI writing tools have a wide range of applications. You can use them to draft content, edit and proofread, generate blog post ideas, create social media posts, craft marketing copy, and more. They are valuable for anyone who needs to produce written content quickly and effectively.
Are AI writing tools better than human writers? 

AI writing tools excel at generating content quickly and can be a valuable resource for writers. However, they are not better than human writers in terms of creativity, nuance, and understanding of context. While AI tools can assist you with certain tasks, human writers are essential for creating original and human-emotional-related content.
Are AI writing tools free? 

Many AI writing tools offer free versions with limited features, while others require a subscription or one-time payment for full access to their capabilities. The availability of free features varies from tool to tool, so it's essential to check the pricing model of any AI tool before committing.
Is AI-generated content ethical and legal? 

The ethical and legal aspects of AI-generated content can be complex. It's generally considered ethical to use AI writing tools to assist in creation as long as the content is reviewed and edited by a human to ensure accuracy, relevance, and compliance with laws and regulations. However, using AI to create deceptive or fraudulent content is unethical and potentially illegal.
Can we use AI-generated content for SEO?

AI-generated content does not have a direct impact on your search rankings. However, you must edit the generated content to be helpful and original to prevent inaccuracies and establish credibility with your readers. AI-generated content can be used for SEO; the content writer should edit and refine it to ensure accuracy and credibility.
Can AI-generated content rank on Google?

Yes, AI-generated content can rank on Google as long as it meets Google's quality guidelines and complies with the E-A-T principles. Google has a long-standing policy of rewarding high-quality content, regardless of whether humans or machines produce it. Google's ranking systems aim to identify content that demonstrates expertise, experience, authoritativeness, and trustworthiness (E-E-A-T)
How good is AI-generated content?

AI-generated content has its pros and cons. Here are some of the advantages and disadvantages of AI-generated content:

Pros:

Efficiency and scalability: AI can create content much faster than people, which is the biggest benefit. An AI tool can produce an article in minutes, which can take a content writer hours or research to do.
Quick turnaround: AI provides almost immediate results for speedy content creation, no matter if the subject is simple or complicated.
Cost-effective: AI-generated content can be produced at a lower cost than human-generated content.
SEO optimisation: AI-generated content can be a major asset in the search engine optimisation (SEO) game. The software is designed to pull from popular and SEO-optimized sources to create content tailored to your desired topic.
Overcoming writer's block: AI-generated content can help you overcome writer's block and create more content in less time. The software is designed to pull from sources like articles, books, or conversations to generate fresh ideas for your writing.

Cons:

Quality concerns and possible plagiarism: AI relies on data and algorithms for content creation, which can lead to quality concerns and probable plagiarism.
Inconsistent quality: You may receive a different level of content each time you prompt an AI. The available information on topics will vary based on how much relevant content about each subject exists.
Not suitable for complex content: AI-generated content may prove more beneficial for simpler pieces, such as blog posts, rather than articles requiring expertise and authority
Lack of human touch: AI-generated content lacks the human touch that can make content more engaging and relatable.

AI-generated content can help you develop content for your blog easily but has limitations; you can use AI for topics requiring less research and information. However, you may need to consider the content quality and possible plagiarism that can arise from relying solely on AI-generated content.
Final Thoughts
These AI writing tools are powerful and indispensable content creation and communication companions. As a content creator, innovative technologies can redefine how you write, edit, and generate content across various domains, from professional documents and academic papers to marketing materials and creative writing. These AI writing tools offer you a range of benefits, including enhanced productivity, improved grammar and style suggestions, and the ability to generate content quickly and efficiently; you can use them to streamline your writing processes, maintain consistency, and elevate the overall quality of your written content.
However, these tools only enhance your productivity; they are not replacements for your creativity, critical thinking, and expertise. As a content creator, if you use AI to generate content of any kind, you must finetune and edit the generated content to align with your goals, audience, and context.
Which of these AI tools have you tried, and which is your best go-to AI? Let me know in the comment section, and if you love this article, kindly share it with your friends on social media.