AI copywriting has evolved rapidly, with many opportunities to make money online. With the help of AI tools, you can create high-quality content quickly and efficiently, which you can sell as digital products to make money online. AI is a world of online possibilities; the possibility between Artificial Intelligence (AI) and copywriting is so deep that it can pave the way for any human to build a rewarding financial career online. If you're looking for a perfect place to learn how to make money with AI copywriting online, you are in the place. We'll unravel how you can use AI to craft compelling content that not only captures attention but also has the potential to earn you money online.
Artificial intelligence (AI) is a new tool online and has evolved tremendously in generating content of any kind. AI is a tool that simplifies how we create content and work online, from chatbots to text generators. Whether you're an expert copywriter or just joining the copywriting landscape, this article will open your eyes to discover how to use AI copywriting to grow your business and make money online.
That being said, let's look at how you can apply AI to your copywriting skills to generate income and build a profitable career using AI.
What is Copywriting?
Copywriting is the art of using words like a wizard to change the minds of your readers; as a copywriter, you can invoke spells with sentences to make your products, ideas, and dreams acceptable to your customers. A copywriter uses words to paint images in people's minds. You can use each stroke of your sentences to turn your readers' curiosity into fascination and hesitation into action. Copywriting is the art of crafting linguistic bridges that connect the "Oh, that looks interesting" to the "I need to have this now!" So, copywriting is your magical key to unlocking doors of imagination and persuasion, whether you're describing a shiny gadget or a heartfelt story.
Examples of Copywriting Content
Copywriting is an act of using persuasive words to get people's attention and make them take necessary actions. The examples below show how copywriters use compelling and persuasive words with a clear call-to-action message to generate sales.
Example 1
Unlock Peace of Mind with Our Cutting-Edge Car Tracking Device!
Say goodbye to sleepless nights fretting over car theft. Say hello to a new era of confidence, knowing your vehicle is always within reach, even from your smartphone. Don't let uncertainty dictate your peace of mind – take control with our car tracking device today and experience a level of security you never thought possible. Your car deserves the best, and so do you. Invest in safety. Invest in serenity. Buy our car tracking device today!"
Example 2
Transform Your Skin with Organic Brilliance!
Elevate your skincare routine to the next level with our organic cream and let your skin radiate with health and vitality. Crafted with care and nature's goodness, this cream is your gateway to a radiant, revitalised complexion. Crafted from the finest organic ingredients, this cream nourishes your skin from within, unveiling a luminous glow that's as genuine as it is breathtaking. Whether you're stepping into the spotlight or savouring a quiet moment, let your skin tell a story of timeless beauty."
How Does AI Copywriting Work?
AI copywriting involves using artificial intelligence algorithms and models to generate written content, such as emails, product descriptions, articles, and more. AI copywriting uses machine learning algorithms and natural language processing (NLP) software to create written text. AI copywriting models are trained on massive datasets of existing human-written content on the internet. These datasets encompass various writing styles, tones, and topics. By learning from this data, AI models understand language patterns, grammar rules, and even some level of contextual understanding.
AI tools, especially those based on technologies like GPT-3, can recognise patterns in the text and generate coherent and contextually relevant responses. This software uses "predictive typing" to generate text based on the prompt they receive from the user because to use AI for copywriting, you must provide the software with a specific prompt or input. This could be a topic, a product description, or even a partial sentence. The AI then generates text that continues from the provided input, using the style and tone you've indicated.
Some AI tools allow for fine-tuning because they have been trained on a more specific dataset, which could include examples of the content you want to generate. Fine-tuning helps align the AI's output more closely with your desired results. After processing your prompt, the AI generates relevant text. It can create anything from short sentences to longer paragraphs, depending on the complexity of your request. When prompted, AI generates content, but reviewing and editing the generated content by you is important because AI-generated content sometimes lacks a human touch and could produce inaccurate or awkward text. When you edit Al-generated content and include a human touch, your content becomes accurate, fits your desired tone, and is suitable for human consumption.
AI copywriting can save you time and assist you in generating content, but it is worth mentioning that it's not a replacement for your creativity. AI tools only aid you with a draft; you need your creativity to produce high-quality and engaging content.
Using AI for Copywriting
Using AI for copywriting is a straightforward thing. First, select an AI content creation tool that aligns with your requirements. With an AI tool of choice at your disposal, you can initiate the process with a prompt or topic. The AI tool will then generate content based on your prompt. You can then refine the content generated to be perfect and fit for its intended purposes.
There are no limitations to the content you can generate with AI; the possibilities are boundless, from crafting product descriptions and blog posts to shaping email campaigns and even creating social media posts.
To get the best out of AI in copywriting, here are some tips to consider:
When prompting AI, learn to provide clear and concise guidelines for what you expect the AI to do, such as specifying the tone, voice, and style you want your content to have. This helps the AI copywriting tool generate content that aligns with your objectives.
Just like you would provide a content brief to a human copywriter, you need to give the AI context about the topic, brand, or product you want to write about. The higher quality of the information you provide will determine how accurate and effective the generated content will be.
Choose the right AI copywriting tool; various AI copywriting tools are available, each with its strengths and features. Consider your needs and objectives before choosing an AI writing tool.
After choosing your best AI copywriting tool, you may need to feed the AI with relevant text data and adjust its parameters to meet your content expectations.
While AI copywriting tools can generate content quickly, it's important you review and refine the generated content to ensure it meets your standards and is suitable for your readers.
You must understand that AI copywriting tools rely on existing content available online and cannot create original content, so the generated content will require a touch of human creativity to fit for human consumption. Use the generated content as a foundation for your work and add your expertise and creativity to produce compelling and engaging content.
Related: How to Use AI Copywriting to Grow Your Online Presence
What are the Best AI tools for Copywriting
The "best AI" tool can vary based on your specific needs, preferences, and the type of content you're looking to generate. Here are the best AI tools for effective copywriting, each with strengths and weaknesses.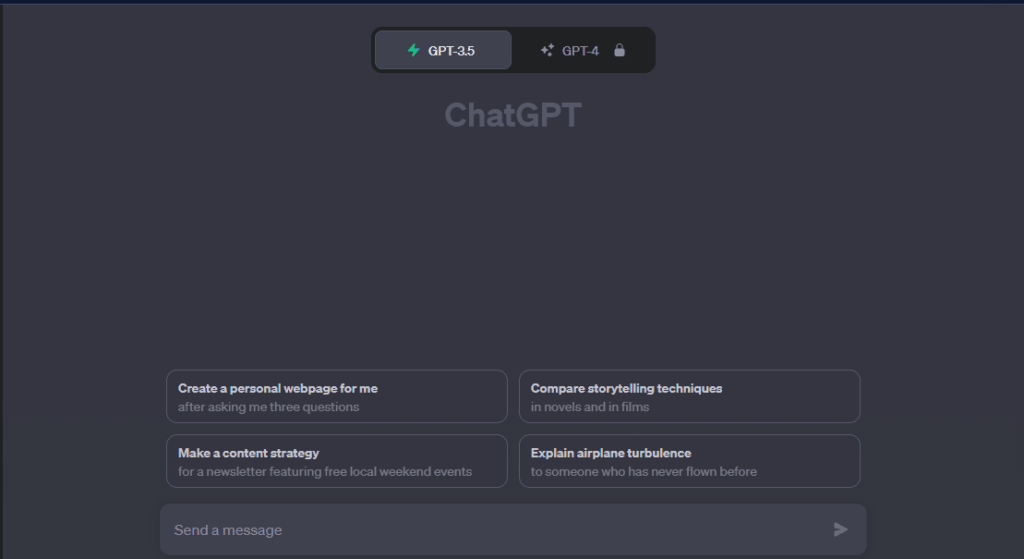 ChatGPT is the king of AI; it's a powerful AI tool to easily create compelling and engaging content. This platform uses OpenAI's GPT-3 technology and machine learning to create content that sounds like it is written by a person. This is really useful for making conversations. One cool thing about ChatGPT is that it's good at understanding normal language and giving useful answers immediately.
This is great because it means you can make good content without spending much time looking up information or writing. If you want to write social media posts, blogs, emails, or e-books, ChatGPT can help you create any type of content very fast. Also, ChatGPT can do other interesting things like turning writing into spreadsheets, developing computer code, grading essays, solving math problems, pulling out information from text, translating languages, composing music, and more!
ChatGPT-3.5 is free, but you can also pay $20 monthly for ChatGPT-4 for more accurate and advanced output.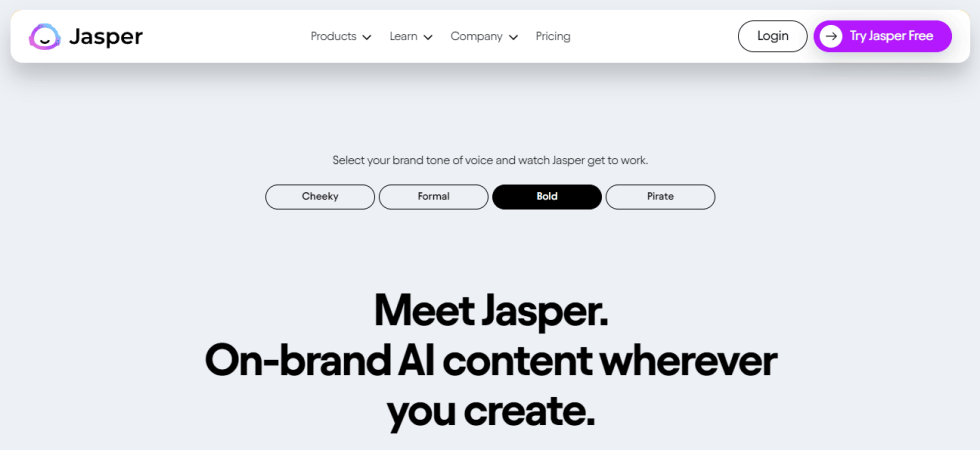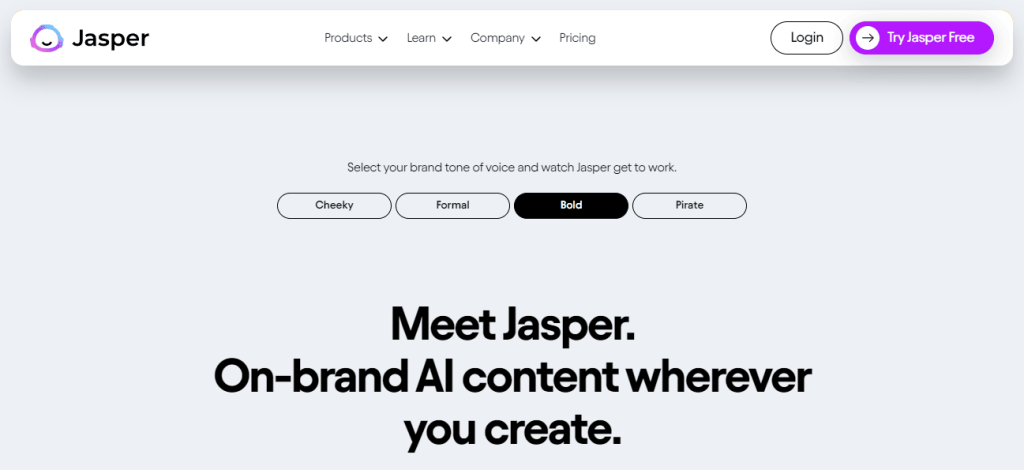 Jasper is a cutting-edge AI creation designed to streamline and enhance your content writing experiences. With Jasper's prowess, complex tasks become effortless, and your questions find quick and accurate answers. Jasper can generate any type of content for you in a jiffy! In addition to content creation, you can use Jasper's Semantic AI Platform and machine learning to build complex stories and create visual assets for your publications.
Jasper can interpret text and generate meaningful and grammatically correct content. This cloud-based software also offers a range of templates, so you can quickly create content for specific purposes. If you want to write content for your social media, blog posts on your website, or email for your marketing campaigns, you can rely on Jasper to deliver effortlessly. Jasper's intelligence is like a trusted companion, always ready to help you create content no matter how complex.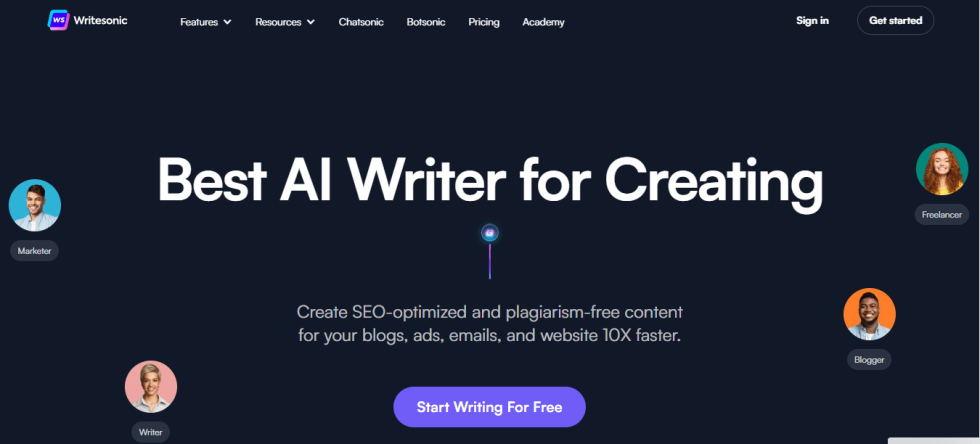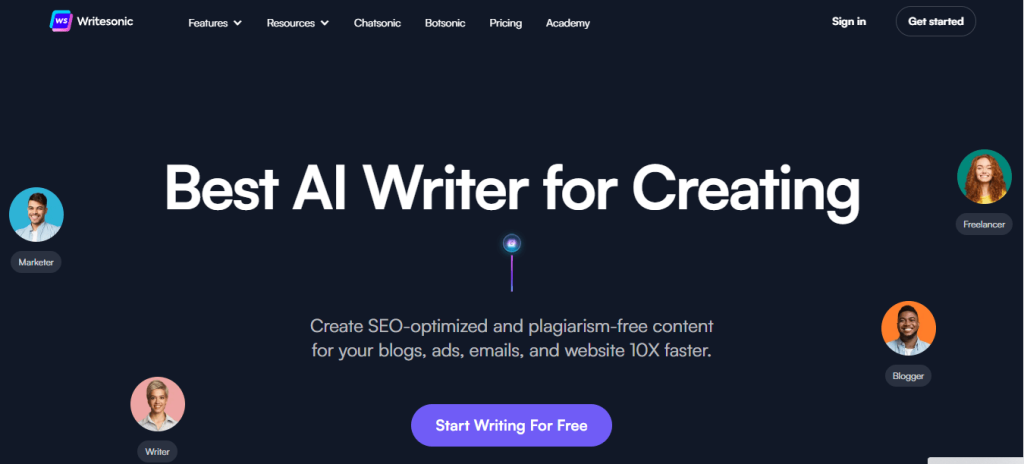 Writesonic offers AI-generated copy for various purposes, such as ads, product descriptions, and landing page content. It also provides a "Content Ideas" feature to help users brainstorm topics. WriteSonic is an exceptional AI story generator that can help you generate attention-grabbing content. This tool has a lot to offer with a range of features, including 70+ AI templates, 20+ language translations, built-in grammar and readability checkers, and integration with SurferSEO.
Writesonic combines the power of AI and human creativity to help you level up your content creation process. It is trained on billions of parameters and can generate original, plagiarism-free content. It is an excellent choice for generating various types of content, including blog posts, landing pages, ads, emails, social media posts, and product descriptions. One standout feature of Writesonic is the free ChatGPT app that gathers current facts and up-to-date information to help users create compelling content.
Writesonic offers a freemium pricing structure that allows users to try out the tool for free and upgrade to premium plans based on their content needs and usage. You enjoy a free trial with 6,250 words per month. Paid plans start at $12.67 per month for 47,500 words and scale up to $666 per month for 5,000,000 words per month and up to 15 users per month.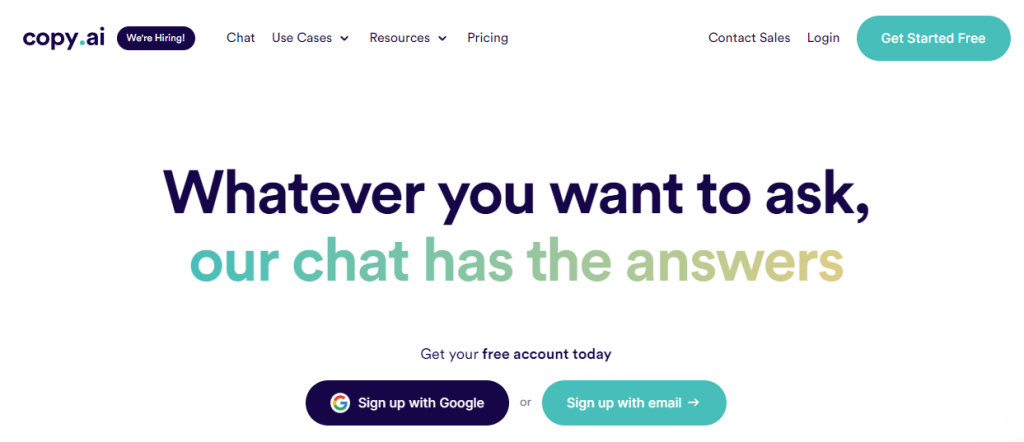 If you are looking for ways to simplify the way you create content and improve your productivity, Copy.ai is an excellent choice AI content-generating tool. It's a copywriting tool that uses machine learning to generate various types of content, including blog headlines, emails, social media content, web copy, and more. Built on top of OpenAI's GPT-3 large language model (LLM), it provides various tools and writing frameworks to help get you started with generative AI.
It is designed specifically for copywriting tasks. It offers a range of templates and tools to generate marketing copy, product descriptions, social media posts, and more. It's known for its user-friendly interface and quick content generation. Copy.ai is a powerful AI writing tool that can help you write better content in less time with its advanced AI technology and user-friendly interface.
How to Make Money with AI Copywriting
If you are creative enough and know your audience, you can make money with AI copywriting online. AI can truly help you generate incredible content, but your creativity, understanding of your audience, and ability to provide personalised and high-quality content will set you apart and contribute to your success in making money with AI copywriting.
Improve Your Own Existing Content
One of the ways to make money with AI copywriting is to use AI to improve your existing content online. If you already have a business website or blog, you can use AI tools to improve your existing website content or produce new ones to promote your products or services on social media platforms. You can also use AI to identify areas on your website that need improvement; AI can also generate fresh ideas and content for your blog – Using AI to generate fresh and new ideas on your blog will improve your search engine's ranking and increase your website traffic. Once you have enough content, you can monetise your blog with Ads like Google AdSense or promote affiliate products.
You can use AI tools to create lead magnets to entice potential customers who will subscribe to your email list, and also identify the latest trends in your niche with AI and create relevant content around it to enjoy massive traffic to your website. If all these are in place, you can monetise your blog either with Ads or affiliate marketing.
Start Your Own Copywriting Business
The second way you can make money with AI copywriting is to start your own copywriting agency. You can use AI to write compelling sales letters, emails, and product descriptions for clients. This can be a profitable business that requires minimal contact with clients. Staying ahead of the curve is essential in the ever-evolving business and marketing landscape. You can gain significant traction as a copywriter by harnessing the power of Artificial Intelligence (AI) to transform your copywriting skills and create compelling and persuasive content for clients online. Starting a copywriting business with the help of AI tools will offer you a competitive edge with many benefits to earn money online.
You can use AI solutions to craft high-quality, persuasive, and engaging content for any client or business. Since most AI tools rely on machine learning algorithms and natural language technology to generate results, you can train AI tools to understand human language patterns, tone, and intent. This enables them to craft compelling content based on your prompt. Creating a large volume of content alone can be time-consuming and limit your earnings, but with the help of an AI, you can rapidly produce large volumes of content while maintaining consistency in style and tone. This will enable you to handle more clients and projects simultaneously, boosting scalability without compromising quality.
It's easier for you to create unlimited content for your clients with the help of AI; you can work tirelessly around the clock and produce results in quicker turnaround times, meet tight deadlines and allow your clients to implement their marketing strategies without any setbacks. AI technology helps reduce your labour costs and enables you to deliver high-quality content, making your copywriting services more cost-effective for clients.
Create Online Courses for Sale
Creating and selling courses online is another way to make money with AI copywriting. In this digital age, people are craving more knowledge, and one of the ways people learn is through online courses. Online courses are a powerful medium for sharing knowledge and generating income. Integrating Artificial Intelligence (AI) into creating and selling online courses can help you make money online, enhancing the quality of your content and the overall learning experience. Whether you are creating video lectures, written materials, or interactive quizzes, just research the demand for your chosen topic to ensure a market exists.
Once you know what content you need, you can explore different AI writing tools to help you create it. Outline the course content, breaking it down into modules, lessons, and learning objectives. Define the structure to ensure a seamless learning journey for the learner. You can then use AI natural language generation software like Jasper to create initial lecture scripts to transform your ideas into coherent written content. And use AI to generate visually appealing slide decks and graphics to enhance the visual presentation of your course. You can also use AI to create Quizzes and Assessments; this will help you create quizzes and grading quickly and make your quizzes more interactive.
You can even integrate chatbots to provide instant answers to common learner queries to enhance engagement. There are AI technologies like Lumen5 you can use to convert your lecture scripts into engaging video lessons, complete with visuals and animations. With all these being said, you must understand that AI aids in content creation but needs a human touch for the content to make meaning. You must learn to refine, review and edit the generated content to ensure accuracy, coherence, and a human touch. Creating and selling online courses with AI integration is a dynamic way to make money online using cutting-edge technology while delivering a high-quality learning experience.
With the help of AI, you can streamline how you create online courses and successfully make money online by creating and selling online courses.
Create and Sell eBooks
You can use AI to create short eBooks sold on marketplaces like Amazon or given away as a lead magnet to collect email addresses. Creating and selling eBooks is a lucrative way to make money with AI copywriting; you can enhance your copywriting skills to create eBooks with the help of AI. With the help of generative AI, you can streamline production, improve content quality, and make money online by authoring eBooks.
You should learn to brainstorm unique and valuable eBook ideas within your niche. Ebooks that make waves are those that address common problems, provide solutions, or offer in-depth insights. Ensure you research the market demand to know there's an audience for your eBook. Once you have all these in place, you can turn to an AI tool of your choice to create your intended ebook; you must gather relevant information and data on each chapter of the ebook to support your eBook's content creation. Once the ebook's content is ready, review and edit it, and you can even give it out to another editor to proofread and finetune the content to be error-free and maintain authenticity.
Add graphic illustrations, infographics, and images to complement your eBook and create eye-catching eBook covers based on your theme and content. Once your ebook is ready, you can choose ebook publishing platforms like Amazon Kindle Direct Publishing and Draft2Digital to sell your ebook; you can also sell it on your own website or use it as a lead magnet to generate leads and grow your email list. You can efficiently create high-quality eBooks that people love, streamline your publishing process, and make money with AI copywriting.
Review Affiliate Marketing Products
Another way to make money with AI copywriting is to use AI to create blog posts and product reviews for affiliate marketing. Affiliate marketing is a very lucrative business online; I have made more money promoting products like web hosting services online than through other monetisation methods. You can use AI to craft compelling product reviews and significantly boost your income while providing valuable information to your audience. With AI tools, you can promote and review products effectively and make money. To succeed in affiliate marketing, it's wise to review and promote affiliate products within your niche, only review products that interest your readers and audience.
If it's a popular product or service, you can use AI tools to collect essential information about the product. Some generative AI tools can scrape data from various sources, including product descriptions, customer reviews, and expert opinions. This data will serve as the foundation for your review. Create an outline for your review and organise your content into sections such as Introduction, Features, Benefits, Pros and Cons, User Feedback, and Conclusion. This will give your review a structured and easy-to-follow format.
Once your outline is ready, you can use AI to draft your review, starting with the introduction, where you can tell your readers all the problems the product can solve. Remember to describe the product's features, emphasising how they address specific pain points. Highlight the benefits of using the product and provide real-life examples. Come up with the product's pros and cons without sentiment. And be honest and balanced in your assessment. Add your personal touch and insights to the review. Share your experiences, anecdotes, and thoughts about the product. This will create a stronger connection with your audience and enhance the review's authenticity.
In all, use your affiliate link within the content for your readers to purchase the product. Emphasise the value they'll receive by using the product and address any concerns. Publish and promote your review on your blog or social media channels, email newsletters, and other marketing strategies to maximise its reach. With the power of AI, you can create compelling product reviews that resonate with your audience and drive affiliate marketing success. It's possible to build a profitable affiliate marketing business through well-crafted product reviews using AI.
Write Emails for Brands
To make money with AI copywriting, you can also use AI to create compelling email marketing campaigns for businesses if you've mastered the fundamentals of email marketing, including understanding target audiences, crafting persuasive emails, and adhering to best practices for subject lines, formatting, and calls to action (CTAs).
Businesses and individuals constantly seek copywriters who can help them engage with their audience through persuasive email messages. As a copywriter, you can capitalise on the rise in demand for email copywriters by using AI to craft compelling emails that drive conversions for business. You can use AI tools like OpenAI's GPT-3, Conversion.ai, and Copy.ai to enhance your email writing skills and create compelling email content for people who need your services.
Final Thoughts about Making Money with AI Copywriting
AI is an incredibly powerful tool that can help businesses and individuals accomplish various tasks quickly, accurately, and efficiently. Combining your creativity with AI-driven innovation is an exciting way to make money with AI copywriting. You can position yourself at the forefront in the tech and digital world if you can master the art of using AI tools to create compelling content.
As you embark on how to make money with AI copywriting, remember that AI can only assist in generating drafts; your creativity adds the vital elements of authenticity, emotion, and brand alignment to the generated content. You must nurture your creativity and embrace the power of collaboration between human ingenuity and AI assistance. As people continue to recognise the value of persuasive messages, your expertise in AI copywriting will be the bridge that connects their messages to potential customers and grows businesses, putting money in your pocket. The future of AI copywriting is here, and you can shape it into a rewarding career for yourself.
FAQs on How to Make Money with AI Copywriting
Can I make money with AI copywriting besides freelancing?

Yes, there are many ways you can make money with AI copywriting. You can create your own website or blog and monetize it through advertising or affiliate marketing. AI-generated high-quality content can attract a large audience and generate income through ads or affiliate sales.
Is it possible to create a digital product using AI copywriting?

Absolutely! You can create a digital product, such as an online course or an eBook, that teaches others how to use AI for copywriting and monetize it. With the help of AI, you can share your knowledge and expertise while making money online.
How can I start a copywriting business with AI?

Starting a copywriting business with AI involves focusing on sales funnels, email marketing, sales copy, and product launches. AI can assist in writing compelling sales letters and emails, but it's important to ensure the copy is engaging and persuasive through editing and checks.
Are there specific niches that are more profitable for AI copywriters? 

Profitable Niches that require regular customer communication, such as e-commerce, marketing, and tech industries, are more profitable for AI copywriting. However, success depends on your ability to understand and cater to the specific needs of any niche.
What are some simple ways to make money with AI copywriting?

Offer AI copywriting services to clients: You can Use AI tools to generate high-quality content for clients and charge a fee for your services.

Sell AI-generated content on stock content websites: You can create content using AI and, edit it and sell it on platforms like stock content websites to earn passive income.

Create and sell digital products: You can also use AI like Jasper to create ebooks, courses, or other digital products that teach others how to use AI for copywriting. Monetize these products by selling them online.

Start a blog or website: Use AI-generated content to create blog posts, articles, or other valuable content for your own blog and monetize your website through advertising, sponsored content, or affiliate marketing.

Freelance as an AI copywriter: Another way to monetize your AI-generated content is to offer your AI copywriting services on freelance platforms and work with clients on a project basis.