Are you Looking for a way to earn passive income online to motivate you to write more compelling articles or pay some bills? If yes, please follow along as I share a proven way to make money from Google AdSense.
Making money online is the future, and we are already in that future. Many people are quitting the usual 9-5 job and focusing on making money from home using their smartphones or computers with internet connectivity. The most intriguing thing is that many people are earning 7-9 figures as monthly income online. I know it's hard to believe, but it's true.
If you've ever tried to research ways to make money online, you must have heard or read about AdSense several times. If you haven't, this guide is for newbies like you who want to work part-time and make money from Google AdSense. At the end of this comprehensive guide, you'll be armed with all the necessary knowledge and steps needed for you to make money from Google AdSense as fast as you can.
Looking for a way to earn passive income online to keep body and soul together? Google AdSense is an incredible way.
Click To Tweet
How You Can Make Money from Google AdSense?
Google AdSense is a service that is free by Google to publishers who want to make money from their content on the web. A publisher is anyone with a website, blog, YouTube channel, or other permitted online property. AdSense is always one of the most well-known ways to make money from content and is an ideal way for those who wish to earn money online. AdSense's popularity is due to its ease of use, and once you have set up the account, all you have to do is relax and watch the money roll into the account. Additionally, they pay on time, and you don't have to worry about getting fraudulent online.
Getting started with AdSense is simple; you will need an account on a website or YouTube channel to be approved for an AdSense account. Once you've created an AdSense account and gotten approved, the only thing is to add ads AdSense codes to your website. Once you have done that, AdSense will show ads on autopilot. If a user decides to click on these advertisements, you'll make cash from the clicks. The goal is to drive visitors to your blog; the more traffic you get, the more money you earn.
Here is a detailed article to help you drive massive traffic to your blog to maximize your Google AdSense.
An important word of caution:
If you think it's so simple and can even ask your family or friends to click the ads, do not. It's not. Google AdSense is a reputable advertising network that is free to join. Still, they've maintained an excellent quality standard, and any activity where publishers ask users to view ads or employ illegal methods to gain more clicks can make Google limits your AdSense or disable your AdSense account totally. And once your account is disabled, it can be difficult for you to create another one.
How Much Can You Earn from AdSense:
This question is the first people ask when they hear about AdSense; in reality, some people make thousands of dollars daily through AdSense. Below is a screenshot of earnings from one of my AdSense-approved websites, there's no limitation to how much you can make from AdSense. However, you need to get your website set up first and ready for monetization through AdSense.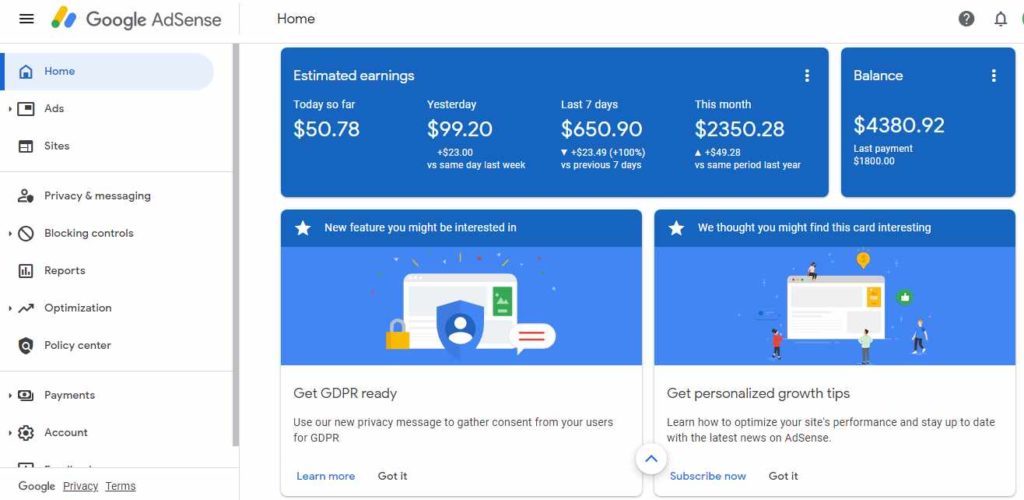 The process of creating a website to get the AdSense account
You must own a web-based property to be eligible for the AdSense account. This could be a blog, a website, or any other type of property that Google permits. Below I've listed three options to build a web-based property in just a few minutes. Based on your knowledge of the process, you can begin at no cost or invest a bit of cash if you already know how things work on the internet.
Here are three ways you can create a property online before qualifying to make money with Google AdSense.
Create a blog for free using BlogSpot: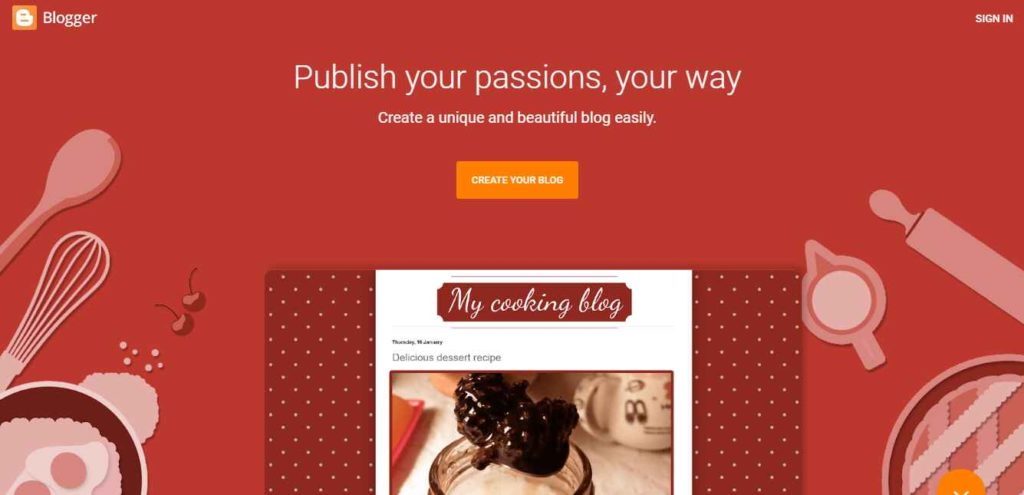 A Blogspot is a free cloud-hosted blogging platform powered by Google, with Blogspot you can create a blog and have it up and running within 10 minutes even without any technical knowledge. This is the most effective method for anyone who hasn't had a job online and is first trying to earn money. A few important points to be aware of:
Domain name: BlogSpot offers a domain name such as yourname.blogspot.com. Choosing a domain name that is simple to recall, write and pronounce is recommended.
Specialization: Start posting articles on a specific topic. Your niche could be in technology, finance, entertainment, fashion, or anything. Ensure every article you write is at least 1000 words and pictures. Writing an article for BlogSpot or any other modern platform is simple. Here's how to choose the subject for your website.
Design: When creating your blog for the first time on BlogSpot, you are likely to use one of the templates offered by BlogSpot. They're great. However, you could also make use of a third-party free template to enhance the look of your BlogSpot blog appears more professional.
Pages: Posts serve as writing pages and articles, while pages are used for important pages like about, contact, and others. Create and add an About/Contact page as soon as you start.
Create your own WordPress Blog
Creating your blog on WordPress is a smart move for any blogger because WordPress is the most popular CMS in the world. WordPress powers more than 40 percent of websites around the globe, and it is considered the most reputable blogging platform in the world.
The idea of owning your domain name and hosting is fascinating and can be a bit daunting initially. However, WordPress allows people without any coding or technical experience to get their blogs set up quickly and easily. With WordPress, you customize your blog the way you feel and like it without limitation of any kind.
Learn: How to create a professional WordPress website step-by-step.
Start a YouTube Channel and upload original videos:
Start a YouTube Channel
YouTube is another platform you can use to make money through AdSense. Not all publishers love writing, some love to create video content. If you're one of them, you need to utilize this method to earn income from AdSense.
You must create your account with YouTube to make channels (It's free) and begin uploading the original videos that you've made. You can use your phone to take the original videos that you can watch, and you can also use video recording and editing software such as Active Presenter to make screencasts.
Don't know which video niche or content to be creating? No worry, you can make research on what to focus your content on. On YouTube, there's no nothing you can think of that people have not created videos for. You can start creating Video content about fashion, sports, relationships, gadgets, entertainment, and other niches you wish to follow. On YouTube, there's room for anyone to create any content as long as it's original.
When your YouTube channel is live for a few days, and you have constant uploads of videos (5-10 high-quality videos), then you are likely to be able to earn money from uploaded videos using AdSense.
Now that you've created a Blog or YouTube Channel: What's Next?
Following one of the methods mentioned above, you can create a blog or YouTube channel for yourself. The next thing is to apply for an AdSense account. The tough part is to have your application approved. This can only be achieved when you're committed to your website content and traffic over time. But remember, Google AdSense isn't a get-rich-quick scheme online. It requires perseverance and dedication; you need to build good high-quality content first before traffic will start coming to your website. If you have enough traffic, you will get enough people clicking ads on your blog which will result in Google paying handsomely.
Learn: How to Get Google AdSense Approval for a New Website Quickly
Apply for AdSense:
The next thing to do is fill up the AdSense application and await approval. Here is a guide to help you get AdSense approval.
Usually, getting your AdSense approved may take up to seven days, but if by any chance your application was denied, don't feel angry and seek out what's missing from your blog. Google requires reputable publishers, and it's difficult for newbies to make things work. If follow this guide, you will get your account approved within a week.
AdSense approved. Congratulations! What Next?
I can assure you that this feeling is unforgettable when you get those first dollars to appear on your AdSense dashboard. After you've tried the thrill of earning income online from your website, you'll need to ensure that the main priority is increasing your revenue.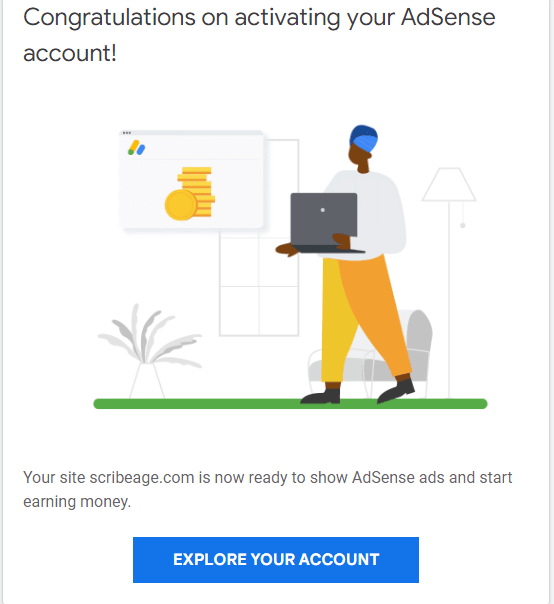 The next step is to increase the traffic to your website because more traffic will increase your earnings. In addition, you should learn the basic AdSense optimization techniques, such as placing ads and using keywords with a high CPC. After you've completed all of this (It should take around a couple of months) and you are ready to concentrate on developing niche-based
Conclusion
Google AdSense is one of the best ways for beginners to make passive income online. It's reliable and there's no limit to what you can earn through AdSense especially when you work on your website traffic. Many bloggers and publishers take advantage of Google AdSense to make money online, you too can. If you found this guide helpful, please share it with your friends on Facebook and Twitter. You are welcome to ask questions about starting your first blog on AdSense. And if you have tried Google AdSense and your application was denied, you can always apply for an alternative ad network. Here are the 25 Best Google AdSense Alternatives for Bloggers, some of these alternative ad networks pay higher than Google AdSense.