If you want to earn extra revenue from your blog, you may put ads on your blog. To do this, you'll require an advertising network. An advertising network is a platform that connects online advertisers with web publishers.
If you're looking for an ad-based network, you've probably encountered Google AdSense. It's the most well-known and popular pay-per-click (PPC) program available on the internet, with its ads appearing on more than 10 million websites globally. AdSense is an advertising program powered by Google for publishers to make money on content such as blogs, websites, or YouTube videos. Advertisers pay to advertise their brand and products through Google AdSense; you get a piece of that revenue by hosting ads on your site or channel. Signing up for Google AdSense is free.
However, getting approval for Google AdSense is difficult, especially for a new website. AdSense is not the only advertising network; there are alternatives to AdSense. In this article, we'll explore why you may want to use another ad network in place of AdSense on your blog. And list 25 Alternatives to Google AdSense you could use to begin to monetize your blog rapidly.
25 Google AdSense Alternatives for Bloggers
Click To Tweet
Why Use Google AdSense Alternatives?
Google AdSense has many disadvantages, which render it unsuitable for some blogs. Here are a few common and valid reasons to select an alternative ad network instead of AdSense. Below are some of the reasons you may need a Google AdSense alternative:
Eligibility Requirements
Many ad networks, including AdSense, requires that users meet specific criteria on their websites before they can become accepted as a partner. If Google cannot approve your blog to be eligible for the AdSense account, you'll require a network that is more flexible in its approval criteria to begin. As a result of the platform's strict control of click fraud, you may also have had your AdSense account removed. Perhaps you've put an advertisement on a webpage that shouldn't be there or clicked on one of your advertisements. It's not difficult to break the rules of engagement on Google AdSense when you're not paying attention, and you may require a more lenient alternative.
Learn: How To Get Google AdSense Approval for a New Website Quickly
Revenue Share
Most ad networks employ an automated system that allows them to place ads on specific pages of your site. When visitors interact with the advertisements — for instance, watching them, clicking on them, and purchasing from them — you earn a percentage of the revenue. At the same time, the remainder is paid directly to the network. Through Google AdSense, publishers receive 68% of the revenues earned by ads on their sites. This is a very competitive rate, but other companies offer an even more percentage. It's essential to have a high-quality website with a steady and consistent traffic volume and be considered a top contender, but it's worthwhile if you can cut.
Ad Customization
Some ad networks allow you to customize the appearance of your ads according to the configuration of your website to make them blend more seamlessly with your existing content. The degree of customization varies depending on the provider. Still, many of them allow you to change the size and colour of an ad and are far more adaptable than AdSense permits.
Payment Threshold
The payment threshold for a network is the minimum amount required before an ad network can pay a publisher. The minimum payment threshold for AdSense is $100. This is more than other alternatives. If your site isn't as big or isn't as established, it may take longer than you'd like to earn 100 dollars in income. You may be better off choosing a partner with a reasonable threshold.
Tailoring for Your Blog
Most ad networks, like Google AdSense, are built to cater to any content-based website, including video sites. Suppose you're searching for an advertising provider that will work directly with you and can develop a custom solution to your blog's needs. In that case, it's logical to look for alternatives to AdSense.
Additional Revenue Sources
Instead of substituting AdSense, you might consider a partner network that operates on your website alongside AdSense to offer another income source. It's not a problem, provided you adhere to the AdSense conditions of service.
If any of the above scenarios apply to you, there are a lot of worthy Google AdSense alternatives you could try. Let's look at the top options.
Google AdSense Alternatives
Media.net is an industry leader in contextual ads. The company is run through Bing and Yahoo and is considered the most popular AdSense alternative for advertisers and publishers. Media.net provides a variety of native and display ads on mobile and desktop, and you can anticipate earning the same amount from these ads as you do with AdSense.
Like any AdSense alternatives, pay close attention to Media.net's approval criteria. To be approved, your blog must have high-quality content and follow an elegant, professional style. Your traffic source is also essential: Media.net requires that most of your users are from the United States, United Kingdom, and Canada. If you're searching for Google AdSense alternatives in terms of lightweight features and payout rate, Media.net is a great starting place. Minimum payouts are $100 through PayPal, and you get paid at the end of each month.
Media.net is suitable for publishers who want the most comparable service with Google AdSense in terms of payouts and overall experience.
Propeller Ads is a growing platform that offers monetization options for both old and new blog websites. Propeller Ads is famous for its pop advertisements (on-clicks). If pop ads appear too invasive to your site, Propeller Ads provides other targeted and non-targeted ads for desktops, such as banners, native ads, videos, and banner ads. Propeller Ads can also serve mobile-friendly websites and applications and provides a push notification ad that works with these platforms.
Propeller Ads is available to well-established websites; however, it is ideal for newer blogs: There are no minimum requirements for website traffic. Your website gets approved once you apply almost immediately, and the payout threshold is $5 via PayPal. The payouts are at the end of every month.
PropellerAds is suitable for new and established websites looking to add pop ads and other ad formats to their websites.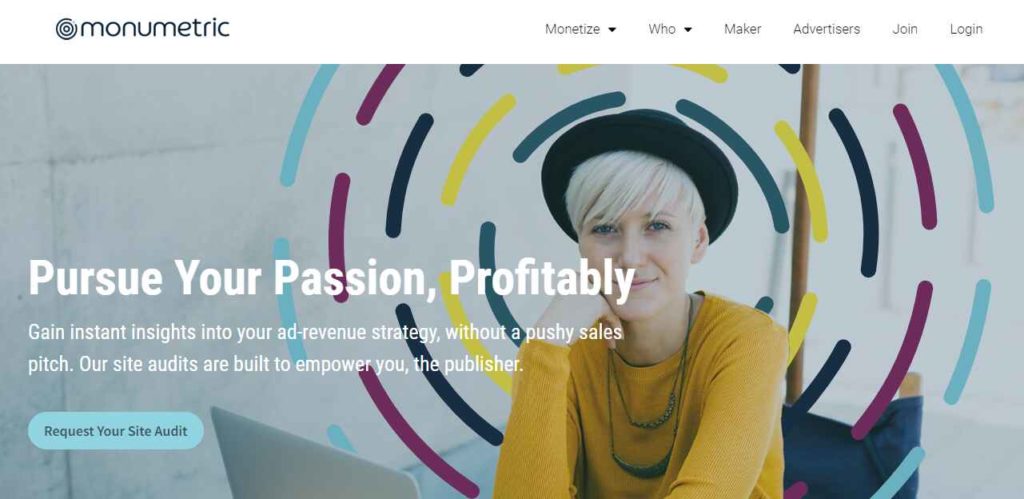 Monumetric (formerly The Blogger Network) is a blogger-focused advertising network that pays particular attention to its content creators and ensures the ads displayed on your site are of the highest quality and suitable for your visitors. They accomplish this by interacting directly with their clients, and they can be reached for assistance whenever you require it. Monumetric uses a cost-per-impression system instead of a cost-per-click model. You get paid when users can see your ads on your web pages instead of when they click on them. While the revenue from impressions is less than clicks, Monumetric compensates by delivering highly-targeted advertisements.
It is also notable due to its four monetization options tied to monthly pageviews. These will increase the amount of support you receive as your blog grows. There is a minimum requirement of 10,000 page views per month to be accepted; however, this is less than other networks in this list and could be met by blogs with mid-sized sizes. Additionally, keep in mind that blogs with less than 80k monthly pageviews must are required to pay $99 in advance to set up. The minimum payout for Monumetric is $10 through PayPal or direct payment.
Monumetric is suitable for blogs with a minimum of 100K monthly pageviews that want quality, precise ads based on impressions, not clicks.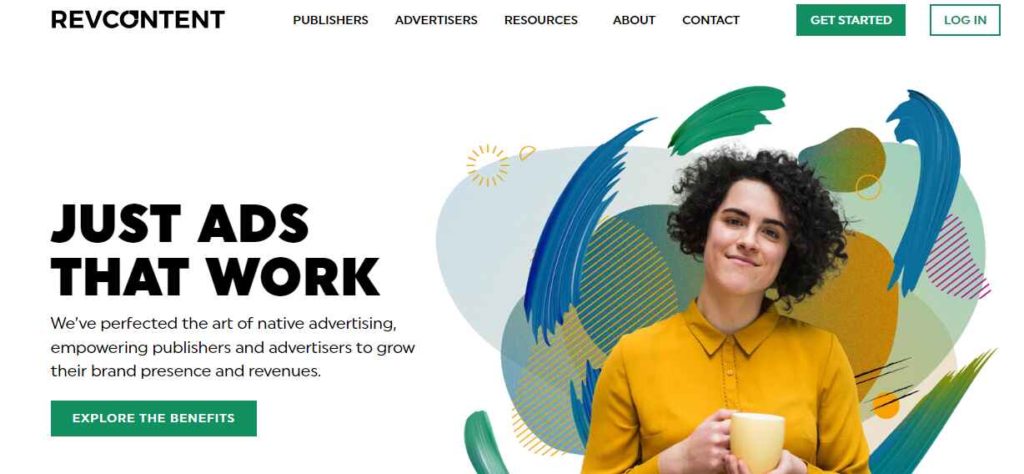 Revcontent is an industry leader in native ads customized to fit the style and appearance of your blog's content. Revcontent also has ads available in different formats, such as mobile, display, and video. Revcontent is known for excellent clients, both on the side of the advertiser and the publisher. It has a partnership with publishers who will likely get lots of clicks on advertisements, which draws advertisers willing to pay for higher commissions.
The issue lies in that Revcontent is a bit selective, more than Google AdSense. For a successful application, your website must have more than 50,000 monthly visits and produce valuable content regularly. There's a risk of rejection; however, it's worth a shot to see if Revcontent can deliver on its guarantee of higher engagement rates. Publishers receive monthly payments, and the minimum amount is $50.
Revcontent is suitable for websites with high-quality content and traffic, searching for targeted native advertisements.
Amazon is a household name, a multinational company; if you have been online for a while, you've been familiar with Amazon. Amazon also has a display advertising program where publishers can earn money for their effort. Amazon Native Shopping Ads, an element that is part of Amazon Associates, a division of the Amazon Associates program, permits you to put native Amazon product pages on your blog's pages. The ads are targeted to the content of your page.
If a person clicks on one of these advertisements and later purchases any item from Amazon, you receive a commission on the purchase. Amazon's unrivaled standing in online shopping means that your customers tend to complete purchases this way instead of through competitors. Amazon pays out 60 days following the close of each month. The minimum payout is small at just $10 via direct deposit.
Amazon is ideal for publishers who want to join Amazon and be Amazon Associates.

Adversal is a self-service advertising service. This platform gives publishers the opportunity to purchase and post advertisements using the platform without assistance from a human. When using Adversal and other platforms, self-service advertisement's content and layout are yours to decide. It is ideal for those who need greater control over the ads they display on their sites.
With its simple-to-use interface, Adversal is designed to simplify the process of setting up your advertisements and running them in a short time. It is possible to manage your campaigns with just a few clicks. Additionally, the platform can support display, video as well as native ads so that you can pick the most appropriate options.
Your website must have a minimum of 50,000 monthly page views to qualify for Adversal ads without any restriction on the site. The minimum threshold is $20 per month, payable every month. You can get payments through bank wire transfers, PayPal, ACH, or by check.
Adversal is suitable for blogs with a high traffic volume who want to choose their ads and placement.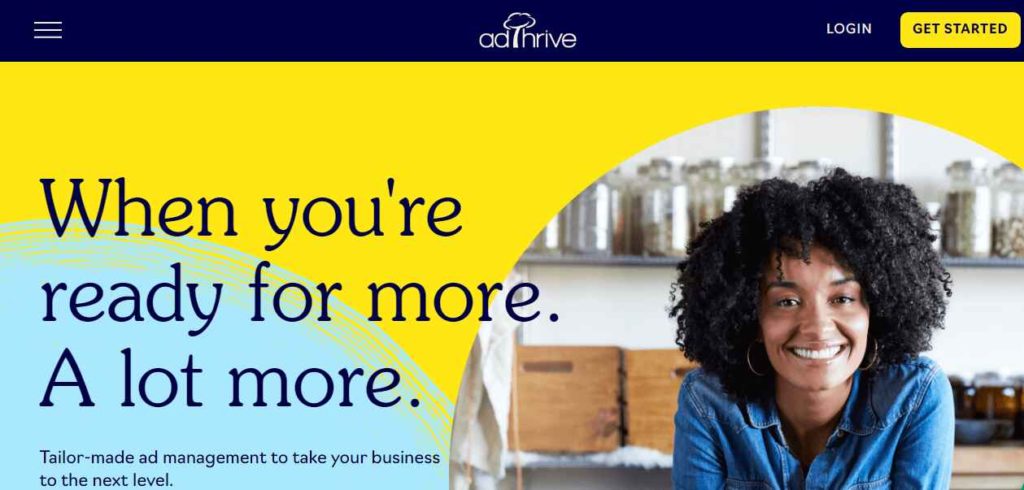 AdThrive is another great advertising network alternative to Google AdSense, which takes great care of bloggers. This cost-per-impression platform is in close contact with advertisers and publishers to ensure that your blog will only display ads for exceptional products from outstanding companies. The AdThrive team works with publishers in developing strategies to make more money by placing the ads in the most effective locations on the website.
Perhaps the most compelling reason to sign up with AdThrive is the 75% payout directly to publishers. Its money-back guarantee guarantees you'll receive your full payment in time even if AdThrive does not receive payments from its advertisers.
AdThrive isn't designed for newbies in blogging, to be eligible for consideration your website must have at least a minimum of 100,000 monthly pageviews, and the majority of your readers located within the U.S. If your website meets AdThrive requirement, you can give it a shot. The minimum payout is $25 with PayPal and direct deposits.
AdThrive is ideal for Established publishers who wish to collaborate closely with their ad networks to develop a monetization plan and earn a substantial return on investment.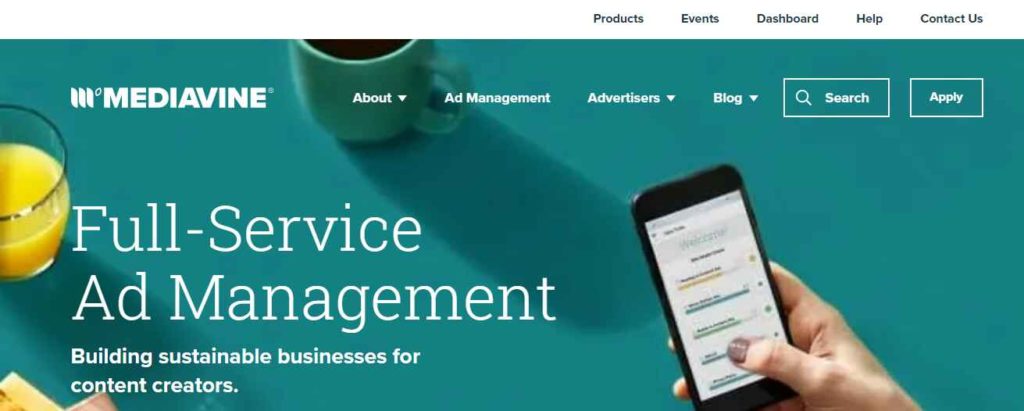 With the 75% revenue share to bloggers and its highly customized ad placements, Mediavine is comparable to AdThrive however it only requires half of the per month page visits (50,000). The ad-based network draws revenue from a vast selection of lifestyle-focused advertisers, which means this service targets lifestyle bloggers alone. If you write long-form content in the niche, you should consider applying.
Mediavine will also show empathy for your relationship, which is surprisingly difficult to find with other ad networks. Group of bloggers who understood the importance of speedy loading ads that are high-quality, efficient, and transparent created Mediavine. The Mediavine teams are always ready to answer any queries regarding advertisements on your site. The minimum Mediavine payout amount is $25. PayPal and direct deposits (or $200 for direct deposit to international banks).
Mediavine is suitable for Lifestyle bloggers that have at least 50,000 monthly traffic.
Playwire's Revenue amplification managed by Professionals (RAMP) Platform combines the best in ad technology into one platform and makes it more efficient. RAMP Platform is an ideal option for websites with at least 500k monthly page views who want a whole way of making money. RAMP offers access to an extensive set of demand sources available on the market and also relies on predictive analytics that drives more significant payoffs. In the end, it helps high-traffic blogs generate ads via appealing and powerful ads.
Additionally, the Playwire global direct sales team is in contact with some of the most renowned brand advertisers, allowing them to negotiate lucrative direct sales. RAMP payment threshold is $100 via PayPal or $500 via wire transfer, made every 60 days.
RAMP is suitable for bloggers with massive traffic looking for a broad monetization platform.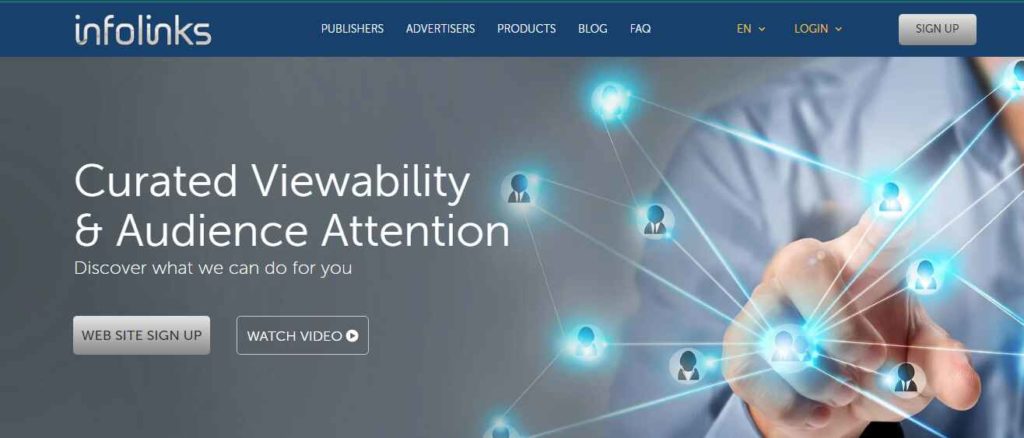 InfoLinks offers an effective alternative to display advertising. The platform is a specialist in the placement of in-text ads. InfoLinks search for keywords within the text of your blog and then automatically integrates ads with relevant text fragments. If a user hovers over this text, an appropriate ad appears next to it. In-text ads are great for blogs as more words on a page provide more chances for relevant advertisements.
InfoLinks accept any blog, whether an old or brand-new website. There is no set-up fee, and there are no minimum traffic requirements. Once you sign up, you can create in-text and other targeted display ads and view the report insight from your dashboard. InfoLinks pay every 45 days through PayPal, Western Union, and Payoneer; the payment threshold is $50.
InfoLinks is suitable for publishers looking for an option for advertising in-text ads.

Bidvertiser is another Google AdSense alternative. Unlike most other ad networks that charge a fixed rate for displaying ads. Bidvertiser allows advertisers to bid for ad space on your website and place the ads of the highest bidder on your website. Bidvertiser pays publishers commission when a user clicks (CPC) ads, views the ads for a specific time (CPM) or does a conversion like a signup/a sale (CPA), etc.
There are advantages and negatives to a system such as this. Advertisers will seek to beat each other out to get space if your site is getting sufficient traffic. You could earn more money from auctions as opposed to AdSense. However, if the advertisers don't know about your website, you may not get any bids. Before you op-tin for Bidvertiser, consider your blog's niche and category. Suppose the bidding system performs well for your blog. In that case, you'll benefit from Bidvertiser's ad customization tool, no approval limitations, and the ability to pay for clicks and conversions. Like most ad networks, you get paid on Bidvertiser monthly, and the payment threshold stands at $10 via PayPal.
Bidvertiser is suitable for blogs that would prefer bidding ads over an advertising platform.
SHE Media is an American digital media firm that produces content designed for and written by women. It's most notably well-known by its blog sites SheKnows, Blogher, and StyleCaster, which have thousands of million views per month. SHE Media also operates a partnership network that connects female-oriented advertisers with women-focused content creators and bloggers.
If your blog has a predominantly female audience, consider contacting SHE Media for monetization. If approved, you'll be able to share the same advertising partners as its popular blog properties and be a part of an organization that strives to increase women's voices globally. Additionally, you'll receive top-quality advertisements from verified companies promoting products without taking readers away from their reading experience.
To be considered a qualified website, your website must have a sizeable amount of traffic, with 80% of your audience in the US and 70% female. You'll have to prove this by submitting numbers. SHE Media's partner network pays publishers monthly via direct deposit and PayPal for bloggers not within the United States.
She Media is an ideal ad network for women-oriented bloggers and content creators.
Taboola is another Google AdSense alternative; it's an advertising agency that has worked with big media companies and gained a reputation for its quality ads. Taboola is a good ad network that connects advertisers with content publishers via web-based widgets.
Taboola is known for its variety of options that extend far beyond the basic ads. Taboola allows you to display advertisements in high-quality, customizable formats, embed videos, control the personalization of your ads and even filter ads according to keywords. With a minimum requirement for traffic of 500,000 monthly page views. Taboola's services are only available to big publishers with massive traffic; the payment threshold is $50 via Payoneer.
Taboola is suitable for enterprises with substantial monthly traffic that could respond well to targeted, personal advertisements.

The most appealing feature of the advertising network ylliX is its openness to new publishers: There is no requirement for traffic to sign up, you get paid daily, and the payment threshold is just $1. Due to its minimal conditions, ylliX can accept your website within a short time once you have signed up.
The self-service platform provides a variety of desktop and mobile advertisements — such as banners, sliders and anchors, in-app pop-ups, and push notifications and lets you create campaigns based on impressions, clicks, and actions.
You can still make extra money from ylliX lucrative referral program that pays up to $100 for every new user you refer to them.
ylliX is suitable for both old and new publishers who want an ad network with flexible ads and marketing types.
A relative newcomer in the field ad network, RevenueHits is gaining traction as a reliable platform for monetization. RevenueHits showcases its sophisticated tool for optimizing ads that analyzes the performance of your ads and tells the best places to place advertisements on your website.
There's no requirement for minimum traffic for getting started with RevenueHits. It is crucial to remember that advertisements via RevenueHits are based on performance, not cost-per-click. That means you can't earn revenue from clicks on your site alone. To make money from your website with RevenueHits, your users must click on the ads and then take specific actions on the advertiser's website. These actions vary from one advertiser to another; some advertisers may require your users to make a purchase or sign-up for a service. The most common examples are buying a product or subscribing to a particular service via the site.
RevenueHits, like most ad networks, pay every month through PayPal and Payoneer with a threshold of $20.
RevenueHits is suitable for publishers who want click-per-action ads.

Adcash is another excellent Google AdSense alternative that allows all kinds of publishers, including big, medium, and small, to monetize their websites. The ad network claims that it offers users high-quality demand and relevant ads. Adcash also provides publishers with advanced features and tools to monetize their websites.
Adcash works with almost all ad formats, from traditional display ads to premium options like popunders and instream video advertisements. It is easy to set up and modify every ad element, and you can access real-time data on the performance of your ads via the administrator panel. Adcash also follows the pay-per-action method. It provides payouts through PayPal, Payoneer, Skrill, and WebMoney, while the payment threshold is just $25.
Adcash is suitable for the new website, which prefers an action-based model paid per click.
Another Google AdSense Alternative is BuySellAds which serves different ad formats, including native ads, text advertisements, RSS feed ads, emails, and content sponsorships. If your blog receives consistently large amounts of traffic, you should consider BuySellAds, an ad-serve self-service site for bloggers. BuySellAds is a highly exclusive service that requires a website to have a minimum of 100,000 monthly page views before applying for the ad. If your website has 100,000 pageviews monthly with high-quality English content, you can apply for BuySellAds to earn 75% of the commission per click. This is highly competitive in the market and much higher than Google's commission of just 68% per click. BuySellAds minimum threshold is $20 through PayPal.
BuySellAds is suitable for heavy-traffic websites that want top-quality advertisements from vetted advertisers.
Skimlinks is a specialist in affiliate marketing which makes it distinct from other alternatives in this list. Skimlinks work by scanning the texts on your blog to find links to other websites. If a hyperlink leads towards one of the advertising partners, Skimlinks transforms the link into an affiliate one, and you'll get 75% of the commission each time a user clicks it. Additionally, you earn revenue when customers purchase products using those affiliate links.
Skimlinks is perfect for bloggers who wish to make money from their blog posts without (or in combination with) the use of display advertisements. It's also great for product reviews that include brands with names. Skimlinks has a low minimum payment of just $10. It only makes payouts every 90 days.
Skimlinks is an ideal ad network for affiliate marketers that want their affiliate links to be automatically placed.
Sovrn/Commerce is another Google AdSense alternative for new websites. It lets publishers use various advertisements, videos, and affiliate links they can place on their websites and then automatically selects relevant ads depending on your posted content. Sovrn //Commerce allows you to generate passive revenue from clicks and resulting sales by converting regular product links into affiliate links.
Sovrn //Commerce's in-depth analysis shows you which products and advertisers earn you the most money so you can optimize your performance. You can also choose between a cost-per-impression and cost-per-click as your marketing strategy. There are no entry requirements to signup for Sovrn //Commerce, and the payment threshold is just $10 via PayPal and $50 via direct deposits.
Sovrn //Commerce is an ideal ad network for publishers who want to make money through content-driven-commerce.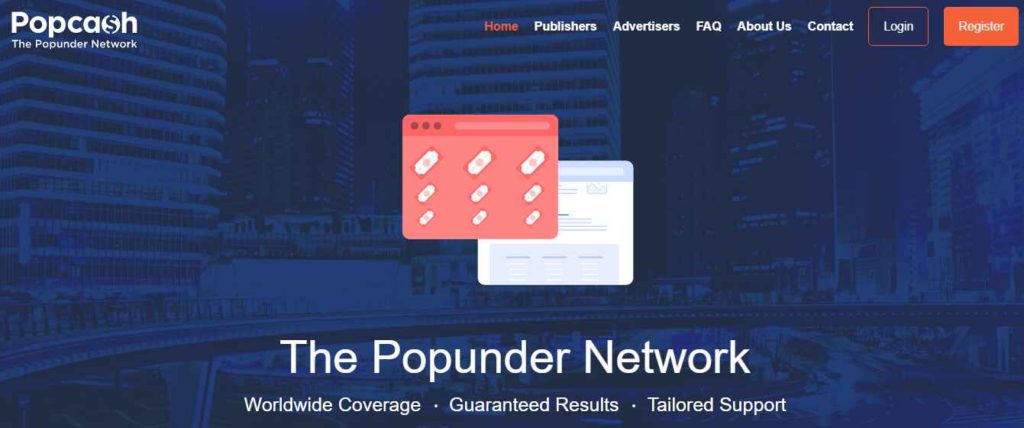 PopCash is another Google AdSense alternative platform that specializes in pop ads. PopCash is an easier-to-access service with minimum registration requirements and speedy approval. Once you sign up, you'll be part of an online network that includes more than 50 000 advertisers with about 850 million monthly users.
If you're comfortable with this kind of advertisement, it's simple to start using popunder ads. Your revenue share is impressive at around 80%. Additionally, you'll be able to access data to help you can target your advertisements. The minimum payment amount is $10 via PayPal, Paxum, Skrill, and wire transfers. Additionally, you will receive your payments each day.
PopCash is an ideal ad network for publishers interested in popunder advertisements.
If your site's monthly visits are in the range of 100,000 or more, consider partnering with Setupad. The platform offers a range of ad formats, including high-quality media advertisements, expandable native, amp, and video ads, and standard advertisements like display ads. Setupad offers a simple-to-use Google Chrome extension where users can report unwanted advertisements and view real-time data such as winning CPM, winning SSP, and average eCPM to the very last minute. Setupad employs the technology of header bidding to connect publishers to more than 15 buyers, including Google.
The increased competition causes buyers to raise their prices and thus increase the revenue from advertising. With Setupad, you can increase the amount of money you earn from ads by at least 30% if you have previously employed Google Adsense. Publishers will receive an initial payment within 60 days. They will pay that every 30 days after their minimum amount of €100 is met. If they do not, Setupad adds these earnings into the following month.
Setupad is an ideal ad network for websites that are well-known and wish to utilize a bidding model to increase the amount of ad revenue.
Adblock has brought about various problems for those who depend on the revenue generated by advertising. AdRecover is a plan to change this by partnering with adblockers to deliver static UX-compliant and non-intrusive advertisements to users of these ad blockers. This means you'll have access to very discerning and difficult-to-reach users who would normally not be accessible because of their usage of blocking software. AdRecover is one solution that works with ad blocker software to display advertisements that align with user experience standards. AdRecover assures that your ads aren't disruptive to increasing user click-through from AdBlock, AdBlockPlus, and Crystal Adblock users.
To be able to use AdRecover, your website's daily ad-blocking traffic needs to be at least 10k. You will require to install AdRecover on your website for at least one week for proper analysis and tracking of the ad-blocking users on your website. The payment threshold is $50.
AdRecover is ideal for popular websites that experience a decline in impressions, clicks, and/or actions because of ads-blocking software.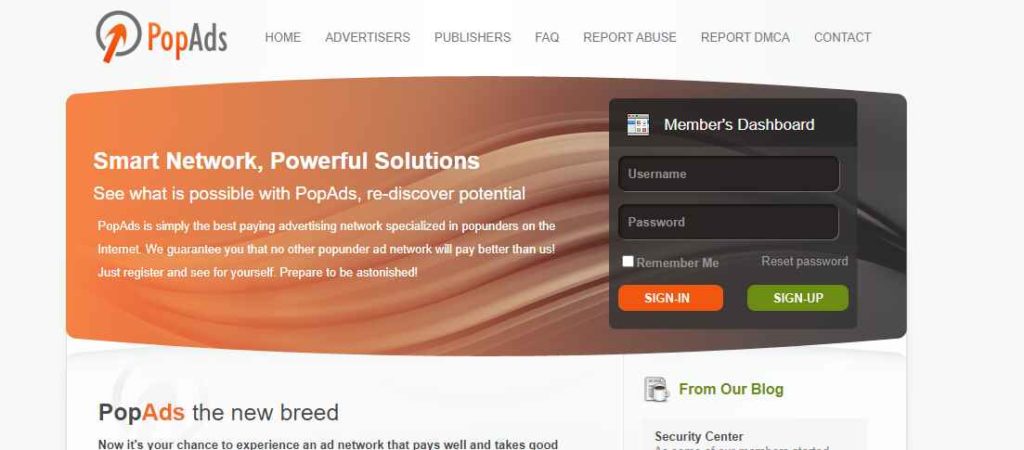 PopAds is another Google AdSense alternative that focuses on popunder advertisements. It's one of the most profitable popunder ad networks on the list. PopAds emphasizes its speedy and fair payments and its practical control over popunder ads' features, frequency, and target. The threshold for entry is extremely low, with only 1,000 monthly visits to utilize the service. PopAds allows daily payments, with an initial minimum payout of $5 through PayPal as well as AlertPay. Also, wire transfers are permitted with a minimum amount of $500.
PopAds is an ideal ad network for websites with low monthly traffic who wish to use popunder ads.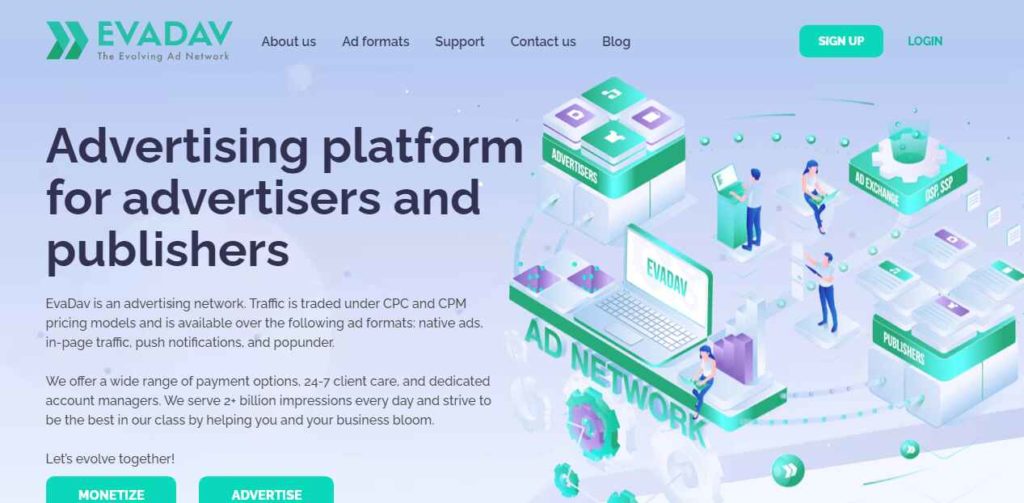 EVADAV is another Google AdSense Alternative ad network that serves more than 2 billion impressions per day across the globe and is focused on providing exceptional value to Publishers and Advertisers. Evadav ensures that Advertisers and Publishers get the best value from the top ad formats such as native ads Page, In-Page, Push, banner, video slider, and Pop ads. They serve them in the most optimal CPM and CPC price models.
Evadav also offers a referral program that offers publishers 5% of all future revenues from other publishers referred to the network. All websites are vetted to ensure that advertisements are safe for brands, which means you get high-quality traffic and reliable advertisements. The payment threshold stands at $25 paid every 7 days.
Evadav is an ideal ad network for new websites that want to monetize with push notification ads
Adsterra is one of the best Google AdSense alternatives; it offers a variety of advertising options for advertisers and publishers, allowing them to explore a unique strategy that isn't dependent on Google. Adsterra is a world-renowned advertising and CPA affiliate network with a unique Partner Care approach. They help advertisers meet their KPIs and grow ROI, while publishers maximize eCPM with easy-to-use advanced traffic solutions and the team in the industry.
It's a rapidly growing and highly respected network that generates more than 10 billion impressions monthly. Through its user-friendly system, Adsterra allows you to easily make money from your site's traffic, which is why it's among the top digital advertising firms. Alongside standard advertisements such as banners for display, it also offers creative ad formats, such as popunders, pre-roll videos, and push notifications that work on mobile and desktop devices. There's no required traffic volume to start with Adsterra; you can sign up and get approved immediately. The Minimum payout is only $5 via WebMoney and Paxum.
Which Google AdSense Alternatives is the Best?
Which Google AdSense alternative in this list is the best for your blog or website? All the ad networks mentioned in this list are good, depending on what you really want. If you want to increase your ads' earnings, you may consider Mediavine as the best alternative to Google AdSense. They handle your ad server and assist you in optimizing the placement of ads, as well as implementing more effective price control, eliminating intermediaries, and engaging in direct contact with advertising companies on your behalf.
Monumetric is another excellent alternative if you want more control over ads to display and are concerned about your site's reputation. Amazon Associates might be the best AdSense Alternative for your site if you enjoy product ads on websites. AdRecover is also a good source for high-quality ads, though it's limited in scope because it only targets visitors using ad blockers. Don't like the idea of manual signup for individual affiliates' networks? Then, Sovrn //Commerce and Skimlinks are great ways to monetize your website without signing up for affiliate networks. BuySellAds also provides an innovative marketplace model for you to monetize your website. Bidvertiser is another best alternative to Google AdSense if your website supports bidding campaigns.
As you can see, the choice is yours, but when switching ad networks, it's worth trying to determine which is most effective for your website before shifting to an alternative like AdSense.
Final Thought on the best Google AdSense Alternative.
A top-quality AdSense alternative can allow you to create an additional source of revenue which can encourage you to make more blog posts and assist in covering the cost of operating your blog. Speaking of making good money using any of these ad networks, your website traffic needs to be massive.
Learn: 29 Brilliant Ways to Increase Your Website Traffic
Don't choose the first option you test when deciding which advertising network. Ensure you test at least a handful of alternatives over a specified period. Then, find out which ones will generate the highest level of money for you without affecting the user experience. Before deciding what ad networks to use on your website, examining what ads will generate more money for you and be most relevant to your readers and if the ad formats will fit naturally and seamlessly onto your site is vital. Thinking slightly differently is acceptable, even if Google AdSense is on your radar. Still, you don't have to use Google AdSense since there are many alternatives with better pay in the market. But if you prefer to use Google AdSense as your ad network provider here is an article to help you get your website approved quickly.
Frequently Asked Questions
Why should I use Google AdSense alternatives?
There are several reasons why you might want to use Google AdSense alternatives, such as:
– You are not eligible for Google AdSense or your account has been disabled or banned.
– You want to diversify your income sources and increase your earnings potential.
– You want to have more control and customization over the ads on your site.
– You want to try different types of ads, such as native ads, video ads, or popunder ads.
– You want to work with a network that has better support, transparency, or reputation.
How do I choose the best Google AdSense alternative for my site? 
There is no one-size-fits-all answer to this question, as different networks may suit different sites better depending on various factors, such as:
– Your site's niche, topic, and audience
– Your site's traffic volume, quality, and location
– Your site's design, layout, and user experience
– Your personal preferences, goals, and expectations
Some of the things you should consider when choosing a Google AdSense alternative are:
– The network's eligibility requirements and approval process
– The network's ad formats, sizes, and placements
– The network's revenue share, payment methods, and minimum payout
– The network's performance, reporting, and analytics
– The network's customer service, support, and feedback
What are the pros and cons of Google AdSense alternatives?
Every advertising company have their advantages and disadvantages compared to Google AdSense. Here are some of the common pros and cons of using Google AdSense alternatives:
Pros:
– Lower eligibility requirements and faster approval times
– Higher revenue share and lower minimum payout
– They may have more ad formats, types, and options to choose from
– They may have better support, transparency, and reputation
Cons:
– They may have lower ad quality and relevance
– They may have lower traffic and advertiser demand
– They may have lower click-through rates and conversion rates
– They may have more technical issues and bugs