Are you tired of paying a Web hosting renewal fee to keep your websites and domain live? Do you want to avoid paying stupid renewals fee and focus on ranking and effectively building and growing your website?
Well, these problems are general among website owners. If you are facing the same issues, congratulations; I have good news for you; you are on the right page of web hosting information where I will tell you about a new hard-to-believe hosting plan called Lifetime Hosting from Naijawebhost. It's a perfect solution to solve problems of recurring payments and has many great benefits.
Lifetime Web Hosting is a web hosting plan introduced by Naijawebhost, one of the best web hosting companies in Nigeria, where you only pay once for a web hosting plan instead of paying year after year. With just a one-time payment, it provides similar features (for a Lifetime) to any other reliable hosting company, for example, 24/7 support, unlimited emails, unlimited subdomains, free website builder, essential software and more without paying the yearly renewal fee.
If you're a blogger or website owner in Nigeria, the Lifetime Web Hosting plan is the best Hosting plan for you; where you pay once and use it for a lifetime—a single, one-time payment plan instead of a renewal fee.
It's a Lifetime Web Hosting plan where you Pay only once and host your website forever, with no renewal or hidden fees. With the Naijawebhost lifetime hosting plan, you no longer have to worry about a web hosting renewal hike; with this lifetime web hosting offer, you get all the tools needed to run your websites with a one-time payment. The lifetime hosting plan comes with everything you need to run a successful website at the cheapest rate and to take your business websites or blogging career to the next level. Visit the official page here.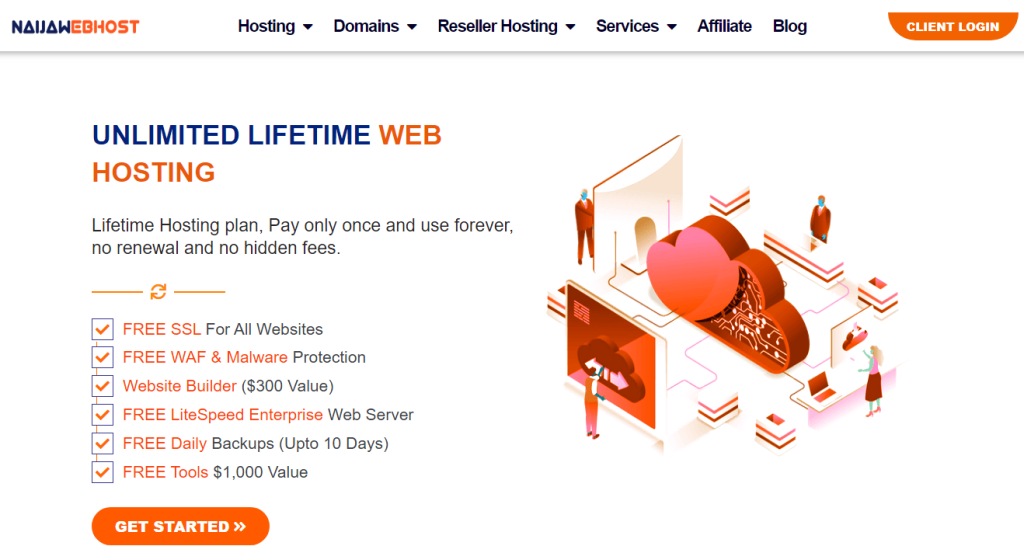 You need important services and tools such as a domain name, web server, email services, and security to run a successful online business. However, the annual billing of most web hosting plans that offer these tools can be traumatic for newbies in an online business. And the fact remains that you need these tools and services to house and secure your business information online to ensure your website is constantly accessible to prevent interruption of visitors and businesses.
Most web hosting companies charge you monthly/yearly to house and secure your website. They charge you for using their computer hardware and software that require regular updates and upgrades to keep your online business accessible to your customers 24/7. But the monthly and yearly fees paid to host websites online can discourage most newbies, especially when you have yet to start making money from using the services, and that's why Najiawebhost's lifetime hosting plan comes into play.
Let's take a deep look at several of the things they're offering in Lifetime hosting plan packages:
First, you will pay once…
No recurring monthly or yearly fee; you pay once and use it for life. Yes, for a lifetime.
But what feature is included in this lifetime package?
Features of Naijawebhost Lifetime Hostin Plan
NVMe SSD Powered Servers
The NVMe SSD is the new server's heart, storing all the data. NVMe SSDs are incredibly fast and reliable, which makes them ideal for web hosting. They are designed to deliver high-speed data transfer rates, low latency, and high IOPS (input/output operations per second).
Using the Naijawebhost Lifetime web hosting plan, you will enjoy NVMe storage, which will improve your website performance by reducing the time it takes to access and transfer data. This type of disk will also help reduce bottlenecks and improve a server's and website's efficiency, especially if you have dynamic websites that host a lot of users at once.
DirectAdmin Control Panel
You don't have to worry about managing your websites, as Naijawebhost lifetime web hosting plans come with a DirectAdmin Control panel to manage your websites. DirectAdmin is similar to Cpanel and very easy to use; it also comes with a 1Click App installs like WordPress, Joomla, Pretashop, WHMCS and more With DirectAdmin Panel, you take the lead and manage hundreds of features such as file manager, disk space, databases, domain, security and other metrics baked into the panel, allowing you as a customer to take the wheel and manage every aspect of your website.
Free Let's Encrypt SSL
All Naijawebhost lifetime hosting plans come with free Let's Encrypt SSL, so you don't have to worry about using third-party SSL on your websites.
DDoS Protection
Naijawebhost understands that website owners who fail to protect their websites against DDoS attacks risk experiencing website downtime and losing customers and profits. And that's why their lifetime hosting plans come with DDoS protection to monitor all your website inbound and outbound traffic and protect your files against attack.
Daily/Weekly Website Backup
Website backup is the only way to ensure your website files are protected from loss. Naijawebhost understands that losing your website can have big consequences on your business. With Lifetime Hosting plans, you will enjoy daily/weekly automatic backups of all your files to fall back on in case of a worst-case scenario. With any lifetime web hosting plan, you don't have to worry about losing your website's files in case of technical errors, as there's always a backup copy of your stuff that you can use and continue from where you stopped.
1-Click WordPress & Application
You can access 1-Click Install for hundreds of apps from your DirectAdmin control panel. With Softaculous, you can install any app of your choice in just 2 minutes; Softaculous takes care of the complete lifecycle of the application from installation to backup to update.
99.99% Uptime
With just a one-time payment, the Naijawebhost lifetime web hosting plan keeps quality high. You will enjoy up to 99.99% uptime on any plans of the lifetime hosting you subscribe for. That's too amazing to be true.
That's not All.
Here are some extra Lifetime hosting plans you will enjoy with Naijawebhost lifetime hosting packages:
Unlimited Email Accounts (email accounts, forwarders, and auto-responders)
Applications & Tools (Install WordPress, Joomla, osCommerce, etc.)
Unlimited 24/7 Support
Unlimited MySQL Databases on all plans
LiteSpeed web cache Manager
Imunify360 Security
Pricing for Naijawebhost Lifetime Hosting
The Naijawebhost Lifetime hosting pricing structure comes in three categories; LifeTime Entry plan is the lowest, costs just ₦75,000/lifetime. While LifeTime Advance costs ₦135,000/lifetime, and you can host up to 20 websites on this plan. Thats impressive. 20 websites for ₦135,000 for life! And their biggest lifetime plan (LifeTime Business) costs ₦200,000 to host unlimited websites for life. This type of payment plan is unique and easy because it's a one-time payment for any plan you choose. You don't have to worry about the next payment; you only pay once and focus on building your online business.
Here's the pricing structure for Lifetime web hosting plans. You can choose anyone that suits your needs.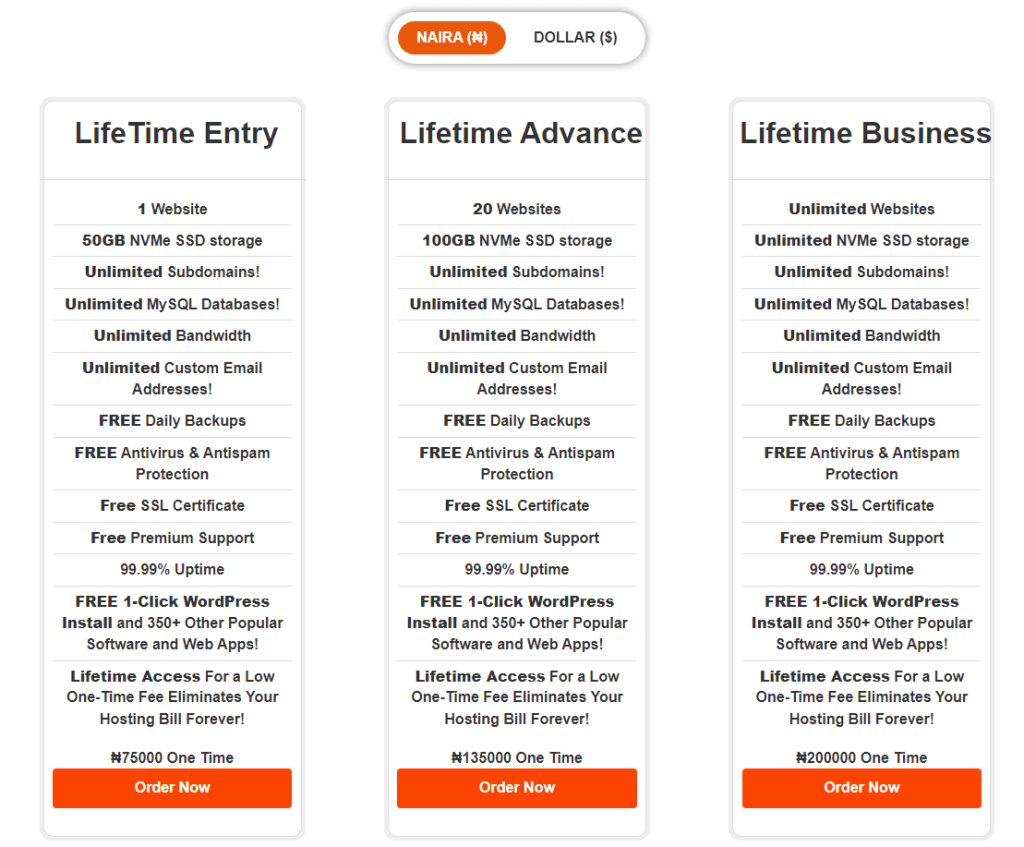 What's their Refund Policy?
Naijawebhost refund policy is very good, with no story. If you feel the Naijawebhost Lifetime hosting plan isn't good enough within 30 days of use, you'll get a complete refund of your money; all you need to do is contact the support team for the refund but keep in mind that the domain name is not included.
My Recommendation
NaijaWebHost Lifetime web hosting plan is the industry's most comparatively lower-priced hosting plan you can go for if you are tired of paying monthly or yearly renewal fees. This lifetime plan has reliable servers and amazing features, including unlimited bandwidth, NVMe SSD storage, FREE Antivirus & Antispam Protection, Free SSL Certificate and daily or weekly backups.
If you're looking for reliable and affordable lifetime web hosting in Nigeria to house your website, then Naijawebhost is your sure plug. Their lifetime hosting plan provides all the tools and solutions to make it easy for you to host all your websites and APPS with better security and overall best uptime with 24/7/365 pro-active monitoring.
About the pricing, since you'll pay only once, why not buy a Lifetime Advance for 20 websites? Or go for a Lifetime Business plan for unlimited websites and NVMe SSD storage. It's a one-time payment for lifetime usage. That's one of the best offers you can't get from any other hosting company in the country.
If you own a few blogs and websites and are tired of paying monthly or yearly web hosting fees. This Lifetime hosting service is good and should handle all your websites well. It will enable you to save costs without worrying about renewal fees or your website shut down because you failed to renew.
Let me know in the comment section what you think about Naijawebhost's lifetime web hosting, and if you enjoy this post, kindly share it on social media so that your friends can benefit.
FAQ about Naijawebhost Lifetime Web Hosting Plan
What is lifetime web hosting?

Lifetime web hosting infers to a web hosting plan without recurring payments. Most web hosting services are recurring, where you can pay monthly, quarterly, semi-annually, and annually. Here, lifetime web hosting allows you to pay for hosting only once and use it for a lifetime.
What is Shared Hosting?

Shared hosting allows multiple websites to use a single web server. You'll have no idea who or what websites you're sharing the resources of a server with. Each customer will usually have a limit on the total amount of server resources they can use, but your hosting package will define this. Shared hosting is easily the cheapest and most economical option for your needs. The shared hosting plan is the plan most websites owner and bloggers started from, including myself, before I migrated to VPS hosting.
Can Naijawebhost Lifetime web hosting handle any type of site? 

Yes! But know that it is a shared hosting and should not be overused. If you have a website that should be on VPS or a Dedicated hosting plan, this lifetime web hosting may not be for you.
Is there any refund if I don't like the service?

For 30 days from purchase, Naijawebhost will offer you a refund if you request; there's no hassle, no questions, and your refund is guaranteed. If you don't enjoy the service, contact their support desk for a complete refund of your money – minus the domain name.
What is unlimited storage and bandwidth?

Unlimited bandwidth implies that you have unlimited traffic to your websites. Thus, you do not need to worry about hitting the bandwidth limit whenever your websites become more popular. But that being said, it is still a shared web hosting plan, and there are fair use policies to ensure all customers receive great service.

Unlimited disk space/storage means you do not have to worry about the total size of files hosted on your account while creating additional websites. You can upload as many files as you want.