If you've ever thought about starting your own online business while working from home, many others have similar dreams. However, starting an online business from the comfort of your house can be challenging. Do you need help deciding what to sell to potential customers or where to begin? You are not alone, to make things easier for you, I've compiled a step-by-step guide covering everything you need to know on how to start an online business successfully.
In this guide, I'll show you how to find a great idea for your business and explain all the steps to set it up, whether you plan to sell a product, offer a service, or share your expertise.
What is Online Business?
Online business is any type of business or commercial transaction that is conducted entirely over the Internet. It involves the exchange of products, services, or information between businesses, groups, and individuals; it can include various activities such as selling goods and services, providing SaaS solutions, and offering online education.
Think of an online business as an online store where people can buy things or get services. Like a physical store, online businesses sell products or offer services, but they do it through a website.
Why Should You Start an Online Business?
Starting an online business can be a rewarding and viable option for many individuals and entrepreneurs for several reasons:
High Profit Margins and Low Overhead
One of the advantages of starting an online business is that it doesn't require much money to get started compared to traditional brick-and-mortar businesses; you don't need to rent a store, buy an expensive office, or store a lot of products. The cost of getting started can be quite low.
For example, if you provide services like social media marketing, virtual assistance, content writing, web development, or graphic design. You can create an online presence for free and build a basic website for as little as $100. You only need your skills, a computer, and an internet connection to get started. You can create an affordable website, set up social media profiles, and use a dropshipping system to sell products even without any physical inventory or pay any utilities. Working online means you can deal with only a few of the expenses that brick-and-mortar businesses face, so you can start your online business without a big budget.
Improved Scalability
You can easily scale an online business more than traditional businesses. You can quickly expand your operations and reach new markets without significant physical constraints. For Instance, if you have an electronic store with a physical shop, you have to open another shop somewhere else in another location to expand your store. This involves finding a new place, renting or buying it, hiring employees, stocking up the store, and paying for ongoing expenses like salaries, utilities, and rent or mortgage. This can be quite expensive and might take a while to profit.
On the other hand, if you have an online store, you can grow your business without spending much money upfront. You can easily turn an online store into a business that makes money without needing constant attention.
Location Independence
Running an online business offers flexibility regarding where and when you work. You can often operate from anywhere with an internet connection and adapt your schedule to your needs. Starting an online business gives you a new freedom that unlocks a life with many possibilities. You could be on vacation on one island and still manage your business as your own boss from your computer.
Limitless Market Reach
Unlike the traditional brick-and-mortar business, an online business has no limitations or boundaries; you don't have to be confined to a single location to run your business. Online businesses don't face the limited markets that hold offline businesses back. You can target any market worldwide using an email marketing campaign, social media marketing, and paid media strategies as long as you can ship your products to that country.
Niche Opportunities
The Internet provides you with access to niche markets and unique business opportunities. You can find a specific target audience and cater to their needs or create products/services that might not be feasible in a local and physical setting.
Diverse Revenue Streams
Online businesses can explore multiple revenue streams, such as e-commerce sales, affiliate marketing, subscription models, and advertising. Diversifying your income sources can help mitigate risks.
How to Start an Online Business
Here are steps to start an online business and become your own boss.
Decide What You Want to Sell.
To start an online business, your business can be centered around products, services, and media. Unlike digital products or services, physical products are tangible goods that can be sold and shipped to customers. Physical products are products you can pick up, touch, and interact with. You can sell Physical products on popular marketplaces like Amazon, eBay, Alibaba or through your own online store.
Examples of products being sold online include:
Jewellery
Backpacks
Pet beds
Cushions
Crafts
Furniture
fashion items,
Home Decor
Hardcover books
Plants
Sunglasses
You can also sell your skills online as a service. Services are professional tasks you perform online to help people solve their problems.
Examples of services you can sell online are:
With the increasing demand for digital content, businesses often need help writing blog posts, articles, and website copy.
Many businesses, bloggers, and individuals can hire you as a graphic designer to create logos for websites, social media posts, and other visual content.
As more businesses establish an online presence, the demand for web developers grows. People are willing to pay you to craft stunning websites for them.
Online Tutoring and Teaching Services
If you know how to deliver skills, you canoffer services in various subjects, including languages, math, science, and test preparation.
Social Media Marketing Services
Businesses often need assistance managing social media accounts, creating content, and running ad campaigns.
As a Virtual Assistant, you can provide various types of support, such as organising, accounting, and problem-solving.
Photography and Video Editing Services
As the demand for visual content rises, photographers and video editors can offer their services online.
Coaching and Consulting Services
Whether it's business coaching, life coaching, or specialised consulting, many people are willing to pay for expert guidance and advice.
Digital content refers to any type of media that exists in the form of digital data and is stored on digital or analogue storage in specific formats. It can be created, stored, and distributed in various forms, including text, images, audio, video, animations, and interactive features. If you have a particular skill that is of interest to your target audience, you can sell your skill in one of these media formats:
Video
ebook
Infographics
White paper
Webinar
Podcast
Online course or workshop
You can sell anything online as long as it meets your customer's demand; the advent of AI makes things easy for you. You can use content AI Writing tools like Writesonic, Jasper, GPT and the rest to craft content for sell online.
Conduct Market Research
Once you visualise the products or services to sell online, you must conduct market research to prove your business idea will accepted. You need to research the market to determine what you should sell and who your customers should be. This means learning about the things people want to buy and finding out who else is selling similar stuff. This research will help you know how to make your product stand out.
By doing this research, you can find a good reason for people to buy from you. Consider what makes your business special and why people should choose your product over others. Whatever data you come out with during your market research is your selling point.
Research your competitors
Researching your competitors is crucial to developing a successful online business strategy. Researching competitors in your niche or industry helps you collect vital information regarding their websites and online business. You can start with a simple Google search or use tools like SEMRush, Ahrefs, or SimilarWeb to find competitors in your space. You can also visit your competitors' websites and take note of their design, user experience, layout, and overall aesthetics. Pay attention to how they present their products or services. Review the content on their website, including blog posts, product descriptions, videos, and other materials. Analyse the quality, tone, and messaging they use.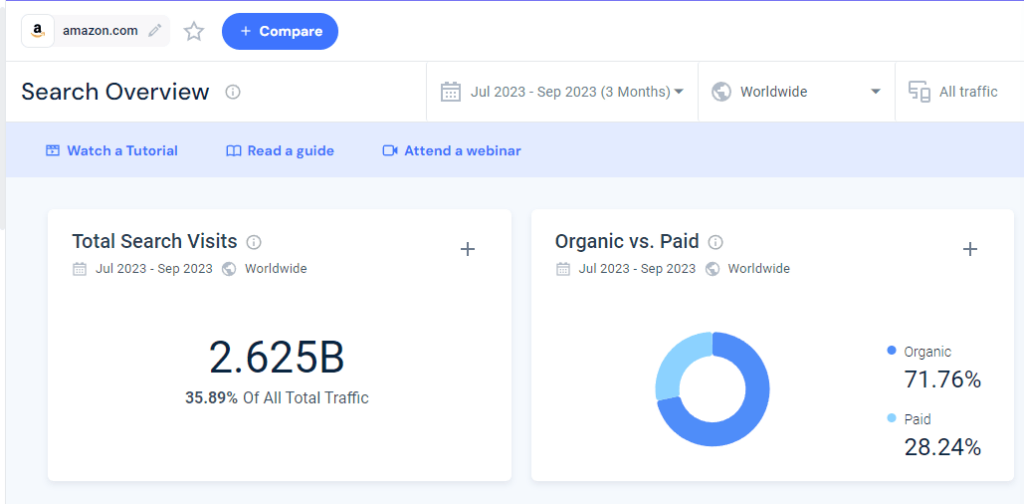 Look at their pricing strategies, discounts, and promotions. Compare their pricing to yours to determine if you are competitive. Identify any unique selling propositions (USPs) they use. Examine their social media profiles and activity. Pay attention to the platforms they are most active on, the content they share, and their engagement with customers. Check review platforms like Yelp, Trustpilot, or Google Reviews to see what customers say about them. All the data you gather about your competitors will give you insights into their strengths and weaknesses.
Define your Target Audience
Your target audience is a group of similar people who want what your online business is selling. They are the ones most likely to buy from you. To figure out who your audience is, you can start by looking at some basic facts about them:
Age: How old are they? What generation do they belong to?
Gender: Are they mostly male or female?
Income: How much money do they make in a year, and what income group are they in?
Device use: How do they use the Internet – on a computer, phone, or tablet?
Understanding these things will help you know who your customers are and how to reach them.
Create a Business Plan
A business plan is a formal written document outlining your business's objectives and strategies to achieve your goals. It serves as a roadmap for your business, guiding how to structure, run, and grow your business. Without a plan, your business is like a ship sailing without a compass.
The core elements of a standard business plan include:
Executive summary
Company description
Business goals
Organisational and management structure
Services and products
Sales and Marketing Strategy
Funding requirements
Financial projections
Choose a Business Name
Choosing a business name is an important decision that can impact the success of your business. Your business name will be a significant part of your brand and identity. It's the first thing people will see and need to make an impression. You must choose a name that reflects your brand identity and doesn't clash with the types of goods and services you offer. Check if the name is available for use and registration. You can use tools like business name generator, Shopify, or an AI tool like Namelix to quickly generate a business name.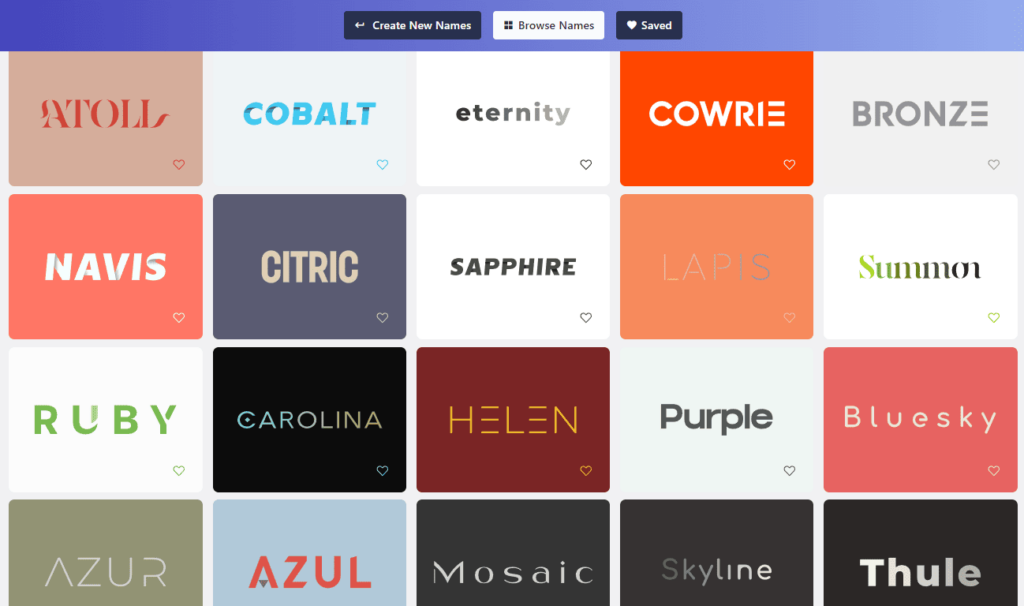 Set your sights on naming options available through domain name generators, social media handles, and SEO opportunities to make your business searchable online.
Fund Your Business
No matter the size of your online business, you will require some money to fund your online business. If you don't have funds for your new online business, here are ways to finance your business.
This method allows you to use your financial resources to fund your business. Self-funding can come from using your savings or turning to family and friends for capital.
You may consider a small business loan to retain complete control of your business. This type of loan will require your business plan, expense sheet, and financial projections for the next five years.
If you have a high-growth potential business, you can seek venture capital from investors. Venture capital is a type of private equity where investors provide funding in exchange for equity.
Look for government grants available for your specific industry or business type. Grants do not need to be repaid, but they can be competitive to obtain.
Another funding option for your business is crowdfunding, where a group of people contribute to support your business, typically through online platforms. Crowdfunding can be a good way to pre-sell your products and get the capital to build them, but marketing your campaign may require much effort.
Decide on Your Business Ownership Structure
Deciding on the legal structure of your business is a fundamental step in starting an online business. Choosing the right ownership structure is one of the key legal requirements to fulfil when starting your online business.
Here are common business structures to choose from:
This is the simplest business structure, where you, as the owner, are solely responsible for all liabilities and debts. Owned by one person, easy to set up, and offers complete control but has unlimited personal liability
In a partnership, two or more people share ownership. Each partner contributes to all aspects of the business, and each partner shares in the profits and losses of the business.
A corporation is a separate legal entity owned by shareholders. It means the corporation, not the shareholders that own it, is held legally liable for the actions and debts the business incurs.
Limited Liability Company (LLC)
LLC offers the flexibility of a partnership with the limited liability of a corporation and can be taxed as a partnership or corporation.
When choosing a business structure, seeking legal counsel or consulting with a business adviser or accountant is important. Understanding each type's implications is essential to make an informed decision that suits your business needs and goals.
Know Online Business Laws
Learn about online business laws governing how a business owner can legally conduct business online. These laws cover various aspects of online operations, including marketing, taxes, security, and privacy. Here are some key online business laws you should know when you sell stuff online.
Depending on the state's economic activity level, you must collect and remit sales tax in certain states. Some states don't collect tax on online transactions, while some do. You must be aware of the laws governing each country you sell to.
Privacy and Data Security
You must prioritise security and customer privacy while collecting and retaining sensitive consumer information. You are responsible for keeping this data out of reach from cybercriminals, and it may be subject to federal and state privacy laws.
If your online business operates in the European Union or processes the personal data of EU residents, you must comply with the General Data Protection Regulation (GDPR), which governs data protection and privacy for EU citizens.
You must follow federal regulations when selling products and services over the Internet. You should not make false claims about your offerings and must disclose paid endorsements
Your business must comply with copyright laws when selling digital products and services. This includes obtaining the necessary licenses and permissions for copyrighted materials.
If you ship products out of your country, you must understand the shipping laws, customs regulations, and duties involved in global commerce.
Yourbusiness online is subject to consumer protection laws, including refunds, warranties, and product safety regulations.
The Electronic Signatures in Global and National Commerce Act (E-Sign Act) validates contracts executed by electronic signature and protects consumers by requiring businesses to provide certain disclosures and obtain consent electronically.
Trademark, patent, and copyright protection
As an online business owner, you mustbe aware of intellectual property laws to avoid infringing on others' trademarks, patents, and copyrights.
If your business accepts payment online, you must comply with regulations related to electronic payment processing, such as the Payment Card Industry Data Security Standard (PCI DSS).
Some countries like America mandate online businesses to ensure that their websites are accessible to individuals with disabilities in compliance with the Americans with Disabilities Act (ADA) and other accessibility laws.
Build Your Own Website
Building a website for your online business is essential in establishing your online presence and attracting customers. An e-commerce website is your digital storefront facilitating transactions between buyers and your business. It is where your business showcases its products or services, and customers make selections and purchases. Building a website for your online business may take time and effort, but it is essential for success in today's digital-first world.
There are plenty of platforms you can use to build your online business. WordPress, Shopify, Wix, or turn to AI tools like 10webs, Hostinger AI website builder, Divi AI, and Elementor AI to give your online business the stunning website it deserves.
Set Up Your Shop
Once your website is done, it's time to put your products or services on it. When adding your products, make sure the product pictures look good and the descriptions are clear and short. This will make it easier for people to use your website. You can use AI tools like Writesonic and Jasper to craft irresistible product descriptions for your shop.
After you finish making your store, it's important to ensure that shipping or delivering things to your customers goes smoothly. Last but not least, double-check everything before you make your website public. Ensure all the buttons work and all the pages look nice on phones, computers, and web browsers. Once you've done that, you're ready to launch your website.
Create a Marketing Plan to Grow your Business
Now that your online business is ready, you must decide how people will know about your business. You must decide on the type of digital marketing strategy and channel to use to attract prospects and customers to your website. You must device means to engage and attract potential customers to your new online business. This allows you to grow a business that provides value and builds trust amongst your audience.
You may turn to the following digital marketing strategies to attract and nurture potential customers till they become paying customers.
Video Marketing
Blogging
Paid advertising
Content creation and marketing
Referral marketing
Launch Your Online
Running a small business can be tough, but if you make a good plan, you can make it work. First, understand what you need and complete all the necessary paperwork. Then, create a strong business plan. After that, get the money you need to start your business. If you do all this, you'll be on your way to starting a successful business.
Start Your Online Business Today
Starting your online business is an exciting and rewarding endeavour. It offers the flexibility to reach a global audience, the opportunity to pursue your passion, and the chance to innovate and adapt in a dynamic digital landscape. However, it also comes with its fair share of challenges and competition. Success in the online business requires careful planning, a strong digital presence, a customer-centric approach, and the willingness to learn and adapt. While the journey may be demanding, the potential for growth and success makes it worth embarking upon. So, if you're ready to take the plunge, research and stay committed.
Instead of trying to figure out how to start your own online business all by yourself, use this detailed guide to help you get started successfully. Whether you want to sell physical products, offer services, or share your knowledge, this guide can help you. Working for yourself and doing what you love is incredibly satisfying. To make it happen, you just need to find the right business idea, figure out who your customers are, and get started. Follow the steps we've laid out to find or create what you want to sell, choose the right website to sell it on and use marketing techniques to grow your business. With our help, you can quickly turn your part-time gig into a full-fledged business.
It's time to get out of your comfort zone and turn your idea into a realistic business online. You may start small, use your spare time, and grow it into something bigger over time. See you at the top!
FAQ about Starting an Online Business
What is the first step to starting an online business?
The first step in starting an online business is identifying your niche, product, and service. You must find a target market, understand their needs, and assess the competition. Conduct market research to determine if there's demand for your business. Once you have a clear business idea, you can move on to planning and execution.
How do I build a website for my online business?
Building a website is crucial for most online businesses. You can create one using website builders like WordPress, Wix, or Squarespace. Alternatively, you can hire a web developer. Your website should be user-friendly mobile-responsive, and include essential elements like product pages, a shopping cart, contact information, and a secure payment gateway
How can I market my online business effectively?
Effective online marketing is key to success. Start with search engine optimisation (SEO) to improve your website's visibility on search engines. Use social media marketing to engage with your audience and promote your products or services. Email marketing, content marketing, and paid advertising (such as Google Ads or Facebook Ads) are valuable strategies.
What are some common challenges in running an online business?
Common challenges in running an online business include intense competition, staying updated with digital trends, managing online security and privacy, handling customer service efficiently, and dealing with potential technical issues. It's essential to continuously adapt to the evolving online landscape and be prepared for unforeseen challenges.