SEO can feel overwhelming for beginners and those just starting with digital marketing. But as beginners, knowing some SEO tips can help you understand where to start. SEO is crucial for every online content, as it determines how people can find your business online and how search engines will rank your pages. Without an SEO strategy, it's unlikely that search engines will rank your website for people to find your content. Search engines crawl billions of billions of contents every day. So, competing and ranking on Google's first page is impossible without a proper SEO strategy.
With good SEO knowledge, you will understand Google's ranking factors and put everything in place to ensure your website shows up at the right place and to the right people. When used properly, SEO is a powerful tool that can make the organic search a viable and lucrative part of your marketing strategy. From writing high-quality content to keyword research and getting quality backlinks.
What is SEO
SEO stands for Search Engine Optimization. It is a set of practices and strategies to improve the visibility and ranking of a website or web page in search engine results pages (SERPs). The primary goal of SEO is to increase organic (non-paid) traffic to a website from search engines like Google, Bing, and Yahoo. SEO is about making your website more visible and attractive to search engines so that when people search for information related to your website, they can easily find it. It's a bit like a combination of organizing your book and getting recommendations from other librarians to help it stand out in the library of the internet.
SEO activities can take place both on-site and off-site, and they typically involve keyword research, content creation and optimization, technical optimization, and link building. The importance of SEO lies in the fact that search engines are usually one of the biggest traffic sources to websites, and a good SEO strategy is essential for improving the quality and quantity of traffic to a website. SEO is also about fulfilling users' search needs by creating relevant, high-quality content and providing the best possible user experience
Here are 14 essential SEO tips for beginners to boost your website ranking.
Do Complete Keyword Research
People find your content on search engines by using relevant keywords. Keywords are the words and phrases people use on search engines when looking for relevant information online. To rank high on search engines, you need to garnish your website pages, blogs, and even social media posts with relevant keywords people search for when looking for content like yours.
To know the proper keyword people are searching for online, you can use free keyword research tools like Google Autocomplete, Google Keyword planner, Answer the public, KeywordsFX, and Ubersuggest. There are many free keyword research tools out there you can use as a beginner, and if you have the money, you invest in paid keyword research tools like Ahrefs, Semrush, and many more.

While researching keywords, look for ones with a high search volume but low-ranking difficulty. It would help if you also looked for short-tail keywords of a word or two and long-tail keywords that are longer phrases that you can add to your pages.
Target Relevant Primary and Secondary Keywords
Keyword research is the heartbeat of any successful SEO strategy. If you can utilize keywords effectively, you can create content that draws more people to your site. First, you must determine your website's primary and secondary keywords.
The primary keyword should be the focus of your content. You should only select one primary keyword for each page. It must be in line with the page's primary focus on your brand's name, products, and offerings.
The secondary keywords you use to support the primary topic. You likely have a few of them. Most of the time, they're more precise than the main keyword and provide subtopics to be covered in the article. Make sure to incorporate them naturally within your writing; however, you shouldn't insist on them if they don't work.
Understand User Intent
Keyword research doesn't only mean discovering the keywords with significant search volume. When determining the appropriate keywords, it is essential to consider the searcher's intent. Here are three search intents:
Transactional A customer who is looking to purchase a product or service
Informational A person who needs more information about a product or service
Navigational: A person who would like to go to a website of a particular type.
Knowing these intentions will allow you to determine the keywords to use. For instance, a blog post would need an informational keyword, like "How to generate leads for business," and a service or product page would target a transactional keyword like one, such as "leads generator."
If you use a tool like SEMrush to conduct keyword research, you'll be able to see "~Keyword Difficulty'. Keyword difficulty is a measurement that tells you the amount of SEO work it takes to get to the first 10 search results of Google for a specific keyword. If you search for keywords with low difficulties and a high volume of searches in your search, you can discover keywords you can rank for quickly. These keywords are likely not to have received much interest online, so it's much easier to gain traffic.
Write For Humans
No matter the SEO strategies you employ, if your content is not for humans, you won't rank. While keywords are important in ranking your website, search engines will only rank websites with valuable and engaging content. Search engines, especially Google's algorithm, will only reward websites with quality original content with a good user experience.
So, to boost your website ranking on search engines with SEO, you need to write for humans first; when search engines see how people relate to your content, they will reward you with a ranking in return.
Write Quality Original Content
For your visitors to return to your website, you need unique, comprehensive, and high-quality content. High-quality and original content showcases your unique expertise and perspective and helps your readers build relationships with your content. Furthermore, the algorithms of search engines, especially Google, are made to detect original content. You will boost your website ranking and traffic if you write high-quality and authentic content backed with good SEO practice.
For a better ranking chance, your articles and content should be long. Long-form content tends to perform better than short-form content when it comes to rankings and social shares. Longer content allows you to touch every aspect of the topic and answer every question related to the topic. Technically, longer articles indicate to search engines that you're an authority on that topic.
Optimize your Page Title and Meta Description
The Title tags and meta descriptions help search engines understand the content on a page. A page's title tag and meta description are usually the part of the website shown to searchers in search engine results. Well-written and compelling meta tags can attract more users to click your website to increase your website traffic.
The title tag
The title tag is the title element of a website that summarises the content found on a page. Search engines expect your title tag to include relevant keywords and phrases that describe your content.

Title tags are shown in search engine results webpages (SERPs) by clicking on the headline for any specific result. A great title tag should be precise in describing your website or service and be distinctive enough to distinguish you from other websites. You can achieve this by using relevant targeted keywords.
Be careful not to make your titles too short or long (between 50-60 characters is the ideal length) because this could negatively impact rankings. This tag is usually the first contact point users have with your site. Make it count!
The meta description
Meta descriptions are small fragments of text that explain the content of a webpage. They aid crawlers in knowing what a page is about, ultimately giving searchers more details about the pages they see in their search results.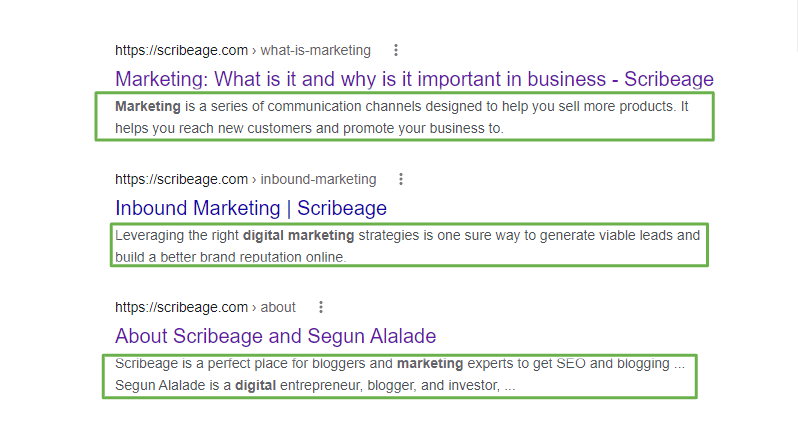 Meta descriptions typically can be of any length; however, search engines tend to cut the descriptions to less than 160 characters. It is advised to limit meta descriptions to 150 characters. When you write meta descriptions, include the targeted keywords often enough to ensure the highest ranking in search results; however, you should not use them so frequently that the meta description seems unnatural to Google.
Make Your URL as Short as Possible
A better structure for your URL will significantly improve your on-page SEO with a minimal amount of effort. A well-structured URL helps search engines comprehend your site and give you an easier-to-use appearance on the search results.
It's pretty simple to accomplish a short URL structure, even for SEO novices.
A good URL should
Keywords: Try to include your main keyword in your URL
Be clear: When your visitor is reading your URL, it must be simple for them to comprehend the page's purpose.
Be brief: Shorter URLs (around 60 characters) are preferred. So, keep your URL as short as possible so that search engines won't truncate it.
Optimize Your Images
Images and graphics are crucial for improving SEO. If your website image is too big, it could quickly affect page speed, which is a ranking factor. Compress your images as much as you can before uploading them to your website. There are many free tools online you can use to compress your images.
Furthermore, search engines will look up your file names when searching through your content. Adding a file's name and alt tags to your images will help your site improve its rankings in search engines since it assists Google in comprehending what the image means by identifying keywords and images.
Use keywords in Headings and Paragraphs
Another essential SEO tip is to include keywords in your content and headings. Although Google may likely not depend on keywords alone, they're an integral component of the ranking's algorithm. Keywords can help Google determine if your content is related to a particular topic or inquiry. This is why your article should include keywords in the headers and body.
It is essential to include your primary keyword and any related ones in 2 locations:
Headings include H1 and H2s, H3s, and so on.
Tables, lists, paragraphs, and so on.
For instance, if you can, you must include your main keyword in the first paragraph. If using your keyword at that point isn't natural, be sure to include your keyword in the initial 100-words of your text.
Separating your content into different sections using H2 or h3 headings could help improve the quality of your content and enhance a user's experience. Headers make your website more accessible for visitors to skim and go through. It also aids users as well as Web crawlers who help search engines index your website's content.
Remember to link to External Websites
Linking to external pages is healthy for your website and will improve your ranking. Links are a crucial component of SEO; they're one of Google's most important ranking factors.
The focus on links, however, may make new SEOs cautious about linking to other websites or content. While you shouldn't link to a competitor's site or redirect visitors to a competitor's website, you should not avoid linking to external websites.
Be comfortable linking to other websites that are not your own when you write informative content for your target audience. Use links to back and improve your content, for example, by sharing a statistic study, guide, or other pieces of information. When you link to external websites, be sure to select reputable websites that are of high quality and reliable.
Getting links from External websites, also known as backlinks, are an essential ranking factor. Google rates your website very high when you have multiple high-authority websites linking to yours. Links from reliable sources can boost the authority of your site and increase your SEO in the long run. You can get backlinks to your website using a link-building process.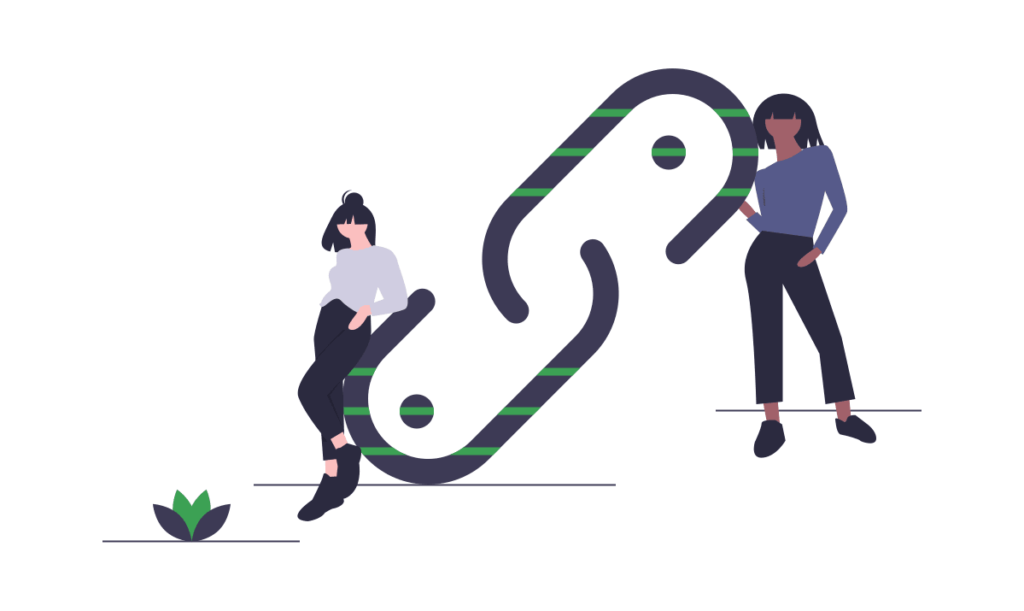 Guest posting is the quickest and most accessible way to get backlinks for your website. The other is to write high-quality content that people will want to want to reference and link to naturally.
Optimize Your Website for Speed
Page load times don't only affect the user experience. It also impacts the SEO of your site. If your website loads slowly, users will not stay on the site, thereby increasing the bounce rate. The speed at which a page loads is among three Core Web Vitals and a ranking element.
Google PageSpeed Insights is a no-cost SEO tool that evaluates your mobile and desktop speeds on a scale from 0 to 100; the higher the number, the better for your website. If your site is loading too slowly, you will need to find anything causing the website to be slow; it can be too many plugins or any script. Removing anything slowing your website down is a must to improve the ranking of your website.
Link Your Site to Google Search Console
Google Search Console is a must-have tool for any website owner.
Google Search Console is a free platform powered by Google, which provides you with immediate insight into your site's performance within Google searches. It can also help you understand how Google perceives your website. In addition, you will be able to identify actionable strategies to boost your site's SEO.
Here are a few things you can do with Google Search Console:
Page impressions and clicks are derived from diverse queries
Crawl-related errors
Mobile-friendly issues
Rich results markup
Indexing pages
Page ranking
Page speed scores
And much more
You should take advantage of all the capabilities and data the Google Search Console offers to improve your website ranking.
Link Your Website Internally
Internal links are links that point to other pages within the same website. Internal linking is essential for website SEO, but many website owners still are not using it correctly. Internal links are helpful for the user to find their way around your website and are easy to understand by search engines.
When linking internally, link related articles using keyword anchor text or title. And please don't overdo it. A few internal links per page are enough.
Final Thoughts on SEO Tips for beginners
Now that you have optimized your website for SEO by following all of the above SEO tips. All you need to do is focus on content, as we know that content is king in blogging. Keep writing high-quality content and keep the old one refreshed. If you put all the SEO strategies in place and your website is filled with content that solves problems, it won't be long for your website to be on the front page of Google.