When I started as a blogger a few years ago, I was naive about blogging tools to get me started as I was not making any money from the blog then. Sometimes I had to pay a considerable amount to get some little stuff done. But along the line, I dig deep into the internet's heart to find excellent free tools and resources that will give me an edge in my blogging career.
Who would not like free blogging tools to move ahead? If you're a beginner or have not started making money from your blog, it isn't easy to justify spending money on expensive blogging tools and resources. In that light, I have compiled free blogging tools and resources that I use daily for beginners and experts in the field. These free blogging tools will help and not hinder you when you begin your journey to blogging. They will assist you in transitioning from a novice to a confident, professional, well-experienced, and efficient blogger.
Without these tools in your blogging business, your blog will be a ship without a rudder.
Let's dive in.
Best Free Blogging Tools and Resources
WordPress is undoubtedly the best blogging platform in the world; so good that it currently powers over 43% of the website on the internet. It is a highly flexible blogging platform with countless themes and plugins to create powerful blogs with unique looks and features. WordPress is a blogging platform that gives absolute freedom to customise your blog how you envisage and feel. You have tons of free themes and plugins to design and customise your blog without paying a dime aside from your domain name and hosting plan.
If you're not blogging yet, you can choose WordPress as your blog platform right from the start. Instead of starting with another blogging platform hoping to change later, I'm sure you'll be grateful for it. If you fully understand the functionality of WordPress and how you can use it to power any website online. Then, you can successfully build a multimillion-dollar website using WordPress.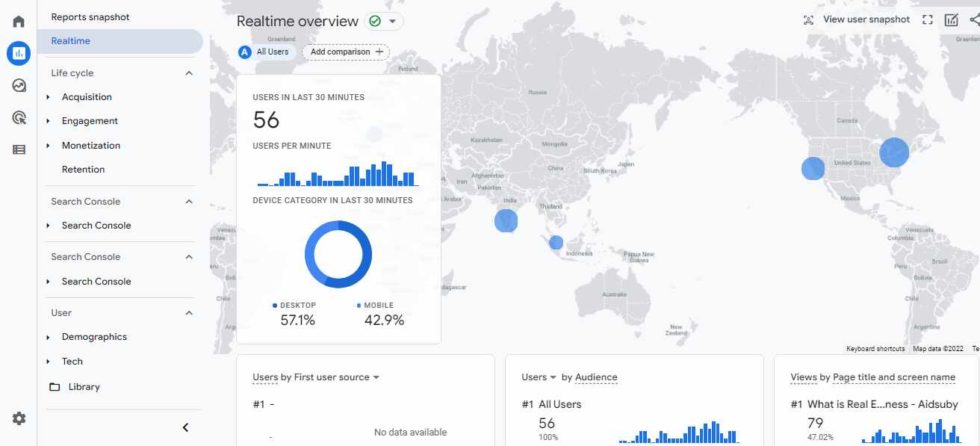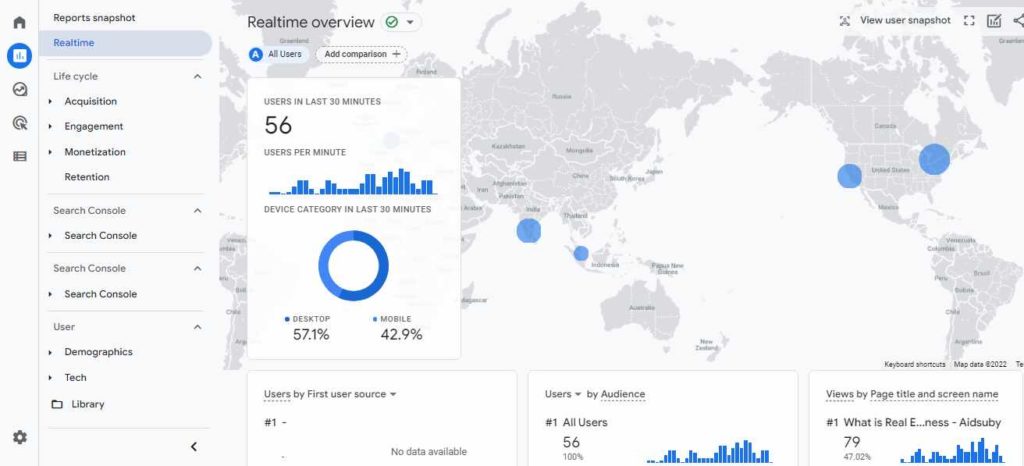 Google Analytics is a free web analytic and data collection service powered by Google. This free analytics tool provides statistics and essential analytical tools that help website owners identify how visitors behave and interact with their websites. Google Analytics allows website owners and SEO marketing experts to measure advertising ROI and track every event on a website, such as videos, social networking sites, and applications.
Google Analytics is free and can be used on any website with a single Google account. It comes with features that assist bloggers in identifying patterns and trends website visitors interact with their sites. Features allow data collection, monitoring, analysis reports, visualisation, and integration into other apps. You can freely use Google Analytics to determine which blog posts are most popular on your website and which blog pages receive the most visitors. You can also use it to get a reliable source for reader demographics and site statistics.
Canva is a free online graphic design tool that lets users create professional designs without prior design experience. With a free Canva account, you can create designs for flyers, posters, email headers, blog featured images, infographics, social media posts, and much more. You can also include images and text on your designs with a click.
As we know, blog content without images complementing it is a mere carcass without flesh covering it. With Canva, no need to worry about spending all day in Photoshop or shelling out hundreds of dollars to graphic designers. Canva. It's a drag-and-drop image editing tool that allows you to personalise the image you upload. It offers more than 50,000 templates to pick from and personalise for personal and commercial projects.
It has been my lifesaver for all my social media posts, blog featured images, email headers, and infographics. There's a lot more you can accomplish using Canva. It's a highly flexible and must-used tool for bloggers who need images to complement the content on their blog.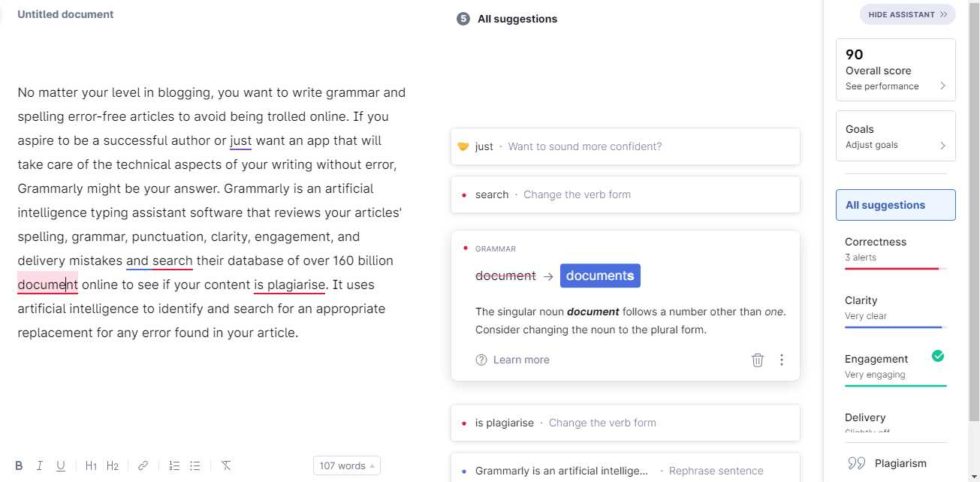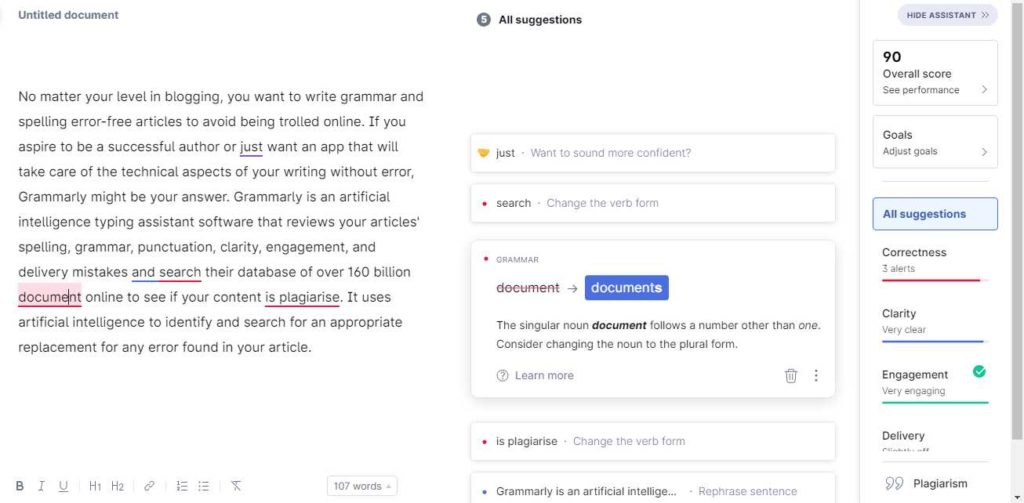 No matter your level in blogging, you want to write grammar and spelling error-free articles to avoid being trolled online. If you aspire to be a successful author or want an app that will take care of the technical aspects of your writing without error, Grammarly might be your answer. Grammarly is an artificial intelligence typing assistant software that reviews your articles' spelling, grammar, punctuation, clarity, engagement, and delivery mistakes. It searches its database of over 160 billion documents online to see if your content is plagiarised. It uses artificial intelligence to identify and search for an appropriate replacement for any error found in your article.
Grammarly is a sophisticated Artificial Intelligence (AI) system that has constantly refined and improved over the years—created by engineers and linguists with algorithms to recognise patterns of good writing. If you want to write great articles free from spelling, typographical error, and any grammatical blonder as a blogger. You need to sign up for Grammarly, and if you want to take your writing to the next level, upgrade to the paid version of Grammarly.
Small SEO tools is an online tool that assists you in ensuring that your websites are top-quality and optimised. The website provides various SEO tools to use independently to obtain the desired outcomes. One tool sets Small SEO apart, and it's a plagiarism-checker. Small SEO tools plagiarism checker is top-notch. It searches billions of websites online and tells you if your content is plagiarise-free. Even if the content comes directly from your mind, remember someone might have written the same thing as you; you need to check your article with this before you publish them.
Small SEO tools come with tools like Text analysis, image editing, keywords, backlink, web management, website tracking, and so many other tools you can use to take your blogging business to the next level.
Annotely is a free online image annotation tool. It allows you to annotate screenshots or images before uploading them to your website. I use this tool daily because it enables me to draw and highlight ideas with a wide collection of tools.
Annotely is an easy-to-use tool that allows you to place text or draw arrows, lines, rectangles, and eclipse over your image or any other piece of content for a proper demonstration. It is a web-based screenshot annotation and markup tool that works on any browser and device.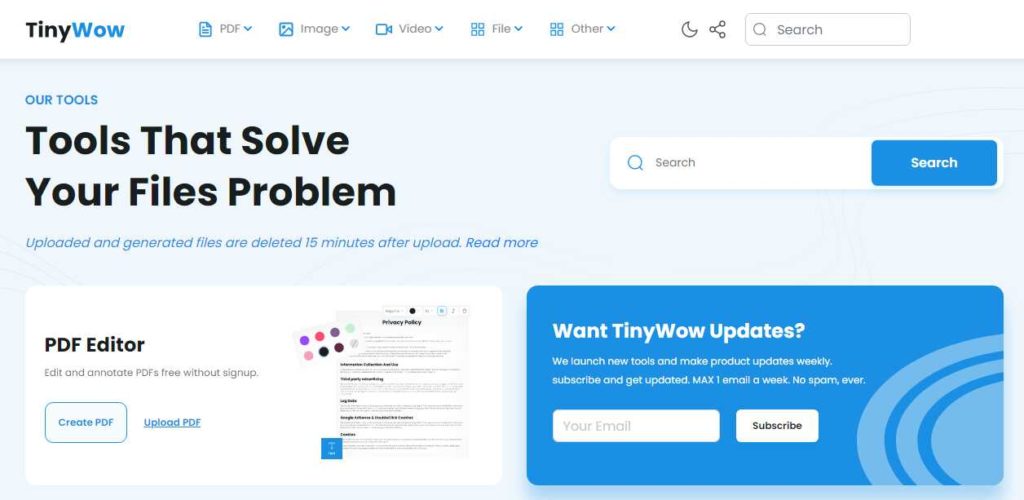 TinyWow offers many free and easy-to-use tools for PDF images, videos, documents, and many other things. Convert Word documents into PDF files, eliminate background images, convert videos into GIF files, create memes, sharpen photos, and much more. The site appears to have all the digital tools I could ever need all in one place. I like the fact that it's organised and easy to utilise.
You can use this tool to compress your images before uploading them to your blog, blur and unblur photos, or increase image resolution. Convert your document into another format like Word into PDF.
Image2Go is another free blogging tool to help you solve your image editing and conversion problems. With this tool, all you need to edit, compress and convert images is an internet connection and your computer.
Image2go is an effective image editor that lets you reduce, resize and crop images. It allows you to modify and convert images from one format to another. With this free All-in-One online image tool, you don't need to pay for another tool to solve all your image editing and conversion needs.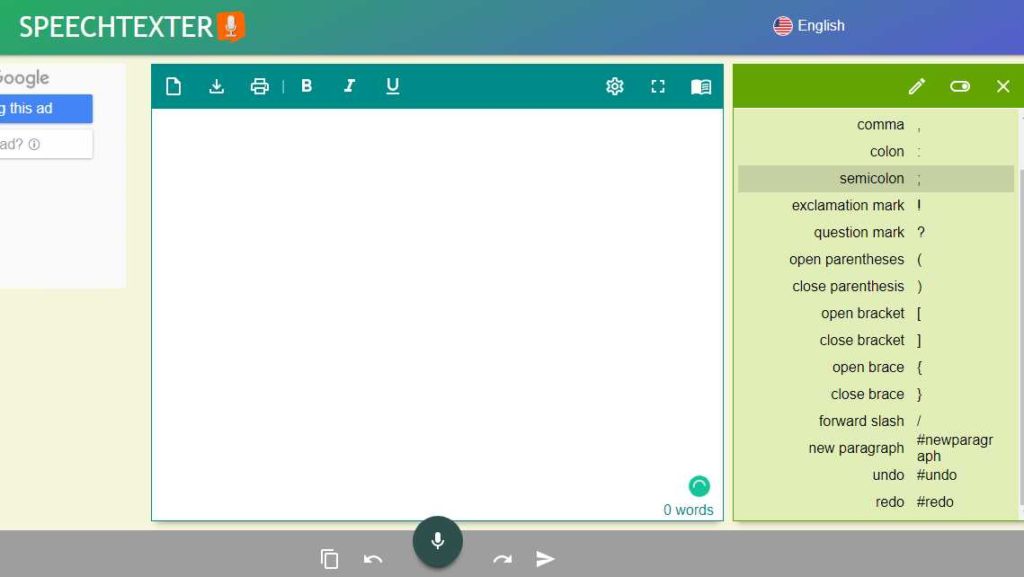 SpeechTexter is a free multilingual speech-to-text application that assists you with transcribing any documents, books, reports, or blog posts using your voice. SpeechTexter allows adding custom voice commands for punctuation marks and actions (undo, redo, make a new paragraph). The accuracy level of this free blogging tool is more than 90% depending on the language and the speaker. With this tool, you can quickly speak into your mic while the software does the typing for you, eliminating the need to type multiple words before you publish an article.
SpeechTexter is very suitable for writers and bloggers who don't want to type using a keyboard; with your computer connected to the internet and a good microphone, you can turn your speech into text without paying any money to anyone. This voice-to-text software can also be used by people with difficulty using their hands due to trauma, people with dyslexia, or disabilities that limit the use of conventional input devices.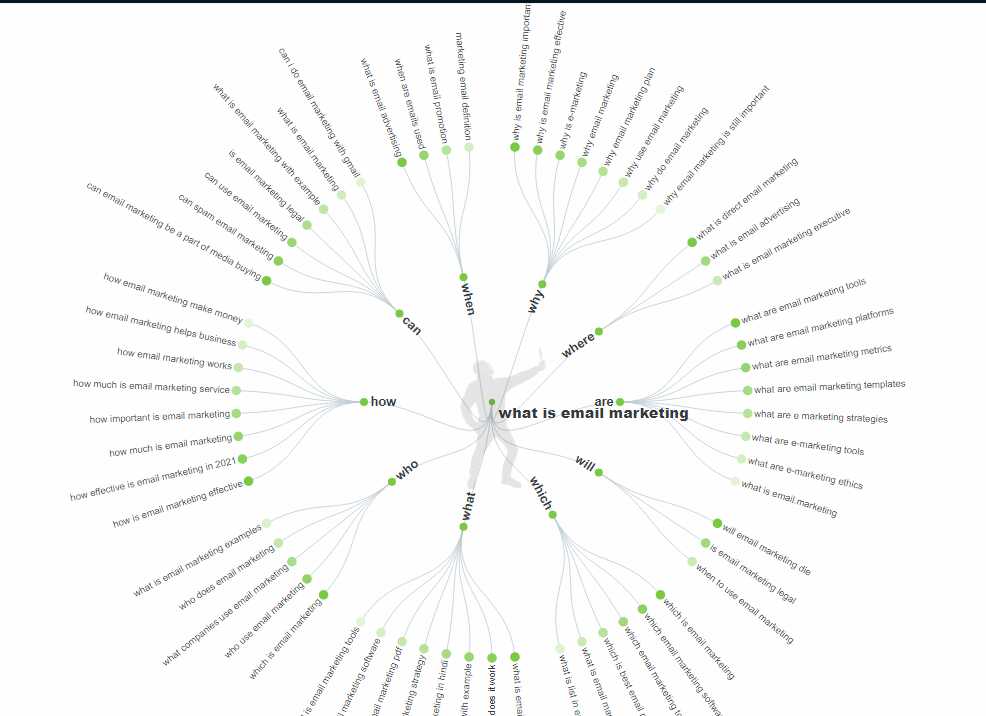 Answer The Public is another free blogging tool; it is a free keyword research tool that helps you find new keywords by mining the results from Google autocomplete. Answer The Public is among the top keyword research tools out there. It's a free tool that helps you generate various relevant blog topics. Search engine optimisation has evolved over the years; bloggers must concentrate on people's language when searching online for information. It would be best to have a tool like this to know what people are searching for online.
This website collects information in a way that assists writers in finding blog ideas by capturing and categorising the phrases people use in their online searches. The free version is available to all. Answer The Public provides information in two ways: visualising and straight data.
The tool can generate an array of questions frequently used by search engines when you type in the keyword you have entered. Each question could be a subject for a fantastic blog article. Answering these questions will help you reach the attention of a broader audience, that is. people who are interested in your articles
The Twitter trending topics section of the Twitter homepage is an excellent place to get ideas from the most recent news. You can customise your topics' trending topics to be ultra-local (the large cities that are close and within your vicinity) or even get fully customised tweets that take into your location and the people you follow.
Identifying trends could be an effective source of inspiration to craft a compelling article for your audience and to reach your audience through the right message. You can use Twitter's current subjects to provide you with insights into the current events across the globe. They can also aid in understanding your audience's needs to ensure that when you connect with them, you directly speak to the things that matter to them.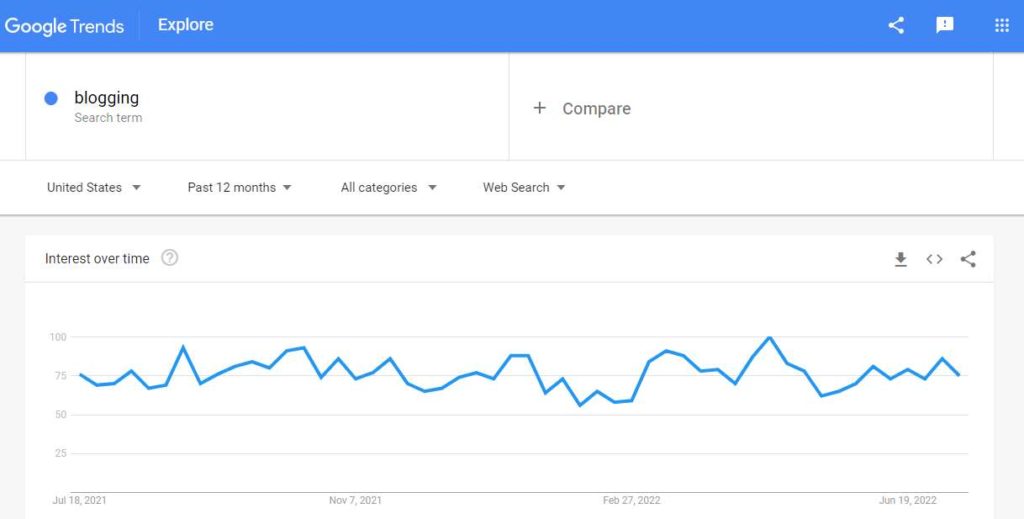 This is another unique free blogging tool; Google Trends gives an in-depth insight into the latest trends, data, and visualisation of various information. If you are a blogger, marketer, or online business owner, you can use Google Trends to explore the latest trending in your niches, which can help you choose the right keyword, the right products to sell, and know who needs your products per time. You can search trends for a popular keyword or topic in any industry and a high-traffic website. You can also use Google Trend to test if your blog post topic is popular, in which area, and how long it has been trending on Google.
Gravatar is an essential aspect of your online business, as it enables you to display your photo across multiple websites once you use the email associated with your gravatar account. Gravatar allows you to create a unique avatar that you can utilise on websites on the internet. If you own your website, Gravatar helps you quickly show unique avatars for each member of the site's users.
Gravatar is a term used to describe a Globally Recognized Avatar. It is recognised worldwide because millions of websites and people use their Gravatars. The most popular software applications, WordPress, have built-in compatibility with Gravatar. If a user makes an online comment (with the email address) on a website that accepts Gravatar, the site pulls its Globally Recognized Avatar (GRA) via Gravatar servers. The image is displayed in the comments. This allows every commenter to identify themselves on the internet.
Google Docs is excellent for sharing documents online to collaborate with other people. You could also think about writing using Google Docs to collaborate with others and taking advantage of Google Docs' spelling and grammar tools.


If you're starting as a blogger and looking to keep costs low, I recommend using Mailchimp as you build your email list. The interface is easy to use, set up, and free until a certain number of subscribers. Once you're ready to take your blog to the next level, other email platforms might suit your needs better, but Mailchimp is an excellent place to start building your mailing list from the beginning of your blog because email list building is one of the crucial factors in building a successful online business.
Who should you ask for help with SEO If not Google itself? Google's Keyword Planner is an excellent tool for refining your keyword in line with what your readers are searching for. While preparing to write your blog article, ensure you input the subject to Google's Keyword Planner to obtain a comprehensive overview of different word combinations, monthly searches, and the number of competitors. Using Google keyword planner for your blog post, you'll be able to write better blogs with more explicit content, which could get higher rankings on search results.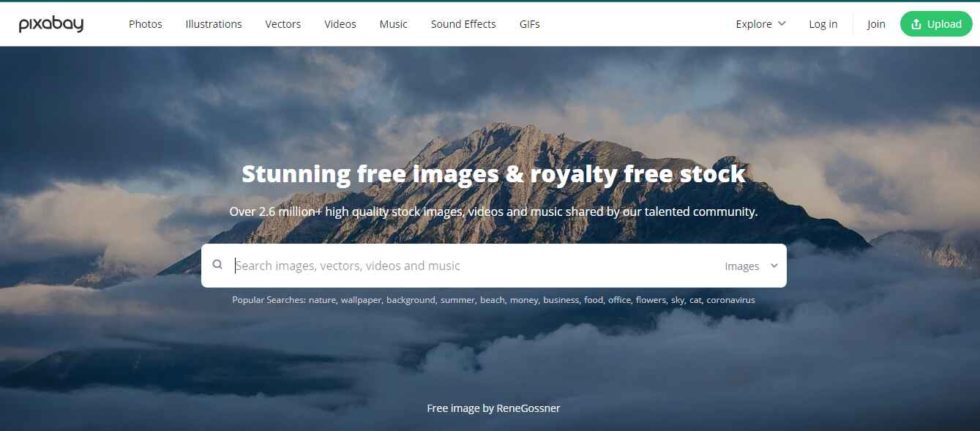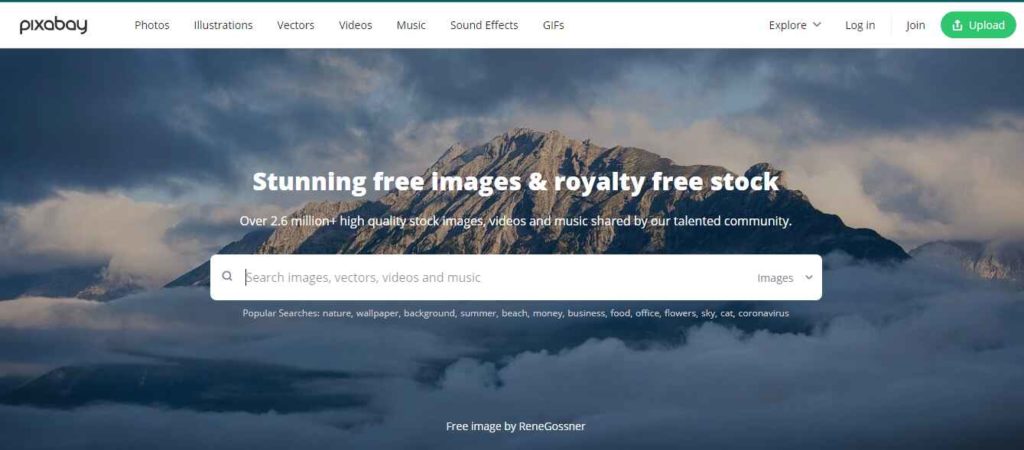 Writing quality content is the first step to creating great content, but the visuals are just as crucial as the text within your article. Pixabay is an excellent source for finding professional images you can use on your blog posts without worrying about copyright issues. The images on Pixabay are free for personal and commercial use, and you are allowed to edit and modify them to optimise them for your purposes. What could be better?
Embedding video within your blog post has a tremendous SEO impact on your website because videos can extend the average time your visitors spend on your page. If you are an unprofessional video editor looking for a way to embed stunning and professional videos within your website or blog posts in minutes with pre-made templates. InVideo is the best place to visit; with over 5000 templates and 8 million stock images, you can quickly create videos with custom content and branding.
Invideo is an online video editing tool that allows anyone without video editing knowledge to create videos with custom content and branding. With Invideo, you can excellently tell a good story of your article or blog with a custom video and capture your audience's attention. Invideo allows you to trim clips, crop frames, loop video, add sounds, upload your custom images and tons of other advanced editing options.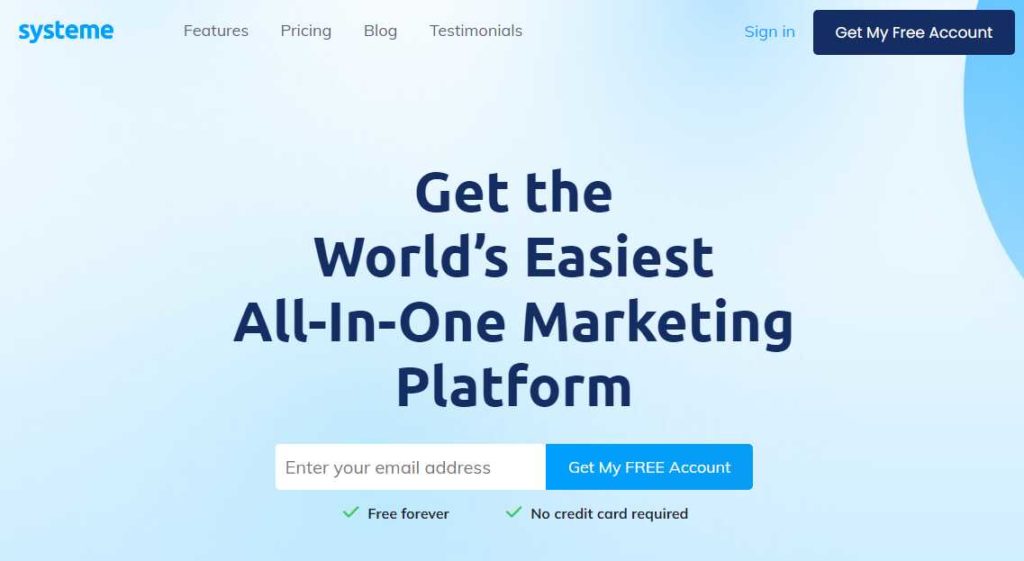 Systeme.io is an all-in-one marketing platform for a blogger with a small budget that wants to create sales funnel, send marketing emails, manage affiliates and create online courses. Systeme.io is a complete marketing platform that allows businesses to develop and launch funnels for sales, affiliate programs, email marketing campaigns, online courses, blogs, and websites. Marketers can use the platform to automatically capture leads, create rules that trigger emails, and more.
With a free account, you can get all these things done, but if you need more, you can upgrade to a paid plan; for a beginner, everything in the free plan is enough to have a sustainable online business.
Buffer is a multi-purpose social media marketing tool. Buffer's primary feature is the capability to write and schedule posts to be shared on multiple social networks, such as Facebook, Instagram, Twitter, LinkedIn and Pinterest. Buffer allows bloggers and business owners to schedule blog posts on different social channels. You can even schedule them to send multiple times, using other headlines and images each time. As a blogger, instead of manually handling your social media posts, you can use this powerful app to take your social media posts and engagement to the next level.
RankMath is a WordPress SEO plugin that can aid your blog in ranking higher on search engines. If your blog runs on WordPress.org, you can download this plugin for free to improve the performance of your WordPress site for better rankings and more visitors. It allows you to have complete control of your site's on-page SEO. This SEO plugin is designed to improve your blog's on-page SEO. This free SEO tool will suggest adding keywords, optimising meta descriptions and URLs, and adding internal and external links.

We are in the age where speed matters in everything, search engines and humans want to visit websites that loads in under 3 seconds as no one has time to waste waiting for a website to load. As a blogger, you need to test your blog page speed a make sure it loads fast, or the score line is above 90% on mobile or desktop.
Google Page Speed is a tool that lets you quickly and efficiently evaluate the speeds of your site. Entering your website URL in the search box will quickly get you a thorough analysis of the issue slowing your webpage with two different parameters and will provide suggestions for fixing it.
Over to you
You can use any of the tools listed above to create rich images for your blog. Optimise your on-page SEO, create stunning videos, review your website's performance, and promote your blog via social media to increase your website traffic. Investing in blogging will boost your website traffics and have a long-lasting positive effect on your online business.
What are your top blogging tools? What tools did I fail to mention here that you would like to add to the list? I'm always eager to know more about the tools available. Let me know in the comments section if you have any suggestions or tools to discuss!