SEO marketing is a digital marketing branch that optimises websites and web pages for major search engines like Google. As people rely on search engines to find stuff online, making search engines the predominant way of searching for information online, various practices have emerged to help business owners improve the visibility of their online presence.
The term "Search Engine Optimisation (SEO)" refers to the process of getting web pages to rank higher in search engines using a combination of both internal and external tactics. Every search engine company has different algorithms for ranking pages on the internet. The major search engines have algorithms for ranking web pages within search results.
Over time, marketing SEO experts have come up with various measures that should be in place before anyone can rank on any first page of search engines. Their findings have become best practices for search engine marketing. Business owners can now improve their visibility and ranking within the major search engines by employing tried and true SEO tactics.
What Is SEO Marketing, And How Does It Help Your Business?
Click To Tweet
Why Is Search Engine Marketing Important?
Currently, search engines and social media are the most sophisticated technology in the world because they connect business owners with consumers without limitation. Search engines are the heartbeat of modern technology because technology connecting people with people is more important than anyone can imagine.
There are billion of search engine queries every day. According to searchengineland, daily Google search queries amount to about 5.5 billion. That is a vast search; no wonder SEO marketing experts are taking advantage of this enormous search to reach potential consumers online.
The data below makes it clear that marketing SEO is a potent and apt tool.
Searches per second: 63,000
Searches per minute: 3.8 million
Searches per hour: 228 million
Searches per day: 5.5 billion
Searches per month: 167 billion
Searches per year: 2 trillion
Source: Searchengineland
Search engines are the engine room of most online sales and represent 90% of web traffic. Furthermore, SEO marketing strategies result in product sales more than traditional marketing and advertising effort. Every organisation must take advantage of this excellent tool for the online visibility the company deserves.
To learn more about maximising marketing SEO benefits, you must understand the three significant backbones of SEO: On-page SEO, Off-Page SEO and Technical SEO.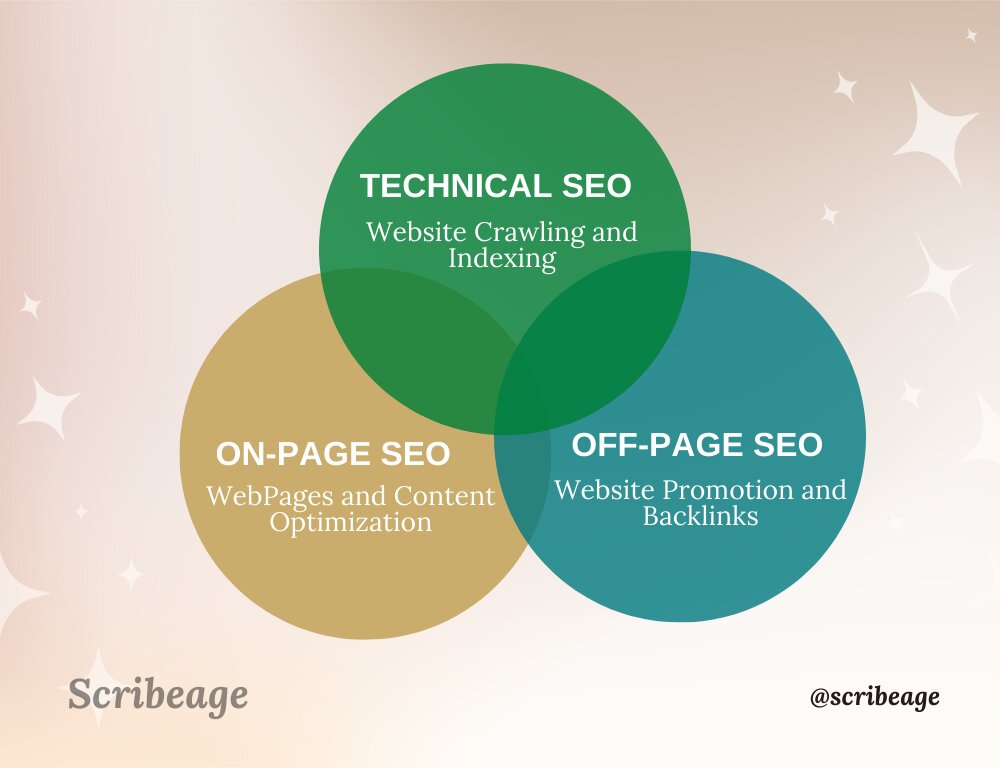 On-Page SEO
On-page SEO, also known as on-site SEO, refers to search engine optimisation techniques needed to optimise every aspect of your website that are under your control. Working on on-page optimisation for each element makes it easier for search engines to crawl and understand your page. It's any actions website owners take to increase the chances of ranking higher on search results. Website owners control the elements of on-page SEO, making it easy to optimise any website and improve its search rankings.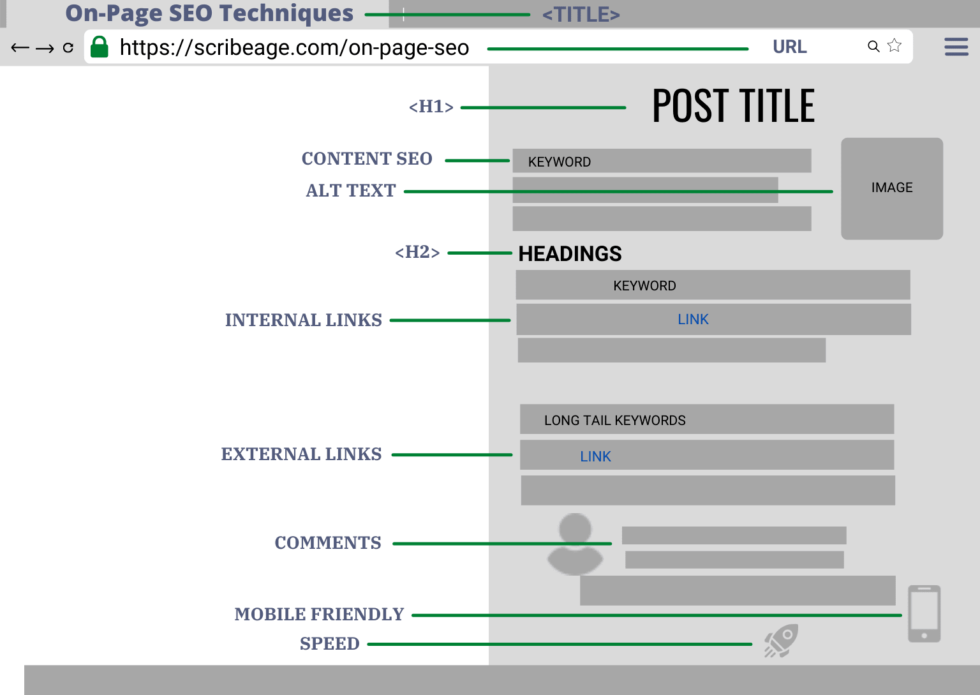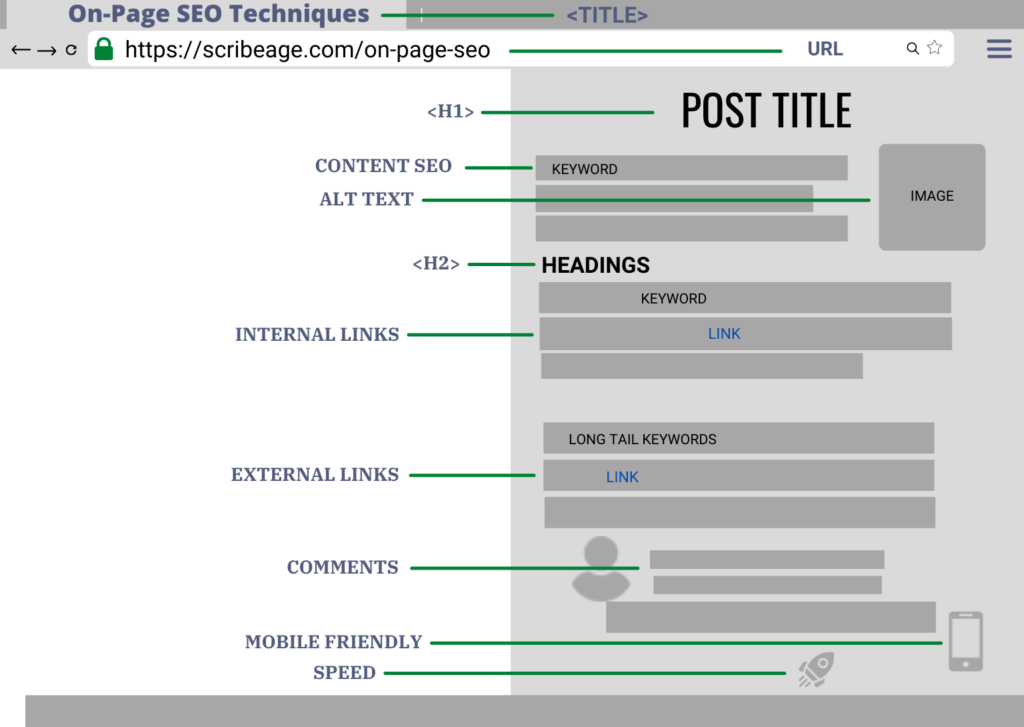 Here I categorised on-page SEO elements you need to optimise to stand a chance of ranking higher on search engines into four:
HTML
Optimising relevant HTML elements of a website can help improve your website's search rankings. This process sends the proper signal to search engines describing how well your HTML tags are structured. Taking the time to clean up and maintain HTML elements can significantly impact your digital marketing efforts. Let's look at the following HTML elements and their impact on your SEO marketing effort.
Every page on your website will have some HTML code called the "title tag." They are the first signal to search engines and users about the page. The clickable link in the search results is the title tag you specified for the page when someone searches.
Here's an example of what a title tag looks like in the search engine results pages (SERPs):

The title tag describes what a page on the search result is all about. It appears in search results and the user's browser tab. To benefit from the power of the title tag, your title tag should include the target keyword and provide an enticing reason to click on the link in the search results.
The meta description is an HTML tag that informs users with a short, relevant summary of what a particular page or post of your website is all about. The meta description appears below the title tag in search results, giving the searchers an overview of what to expect in the post or page. The meta description is limited to 160 characters but helps to add overview information of the content in a post or page to encourage the user to click.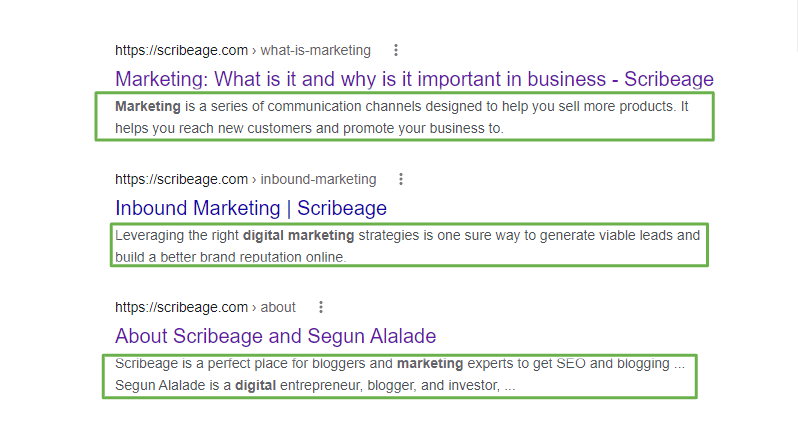 The URL, Uniform Resource Locator, is an address of a given webpage that is unique from all other web pages on the internet. The URL should include the target keyword and indicate the site hierarchy to rank highly in search results. If this information does not appear clearly in the URL, it can harm your search rankings.
Alt-text is the text that describes what a particular image stands for on a web page; it usually contains target keywords to help the page rank well on the search result. It is read aloud to users by screen reader software, and search engines index it. It also displays on a web page when an image fails to load.
The heading is a short phrase that describes what the next section is all about. It's like a section title and helps divide a content piece into separate sections, similar to an outline. There are usually six headings in HTML content: H1, H2, H3, H4, H5, and H6; the "H1" heading refers to the title. You can improve your SEO marketing effort by dividing your content into digestible pieces and labelling them with an appropriate header.
CONTENT
SEO marketing is highly dependent on creating good content regularly. In SEO marketing, creating satisfying, valuable, and compelling content is a significant factor in ranking higher on search engines. The content can be in any format, such as text, image, audio, or video. To fully enjoy search engine marketing, your digital content should adhere to the following rules:
The algorithms of the search engines consistently rank high-quality content over lower-quality ones. Your website tends to enjoy search engine rankings when you create valuable content that users can relate to
When searching online for content, search engines evaluate a user's intent to help provide the best results. Accordingly, digital content should match a targeted user's desired goal.
Search engines love new and latest content, so when you keep your website updated with fresh and relevant content, you will enjoy a higher ranking on search results over websites with outdated content. Search engines like Google always reward websites with new content; you need to take advantage of that and keep your content refreshed.
As the major search engines have evolved, content has emerged as one of the best ways to improve marketing SEO. Without producing high-quality content frequently, achieving search engine marketing goals is extremely difficult.
KEYWORDS
Keywords are the subject or topic of a page or post people use when searching certain content online. Keyword research and selection are essential to content creation and fundamental to SEO marketing efforts. To maximise search engine marketing, select the appropriate search frequency and competitiveness keywords you want to rank for. A keyword is a word that describes the subject or topic of your page or post best. It's the search term you want your page or post to rank for so that when people search for that keyword in search engines, they should find that page on your website.
Choosing a keyword that people searches for online are crucial in SEO marketing. No matter how good or relevant a keyword is, if no one search for it online, it becomes useless. Choosing a popular keyword for your post or page is essential to marketing SEO. Evaluating a keyword before using it is good because if big companies or corporations use it, you may find it very difficult to rank such a keyword.
SITE ARCHITECTURE
The architecture of a website is another crucial part of on-page SEO. Even though an end-user does not usually visit a website to examine its architecture, these behind-the-scenes elements can drastically impact SEO marketing. You should consider the following architecture elements when optimising sites for SEO benefits.
Search engines crawler or digital index content and determine appropriate rankings. Creating an organised site map of all pages on a particular site can help to crawl efforts and improve search engine marketing.
Page speed is an essential ranking factor on search engines. Page speed affects your website's SEO, user experience, and conversion rates. If you're still unsure what it means or how to check it or improve it, it's time to get up to speed on page speed. Page loading speed affects everything on your site, from how your website ranks to your conversion rate, so having fast-loading web pages is essential.
You will agree that 80% of your website traffic comes from mobile phone users. With the rise of mobile technology, most search activities occur on smartphones and similar devices. Your website can be penalised for not being mobile-friendly.
Search engines now mandate every website to have active SSL certificates installed on the site to enjoy search ranking. Websites with no security pose a threat to end-users. Your website or blog can gain credibility from search rankings when it supports HTTPS.
An important takeaway for on-page SEO
Creating an SEO-friendly post or content is focused on making the information understandable to the user, not necessarily for search engines. It's the layout that will guide readers to where they need to go by using bullet lists, headings, or lists of numbers. Include your keyword in your image's alt. You should include your keyword in your meta description and title. Include your keyword in the URL or the slug. Include your keyword in your heading, and watch as you will start reaping from on-page SEO.
Off-Page SEO
While you enjoy a vast amount of control over on-page SEO, the situation can be different for off-page SEO. At a higher level, off-page SEO is a matter of the popularity and reputation of web pages and websites. For instance, external links to a page or site, often known as "backlinks, "are essential to maximising the effect of SEO marketing.
Some crucial aspects of off-page SEO include Links, Authority, Geography, and Social.
LINKS  
Links from external sites that link back to your website are a beneficial element of search engine marketing. Internal links linking one part of your site to another are also crucial as they show the cohesion and organisation of the principal search engines. However, not all links are the same.
The quality of an external link from a high-authority domain is usually more significant than the total number of links linked to a specific web page of your website. The most reliable and higher-quality links to your website come from an external high domain authority website.
The quantity and quality of good links to a website are essential to SEO for marketing. Search engines consider a website with many quality links on the internet as authentic and worthy of ranking higher. However, this isn't an issue of quid pro quo. The increase in link volume is not a guarantee of improving the rankings of a website, especially when the links are of low significance or originate from low-level sites.
SEO marketers and website owners must remember that creating a solid link profile can take time. There are no shortcuts to this field, as search engines often devalue the value of spammy links with little or nothing. At the same time, discreet links from reputable sources can improve the trustworthiness of a specific site or page. Additionally, internal links can help to organise the layout of websites and help improve SEO strategies for marketing.
Here are a few ways to build links to your website:
These are links from social media profiles, local business directories, and directories that specialise in niches. If your business does not have social media account, it's time to do it. You can create an account on Google My Business to enjoy the foundational link too,
Press publications are an excellent way to send traffic to your website and get high-quality and reliable backlinks.
If you are writing for traffic on your blog alone, it takes time to get a result. Guest posting lets you reach out to the audience of another while also increasing your own. In addition, it drives visitors back to your site and earns you backlinks, which in turn helps boost your search engine's ranking.
Connect and find other publications, websites, or bloggers in your niche. Offer to write a guest article that their readers will appreciate. 
AUTHORITY
The credibility or trustworthiness of a specific site or web page is an additional crucial factor in off-page SEO. Reliable and trustworthy websites are likely to appear on the first page of the most popular search engines. To establish credibility over time, use transparent SEO practices and create credibility online.
Essential factors of authority from the point of view of SEO marketing include:
Domain Authority refers to a ranked score that seeks to determine how the website's overall ranking will be in search results. Domain authority requires the analysis of backlinks, top-level domains, and other factors. Websites with good domain authority enjoy a higher ranking on search engines.
Domain Age is an essential factor in authority. Sites operating for a long time will likely be more popular than brand new websites. However, the age of the domain does not increase rankings by itself. Also, the search engine rankings don't improve simply because a site has been around for a long time.
Page Authority is an indexed score that tries to determine how a search engine will place a particular page in search results. Page authority requires a similar analysis to domain authority, but it is performed on only one page. Pages with higher authority are likely to rank better in search results.
Bounce rate is the percentage of website visitors who visit a site and exit ("bounce") rather than continuing to view other pages within the same site. The result is evident if a user is bounced due to inadequate quality content, slow loading times, or a bad user experience. Websites with an excessive bounce rate are less trustworthy and therefore miss the SEO benefits that come with them.
GEOGRAPHY
The geographical aspect of off-page SEO is mainly related to demographics and location. Due to the growing popularity of mobile searches, particularly local results for searches in a specific area and zip codes are increasing quickly in popularity. Search engines, over time, have changed their algorithms, shifting their focus to local results for all kinds of search queries.
From a global perspective, Search engines typically have different websites for every country. This allows the segmentation of web pages and websites specifically targeted to users from a specific country to make local content enjoy from the search result.
From an international perspective, multinational companies typically develop distinct marketing SEO strategies for every country they operate, including any required translations. This way, multinational companies can take an approach targeted across many nations and result pages, attracting potential customers from across the globe.
SOCIAL
A strong profile on social networks could also improve SEO marketing efforts. In particular, Search engines evaluate how people are sharing content from the point of:
The quality metric of social shares is the opinion or sentiment of the user. This includes comments, replies, as well as ratings. In this way, quality metrics seek to determine if the person posting the content did it positively, negatively, or neutrally.
The quantity measure for social share is more straightforward by measuring the number of shares. While a large number of shares is excellent, it doesn't always translate into sales or customers.
To increase the social component of off-page SEO, we still come back to creating compelling and great content. Creating high-quality content and regularly posting can boost the quantity and quality of social sharing.
Technical SEO
Technical SEO refers to site and server optimisations that help search engine crawlers crawl and index your website more efficiently to improve organic rankings. Search engines offer a higher ranking in search results to sites with certain technical features. Technical SEO will ensure that your site is optimised for crawlers of search engines, is speedy on the page and is mobile optimised. The technique also optimises your website for humans by ensuring your structure, navigation, and internal links permit users to browse quickly.
People engage websites that load faster and are more efficient with content that is easy to navigate. Search engine crawlers crawl websites with perfect technical SEO and benefit from organic traffic over time. Below are the technical SEO issues you need to fix with your website to benefit from the SEO marketing effort. If you can fix these errors, you'll benefit from every of your SEO marketing effort in no time:
Use SSL
Secure Sockets Layer – SSL – is a security technology that creates a secure link between a user's web browser and your web server. A site with HTTPS://enjoys a higher search ranking than websites with HTTP:// because since 2014, Google as a search engine has been given special treatment to websites with SSL certificates.
Ensure your site is mobile-friendly
A mobile-friendly website is an approach that suggests that your website design responds to the user's behaviour and environment regardless of their screen size, platform and orientation. A website can only benefit from search ranking when the website design reacts to the size of a user's device- with one URL and one content source. A mobile-friendly website should have a fluid and flexible layout that must adjust according to the screen size and dimension to enjoy search engine ranking.
Speed up your website
Speed is a thing in this current age; both humans and search engines love websites that load fast without latency: page speed is one of the Google ranking factors in Core web Vital.
You can speed up your website loading time with the following:
Host your website credible hosting company. 
Use a fast DNS ('domain name system') provider.
Minimise your website 'HTTP requests' -by installing useful plugins alone and getting rid of unnecessary codes and scripts
Optimise your website images before uploading them. 
Compress your web pages; if your website is on WordPress, you can use WP Rocket to compress your website. 
Use Content Delivery Network (CDN). CDN permits the rapid transfer of resources needed to load Internet content, such as HTML pages, JavaScript files and images, stylesheets, and videos.
Fix duplicate content issues
Duplicate content can confuse users and search engine algorithms, causing site rankings and traffic losses. As a result, search engines don't like it and advise website owners to fix duplicate content issues.
Create an XML sitemap
An XML sitemap is a file that helps search engines comprehend your site while crawling it. Think of it as a "search roadmap" thing, telling search engines where every page of your website is located. It also includes valuable information about every page of your website, which includes
When a page of your website was last edited
Help you fix any potential errors on your site
Help you Identify any 404 or redirect errors on your website.
Submit your sitemap to Google Search Console and Bing Webmaster Tools
Submitting your sitemap to Google Search Console and Bing Webmaster allows your website to be crawled and indexed. This process means that search engine crawlers visit your website, explore the homepage, work their way through the remaining page, and then return to the top until it's all done.
Google Search Console and Bing Webmaster tools are free tools, respectively, provided by Google and Microsoft. They let you submit your sitemap in their respective search engines for indexing.
How to Increase your SEO Marketing Effort?
The most effective way to increase SEO marketing efforts is to implement a specific strategy that is both on-page and off-page SEO. Content is of particular importance as it tends to be the most popular. If you don't produce quality and quantity content, often it's challenging to build a reputation and gain high-quality backlinks. The bottom line is the most effective and efficient site is useless without quality content that drives traffic.
However, those who want to maximise their SEO marketing advantages should follow the following guidelines:
Create consistently high-end content to give important information and increase online traffic.
Perform keyword analysis to identify the most appropriate and competitively well-balanced search terms.
Optimise HTML elements to identify, separate, and categorise your website content.
Ensure that the site and page architecture is safe as well as efficient and accessible across different devices.
Create authoritative links that are high quality in time to build credibility and trust in Google's eyes.
Align your websites to specific geographic regions focusing on local, national, and international audiences.
Work on your social media engagement to improve the quantity and quality of your social shares.
As previously stated, search engines are the heartbeat of every marketing opportunity and activity online. Employing the on-page and off-page SEO tactics mentioned above will enable you to reap substantial benefits of SEO marketing.
Final Thoughts About SEO Marketing
When consumers search for products or services related to yours online, your site needs to rank among the top search results. However, the only way for users to locate your website in the search results is to invest the time and effort to learn the rules of search engine optimisation and then apply these rules to arrange your website's content well.
Implementing SEO for your blog or business website may be initially overwhelming. However, once you grasp it and can iron out the issues that arise, it will be as easy as tweaking pages to allow them to improve their rankings and find new keywords. The result of SEO marketing may be slow at first, but you'll notice a rise in traffic as time passes. If correctly done, SEO marketing is a powerful and apt tool for bringing in new customers to your company.
Employing on-page and off-page SEO strategies, creating valuable content, optimising websites, and getting high-quality backlinks from authority websites will produce good results for your online business in no time. Let me know what you think about SEO marketing in the comment section.