Submitting your website to Yahoo is an important step to increase your website's online visibility and ensure that users can easily discover it by searching for relevant content. Yahoo is one of the oldest and the second most popular search engines after Google; it offers a straightforward process for site submission. In this guide, I will walk you through how to submit your site to Yahoo to help you tap into Yahoo's valuable source of web traffic and expand your online presence.
Whether you have a personal blog, a business website, or an e-commerce store, at the end of this guide, you will be able to submit your site to Yahoo and its associated URLs to increase your online visibility, search engine optimization (SEO) get your site indexed by Yahoo.
Why You Should Submit Your Site to Bing (Yahoo)
Submitting your website to Bing may be optional, but it is necessary for your website indexing and ranking. Bing is one of the major search engines, and optimizing your site for it can help you reach a larger audience and improve your online visibility. Submitting your site to Bing can help you reach a broader audience and achieve long-term success in the competitive digital world. So, don't overlook the importance of submitting your site to Bing and leverage this opportunity to strengthen your online presence.
Here are some reasons why submitting your site to Bing is important:
Indexing
Submitting your site to Bing gets your website's pages indexed in Bing search results. While Bing's web crawlers can discover and index new websites over time, manual submission can help ensure your site is crawled and indexed sooner.
Improved Visibility
By appearing in Bing's search results, you expand your website's visibility to a broader audience. This can lead to more organic traffic and potentially more customers or visitors to your site.
Diversification
Bing is one of the major search engines, along with Google. By optimizing your site for Bing, you diversify your traffic sources. Relying solely on one search engine can be risky, as algorithm changes or penalties can impact your site's visibility.
Microsoft Ecosystem
Bing is the default search engine for Microsoft's products, including Windows and Microsoft Edge. Submitting your site to Bing makes it accessible to users who use Microsoft products to surf the internet.
Bing Webmaster Tools
Bing provides webmasters with a set of free tools called Bing Webmaster Tools. These tools offer insights into how Bing sees your site, including crawl statistics, keyword performance, and suggestions for optimizing your site for better search rankings. It's a valuable resource for improving your website's performance in Bing.
Local Search
Bing Places for Business is a platform where you can list your business information. Submitting your business details to Bing Place can help your business appear in local search results, which is crucial for attracting local customers.
Voice Search
Bing powers voice search on various devices and platforms, including Microsoft's Cortana and some voice assistants. Optimizing your site for Bing can make it more accessible through voice searches.
While submitting your site to Bing is not mandatory for indexing, it can be a valuable step to enhance your website's visibility and reach a broader audience, especially if you want to diversify your traffic sources and cater to users within the Microsoft ecosystem. Additionally, the insights and tools provided by Bing Webmaster Tools can help you fine-tune your website's performance in Bing's search results.
How to Submit Your Site to Yahoo
To submit your site to Yahoo, you must create a Bing Webmasters Tools account for inclusion in the Yahoo Search Engine. Next, you must add and verify your website, then create and upload a sitemap URL for indexing in Yahoo.
Your sitemaps can be submitted in these formats:
XML Sitemap
RSS 2.0
Atom 0.3 and 1.0
Text (a plain text file containing one URL per line)
You can set up a Bing Webmasters account here for Yahoo's Search Index. Yahoo site submission is powered by Bing's Search Engine; however, Yahoo controls the design and results displayed on its search engine results pages.
Note: When setting up your Bing account for Yahoo, you can import website data from Google Search Console or manually add your site. No site verification is required if you choose Google Search Console for data importing, and sitemaps are added instantly.
If you want to submit a site for Yahoo's Local Listing, you can do that through Yext. You can submit and claim your business listing on Yext here. If approved, you can edit your Yahoo Local Listing information displayed on the search engine for local SEO.
Now, if you want to find out how to submit a URL to Yahoo Search, follow the steps in the next section of this guide.
How to Submit Your URL to Yahoo Search
Sign in to Bing Webmaster Tools.
Select the appropriate website property.
Choose URL Submission > Submit URLs.
Type one per line in the URLs you want to submit for Yahoo indexing.
Click Submit.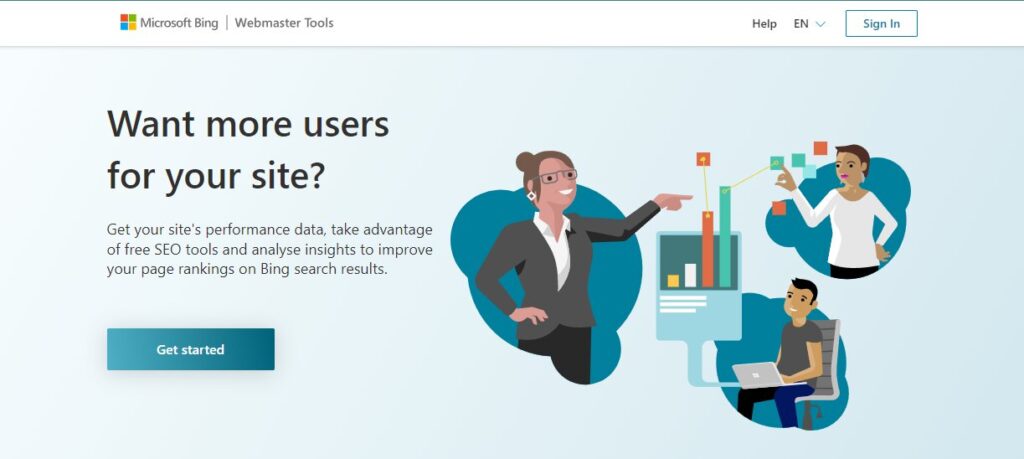 Bing allows you to manually submit up to 100 URLs daily and 10,000 URLs (for most websites) using the API features for immediate crawls and indexation in the SERPs. Automatic Yahoo URL submission can be done using the IndexNow WordPress plugin, IndexNow API or Submission API.
How Long Does it Take Website to Appear on Yahoo Search Results?
A website can take 6 to 8 weeks or longer to be added to Yahoo search results. After submission and site indexing, new URLs can be added to Yahoo instantly or within a few days using the URL submission tool. If you find that your website is not being crawled or indexed properly for Yahoo, then you can resubmit an individual sitemap by selecting that sitemap in Bing Webmaster Tools and then clicking on the resubmit icon that appears next to it.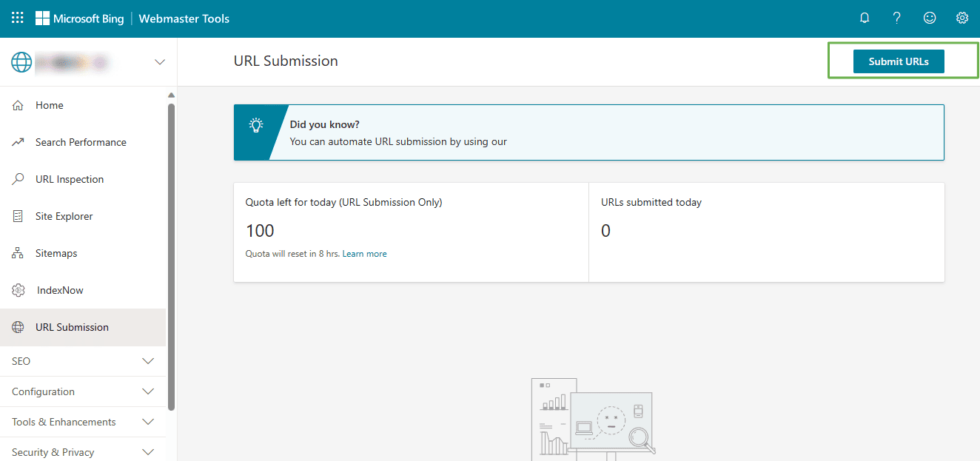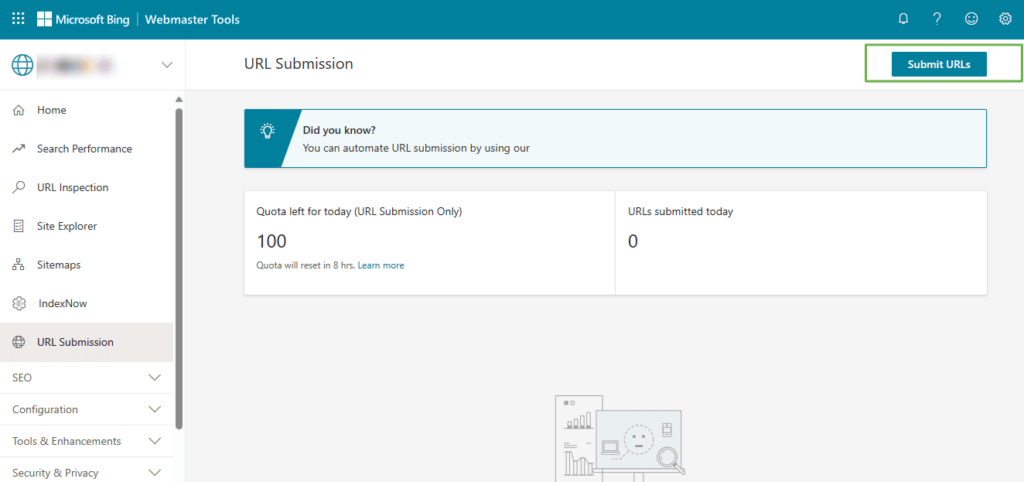 You can also click on the sitemap entry to view details of the specific sitemap. The details page provides a list of errors and warnings that you may need to resolve in the sitemap for the site or its URLs to be added to Yahoo. Because Yahoo's Search Engine is powered by Bing, Yahoo does not provide any status updates or help after you submit your site to Yahoo through Bing. You must contact Bing for assistance to help you add a Yahoo website and its associated URLs.
Final Thoughts on How to Submit Your Site to Yahoo
Submitting your website to Bing is a valuable step in enhancing your online presence and ensuring that your content is discoverable by a broader audience. While Google may dominate the search engine market, Bing still commands a significant share of users, and you may miss out on Mircosoft ecosystem potential traffic and opportunities if you fail to submit your site to Bing.
By submitting your site to Bing Webmaster Tools, you not only make it easier for Bing to crawl and index your website but also gain access to valuable insights and tools to optimize your site's performance. This can improve your rankings, increase visibility, and, ultimately, a more successful online presence. It's essential to keep in mind that SEO is a continuous effort. Once you've submitted your site to Bing, you must continue to monitor your performance, make necessary adjustments, and create high-quality content that resonates with your target audience.