We live in the most dynamic and ever-changing digital world, where things change drastically without any prior notice at the speed of light. It is a very good idea for every business owner to have a website. In today's digital world, if your business is not online, your competitors are taking advantage of you. But it's not enough to have a website for your physical business and expect customers to start patronizing it instantly. You need to put certain things in place before people begin to find your business, especially if you are operating a business that requires customers to visit your office or store.
You must do local Search Engine Optimization (SEO) to get your business across to the multitude living close to your business region. In this post, I will try to explain the golden rules to follow to get your business ranked well using local SEO
What Is Search Engine Optimization (SEO)?
Search Engine Optimization (SEO) is a unique term used to describe how you enhanced your online presence so that search engines such as Google can rank your content high and show it to users when searching for a business like yours using keywords. The more relevant your content is in search engines, the more visitors your website has, and that can easily convert these visitors to your customers.
What Is Local SEO (Search Engine Optimization)
Local Search Engine Optimization is a term used to describe how search engines display your business name, address and city of your business to your online searchers living within the region where you have your physical office or store. It is an effective way to market your local business online. It helps business owners promote their products and services to local customers when they're looking for them online.
Local SEO is a digital marketing strategy to optimise a website or online presence to improve its visibility in local search results on search engines like Google. The primary goal of local SEO is to attract more relevant traffic from local searches, especially if your businesses and organisations serve a specific geographic area. Local SEO strategies help you to connect with potential customers in their vicinity, making it an essential component of your online marketing efforts.  
Why Local SEO Relevant TO Your Business?
Did you know that more than 60% of online users are no longer roaming the market looking for products to buy again? They are online searching for the nearest business like yours who can deliver their needs on time.
Stats show that 50% of online searchers are looking for local products that they can buy and deliver to them quickly. If someone searches for a particular service on the internet, search engines understand that the searcher wants business suggestions or lists based on location. So that's exactly what search engines show up in the local search engine results pages. For instance, if you search for Electrical work in Abuja, Nigeria, the search engine understands you need an electrician within your area.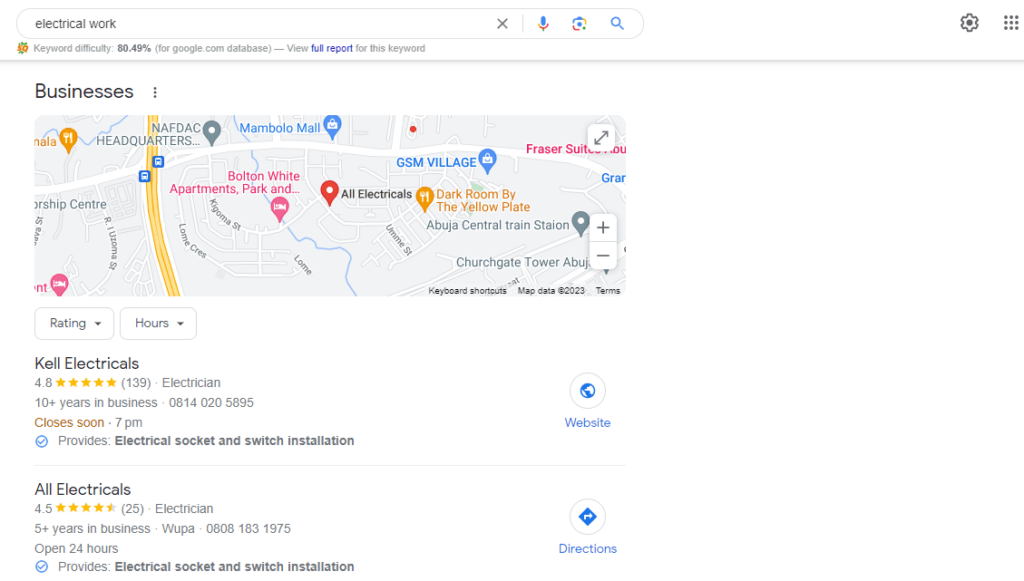 This leads to one clear fact: focusing on local SEO will send the right signals to the Search Engines to show your business to the right people in your locality. If you must take advantage of your competitors, you need to do local search engine optimization for your business, and the following rules will guide you right.
Claim Your Google My Business Profile
Google My Business should be the first priority for every business owner in enhancing Local Search Engine Optimization. Google processes over 2.4 million search queries on average per minute, meaning there are about 3.5 billion searches per day and over 1.2 trillion searches per year worldwide. So, why must you make Google My Business your top priority? Chances are that 10% of those searches can lead users to your business and later turn them into your customers. Google My Business enables local searchers to find important information about your business, such as your name, address, phone number, hours of operation, and map to your office location.
To claim your profile on Google My Business
It is a free and easy to setup tool. All you need to do
Log in to Google My Business
Log in with your Google account
Search for your business using your business domain name
Claim the business name
Choose the right category your business belongs
Carefully fill out all the required information
Verify the page either by mail or through video chat
Add your business photograph and logo
Ask for a review. Then, you are done.
Add Your Business To Directories And Citations
A citation is where your business (Name, Address, Phone number, Website URL) information appears together, typically in an online directory or business listing website. Directories and citations are another incredible way to improve your local SEO, which will help you drive potential customers to your business; online searchers can find your business locally by adding your business to directories. Business directories are the online list of businesses based on location, category, or activities.
But make sure you are consistent with your business name, address, Telephone number, days of operation and hours of operation, including a brief description of what you do, and don't forget to include your web address when adding your business to directories. These are particularly important to get in place for local SEO; if you don't appear where people are looking for businesses like yours, your competitors are ahead of you.
There are two types of citation:
Structured and unstructured
Structured citations typically appear in business listings and come from form fields being filled in when the listing is claimed.
While unstructured citations are more likely to be the result of news and social media, wherein your business information is visible and connected on a web page
There are tons of business directories around, here are few of them:
If you are in Nigeria; you can take advantage of the following business directories listing:
If you want to improve your local search visibility and help your potential customers find your business easily. Then, you must ensure your site features on citation websites and online business directories. Don't be limited to one; hundreds are out there, and the more you add your business to them, the more your chances of being found by local customers.
Social media plays an important role in how local consumers find your business online. Social media is a credible way to promote your content and brand because it enables you to drive traffic to your website and showcase your products to your customers. Set up your business page on all social media using your business name.
Setting up a social media page for your business in all of these social media; Facebook, YouTube, Twitter, LinkedIn, Instagram and a host of others play an important role in getting your local business to your target audience on time and results in massive sales for you. Facebook and Instagram alone have about 3 billion users monthly, which implies your local business can reach more people in your region than any other advertisement would do.
Related: What Is SEO Marketing, And How Does It Help Your Business?
Managing Reviews And Ratings
Getting online reviews from your customers is as important as getting traffic to your store or website, especially if you sell items online; it builds a credible relationship with your customers and boosts your local search ranking.
Customers' reviews of your business showcase the quality of your service and send the right signals to the search engines that your site and service are trusted and useful.
The overall quality of the reviews you receive from your customers is important for your local search rankings. Each time your business is mentioned online, your customers' reviews show up, giving your business reliable online visibility.
Hey! Remember that.
The best way to get a review from your customers is through email: send them an email asking for their views about your products or services and link such an email directly to the review page on your website. You can also ask them for a review using your social media page linking to your review page on your website.
Using Local Keyword In Your Title Tag
Optimise your post and article title tag with the local keywords to enable your business to rank well locally. For instance, if you are a plumber in Abuja, Nigeria, your local keyword should be something like this: "Best plumber in Abuja, or your trusted plumber in Abuja". This will send the right signals to search engines that your page is tied to Abuja in Nigeria, making your page show up quickly in search engines to local customers searching for a plumber from that region.
Improve On Quality Back-Links
Relevant backlinks from well-regarded websites help search engines recognize your site as a trusted source of information and improve your search visibility.
Adding both internal and external links where necessary within your business website will drastically increase your local Search Engine Optimization (SEO).
Links from and to local newspapers, authorities' bloggers and business associations, as well as other high-quality websites, can have a great impact on your Local SEO ranking
Get A Responsive Website
You must understand we live in a smartphone era now, where billions of people are addicted. Therefore, responsive web design is no longer new but a standard factor of any SEO plan, regardless of your business. Mobile responsive web design gives your users a clean and unique user experience, which is the foundation for your local SEO ranking. Responsive web design makes it easier for visitors to navigate your website and improves how much time they spend on your website.
Your website needs to be responsive and increase user experience before Google reward your website with greater SEO ranking. Remember, positive reviews, traffic, and a rise in branded searches increase ranking due to customer experience on your website.
Final Thoughts
Are you a blogger or wish to start one? Or are you selling products online or just showcasing your products, or offering a service? No matter who you are or the type of business you run, you need to take advantage of local SEO to move your business to the next level. Every small or multi-location company can grow their business and attract more customers using local SEO strategies such as:
Having a responsive website for your business
Building correct and accurate citation
Claiming your Google My Business listing
Managing reviews and ratings
Getting quality, relevant backlinks
Leveraging the power of social media pages
Using the right keyword
I hope this article helped you learn how to maximise your local SEO visibility. Share your views with us in the comments section.