Staying ahead of the competition and effectively engaging your target audience is crucial in this ever-evolving world of digital marketing. Marketing automation and personalisation are powerful strategies that can significantly enhance your business marketing efforts. These techniques not only streamline your marketing processes but also create a more personalised and engaging experience for your customers, leading to increased conversions and brand loyalty. Let's look at why you should use Mautic for marketing automation
One platform that has been gaining prominence in marketing automation and personalisation is Mautic, trusted by over 200,000 marketers and brands. Mautic is an open-source marketing automation software that empowers businesses to take control of their marketing campaigns, automate repetitive tasks, and deliver highly tailored content to their audiences. With its versatile features and user-friendly interface, Mautic offers a robust solution for businesses of all sizes, from startups to enterprise-level corporations.
Today, we will see why Mautic is a go-to choice for marketers looking to supercharge their marketing efforts through automation and personalisation. We will explore the key features that set Mautic apart from other marketing platforms and how they can benefit your marketing strategy. Let's dive into the world of Mautic and discover how it can revolutionise your marketing endeavours.
What is Mautic
Mautic is an open-source super-smart marketing automation system. It's an email and marketing automation tool that helps you automate your various marketing tasks and processes, making it easier to engage with your customers and prospects effectively. It allows you to streamline your marketing efforts, engage with your audience more effectively, and gather valuable data for making informed marketing decisions. Mautic is a robust tool you can rely on if you want to enhance your online marketing strategies and customer engagement.
Is Mautic Free to Use?
Yes, Mautic is open-source and free to use. Being an open-source marketing automation platform means that the core software is available to the public at no cost. You can download, install, and use Mautic without having to pay any licensing fees. However, while the core software is free, it's important to note that there may be costs associated with using Mautic. These costs could include web hosting, domain registration, and any additional integrations you choose to use. Mautic's open-source nature provides an accessible and cost-effective marketing automation solution, making it an attractive option for many businesses.
Why Do Marketers Love Mautic?
According to Mautic, nearly a quarter million of or organisations and marketers love Mautic for several reasons, such as:
Free Access to Various Features
Mautic is an open-source marketing automation platform that offers a wide range of cutting-edge features for free. This makes it an attractive option for businesses of all sizes, as they can access advanced marketing automation capabilities without incurring significant costs.
Streamlined and Automated Processes
Mautic allows marketers to automate repetitive activities such as marketing campaigns, lead generation, segmentation, and contact/lead scoring. This streamlines marketing processes and frees up marketers' time to focus on more strategic tasks.
Personalization and Customer-centricity
With Mautic, marketers can provide consistent messaging and personalised experiences across various channels, including email, social media, websites, and text messaging. This customer-centric approach helps build relationships, deliver value, and create customer empathy.
Flexibility and Adaptability
In the ever-changing digital marketing landscape, businesses need to be quick to respond to customers' evolving needs and preferences. Mautic's flexibility allows marketers to navigate these changes effectively, with workflows that can be easily adjusted to accommodate new technologies and buying habits.
Data-driven Decision-making
Mautic's powerful marketing automation platform enables you to test landing pages, and keyword strategies, form conversions, and better identify potential leads. By leveraging data and analytics, you can make smarter, more informed decisions about your target audience and marketing strategies.
Why You Should Use Mautic for Marketing Automation
Mautic is an open-source marketing automation platform that offers several unique features and benefits, which set it apart from other marketing automation tools.
Lead Management
One of the reason you should use Mautic for marketing automation is the lead management feature. Lead management in Mautic begins with capturing leads; Mautic allows you to capture, track, and manage leads from various sources, including forms, landing pages, and integrations with other platforms. Mautic form builder lets you create custom lead capture forms which can be embedded on your website or used in landing pages and campaigns. You can design the forms with various fields to collect information such as names, email addresses, phone numbers, sex, country and more.
Mautic comes with lead tracking and management tools that help you identify, capture, and nurture leads effectively. You can score leads based on their behaviour and engagement, allowing you to focus on the most promising prospects. You can create dedicated landing pages with Mautic to capture leads. These pages are designed to convert visitors into leads through compelling content and forms. Mautic also integrates with other platforms and tools through its API and allows you to capture leads from various sources, including third-party applications, eCommerce systems, and more. Once the leads are captured, Mautic tracks their interactions and behaviour, such as website visits, email opens, clicks, and other engagements with your marketing materials.
Mautic provides web tracking capabilities, which means it can monitor what page leads visit your website, how long they stay, and which content they engage with. This data helps you understand their interests and behaviour. When you send emails through Mautic, it tracks whether recipients open the emails, click on links, and take specific actions. This email engagement data is critical for understanding lead interest and engagement levels. Mautic allows you to build profiles of your leads. As they engage with your content and campaigns, you can gather data about their demographics, preferences, and interests.
Contact Segmentation
Advanced contact segmentation is another reason to use Mautic for marketing automation. Mautic allows you to segment your contacts based on various criteria, such as demographics, behaviour, and engagement, for targeted marketing efforts. Segmenting your contacts means you can select individuals and put them into groups based on various criteria; this could be anything you know about them, such as company, company size, location or demographic information. 
Contact segmentation in Mautic is a powerful tool that allows you to divide your database of leads into smaller groups depending on their behaviours, and send more persuasive marketing communications. Segments can be based on various parameters, and you can add filters to create a segment. You can also manually add contacts to a list or delete contacts from the manage contacts page.
Focus Items
Mautic Focus Items is a feature within the Mautic marketing automation platform designed to enhance user engagement and conversion rates. It allows you to create targeted, personalised, and interactive content elements, such as pop-up forms, dynamic banners, or surveys, that can be strategically placed on your websites or within emails. You can use Focus Items to capture user attention and encourage specific actions, like signing up for newsletters, completing surveys, or making a purchase. Mautic Focus Items enable you to deliver a more customised and engaging experience to your website visitors or email recipients, ultimately driving higher user interaction and improving your marketing campaign effectiveness.

The Focus Items help you send traffic to a given page, you can use it to capture and increase lead generation. It can also be used to send traffic to a particular page or display a notice to your website visitors, such as a website maintenance notice. 
Email Marketing Builder 
With Mautic Email Builder, you can create stunning email campaigns in a matter of minutes. The Mautic Email Builder is a powerful feature that simplifies and streamlines the email marketing process for your business; it provides a user-friendly interface that allows you to craft visually appealing and effective email campaigns with ease. With Mautic's intuitive drag-and-drop email builder, you can effortlessly design email templates by dragging and dropping elements like text, images, buttons, and more. The drag-and-drop features eliminate the need for coding skills, making email creation accessible to all.
You can also customise and style the emails to meet your business needs, the email builder offers various design options, from fonts and colours to templates and layouts. This level of customisation ensures your emails align with your brand identity. Mautic's email builder allows you to incorporate dynamic content, allowing you to send targeted messages to specific segments of your audience. With Mautic email builder, you can create professional, engaging email campaigns without extensive design or coding expertise. It's a versatile tool for creating stunning and responsive emails, making email marketing a breeze and enhancing your ability to connect with your audience effectively.
Landing Page Builder
Landing page builder is another feature you should use Mautic for marketing automation. This feature allows you to create and customise landing pages for your campaigns without the need for technical skills. Mautic's Landing Page Builder is your secret weapon for creating stunning web pages that capture attention and convert visitors into leads. With Mautic's user-friendly builder, you can craft beautiful landing pages with a drag-and-drop feature. Just pick your elements, arrange them, and customise them as you like. You can also integrate lead capture forms into your pages, so you can gather essential data like names, emails, and more from your visitors. 
Mautic also lets you compare different versions of your landing page to see which one works better with the help of the A/B testing feature. This helps you optimise your landing pages for higher conversion rates. Mautic's landing page builder is your ticket to creating eye-catching, effective landing pages that attract and convert visitors into leads. It's user-friendly, adaptable, and comes with the tools you need to measure success and integrate with your other marketing strategy.
Marketing Automation
Mautic's Marketing Automation feature is like having a tireless marketing assistant who works around the clock, automating tasks to engage your audience in a personalised and timely way. Mautic lets you design custom marketing workflows. These are sequences of actions that happen automatically when someone interacts with your content. For example, when someone signs up for your newsletter, Mautic can send a welcome email, add them to a specific contact list, and assign a lead score. With marketing automation, you can nurture leads over time; you can send various emails or messages to educate, inform, and build relationships with your audience.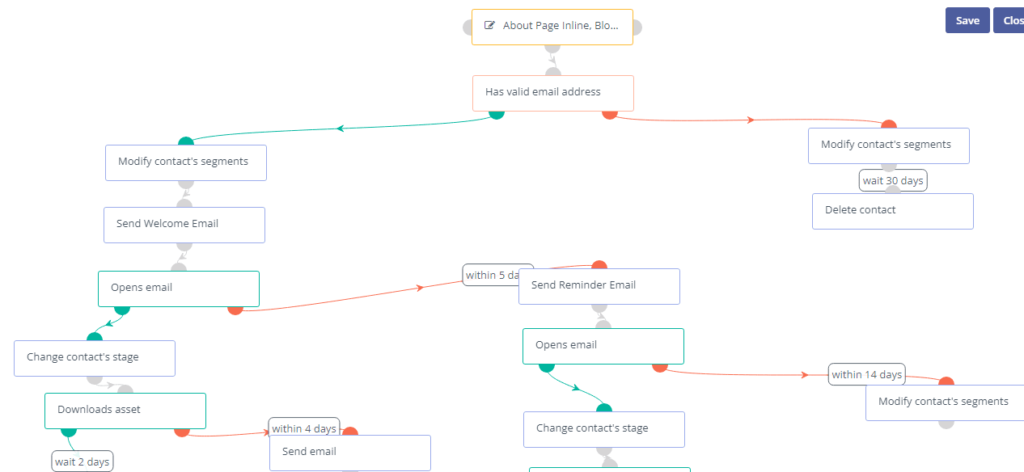 Marketing automation in Mautic isn't limited to just email. You can engage your audience across various channels, including social media, SMS, web notification and more. You can also assign scores to your leads based on their actions and engagement. This helps you identify your most interested and valuable prospects, making it easier for your sales team to prioritize their efforts. By automating repetitive tasks, you free up your time to focus on more strategic aspects of your marketing, like creative content and campaign planning.
Mautic's Marketing Automation takes the manual work out of marketing. It ensures your leads receive the right messages at the right time, based on their behaviour and preferences. Automation not only increases efficiency but also leads to a more personalised and effective marketing strategy, driving better results for your business.
Campaign Management
Another reasons to use Mautic for marketing automation is campaign management feature in Mautic. Mautic's Campaign Management is like having a control centre for your marketing strategy, where you can plan, execute, and track all your marketing campaigns with ease. Mautic provides a single place to organise all your marketing campaigns. Whether it's email, social media, or web campaigns, you can manage them all from one dashboard. You can create campaign plans that outline your goals, target audience, messaging, and the channels you'll use. This helps you stay organised and focused on your marketing objectives.
Mautic also supports campaigns that span multiple channels, so you can reach your audience where they are. You might start with an email, follow up on social media, and then direct leads to a dedicated landing page. You can also integrate with Mautic's automation capabilities, which means you can set up triggers and actions that occur automatically as leads engage with your campaigns. Mautic's Campaign Management feature streamlines your entire marketing campaign process, from planning to execution and analysis. 
Social Media Integration
Ability to integrate with all popular social media is another reason you should use Mautic as your marketing automation platform. Mautic's Social Media Integration feature is your secret weapon for managing your social presence and engaging with your audience on platforms like Facebook, Twitter, and more. You can control your various social media accounts from a single dashboard. No more jumping from one platform to another; it's all in one place. You can plan and schedule your social media posts in advance. This helps you maintain a consistent online presence, even if you're not always available to post in real time.
Mautic can automate your social media posts to go out at the best times for your audience, increasing the chances of engagement. You can also monitor conversations and mentions of your business or products across social media. This feature helps you stay informed about what people are saying and respond promptly. Track how your social media posts are performing. Mautic provides analytics on likes, shares, comments, and more, allowing you to assess the impact of your social efforts.
Integrate your social media with your broader marketing campaigns. For instance, you can automatically post updates about your latest email campaign or blog post to your social channels. You can easily share your blog posts, articles, and other content to your social media accounts directly from Mautic. Mautic social media integration lets you engage with your social media audience to build a community around your brand. Answer questions, acknowledge feedback, and foster meaningful interactions.
Mautic's Social Media Integration lets you simplify social media management, making it easy to schedule posts, track engagement, and integrate your social efforts into your broader marketing strategy. This feature empowers you to build a strong online presence and connect with your audience across various social platforms effectively.
A/B Testing
Ability to test different version of your campaigns is another to use Mautic for marketing automation. Mautic's A/B Testing feature is like having a built-in marketing scientist to help you figure out what works best for your campaigns. With Mautic A/B testing, you can test two or more different versions of your marketing materials. For example, you can create two different email subject lines, landing page designs, or even variations in your ad copy and see which one got a higher response from your audience. A/B testing lets some people see Version A, while others see Version B; this method ensures a fair test with a representative audience.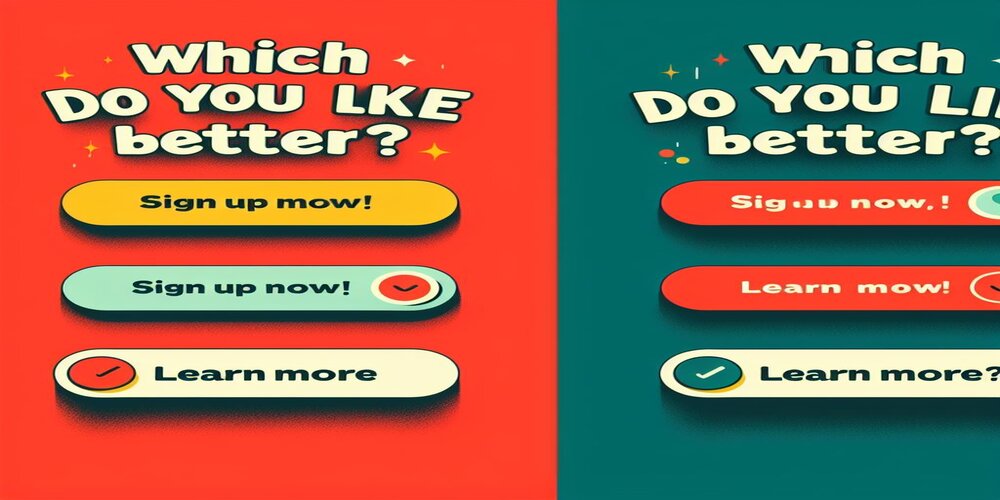 As your campaign runs, Mautic tracks the performance of each variation. It monitors important metrics like open rates, click-through rates, and conversion rates to see which version is more effective. Mautic applies statistical analysis to determine if one variation is significantly better than the others. This means you can be confident that the winning version is truly more successful, not just due to chance. Once you know which version is the winner, you can make data-driven decisions. For future campaigns, you can use the winning variation to improve your results. Mautic's A/B Testing empowers you to experiment with different elements of your marketing campaigns, discover what resonates with your audience, and refine your approach for maximum impact.
Tracking User Behaviour
Mautic's Web Tracking feature another reason to use Mautic for marketing automation is your; it's your digital detective, helping you understand your website visitors' behaviour and interests. Mautic silently watches what's happening on your website, tracking visitors as they navigate pages and interact with your content. You can see a detailed picture of each visitor's journey. It reveals which pages they've viewed, how long they've stayed, and which links they've clicked. This information helps you understand what interests your audience most. If a visitor fills a form on your site Mautic can identify them and link their activity to their contact record in your database. 
Mautic's Web Tracking feature is like having a virtual camera on your website, capturing visitor movements and interactions. It provides valuable insights into what engages your audience, helping you tailor your marketing efforts and deliver a more personalised and effective online experience.
Dynamic Content
Another feature to use Mautic for Marketing automation is dynamic content, Mautic's Dynamic Content feature is like having a magic wand for your marketing materials. It allows you to create personalised content that speaks directly to each of your website visitors or email recipients. Dynamic content enables you to customise your website pages or email messages based on the individual preferences and behaviour of your audience.
You can set rules and triggers to determine when and where dynamic content is displayed. These rules can based on lead attributes, behaviour, or other criteria you specify. Personalised content is engaging because it speaks directly to the recipient's needs and interests. This increases the likelihood of conversions and customer satisfaction. Mautic's Dynamic Content feature empowers you to create highly customised and engaging marketing materials that resonate with each recipient. It's like tailoring your message for every individual, making your marketing more effective and relevant.
Integration and API
Mautic's Integration and API capabilities are like the universal adapters for your marketing toolkit, connecting your systems, tools, and data for seamless and efficient operations. You can integrate Mautic with popular marketing tools, CRMs, and platforms. It acts as a bridge, allowing your different applications to work together perfectly. If there's no pre-built integration for your specific needs you can connect Mautic with your tools through its robust API (Application Programming Interface) to create custom connections between your systems.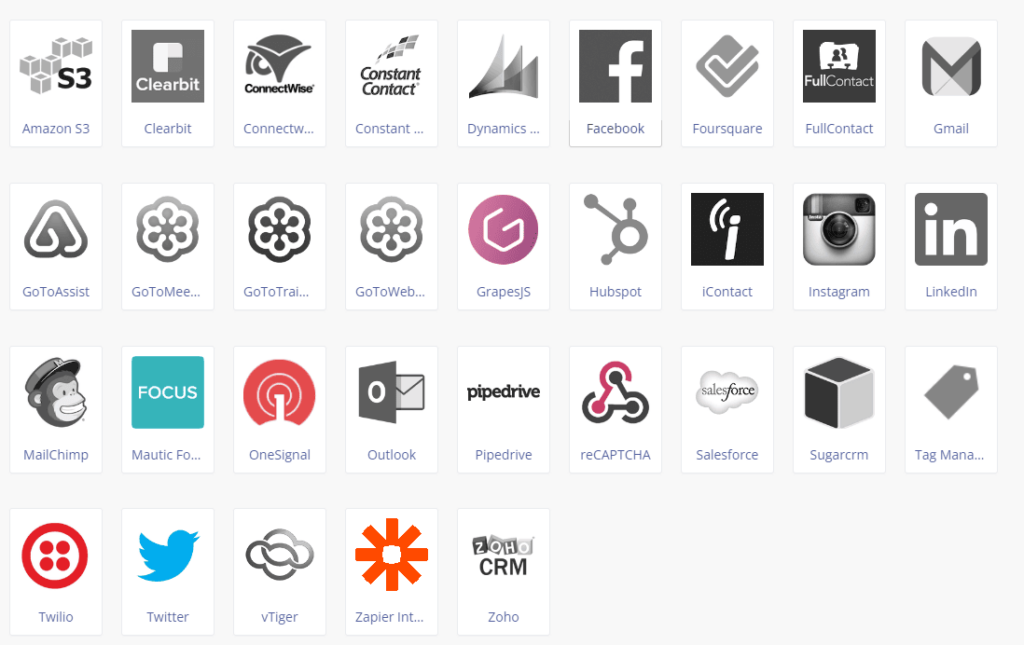 Mautic can be integrated with various third-party tools and services, including CRM systems, content management platforms, e-commerce solutions, and analytics tools. This integration capability enhances the platform's functionality and helps streamline your marketing efforts. You can also synchronise customer data, leads, and other crucial information between Mautic and your other software in your tech stack, ensuring you have a unified view of your contacts. By integrating Mautic with other tools, you can extend its functionality to create a well-connected and efficient marketing environment for your business.
Reporting and Analytics 
Mautic's Reporting and Analytics feature is your marketing detective, helping you uncover the secrets of your campaigns' performance. Mautic gathers data on your marketing efforts, such as email campaigns, website visits, and social media engagement and turns the data into easy-to-read reports and charts, so you can quickly see how your marketing campaign is doing.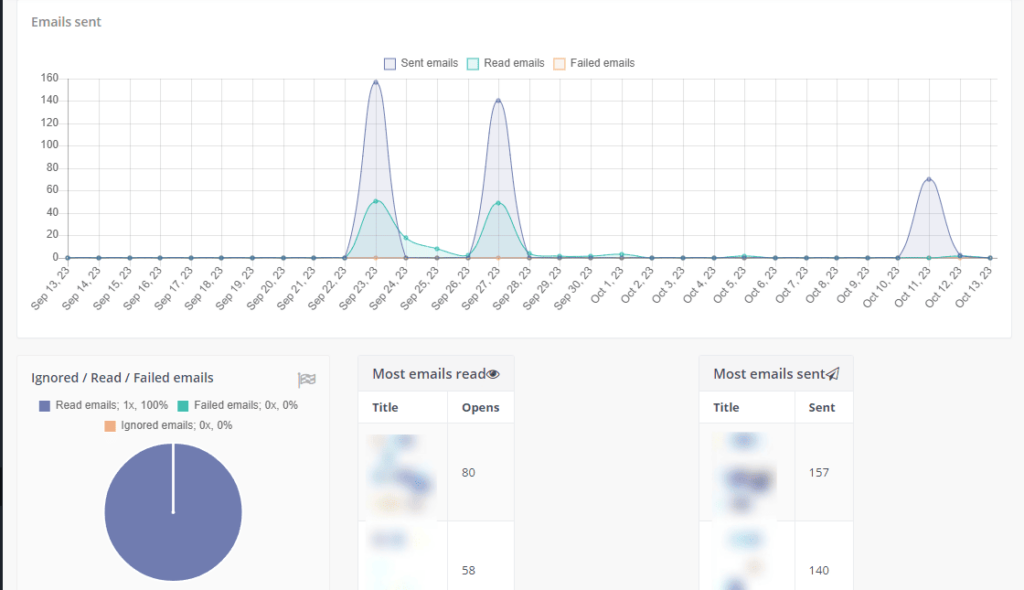 With Mautic analytics, you can find important metrics like open rates, click-through rates, conversions, and more. These numbers reveal how well your marketing is connecting with your audience. You can also track how your marketing efforts improved over-time and make informed decisions to boost your future campaigns. You can also customise the data you want to see so you can focus on the metrics that matter most to your business. 
Final Thoughts
The power of marketing automation and personalisation in generating and nurturing leads cannot be overemphasised. By leveraging Mautic in your marketing strategy, you not only streamline your marketing efforts but also elevate the customer experience to new heights. Mautic empowers you to craft personalised, data-driven campaigns that resonate with your audience on an individual level. It helps you harness the wealth of information available, turning it into tailored content and messages that build stronger, more genuine connections with your customers. The result? Higher engagement, increased brand loyalty and sales.
Moreover, the open-source nature of Mautic ensures that you have complete control over your marketing processes, allowing for seamless integration with other tools and platforms, and making it a cost-effective solution for your business. Its flexibility and adaptability ensure that your marketing strategies can evolve alongside your business. Using Mautic for marketing automation and personalisation is a decision to embrace the future of marketing and a commitment to deliver meaningful, relevant content to your audience. By choosing Mautic, you're not just adopting a tool; you're embracing a platform that puts your customers at the centre of your marketing strategy.
So why wait? Take the leap, harness the power of Mautic, and watch your marketing efforts soar to new heights without paying monthly subscriptions.
Are you new to marketing automation? Let's get you started with Mautic.