As a content creator, you've probably thought about how content creators earn money on TikTok, how much they make, and the structure of the platform's payouts. Let's talk about how to make money on TikTok! Since its launch worldwide in 2017, TikTok has become the talk of the town. But how do you make money with TikTok? Does TikTok pay content creators? Yes! As TikTok popularity grew, it became a lucrative source of income for many content creators, not just a platform to watch short movies.
In this article, We will be covering the following:
How many followers do you need to make money on TikTok
How TikTok pays creators
The TikTok monetization requirements in 2023
How to access payments with TikTok Creator Next
Other ways of making money on TikTok
How much money can you make on TikTok?
How Many Followers do You Need to Make Money on TikTok?
TikTok offers built-in monetization tools for content creators, including a creator fund, a tipping feature, a subscription feature for streamers, and a virtual "gifts" product that allows users to send gifts to a creator, which the creator can later convert into a real currency. But TikTok requires that content creators have a certain number of followers and views to access monetization features.
The hurdle to generating money on TikTok was more significant until December 2021. You need to be at least 18 years of age (this is still the case!) and have 10,000 subscribers, with 100,000 monthly views on your videos, to be eligible for monetization.
Learn: 15 Best Strategies to Grow Your TikTok Followers in 2023
How to Make Money on TikTok?
Then how do you make money on TikTok? Even before Creator Next, TikTokers had many options for making money. You may also sell your merchandise, drive traffic to paid subscription services like Patreon, increase your subscriber base and become a TikTok consultant for companies, all of which are viable options independent of Creator Fund. And the TikTok Creator Marketplace makes it easier to earn great money on TikTok! Between 2019 and 2021, US marketers plan to utilize TikTok to promote influencer marketing shots from 16% to 68%. Evidently, the platform's viability for bankable use is increasing, and sponsored videos from brands could earn you as much as $1,000 if they get 100,000 views.
Once you are a content creator and at least 18 years of age with a minimum of 10,000 followers and your videos, have had 100,000 video views in the last 30 days, and your account strictly adheres to the TikTok Community Guidelines and terms of service.
Deciding ways to monetize your TikTok accounts becomes easier once you've gained a deeper understanding of your target audience. There's no single approach to monetization, but the highest earners usually maintain several complementary income streams. The opportunities with TikTok are virtually endless, from sponsored content to organic marketing.
Let's review some of the most common ways you can make money on TikTok.
Make Money with Creator Fund
If you meet these criteria, you could apply for TikTok's Creator Fund to start making money on TikTok. But it's not as simple as declaring "1,000 views Equal $X" because the per-view rates have never been made public by TikTok. Once you're a part of the Creator Fund, you can expect to earn roughly 2–3 cents for every 1,000 views. Payouts are conditional on factors such as the views' integrity, the video's popularity, and whether or not they comply with TikTok's Community Guidelines and Terms of Service. Until TikTok released Creator Next, the Creator Fund was the primary way for influencers and content creators to make money on TikTok.
Make Money with Creator Next
In late 2021, TikTok added a new function called "Creator Next" to its platform. Creator Next is a monetization hub consolidating all TikTok's monetary features into a single location and simplifying monetization efforts for content creators and influencers. To qualify, you need to be 18 or older and have three or more contents that have received 1,000 views or more in the last 30 days. Once you're a part of Creator Next, you'll have access to various revenue streams on TikTok beyond only Creator Fund.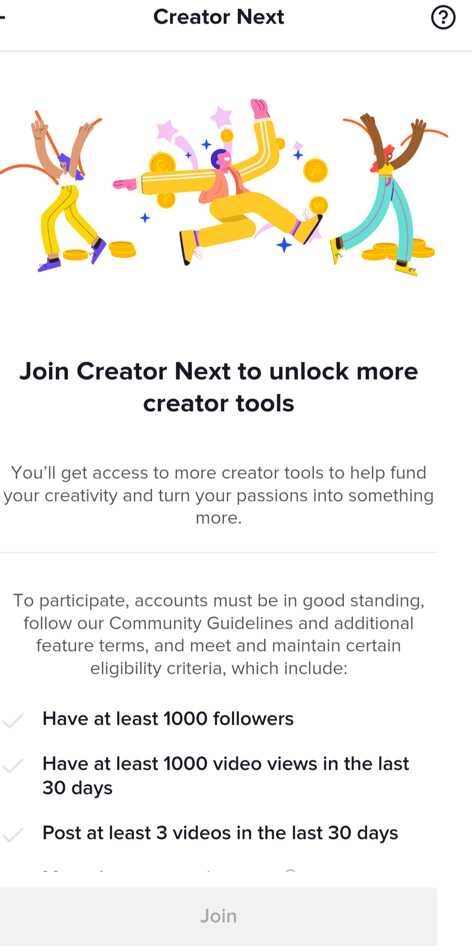 What you get with Creator Next:
LIVE Gift: In the form of "Diamonds," which can be redeemed for actual money, TikTok rewards producers whose LIVE videos are viral. During a creator's LIVE video, viewers can give them a "LIVE Gift," which can later be redeemed for cash. The live gift feature existed before Creator Next, and any TikTok user over 18 years and part of the Creator Next program is eligible to receive LIVE Gifts.
Video Gifts: With Video Gifts, producers can earn Diamonds from the views of their short movies rather than their LIVE broadcasts. Similar to watching a video in real time, viewers can send a present. To participate, you need at least 100,000 followers, a 30-day-old account, and a publicly available video posted within the past month.
Tips: Viewers can tip their favourite creators with money, and the artists will keep whatever they get (minus any service fees.) You can use this feature if you're a content creator with more than 100,000 followers.
TikTok Creator Marketplace: The TikTok Creator Marketplace is an official hub where creators may connect with businesses and brands for compensated and rewarded collaboration. In most cases, brands invite the content creators directly into the Creator marketplace, but if you have more than 10,000 followers, you can apply to join the Creator Marketplace.
Sell Own Product to Your Followers
Selling your products on TikTok is an excellent way of earning money from virtually any content. Regardless of whether a singer or motivational speaker, every creator can create and sell products to their most devoted customers.
With various printing-on-demand businesses, you could offer T-shirts, bags, hats, coffee cups, notebooks, stickers, or any combination of items. Your products may be proofreading, personal training, or making little necklaces out of seashells – if you have products to sell on TikTok with good followers, you can make money.
Selling products that print on demand has many benefits, even over revenues. You can build an emotional connection with your followers and brand with branded printing products.
If you have your products to peddle and want to make income as a content creator, you can always use TikTok to sell your products and services. If you want to spread the word and attract the right kind of viewers, ensure your captions, descriptions, and hashtags are on point regarding keywords.
Partner with Influencers or other brands in the TikTok Creator Marketplace
Creator Marketplace is one of the most cutting-edge ways TikTok lets its creators monetize their work. The Creator Marketplace streamlines the process of forming connections between companies and influencers by connecting them directly. Using TikTok, producing high-quality sponsored content is a breeze.
Companies interested in launching an influencer marketing campaign may swiftly sift through the work of content creators they know will welcome brand partnerships by browsing the marketplace. Partnering with brands to promote sponsored content is a breeze, but partnering with brands whose products or services resonate with your followers is a must. Only partner with companies that chime with you and reflect your values. You need to sponsor content you only trust for the following reason:
Successful partnerships require both partners to feel at ease with one another. It's not worth forcing yourself to sponsor a product you strongly disagree with.
A quick money deal will be immediately apparent to your audience. Partnerships are most effective when they are perceived as natural extensions of your brand; if you team up with a company whose values are diametrically contrary to yours, you may expect to face accusations of selling out.
With sponsored content, you could promote any product or service to your followers and hype the products up to get the brand their desired result of purchases or traffic. But ensure to use the 'Branded Content' toggle for any paid-for content to tell your viewers you are transparent to comply with TikTok regulations on branded content.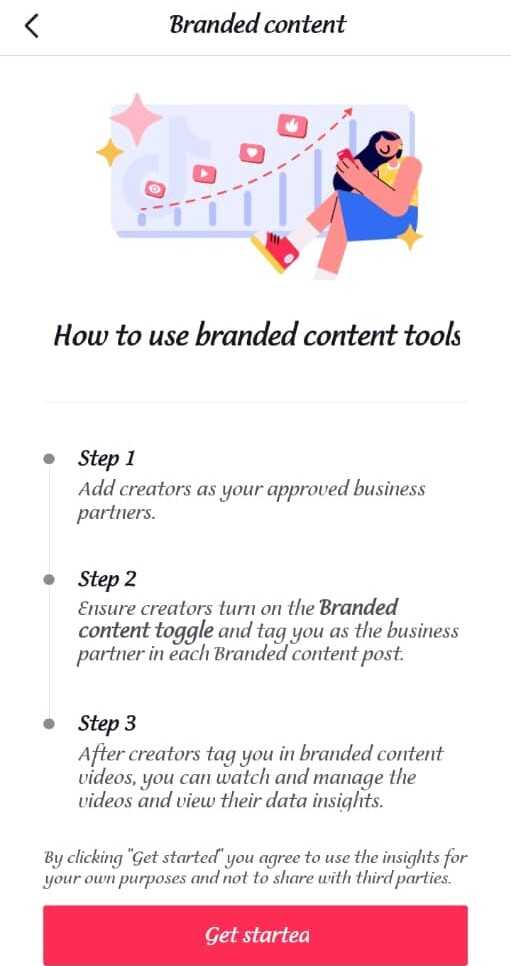 Make Money on TikTok with Ads.
TikTok Pulse is a new platform for creators to earn money, allowing them to put advertisements alongside their content and earn direct advertising revenue. The TikTok pulse program is available only to content creators of the top 4% of "most engaging" videos across several categories. TikTok Pulse is an advertising platform that can help you generate money on the platform. The revenue model is similar to YouTube's in that it divides earnings in half between sponsors and content producers. You need at least 100,000 followers to take advantage of it, so it's not the best option for those just starting.
TikTok Pulse is TikTok's first revenue-sharing tool. It is designed to reward creators for their profitable engagement, while brands can attract more attention by advertising under the program. With TikTok Pulse, you can place particular contextual advertisements alongside your videos. Viewers who watch the video integrated with Pulse ads will also see the advertisements.
How Much Money Can You Make on TikTok as a Content Creator?
Now that you've learned how to make money on TikTok. But how much money can you make on TikTok? There's no limit to what you can earn on TikTok as a content creator. Let's quickly look at TikTok's top earners in 2022.
Charlie D'Amelio: Charlie D'Amelio is an 18-year-old with 142.4 million followers making her one of the most-followed TikTokers. Charlie D'Amelio rose to fame with her dance clips and has secured some impressive brand partnerships, including Invisalign, Morphe cosmetics, and more. She made $105,770 per post and was worth $20 million.
Khabane Lame: Khaby Lame has the highest follower count on TikTok, with over 143 million followers. The 22-year-old Senegalese-born social media star is known for his hilarious TikTok videos where he mocks unnecessarily complicated life hack videos. He's bagged high-profile partnerships with famous footballers and brands like Xbox, Netflix, Amazon Prime, and Hugo Boss. He is making $92,270 per post and is worth $5 million.
Bella Poarch: Bella's a Filipino-American social media personality and singer. She rose to fame after creating the most liked TikTok video, where she lip-syncs to the song "M to the B". Since then, she's done ads for Google, Prada, and Tinder and released her first single, reaching No. 56 on Billboard's pop chart. She is making $66,829 per post and is worth $2 million based on her activities on TikTok.
Addison Rae: The TikTok celebrity has been named Forbes's "30 Under 30" for social media influencers for 2020. Her TikTok popularity has led to lucrative sponsorships with brands such as American Eagle, and she has signed a multi-film agreement with Netflix, a streaming company. She is making $65,194 per post and is worth $15 million.
Will Smith and Kimberly Loaiza are other names on TikTok with huge followers and worth $300 million and $8 million, respectively.
Final Thoughts on How to Make Money on TikTok
There are numerous ways to make money on TikTok. With this giant social media platform adopted by over one Billion people already, there is no limitation to how much money you can make on TikTok as a content creator. Making money on the platform is easy, with features such as Creator Next, Creator Fund, and Creator marketplace with the ability to partner with sponsors and sell your products. Building a stream of monetization sources on TikTok is just too easy to be ignored by any content creator.
Are you making money already with your TikTok account? If not, what is stopping you? Let's know in the comment section.