Managing appointments and bookings is crucial for businesses and professionals looking to provide top-notch customer service. The easiest way to streamline appointment scheduling is to embed booking forms on your website; these forms will allow you to take control of your calendar, offer flexibility to your clients, and save valuable time that can be better spent on growing your business. The best way to eliminate manual appointment booking with your customers is to use WordPress booking plugins. Plugins add extra functionality to your WordPress website and can turn your basic website into a multi-purpose website. Using WordPress booking plugins can make your appointment job easier.
WordPress appointment booking plugins are like your personal assistant, helping you arrange appointments, manage availability, and communicate with your clients seamlessly. Whether you're a web designer, small business owner, medical practitioner, consultant, or service provider, these plugins can be a game-changer for your online presence. Let's look at some of the best WordPress appointment booking plugins available, making it easy to choose the one that best suits your needs.
What is a WordPress Appointment Booking Plugins?
A WordPress booking plugin is an extension of a WordPress website to help users create and manage booking appointments, reservations, or services. These plugins can used by businesses and individuals who offer services that require scheduling, such as hotels, restaurants, fitness centers, healthcare providers, consultants, and more. The booking plugins let you create a booking system on your WordPress website and allow visitors to pick a date and time, input their information, and make a reservation directly from your site.
Here are some key features and functions of a WordPress appointment booking plugin:
WordPress booking plugins allow clients or customers to view available time slots and book appointments or reservations online. Users can select a date and time that suits them and confirm their booking.
Customisable Booking Forms
Users can create and customise booking forms to collect specific customer information, such as name, contact details, service preferences, and any other relevant data.
It provides tools for managing and displaying the availability of services or resources, ensuring customers can only book when there are open slots.
Booking plugins offer payment integration options, allowing users to charge for appointments or services at the time of booking.
Notifications and Reminders
Booking plugins allow you to send automated email or SMS notifications to customers to confirm their bookings, provide reminders, and communicate important information.
A booking calendar or schedule can be displayed on the website, making it easy for users to see available slots and make selections.
Integration with Other Plugins
Many booking plugins can integrate with other WordPress plugins and tools, such as payment gateways, CRM systems, and email marketing software.
Best WordPress Appointment Booking Plugins
There are various WordPress booking plugins, each with its own set of features and pricing options. But we hand-picked the ones on this list based on factors that we thought good booking plugins should have, such as a user-friendly interface, the ability to create customised booking forms, multiple payment integration, automated booking confirmations, and the ability to integrate well with third-party platforms like WhatsApp, Zoom, Meet, and popular email marketing services.
With over 60,000 websites worldwide using Amelia, it is one of the most popular and user-friendly appointment booking plugins. It is a freemium WordPress appointment and event booking plugin that helps you streamline the creation and management of appointment processes on your website. Its back-end calendar feature gives you total control over all the appointments and their statuses. Amelia is an easy-to-use plugin for booking appointments.
You can use Amelia to create and manage appointments for businesses like Spas, Salons, Hospitals, Hotels, Consultants and the rest. It is a plugin well-designed to automate the booking process for various businesses, individuals, event organizers, and managers.
Key Features for Amelia
Seamless appointment scheduling
Front-end booking wizard
User-friendly UI
Intuitive calendar view in the admin area
Flexible appointment management
Native Zoom, WhatsApp and Google Meet integration
WooCommerce, PayPal, and Stripe integration (premium only)
Group appointment bookings
Email notifications
Booking for recurring appointments (premium only)
Group services and coupons (premium only)
Available in 20+ languages
Marketing Tools and Analytics
Pricing
Free
For Basic Plan 1 Domain: $79/year,
For Pro Plan with 5 Domains: $265/year
For Developer Plan with Unlimited Domains: $597/year
The lifetime plans go for $216 for one website, $414 for 5 domains and $899 for unlimited usage.
BookingPress is another full-fledged WordPress appointment booking plugin that allows you to set up a complete booking system according to your requirements on your WordPress website. BookingPress can be used for various businesses like spas, hotels, doctors' appointments, clinics, medical centres, dentists, and clinic and fitness booking systems.
Key Features for BookingPress
Comprehensive analytics of your performance
Anti-spam facility
Customised email notifications
Popular calendar integrations (Google, Outlook)
15+ payment gateways
Quick and easy configuration option
Pricing
Free
Standard Plan: ($79/year) for 1 site
Professional Plan: ($119/year) for 3 sites
Enterprise Plan: ($249/year) up to 20 sites
Booking Calendar is another appointment booking plugin, it is one of the most popular WordPress booking plugins with over 60,000 installed. This freemium plugin is designed to simplify and streamline the process of managing appointments, reservations, and bookings on your website. You can use this versatile plugin for various industries, such as hotels, restaurants, hospitals, event organisers, and more.

Your users can select specific days and time slots from the calendar view and send automated email notifications to you and your users about the bookings, you can approve or deny bookings based on your availability. The Booking Calendar plugin is good for any website that needs to manage bookings, appointments, or reservations. Its extensive features, customisation options, and user-friendly interface make it a popular choice to streamline scheduling processes and enhance the user experience.
Key Features for Booking Calendar
User-friendly interface
Customisable form and calendar designs
Calendars in daily/weekly/monthly formats
Time-slot bookings with time picker tool
Booking Calendar Blocks for Gutenberg
Prevention of double-booking
Payment integration
Email notifications
Pricing
Free
Personal Plan: $39 for 1 Site
Small Business Plan $79 for 1 Site
Medium Business Plan $139 for 1 Site
Large Business Plan $179 for 1 Site
Multiuser: $349
WPForms is a user-friendly, powerful and one of the most popular WordPress plugins that allow you to create various forms, including appointment forms for your website without any coding expertise. It's a versatile tool you quickly and easily use to create booking forms on your WordPress website.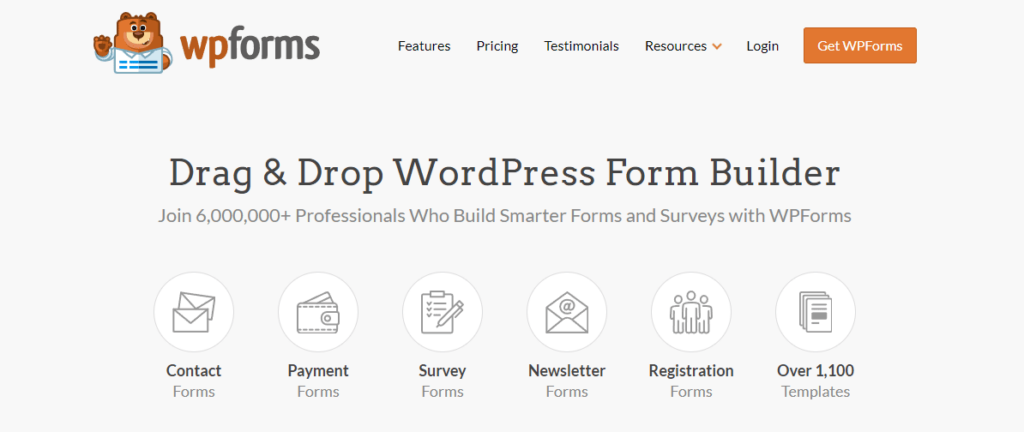 One of the standout features of WPForms is its drag-and-drop form builder, which lets you easily add fields, rearrange them, and customise your forms with just a few clicks. WPforms plugin comes with over 600 pre-built form templates, saving you time and effort. WPForms has built-in spam protection and smart CAPTCHA to prevent unwanted submissions, it also integrates with popular email marketing services and CRMs, allowing you to manage your leads and customer data efficiently.
Key Features for WPForms
Pre-built form templates
Drag-and-drop form builder
Spam protection
PayPal and Stripe integrations
Integration with popular email marketing services
Custom user registration
Pricing
Free
Basic Plan: $49.50/year 1 site
Plus Plan: $99.50/year 3 sites
For Pro Plan: $199.50/year 5 sites
For Elite Plan: $299.50/year unlimited

Easy Appointments is another appointment booking plugin that allows you to add a booking appointment system to your WordPress site and manage appointments with ease. It offers extremely flexible time management, multiple locations, services, and workers, and email notifications and custom emails for different appointment statuses.
Key Features for Easy Appointments
Flexible time management
Simple one-column layout
Multiple locations, services, and workers
Email notifications
Custom form fields
Date picker localisation (77 languages available)
Google Calendar, PayPal, and WooCommerce integration (premium extension)
Pricing
Booknetic is another WordPress appointment booking plugin designed to help you schedule appointments with clients online with ease.

Booknetic allows you to create clean and intuitive interface appointment forms so your customers can easily select services, choose a time slot, and book an appointment with you. You can also customise the booking form to match your brand and collect necessary information from your customers.
Key Features for Booknetic
Conversion tracking with (Google Analytics and Google Tag Manager)
Built-in form-builder
Integration with Zoom and WhatsApp
Customer panel to manage appointments online.
Group and recurring appointments
Pricing
For a Regular License: $79
ARB Reservations is another WordPress appointment booking plugin that allows your customers to book hotel rooms, appointments for doctors, courses, salons, and more. ARB Reservations works seamlessly with WooCommerce and creates different types of booking systems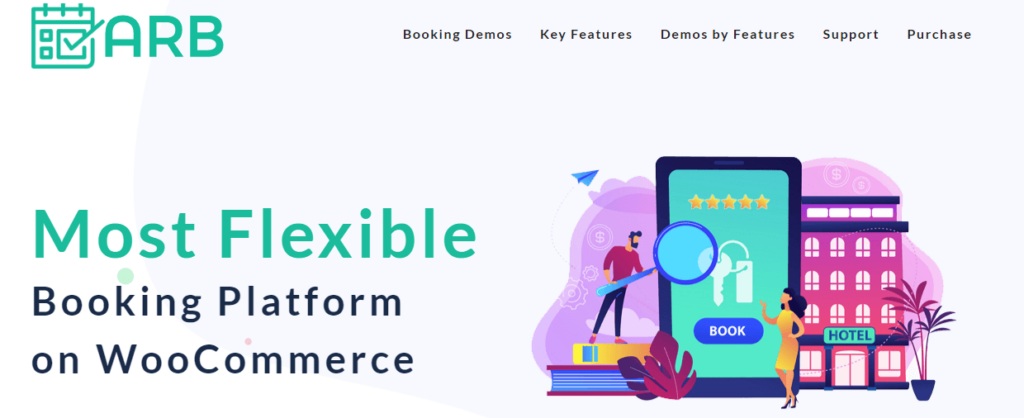 Customers can view the calendar to see what is available when making their reservations, and once the process is complete, both the admin and the user will get email notifications.
Key Features for ARB Reservations
Set limitations on reservations
Filterable and sortable booking list
Avoids double booking
iCalender features to notify clients
Customisable reminder and notification email
Pricing
Bookly is another freemium WordPress appointment booking plugin to help you create and manage appointments on your website. With over 70,000 installed, you can use Bookly to grow your online sales and make easy appointments for various businesses, like hair salons, photography, hospitals or more.

Bookly robust, feature-rich, and modern admin panel is easy to navigate. It also offers various settings and tools for viewing and managing your appointments. Suitable for businesses like salons, health and wellness spas, gyms, and professional services.
Key Features for Bookly:
Intuitive booking management system
Filter, search, and sort options for the booking list
Fully customisable booking forms
Unlimited forms
Services grouped by category
Calendar viewable in daily/weekly/monthly formats
User-friendly interface
SMS and email notifications
Staff scheduling and task assignment
Payment gateway integrations with detailed reports (premium only)
Pricing
Free
Premium $89 lifetime for one site
Team Booking is another user-friendly WordPress appointment booking plugin that allows users to schedule individual or team bookings in a simple and efficient manner. With Team Booking you can easily customise general and personal reservation behaviour, frontend calendar style, maps, confirmation email, and more.

Team Booking is compatible with various industries and business types, making it versatile and adaptable to different scheduling needs; it is a powerful and customisable solution for managing appointments and bookings on your WordPress website.
Key Features for Team Booking
Flexible form builder
Google Calendar, PayPal, and Stripe integrations
Dynamic pricing with discounts and promotions
Customisable email notifications
Zoom and Google Meet Integration
Timezone autodetection
Pricing
Premium $39 lifetime for one site
BirchPress Scheduler is another WordPress appointment booking plugin that allows service businesses such as spas, massages, photographers, and more to accept online appointments and reservations. It offers a user-friendly interface for both businesses and customers, making it easy for users to make appointments on your site without your direct involvement.

One of the unique features of BirchPress Scheduler is integration with popular calendars; BirchPress Scheduler can sync with the calendars you already have, such as Google, iCal, iPhone, Android, or Outlook, and import or export your appointments and availability automatically. BirchPress Scheduler is a prime choice for small businesses like salons, studios, and spas. It's a premium plugin with no free version, but it offers various features that can be a worthwhile investment if you are looking for a tool to streamline your appointment booking process.
Key Features for BirchPress Scheduler
Booking management system
Built-in form editor
WooCommerce and PayPal integrations
Booking availability limitations and restrictions
Staff assignments
Google Calendar, iPhone, Android, and Outlook integrations
Automated email notifications
Group booking
Pricing
Personal: $99
Business: $199
Business+: $249
KiviCare is another impressive WordPress appointment booking plugin to create and manage appointments, especially for health professionals like doctors. KiviCare is a WordPress plugin that provides a complete clinic and patient management system, including Electronic Health Records (EHR).

KiviCare offers a range of features, from appointment booking to billing, and is designed to be easy and affordable for medical professionals to use. KiviCare is a comprehensive solution for medical professionals looking to digitize their clinic and patient records, including appointment reminders, ensuring you never miss an important engagement. It also enables the tracking and management of online patient bookings for doctors.
Key Features for KiviCare
Custom email templates
Advanced styling options
Dashboard with useful hospital modules
Multilanguage support via translation plugins
Custom fields for prominent forms
Pricing

WP Simple Booking Calendar is a WordPress appointment plugin that allows you to display the availability of a holiday home, room, bed and breakfast, office, or even a piece of equipment on your website. This freemium WordPress booking plugin is suitable for a property rental website, if you're renting your vacation home, office space, or personal items and equipment; you can use the plugin to display available homes and rooms on your website.
Key Features for WP Simple Booking Calendar
Booking calendar and calendar legend
Holiday home bookings
Simple UI
Language Translation
Calendar data backup and restoration
Gutenberg Block
Syncing with third-party sites such as Airbnb and Booking.com (premium only)
Unlimited booking calendars (premium only)
Pricing
Free
Personal Plan $39 for 1 site
Business Plan $69 for 5 sites
Developer Plan $139 unlimited sites.
WooCommerce Appointments by BookingWP is another powerful WordPress appointment plugin that allows you to manage appointments and bookings on your WordPress site. It is built on top of WooCommerce, allowing you to use all WooCommerce features and extensions without compromising your shop's integrity.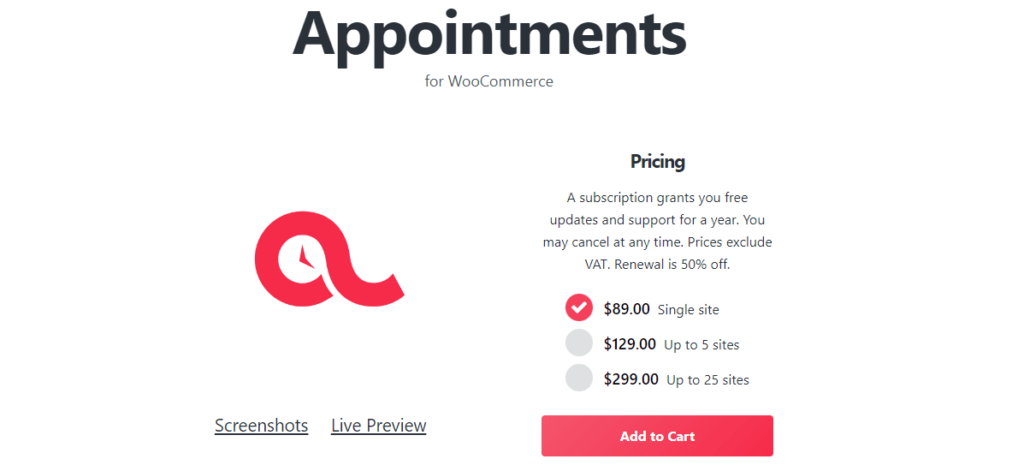 WooCommerce Appointments is a better choice if you're looking for a premium appointment tool for your e-commerce store; it integrates well with WooCommerce and Google Calendar. From your WooCommerce shop, users can view your services and schedule appointments based on availability.
Key Features for WooCommerce Appointments
Appointment scheduling software
WooCommerce and Google Calendar integration
Options to accept and request payments
Staff management/login
Notifications and reminders
Flexibility pricing and availability rules
Time zone conversion
Pricing
$89 for one website
$129 for 5 websites
$299 for up to 25 websites
Appointment Booking Plugin Price Comparison
There are many quality WordPress appointment booking plugins. Here is a list of every plugin we covered in this post and their prices for easy comparison.
What is the Best WordPress Appointment and Booking Plugin?
There are numerous WordPress booking plugins available, each with its own set of features and capabilities. When choosing the best WordPress booking plugin for your business, consider factors such as ease of use, available features, and integration with your third-party solutions such as WhatsApp, Zoom, Meet and payment gateway. It's also important to consider the plugin's pricing and whether it offers a free version or not. If you are looking for an enterprise-level booking plugin for your business, Amelia is your best choice. If you need a one-time payment appointment plugin, you can go for any of these plugins, Booknetic, ARB Reservation, Bookly, and Team Booking.
If you're looking for a freemium option that will allow you to test out your appointment booking plugin before paying for the pro version, consider Bookly, WP Simple Booking Calendar, KiviCare, BookingPress, and Booking Calendar. But if you need a free Appointment plugin for your project, go for Easy Appointments. 
Do you think we missed any appointment booking plugins? Which one is your favourite from our list? Let us know in the comments section, and let's get a conversation going!