Smartweb is at the top regarding the best-shared hosting option for new blogs and websites in Nigeria. For anyone in Nigeria looking for affordable web hosting, SmartWeb hosting is an ideal choice. Smartweb is my first-to-go hosting company in Nigeria whenever I need to use shared hosting for any projects. It's my official hosting company in Nigeria, very affordable and reliable hosting for any website. And they are the number one choice for many veteran bloggers in Nigeria, not because of their affordable hosting prices but for many other features like their great site backups that take care of everything needed to have your website up and running in no time.
Only a couple of shared hosting services in Nigeria have impressed me. I love WordPress, and most of my personal projects online are built on the veteran CMS platform called WordPress. Over the years, I used and tested many web-hosting services in Nigeria, including Whogohost, Naijawebhost, and SmartWeb. SmartWeb hosting has some excellent hosting plans for different sizes of businesses and has been around since 2004; they understand the necessity for companies to be online 24/7 and have been home to thousands of websites. For any Nigerians, businesses and newbie bloggers looking for high-quality web hosting within the budget. I will recommend SmartWeb hosting. 
Today I will be sharing a detailed analysis and complete review of Smartweb hosting, and you can decide if this hosting is right for you. As a blogger or website owner, some of the things you should look for in a quality web hosting service are:
Reliability to keep the site always running
Fast server to give your site the blazing speed it deserves
Affordability so that it doesn't screw up our budget
Good technical support when we have technical issues.
Hardware offering to ensure we are using the best server quality
Security and reasonable bandwidth.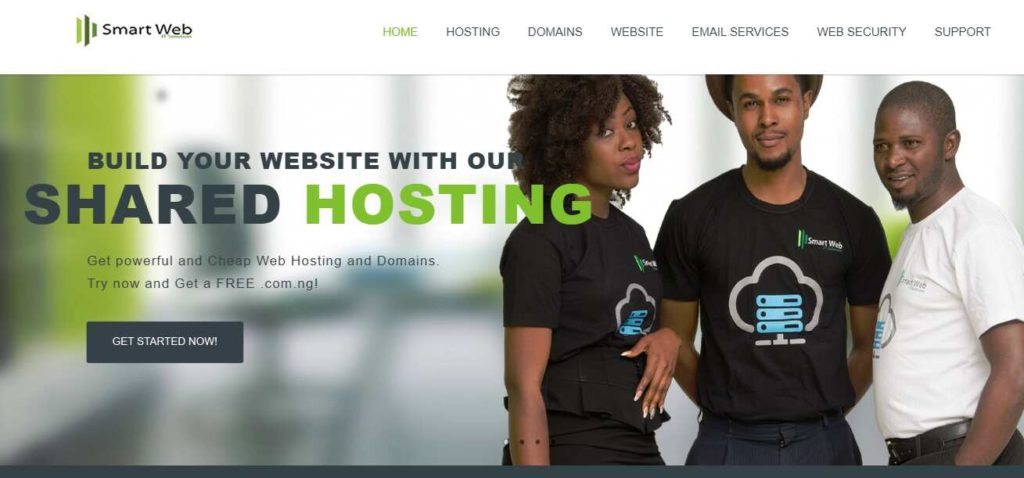 Smartweb Hosting Review
Shared hosting is the best way to start your blog, especially WordPress. When your website grows and requires more resources, you can always upgrade to a higher plan like VPS or dedicated hosting according to your needs.
Smartweb offers 5 shared hosting packages, and all packages come with one free .com.ng domain name, Free SSL Certificate & PHP5.6-8.0 support. Here are the packages details:
Smartweb Starter: Let you host just 1 website with 15GB bandwidth and 3GB Storage
Smartweb Standard: Let you host up to 5 Websites (with 60GB bandwidth and 10GB Storage)
Smartweb Business: This plan lets you host up to 10 websites and comes with 150GB of bandwidth and 20GB disk space; you can use this plan if your blog has a moderate traffic
Smartweb Premium: This plan lets you host up to 15 websites and comes with unlimited bandwidth and 250GB disk space; recommended for sites with heavy traffic.
Smartweb Corporate: With the Smartweb Corporate plan, you can host up to 20 websites, and it's also come with unlimited bandwidth and disk space. You can opt for this plan if you have websites requiring very high traffic.
Smartweb offers you everything you need to build a formidable online presence without worrying about traffic limitations or your website getting slower as you grow. Moreover, Smartweb hosting plans come with Cpanel, which lets you create professional Email addresses for free and manage all your website activities.
Here are some of the best features you will enjoy using Smartweb hosting
Free .com.ng Domain name
Free SSL certificate
Unlimited Subdomain
Unlimited Parked domain
Unlimited storage
Unlimited bandwidth
Host Storage (Starts from Corporate package)
FTP access
Unlimited Email forwarder
One-click WordPress installation
You can also get Dedicated IP for 1200/month
In short, Smartweb has everything you will need in a web hosting package, including:
Free SSL Certificate
Google prioritizes the safety of internet users, which is evident in their consideration of SSL certificates as a search engine ranking factor. With Smartweb, you get a significant advantage as they offer a free SSL certificate to both new and existing users. For bloggers embarking on a new website journey with Smartweb or transferring an existing site, this becomes an essential feature to ensure a secure online presence.
One-click WordPress Installation
Smartweb offers one-click WordPress installation; you can easily upgrade your blog from shared hosting to VPS or Dedicated hosting, depending upon your requirement when your traffic grows more than shared hosting can handle.
Unlimited Bandwidth
One main feature of using Smartweb Corporate packages from the beginning of your blog is unlimited bandwidth and disk space. This plan is perfect for new bloggers who require a large disk space and whose traffic would grow over time. Many other web hosting companies offer limited bandwidth and will shut down your websites once your traffic grows. With Smartweb, this is a big relief as you can focus on growing your blog rather than worrying about other hosting issues. Now, let's look at this special discount offer from Smartweb.
As a Nigeria blogger looking a flexible hosting to kick start your online presence, SmartWeb offers flexible plans to cater to your needs regardless of your budget. And if you need more than their shared web hosting plan for your needs, you can upgrade to their other robust hosting plans that suit your business needs, such as their VPS hosting plan, Cloud Hosting plan, and even dedicated hosting server with industry-leading features to serve you more online.
Smartweb shared hosting comes in Five different packages, and you can choose the one that is right for you according to your unique needs. Depending on your plan, it could cost you from ₦650/month to ₦2,650/month. You can also opt for a 2- or 3 years billing cycle to give you enough time before considering renewing your hosting plan.
If you have one website with little traffic, buy the Starter Plan.
If you plan to host multiple websites that require more traffic, the Corporate plan is your best option.
My recommendation for most users would be the "Corporate" plan as it offers everything you need and is a complete value for money. Regardless of your plan, if you need a dedicated IP address for your website, you can easily order a dedicated IP address for your blog; it will only cost a little extra buck.
Smartweb Monthly Payment Option
SmartWeb is one of the few Nigeria hosting companies that offer a monthly payment; their payment option includes:
1 month
3 months
6 months
12 months
24 months
36 months
60 months
Smartweb Uptime and Performance
Reliability is one of the qualities of good hosting; good web hosting should function consistently and perfectly without downtime or failure for the entire period your website is with them. And that's one thing I enjoy about Smartweb; they are reliable and consistent with their service, so your website won't experience any downtime.
Smartweb promises 99.99% uptime for its hosting plans. During our testing, we found that SmartWeb's uptime was reliable, with no noticeable downtime or outages. We also found that SmartWeb's website speed was fast, with a load time of 1.24 seconds. This is a good result, as website speed is an important factor in user experience and search engine rankings. With Smartweb, you will enjoy 99.99% uptime; you don't have to worry about downtime. But beware of using too many plugins that require more resources than what's allocated.
Is SmartWeb Easy to Use
Most shared hosting companies use the standard cPanel, which is easy to use. CPanel makes managing your hosting account easier Smartweb uses cPanel, just like most other shared hosting companies.
Is SmartWeb Customer Support Good
Compared to other hosting services I have used in Nigeria, I will give Smartweb customer support a 3.5/5 rating; you can contact them through email, raise a ticket or use instant live chat on their website. In most cases, the waiting time is 2-5 minutes, especially on live chat, but if you have any technical issues during the weekend, you may not get help until Monday morning. And that's why I rate them 3.5/5.
But, in most cases, you may never require support if you know what you are doing because their servers are well-optimised.
Other SmartWeb Products Include
WordPress Hosting
Smartweb offers three WordPress hosting plans: WP Starter, WP Performance, WP Business and WP Professional. All plans include a free .com.ng domain name for as long as your website is active, unmetered bandwidth, a free SSL certificate, and a 30-day money-back guarantee. The Basic plan is suitable for small websites and includes hosting for one website, 5GB of storage, and unlimited email accounts. While the higher plan (WP Professional) includes 6GB RAM, 40GB Disk Space, and 6Core.
VPS Hosting
Smartweb offers four VPS hosting plans: Linux VPS1, Linux VPS2, Linux VPS3, and Linux VPS4. All plans include a free .com.ng domain name for one year, root access, instant provisioning, and a 30-day money-back guarantee. The Linux VPS1 plan includes 2 CPU cores, 40 GB of storage, 4GB of RAM, and 4 TB of bandwidth. The Linux VPS2 plan includes 3 CPU cores, 90 GB of storage, 6GB of RAM, and 6TB of bandwidth. The Linux VPS3 plan includes 4 CPU cores, 120 GB of storage, 8 GB of RAM, and 8TB of bandwidth. The Linux VPS4 plan includes 5 CPU cores, 150 GB of storage, 10GB of RAM, and 10TB of bandwidth.
Dedicated Hosting
Smartweb offers four dedicated hosting plans: DC1, DC2, DC3, and DC4. All plans include a free .com.ng domain name, root access, instant provisioning, and a 30-day money-back guarantee. The DC 1 plan includes 4 Cores @ 3.1/3.5GHZ Turbo, 1TB of primary storage, 1TB of backup, 32GB of RAM, and 5 TB of Outbound & FREE Incoming bandwidth. The DC 2 plan includes a 6-core CPU, 1 TB of storage, 1TB of backup, 120GB Kingston SSD Bonus Drive, 32GB of RAM, and 5TB of bandwidth.
The DC 3 plan includes a 12-core CPU, 1 TB of storage, 1TB of backup, 120GB Kingston SSD Bonus Drive, 32 GB of RAM, and 5TB of bandwidth. The DC 4 plan includes a 20-core CPU @ 2.0GHZ, 1 TB of storage, 1TB of backup, 120GB Kingston SSD Bonus Drive, 32 GB of RAM, and 5TB of bandwidth.
Final Thoughts on Smartweb Hosting Review
Smartweb is a web hosting provider in Nigeria that stands out for its solid performance, reliable uptime, and wide range of hosting options. With almost two decades of experience in the industry, it has garnered a strong reputation among website owners and businesses alike. SmartWeb's user-friendly interface and extensive features and tools make it an attractive choice for beginners and experienced webmasters. One of the most significant strengths of Smartweb lies in its shared hosting and WordPress hosting plans. These packages are well-suited for individuals, bloggers, and small to medium-sized businesses looking to establish an online presence. The inclusion of a free .com.ng domain name, free SSL certificate, and unmetered bandwidth adds value to these plans, making them cost-effective solutions.
SmartWeb's VPS and dedicated hosting plans offer excellent options for those requiring more resources and control over their hosting environment. With scalable resources, root access, and advanced server configurations, these plans cater to the needs of growing websites and demanding applications. SmartWeb's performance has consistently proven reliable, boasting impressive uptime and fast load times. This is critical for any website seeking to maintain a positive user experience and search engine visibility. Smartweb is a trustworthy hosting provider with diverse hosting options suitable for various users. Whether starting a personal blog, establishing an e-commerce site, or managing a complex web application, Smartweb has the tools and resources to support your online ventures.
Its reliable performance, excellent customer support, and user-friendly interface make it a strong contender in Nigeria's competitive web hosting market. Let me know your thoughts about Smartweb hosting in the comment section, and if you enjoy this article, kindly share it with your friends on social media.