If you're considering starting blogging and looking for the best self-hosted blogging platforms, you're in the right spot. People use blogging platforms to broadcast and interact with audiences electronically across the globe; they share thoughts and discuss their views with the rest of the world. You'll likely require an online blog to connect with like-minded people around the globe and share your thoughts and ideas. To start a blog, you'll need a blog platform.
The primary purpose of blogs is to allow authors and bloggers to create content (whether reviews of products, articles, or personal opinions) quickly and easily using stand-alone websites, social media sites, or email to share their content with the rest of the world. Blogs are powerful tools for creating a marketing strategy for any business and building a brand so the blog can attract a larger public and build a global following.
Before you get your creative hat on and begin writing articles that are sure to impress your readers worldwide, you must choose the best blogging platform. To assist you, we've curated the top blogging platforms for 2023. Be sure to look them up before taking any action.
Best Free Self-Hosted Blogging Platforms for 2023
Click To Tweet
How to Choose a Reliable Self-Hosted Blogging Platform
When deciding on a self-hosted blogging platform to get started with, many people consider price first. Free blogging platforms are good. So, checking various blogging platforms to see what they offer is crucial. You need to investigate what makes them stand out among others. Focus on the features included in the base package rather than paying extra for 'bells and whistles. However, the amount you're prepared to pay is the beginning of a series of crucial choices. Next, check out some additional functions that your blog might require. That's useful for evaluating various blogging platforms. To choose a reliable blogging platform, you need to check the following features:
What's a self-hosted blogging platform?

Self-hosted blogging platforms or website builders are free-to-use website development tools you can host on any hosting web service. Web hosting services like  BlueHost offers website owners domain names and server space to host their websites.

Self-hosting these platforms gives you complete control over the website, like having your server within the data center. If you select an option to host your website, you are responsible for setting up the site on the server and ensuring that your website is secure.
What are the benefits of Self-Hosting Your Blog?

There are numerous advantages to having a self-hosted blog. Self-hosting a website provides you with the complete variety of flexibility and customization you would like to apply to your site. The options for custom-designed features, domain names, and plugins are practically unlimited. The only setback is that you must learn to create your blog independently or hire a firm to handle the work. The most considerable risk is that you can mess up the process when you need help with how to proceed, especially regarding keeping your blog secure.

One of the significant advantages of hosting your blog is the possibility of defining a custom website name. A customized domain name is a great marketing tool and will make you appear professional. Another critical factor is that self-hosting lets you optimize your blog to be SEO-friendly (search engine optimization). You can modify your meta title/snippets/titles, change the URLs, include keywords tags, and more. Self-hosting allows you to have an email address for your personal that matches your domain's name, which gives an impression of professionalism and increases credibility. Most self-hosting plans come with the option of a private mailbox.

Suppose you're looking for sliding banners, social media share buttons, animations, or any other feature that will enhance your blog's content. In that case, you can install plugins or modules to extend the functionality of your blog. Self-hosting allows you to access hundreds of plugins available and an array of choices. If you want to make money from your site with advertising, you'll require specific plugins to display banners, Adwords from Google, and many more. Many free blogging options only partially permit users to monetize their websites in this manner.

The benefits of self-hosting your blog are limitless.
Themes and Templates
Blog themes and templates make it easy to make changes to your website's look and feel. It would help to examine the available themes and templates on each blogging platform you're considering using.
You may need to ask the following questions:
Does the platform come with free templates and themes to get started
Can you craft your website how you want and feel with the available themes and templates?
Can you extend the functionalities of your blog with plugins or modules?
These are just some questions that can guide your search for a platform that offers the flexibility you require in terms of layout and appearance. Of course, can you find a suitable blog theme to start your blog immediately?
Text Editor
Every blogging platform revolves around its content editor. If you're going to be a blogger, finding a platform with a good text editor that you enjoy using is crucial. Keep convenience in mind. You need a simple method for quickly creating a blog and populating it with content. And you should get an idea of the content editor's functionality and adaptability.
You can put this theory to the test by writing an elaborate draft of your blog. Incorporate various media, including images, videos, and internal links. You should be prepared to test everything you plan to include in your final blog on all available platforms. It's easy to get bogged down in the weeds of platform comparison. Sorting your wish list into "must-haves" and "nice-to-haves" can be helpful.
Supports For SEO Feature
Optimizing your website for search engines is essential in building a successful blog online. SEO is vital in how people will find your content on search engines. Therefore, you need to look for a blogging platform that provides basic on-page SEO while crafting your content.
Extensions and Integrations
A single blogging platform may only be able to provide you with some features your need on your blog out of the box. And as your blog's readership and focus evolve, you may require extra functionalities to cater to your readership needs. To this end, it's wise to select a blogging platform where you can expand its features through add-ons, plugins, and integrated with other programs. In addition, a platform with possibilities for expansion and integration will allow you to integrate with other third-party programs to extend your blog functionalities as your blog grows.
Now that you know what to look for in a good self-hosted blogging platform let's look at some of the best options available.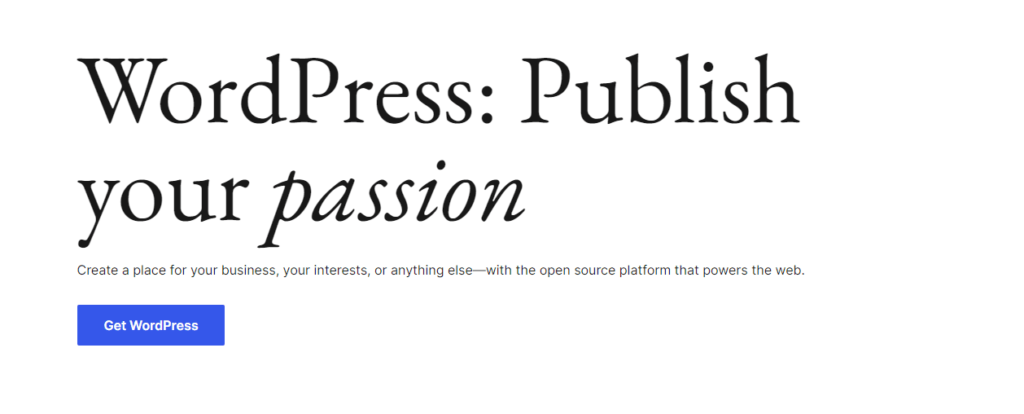 I have found Self-Hosted WordPress to be the best of the free blogging platforms available. At this time, WordPress is responsible for powering over 39% of all websites online. To further their goals of democratizing publishing and the freedoms that come with open source, the WordPress developers made their blog-building platform, Self-Hosted WordPress (also known as WordPress.org), available for free to anyone.
Simply put, WordPress's core developers think everyone should have a free platform to publish their thoughts and feelings in the manner that best suits them. That is the motivational force driving this open-source blogging platform. You can use the platform without being a technical person. Still, if you are a technical person with little coding experience, you can use WordPress to create any website of your choice in a matter of time, thanks to the abundance of themes and plugins in their repository. WordPress is the best option among free blogging sites, regardless of whether you're a novice or a seasoned blogger.
Pros of Using WordPress as a Blogging Platform
Ease of use and Flexibility of WordPress
As a no-cost blogging platform, Self-hosted WordPress has a lot going for it, not the least of which is its adaptability. There are more than a thousand available themes and over 59,000 plugins. In addition, some premium plugins and themes cost money but add more advanced features than the free ones. With WordPress, there are limitless possibilities for extension; you can embed virtually everything with the platform, allowing for countless integration to almost any third-party programs and payment gateways. You are only limited by your imagination using WordPress as a powerful engine for your blog.


WordPress.org is a robust platform for generating revenue from your blog. With WordPress, you can make money in any way you see fit on your blog. There are no limits; you can turn your WordPress blog into e-commerce by installing a free WooCommerce plugin to sell and accept payment immediately. You as well make money as an affiliate marketer by promoting other brands' products or services with your content or selling adverts space on your blog. The choice is yours. The bottom line is that you can monetize your blog in any way you choose.
Easy to Extend and Integrate
In contrast to many free blogging sites, WordPress can adapt to your changing needs. Therefore, WordPress is the way to go if you enjoy blogging and don't want any limitations as you grow in blogging. WordPress offers cutting-edge technology to extend your blogging as you envisage and can integrate with almost any other platform.
Cons of Using WordPress as a Blogging Platform
Although WordPress is free, you will still need to pay for self-hosting because it is a self-hosted blogging platform. With WordPress.org, you'll also need to invest in a domain name. If you're hoping to get something for nothing, this can put you off. However, as your blog expands, you'll likely seek a platform with many more customization choices than the free alternatives. It is possible to create a blog that meets your specific needs with a low-cost hosting package, rather than paying extra for a service like Wix or Weebly.
Compatibility & Maintenance
You are responsible for maintaining a fully functional, up-to-date, and compatible theme and plugins on your WordPress website. Outdated themes and plugins can ruin your site's usability for visitors if you don't. Finding and correcting broken links, updating the core software, and optimizing your database are all maintenance chores that will fall within your power. However, some of these features may be offered through your web-hosting package, especially if you're using a top hosting company like Bluehost or Hostinger.

Regarding content management systems, Joomla is one of the most user- and developer-friendly options: open-source Joomla. Multi-level user access, star ratings, front-end editing, a media manager, and more are just a few of the blog-friendly features. There will be no limit to the depth to which you can nest categories that you make. The tools for managing users make it great for attracting a loyal following to your blog. Scheduling posts, syndication, and displaying external news feeds are all options for content distribution and have built-in SEO features. However, there is a moderate learning curve associated with Joomla, and there needs to be more flexibility in terms of customization, like WordPress.
Pros of Using Joomla as a Blogging Platform
Great Multilingual Options
Joomla is an ideal option for those looking for a method to translate their site into many different languages. The platform supports over 70 international languages.
Customization and Flexibility
Joomla allows you to accomplish numerous things with your site and blog. There is no need to be tied to the same theme or list of features. This flexibility allows you to increase the number of posts on the blog you run.
With Joomla, you can earn money on your website in any way you wish, including as a no-cost blogging platform, which is a great feature. You can incorporate advertisements, make use of affiliate links, and even sell items as you like. Joomla includes eCommerce extensions such as Eshop and J2Store, which you can use to create shopping carts and add products.
Cons of Using Joomla as a Blogging Platform
Requires Minimum Tech Skills
If you're new to blogging and website building, there may be better options than Joomla. Anyone with a basic understanding of programming would be better with this blogging platform.
Cost for Domain and Hosting
Joomla CMS is free; however, you'll still need the cost of hosting your website and domain.
Some Compatibility Issues
Certain plugins that are compatible with Joomla may have compatibility issues. Someone with more programming experience can solve them, but there are other options for those with less programming expertise. The frustration is exacerbated because most plugins are costly, meaning the user is paying to buy a program incompatible with other plugins you've installed.
Site and Security Maintenance
As with all CMS, it lies with you to ensure that your website is safe and well-maintained. If you're looking for a simple way to manage your website, you might prefer something similar to Wix or Weebly that takes care of your background tasks, even for their most basic blog hosting plans.

Drupal is a very flexible and robust open-source CMS best suited to advanced users and enterprises with more complex needs for blogging and who require a self-hosted solution. Its multi-level taxonomy with support for various media files and advanced user rights make it ideal for building and managing blogs with a lot of content. Drupal is a modular platform that lets you build multi-channel experiences that connect with your customers. It comes with tools for content monetization to boost revenue and build your brand.
Pros of Using Drupal as a Blogging Platform
Drupal is a free and open-source blogging platform. Drupal comes with hundreds of pre-installed modules and features. If you can use them or are willing to study the basics, then Drupal can offer more capabilities than other open-source platforms.
Particularly, Drupal provides the widest range of types of content, including page templates, blocks, and much more for creating and managing your content. It also has advanced permissions for users so that administrators of your site editors of content, site admins, and other users have personalized access to certain content.
Cons of Using Drupal as a Blogging Platform
Although Drupal is a free platform, you will have to host the platform yourself, learn the basic configuration, and set up to get started with Drupal. If you need help using Drupal's standard tools and modules and need more time to study the basics, they could confuse and hinder your blog's performance. In this situation, you may be better off using an easier platform.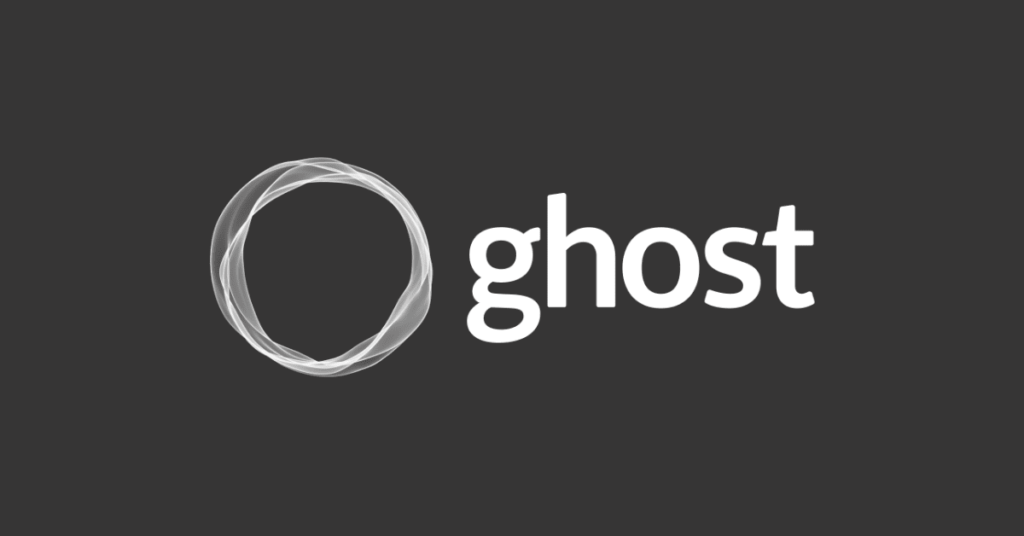 Ghost is a blazingly fast blogging platform that runs on JavaScript. It comes with modern and efficient publishing tools and strong direct monetization tools that enable you to charge subscription charges that allow access to the content. Using the Ghost editor, you can create dynamic content, such as NFT-embedded videos, GIFs or images, and even videos. Creating customized homepages, URLs with structured structures, and multi-language pages are possible. To expand your audience and share content on social media platforms, there are forms for subscription capture RSS feeds, forms for subscriptions, and tag-based emails. Ghost is SEO-optimized and works with AMP.
Pros of Using Ghost as a Blogging Platform
For those looking for an area that is clean to write and relax, Ghost offers the perfect space for writing. It's simple to navigate and doesn't get bogged down by many additional features. The minimalist design allows bloggers to get comfortable and write.
Ghost is a brand-new startup; therefore, observing how they evolve over the coming years will be fascinating. They could change the blogging world in intriguing ways, like using JavaScript instead of PHP to manage their blog site. Ghost CMS has other advantages like a Native Rest API, Built-in membership, and subscription commerce features. It works with any front-end or static site framework.
Cons of Using Ghost as a Blogging Platform
Customizing Ghost CMS to your satisfaction requires some technical skills, unlike other blogging platforms that are easy to customize to fit your needs.
Hosting and Domain Name Fees
Like WordPress.org, Ghost offers no entirely free blogging platform since you'll remain responsible for the monthly hosting package and a domain name.
Harder to Find Hosting Plans
Since Ghost is built on JavaScript (node.js), finding a hosting provider that can support this from a technical point of view is challenging.
Final Thought on Self-Hosted Blogging Platforms
One of the most significant advantages of using a self-hosted blogging platform is that you are the owner of your site and decide the location and how it will be located. You can also make changes to your site and analyze the outcomes. There aren't these kinds of customization and flexibility on free sites. Additionally, you decide the rules, and you're not bound by regulations created through platforms like WordPress.com or blogspot.com. Most hosting companies do not set guidelines for running your website.
Self-hosting your blog gives you the flexibility to Customize Your Domain Name. It provides you with a personal email address that matches your domain name, which creates an impression of professionalism and adds credibility. Self-hosting blogging platforms give you access to countless plugins and modules to extend your blog's functionality and look. Are you looking to start your blog? Or have you been on cloud-hosted blogging platforms like WordPress.com? Here are the best free self-hosted blogging platforms that bloggers take advantage of to get their content out without having to pay hefty subscription fees or be confined to the boundaries set by closed-source sites.