Setup MailWizz + Amazon SES SMTP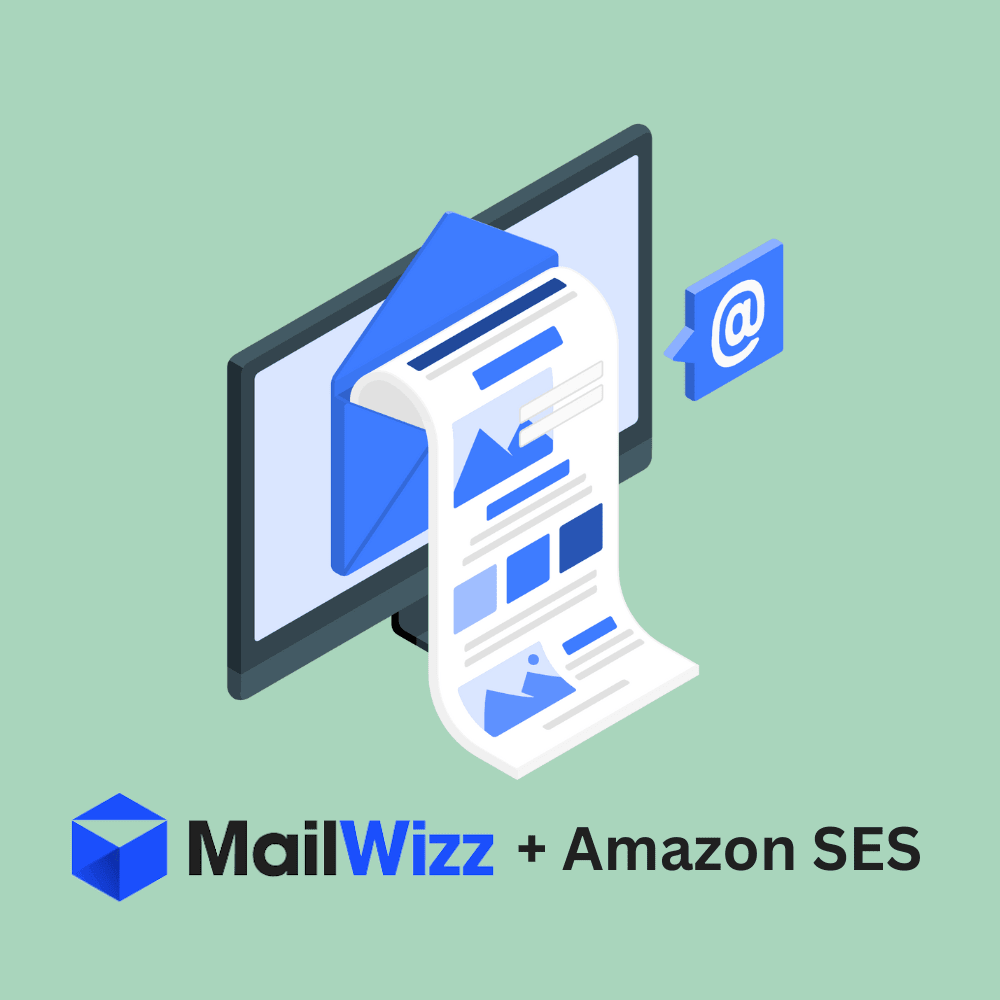 Setup MailWizz + Amazon SES SMTP
Let's help you build your personal email marketing System using Mailwizz and Amazon SES as SMTP! MailWizz is one of the best email marketing solutions available in the market. Many businesses like yours now rely on Mailwizz to deliver suitable marketing experiences for their customers. With MailWizz, you can send unlimited emails (newsletters) to your contact. You can also use Mailwizz as a SAAS application to be an Email Marketing Service Provider to your clients, just like Mailchimp. 
Estimated Delivery Date:
This service (Setup MailWizz + Amazon SES SMTP) will take approximately five business days to be fully set up. If we experience any delay and cannot meet up with the five working days timeline, we will contact you with the phone number and email provided during checkout.
Are you looking for a complete email Marketing and Automation solution to save from expensive monthly marketing tools like Mailchimp, a tool that saves you from repetitive time marketing tasks, eliminates errors, and improve efficiency for a wide range of marketing tasks across multiple channels? We will help you build and configure a complete email marketing system using Mautic and Amazon SES.
What is MailWizz
MailWizz is a robust and advanced email marketing and delivery system that businesses, marketers and entrepreneurs can use to create email campaigns and send quality emails to their audiences. MailWizz comes packed with irresistible features that modern email marketing solutions can offer; it's a self-hosted email marketing and lists management solution that allows you to create and manage your Email Lists, create marketing campaigns, monitor and analyzes results, and manage your sending servers. These great features come with a one-time fee of $79; you can buy Mailwizz script on Codecayon. 
Why Use MailWizz? 
Mailwizz offers the same luxuries other monthly subscription-based email marketing solutions such as Mailchimp offers. But with Mailwizz, you pay once, and that's all.
MailWizz is a good choice for sending unlimited email messaging, both transactional and marketing. Mailwizz flaunts impressive technology and features such as a List management tool, two-factor authentication, detailed sending reports, API integrations and monetization tools (You can turn your Mailwizz account into a SAAS platform by selling email marketing to clients for a monthly fee. Mailwizz is also GDPR compliant.
What is Amazon SES?
Amazon SES (Simple Email Service) is a cost-effective cloud-based email service for sending transactional, marketing, and mass emails. Amazon SES offers a comprehensive list of possible integrations: SMTP interface, AWS SDKs for seamless integration with almost all the apps you can think of, and even email clients or other types of software, including Mautic.
Why Choose Amazon SES as SMTP?
Amazon SES is the most effective email solution for business start-ups, affiliate marketers, and entrepreneurs who want to avoid the costs and operations involved in creating a large-scale mail solution. Using Amazon SES as your SMTP, there is no need to set up the infrastructure, configure the network and take care of the operations required to protect the reputation of addresses. It's a reliable email-sending solution at a reasonable cost.
Here are some of the benefits of using Amazon SES:
High deliverability. Amazon SES's email deliverability rate is top-notch; It's one of the main features we recommend Amazon SES as an email-sending service for our clients. Amazon SES takes reputation and email whitelisting seriously by supporting all three authentication mechanisms (DKIM, SPF, and DMARC). With Amazon SES, you are sure your email will hit the inbox without being flagged as SPAM. It also lets you track your email-sending activity and manage your reputation.
Email receiving. With Amazon SES, you can send emails and retrieve them.
Cost-effective: Amazon is a cost-effective email-sending infrastructure. You will only pay $1 for sending 10,000 emails. That's ridiculously cheap!
What will you get with our Mailwizz and Amazon SES Setup Service?
You will get a fully configured and functional email marketing system with Amazon SES as the SMTP server and Mailwizz as the email marketing and delivery application with a 10/10 sending score. 
We will install Mailwizz on your server and configure it with proper cron jobs; We will also help you create an Amazon SES account, configure it properly and move you out of Sandbox to enable you to send up to 50,000 emails per day. (You will need to link your payment card to your Amazon SES at your end).
If you have email lists, we will help you upload them to Mailwizz and ensure your email marketing system sends emails as it ought to before we hand over the system to you. We will also help you integrate Mailwizz with your website for easy leads monitoring. 
Please note: This service is the installation and configuration of Amazon SES as the SMTP server to send emails and MailWizz to manage your marketing email, nurture leads, create marketing campaigns, and monitor and analyze your audience. We are not responsible for any ongoing maintenance or support of the system after the delivery of the service.
Estimated Delivery Time: 5 days.
Requirements for this Service:
Root access to a fresh VPS Machine with Ubuntu 18.04 or higher installed on it. You can get VPS hosting from Hostinger, Hostgator, Contabo, or any other reliable hosting provider with port 25 Open.  

Domain name with access to DNS Management Zone.

New MailWizz Script from CodeCayon
If you have questions regarding this service, please get in touch with us at [email protected]