If you have a website or run a blog successfully online, you will understand how annoying SPAM messages can be. Receiving spam messages from different sources is not new to any webmasters; keeping Spam away from a website is a constant battle most website owners have to fight daily, but it's never easy. A website owner must prevent malicious activities and make their website secure and safe, though it's easier said than done. Spam compromises your website, can spoil your reputation with search engines, and lower your ranking in SERP. That is why you need reliable protection tools like CleanTalk that protect your website from spambots.
One of my blogs was bombarded with tons of Spam virtually every hour; on some days, I received up to 300 SPAM messages with different links to a series of spammy websites. I tried different anti-spam solutions to keep the Spam to a minimum, but honestly, none did the job 100%. I keep getting spam messages from comments, contact forms, and registration forms.
It was a frustrating experience until I came across a plugin with a cloud-based firewall called CLEANTALK that did the job perfectly. The plugin helps keep the Spam away from the blog until today, and the most amazing thing about CleanTalk is that it works perfectly without annoying captcha or Recaptcha. From that day onward, any comments, contact messages, or registration we received on the blog were legit. No more SPAM from any source again, and I am here today to introduce the same plugin to you and how it will benefit your website and keep your website SPAM-free forever.
Before we dive into how to use this plugin, let me introduce the plugin to you properly.
Keeping Malicious activities like Spam-bots and brute force away from your WordPress website is not easy, but with the CleanTalk Anti-Spam Cloud-based Protection plugin installed on your website, you will be free from SPAM forever.
Click To Tweet
CleanTalk AntiSpam Protection Review
What Is CleanTalk?
CleanTalk Anti-Spam is cloud-based service protection that prevents your websites from spam. CleanTalk is a solution that prevents and filters spam to protect your website from all unwanted and potentially harmful 'annoyances bots' called SPAM. CleanTalk provides spam protection that is invisible to visitors and eliminates the need for CAPTCHA, math, questions, and answers, where visitors must prove they are real people and not robots on your site.
CleanTalk is an anti-spam cloud-based protection that works perfectly on all major CMS like WordPress, Joomla, and Drupal. It also works on languages, Libraries, Classes, and frameworks like PHP, Python, Perl5, Ruby, and lots more. But today, we will focus on how it works on WordPress.
CleanTalk plugin effectively filters all the comments on your website, contact forms, registrations, cart orders, and more for spam. It works perfectly on your WordPress website without inconveniencing visitors; it is reliable anti-spam protection that lets you focus on growing your websites without spam. The plugin protects your website, comment section, contact forms, user registrations, cart orders, and many more. It's very easy to set up and use, and it's the cheapest anti-spam plugin in the market with a free seven days trial. This plugin is simply Amazing!
The New CleanTalk Firewall
One of the unique features of CleanTalk is the active firewall that prevents spambots from getting into your website. CleanTalk firewall is a cutting-edge tool that protects your websites against spam attacks. It does not wait for the spam to hit your website before filtering them; rather, the firewall blocks traffic at the HTTP level. It filters the inbound traffic, which protects and reduces the load on your server. With the CleanTalk firewall, the spam bots never get to your website, not to talk of attacking your site.
The Spam Firewall creates an extra layer of protection for your website, making it hard for any bots to hit it. The CleanTalk firewall serves as the first line of defence, blocking most spambots before hitting your website. While CleanTalk Anti-Spam is the second line of defence, keeping spam bots from making comments in your posts, contact forms, cart orders, and registration forms. If you create a blog or have blog posts on your website, this feature helps prevent spam bots from visiting your website and not talking of commenting on your website.
With the CleanTalk plugin installed on your WordPress website, you're sure of safety because CleanTalk has over 6 million spam IP addresses in their database, so when a visitor hits your website, their IP details are checked against CleanTalk's database spam IPs; if a match is found. If the visitor is a spam bot, CleanTalk will block them, and the visitor will get a blank page.
How CleanTalk Firewall Works
Protects spam bots from accessing your website
CleanTalk Spam firewall blocks most of the spam bots before they get to your website at all. It prevents SPAM bots from coming close to your site.
Reduce the load on your web server
To post spam, many spambots load the page, which burdens the database and the server, and when a large number of spam attacks, it can significantly impact the website's performance. CleanTalk prevents this from happening.
Protection against HTTP/HTTPS DDoS attacks
The DDoS attack is a malicious attempt to overwhelm your server or its surrounding infrastructure with a flood of Internet traffic that your server's request cannot handle. Installing the CleanTalk plugin protects your server against this type of malicious activity.
Protects Your website against RPC-XML attacks
RPC-XML was developed to standardize communication between WordPress and different other systems; it enables WordPress to communicate effectively with other platforms. As good as this may sound, it introduces security vulnerabilities and can be the venue to attack your website.
RPC-XML sends authentication information such as username and password with every request; hackers could use it to try to access your site.
A brute force attack might allow them to insert content, delete code, or damage your database. CleanTalk firewall protects XML-RPC from sending any authentication information from your site and protects your website from various SQL injection attacks.
The CleanTalk spam firewall's log allows you to monitor the service work and report all incidents.
CleanTalk Plugin Full Features
Comments spam protection
CleanTalk plugin works with WordPress native comments and most WordPress comments plugins like wpDiscuz, JetPack comments, etc. Plugin moves spam comments to the SPAM folder, or you can set options to ban spam comments silently. You can also enable the plugin to auto-delete comments from the SPAM folder. It also checks and removes existing spam comments and users and validates emails in real time. With CleanTalk, you can check existing comments to find and quickly delete spam comments at once from your WordPress dashboard.
Spam bots registrations filter
CleanTalk plugin filters spam bots on WordPress native registration forms and many other registration plugins and forms like BuddyPress, bbPress, S2Member, Formidable form, WP fluent, WooCommerce, Profile Press, Registration magic, and many others.
Protection against contact form spam
CleanTalk plugin out-of-box protects your contact form from spam; it added direct integration to protect contact forms like Formidable forms, forminator, Contact form 7, JetPack Contact form, Fast Secure Contact form, Ninja forms, Gravity forms, Landing pages and also blocks spam emails via all WordPress themes built-in contact forms and custom contact forms without any error on the frontend.
WooCommerce spam filter
Anti-spam by CleanTalk filters and stops spam in WooCommerce. It helps to stop spam comments and registrations, fake contact emails, spam orders, bookings, and subscriptions. It also stops spam reviews in WooCommerce and emails via forms to ensure your store is fully protected.
Newsletters form protection
CleanTalk Anti-spam filters and protects your email from subscriptions against spam, and it works flawlessly with all major newsletter plugins like MailPoet, MailChimp, PopupAlly, Thrive leads, Ninja Popups, and many other newsletters plugins.
Compatible with most WordPress cache plugins
CleanTalk plugin integrates seamlessly with all major cache plugins in the market. It works flawlessly with; W3 Total Cache, WP-Rocket, Quick Cache, WP Fastest Cache, Hyper Cache, WP Super Cache, and other caching plugins.
Comes with invisible spam protection
CleanTalk plugin works flawlessly without using a captcha to protect your website against spam. It doesn't disturb your users with annoying CAPTCHA, questions, animal counting, puzzles, maths solving, and other hindrances. The protection is visible to spam bots without disturbing the flow of communicating with your users.
Does CleanTalk reduce my website speed? (Click to open)

As we all know, speed is one of Google's most important ranking factors. That being said, CleanTalk reduces the load on a web server and works faster than any other anti-spam plugin in the market. It won't allow spam bots to hit your website and thereby significantly increase the performance of your website so that you won't lose visitors or sales.
Setting up CleanTalk Plugin
Installing and setting up the CleanTalk plugin on your WordPress website is very easy; with a few clicks here and there, you are done installing CleanTalk on your website.
The first step in setting up CleanTalk is to visit the CleanTalk Official Website. You need to enter your email and website address and hit the "create account" button, as seen in the image below. Then it will reveal the access key; copy the access key somewhere safe you will need it to activate the plugin.
Head over to your WordPress dashboard, and in the WordPress Admin Panel, go to the "Plugins" section and press the button "Add New." Find the plugin "Spam protection, AntiSpam, Firewall by CleanTalk" by typing "CleanTalk." Press the "Install Now" button near the plugin's name and activate it.

As soon as you activate the plugin, you will be taken to the page to input the access key you copied the other time, copy the access key from your CleanTalk Control Panel and paste it into the "Access key" field, set up the plugin if necessary and press the button "Save Changes."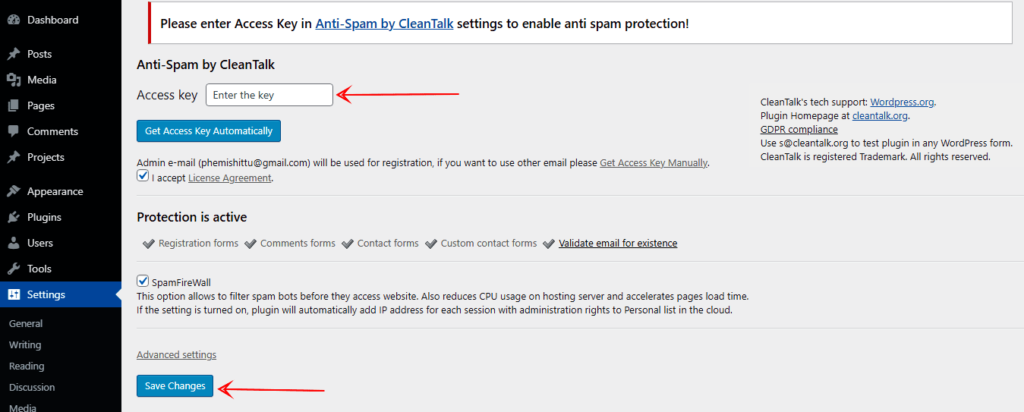 Once the access key is activated, the settings page will change, and you will see "Protection is active" written in bold text with a couple of green checkmarks across the page. These checkmarks indicate what the plugin is protecting on your website.

The plugin has an Advanced Settings "Form to protect," where you can configure the area you wish to protect on your website with the CleanTalk plugin. You can choose which areas of your site to use the plugin, like registration forms, comments forms, contact forms, search forms, external forms, internal formal, and custom forms. You can toggle the protection for each type of form on and off through the settings. It is easy to configure and self-explanatory; play around with the plugin setting to protect your blog.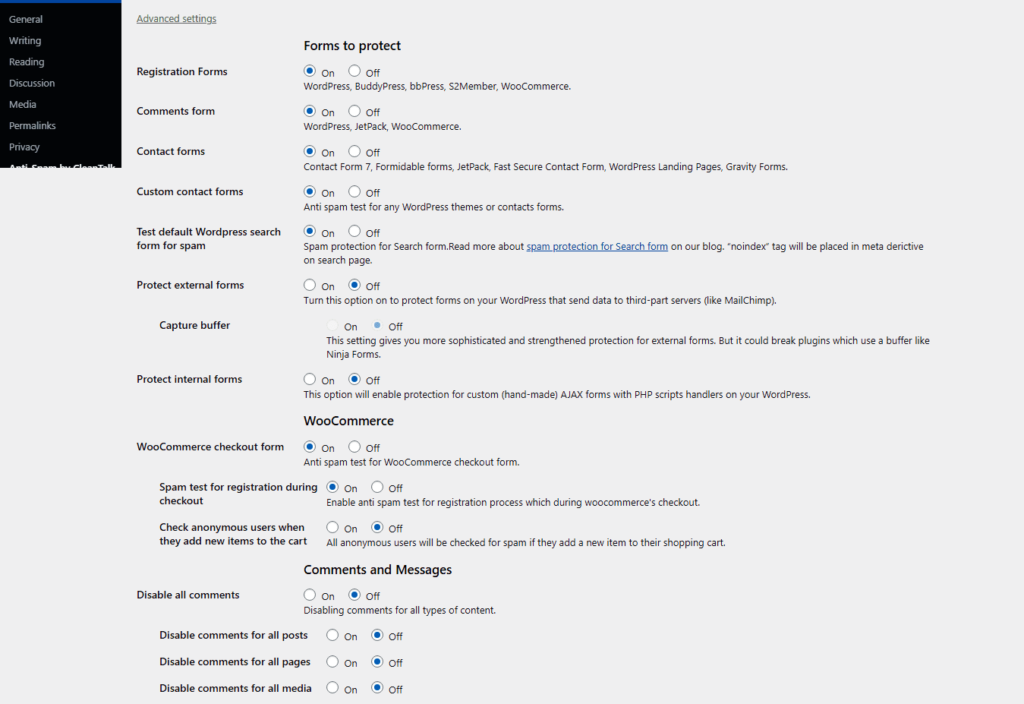 Once the plugin is up and running on your site, you can monitor the stats on your CleanTalk dashboard, where you see in real-time the graph of spam comments blocked and legitimate comments allowed on your website.
You can access the logs and entries from your CleanTalk dashboard, where you will see the blocked IPs and emails. You can remove the clean email ids that are genuine and not spam. You will be credited one (1) day extra to your plan for each email removed. You can also blacklist an IP address that you think or caught as a spammer by adding the IPs to the CleanTalk directory to protect everyone using CleanTalk services.
CleanTalk Pricing Plans
With all the features, benefits, and advanced Spam Protection technology packed in CleanTalk, it will surprise you that the plugin is still very affordable for anyone. For a single website, CleanTalk only costs $12 per year. The highest plan for up to 40 websites costs $200/year, while unlimited website usage costs $25/month.
Every plan comes with all the features, including 24/7 technical support, regular updates, and mobile apps for one year. You can renew, upgrade, and cancel your plan at any time. You can still enjoy CleanTalk on your website for free for seven days to see how it works. Every package has a 7-day free trial option to see how it takes care of Spam on your blog.
How effective is CleanTalk? (Click to Open)

Accurately blocking spam is not easy, but CleanTalk has a very low proven False/Positive rate. Here are actual statistics on false positives for all customers.

Registrations – 0.007%

Comments – 0.001%

Contact forms – 0.001%

Orders (WooCommerce) – 0.008%

The statistic was calculated on November 10, 2017, for 1 million requests.
CleanTalk Honest Review And Conclusion
Spam is bad for your website's online reputation and can give your readers and customers a bad impression of your content. Spam can even affect your sales and growth as a business. There is no reason strong enough to bother your site visitors with any captcha, questions, and answers or ask them to solve simple math problems to keep spammers away from your blog when you can easily install this wonderful and hidden gem called CleanTalk and focus on growing your blog and making money online.
I have used countless anti-spam plugins over the years, but none ever perform close to the CleanTalk plugin. It is one of the plugins that walk the talk. CleanTalk is an excellent tool, a must-have plugin for any WordPress website with blogging features, contact forms, registration forms, online selling, and many more. The plugin keeps spam bots far away from your website without burdening your server with unnecessary load and gives you peace of mind.
If you create a blog and spam is bombarding your blog from every corner, it's time to give CleanTalk a chance. Install CleanTalk and forget about Spam messages for life. CleanTalk is a must-have plugin if you want to be free from spambots. The free seven-day trial period is more than enough to convince you to pay just $8 to make your blog free forever from SPAM. With CleanTalk Firewall and Anti-Spam solution, your website is double secured; no need to pay for any extra solution.
Have you tried CleanTalk's Anti-Spam with a firewall before? Tell us about your experience with the plugin in the comments section below.